Things To Do Manhattan - This Weekend
Central Park Day, Taste of the Seaport, Chelsea Film Fest, Marco Polo Procession & Fest, Halloween Carousel & Pumpkin Pie Show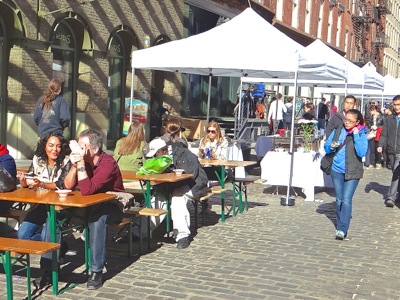 _October 20, 2017 / Things To Do Manhattan / Manhattan Neighborhoods / Manhattan Buzz NYC.
_Weather. The temperature highs will be in the 70's through the weekend, and the lows will be in the 50's on Friday rising to the mid 60's by Sunday. There isn't any rain in the forecast and the winds will range between 2 - 7 mph, while the humidity will be in the 40's Friday rising to the 60's by Sunday. Click for Manhattan Weather.
Next week, you can expect some rain Tues (90%) and Thurs (60%), and temps are expected to fall into 60's and 50's.
_The photo at right shows people hanging out at the Taste of the Seaport at the South Street Seaport in Downtown Manhattan - see details below.
Friday & Weekend - Chelsea Film Fest & Pumpkin Pie Show
_The photo at right shows folks milling around Midtown on a nice warm day.
_Under St Marks Theater at 94 St Marks Place in the East Village is hosting performances of The Pumpkin Pie Show, which began Thursday 10/12 and run Thursday, Friday & Saturday nights through October 28th. The show is described as,
"... 20 years / 60 stories ... Hanna and Clay celebrate their 20th anniversary of the Pumpkin Pie Show with a hand-selected roster of their favorite stories. Every story will be chosen at random each night onstage, guaranteeing each show will be completely different ... "Chapman uses the macabre to explore the humanity of his characters and reveal an almost spiritual side to the horrific." -The New York Times."
_The 5th Annual Chelsea Film Festival began Thursday and runs through the weekend, primarily at the Fashion Institute of Technology on 227 West 27th Street [between 7th & 8th Avenues] with films being shown there at two locations in addition to the AMC Loews Theater at 312 West 34th Street in Midtown [$13 / film or $55 for day pass / film].
Saturday - Central Park Day, Taste of the Seaport, Marco Polo Procession & Fest, Kids Halloween Event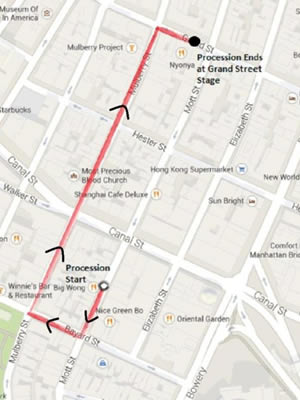 _The graphic at right shows the route of the Marco Polo Procession through Little Italy and Chinatown. See event details below.
_From 11 am to 3 pm Central Park will celebrate 50 years of art in public parks where hundreds of artists, musicians and theatrical people will turn the park into a stage. Likely near Bethesda Fountain and the Naum Bandshell will be the highest concentration of activity, but I understand it will be throughout the park.
_The Taste of the Seaport runs from 11.30 am - 4 pm at the South Street Seaport at Front & Fulton Streets, where you'll find 40 food & beverage purveyors. Proceeds go to arts and enrichment programs at two public elementary schools - PS 343 Peck Slip School & PS 397 Spruce Street School [$35 for one & $125 family pack / dining].
_There's a Halloween kick-off with tricks and treats, pumpkin decorating & coloring [while supplies last], including a magician at Le Carousel in Bryant Park along 40th Street near 6th Avenue from 1 pm to 2.30 pm. They encourage visitors to come in costume for pumpkin-decorating, trick-or-treating, magic, and music [free for kids & parents / but doesn't include rides on the carousel].
_There's a Marco Polo Procession and Festival in Chinatown / Little Italy commemorating the great explorer's role in making connections between the two cultures over 700 years ago. The parade begins on Mott Street between Canal and Bayard, circling up along Mulberry before terminating on Grand at Mott where there will be a few performances [free / kids / parade]. The event is organized by www.twobridges.org who supplied the map graphic to your right.
_Intrepid Sea, Air & Space Museum located at Pier 86 - at 46th Street and 12th Avenue [history / kids].
_The Museum of the City of New York has several exhibits worth a visit if you like history [history]. One is entitled New York at Its Core which is about the city's rise onto the world stage, another called To Quench the Thirst of New Yorkers is about the 175 year old Croton Aqueduct, and the third is called Rhythm and Power which is about the evolution of salsa in New York.
_ Anthology Film Archives at 32 2nd Avenue in the East Village is showing a Essential Cinema series this weekend by a couple of different curators [film - $11 / $9 / $7 - www.anthologyfilmarchives.org]. This week they began their Fall Film Screening Series.
_ At MoMA at 11 West 53rd Street in Midtown there are several exhibits including TBD [thru 3/19 & 3/5/17] - [art / film - $25 / $18 / Free].
_ Also see events such as Chelsea Film Fest, Marco Polo Fest running through the weekend noted above and farmers markets & street fairs noted below.
Sunday - Chelsea Film Fest, Frick Museum, Flatiron Walking Tour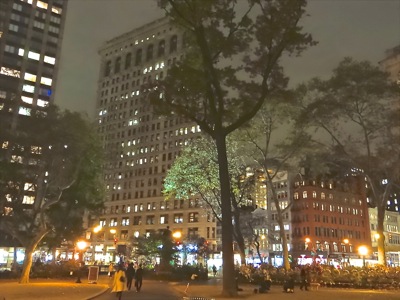 _The photo at right shows the Flatiron Building in lower Midtown Manhattan at 23rd Street. The business improvement district hosts tours every weekend - see details above.
*There's a free FlatIron History Tour beginning at 11 am meeting at the southwest corner of Madison Square Park (in front of theWilliam Seward statue) at 23rd Street and Broadway. No advance registration is required [free / history / no rsvp required - www.flatirondistrict.nyc/free-walking-tour].
*The Frick Museum is showing an exhibit entitled Fired by Passion through 2018 [art]. The exhibit runs through August 2018 and showcases Masterpieces of Du Paquier Porcelain from the Sullivan Collection. They have resumed their periodic Sunday evening concert series from 5 to 6.45 pm [$45 / $40].
_ Also see events such as Chelsea Film Fest, Marco Polo Fest running through the weekend noted above and farmers markets & street fairs noted below.
Manhattan Farmers Mkts / Street Fairs / Member Events Calendar
The calendar includes art exhibits at many of the major museums including MoMA, the Frick Collection, the Guggenheim,and theMetropolitan Museum of Art.We also list a number of foreign / indie film theaters. See art galleries & musical performances above in Friday & Saturday listings.
We also provide a listing of Manhattan Street Fairs & Manhattan Farmers Markets where you can find unique items and fresh foods. Street fairs wind down in November and so do most farmers markets, but a few continue year round.
Lastly, but not least, we hope you'll patronize the advertisers who provide us with the funding to publish this web magazine. Thanks for your interest and have a nice weekend.
---
NYC Mayoral Debates Fall 2017
Dietl Effervesces, Malliotakis Attacks & de Blasio Defends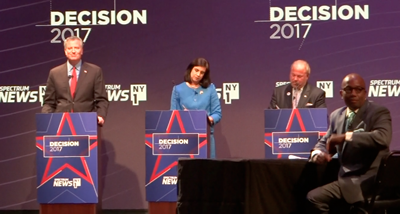 October 15, 2017 / Upper West Side Neighborhood UWS / Queens Politics NYC / News Analysis & Opinion / Gotham Buzz NYC.
I attended the Mayoral Debate at Symphony Space on Tuesday, October 10th, where former NYC Detective [1970 – 1985] and security firm businessman Bo Dietl [Independent], New York State Assemblywoman Nicole Malliotakis [Republican Staten Island] and Mayor Bill de Blasio [Democrat] squared off for one of two general election debates. The debates are sponsored by the New York Campaign Finance Board and are a requirement for those candidates who receive matching funds.
NYC Mayoral Debates - Opening Statements
Each candidate came out and made opening statements. Bo Dietl talked about his time working the streets as a policeman in the 1970's and 1980's and how since then he has run a successful security firm that also employs minorities. He described his two opponents as Column A and Column B candidates.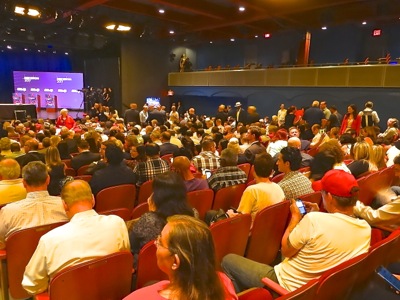 Nicole Malliotakis told us how she is the first member of her family to obtain a college degree and a Masters of Business Administration and that she is the 'American Dream'. She went on to say she would fix our schools, transit system and homelessness.
Bill de Blasio said that his two opponents were both right wing Republicans and that he was the only one that would stand up to Trump. He went on to say that crime is down, test scores at NYC public schools are up, but that there's more to do and he needs New Yorkers' help to continue making progress.
There was a small, but very boisterous minority of rude and disruptive people in the audience, who began their noisy tirades with the opening statements. It wasn't until near the end of the program – that one of [several of] the loudest shouters and screamers was finally escorted out.
Click here for a fairly full recount of the NYC Mayoral Debates with Malliotakis, Dietl & de Blasio.
---
Le Monde French Restaurant UWS
Le Monde is where 'the World' Meets on the Upper West Side
October 10, 2017 / Upper West Side Neighborhood UWS / Manhattan French Restaurants UWS / Manhattan Buzz NYC.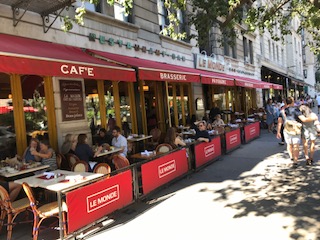 It was mid September and school had recently begun as I made my way toward Le Monde French restaurant on the Upper West Side. Le Monde is located along Broadway between 112th and 113th Streets - only a block away from the Samuel Tilden monument along Riverside Drive. Tilden was the first presidential candidate to win the popular vote and lose the electoral vote back in 1876. He had been the Governor of New York State. But I digress.
Le Monde is a classical French brasserie, with dark wood paneled booths; a small hexagonal piece, stone tile floor; high ceilings with fans and cafe style seating outside along the street. Given it was a near perfect night, we chose to sit outside.
After being seated, the sommelier was first to welcome us. We went with a Bordeaux. I skipped the appetizers and went straight to the Coq au Vin, while my dining companions ordered the Steak Frites and the Organic Chicken. The wine arrived shortly after we ordered it and our conversation turned to the new school year.
After the food arrived we all went silent for a bit as we savored our respective choices. The Coq au Vin had a mellow flavor to it. The small pieces of chicken were tender and likely had been marinated and were accompanied by vegetables including medium-sized mushrooms cooked al dente, as well as carrots, garlic and onions in a thin wine sauce. On top of the stew there was a portion of Dauphinoise gratin, which are thin cuts of potatoes cooked in a layered manner and brown atop.
The 12 oz steak and fries seemed to hit the spot as the young man who ordered it didn't come up for air until he was largely done. He said it was tender and flavorful and the fries slightly moist on the inside while crisp and salted on the outside.
The organic chicken had come with asparagus cooked al dente. The chicken was moist and served simply.
Meanwhile the street traffic seemed comprised of mostly coeds from Barnard heading down into town, while the people in the restaurant seemed a mix of neighborhood folks including several young couples, possibly from nearby Columbia.
The prices seemed reasonable for NYC, with the appetizers coming in around $10, while the main courses ranged between $16 and $30. Le Monde, where 'the world' meets on the Upper West Side.
---
Medieval Festival at Fort Tryon Park
Medieval Festival is a Fascinating Event in Washington Heights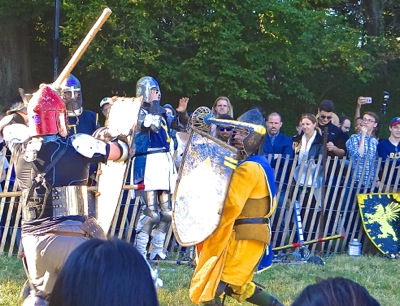 October 4, 2017 / Washington Heights Neighborhood / Sports & Parks Manhattan / Manhattan Buzz NYC.
On Sunday, October 1st, I headed up to Washington Heights to attend the 35th annual Medieval Festival at Fort Tryon Park. It was a beautiful fall day as I rode the A train north from Times Square. I met a beautiful young princess from the Bronx on the train wearing a Medieval headband of flowers in her hair. We started talking about the Medieval Festival and lucky for me she had attended it previously and gave me a few important tips.
The first tip was to get off the train at the 190th Street stop because Fort Tryon Park is situated on a bluff [the forts always were so they could spot trouble ahead] and the 190th Street subway station is equipped with elevators which take you up to the park level which overlooks the rest of Washington Heights. She also drew my attention to the jousting contest which was to begin at 5 pm.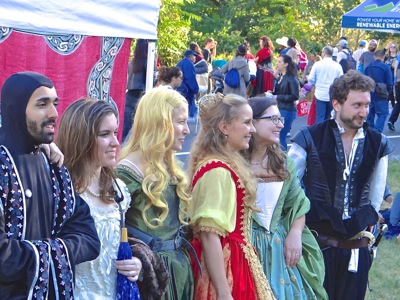 When I arrived at the top of the hill, I began my journey through the Medieval Festival which included numerous ye olde vendors selling food and clothing and gifts, as well as all sorts of other things including beauty items. But what was most peculiar were the various acts and events going on all along my walk north to the Cloisters.
Click here for additional photos and a video of the jousting contest, as well as a brief history of the Medieval Festival, the Cloisters and Fort Tryon Park.
---
The Dykman Farmhouse
Where the Cows Come Home in Historic Manhattan ...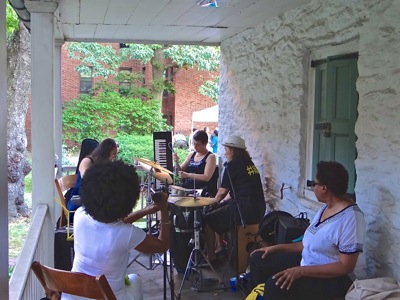 September 25, 2017 / Washington Heights Neighborhood / Manhattan History / Manhattan Buzz NYC.
I had an opportunity to visit the Dykman Farmhouse in the Washington Heights neighborhood of Manhattan this past weekend. The event was their third annual Fall Festival where they offered cider tasting in commemoration of the historic Dykman apple orchards and cider mill, as well as a cheese and waffle tasting. The cheese was Dutch and came from Holland providing a holistic, historic and delightfully happy event.
The Dykmans were a Dutch family that came here in the 1600's and built the Dykman Farmhouse in the early 1780's. Their land holdings on the north section of Manhattan fluctuated, ranging from about 340 to 200 acres of land in northern Manhattan. In the mid 1800's [circa 1870] the Dykman heirs held several auctions, which liquidated most of their holdings, including the Dykman Farmhouse.
Historic Dutch Settlers Farmhouse in Manhattan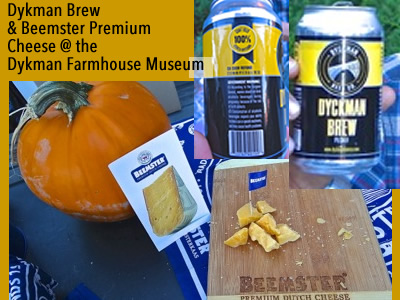 In 1915 two of the Dykman heirs repurchased the farmhouse and turned it into a museum in order to preserve a small shred of the colonial past of Manhattan. The sisters and one of their husbands helped find furniture and other home furnishings to recreate the colonial past, and they opened the Dykman Farmhouse Museum a year later in 1916. The Dykman Farmhouse is the oldest farmhouse in Manhattan.
I came upon the farmhouse walking down Broadway just south of 205th street in Washington Heights. It's on an elevated piece of land, which sets atop the land enclosed by a brick wall. I walked up the stone steps into another time dimension, because even though it's in the heart of Washington Heights, surrounded by tall buildings, the sisters purchased and preserved a large enough tract of land to provide the visitor with a sense of being in the country.
I continued walking on a stone path which ran along the front of the long porch at the front of the house. On the far side of the house there was the large yard, which not just protruded to the side of the house, but expanded deeply beyond the back of the house, where a few tall trees provided an inviting, picnic-like setting. The back porch was similar to the front porch in that it provided sufficient space for one to congregate in an expansive relaxed manner, which the guest musicians who were performing were relaxing.
Artisanal Beer Created in Washington Heights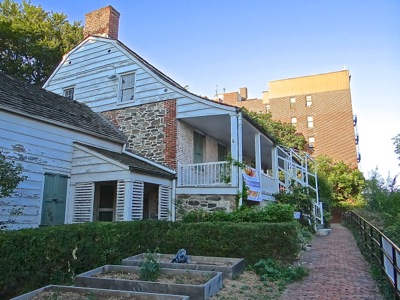 Meredith Horsford, the Dykman Farmhouse Museum Executive Director, provided me with a brief tour of the house before we joined her other guest in the Dykman Farmhouse celebration. I'll provide a tour of the Dykman Farmhouse in a second story at a later date, so that I can tell you about the celebration now.
There was an artisanal beer maker at the event whose name is Juan J. Camilo. Juan is from the Washington Heights neighborhood and just four years ago, he created and launched Dykman Brew. He told me he had started home brewing about eight years ago and that the Chelsea Brewery in the Bronx currently brews the beer. I'm a pretty interested beer drinker [preferences range from Becks to Guinness to Peroni], and I don't find myself enjoying most new beers. But the Dykman Brew was an exception, as it is a smooth, rich, flavorful beer. Juan told me it's sold in many Washington Heights neighborhood stores, as well as in stores in other parts of the city, that you can find on his website - www.dykmanbeerco.com.
Artisanal Dutch Cheeses made in the Old Country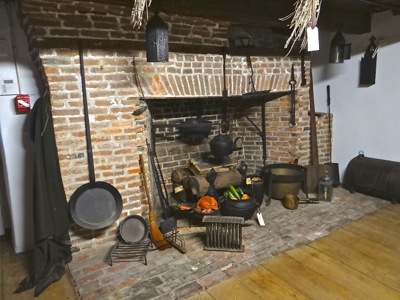 I also met a woman who helps Beemster Premium Dutch Cheese market their cheese in the U.S. She had samples which I tasted before we delved into the artisanal Dutch cheeseworks. The cheese was a semi-soft, creamy Gouda cheese that in addition to a nice taste on its own, would likely go well with just about any accompaniment.
She told me that the cheese is aged for 18 months on wooden planks in old historic stone warehouses before it is made available for sale. That the cows are herded on Dutch polder land [land reclaimed from the sea] which provides rich grazing. She noted that Beemster is one of the most - if not the most - sustainable dairies in the Netherlands, but that there are bilateral trade issues with organic certification which is why they can't yet make that claim on their cheese. The cheese tasted great before we started talking, and possibly even a bit more so after I had heard her tell me about it.
Live Music & Entertainment in Historic Washington Heights
I sauntered back around to the rear of the farmhouse where unfortunately [for me] the musicians had stopped playing. They were discussing their gigs around the city and how to get to and from them.
Anyhow, the third annual Fall Celebration at the Dykman Farmhouse was an enjoyable way to spend the afternoon. They have other upcoming programs, such as Oktoberfest. Check out their website for details and we'll periodically post some of the bigger events as they arise in our Weekend Things To Do post which is done sometime every Friday.
---
Lil Frankie's in the East Village / Bowery
Frivolous, Fun Fare in the East Village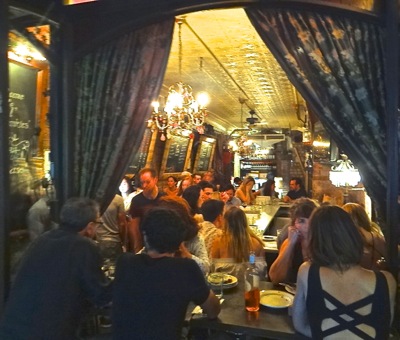 September 17, 2017 / East Village Neighborhood / East Village Restaurants / Manhattan Buzz NYC.
It was Sunday, August 27th, a week before the school year was about to begin, as I made my way down to the Bowery to meet an out-of-town guest and family members for a farewell dinner. It was a nice end-of-summer evening as I came above ground in SoHo, and I had a little time so I browsed around.
I made my way up to Lil Frankie's at 19 First Avenue, only a couple doors north of Houston Street. Lil Frankies was bustling. It's a cash only restaurant that serves pizza and assorted Italian fare at affordable prices - meaning most of the appetizers and entrees run between $10 - $20 apiece.
The photo at right shows the store front of Lil Frankies on First Avenue north of Houston in the Bowery / East Village.
Thankfully we had a reservation so we didn't have to wait. The restaurant is divided into two sections, one in the open area surrounding the bar and opening out onto the street, and the other in the back room which is made not quite so claustrophobic by the use of mirrors.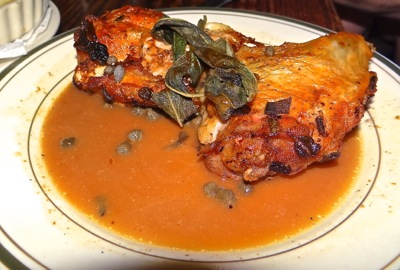 We started with a plate of fried calamari which was fresh and tender. This was followed by main entrees including margherita pizza, wood roasted chicken and a pappardelle with veal ragout. I had ordered the pappardelle which was served while still hot, with the pasta cooked al dente, providing a dense, flavorful texture to accommodate the tomato based ragout sauce which surrounded the tender bits of veal.
I was told that the fresh tomatoes and authentic mozzarella, combined with the flavorful dough used in creating the margherita pizza made its out-of-town recipient one happy camper. And that the roasted chicken was moist, tender and deliciously flavored with lemon, capers and sage.
The ambiance was festive, the service was excellent, and it was a bit loud as Lil Frankie's attracts a youthful audience. And since the youthful members of our party were about to return to school, Lil Frankie's turned out to be just the right pick.
Lil Frankies is a fun, casual place to get together with family and friends.
---
Election 2017 Tuesday 9/12 - Please Vote
September 11, 2017 / Queens Neighborhoods / Queens Politics & Government / Queens Buzz.
The New York City primary election is tomorrow, Tuesday September 12th.
The polling booths will be open from 6 am to 9 pm Tuesday.
To find your poll location click on the graphic at right.
Once on the website, input your address, and then click the small icon to the right of it to get the results of the search. I hope the NYS Board of Elections does better cyber security than they do web design, as the tiny arrow is easily overlooked.
If there is a runoff to this election, it will be held on Tuesday, September 26th and the general election is Tuesday, November 7th, 2017.
---
---

---
NYC Mayoral Debates: De Blasio & Albanese
Democratic Candidates Discuss Issues Facing NYC
September 4, 2017 / Upper West Side Neighborhood / NYC Politics & Government Manhattan / Gotham Buzz NYC.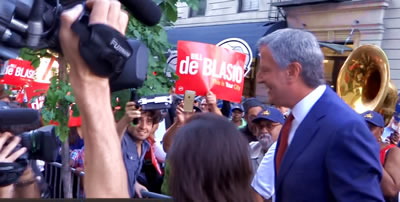 On Wednesday evening, August 23, I made my way to Symphony Space on the Upper West Side to watch the two Democratic candidates for mayor of New York City debate the issues.
Sal Albanese Democratic Challenger
Sal Albanese is the Democratic challenger, who raised just enough money to qualify for the NYC Campaign Finance Board qualification, which mandates debates between candidates who receive matching funds.
Albanese hails from Brooklyn and served as a member of the NYC City Council from 1983 to 1998. In the twenty years since he left public office, Sal has run for mayor on two previous occasions as a reformer. Since leaving office, Albanese spent ten years working in financial services and the rest of the time as an attorney, doing related work. Based on his political career efforts, Albanese appears to support many of the same progressive causes as Mayor de Blasio.
Conservative Commentator Sliwa Backs Albanese Bid
I ran into conservative talk show commentator Curtis Sliwa of the Guardian Angels who told me he was there to support liberal reformer Sal Albanese. I found this to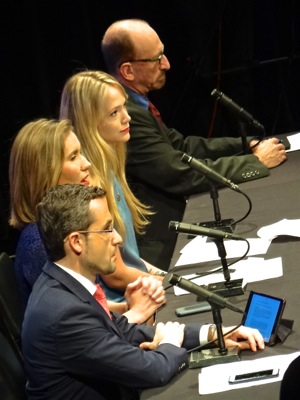 be ironic - given that Sliwa is a conservative Republican commentator who a couple years ago publicly announced that he was going to run as a Republican for Queens Borough President, challenging Democrat Melinda Katz. When I asked him if he still planned to run as a Republican against Democrat Katz, he replied no, and said he was here tonight supporting Sal Albanese and the Reform Party.
NYC Mayoral Debates 2017
What follows is probably less a summary, than a full accounting of the debate.
As I came out of the subway, I saw people gathered in front of Symphony Space. Some were supporters of the Mayor and some supporters for Goodwin, a challenger to the Upper West Side NYC City Councilwoman, Helen Rosenthal.
Inside I found that the free tickets had been fully subscribed, and while the auditorium was generally filled - it was not full - as not everyone used the tickets they booked.
Errol Louis of NY1 was the debate moderator and the debate panelists included: Brian Lehrer of WNYC, Laura Nahmias of Politico, Grace Rauh of NY1 and Juan Manuel Benitez of Noticias on NY1.
Each candidate opened with brief statements.
Albanese: Cites The Issues Facing NYC & America
Albanese started by talking about many of the major issues facing not just New York, but in many respects, all of America. He mentioned class warfare, pay to play politics, public transit investment, empty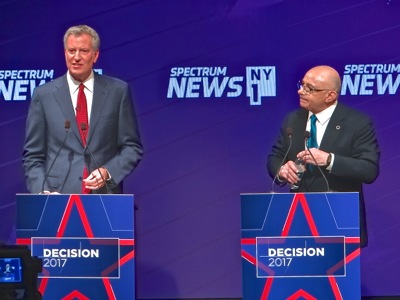 storefronts, lawless developers, and the negative impact of gentrification on communities, public space and tenants.
De Blasio: Cites Administration Accomplishments
De Blasio started by talking about the accomplishments of his administration over the past three and a half years. He noted that his administration is in the process of building affordable housing for 500,000 tenants and is on time and on budget. That Stop N Frisk is down 93% while the NYC crime rate has continued to fall, so that NYC is now one of the safest big cities in America. And that 78,000 children are now attending pre-school. He said while his Administration has achieved a lot, there's a lot more to do.
Later this week I'll post the rest of the report about the Mayoral Debate between Sal Albanese and Mayor Bill de Blasio.
---

---
Table of Silence Transcends 911
Lincoln Center Dance Commemoration Transcends Hate through Love
September 11, 2017 / Upper West Side Neighborhood / Modern Dance Manhattan / Manhattan Buzz NYC.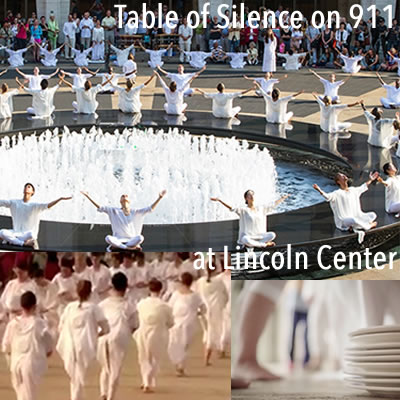 This morning at 8.15 am over one hundred dancers began a spiritual commemoration of the events of 911 with a modern dance performance in the main plaza at Lincoln Center on the Upper West Side. This was the seventh year of the performance, and its meaning seems to grow - rather than diminish - with time. It's about the classic and timeless struggle, between giving into hate, or striving to love.
The dancers were all dressed in white, and they created a resplendent symmetry mimicking nature's own. The performance was accompanied by a bit of minimalist music - originating from a beating drum, the air passing through a conch shell, and the human vocal cords.
The dancers transformed the plaza at Lincoln Center into a table, with the bountiful water fountain in the middle. Plates appeared, signifying the sharing of a feast ... a spiritual feast ... a prayer for all humanity.
We feel a heavenly sharing of being together, in a single place, at a single time. It's a solemn place, a sagely peace, a peace with each other, a peace within, and a peace with all the world ... even as the world continues to swirl around us, as does the NYC traffic ... but we remain centered ... as one.
At exactly 8.46 am the performance stops. All is still in Lincoln Center Plaza as we observe a minute of silence together. It's a silence within, as we are surrounded by the ambient noise of the city during rush hour. Sixteen years ago at 8.46 am the second of two planes struck the World Trade Center wreaking havoc. Taking lives. Creating chaos.
Cleansed of hate and vengeance - we depart to go on with our days. We have defeated the terrorists, by not giving into their desire for an endless cycle of violence and hate.
---

---
The Solar Eclipse of 2017 in NYC
The Solar Eclipse: A Shared American Communal Experience
August 21, 2017 / Queens Neighborhoods / Manhattan Neighborhoods / Gotham Buzz NYC.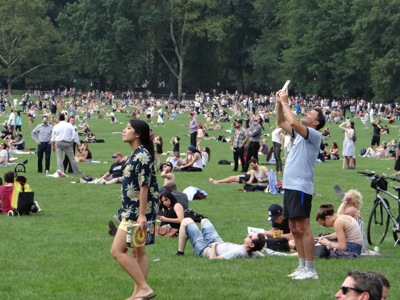 I set about to experience the solar eclipse of 2017, departing for Manhattan at about 1.30 – a bit after the eclipse was to begin. As I made my way to the subway, I met a woman who was heading to Hunters Point South Park to do the same. She offered me the use of her eclipse glasses, which I examined but it was far to early to really use.
The eclipse glasses were opaque and I couldn't see through them. Apparently they only work when you're looking at the sun. The glasses this woman had were sponsored by Cisco Systems through a science camp in Rochester, NY. Consumers were advised to be careful about which eclipse glasses to use, as apparently some would not filter out the harmful, eye-damaging rays of the sun. One eclipse audience member told me that the glasses were being sold online – ten for $100. I'll have more about the protective glasses a bit later as I used the glasses to take what I would call 'meaningful' photos.
There were many reports published about how one can damage their eyes by looking directly at the sun. The Washington Post noted that the damage can begin in as little as one and a half minutes, and that looking at the sun in a sequence of little peaks at a time, may not prevent you from doing real damage. It's worth noting that one can also damage their camera by pointing it directly at the sun for a long period of time. The New York Times noted that the longest the full eclipse will last, is less than three minutes, and that in many places in America it will last less than a minute.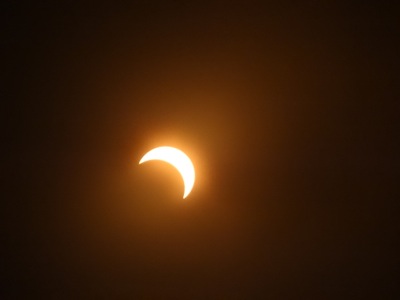 Historically, it's worth noting that the moon eclipsing the sun happens every 18 months, but most eclipses happen over the oceans which cover about two thirds of the planet earth surface. According to the New York Times, the last time America experienced a full solar eclipse was in 1918, a full 99 years ago, so few if any who are old enough to experience the eclipse this time, are likely to see it again.
The eclipse began along the west coast in Oregon at about 1.15 pm, the peak was at about 2.45 pm and the final was at about 4 pm. I'll note a few of my times as we run through the rest of this report.
Anyhow, I arrived at Lexington and 77th Street about 2 pm, about 45 minutes before the peak of the eclipse. A few folks were standing in the street looking up, so I shot a photo of the sun at that time, but it didn't look like much at the blinding rays of light blocked any real photo clarity.
Rest of story with plenty more photos coming later Tuesday 8/22.
---
Click here for things to do on the Upper East Side and fpr Contacts lens & eyeglasses in Jamaica. Midtown Dentists and Midtown Chiropractors, and Islam Fashion NYC.
---
HARLEM / INWOOD / WASHINGTON HEIGHTS
---
NYC History: Morris-Jumel Mansion
The Mansion, Once Washington's HQ, is Home to 'Spirited' History
August 8, 2017 / Harlem, Inwood & Washington Heights Neighborhoods / Manhattan History NYC / Manhattan Buzz NYC.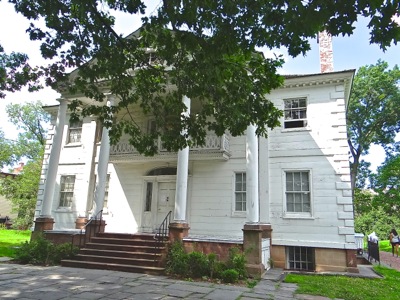 I had an opportunity to visit the historic Morris-Jumel Mansion in Washington Heights this summer. The mansion was built in 1765 by a British Military Officer, Roger Morris, who had married a wealthy heiress, Mary Philipse. Mary was the daughter and granddaughter of early Dutch immigrants [circa 1650's] who had become large landowners along the Hudson River - including lands ranging from what is now the western Bronx, all the way up to Putnam County.
The Morris Jumel Mansion was built atop one of the highest - if not the highest points of Manhattan - and to this day provides a great view of the surrounding urbanscape. During the Revolutionary War General George Washington set up headquarters at the house in September / October of 1776 where he won his first battle against the British in the Battle of Harlem Heights. This was an important victory because it demonstrated the colonialists could win battles and it came after Washington's forces had to evacuate what is now Brooklyn - in a Dunkirk style exit across the East River earlier that summer. The curators at the mansion, maintain the room that was once Washington's headquarters in a manner similar to the time.
Morris Jumel Mansion in Washington Heights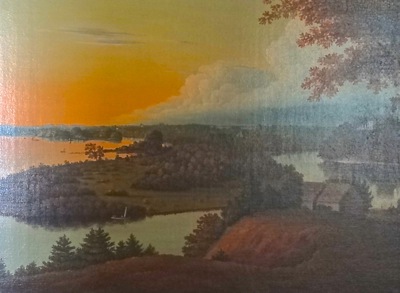 Nonetheless, the British were beginning to surround Washington in that locale, so he soon evacuated it. Today we call the area Washington Heights, and it is likely Washington's presence in this home during the war, that influenced the name of this neighborhood.
These Morrises were sympathizers to the British Crown, and thus evacuated it when the American Revolutionary War broke out in 1775. Eventually Morris had to forfeit their lands, when the colonialists suprised the world, and in 1783 emerged the victorious agains the British Empire. It's worth noting that there is a Robert [not Roger] Morris who was one of the American Founding Fathers.
From the time of the forfeiture of the house until it was a acquired in 1810 by Stephen Jumel and his wife Eliza, the mansion was reported to have been used as a tavern. There's not much information available about Stephen Jumel - not even a picture, but plenty about his wily wife, Eliza. They remodeled the house, notably the front of it in a Federalist style. Stephen died in a reportedly unusual death / accident in 1832 and there were rumors that Eliza may have had something to do with it.
Jumel Marries Burr & Mansion Inspires 'Hamilton' Playwright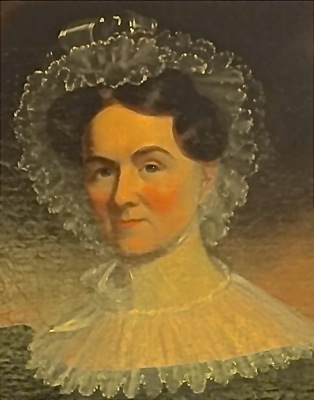 Eliza married Aaron Burr, a former Vice President and the man who killed Alexander Hamilton. They reportedly lived together a short while [she was 19 years his junior], as it appeared to be a marriage of convenience [status for her and money for him] and she obtained the official divorce documents from him on the day of his death in 1836.
Eliza apparently was a shrewd businesswoman and managed the lands they owned in such a manner that she lived comfortably until her death in 1865. The estate took 16 years to settle and the house was finally acquired by the State of New York in 1904 and thereafter bestowed with increasingly protective historic designations.
Playwright Lin-Miranda, author of the popular play, 'Hamilton', apparently sought some good measure of inspiration from this site. Reportedly some key verses were written in Aaron Burr's bedroom.
Paranormal Investigations - Eliza Jumel & the Morris Jumel Mansion
There's been some emerging lore, dating back over half a century, that the ghost of Eliza Jumel, and possibly others, haunts the mansion. In fact the museum capitalizes on this lore by offering folks paranormal investigational tours.
All in all it was a fun visit to the Morris Jumel Mansion in Washington Heights. It was my first visit there and it won't be my last.
---
Fashion Show on the Hudson
Riverbank Park Fashion Show Highlights New & Known Clothing, Models & Designers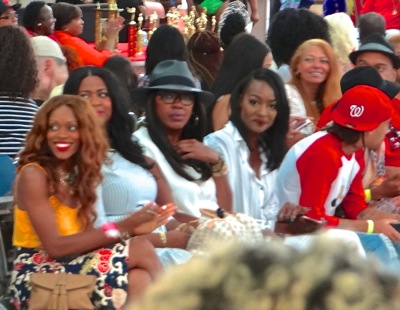 August 1, 2017, Inwood Neighborhood / Manhattan Fashion & Designers / Manhattan Buzz NYC.
A couple of weeks ago I made my way to the 8th Annual Fashion on the Hudson fashion show at Riverbank Park at 679 Riverside Drive along the Hudson River in the Inwood neighborhood of upper Manhattan. It was a beautiful Saturday afternoon as I headed into the Cultural Building in the 28 acre park.
The audience filled the Cultural Building, so I had to move around to get some photos of the models who were in the process of displaying men's swimwear. The muscular male models, with washboard ribbed stomachs marched down the runway showing a range of swimming suits that ranged from modest white trunks, to skimpy speedo cuts with psychedelic designs. I surveyed the crowd and found a number of women who seemed appreciative of the new designs and cuts.
As I was tight on time, I decided to make my way backstage to talk to a few of the models and designers to learn a bit more about them. Backstage a number of models had queued up for the ongoing swimwear segment of the program, while deeper backstage a number of the formal wear models were prepping for their debut.
In the photo above right you can see members of the audience enjoying themselves at the Fashion on the Hudson fashion show at Riverbank Park in the Inwood neighborhood of Manhattan.
Fashion on the Hudson Showcases Local Designers & Models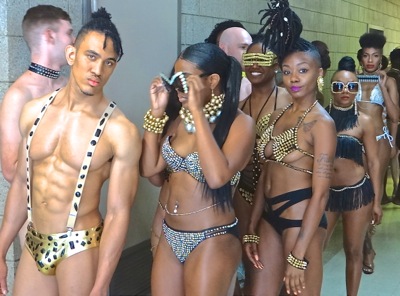 Fashion aficionado Daryl H. Miles, Founder of Beyond Styles by Miles, took a few minutes to talk to me about the show. He told me that Sofia Davis, editor of Fashion Avenue News, founded the show and that it has been produced at this location since its inception. At first Sofia held the show outside, but given the vagaries of the weather she decided to bring it in, where it has been ever since.
This year the show hosted 30 designers displaying swimwear, formal wear, casual wear and other stylish creations. The show is free to the public, but you must rsvp because seating is limited. The Fashion on the Hudson fashion show represents a great opportunity to see what's new and what's hot in the local NYC metro fashion world, and provides an opportunity for people interested in the business to meet models, designers and fashion buyers.
Daryl of Beyond Styles by Miles [www.beyondstylesbymiles.com - not to be confused with www.stylesbymiles.com] has been in the business for a number of years helping designers, models and fashion show organizers promote their fashion lines and brands.
I stayed a bit longer shooting photos of the models and lines before departing. And I'm looking forward to being able to spend more time covering the show next year.
In the photo above right you can see models who participated at the Fashion on the Hudson fashion show at Riverbank Park in the Inwood neighborhood of Manhattan.
---
Old World Big Screen Theater Coming Back
The United Palace is a Big Screen Theater Built in the 1930's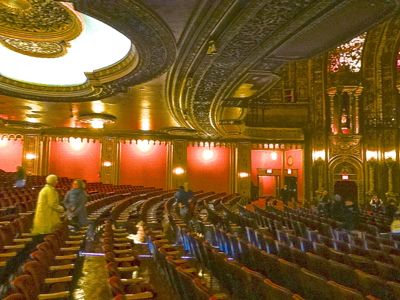 May 16, 2017 / Upper West Side Neighborhood & Washington Heights / Film in Manhattan / Manhattan Buzz NYC.
Last month I had the opportunity to watch George Orwell's 1984 on the big screen at the United Palace theater in Washington Heights. I hopped aboard the subway at Times Square and made my way north into Washington Heights, bumping into a friend of a friend along the way.
I got off the A train at 175th Street and made the one block walk east to the the theater. The outside of the building is rectangular and made of stone, hiding an exquisite interior in an evolving neighborhood. When I stepped inside, I was nearly dazzled by the beauty and old world glamorous feel that the United Palace has managed to keep alive all these years.
More coming later this week.
---

---
Is Singing Beach a Twilight Parallax?
Tina Howe's New Play at Here MainStage Theater in SoHo
July 25, 2017 / SoHo Neighborhood near Tribeca / Manhattan Theater & Summer Plays / Manhattan Buzz NYC.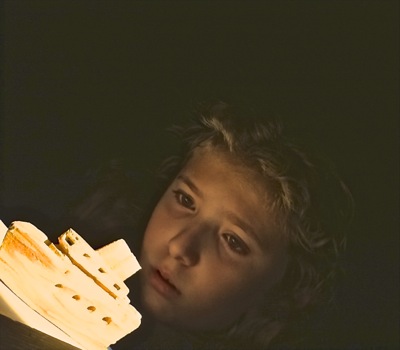 Last Thursday I had the opportunity to watch the dress rehearsal of Singing Beach written by American playwright Tina Howe.
Tina Howe has won numerous awards and honors as an American Playwright including placing as a finalist for the Pulitzer Prize in Drama in 1983 [Painting Churches], the Drama Critic's Circle Award for Best Play in 1998 [Prides Crossing] and the Lilly Award Lifetime Achievement Award in 2012.
Tina told me that the play, Singing Beach, was something she had started nearly a decade ago, but had put on hiatus after a couple of years of toil because she just couldn't get it right ... until now.
In the photo at right we watch as granddaughter Piper, played by Elodie Lucinda Morss, segues into another dimension taking us aboard the S.S. United States in Singing Beach, a new play by Tina Howe.
Singing Beach - Modern Themes
The play, Singing Beach, explores a number of themes. One of them is how family members respond to the caring needs of an aging, non-functional family member. In the Singing Beach play, the near-comatose elder is the father of the mother character [Mary], and the grandfather of granddaughter character [Piper] – whom together represent the female axis around which the play revolves. In a more cosmic parallax sense, the play actually encompasses three generations of women, as the grandmother's presence is felt by the void left when she passed away a year earlier.
Singing Beach - Director, Producer & Playwright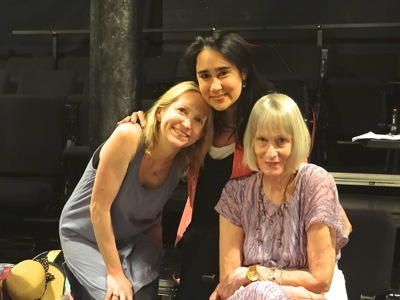 Tina Howe's new play is directed by Ari Laura Kreith of Theatre 167 and produced by Jenny Lyn Bader. The play opens on a beautiful beach, Singing Beach, which is a reference to a small, exclusive half-mile stretch of beach near Manchester by the Sea, which is just north of Salem in Massachusetts. The beach is known for its unique sand, which periodically emits sounds, when the wind hits the beach sand in just the right way.
The ghostly sounds of Singing Beach appear to be a metaphor in the play. Shortly after the play opens, we're told there's a storm, with potentially lethal gale force winds approaching. Will the storm wreak havoc, misery and by virtue of its destructive force, shake up and change everyone's reality?
Shortly after the first scene, we're taken into the dreamy parallax stream of subconscious in granddaughter Piper's mind - in a transition that is far more subtle than the windy transition taken by Dorothy in the Wizard of Oz. After Piper takes us aboard a transatlantic steamer, she appears to have far more fun than Dorothy, but is traveling in an environment that might be more mortally dangerous.
In the photo at right are Director Ari Laura Kreith, Producer Jenny Lynn Bader and Playwright Tina Howe at the Here Theater in SoHo.
At Here MainStage Theater in SoHo thru 8/12
I'll have more on this as the week progresses, but in the meantime Singing Beach is being performed at the Here MainStage Theater at 145 6th Avenue at Dominick Street in SoHo. The play runs through August 12, 2017, but seating is very limited.
You can purchase tickets online [$30 / $20] at the Here.org website by cutting and pasting this url into your browser box - http://here.org/shows/detail/1920/
---
---
Lower East Side Arts Festival
Theater for the New City Celebrates America's Immigrants
May 30, 2017 / East Village Neighborhood / Theater in Manhattan / Manhattan Buzz NYC.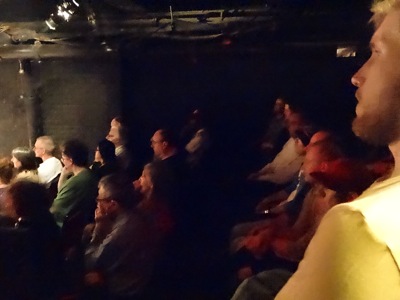 I attended the 22nd annual Lower East Arts Festival in the East Village this weekend. It was held at the Theater for the New City on First Avenue off 10th Street beginning Friday and ending Sunday. As I approached the theater, I could see it was bustling.
Inside there was a long winding hallway, with high ceilings, and art exhbits adorning the walls and crannies along its length. I stopped at the ticket booth [tickets are free] to get a bit of orientation and here's what I learned.
The festival was started by an actress, who was prepping, performing and managing the whole time I was there, so I didn't get a chance to speak to her on this visit. At right you can see the audience attentively watching a musical performance in the lower theater of the Theater for the New City.
The Theater for the New City predates the festival, when it went by another name. The festival itself was first held in the West Village, then moved farther east, and a few years ago opened up at this location.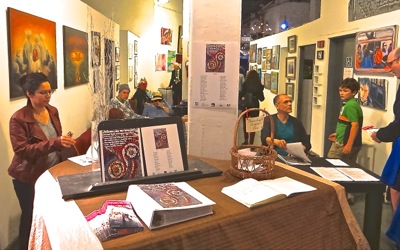 The festival celebrates the artistic community of the Village, Manhattan, and the greater NYC metropolitan area. There were literally dozens of performances and exhibited artworks, done by and featuring in the neighborhood of well in excess of 100 participants. In the photo at right you can see some of the art exhibited at the 22nd Annual Lower East Side Festival of the Arts in the East Village in Manhattan.
Each night the performances run from about 6 pm to about midnight featuring actors, actresses, poets, artists and dancers in a couple of venues at Theater for the New City at 155 First Avenue at 10th Street. It's first come / first serve and the seating handles about 150 and 60 guests per performance in total.
The festival theme this year was 'We are all Immigrants'. All events are free, the festival lasted three days, and the Theater for the New City is, as I was told, in a constant state of movement, so there will be more to come.
Break a leg.
---

---
Lil Frankie's in the East Village / Bowery
Frivolous, Fun Fare in the East Village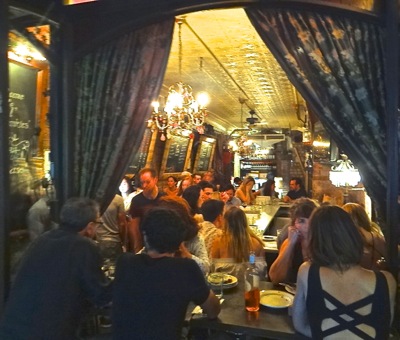 September 17, 2017 / East Village Neighborhood / East Village Restaurants / Manhattan Buzz NYC.
It was Sunday, August 27th, a week before the school year was about to begin, as I made my way down to the Bowery to meet an out-of-town guest and family members for a farewell dinner. It was a nice end-of-summer evening as I came above ground in SoHo, and I had a little time so I browsed around.
I made my way up to Lil Frankie's at 19 First Avenue, only a couple doors north of Houston Street. Lil Frankies was bustling. It's a cash only restaurant that serves pizza and assorted Italian fare at affordable prices - meaning most of the appetizers and entrees run between $10 - $20 apiece.
The photo at right shows the store front of Lil Frankies on First Avenue north of Houston in the Bowery / East Village.
Thankfully we had a reservation so we didn't have to wait. The restaurant is divided into two sections, one in the open area surrounding the bar and opening out onto the street, and the other in the back room which is made not quite so claustrophobic by the use of mirrors.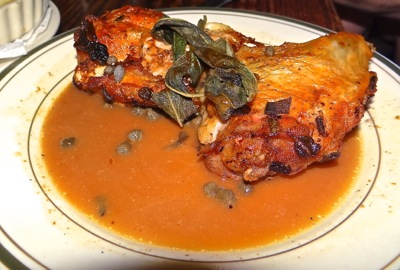 We started with a plate of fried calamari which was fresh and tender. This was followed by main entrees including margherita pizza, wood roasted chicken and a pappardelle with veal ragout. I had ordered the pappardelle which was served while still hot, with the pasta cooked al dente, providing a dense, flavorful texture to accommodate the tomato based ragout sauce which surrounded the tender bits of veal.
I was told that the fresh tomatoes and authentic mozzarella, combined with the flavorful dough used in creating the margherita pizza made its out-of-town recipient one happy camper. And that the roasted chicken was moist, tender and deliciously flavored with lemon, capers and sage.
The ambiance was festive, the service was excellent, and it was a bit loud as Lil Frankie's attracts a youthful audience. And since the youthful members of our party were about to return to school, Lil Frankie's turned out to be just the right pick.
Lil Frankies is a fun, casual place to get together with family and friends.
---
Queens Library lawsuit and Queens Brooklyn tile stores near Williamsburg.

---
Cigar Stores in Manhattan: Davidoff
Midtown Cigar Lounge with Fine Selection & Ambiance
August 15, 2017 / Midtown Manhattan Neighborhoods / Shopping Manhattan Midtown / Manhattan Buzz NYC.
Earlier this year I had an opportunity to take a break at the Davidoff Cigar store located in Midtown Manhattan. I have visited the store on several prior occasions, stopping in for a quick take out order of a fresh cigar or two. But on this day I had a bit of time available, so I decided to reward myself with an 'eat-in' cigar.
Davidoff Cigar Store - Men's Gift Stores in Manhattan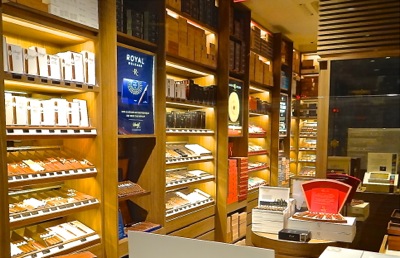 I like entering the Davidoff store. It's a tightly appointed men's store, complete with more than a full range of sizes and strengths of cigars. They also offer all of the accessories one might need to properly care for and to assist in the consumption of cigars, meaning humidors and ash trays and lighters and the like. They also offer other men's accessories like wallets and brief cases that match the quality branding of their cigars.
Inside the humidified cigar room I began browsing the selection. While looking through the cases, I started conversing with another customer who recommended a Dominican made cigar he favors. I was in a receptive mood to try something different, so I bought a regular sized, medium bodied, lighter tobacco cigar, which cost in the neighborhood of $8 - $12 [can't remember the price or name right now] and headed into the smoking lounge to enjoy my purchase.
Cigar Lounges in Manhattan: Davidoff Cigars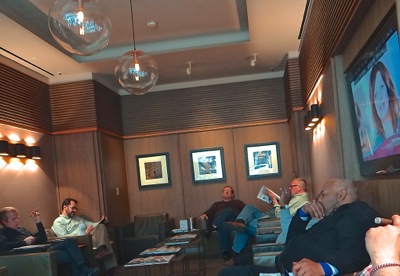 The smoking lounge is at street level on 6th Avenue between 56th and 57th streets. As it was a quiet Saturday on a cool spring day, the pedestrian traffic was fairly light. During the weekdays and holidays it's bustling. The mood of the room reflected the calmness outside, as there were about a half dozen men, ranging in age from about the mid thirties to mid sixties, sat reading the paper, conversing or quietly staring into space contemplating a business deal, a family issue or the universe.
I spent the better part of an hour talking to the guy who'd recommended my cigar. We covered the family and kids, the job and what's doing in the world, both here and abroad. It was a pleasant conversation and I left the Davidoff store on 6th Avenue just south of 57th Street feeling pretty good about things and planning to make a return visit in the not-too-distant future.
---
Farmers Markets & Street Fairs in Manhattan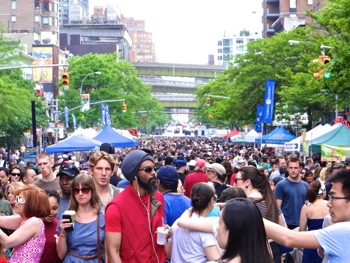 September 15, 2017 / Manhattan Farmers Markets / Manhattan Street Fairs / Manhattan Buzz NYC.
Many Manhattan farmers markets are open year round, but there are also a number of them that are seasonal. Some of the seasonal Manhattan farmers markets begin opening in the Spring, with nearly all of the rest of them opening no later than the first two of weeks in July. Click here to view the schedules of many of the farmers markets in Manhattan.
Manhattan street fairs are entirely seasonal, with some of them hitting the streets in early April. Manhattan street fairs rise markedly during the spring and lighten up a bit during the dog days of summer [July / August], and rising again in the fall. By the end of November most of the Manhattan street fairs go on hiatus. Click here to view a full schedule of Manhattan street fairs. Click here for Bronx street fairs.
---

---
Update: LaGuardia Airport Development Project
First Phase Moving Along with Second & Third Phases About to Begin
April 24, 2017 / Astoria Neighborhood / Queens Real Estate / Gotham Buzz NYC.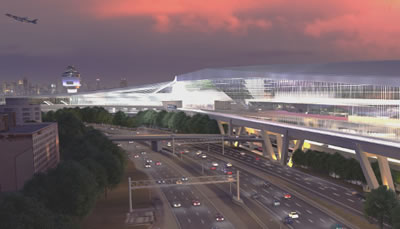 I attended a Community Board One meeting at the Astoria World Manor on Wednesday, April 19th. People representing the LaGuardia Airport development project were scheduled to provide the community with an update regarding several of the multi-billion dollar renovation projects associated with LaGuardia Airport, that are either currently in the works or nearing the end of the planning process.
The presentation was split into three parts: 1) LaGuardia Airport development project construction updates, 2) traffic mitigation efforts and 3) community outreach including job opportunities related to the projects.
Click here to read our report on the LaGuardia Airport development project & expansion, related job opportunities, its possible impact on travel times to the airport and the public hearing details on May 3rd, 2017 in Flushing. We have also included a small bit of history about the airport and the fight over the property and development in Flushing Meadows Corona Park. The graphic at right was created as part of the LaGuardia Airport development project.
---
Click here for Jackson Heights realtors.
---
U.S. Taxes & Budget: Trump is Whose Voice?
Stock Market adds Trillions & Working Middle Class Gets What?
March 6, 2017 / NYC Neighborhoods / NYC Business & Politics / News Analysis & Opinion / Gotham Buzz NYC.
Has Rupert Murdoch's Fox News mouthpiece, Sean Hannity, been pushing hard for tax reform because the Trump tax plan will be good for the working class people - one of which he appears to pretend to be? Or because the Trump Tax Plan will be good for mega multi-millionaires like Sean Hannity and mega multi-billionaires like Hannity's boss, Rupert Murdoch?
How Much a Phony is Fox News Sean Hannity?
Does he Pretend to be Working Class Guy ...
- So he can Dupe Fox News Viewers into Supporting a Tax Plan that Favors NOT them -
... but Mega-Millionaires like Him?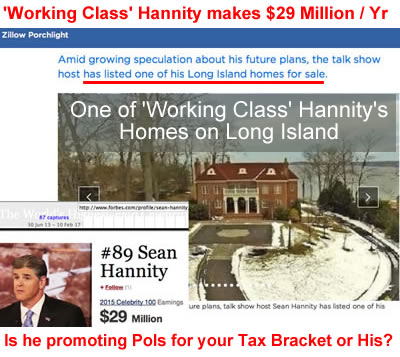 Hannity hasn't been a working class guy for in the neighborhod of two decades. In fact, according to Forbes in a 2015 survey Hannity is a very rich man. According to Zillow Hannity owns a palacial home on Long Island worth millions [see Zillow photo at right] and a second home located in a wealthy enclave in Naples, Florida.
Forbes published that Sean Hannity's earnings in 2015 were $29 million [see graphic at right]. So it's not implausible to guess that Hannity may have purchased the second home in Florida, so he could claim residency there in order to avoid NYS taxes, which Hannity has been publicly complaining about for years.
Which tax candidates and priorities do you think Sean Hannity is supporting - yours - or his own and Boss Murdochs?
Televangelist Hannity Preaches Gospel According to Murdoch
Fox News & Hannity Dictate Orders to Republicans ... Implied Threat is Suffer the Wrath of Murdoch's Propaganda Machine?
Hypocrisy & Half Truths on Hannity on Fox News Tonight?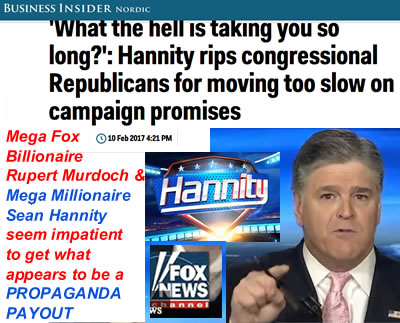 I'm using Fox News propagandist Sean Hannity as an example of what appears to be the incredible hypocrisy and misleading information regarding Trump and the Trump tax plan, being provided by Murdoch's Fox News, one of America's largest TV networks.
It appears Hannity lures unwitting viewers into believing he's a working class guy - when he isn't - so his viewers will take his advice when he labels political candidates and public issues in childly simplistic terms of 'US' vs 'THEM' and 'GOOD' vs 'BAD'. Hannity seems to use small words and incessantly repeats himself, instructing his viewers like they are a bunch of five year-old kids who don't have the contextual experience nor even the infantile analytical skills required to think for themselves.
Fox and Hannity oftentimes appear to make no attempt to find and disseminate the truth on issues or government officials, but instead appear to propagandistically promote or punish those who do not bend to their will, as exemplified in the Business Insider headline to your right. The implicit message to Republicans appears to be obey us - or suffer the consequences of losing your elected government post - because our audience believes us and will do what we tell them to do.
Fox News Hannity's pugnacious rhetoric sounds kind of Nazi-like. This seems to be an indication that the FCC has granted and entrusted these people with way too much power - and that they appear to be corrupting it to serve their own selfish interests.
Click here to continue reading this report about Fox News propaganda & Hannity, O'Reilly propagandists on Fox News which is a lead into a report about how it appears they will profit handsomely from their propaganda services.
---

---
Algonquin Hotel NYC
Midtown Manhattan Hotels near Times Square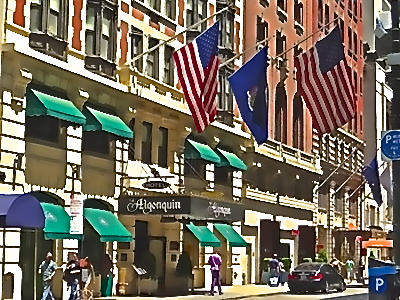 Manhattan Hotels NYC / Manhattan Buzz NYC.
The Algonquin Hotel has a storied past. It was built in 1902 and was once the watering hole for the writers, actors and artists of the Algonquin Round Table of the 1920's.
Many of the writers for the New Yorker magazine, including editor Harold Ross, were members of the Algonquin Round Table. The Algonquin Round Table regulars also included the editor of Harpers magazine, Art Samuels, as well as Alexander Woollcott who was a playwright, the NY Times drama critic and an early radio personality at CBS. And of course, author and screenwriter, Dorothy Parker.
The Algonquin continues to maintain an old world charm, while providing all the modern amenties. The room where the Algonquin Round Table met is intact and the Algonquin has a restaurant that serves an elegant breakfast, lunch and dinner at 59th West 44th Street in Midtown, near the Times Square theater district.
Click here for a map with links for the Algonquin Hotel one of the leading hotels in Midtown Manhattan which is shown in the photo at right.
And click here for the Algonquin Hotel business listing on this site which includes a link to their website and telephone number for them, as one of the leading historic hotels near the Theater District NYC in Midtown Manhattan.
---
*** IMPORTANT ISSUES ***
---
How Duplicitous was James Murdoch's Donation?
Like Father Like Son: Is Rupert's Son also a Talented Deceiver?
Does Murdoch's Fox News RACIAL - ize to SENSATIONALIZE?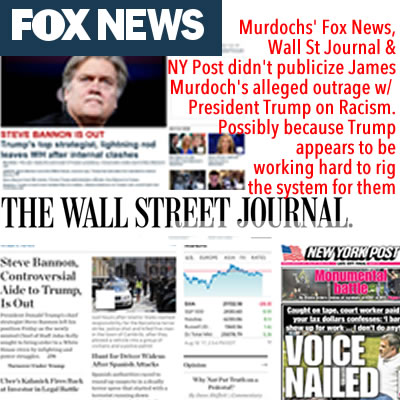 Updated September 3 / August 28, 2017 / NYC Neighborhoods / NYC Government & Politics / News Analysis & Opinion / Gotham Buzz NYC.
On Thursday, August 17th, 2017 a huge amount of publicity went out to the people of the United States and the world, that James Murdoch, the CEO of 21st Century Fox and Chairman of British Sky PLC, gave a $1 million donation to the Anti Defamation League.
The Anti-Defamation League [ADL] is a worthy cause, as according to the ADL website,
"The mission of ADL is to stop the defamation of the Jewish people and to secure justice and fair treatment to all."
James Murdoch and Fox News probably couldn't have come even close to securing this kind of positive publicity by spending ten times that amount of money on advertisements.
Murdoch's the Name & Mass Media Manipulation is the Game
Given the recent human tragedy of the Charlottesville terrorist attack, and in a time where Neo Nazis and the KKK are back on the march, the donating to the Anti-Defamation League certainly seems like a timely and good cause.
But the public relations aspect of James' donation is only where the story begins - as James Murdoch is the Chief Executive Officer of 21st Century Fox - a position he appears to have secured by virtue of his Royal Birthright. James is the son and one of the heirs to the media empire of multi-billionaire global propagandist Keith Rupert Murdoch - who coincidentally is the Chairman of 21st Century Fox. According to Rupert Murdoch's own words he is also a "good friend" of Donald Trump.
How Racist the Sly Fox (News)?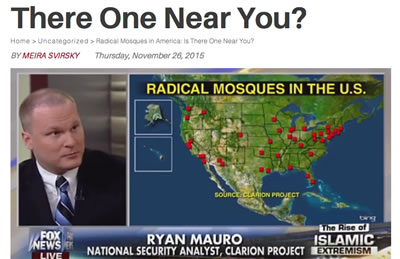 So while Fox CEO James Murdoch made a $1 million donation to fight discrimination, one could make the case that one of the more significant (indirect) contributing factors in the rise in anti-Muslim, anti-Semitism and / or racism in America is what appears to be the distorted RACIAL - izing reporting done by Murdoch controlled 'news' outlets - the most notable of which is Fox News.
I'm going to give you three examples of what appears to be Fox News implicit nod to racism by skewed presentations of the facts - including significant omissions, out-of-context distortions and fictionalizations. I encourage you to look for other appearances of this by Murdoch media outlets, whenever you're getting your news from them. The Murdochs control literally hundreds of different media outlets around the globe.
In NYC alone the Murdodchs control the Fox TV Network, NY Post, Wall St Journal and two local TV stations WWOR-TV [Channel 9] and Fox [Channel 5].
And it's worth mentioning that there is a pending lawsuit against the Murdoch's Fox News regarding employment discrimination. I won't delve into the allegations of illegal sexism at the organization as this has already been widely reported. An April 25, 2017 report in the NYT noted,
"Eleven current and former Fox News employees filed a class-action lawsuit in New York against the network, accusing it of "abhorrent, intolerable, unlawful and hostile racial discrimination."
Fox News Appears to RACIAL -ize a Rape to SENSATIONALIZE it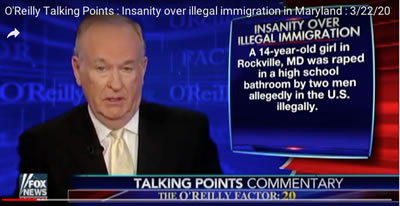 On March 22, 2017 the Murdochs' Fox News had Bill O'Reilly do a report about the rape of a high school girl allegedly by two illegal immigrants. The thrust of Bill O'Reilly's distorted commentary appeared to be the implication that illegal immigrants are rapists.
Murdochs' Fox News report went on to bash the other media which Murdoch's Fox News has called dishonest, propagandist, fake, elitest, liberal and left wing for not reporting the rape.
What O'Reilly doesn't tell you is that,
"... according to the United States Department of Justice document Criminal Victimization in the United States, there were overall 173,610 victims of rape or sexual assault, or 0.1% of the US population 12 or older in 2013 [source Wikipedia]."
O'Reilly Fails to Acknowledge his own Allegedly Sexist Past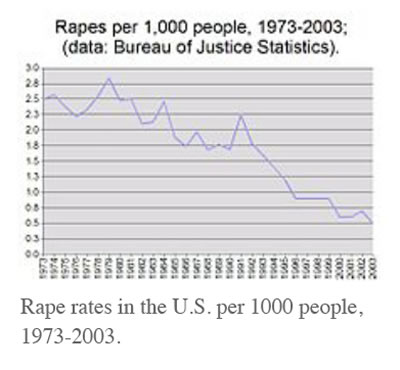 What alleged sexist Bill O'Reilly didn't tell his audience in his immigrant rapists report - less than two weeks before the story broke - was that,
"Bill O'Reilly, Fox News pay $13M to settle sexual harrasment suits from five women" [NY Daily News headline on April 2, 2017]
Is Bill O'Reilly a hypocrite who wants to have things both ways?
Murdochs' Fox News and Bill O'Reilly would have to do broadcasts about rape 482 times per day to report all of the rape / sexual assault crimes in this nation.
Why was this particular rape the one to report out of hundreds of thousands committed in the United States? One might conjecture it was reported because James & Rupert Murdoch's Fox News could win ratings with Bill O'Reilly RACIAL - izing the story in order to SENSATIONALIZE the story. A practice which, like Murdoch's Fox News alleged sexism, and what seems the Murdochs' organization penchant for illegally hacking people, appears to be a part of the Murdoch organization ethos or corporate culture.
The silver lining of the rape landscape in America is that the number of rapes per thousand people in the USA has been declining fairly steadily for decades. See graph posted in Wikipedia above.
So if James Murdoch REALLY wanted to make a statement against racism and Nazis - it seems he could have done far more good by terminating this sort of racial-ized reporting on the Murdochs' own news outlets - than by making a highly publicized donation using the Main Stream Media to tell the world that the Murdochs don't embrace racism.
Based on how the Murdochs' organization reports things, it seems James - like his father - wants people to believe he's one way, while he profits from doing things another way.
Is Racist Reporting done on Fox News?
Fox Fiction Factory: O'Reilly's Fictional Swedish Security Expert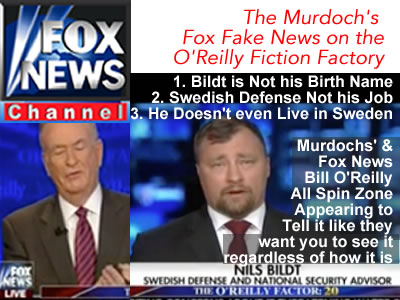 The first example was a piece by former Fox News commentator Bill O'Reilly in February of this year.
The O'Reilly Factor on Murdoch's Fox News presented Nils Bildt, whose birthname is Nils Tolling, as a Swedish security expert. Tolling / Bildt was asked to comment as an 'expert witness' about the current security problem that Sweden was (allegedly) having with immigrants.
O'Reilly used a Wall Street Journal report [the Wall St Journal is also controlled by the Murdochs] for his story. Murdoch's Wall Street Journal had published a report about Swedish immigration problems which failed to include important facts [I couldn't find the story so they must have pulled it down, but it's mentioned in the broadcast].
Apparently the WSJ article reported that about of third of women in Sweden feared for their safety. The WSJ failed to note that it was a third of the IMMIGRANT women who were fearful for their safety in Sweden, leaving Murdoch's Wall St Journal audience with the erroneous impression that it was the Swedish women who were fearful.
Nils Tolling aka Nils Bildt turned out to be something of an imposter as he used a second name - not his birthname, and O'Reilly / Fox claimed for him a title and position he never held, and Fox / O'Reilly appeared to give us impression that he was living in Sweden, when in fact he lives in Montana. O'Reilly seemed 'to lead his expert witness' Tolling / Bildt, who told O'Reilly viewers that Sweden was experiencing significant immigration problems. O'Reilly's other guest, Anne-Sofie Naslund, was correctly billed as a Swedish reporter who told O'Reilly's audience that what he was reporting was not true.
Fox News Fake News: Is Murdochs' Fox News a Racist Fiction Factory?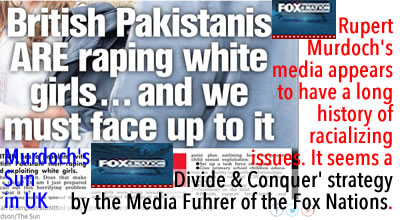 Murdoch's Fox News O'Reilly, a 42 year news / propaganda veteran, was confronted with the torrent of fictions included in his broadcast. O'Reilly responded by admitting he and Fox News had made errors - but told the reporter that the rest of the story was true. Click here for a more detailed accounting of Bill O'Reilly interview with Nils Bildt or Nils Tolling.
In the graphic at right, The Sun, a Murdoch-controlled British newspaper seems to play the Murdoch organization's racist card against Pakistani immigrants in Britain. While one can be against immigration without being racist - implying that immigrants are lawbreakers and rapists at a higher level than the general population is Fox fake news. As a point in fact, based on studies done in the U.S., immigrants appear to commit crimes at lower levels than the general population.
Click here to CONTINUE - Is Fox News Sensationalizing by Racial - izing?
Click here to continue and read more about James Murdoch's donation to the ADL - Anti-Defamation League & how it appears that Murdoch's organizations sensationalize by racial - izing issues.
---
Manhattan Buzz Voluntary Subscriptions
We work very hard to help keep you informed by providing you with independent news coverage, as well as

information about events in the arts, culture and business in the borough.
You can help us continue to provide you with independent, first-person, fact-based, contextural reporting by purchasing an annual subscription. As it's voluntary, there are a variety of price options, one of which should fit within your budget.
Thanks for your encouragement & support.
---
Back To Top