Census: It's Time for NYC & NYS to Step Up
Current Census Participation Rate is 53% & 56% for NYC & NYS Respectively - Will New Yorkers Give Up $347 Billion for Ten Minutes Time?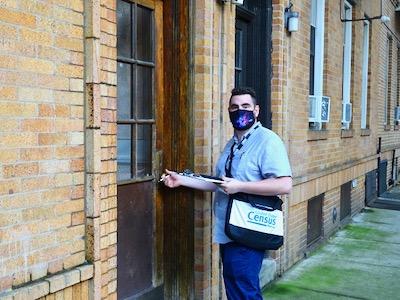 August 10, 2020 / NYC Neighborhoods / NYC CoVid 19 Special Section / News Analysis & Opinion / Gotham Buzz NYC.
In the midst of all the chaos, the census must go on. The census deadline was pushed back to October 31st, before it was pulled forward to September 30th.
That leaves New York City and New York State only 51 days to complete the census.
What's at stake? Mostly money and representation in government, as federal program funding is allocated to the states based on the census - and this lasts ten years. So we're talking a possible loss of billions in funding annually for the city and state if we collectively don't step up and fill out the census.
The census is designed to count every person LIVING in the city and state - NOT JUST CITIZENS.
By law this information cannot be shared, on an individual basis, with any other government agency for over 70 years. The aggregate information is shared so that decisions, like allocating funding, can be made using the best information available.
I'll have plenty more detail later today, including statistics that indicate that $1.3 trillion in federal funding is allocated annually based on the census data. That's likely over $13 trillion in the course of the next ten years. There are 330 million people in the U.S. so that translates to $40,000 per person over the next ten years. The share of this money that NYS should receive is $788 billion if everyone filled out the census [assumes a population of 20 million for NYS]. At the current census participation rate New Yorkers are giving up $347 BILLION in federal funding.
Please click here to fill out the census now. It literally takes less than ten minutes.
Weekend Wondering NYC
NYS Eviction Moratorium Extension, is Unemployment Rate 10% or 20% & Other News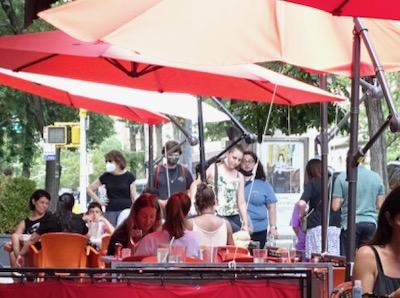 August 7, 2020 / NYC Neighborhoods / NYC CoVid 19 Special Section / News Analysis & Opinion / Gotham Buzz NYC.
Rent Moratorium Extension
Well this is good news for far more people than for who it will be bad news. Governor Cuomo has extended the eviction moratorium in NYS for another month [technically until September 4, 2020], and possibly longer, as he seeks to give those who are rent challenged in the midst of this pandemic, an opportunity to turn things around or find other housing.
Mayor de Blasio had simultaneously stepped in to help those facing eviction, telling New Yorkers to call 311 for help from an attorney funded by NYC. There are reportedly 14,000 NYC evictions pending with the City Marshall.
Nationally, the Republicans can't seem to agree on a follow on the terms of the next stimulus bill, which would include extending the eviction moratorium nationally. So it seems - like the handling of the Corona Virus itself - the Governors of each state will have to make their own rent moratorium decisions.
Many NYC Restaurateurs are also Rent Challenged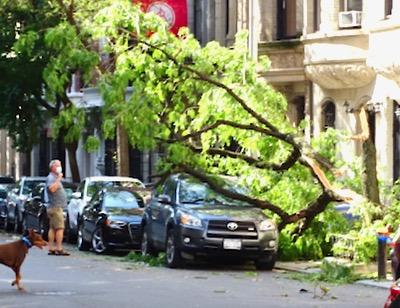 An August 3, 2020 report in Eater New York informs us that the NYC Hospitality Alliance did a survey of 471 bars / restaurants and found that 83% weren't able to make the full rent, and that included a whopping 37% weren't able to pay any rent. The silver lining in the report was that for 30% of them, their landlords didn't require full rent, and in many cases giving them a temporary 50% off price. The curbside / street dining program implemented by the Mayor seems to be helping, as I see a fair amount of business being done daily, in spite of the weather.
Total Unemployed and the Unemployment Rates
In another Trump first, GDP broke all historic records in the second quarter, sinking 9.5% [at an annual rate of 33%], beating George W. Bush's record in the fourth quarter of 2008, during the financial meltdown.
Jobless claims continued to come in at over a million plus this week [1.18 million], continuing to set records for the longest string of million plus unemploymenbt claims since the end of March / beginning of April of this year, when the pandemic began impacting the economy. The silver lining in this news is that it is the lowest number of new unemployment claims, since mid March.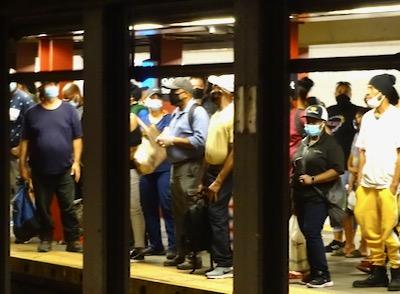 On June 15th I pointed to the discrepancy between the unemployment rate reported by the Bureau of Labor Statistics [around 12% - 13%] and the headlines / news reports of some 30 million plus unemployment claims, which would put the unemployment rate at closer to 19%. An August 6, 2020 report by CNBC did the best job of clearing up why there's such a huge discrepancy between the reported unemployment claims of 32 million which translates into an unemployment rate of 20%, and the lower figure that the Bureau of Labor Statistics has been reporting of about 10 - 12%. The CNBC report stated the following,
"... The four-week moving average, which smooths volatility in the numbers, fell by 413,250 to 16.6 million. But the damage to the labor remains deep and this was the 20th consecutive week that claims have run above 1 million. The total of those claiming benefits, which lags the current data by two weeks, rose to 32.1 million as of July 18, an increase of 1.3 million from the previous week... "
The ADP payroll report was up 167,000 jobs in July, way below the 4.3 million gains made in June.
Economic Look Ahead - July Consumer Sentiment & Debt Down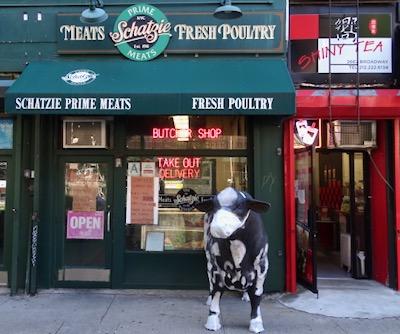 The University of Michigan Consumer Sentiment gauge fell back to 73, down 6 points versus June and tied with May for a six year low. The resurgence of the Corona Virus in the southern and western states likely led to the lower expectations.
Given all of the layoffs planned in the Fall, following the expiration of the $3 trillion in stimulus spending, my optimism is very restrained. The hospitality, retail, restaurants and travel businesses have all been hit really hard and most don't expect a return to what was once normal for at least a year or better. And Trump and the Republicans are still wrangling over yet another stimulus bill, after already spending $3 trillion this spring.
Consumer credit card debt was down a bit, as people paid down cards and didn't use them as much.
Isaias NYC Power Outages Update
Con Ed Power is still out for about 116,000 customers as of Thursday night - of which none were in Manhattan, over 10,000 apiece in both Queens and on Staten Island, a significantly lesser amount in both Bronx and Brooklyn [low thousands apiece], and the bulk of the ongoing outages being located in Westchester County.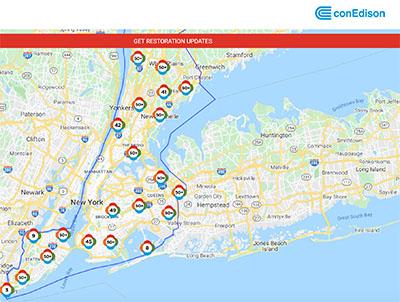 MTA Reduced Service Weekdays and Weekends August 10 - 28
Subway service on the 4/5/6 lines will provide reduced service for Manhattan and Brooklyn beginning next Monday, August 10, 2020 thru Friday, August 28th. The MTA is updating the switches at the 14th and Union Square Station, so they will run far fewer trains and less often. Service from Brooklyn through Grand Central will be affected. See www.mta.info for details. I hear that the weekday work begins at 9.30 pm, so plan accordingly.
NYC Public Schools Plans for Reopening
The plan for NYC is going to be a blended program with a mix of staggered classroom schedules to effect social distancing, class 'bubbles' meaning groups will be contained to minimize CoVid spread should there be an outbreak and coupled with online learning to augment classroom instruction. Cleaning protocols will also be in place. We'll post more as we learn more, but so far it seems an intelligent plan / approach given the situation. Teachers and children who live in households with people with underlying health conditions are going to have to think long and hard about safety / possibly sitting this year out?
Most parents want their kids to return to school (a survery showed over 70%), while anecdotally teachers tell me they are concerned about their safety - especially with respect to CoVid protocol compliance by special ed / younger children.
There will be Two 911 Memorial Services - Online & In Person
There will be two 911 celebrations - one live at the nearby firehouse and the other via the web. Both start just after 8.40 am.
Hang in there. I suspect it will get a bit worse before it gets better, but it will get better. Have a nice weekend.
Isaias Rips thru NYC Leaving 210,000 Powerless
About Half of Outages have Already been Restored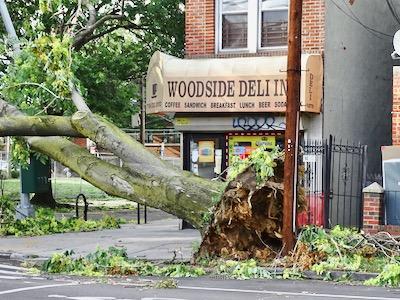 August 4, 2020 / NYC Neighborhoods / NYC CoVid 19 Special Section / News Analysis & Opinion / Gotham Buzz NYC.
The Tropical Storm Isaias ripped through the five boroughs of NYC with winds ranging from 40 mph in Manhattan and Brooklyn to high winds topping 70 mph in Jackson Heights in Queens and topping 60 mph on Staten Island according to a National Weather Service report posted today.
Bronx wasn't mentioned in the report, but winds topped 60 mph in nearby Westchester, so that's likely a good benchmark.
The visit by Tropical Storm Isaias to NYC was a fairly quick and brief one, arriving enmasse around 11 am and well on its way out of here by 4 pm. Perhaps Isaias had heard prior to its visit, that there's a pandemic raging in the U.S., and thus decided to cut its stay short? There was concern prior to the arrival of Isaias that heavy rain would accompany the storm, and flooding would ensue. But as of this report there appears to have been relatively light rainfall for a tropical storm and little real flooding in the NYC area.
Mayor de Blasio said that the Tropical Storm Isaias was primarly about high winds. The winds appear to have wreaked havoc with Con Edison's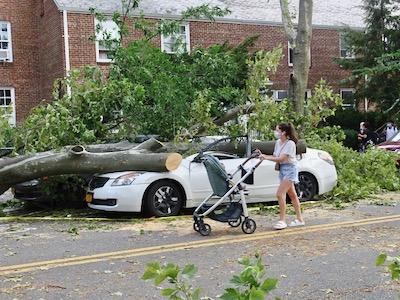 power network, as at its peark 210,000 were without power in the five boroughs of NYC. Around the time of this writing about 130,000 people were still without power. Manhattan was relatively unscathed, while nearly 100,000 residents in Staten Island and Queens were left without power, and about half that in Bronx and Brooklyn.
Because this storm was not accompanied by a lot of water I'm going to take an educated guess that power will be restored in less time than usual, following a big storm like this, even though Con Edison informs us that this is the second highest number of people left without power in NYC in its history.
The NYC Parks Department lost no time in rolling out its clean up of the fallen trees, as within hours many of the fallen branches and trees had been identified and cut through to enable the smooth flow of traffic and pedestrians, awaiting pick up sometime later this week.
I found little difficulty in finding a number of fallen trees, and so included a couple photos of them which accompany this report.
Joe Biden & Michelle Obama?
Appointing a Woman or Minority to the Democratic Ticket Adds Risk, but so does Not Adding One
July 30, 2020 / NYC Neighborhoods / NYC CoVid 19 Special Section / News Analysis & Opinion / Gotham Buzz NYC.
No woman was ever on a ticket that won the presidency.  Hillary Clinton came close, but failed to win the electoral vote.  No ticket with a woman on it ever won, even when the woman was a vice presidential candidate. Geraldine Ferraro and Walter Mondale can attest to that.  And the only minority candidate ever elected into the presidential suite was Barack Obama. 
So running with a woman or a non-white on the ticket greatly increases the risk of the ticket as we approach one of the most important elections of our lifetimes.
But the converse is also true.  Both women and minorities are large, key constituencies of the Democratic party.  So both of these gender and ethnic groups need to be energized to get out and vote, particularly in a politicized pandemic atmosphere.  So running without a woman and without a minority also increases the risk of the Biden / Democratic ticket.
So what to do?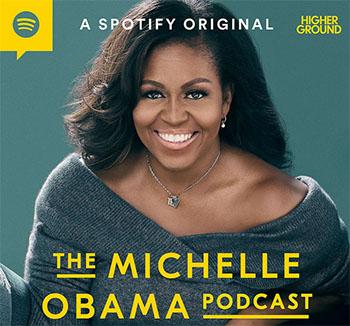 Run with someone who is both a woman and an ethnic minority.  A number of women who can check both of those boxes have been mentioned, but some have never campaigned for public office, some have never held very high offices, and the few who have been elected and held high office, come with some baggage that inevitably accompanies holding those offices.  And none have undergone the intense scrutiny to which anyone who runs for the executive branch of government is subjected.
That is - save one person - who's generally not been mentioned as a potential Vice Presidential contender.
Michelle Obama.
Michelle Obama eliminates the risk of adding both a woman and a minority to the ticket, while having the potential to energize both of these constituencies.
She adds no risk as a minority because she was the First Lady during the Obama Administration, and based on the 2018 and 2019 Gallup polls, a majority of the American people like and trust her. 
She is one of the most educated First Ladies, as like Hillary Clinton and her husband Barack, Michelle Obama has a law degree [from Harvard University].
She adds no baggage to the ticket as she would be defending the same record Biden is – that of the Obama Administration.
Michelle Obama has been named the 'most admired woman' in the world, for last two years running, in the Gallup poll.
She has personality, class - and like Biden - she's very likeable and a uniter.
Biden could trust her, and god forbid, should a President Biden pass away during his presidency, she would be qualified to carry on his work.
Michelle Obama would be an exciting, energizing, Solomon-like choice for the Vice Presidential position on the Democratic party ticket.
As for Michelle and the Obama family, this is a request to them to return to public service, as it seems the nation needs them now. Michelle is uniquely qualified to ascend into this position at this time and in this place.
Michelle and her family wouldn't have to hang in there very long [four years], as the primary objective of this nomination would be to create a winning ticket to displace Donald Trump who seems a threat to the American democratic republic itself. I see both Michelle Obama and Joe Biden as reluctant candidates, as they both seem to realize that there's more to life than money and power, which is very much unlike the Donald.
Based upon my understanding of American history, no other president has ever brought upon the American people the combination of misery, debt and divisiveness in such a short period of time, as has the Donald. 
And the Donald appears to have no respect for rule of law and the U.S. Constitution. So as the bicycling protesters in the video say, "Hey, hey, ho, ho Donald Trump has got to go."
The Evolution of an Interesting Year
Interesting Doesn't Connote Good or Bad, but Rather One About which the Grandkids will Inquire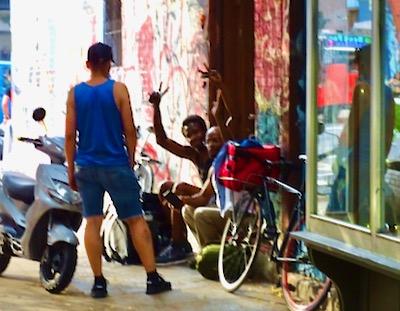 July 28, 2020 / NYC Neighborhoods / NYC CoVid 19 Special Section / News Analysis & Opinion / Gotham Buzz NYC.
The CoVid pandemic for most of us began just over four months ago in mid March. In the early stages the Governor and Mayor seemed a bit alarmist, but as events unfolded, they began to appear wise.
New York City is one of the world's great cities and thus one of the great global gathering places. So it's not surprising that NYC was one of the first American cities hit, and because of the city population density, we were hit hard.
The photo at right shows a few guys relaxing at the end of the day in Greenpoint Brooklyn.
But here we are four months out and - knock on wood - we seem to be operating at one of the higher functional levels, vis a vis other states and other nations. But as both the Mayor and Governor caution us - the pandemic is still alive and well and still being transmitted - and not likely to depart anytime soon. It will remain a threat for some time, for the same reasons it first arrived here, which is that we are a national and global destination / gathering place. And so we must continue to manage the viral threat by continuing to take the same precautionary steps we did to flatten the curve and beat the virus back.
George Floyd Protests, the Police, CoVid & the Economy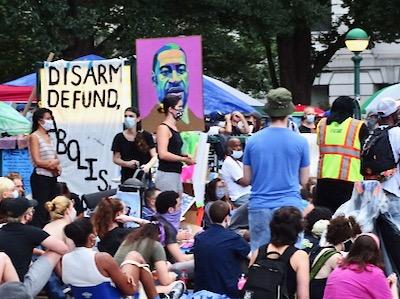 The year was further discombobulated by the death of George Floyd in the hands of the Minneapolis Police.  The video of what could be a murder, went viral and caused a national outrage at the use of excessive force in a situation that didn't appear to necessitate it.  A single incident of this nature likely wouldn't have caused a national outrage on its own. But because Floyd's untimely death seems to reflect a pattern of use of excessive force by individual policemen [repeated many times over the past couple of decades, in multiple locales, and captured and disseminated on video] that the death of George Floyd was the spark that ignited what seems to be national outrage at this sort of abuse of power by individual members of police forces around the nation.
The good news is that the demonstrations were generally peaceful, in recognition that it's not the police departments per se, but rather bad actors within the police departments around the nation - who time and again seem to be protected by the police unions. Many of the policemen involved in these sorts of incidents, are reported to have histories of repeated failures to perform their fiduciary responsibilities in a proper manner, and yet are kept on the police force. This makes it possible for these bad actors to become repeat offenders.
The photo at right was taken of the protesters encamped outside of City Hall earlier this month, not long before the Mayor moved them out.
So I keep asking myself where are we now?
We're in the midst of a raging pandemic, with social unrest vis a vis law enforcement, and then the Donald seems to exacerbate the situation by deploying the Department of Homeland Security to Portland, Oregon in what seems an effort to provoke protesters, not de-escalate the situation. The Donald has been accused of trying to inflame the situation in an effort to land bigger headlines and create the perception – with the help of mass media manipulator Rupert Murdoch's Fox News, Wall St Journal and NY Post – that the world is on fire and America needs an authoritarian strong man who will use decisive force to quell the masses.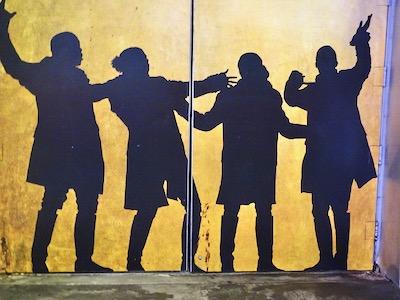 Trump has also been accused of attempting to use the DHS deployment to Portland as a distraction from the Administration's failed response to the pandemic, his failure to respond to reports that Russian President Vladimir Putin has paid bounties for the heads of U.S. G.I's in Afghanistan and a rallying cry to get the Donald (aka Rupert Murdoch's choice) re-elected in November - in spite of what can only be described as the Administration's horrific record of dysfunctionality over the past four years.
The photo at right is a mural on the Richard Rodgers Theater near Times Square in Midtown Manhattan.
What Trump Administration dysfunctionality am I talking about?  In addition to the colossal failed response to the CoVid pandemic, there's a near record of unemployment which the BLS appears to be consistently understating (the BLS says 12% unemployment, but that doesn't jibe with the fact that some 30 million are collecting unemployment insurance out of a labor force of 160 million aka 19% unemployment), America's worst deficit ever by a country mile [in the month of June alone Trump racked up an $864 BILLION federal deficit], failure to effect any meaningful healthcare reform, stagnating or worsening reading and math scores by America's students, the alienation of our closest trading and military allies, and the list could go on.  Those are the failures of the Trump Administration and unfortunately for both Trump and America there's little to offset their failures with any meaningful accomplishments.
But despite these enormous failures at the federal level, life does go on. Thanks in part to the leadership of local government officials.
Re-Openings in NYC in Phase IV aren't Complete, but Evolving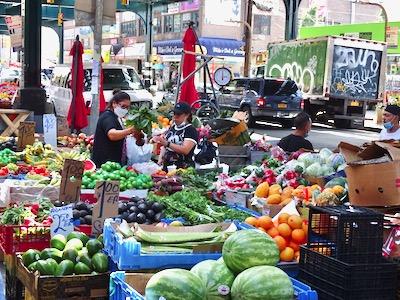 NYS Phase IV re-openings began last week and continue.  This phase included the zoos which re-opened, albeit not completely [indoor exhibits off limits] but enough for a satisfactory visit.  The Botanical Gardens are in various stages of reopening.  The Aquarium hasn't yet opened, but they're still working on it. NYC film production also resumed. This industry employs a fair number of people.
Small outside arts and cultural events are also allowed, but with social distancing, masks and possibly other CoVid prevention protocols in place.
The photo at right shows some entrepreneurial food selling in Corona Queens.
Gyms, malls, museums and movie theaters have not yet received the greenlight to reopen.  The Metropolitan Museum had planned to reopen at the end of August, but that's not a timeframe set in stone as they're still trying to figure out how to make that work safely. Theres concern that some of the airconditioning / ventillation systems may spread the disease indoors, so they're looking at the filtration component of these systems to determine whether that's true, and if it's true, how to remedy it.
A limited number of swimming pools opened last weekend in each borough.  They include the Wagner pool, Liberty pool, Kociuzsko pool, Sunset pool, Mullaly pool, Fisher pool, Tottenville and Lyons pool on Staten Island are set to open Saturday, August 1st. Astoria pool in Queens is also set to reopen on August 1st.  A number of safety protocols are in place so visit the NYC Parks website for details before going.  And be aware because of social distancing, capacity will be limited compared to prior years.
The Empire State Building Deck reopened. This is a great tourist attraction, but not a bad option for locals either, especially given the lines are likely to be far shorter.
Courts Remain Mostly Closed, as Public Cries for their Reopening
The NYS Civil Courts continue to remain mostly closed.  This is one of the reasons cited as contributing to the gun violence problem in NYC as after the NYPD apprehends an alleged criminal, they are set free oftentimes without bail due to recent legislative changes made in the criminal justice system. Hence the processing of the alleged criminals is put on hold, pending the full reopening of the courts. The recent social unrest and some of the changes made to law enforcement protocols are also mentioned as contributors, but until the former contributors are again working properly it will be difficult to make a fair assessment of those recent changes.
Economically Speaking, A Little Good News, but Mostly Bad News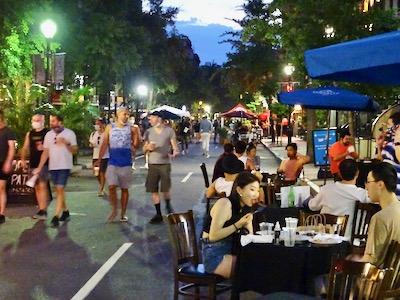 The good news is that 8,600 restaurants were reported to be participating in the curbside dining.  As I travel around the boroughs, this effort to revive the restaurant business in the midst of the pandemic, seems to be working as it adds a lot of life to the city and appears to be a lifeline to cash strapped restaurateurs.
The photo at right shows Restaurant Row on 46th Street off Broadway in Midtown Manhattan.
The weekly jobless claims actually started climbing back up this past week, due to the raging CoVid pandemic in the southern and western states [Trump maskless country].
The national eviction moratorium and the added $600 stimulus payments expire at the end of July.  What happens next is anyone's guess, but it's likely not pretty. I overheard a report that noted that 338,000 cell phone users are behind in paying their bills. The only reason I note this, is that in the current environment many people are faced with having to juggle their bills. So it's not just the rent.
Nieman Marcus announced that it would be closing its store in the Hudson Yards.  Bloomberg Business reported that an estimated 400,000 airline employees would lose their jobs fairly soon as airline travel is about 80% below prior years, and the U.S. is currently banned from visiting Europe because Trump appears to have succeeded, through his negligence, in making America first in CoVid infections and deaths.
As noted below in the Real Estate section, Bloomberg News noted that only about 5% - 30% of white collar workers have returned to their jobs.  This will continue to depress restaurant and retail sales here and around the nation.  And Google extended its estimated return to office date for its workers from December 2020, to July 2021, which might provide a benchmark in terms of expectations.
NYC Real Estate - Prices Up, Inventory & Sales Activity Down
According to a July 14, 2020 Property Shark report, the NYC real estate market has had a rough first half with overall sales down 42%, driven by tight inventory. But because of the tight inventory, prices were up 3% versus a year ago, as buyers competed for the available stock. There was significant variability among the boroughs.
Manhattan took the biggest price hit, down 13% versus year ago, and while sales were also down (-31%), that was better than the NYC average of down 42%. Queens and the Bronx did relatively well, as prices were up 10% and 8% respectively, while sales were down 22% and 25% respectively. Both of these boroughs are undergoing significant development, which is likely driving the price increases. Brooklyn prices were down 3% for the first half and sales were down 21%. According to a July 11, 2020 SI Live report [note these are not apples to apples vis a vis the numbers reported for the other boroughs] the prices in June for residential real estate on Staten Island rose 7%, while inventory for sale dropped about 26%.
Commercial real estate is taking the biggest hit a result of the pandemic. A July 22, 2020 Bloomberg report said that commercial real estate rents were expected to fall 26%, but Mary Tighe, CBRE NY Tristate Region CEO, said that so far they're only down 6%. She also noted that in downtown Manhattan white collar workers were showing up in the office at levels of 6% of pre-pandemic levels [that's down 94%], and at levels of 7% in Midtown [down 93%), and at about 30% in surrounding boroughs / suburbs [down 70%].

Testing & CoVid Therapies Update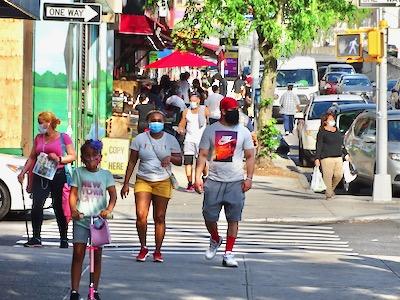 NYC has a 2 – 3 day turnaround for CoVid testing results.  It's one of the best turnaround times in the nation.  See the ad below this report to find a testing center near you.  This ad expires at the end of the month, so you might want to check out website now for current use or future reference.
The Moderna vaccination goes to Phase 3 trials, as does a Pfizer and BioNTECH [a German biotech] vaccine, which may has also begun Phase 3 trials.  Phase 3 studies are done to gain a better gauge of how a vaccine will function in a large population, after completing a Phase I study for safety and a Phase II study for efficacy.
Some symptoms seem to linger for weeks after infection for those with 'light' symptoms.  And as we mentioned previously, it's unclear how long the anti-bodies / immunity lingers, as in one study only about 5% still had anti-bodies after three months – but there seems to be some issue with the testing quality.
The photo at right was taken in the Belmont neighborhood of the Bronx.
The Reopening of Schools is being Hotly Debated
Governor Cuomo said any region in Phase IV with an infection rate below 5% can reopen. If the infection rate in that region rises to above 9%, then the schools will close.  Generally the NYC schools opening game plan involves staggered schedules, as well as blended on / off days and remote learning, coupled with CoVid safety protocols of masks and social distancing and a higher standard of cleanliness as schools. The American Federation of Teachers or AFT, the largest union of teachers in the nation, authorized their teachers at any school to go on strike if certain safety protocols aren't in place when the schools reopen.
Universities seem to be all over the map on reopening and it changes, so stay tuned. 
Pro Sports
Major League Baseball was the first league to begin play post CoVid outbreak in America. The Yankees and Mets began play last weekend with a subway series. This week about 15 players on the Miami Marlins tested positive for CoVid.  As a result their game with the Yankees was cancelled [to be rescheduled?], and it had a domino effect, reportedly affecting 15 other games.  The Marlins had just played the Phillies who cancelled their next game pending new tests.  And the Yankees called off their home opener against the Phillies this week, as they headed to Baltimore.
The National Hockey League had zero positive CoVid tests of 4,200 players which bodes well for the league to complete its abbreviated 2020 season.
The National Basketball Association, which is also planning to complete its abbreviated 2020 season, had no positive tests for the players living in the 'bubble' in Orlando.  Play resumes Thursday, July 30th.
A couple of players out of 800 total in the National Football League tested positive.  The NFL announced this week that they had cancelled all preseason games and I know at least one franchise [the Green Bay Packers] has offered recurring ticket holders the option to opt out of their season tickets for this year.  This is in recognition that there may not be any fans, or a reduced number of fans, in the stands this year.
The photo at right shows the Empire Outlets shopping center along the northwest coast of St. George on Staten Island. The shopping center is adjacent to the ferry station and had opened in May of 2019.
Life During CoVid
The hot summer of CoVid in the city hasn't been fun. Normally there's so many enjoyable cultural things to do, that the hardest part of the summer is deciding what you can't find the time to do. There are concerts, movies and theater in the parks. Add to that food festivals, street fairs, religious and cultural events and the normal menu of arts, theater, museum exhibits and film and ... well ... you get the picture.
This is the year of wearing masks which fog up the glasses, cabin fever and a growing waistline due to inactivity and being cooped up. But there's an increasing number of things to do. The beaches are open even if capacity limited. A number of pools just opened, which should help. The zoos are open, as are the botanical gardens, as well as special locales like the 911 Memorial and the Empire State Building. And the curbside dining, while perhaps not ideal, does seem to be working and adds a sort of lively, festive feeling to the streets in the absence of so many other activities. And the tourists aren't due back anytime soon. because of the incredible mismanagement of America's CoVid pandemic.
So like life itself, some good, some bad - but there's always a silver lining in the events we think are terrible. But you have to be open to the good, and pay attention to it, or you'll miss it like a passing train. And that's the news from Lake Wobegon NYC. 
Law Enforcement, the Economy, but First Home Sweet Home?
Is Home is Where the Heart is or Where We Sleep?
July 20, 2020 / NYC Neighborhoods / NYC CoVid 19 Special Section / News Analysis & Opinion / Gotham Buzz NYC.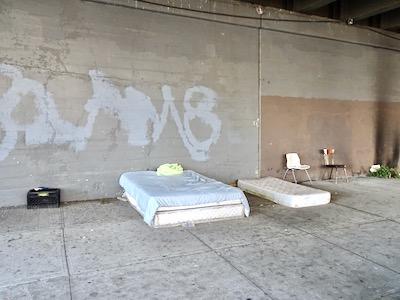 There's no doubt we're living in an unusual time.  At least when compared to the times of the last hundred years or so.  There's a pandemic raging across the nation, which has resulted in over 140,000 Americans' deaths, and approaching four million infections in America alone.
The economic fallout seems to be in its nascent stages, as businesses struggle to stay open, unable to adapt sufficiently and quickly enough, to keep on keepin' on. And furloughed workers, once under the assumption they would be called back into service in a few weeks or few months, are coming to the realization that the position they once held, may no longer exist.
I believe the photo at right shows the 'home' of a few people who seem to periodically return at night.  When I pass by this abode, I think about their lifestyle, living by their hard work and / or wits, with little to no worldly possessions or real comforts. I started mentally writing an ad for this living space. 
The ad goes something like this. This 2BR with spacious Living Rm is pre-furnished with a couple of chairs, a couple of beds, great ventilation, including plenty of space to move around.  There's no kitchen, no air conditioning or heat, no security [but there's nothing to steal] – and depending on how willing you are to stretch things, either no bathroom - or at the very least - not a private one. But the limited utilities and rent are free, so this living space is workable for any budget, and there's plenty of ambient sunlight.
The ad is a humorous look at what's a very poignant situation, but then my thoughts take me further ... These people are still struggling to survive. They're making do with the little they have. They're very organized and pretty clean. And occasionally they give me a friendly wave when I pass. That is the power, strength and resilience of the human spirit.
More coming later today, including photos and video regarding the economy and law enforcement.
Law Enforcement, the Economy, but First Home Sweet Home?
Is Home is Where the Heart is or Where We Sleep?
July 20, 2020 / NYC Neighborhoods / NYC CoVid 19 Special Section / News Analysis & Opinion / Gotham Buzz NYC. Continued.
Casino Royale:  Will the Donald Bankrupt America with Trillions in Spending?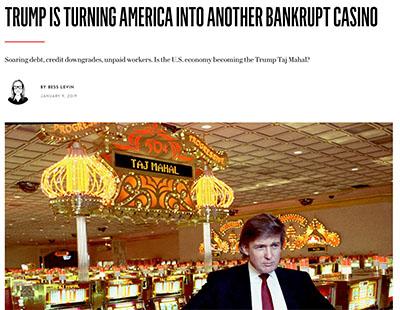 The Administration, meanwhile, seems terribly out of touch with reality.  Their retarded response to the CoVid pandemic paved the way for the viral explosion.  One of their greatest mistakes was that they politicized Americans' choice to defend themselves from the virus by wearing a mask, and they squandered away trillions of the public's money – with the enabling help of the Democrats – to keep businesses functioning, without obtaining much in the way of concessions from them.
If the Donald is a great negotiator, then he's negotiating away American's future, in exchange for a junkie boost to his reelection prospects, and self-enrichment [there was a $160 billion tax break given to real estate developers like Trump and his son-in-law Jared Kushner and he fired five Inspector Generals within the six weeks that the largest spending bills in American history were passed totallying $3 trillion].
In Germany, Chancellor Angela Merkel obtained an equity stake of 20% - 25% from Lufthansa, in exchange for the German government bailout of that airline. And now the Donald and Republican Senate Majority Leader Mitch McConnell are in discussions to throw away another trillion or more in added stimulus - again without obtaining any concessions from those who will receive it. 
The image at right shows the headline of a January 9, 2019 report in Vanity Fair. This report was published over a year before the $3 trillion in stimulus spending done in March / April of 2020.
Bread Crumbs for the Masses & Melania's "I Don't Care Do U?"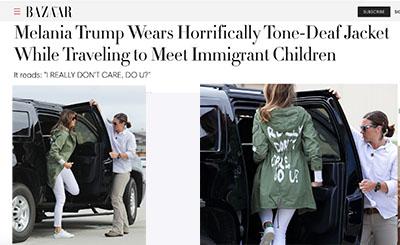 There was $3 trillion in stimulus spending bills passed in late March and early April of 2020.  But the money that working class Americans [161 million people] received in the form of U.S. Treasury $1,200 checks amounts to only $193 million [161 x $1,200] of the $3 trillion stimulus spending done to date.  And then there was the extra $600 per week in added stimulus payments - which paid many unemployed workers more than they had been making and reportedly cost the American taxpayer over $15 billion per week according to a July 17, 2020 CNBC report. 
The CNBC report noted that 25.6 million were on this $600 per week government payout program.  According to the report the reason the total pandemic relief recipients are higher than the unemployed is because the package includes people who are,
"… business owners, self-employed Americans, gig workers and independent contractors who are not typically eligible for unemployment."
So a rough estimate of the cost of this $600 per week program is 13 weeks x $600 per person per week x 26 million = $203 million.  If you add the payments from these two payout programs together then the total payout to working Americans was [$203 billion plus $193 billion] was $396 billion or 13% of the stimulus spending. Thus it seems - a relatively small number of mega millionaire and billionaire real estate developers like Donald Trump, son-in-law Jared Kushner and their [industry segment] friends - collected over a third as much as what all working classs Americans collectively received in stimulus handouts.
This self dealing doesn't seem to be anything new for the Trumps. And the Trump insensitivity to those who less fortunate than they are, appears equally legendary. As you can see in the June of 2018 Bazaar report above, Melania Trump demonstrated an incredible insensitivity during a visit to the Texas border detention centers for immigrant children, when she wore a jacket that had the words "I don't care do u" on it.
Did a Seemingly Corrupt President Enrich his Industry Friends?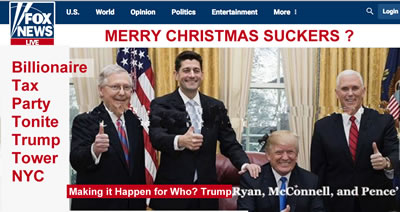 There was an estimated $160 billion in tax breaks for real estate developers reportedly hidden in the $2.2 trillion CARES Act passed in March 2020 [more details coming below].  A relatively tiny number of real estate developers get more than 5% of the CARES Act, while – as noted above - the entire rest of the nation's working class collectively received a bit more than double that (13%).
What's most disturbing about this most recent blatant effort by Trump to enrich himself and his friends is that there's a huge segment of the American populace that will either never hear this because they are media ignorant [Fox News, Wall Street Journal, NY Post and in time ABC]  or they will hear of it and ignore it as 'fake news' about their Republican lord and saviour.
In the photo at right you can see McConnell, Ryan, Trump and Pence celebrating the tax cut package they passed in December 2017 which borrowed $1 - $2 trillion on the backs of America's children in exchange for an estimated 0.5% - 1% of extra growth at a time when the U.S. was already operating at what economists categorize as full employment [5% or less of unemployment].
Like the Republicans, so too the Timid & Naive Democrats?
According to a May 19, 2020 Time Magazine report,
"House Democrats passed a largely symbolic bill on May 15 rolling back two controversial tax provisions that had been slipped into the CARES Act, the $2 trillion stimulus law that Congress passed in March with overwhelmingly bipartisan support. The two tax provisions, which remove caps on individuals' and businesses' ability to write off net operating losses, are expected to deliver a $160 billion windfall to the wealthiest Americans, disproportionately benefiting hedge fund and real estate investors."
The report goes on to note that this benefits the least needy in our society.  The Time Magazine report also noted that the Democrats said it was "a Republican provision" and that the Democrats "failed to appreciate its significance".
So why don't the Democrats include the repeal of those provisions for real estate developers in the stimulus bill upon which they're currently working?  By inserting a clause removing the gift to the Donald's cronies in the new bill - it would at the very least - make Americans aware of what seems to be Trump, McConnell and the Republican party's corruption. The Republican 'fiscal conservatives' who complain about welfare mothers - who get scraps, - say nary a word about these huge payouts to the richest people in the nation / world.
The Donald Gasses the American People, but Stands up for Confederate Statues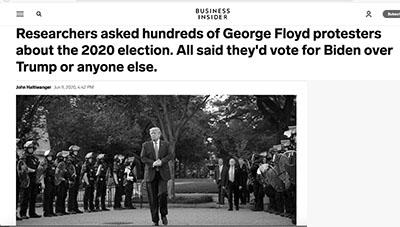 We not only live in an unusual time, but we live in a twisted one.  On Monday, June 1st the Donald gassed protesters as he and Attorney General William Barr, the top law enforcement official in the nation, walked across the Washington mall so Trump could wave an upside down bible in front of the cameras.  The Minister of the Church was not present, and was horrified that Trump would prostitute the Bible and her Church for a campaign like photo op event.
On June 23rd Trump signed yet another Executive Order authorizing Homeland Security to step in to 'protect' our national monuments.  Two and half weeks later, on July 10th Trump confirmed he had sent Homeland Security to Portland, Oregon to 'protect' the national statues there.  He was not asked by the Mayor of Portland nor the Governor of Oregon for any law enforcement help and the only damage done there to national statues was a bit of graffiti which can be cleaned up.
I. Doesn't the Trump Administration have more Pressing Things to do?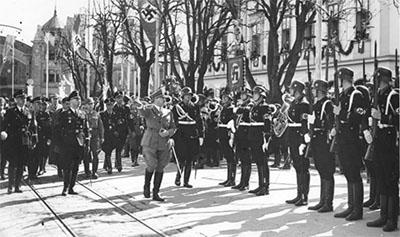 Protecting statues from graffiti, would seem to fall under the purview of municipal policing or state policing. I would think the federal government is facing bigger issues, than getting involved in apprehending people for illegal graffiti.  Doesn't the federal government / Trump Administration have more pressing things to do like:
Bringing the raging CoVid pandemic under control?
Taming the record breaking, out-of-control federal budget deficit / spending / borrowing?
Addressing the double digit unemployment rate that spiked this year in the Trump economy?
Halting or turning around the loss of affordable healthcare by millions of Americans since Trump took office?
Addressing the declining reading and math scores achieved by the nation's schools since Trump took office?
Addressing the U.S. immigration crisis?  As of 2016 there were 10.7 million illegal immigrants living in the U.S.  Of them, there are about 700,000 to 800,000 children who were brought here by their parents, who grew up in the U.S., and who know no other country, and yet do not have citizenship rights.
And then there's Climate Change for which the Donald has let four more years pass, while seeming to enable the fossil fuel industry, stifle scientific reports and ignore the realities in the same manner as he's done with CoVid.
It seems the Donald has screwed up just about everything at the national level. Perhaps he won't be satisfied until he throws the entire nation, including states and cities, into chaos.
II.  Inexperienced, Uneducated & Incompetent?
The Donald never held public office prior to becoming president.  So he has no government EXPERIENCE.
The Donald doesn't hold any higher education degrees related to governance.  He threatens to sue anyone who releases his transcripts.  His niece tells us that he paid someone to take his SAT test so he could get into the University of Pennsylvania / Wharton.  So we know he wasn't prepared for the office of president via his EDUCATION.
The INCOMPETENCY is cited in the bankruptcies and money laudering below.
III.  Trump Disregard for the Law is Legendary – Bankruptcies & Money Laundering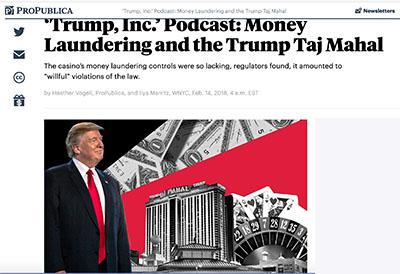 The Donald has been a real estate developer all of his life. He reportedly established ties to Italian mob figures early in life, and his alleged association with Russian mob figures continued not long before he began his run for the presidency.
Trump's competency in managing developments is highly questionable given he's been associated with six bankruptcies.  A September 26, 2016 report in the Washington Post tells us the following,
".. PolitiFact uncovered two more bankruptcies filed after 1992, totaling six. Trump Hotels and Casinos Resorts filed for bankruptcy again in 2004, after accruing about $1.8 billion in debt. Trump Entertainment Resorts also declared bankruptcy in 2009, after being hit hard during the 2008 recession…"
A September 26, 2016 report in Mother Jones tells us that in 1990 Trump's father, Fred, reportedly helped him navigate through his financial troubles including with a $3.3 million chip buying bailout that was used to circumvent the law and / or legal covenants.  A July 13, 2017 report by the New Republic informs us that in the early 2000's the Donald was selling condos and taking in loads of Russian cash, including from reportedly shadowy companies, as another part of his holdings declared bankruptcy.  And according to a December 14, 2018 report in the San Francisco Chronicle, in July 2008 a Russian Oligarch, Dmitry Rybolovlev paid $95 million for a mansion for which Trump had recently paid $42 million – netting Trump $53 million and bailing him out again?
I think it's also important to remind readers that according to a February 11, 2015 report by Reuters that,
"… Trump Taj Mahal casino settles U.S. money laundering claims … Trump Taj Mahal admitted to have willfully violated reporting and record-keeping requirements under the federal Bank Secrecy Act from 2010 to 2012 ..."
Trump Seems Not Just Corrupt, but Clever at Concealing his Scams
A May 19, 2020 report by CBS News tells us,
"... In a span of six weeks, Mr. Trump has removed five officials from posts leading their respective agencies' inspector general offices, three of whom were working in an acting capacity..."
These included Michael Atkinson of the Intelligence Committee, Mitch Behm of the Transportation Department, Glenn Fine of the Defense Department, Christi Grimm of Health and Human Services and Steve Linick of the State Department.
IV. Trump's True Talent: One of the Greatest Con Men in History?
Trump appears to be a legendary con man.  In addition to not paying his debts, and laundering money for alleged criminals, Trump has a long history of a number of other wide ranging cheap and clever cons such as the following.
STIFFING EMPLOYEES & CONTRACTORS?  His repertoire seems to range from cheap tricks like not paying his employees to stiffing contractors telling them their work was subpar.  According to Wikipedia,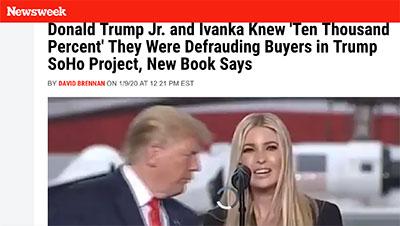 " … An analysis by USA Today published in June 2016 found that over the previous three decades, Donald Trump and his businesses have been involved in 3,500 legal cases in U.S. federal courts and state court, an unprecedented number for a U.S. president …"
REAL ESTATE FRAUD?  Trump is alleged to have defrauded people who enrolled in Trump University, paying $25 million to settle.  An April 9, 2018 ABC News report provides the following statement from former Attorney General Schneiderman saying,
" … This settlement marked a stunning reversal by President Trump, who for years refused to compensate the victims of his sham university…"
IN HIS ALLEGED CONS ENLISTING HIS CHILDREN?  An August 2017 report in Intelligencer tells us that after the 2008 market crash,
" … condo sales at Trump Soho dried up, although Ivanka and Don Jr. continued to boast, falsely, that a majority of the buildings units had been sold … "
MOBSTER STYLE CORRUPTION?  Trump closed down a charity after being sued for using it to further his own business interests and for his 2016 election campaign. According to a December 10, 2019 report by AP News, bout $2 million was paid in fines and another $1.8 million distributed to other [more legitiimate?] non profits.
An October 4, 2017 report by Business Insider tells us that the Manhattan District Attorney Cyrus Vance dropped the fraud charges against Ivanka and Don Jr. after receiving a $25,000 campaign donation from a Trump lawyer, Marc Kasowitz in the 2011 / 2012 time frame.  Vance returned it, and Kasowitz reportedly make another $50,000 donation just six months later.  The report also discussed whether it would be possible for the Manhattan DA to win the case.
The Business Insider report also informs us,
" … Bayrock was co-founded by Felix Sater, a Russia-born businessman who advised the Trump Organization on real estate deals from the early 2000's and into late 2015 … A lawsuit brought in 2010 against Sater and his partner, Tevfik Arik, alleged that "for most of its existence [Bayrock] was substantially and covertly [Russian] mob-owned and operated," engaging "in a pattern of continuous, related crimes, including mail, wire, and bank fraud; tax evasion; money laundering; conspiracy; bribery; extortion; and embezzlement."
Birds of a feather flock together?
PETTY THIEVERY? A July 25, 2020 report in The Hill tells us that the 2020 Trump campaign and Republican National Committee has been asked by the Reagan Foundation to cease and desist in using Reagan's name and image for Trump campaign trinkets. The campaign appears to have been in the process of using Reagan's image and name without obtaining their authorization.
And a June 28, 2020 report in Forbes Magazine tells us that The Rolling Stones, The Beatles, Aerosmith, Elton John, Neil Young, Queen, Earth Wind and Fire, Twisted Sister, Pharrell Williams, Rihanna Williams, Guns & Roses, R.E.M., Tom Petty and Prince or heirs thereof, have either sent cease and desist letters to the Trump campaign, or asked them not to use their music at Trump or Republican Party events. It seems the Trump campaign, which has raised over a billion dollars, won't pay the musicians for the use of their music in campaign events. This seems very much like how Trump seemed to stiff employees and contractors as noted above.
My point in giving you a brief and incomplete history of what appears to be the Donald's mob associations, shady deals and near total disregard for the law, is to use this historical context to help you evaluate whether he is abusing the power of the presidency in order to serve his own ends, in a manner not unlike how he appears to have betrayed the trust of so many others previously - as documented above - in order to enrich himself.
Trump Violating the Constitution: Not Preserving & Protecting it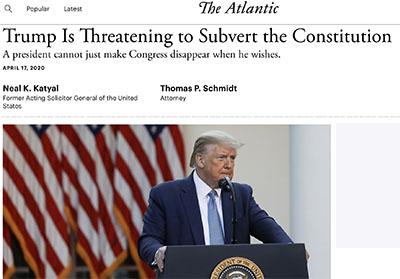 The legality of the Trump directive to the Department of Homeland Security to essentially police an area within Portland is a highly questionable use of federal police power. The Fourth and Tenth Amendments are the most relevant articles [of impeachment] here.  The Fourth Amendment states,
"The right of the people to be secure in their persons, houses, papers, and effects, against unreasonable searches and seizures, shall not be violated, and no Warrants shall issue, but upon probable cause, supported by Oath or affirmation, and particularly describing the place to be searched, and the persons or things to be seized."
And the Tenth Amendment states,
"The powers not delegated to the United States by the Constitution, nor prohibited by it to the States, are reserved to the States respectively, or to the people."
The U.S. Constitution and these Amendments are written so as to guide us away from the usurpation, centralization and abuse of government power.  The U.S. Constitution is predicated on the will of the people, meaning a majority of us or our representatives, have to agree on something in order for it to move forward. And it specifically protects us from the government, by outlining the conditions which must be present, in order for the government power to be used. So in the FOURTH AMENDMENT no searches and seizures without probable cause – keep that in mind as we move forward.
Also, no domestic police powers are granted to the federal government in the Constitution, and by the omission are granted to the states in the TENTH AMENDMENT. The only state level powers granted to the federal government are in the Constitution are the use of the state militias, which are by definition, supplements to the regular army.
At right the Department of Homeland Security is shown marching in Portland, Oregon the week ending July 24, 2020. The U.S. Constitution generally assigns general police powers to the states with the exceptions primarily being: 1) helping localities at their request (not the case in Portland as both the Mayor and Governor have asked the DHS to leave), 2) collaborating with state / local officials in cases involving criminal activity that moves things across state lines [an example is drugs and this does not apply here], and 3) enforcing federal laws when the states fail to [an example is in allowing African Americans to attend college in the 1960's]. The Donald seems to have stretched the truth on the last one, using graffiti on a federal building as the pretext for sending in the Department of Homeland Security.
The Checks & Balances of the U.S. Democratic Republic are Under Siege
The Founding Fathers wisely ensured that the federal government did NOT have control of a domestic police force, as part of their checks and balances approach to governing.  By dispersing power among the legislative, judicial and executive branches – they hoped to preserve the power of the people, by making it difficult for anyone or any group of people to take control of the government and personalize government power, as had been done by tyrannical royals in the past.
Personalization of Power: Donald the Duplicitous
The Donald seems to have made great strides in personalizing the power of the U.S. federal government since he taking office just three and a half years ago. Click this link to read more our report about Trump and the Personalization of the U.S. Government Power. Adolph Hitler had pursued the same course toward personalizing the power of the government beginning in the early 1930's. Let's see how they compare.
The Evolution of Federal Police Powers in the U.S.
Since the Constitution became law of the land in 1788 – 1789, the nation has grown and its institutions have evolved.  The federal government does control a number of law enforcement agencies including,
The Federal Bureau of Investigation aka FBI
The U.S. Marshal's Service
The U.S. Customs Service
The Bureau of Alcohol, Firearms and Tobacco
The Drug Enforcement Agency
The U.S. Customs Service
All of these agencies are supplemental to the municipal and state police forces which collectively are far larger than any of these agencies.
Usurpation of Police Power by the Trump Administration & DHS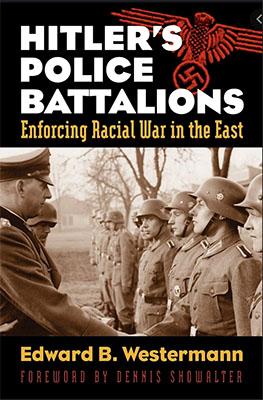 Wikipedia does a good job of drawing the distinction between federal and state police powers, stating the following.
"… the national (federal) government is not authorized to execute general police powers by the Constitution of the United States of America. The power to have a police force is given to each of the United States' 50 federated states. The US Constitution gives the federal government the power to deal with foreign affairs and interstate affairs (affairs between the states). For police, this means that if a non-federal crime is committed in a US state and the fugitive does not flee the state, the federal government has no jurisdiction. However, once the fugitive crosses a state line, he violates the federal law of interstate flight and is subject to federal jurisdiction, at which time federal law enforcement agencies may become involved… "
So it seems, the president's use of the Department of Homeland Security to address a low level property destruction crime, is yet another Trump abuse of power.  Comparisons have been made of Trump's use of the DHS to the Gestapo in Nazi Germany in 1933.
Wikipedia informs us,
" … Göring took over the Gestapo in 1934 and urged Hitler to extend the agency's authority throughout Germany. This represented a radical departure from German tradition, which held that law enforcement was (mostly) a Land (state) and local matter… "
REICHSTAGE FIRE
Lobbyist Turned Lackey: Is Chad Wolf a Legitimate Acting DHS Secretary?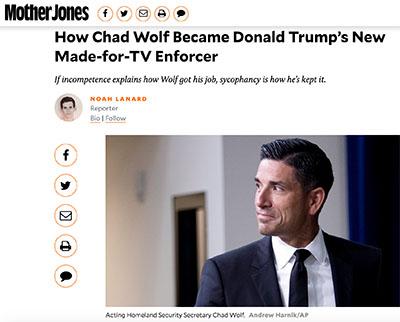 In November 2019, Chad Wolf became the FIFTH Secretary of Homeland Security since the Donald took office in 2017.  Wolf is a staunch Trump supporter, which seems to be the most important requirement for any Trump appointee. 
Wolf is Trump's fifth DHS secretary and Trump's third 'acting' Secretary – meaning he hasn't been confirmed for this position by Mitch McConnell's Republican dominated Senate. He had been confirmed by the Senate for the DHS position he had previously held.
Chad Wolf was formerly a lobbyist for the now defunct Washington, D.C. lobbying firm of Wexler | Walker. 
Chad Wolf was appointed acting Secretary of Homeland Security on November 13, 2019.  A vacancy may be filled by an Acting Secretary for 210 days, so Chad Wolf has been illegitimately holding that post since about June 10, 2020.  The Senate is responsible for confirming executive level appointees.  So this begs the question, what is Senate Minority Leader Chuck Schumer and his staff doing with their time? Are they not paying attention while the nation burns?
Department of Homeland Security Mission & Departments Not for Domestic Policing
According to the DHS.gov website, the mission of the Department of Homeland Security is defined as follows,
"… With honor and integrity, we will safeguard the American people, our Homeland, and our Values …"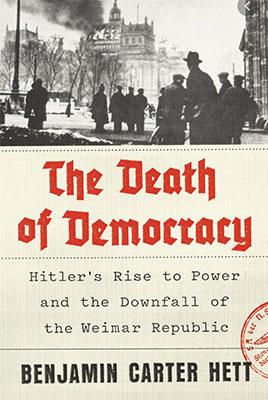 'Safeguarding our homeland' is not the same as municipal policing. This is particularly true when the police actions are directed at generally peaceful Portland residents who are American citizens. And as noted above - per the U.S. Constitution - using the Department of Homeland Security for domestic police action is illegal.  But the Donald has neither the education, experience nor disposition to listen to the advice of those more knowledgeable than him, because he generally doesn't operate within the legal or moral framework of our society, as I pointed out above.
There are fourteen departments within the Department of Homeland Security.  Let's see if any of them seem directed toward municipal policing.  They are:
U.S. Citizenship and Immigration Services - administers the nation's lawful immigration system, safeguarding its integrity and promise by efficiently and fairly adjudicating requests for immigration benefits while protecting Americans, securing the homeland, and honoring our values.
United States Coast Guard (USCG) – protects maritime trade and borders. Becomes a part of the Defense Department in wartime.
United States Customs and Border Protection - one of the Department of Homeland Security's largest and most complex components, with a priority mission of keeping terrorists and their weapons out of the U.S. It also has a responsibility for securing and facilitating trade and travel while enforcing hundreds of U.S. regulations, including immigration and drug laws.
Security and Infrastructure Security Agency – protect and enhance cyber security.
Federal Emergency Management Agency – (FEMA) supports our citizens and first responders to ensure that as a nation we work together to build, sustain, and improve our capability to prepare for, protect against, respond to, recover from, and mitigate all hazards
Federal Law Enforcement Training Center – training.
United States Immigration and Customs Enforcement (ICE) – "(ICE) promotes homeland security and public safety through the criminal and civil enforcement of federal laws governing border control, customs, trade, and immigration.
United States Secret Service (USSS) – protection of leaders, dignitaries & financial system.
Transportation Security Administration (TSA) – focus on transportation conduits.
Management Directorate – budget & procurement.
Science and Technology Directorate – R&D and technology.
Countering Weapons of Mass Destruction Office – focus on WMD.
Office of Intelligence and Analysis – staying abreast of events.
Office of Operations Coordination – internal communications.
It would seem all of these departments are designed to address policing actions that primarily involve the illegal crossing of our national borders.  The protesters in Portland are generally reported to be Portland and Oregon residents, which would indicate that the DHS has lost its way.
Trump Purges DHS & Uses Protests to Exercise Police Powers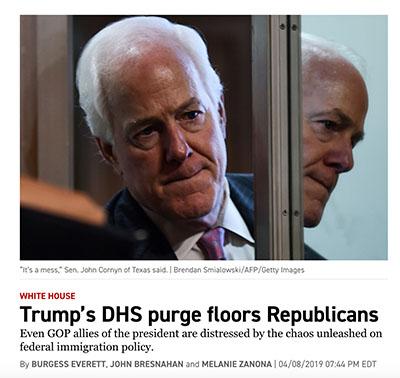 MORE COMING ON THE Scourge of the DHS by Trump. This is currently being investigated by the House – but these investigations seem so lame in asserting the only real power the Congress has – the power of the purse. 
Why aren't the Democrats using their majority position in the House to hold up bills [like Mitch McConnell does] until they get some satisfaction on Trump's tax records; his purge of the DHS, use of it as a federal police force and for re-election campaign theater; his inclusion of the real estate developer tax break in the $3 trillion stimulus bills passed in March / April 2020?  It would seem that Trump and the Republicans need that stimulus bill for the November election far more than the Democrats. 
Which makes me ask why the Democrats aren't taking more of a stand on these issues - if for no other reason than to bring them to the attention of the American public?
Trump sent the Department of Homeland Security to Portland, Oregon - without invitation by either the Portland Mayor or the Oregon Governor.  In fact both the mayor and the governor have filed lawsuits – along with the American Civil Liberties Union or ACLU – to get Trump's Department of Homeland Security out of the public spaces - as they are reportedly only making things worse by escalating tensions between law enforcement and the community.
In the ten days that the Department of Homeland Security has 'occupied Portland' a number of disturbing reports have come from the city describing events that seem too closely to resemble the early use of police power by Adolph Hitler during his ascendance to dictatorial control in Germany in the 1930's.
Comparison of Early use of Police in Germany 1933 – 1934
Hitler didn't become Hitler overnight. Time Magazine did a number of stories pondering Hitler's intentions before they became crystal clear - but by then it was too late.  Hitler repeatedly lied and deceived the German nation, while grabbing power through police force and mass media manipulation, eventually silencing critics by labeling them traitors accompanied by police force. This latest move by Trump to use the Department of Homeland Security as a national police force is not unlike what Hitler did as he consolidated power after becoming Chancellor, following the Reichstag fire of 1933.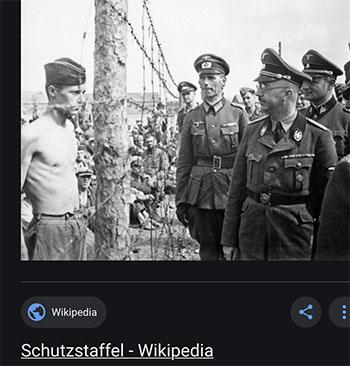 According to an April 10, 2019 History report,
"… The Reichstag Fire was a dramatic arson attack occurring on February 27, 1933, which burned the building that housed the Reichstag (German parliament) in Berlin. Claiming the fire was part of a Communist attempt to overthrow the government, the newly named Reich Chancellor Adolf Hitler used the fire as an excuse to seize absolute power in Germany, paving the way for the rise of his Nazi regime…"
In addition to using a pretext for sending in the Department of Homeland Security forces, Trump also appears to be illegally morphing the role of the DHS as a police force, in a manner that has striking similarities to the early moves taken by Heinrich Goring and Hermann Himmler who morphed the Gestapo and SS from a small police force when Hitler came to power, into an invasive ubiquitous force throughout Germany by the end of the war.
The comparisons here include not just the Gestapo [an abbreviation for Secret State Police], but also the Schutzstaffel which evolved into the umbrella for most of the policing in Germany including the Gestapo.  Wikipedia tells us,
"… The Allgemeine SS was responsible for enforcing the racial policy of Nazi Germany and general policing, whereas the Waffen-SS consisted of combat units within Nazi Germany's military. A third component of the SS, the SS-Totenkopfverbände (SS-TV; literally "Death's Head Units"[2]), ran the concentration camps and extermination camps…"
Is the DHS Becoming a Racial Enforcement Agency like the Gestapo?
Let's compare this to the Department of Homeland Security was created during the Bush Administration. 
It is the youngest agency and therefore has the least in traditions and thus least amount of American Constitutional culture as to its role in our government.  The Department of Homeland Security has run 'immigration detention centers' on our southern border, where they keep illegal immigrants.  So it's not a stretch to think that Trump is transforming the agency into one that enforces 'racial policy' not unlike what the SS did in Nazi Germany. 
Since Trump took office the Department of Homeland Security separated children from their parents in an act not much different from what we saw in the movie 'Sophie's Choice' wherein Jewish children were separated from their parents.  And then, under the supervision of the Department of Homeland Security, six plus immigrant children and another 18 adults have died in their custody.
Murdoch's Fox News Propaganda Support for Trump's Inhumanity
In 2018, Fox News Laura Ingraham provided media cover for the DHS, comparing their detention centers to summer camp.
This is why there is a divide in American society on important issues.  Australian born, Rupert Murdoch controls about half of the large news media brands in this nation [Fox News, Wall St Journal, NY Post and he's now the largest shareholder of ABC News] and he appears to use his media outlets to disinform voters about policies and pols. He seems to do this to get 'his pols' elected, so they will give Murdoch what he wants, and he seems not to care what else they do.
More coming including images and video later today / this week.
Things To This Weekend & Phase IV NYC Reopening
Governor's Island Opened 7/15, Statue of Liberty Island Opens 7/20 while Ellis Remains Closed, Subway Series this Weekend w/ o Fans, Evolving CoVid Science Update & More Economic News
July 17, 2020 / NYC Neighborhoods / NYC CoVid 19 Special Section / News Analysis & Opinion / Gotham Buzz NYC.
Well another CoVid influenced weekend in NYC has arrived.  It's the weekend before the NYS Phase IV reopening of the economy, which is happening on Monday, July 20th – but with an important modification.  The important modification is that indoor cultural centers and shopping will remain on hold indefinitely. 
CoVid Droplets Can Linger in Air for up to 16 Hours
The rationale is that CoVid 19 appears to be transmitted significantly – if not primarily – via the air droplets of infected people who may or may not be symptomatic.  In the outdoor environment, the droplets are diffused by the planetary volume of air, while in the indoor environment they can linger for up to 16 hours.  It was previously believed that the droplets could linger for up to three hours.
In the photo at right is Congresswoman Alexandria Ocasio-Cortez handing out food bags at Our Lady of Sorrows Church in Corona, Queens. The Congresswoman's campaign raised funds to put together 250 food bags for the folks in the community. Our Lady of Sorrows Church has been the locale for a number of such prior distributions by various donors, including by the Catholic Charities Built In Queens.
Things To Do NYC / Events This Weekend
Mets host Yankees at 7.10 pm Saturday at Citi Field and Yankees host Mets at 7.05 pm at Yankee Stadium Sunday.  No attendees will be allowed, but the games will be shown on the Yes Network on TV and WFAN radio.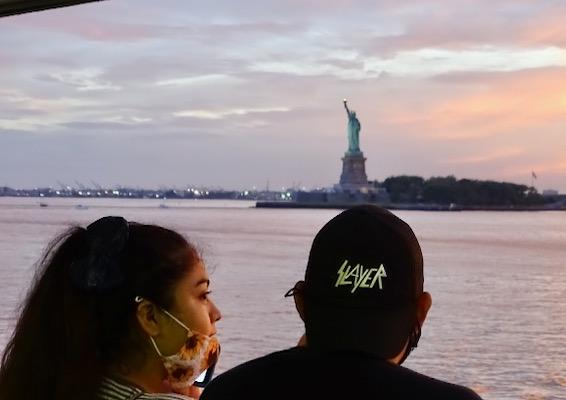 The Statue of Liberty island will open on Monday, July 20th.  The statue itself will remain closed, but there will be limited souvenir and food shopping along with restrooms.  The Ellis Island and the Liberty Museums will remain closed at this time. Both sites are part of the National Parks System.  There are also new rules for a visit - https://www.nps.gov/stli/
St. John the Divine opened its doors to visitors from 7.30 am – 1 pm daily.  No word yet on when services will resume.   https://www.stjohndivine.org/
St Patrick's Cathedral reopened on June 28th for two daily services at 25% capacity on weekdays and two to three services daily on the weekend. They are suffering a $4 million revenue shortfall as a result of the Corona Virus pandemic - https://saintpatrickscathedral.org/
The piazza style dining in cordoned off streets continues on weekends beginning 5 pm Friday and at noon on Saturday and Sunday – ending at 11 pm each night.  New streets and restaurants continue to be added to the original list, as clusters of restaurants apply and receive authorization for piazza style dining on their blocks / streets.
https://www1.nyc.gov/html/dot/html/pedestrians/openstreets-restaurants.shtml
The implementation of the curbside / sidewalk dining by local restaurants has been well received and appears to be a success. Thus this week the Mayor announced that it will be extended through October 31st.
Just over a week ago, on Thursday, July 9th, the Mayor extended the ban on large events requiring a city permit, through September 30th.  The rationale for this extension is that states like Florida and Texas have seen surges due to large scale gatherings, where social distancing and mask norms were difficult to enforce and hence violated, leading to huge surges of the number of CoVid infections in those states.  This ban extension includes NYC street fairs.
NYC & NYS Lags the Nation in Filling out the Census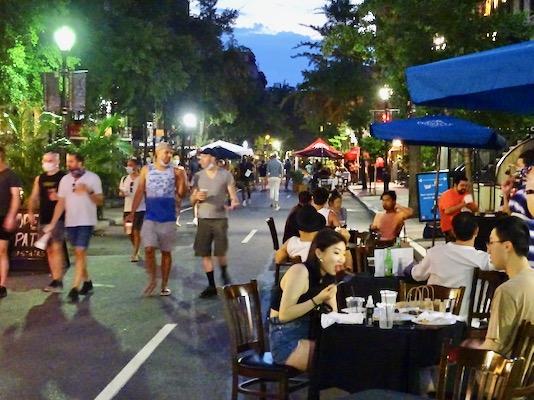 NYS ranks 38th in response to the 2020 Census.  The census determines how much representation and funding each state has in / gets from the federal government.  Please encourage friends and family members to participate before it's too late.  Filling out the census literally takes only a few minutes and it can be done online at https://my2020census.gov/

The census taking deadline has been pushed back from July 31st to October 31st.  Getting an accurate census count is worth billions in federal to state funding for education, social programs, infrastructure and the like annually - for the next ten years.
NYC Shootings Up / Other Crimes Down & Causes
NYC shootings are up significantly, while other crime stats for NYC are down.  Most of the shootings are taking place in 10 of the 77 NYPD precincts.  Government and law enforcement officials aren't in total sync over the causes, but among them are the recently passed NYC Bail Reform Bill, the economic hardship and displacement caused by the CoVid pandemic, including early inmate dismissals without having the transitioning apparatus fully functioning, the near shutdown of NYS Courts for the processing of charged offenders, the new City Council bill changing some of the rules for engagement by the police, the disbandment of the plain clothes unit, the unrest of the George Floyd Protests, and rising temperatures. Crime generally rises following social unrest and also with higher temperatures.
The Mayor, NY Police Commissioner Dermot Shea and NYPD Chief Monahan began a concerted effort to address the problem a couple of weeks ago.  And while things have improved since the July 4th weekend, they have quite a way to go. It's a tumultuous time, and it's likely going to take a while to get all involved back on the same page.
One of the reasons not cited for the increased unrest is that large numbers of African Americans and Latinos are rent challenged.  A CNN report on June 5th, 2020 cites an Urban Policy Institute Study done in May showed that 19% of all Americans had not paid their rent, versus 27% of African Americans and 25% of Latinos.  Add to this that African Americans and Latinos are more likely to have been furloughed or lost their jobs, and you get a clearer view of an increasingly bleak picture that shows the kind of stress and pressure minorities in the lower income brackets are managing.
NYC Economy - MTA Ridership Over a Million Daily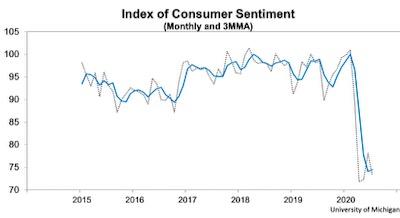 MTA ridership is still down significantly [about 75% - 80%], versus prior year, but has held relatively steady at over a million rides each weekday and over a half million each weekend day.  This seems in line with what the airlines are seeing, and according to an Amtrak estimate, next year will be double this year, but still half of last year.  Those estimates indicate a slow recovery.
U.S. consumer sentiment stalled in the July release of the University of Michigan report.  After an uptick last month, the sentiment fell back to the low 70's, which is where it was in mid April, following the largest drop in consumer sentiment ever in the index.  Consumer sentiment is seen as a predictor of economic activity in the following months. So after the beginning of a recovery, we may see things level or stall for a while.
Economy & More Layoffs Coming to NYC, NYS & US
Delta to add back 500 flights daily – not 1000 as previously announced, because travel is about pacing at only 20% – 25% of prior years volume.  Part of the problem is that the U.S. failed response to CoVid has resulted in most international flights being cancelled.  Delta said 17,000 employees took buyouts / early retirement.  According to a July 14, 2020 report by CNN Business, this represents about 20% of their staff.  According to the terms of the federal government bailout, Delta will not be able to terminate employees prior to October 1st – involuntarily.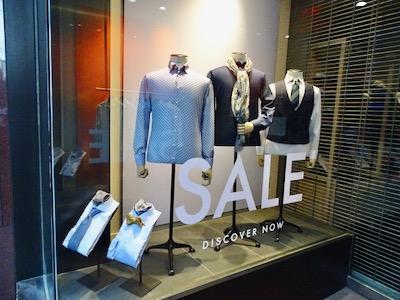 Jet Blue and American Airlines announced a strategic partnership in the northeast. According to a July 16, 2020 CNBC report, American could furlough as many as 25,000 employees after the federal stimulus expires in the fall [10/1/20]. Both stocks fell a few dollars following the announcement.
There have been 5,500 store closings announced to date according to a July 15th Business Insider report. They include the closings of more than a hundred stores by Victoria's Secret / Modell's / Macy's / GNC / Gap / Chidren's Place / JC Penneys / Guess. A number of other stores announced closings of under 100 stores including Brooks Brothers / Bed Bath & Beyond / Express / Nieman Marcus / Nordstrom / Kmart / Microsoft & Sears.  According to the report there were 9,000 store closings in 2019, which beat the previous high in 2017 of 8,300.  This year may set a new record as many of the traditional bricks and mortar retail outlets go the way of the horse and buggy. But some measure of bricks and mortar will survive, likely more as showrooms and pick up locations, rather than as full service in stock inventory and transaction locations.
For the 17th week in a row, over a million first time unemployment claims were filed. Approximately 33 million people were reported to be collecting unemployment insurance as of June 20, 2020 according to a July 9, 2020 CNBC report. Given America has a workforce of 161 million, this suggests a real unemployment figure of over 20%, which is well above the unemployment rate reported by the Trump Administration Bureau of Labor Statistics [BLS]. See our prior report earlier this month for errors made by the BLS in compiling their unemployment reports.
America First in CoVid Infections & Deaths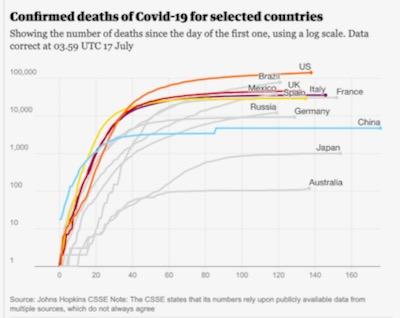 To date the U.S. has had 3.7 million infections and over 140,000 deaths, representing 27% of the infections worldwide [13.9 million] and 24% of all deaths [593,000].  The Trump Administration's abject failure becomes even more apparent when one notes that the United States represents less than 5% of the world population.
Large Chain Store Retailers Require the Wearing of Masks
Masks are increasingly becoming a requirement to enter most major retailers.  A number of large chain stores, including Target, CVS and Walgreens, were followed by Walmart, Kroger and Kohl's, in making mask wearing a requirement to enter their stores this week, in the wake of surging CoVid cases nationwide.
The Trump Administration has been woefully retarded in responding to the CoVid pandemic. The Administration's most recent snafus include failing to address an overall national shortage of testing supplies, as well as failing to address testing labs capacity shortages which has lengthened the testing results turnaround times, which can take over a week in many of the currently hard hit states. Delays of a week or more, in receiving CoVid testing results reduces or eliminates the efficacy of testing in containing outbreaks - as by the time someone knows they're infected - they could have infected hundreds or more other people.  NYC has a reported CoVid testing turnaround time of about two to three days.
Federal Reserve Does a 'Fred Trump' - Bails out Donald's Failure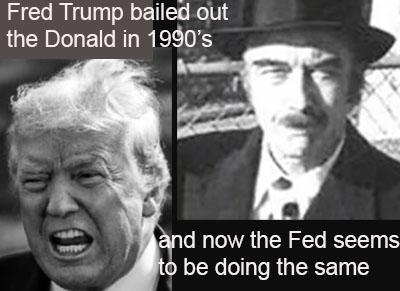 I want to take a moment to dispel the Fox / Trump propaganda myth that the economy was doing well because of the Donald.  If you include all of the behind-the-scenes moves by the Federal Reserve – moving trillions around behind the scenes - it becomes apparent that the only reason the economy hasn't cratered is because of the Fed, not the Donald.
The Fed seems to be picking up where the Donald's father, Fred Trump, left off.  Mega millionaire Fred Trump famously bailed out the Donald in December 1990 as his failing Taj Mahal Casino in Atlantic City was about to miss an interest payment. Fred reportedly bought $3.3 million in chips, which the Donald was able to use without limitation. This was a work around because the Donald's casino business had already defaulted on its debt. 
A year later Fred Trump's chip buying scheme was reportedly ruled to be an illegal loan by the New Jersey Casino Control Commission and they were fined $65,000.  The Donald ultimately had to give up about half of his interest in Trump Castle to creditors after it went into bankruptcy.
Reckless Fiscal Management: Borrow & Spend Republicans?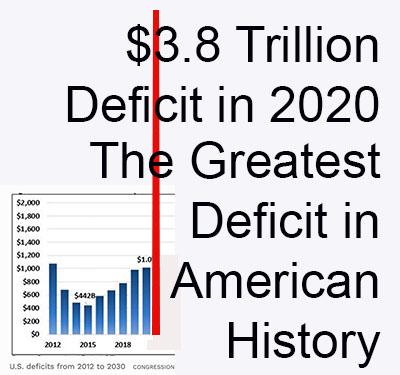 The Donald & Republican Senate Majority Leader Mitch McConnell appear to show no concern nor respect for America's children because they're running up massive multi-trillion dollar debts to cover the Trump Administration's abject failed response to the CoVid 19 pandemic.  Unfortunately both Democratic Senate Majority Leader Chuck Schumer and Congressional Speaker Nancy Pelosi seem to be the great enablers. Collectively they have spent about $2.5 trillion on this mess - and near as I can tell - they've accomplished somewhere between little to nothing, meaningful. The deficit this year [2020] is now projected to be about $3.8 trillion - the largest deficit in American history by a wide margin.
The Trump Administration has been looting the U.S. Treasury by cutting taxes for the rich without cutting any government spending [December 2016].  And most recently the Trump Administration has given away of trillion(s) in unrecoverable stimulus to the mostly wealthy - in return for nothing – save perhaps the mitigation of his upcoming November landslide loss.
If the Donald is a Great Negotiator - Then it's We Who've Been Conned
FDR was called a 'traitor to his class' as he used the government to raise the living standards for all Americans.  The Donald isn't a traitor to his economic class because he's thrown trillions their way in tax cuts and stimulus checks in the four years he's been in office.
Unlike FDR Trump is a president who seems to have betrayed the trust of the American people – particularly America's children and future generations of Americans - by his reckless mismanagement of the federal budget and debt.
Trump Protects Privileged Profits & Plunders the Public Purse by 'Socializing' Stimulus Costs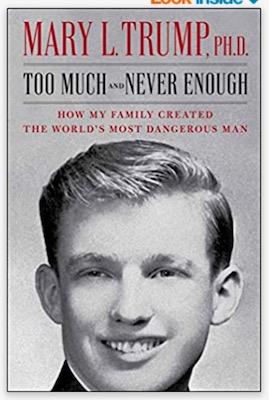 The Trump Administration has failed to negotiate any real concessions from the industries we taxpayers have funded, like German Chancellor Angela Merkel did with Lufthansa, the German airline.  The German government acquired a large equity stake in the airline in exchange for the bailout.  By comparison the Donald has dumped trillions of dollars of debt on the American public, while saving the investments of the wealthy and banks, who will privatize future profits, while we either lose services or are taxed more - or both. 
Trump's niece, Mary Trump, released a pyschological look at the Donald on Tuesday, July 14th, 2020. The book is entitled Too Much and Never Enough: How My Family Created the World's Most Dangerous Man. It sold 950,000 copies within hours of its release. The book was published by Simon & Schuster and retails for $18 - $20.
CoVid Update - Herd Immunity May be Elusive
In early July the results of a study conducted in tandem with the Spanish government found that the sacred 'herd immunity' may not be achievable with CoVid 19.  The test included 61,000 people which found that only 5% of those who tested positive for antibodies, still had them for a measured time after the infection. This indicates that 'herd immunity' may not be achievable as over 60% of the population needs to have the antibodies, and the study suggests that most folks systems don't keep the antibodies for very long after the infection has ended.
This is bad news for Sweden, which took the approach of letting things happen, so the nation could achieve herd immunity. Sweden has one of the highest - if not the highest - per capita CoVid death rates in the world. Also note the CoVid Droplets advisory [linger in the air for up to 16 hours] posted in the beginning of this report.
Things to do This Weekend in NYC
Bit by Bit NYC Emerges from the CoVid Pandemic Shock ...
... but it's Increasingly Looking Like It Will be a Slow Recovery
July 10, 2020 / NYC Neighborhoods / NYC CoVid 19 Special Section / News Analysis & Opinion / Gotham Buzz NYC.
Weather.  The temperature highs will be in the high 70's Friday, rising to about 90 degrees on both Saturday and Sunday.  There's a 100% chance of inches of rain throughout the day Friday, with some rain – about an inch - in the late morning / early afternoon on Saturday, and then clear on Sunday.  Humidity will be in the 90% plus range on Friday, dropping to 80% on Saturday and down to 65% on Sunday. There will be wind gusts of up to 20 – 26 mph on Friday, settling down to 5 – 10 mph on Saturday and Sunday.
We began to return to some measure of normalcy this week as NYC moved into Phase III of the reopening.  Restaurants sprung back to life with sidewalk and curbside seating which seemed to fill up pretty well in the first week of opening.  Rain will dampen that enthusiasm today and through mid afternoon tomorrow, but I expect seatings to resume later in the day Saturday.
Things to do in NYC This Weekend
The Mayor also announced the opening of 22 European piazza style dining streets in all five boroughs [scroll down to July 2nd post for a listing of them].  Some of these NYC 'piazzas' opened last weekend. I visited the one on Restaurant Row in Manhattan and it looked to be a success – see photo.
While things haven't returned to normal, and likely won't for some time, they are becoming more normal from week to week.  And there's more to do these days, than there has been for a long while, for those who want to get out and about. 
New openings this past week include:
The 911 Memorial waterfall which reopened last Sunday, July 5th to the public between the hours of 1 and 8 pm.  The 911 Museum will remain closed.
NYC public park golf courses opened this week as part of the Phase III reopening.  So you can get out and shoot a few rounds at a reasonable price.  LINKS.
Tennis courts, basketball courts and dog walks also opened in NYC parks as part of the Phase III reopening.
Many of the Long Island shopping malls reopen today, Friday July 10th with social distancing and other CoVid precautions in effect. The New Jersey shopping malls reopened a week and a half ago on Monday, June 29th.
Upcoming openings include:
On Monday, July 13th twenty-two of the public libraries in all five boroughs will reopen.  They include:

Queens - Bayside Library, Bellerose Library, East Elmhurst Library,  Kew Gardens Hills Library, Laurelton Library, Long Island City Library and Peninsula Library.
Brooklyn - Bay Ridge Library, Bushwick Library, Kings Highway Library, Central Library, New Lots Library, Flatbush Library and the Red Hook Library.
Manhattan - George Bruce Library, Epiphany Library and the Mid-Manhattan Library which has been renamed to Stavros Niarchos Foundation Library (SNFL).
Bronx - Belmont Library, Francis Martin Library and the Parkchester Library.
Staten Island - Richmondtown Library and the Todt Hill-Westerleigh Library.
NYC will see the reopening of 3,000 daycare centers beginning Monday, July 13th with various measures in place to mitigate or eliminate the possible spread of CoVid 19 at the centers.

The Highline Park will open Thursday, July 16 in Chelsea at Gansevoort Street with one way walking up to 23rd Street.  It's capacity limited and will be open from 12 noon to 8 pm and you're encouraged to reserve a spot.
The New York Botanical Garden is expected to reopen on Tuesday, July 21st to members, neighbors and healthcare responders as a part of the Phase IV reopening of NYS. They will open to the general public on Tuesday July 28th.
The Wildlife Conservation Society will reopen the New York Aquarium, Bronx Zoo, Central Park Zoo, Prospect Park Zoo and Queens Zoo to members on Monday, July 20th and to the general public on Friday, July 24th.
Movie theaters are tentatively planning to reopen on Saturday, August 15th.
The Western & Southern Open [tennis] is expected to be played at the Billie Jean Tennis Center in Flushing Meadows Corona Park beginning Saturday, August 15th and two weeks later by the U.S. Open - BUT these will not be open to the general public.
The Met Museum is expected to reopen at the end of August.
The Museum of Modern Art is expected to reopen sometime between now and the end of September. The last update on this I could find was in late May.
As mentioned in a prior post, most of the major performing arts centers like Lincoln Center and Carnegie Hall have cancelled their fall seasons.
Some of the activities that opened in prior Phases were:
The beaches were opened for swimming.
The piazza style dining mentioned above opened last weekend.
And major league sports will be returning beginning July 22 – 23 with the return of Major League Baseball – but it won't be live – but rather on TV.  The NBA has also resumed practice for the end of season play planned to begin at the end of July / early August. The NHL begins practice on July 13th with 16 of its 31 franchise teams playing eight best of five series to compete for the Stanley Cup.  The season resumes August 1st.  And the NFL has shortened preseason play to two games [down from four] in August and continues to maintain its September 7th season start date.
CoVid Reminders & Update
It seems the scientists are beginning to zero in on how the virus is transmitted.  Originally it was thought to be spread via surfaces and air droplets, with no weight given to either method of transmission.  It now seems that the air droplets may be the most prevalent method of transmission, which is why the mask wearing has been so heavily emphasized. The significance of the role played by asymptomatic CoVid carriers has fluctuated, but seems a real risk. The same seems true for person-to-surface-to-person transmission, which also still seems not to have been assessed with any strong level of certainty. 
So my advice would be to continue practicing the three W's: 1) Wash [your hands], 2) Wear [your mask] and 3) Watch [your distance].  When it comes to your health – better safe than dead.
Vaccine and therapies hype or reality?  Talk is cheap.  We'll see when the science comes in.  And then we'll really see, a few weeks / months after they distribute these therapies to large segments of the population.  We all wish for a workable vaccine and / or remedial therapies very soon.  But as my father used to caution me, "If wishes were horses, beggars would ride."
The Mail In Vote – Sure Fire Recipe for Disaster in November?
So here we are – nearly three weeks after the June 23rd NYS primary election – and still no definitive results in a number of races because the mail in votes have not yet been tabulated.  This is a disgrace and what seems a sure fire recipe for chaos come November.  It's worth noting that Politico did a study of the 2018 mail in votes which showed that 8% of them weren't counted for various reasons.  I voted by mail in the primary in 2018 and my mailed in ballot was thrown out because I forgot to sign the envelope.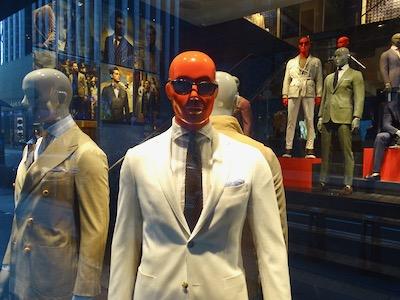 Within the past three weeks the Supreme Court has shot down two separate efforts by Democrats to require the state governments in Texas and Alabama to provide all voters with mail in ballots. 
In Washington State where mail in ballots are the method used, the system was implemented piece meal beginning in 1983 [and even before].  The method was authorized at the state level in 2005, allowing the counties to decide how best to manage the elections.  And in 2011 it was mandated state wide.  The Washington [state] Secretary of State said there isn't nearly enough time nor budget money for states considering the change to properly implement it by the November 2020 election.
In the long haul, however, it does seem to have significant advantages as a pandemic wouldn't affect voting, it has a solid paper trail, polls and poll workers become a thing of the past – but it requires skilled personnel and processing equipment to properly collect and tabulate the ballots.  It would seem that NYS didn't tend to those 'details' and thus – here we are nearly three weeks after voting – without knowing definitively who won and who lost most of the contests on the ballot.
Retail Bankruptcies & Layoffs & Fairway Stores Closings / Sale
The CoVid pandemic has been something of a bloodbath for traditional retailers.  This month Bed Bath and Beyond announced that it's shuttering about 20% of its 950 stores.  And this past week on Wednesday, July 8, Brooks Brothers which was founded in 1818 announced it may be laying off about 780 employees while closing about 50 of its 250 stores in North America [includes Canada and Mexico] close three factories - one of which is located in Queens. This follows our previous report, that on June 25th Macy's announced staff reductions of 3900 people to save about $630 million.  And in May retailers - JC Penney, Nieman Marcus, J. Crew and Pier 1 - all declared bankruptcy.
And at the hyper local level [even more than Macy's] Fairway had announced on June 26th that it was closing three stores in / near NYC including its Red Hook  Brooklyn store [previously reported], its store at 125th Street in Harlem store,  and its Plainview Long Island store as well as its NYC corporate headquarters and distribution center affecting as many as 2,412 employees. The brand and five of its NYC stores were purchased by the operator of Shop Rite: Village Super Market.
Tale of Two Economies – Tech Laden NASDAQ & Dow(n) Jones 'Industrials'
Those adept at online sales, however, have been faring far better.  Amazon is up about 66% from the beginning of the pandemic, while Best Buy is trading at about the same as it was before the pandemic.  And Apple Computer is up about 20% versus its pre-pandemic level.
The stock market indices have followed suit.  Australian born billionaire elitest Rupert Murdoch's Dow Jones Industrial Average is down about 14% from the pre-pandemic level, while the NASDAQ is up about 9% versus its pre-pandemic level.  That's 25% difference in returns between the aging old Dow[ager] and the Nasdaq.
More Layoffs in the Works – The Airlines & Transportation
A July 6th report on CNBC noted that air travel in early July [including the 4th holiday weekend] was up 90% vs June – but that is still down 70% vs year ago.  As such United Airlines announced plans to layoff 36,000 employees by October 1st, which is about 45% of its frontline workforce.  American Airlines announced plans to layoff as much as 30% [39,000] of its 130,000 workforce.  Delta, one of the big three, is also working on staff reductions, but I couldn't find anything definitive.  Their staff was reported to be about 91,000.  Airline demand is expected to be down about 75% vs year ago in the third quarter 2020 and – according to one report - not expected to recover until 2023.
This affects the NYC economy as we are the destination of at least three major airports [LaGuardia, JFK and Newark], and many people who live here, work in the airline transportation industry – not to mention the airports which service airline travel.
It seems the Donald & Mitch McConnell have pissed away $25 billion of America's children's money [loans taken out on their backs], which they gave to the airline industry in what seemed an effort to save their re-election bids, more than having anything to do with anything else.  A July 2, 2020 Motley Fool report noted that just under a third of the $25 billion is expected to be paid back. In contrast, German Chancellor Angela Merkel negotiated for the government to take an equity stake in the German airline Lufthansa, in exchange for the bailout.
Amtrak is planning to cut its workforce by 20% or 3,700 employees out of its 18,000 employees.  Ridership at the height of the pandemic was down about 95% and it's not expected to come back soon, as they estimate they will have about 50% of traffic [they had in 2019] in the coming fiscal year which begins October 1, 2020.
More Layoffs in the Works – Restaurants & Hotels
National chain restaurants are also closing enmasse.  Subway, Starbucks, Pizza Hut, Burger King, Boston Market, Applebee's and TGI Fridays, Perkins, Cosi, Friendlys, Taco Bell and Benihani are all planning multiple closings. Most of these chains have outlets in NYC or surrounding NYS suburbs, but that said, it's difficult to assess the potential impact in NYC and NYS.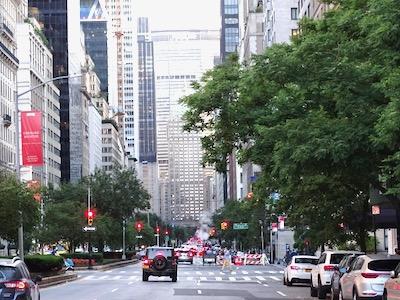 A June 23, 2020 Real Deal report noted that the American Hotel and Lodging Association said that at the end of March 2020 some 200,000 of the half million people working in the NYS hotel industry were [expected to be] losing their jobs. Nationally the comparable figure was four million.  They also said a CBRE report noted that April hotel employment was at 28% of pre-pandemic levels, while in June it had risen to 40%. They also said that hotels were filing notice of more layoffs.
The reason, of course, is that the resumption of the hotel business to pre-pandemic levels isn't likely anytime soon.  In recent years NYC has generally welcomed over 60 million visitors annually.  And as I walk the streets, I can see that even many NYC natives who fled the pandemic for their second homes, have not yet returned to the city – let alone tourists. As mentioned in a prior report [June 29, 2020] the European Union kept the pandemic restrictions on U.S. travelers because of how poorly we're faring in managing the spread of CoVid at the NATIONAL LEVEL.
More Layoffs in the Works – Banks, Financial Services & Real Estate
The next shoe to drop is in the financial services sector as Wells Fargo is eyeing layoffs, as is Deutche Bank and HSBC.  Since the pandemic slowdown began, many borrowers are using more of their credit lines, business activity has slowed for many and won't likely bounce back soon, and the real estate sector / landowners are sitting on tons of unpaid rent. 
So this could be the beginning of a financial services adjustment, as bricks and mortar retail banking begins to go the way of a lot of other bricks and mortar businesses.  All seeming to advance a worsening outlook for commercial real estate [restaurants / hotels / retailers / retail banks / telecommuting office workers and so on].
More Layoffs in the Works – Municipal and State Government?
And lastly, there are government related layoffs which could occur at the municipal and state levels given the billions of dollars in tax revenue shortfall.  Mayor de Blasio has managed to find ways to manage through the estimated $9 billion revenue shortfall this year, including using his rainy day fund [now people may see that he was wise to do so], but we're not out of the woods yet, as up to 22,000 in NYC municipal employee layoffs may be needed by October 1st. 
Meanwhile NYS faces a $10 - $15 billion shortfall.  Governor Cuomo has already begun withholding state funds from counties and municipalities in order to make up the shortfall.  And the state also employs 80,000 people, for whom the Governor froze pay raises in anticipation of the financial crunch. But there's likely more to come on this front.
Reminder – Taxes Due July 15th
The time has run out for those who have not yet filed their taxes.  On Wednesday, July 15th taxes are due.
Have a relaxing weekend.  Stay warm? And stay dry : )
Video of July 4th Fireworks From NYC Streets
This Year the Macy's July 4th Fireworks were Launched from Numerous Sites including the Empire State Bldg
July 7, 2020 / NYC Neighborhoods / NYC CoVid 19 Special Section / News Analysis & Opinion / Gotham Buzz NYC.
Here's a video of the Fireworks, which includes some street activity and commentary & music. Click the box in the lower right corner to max it up to the full screen for best view. Hit the escape key (esc) to exit the full screen view.
Have a good week. Enjoy.
July 4th Weekend NYC: The New Normal is About Adjustment & Simplicity
The NYC Budget, NYC Events, the Economy & CoVid Update
July 2, 2020 / NYC Neighborhoods / NYC CoVid 19 Special Section / News Analysis & Opinion / Gotham Buzz NYC.
George Floyd Protests, the NYPD and other NYC Budget Cuts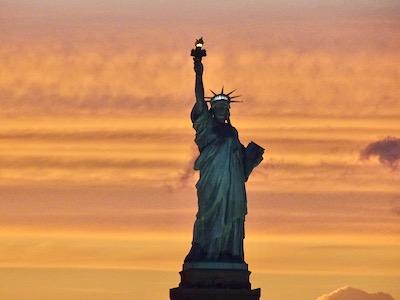 The George Floyd protests seem to have abated, over a month after his death.  The new NYC budget does cut about a billion from the NYPD budget by reducing the staff from 36,000 to 34,000 employees, cancelling the most current class of new cadets, and reallocating school security to the Department of Education and homeless engagement to social services units. About 5,000 people work in the school security program and that will be transferred over a period of time to make sure it works properly.  Another$160 million was allocated to summer youth programs [$115 million], as well as to address food insecurity [$33 million] and housing [$8 million]. 
The overnight Staten Island Ferry service was also cut for the time being.  That affects about 4,250 riders per night based on 2019 statistics.  Other cuts included in the NYC budget include an $800 million cut for schools, a 5% - 7% cut to all departments, some labor savings [$1 billion].  The labor savings could result in NYC layoffs in the Fall if other solutions aren't found. The cuts were due to a mix of actual and expected NYC revenue shortfall of about $8 – $9 billion. City Councilmember Helen Rosenthal of the Upper West Side tells us that about $4 billion of the shortfall will be made up by the Mayor's rainy day fund, which de Blasio had prudently set aside to address unexpected events.
The Mayor also announced that NYC public schools would be reopening in the Fall.  He said he was working with the unions to implement safe plans which would include social distancing measures which would possibly take larger classes online, stagger schedules to fill the school with fewer students at any given time, implement cleaning efforts and staggered lunchtimes.  The Governor noted that ultimately it's his call on school reopenings.  Nonetheless, the Mayor said that NYC was working to submit a plan by late July / early August.
NYC Moving to Phase III Monday but Indoor Dining on Hold
Because of the upturn in CoVid infections in other states as noted below, the Governor and Mayor have put indoor dining in NYC on hold.  Nonetheless, the rest of Phase III will continue as planned on Monday, July 6th. Phase III also includes the opening of personal care businesses such as tanning, waxing & nail salons and spas.
Piazza Style Dining to come to 22 Streets in all Five Boroughs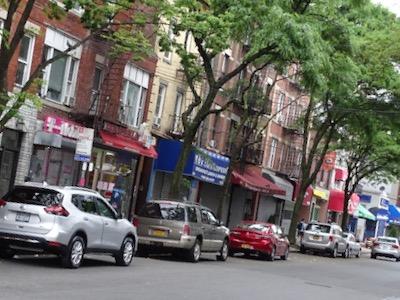 The Mayor announced efforts to mitigate the impact of the delay of the opening of restaurants indoor areas by further opening the streets to restaurateurs over the weekends beginning Friday evenings -  in what was described as piazza style dining.  Expanded dining areas are planned for 22 streets around all five boroughs in the city including Restaurant Row in the Hell's Kitchen neighborhood of Manhattan, Mulberry Street in the Little Italy neighborhood of Manhattan, and streets in Chinatown at Doyers Street, the East Village at Broome and Orchard Street, Harlem at 101st Street and Lexington, Gansevoort & 13th in the West Village, Broadway and 25th in the Flatiron District.
In the outer boroughs there's Arthur Avenue in the Little Italy / Belmont neighborhood of Bronx [7/10], New Dorp at Hylan Blvd in the New Dorp neighborhood of Staten Island, Bell Blvd in the Bayside neighborhood of Queens, and in Brooklyn a number of streets in DUMBO between the Brooklyn and Manhattan Bridge near the water in Brooklyn, 5th Avenue in the Park Slope neighborhood of Brooklyn, at Reed Street and Van Brunt near the Fairway in the Red Hook neighborhood of Brooklyn. And speaking of Fairway – they're planning to close three stores as a result of the pandemic including the one in Red Hook, another in Harlem and one on Long Island.
In Phase II NYC had started to clear the way for restaurants to occupy the curbside parking spaces in front of their dining / drinking establishments to allow the serving patrons outdoors.  This appears to have worked well, with – thus far – no attendant substantive increase in CoVid cases.  This is even though many to most of the folks I see dining and drinking outside aren't wearing masks.  This is understandable as it's hard to eat and drink with a mask on, as I tried it a week ago and didn't like it.
But for the people who are most susceptible to severe illness - and even death - due to CoVid, they are advised to continue to exercise caution, even in the outdoor dining and drinking setting, as the consequences for them are too severe to take the risk.
July 4th Week - NYC Events & Happenings
City Restaurants Turned Inside Out, NYC NYPD Protests Continue, Broadway Cancels Fall Season, Major League Sports Update, Elections Results Still Unknown with Lessons for the Fall & July 4th Fireworks Begin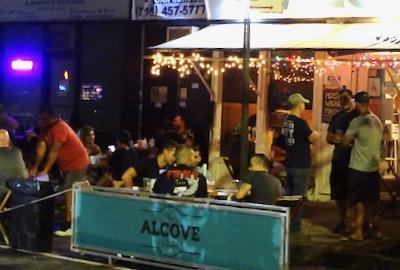 June 29, 2020 / NYC Neighborhoods / NYC CoVid 19 Special Section / News Analysis & Opinion / Gotham Buzz NYC.
NYC entered Phase II of its economic reopening a week ago.  As part of that phase, restaurants were allowed to serve customers on the sidewalks in front of their establishments.  Over the past week or so, more and more people have returned to enjoying a restaurant meal in a social milieu.  Now when I'm returning home around or after dinner time I feel as if I'm walking right through the center of several restaurants.
Restaurants Turned Inside Out
It's kind of interesting, because I get to see the entire clientele without having to enter the restaurant and I can also see what the food looks like. I reckon the downside is that while it seems generally the customers have masks which I see lying on the tables, they take them off or pull them down while there. This makes sense as eating and drinking with the mask on is not feasible. The downside is that while I used to walk around the neighborhood without wearing the mask [it's ok out of doors when distancing six feet ], I've started wearing my mask out of doors while I'm walking through these restaurant seating areas ... just to be safe. The photo above was taken in Sunnyside Queens this week.
Phase III is expected to begin next week, and on Wednesday the Governor and Mayor will announce whether or not restaurants will be allowed to serve customers inside. There's reluctance to do so, as it is believed that the in house social interactions are one of the leading contributors to others states now seeing a surge in CoVid cases.
Week & Weekend Update of Events in NYC
Planned Openings & Fireworks, Phase II & III Economic Reopening, Life in the City & Primary Election Results Remain Open Due to Large Mail in Vote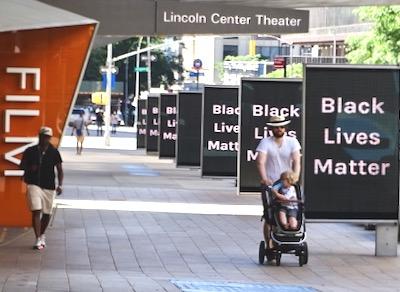 June 26, 2020 / NYC Neighborhoods / NYC CoVid 19 Special Section / News Analysis & Opinion / Gotham Buzz NYC.
On Monday NYC entered Phase II of the economic reopening, which among other things included curbside restaurant service, limited office openings and limited capacity retail.  That put a lot of people back to work and seemed to give the city more of a normal feel.  The Mayor quipped that it was the first time in a while that he got caught in a traffic jam.
NYC Plans Move to Phase III on 7/6/20
Assuming New Yorkers maintain their CoVid protocol vigilance, we'll be moving to Phase III on Monday, July 6th.  This includes the reopening of Personal Care services such as nail salons, gyms, as well as limited capacity in restaurant dining.
A Word of Caution - CoVid Resurgences in Reopened States
But it's worth making a note of caution, as other states – such as Texas, Florida, California and Arizona which beat us to the punch in reopening their economies – have sparked a huge resurgence of new CoVid infections.  Texas, Florida and Arizona have put their economic re-openings on hold. Florida beat its previous high rate of CoVid infections on Thursday, nearly reaching 9,000 new infections in a single day. And an increasing share [about half] of these infections have been found in people between the ages of 25 – 45.
NYS Primary Elections Today
The Presidential and Congressional Primaries are Today
June 23, 2020 / NYC Neighborhoods / News Analysis & Opinion / Gotham Buzz NYC.
The long delayed NYS primary election is today. On the ballot is the presidential primary featuring Joe Biden and I believe others - but the others have suspended their campaigns and Joe Biden has already won enough electoral votes to secure the nomination. So in the presidential primary you can strengthen Biden's hand by casting your vote for him, or strenghten someone else's hand in influencing the Democratic platform that Joe will run on.
There are also a number of congressional races which I'll have more on by or before 12 noon today. See Manhattan Buzz, Queens Buzz, Bronx Buzz, Staten Buzz and Brooklyn BLVD for details.
Click the link for the poll finder website, so you can easily find where to vote in your neighborhood. Remember this is the land of the free and the home of the brave and many of our ancestors died for our right to vote. So try to be brave, but also be careful.
The New York City election is Tuesday June 23rd and polls are open from 6 am - 9 pm.
NYC Life: Juneteenth, Summer Begins, Fathers Day, NYC Phase II, Atlanta Shooting & Election
The NYC Boroughs Showing Increasing Signs of Economic Life, but …
June 19, 2020 / NYC Neighborhoods / News Analysis & Opinion / Gotham Buzz NYC.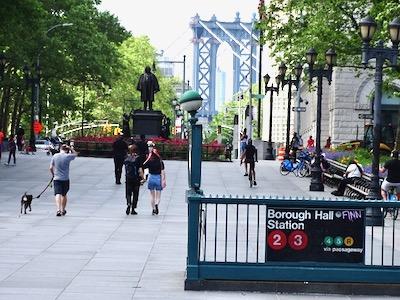 The Mayor announced we're moving to Phase II of the economic reopening beginning Monday. According to a missive by Councilmember Van Bramer, Phase II means that restaurants can resume serving people on sidewalks, at curbside, in opens streets and plazas and in backyard seating – but they need permits which may be obtained at nyc.gov and he notes that restaurateurs do not need to apply separately for the liquor permit.
Retailers can now serve people in their shops by limiting capacity, while following mask, [barrier?] and cleaning protocols.  The same is true for hair salons and barber shops. And realtors and auto dealers can resume working with clients, as can commercial building operations and offices on a case by case basis.
The photo at right was taken near Borough Hall in Brooklyn earlier this month.
On June 19, 1865 the Last Texas Slaves Were Freed
Juneteenth Celebrates the End of Slavery in the U.S.
Juneteenth is the date when the Union Army arrived in Galveston, Texas and informed all of the slaves there, that they were free.  Abraham Lincoln had issued the Emancipation Proclamation in January 1, 1863 – but rumor has it that word didn't reach Texas slaves until two and a half years later.
On Wednesday, June 17th, Governor Cuomo signed an Executive Order making today a holiday for NYS employees.  There are also a number of marches and rallies to celebrate Juneteenth in all five boroughs, most beginning between 12 noon and 4 pm, which you can find by doing a search for 'juneteenth nyc'.
Where We At?
These Certainly are Crazy Times & this is a Brief Update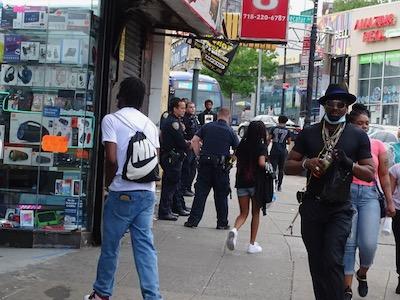 June 15, 2020 / NYC Neighborhoods / NYC CoVid 19 Special Section / News Analysis & Opinion / Gotham Buzz NYC.
In mid March we slammed up against a CoVid pandemic and NYS Paused in order to thwart the rapid spread of the sometimes deadly disease.  Then, after we appeared to slow the virus spread, and we were slowly re-opening economic activity - a new crisis of conscience and societal awakening - was layered atop the pandemic. 
The social outrage, at what appears to be the murder of a man at the hands of a Minneapolis policeman, sparked protests across the nation and around New York City at what appears to be unnecessary municipal police violence and brutality targeting racial minorities, acted upon by a few members of the police forces around the nation.
We have covered both of these stories in prior reports and what follows is a bit of a catch up of the past couple of weeks and look forward into the next couple of weeks.
CoVid Science Update
A number of reports have provided updates into the nature of the Corona Virus.  These include what impact wearing the masks has, how the disease spreads via air and via surfaces, and the contagiousness of asymptomatic CoVid carriers on the general population.  I think it's important to remind folks that we're not even a year into the spread of the sometimes deadly disease, so look at all of what follows as still being somewhat preliminary.
CoVid Science Update – Wearing Masks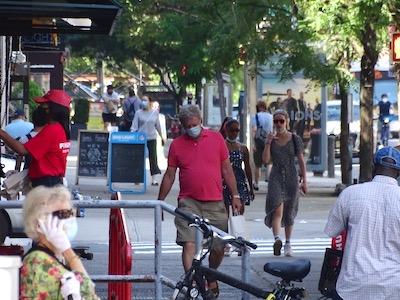 The wearing of the masks does appear to help, but it is most helpful in containing the spread by limiting the airborne virus by infected carriers.  Defensively it also appears to help, but substantially less so, if you're in close quarters with an infected person.  According to a May 17, 2020 report in the South China Morning Post a study using hampsters,
"… found the rate of non-contact transmission – in which the virus was transmitted via respiratory droplets or airborne particles – dropped by as much as 75 per cent when masks were present."
The study was done in a room, which is important to note because out of doors, this same study has not been replicated.  So wearing masks appears generally good.  But it's important to point out that the reason it's good goes back to the original WHO [World Health Organization] and CDC [Center for Disease Control] guidance, which is that it is most effective in containing the spread by an infected carrier.  Wearing masks has been found to be less effective in preventing the spread if the carrier is not wearing a mask even if the potentially infected is.
George Floyd Protest Cinematography, Music & Narrative
June 12, 2020 / NYC Neighborhoods / NYC Social Issues & Crime / News Analysis & Opinion / Gotham Buzz NYC.
The video below is an interpretive depiction of a protest event in McCarren Park early last week. The piece is  meant to be savored - like food, music and cinematography.
George Floyd & Pink Floyd
Trying to Make Sense in a Senseless World
May 28, 2020 / NYC Neighborhoods / CoVid in NYC Special Section / News Analysis & Opinion / Gotham Buzz NYC.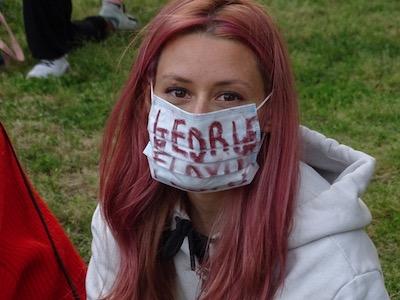 I watched the George Floyd protests unfold on the nightly TV newscasts for a couple of days before venturing out myself to see what I might learn. The protests began on Friday, May 29th in NYC, following the death of George Floyd, an African American who was asphyxiated, apparently due to a Minneapolis policeman holding a knee over George Floyd's neck for nearly nine minutes which was caught on video.
TV News Appears to Sensationalize More than Inform 
On Saturday night Fox News ran and reran the same footage multiple times of a car burning, seeming to hype and sensationalize the footage into a full blown 'riot'. The a lot of the Fox footage was taken from the air, in a helicopter which they lease (reportedly) for millions annually, which again repeatedly showed video of the crowd below, which appeared to be mostly our men in blue. So given little good video, they talked about groups dallying into the police and back again – but really didn't seem to have any video to support their claims. The next day Mayor de Blasio reported that there were no deaths and no serious injuries to members of the NYPD or the crowd. But there was some looting.
An NBC news account made the situation seem far more chaotic than it was by shaking the camera, providing the appearance of chaos. And so on.
More Photos & Video Coming Wednesday
Covering the George Floyd Protests in NYC from the Ground - Not from a Cushy Corporate Media Chopper   
The 'crisis' seemed to be more manufactured by the TV news, than by what was actually happening on the streets, which is why I decided I needed to cover this myself. Second hand TV news seems increasingly like garbage news, but before I could make such a claim, I had to see for myself.
Having grown up in a newspaper family, I've been watching the news and presentation of it all of my life, beginning with the Kennedy assassination, which my father made all of us watch as he said it was history in the making. Back then the news was owned by dozens, if not hundreds of independent newspapermen and broadcasters, so like social media, there was a variety of news presentations and you could pick from them.
Today large multi-billion dollar corporations control most of the news we see, and it seems their focus is largely centered around profit driven ratings instead of a fair and balanced presentation of the news. This is why they seem to hype, sensationalize and distort Americans' perceived reality in order to keep them glued to the tube. And the hyping and sensationalizing is not getting better – it's getting worse.
No longer can you turn on the TV to be informed, but rather to be scared, angered and far too often – to become disinformed.
Unemployment Rises to 40 Million, Trump Fires FIVE Inspectors General Overseeing his Handling of the Largest Stimulus Bill in History & Life on the Ground in NYC
May 28, 2020 / NYC Neighborhoods / CoVid in NYC Special Section / News Analysis & Opinion / Gotham Buzz NYC.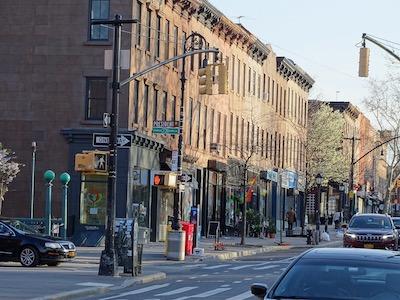 If things appear to be chaotic these days, that's because they are.
America First - #1 in CoVid & Record Breaking Unemployment
Since the CoVid Pandemic began, new unemployment claims have risen by 40 million in the nation.  That's out of an estimated American workforce of 158 million – meaning that 25% of Americans have lost their jobs since the pandemic began. 
The April unemployment was reported at nearly 15%, while the May unemployment report is expected to rise to in the neighborhood of 20% - 23%.  And according to the Federal Reserve, the  June numbers could come in a bit worse than May.  As a point of reference, during the worst days of the Depression, unemployment came in just under 25% before the American people fired Herbert Hoover.
Trump's Litany of Distractions, Enabled by Network TV Boobcasts
But the Donald isn't talking about the pain Americans are suffering from the pandemic, where over 1.7 million have been infected and over 100,000 have died.  Nor is he talking about the pain and anxiety that is being felt by the 40 million Americans who have lost their jobs.
Nor is he willing to talk about the firings of five Inspector Generals who had been charged with overseeing the integrity of the largest stimulus package in American history – funded by America's babies and unborn children.  It's like taking candy from a baby, only this time it's money – and lots of it. 
The five Inspector Generals include one from  Health & Human Services, Department of Defense, State Department, Intelligence Community and the Department of Transportation.  Australian billionaire Rupert Murdoch's Goebbels-like  propaganda machine - including his Fox News, Wall St Journal and NY Post appeared to support the firings. I wonder what Rupert's share of the predatory propaganda plunder is?         
So what is the Donald talking about, repeated nightly on the TV News broadcasts, who I've come to view as the great enablers, and now think of as the nightly news boobcasts ?  Anything else. 
This week the list of TV News amplified Trump outrages included: 1) Twitter exercising its freedom of speech by putting suggestions that Trump Twitter followers get off their lazy bums to click into fair and balanced information checks of the Donald's disinformational tweets.  2) Prior to that Trump attacked the Governor of North Carolinafor following the CDC guidelines vis a vis reopening the economy.  The reason?  The Donald appears to want a jam packed media extravaganza at the Republican National Convention that was scheduled to be held in Charlotte, North Carolina in August.  3) Another of the shock jock president's distractions was his insinuation  that mail ballots are fraudulent – WHICH MIGHT COME TRUE IN November as Trump is replacing the outgoing Postmaster General with a Trump donor / businessman from North Carolina.    4) And the most incredulous of the distractions was Trump's allegations having to do with MSNBC commentator Joe Scarborough and a decade(s) old death of someone who worked for him.
CoVid Vaccine Update, Gauging Timeline for Return to the New Normal,   Economic Snapshot  & ...  
May 25, 2020 / NYC Neighborhoods / CoVid in NYC Special Section / News Analysis & Opinion / Gotham Buzz NYC.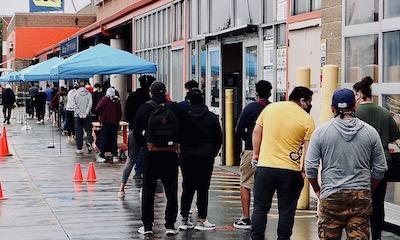 Memorial Day was a beautiful sunny day, with temperatures into the 70's, and dry. Given the month of May is nearly over, I thought I'd do a recap of what has transpired during the month to gauge how far we've come and how far we have to go to return to the new normal.
Let's start with a quick update on the CoVid virus itself. As we entered the month of May, new CoVid hospitalizations were running about 800 per day. As of Governor Cuomo's last few reports, the number of new hospitalizations is running at between 200 – 300 per day. The net daily intubations have been running negative [meaning more people coming off than going on] for most of the last couple of months ranging from close to zero [meaning folks coming off intubations were about equal to those going on] to nearly 150 more coming off than going on.
As we exited April, NYC and NYS were closing the popup hospitals located primarily around the city, as the existing facilities were moving into a position where they were able to handle the sick patients entering the healthcare system. Overall both NYC and NYS have freed up a considerable amount of hospital and respirator capacity, so that most parts of the state will be economically open in the Phase I stage by this coming week – with the exception being NYC. NYC has met six of the seven metrics required to enter Phase I of the reopening of the economy.  The seventh metric is to free up enough hospital capacity [30% available capacity is the target] in order to reopen safely, according to the guidelines outlined by NYS Governor Cuomo.       
It's important to remind folks that NYC, with a population of about 8.5 million, represents nearly half of the approximately 19.5 million population of NYS – and that we're far more densely packed into a far smaller space than likely anywhere else in the nation. I mention this to help folks understand that we, in NYC, have the highest hurdle to transcend to move toward the new normal. But that said both the Mayor and the Governor believe that if the trends continue, NYC should be in a position to move into Phase I sometime within the first two weeks of June.
Phase I allows for construction, manufacturing and curbside retail to resume.
In prior reports we've identified the people most at risk of dying from the disease should they contract it. These folks still need to tread cautiously, as well as the folks who surround them, as no cure is in sight – regardless of what you may hear on the ratings-driven TV news or from a flailing president who oftentimes seems more concerned about the impact of the virus on his re-election chances, than on Americans' health.
Scientists and pharmaceutical organizations around the world on working on numerous different therapies which may help speed recoveries. There are eight new vaccines that are in some stage of clinical trials, and a reported 110 vaccines in the works. The eight in clinical trials are only in the early stages of clinical trials, which are used to determine the efficacy and safety profile of a drug.
Governor Cuomo to End NY Pause on 5/15 but ...
NYS Regions Must Meet Guidelines to Re-Open & While Some NYS Regions Qualify - We in NYC are Not Yet There
May 11, 2020 / NYC Neighborhoods / NYC CoVid 19 Special Section / Gotham Buzz NYC.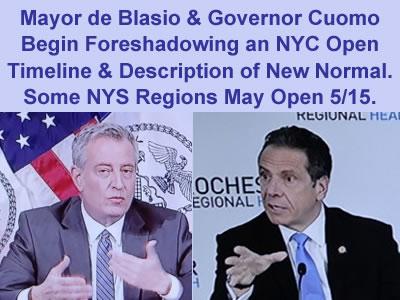 As of May 15th the NY Pause program put in place by Governor Cuomo in mid March will come to an end. NY Pause was essentially a state-wide lockdown of residents and businesses deemed 'non-essential'. We'll have been in lockdown for two months.
NYS Regions Must Meet the Following Guidelines Prior to Re-Opening
But once the statewide lockdown ends on Friday, regional / municipal lockdowns will continue until such time as each region meets seven guidelines outlined by the Governor. The seven metrics that a region must meet are a two week decline in: 1) total hospitalizations, 2) new hospitalizations, 3) hospitalized deaths, and must have a 30% available share of 4) hospitalized beds and 5) Intensive Care Unit beds, and must have testing capacity / implementation of 6) 30 people per thousand monthly, and 7) 30 contact tracers per thousand in alignment with being able to follow up on potentially infected people.
CoVid Back to Work NYC – Part III
Mayor & Governor Attempt a Balancing Act Worthy of the Flying Wallendas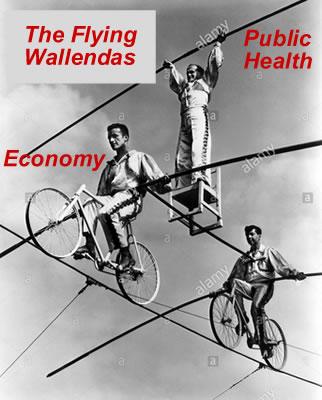 May 3, 2020 / NYC Neighborhoods / NYC CoVid 19 Special Section / News Analysis & Opinion / Gotham Buzz NYC.
Well, at least we had a pleasant weather weekend. People were out and about again in greater droves than they have been in about a month and a half. It was just nice to stretch one's legs, soak in a bit of sunshine and see people again … albeit at a social distance.
Looking ahead the Mayor and Governor are in a tight spot, as people's economic needs begin to weigh heavily upon them, given a second month of rent and other payments have come due. Thus these two intrepid leaders need to work out a path to economic recovery, while not letting up on keeping the evil CoVid virus in check. My intent here is to add my two cents in hopes of stimulating dialogue and actions in that direction.
Putting Things In Perspective
Let's start with what has happened this past week. NYS CoVid Hospitalizations had skyrocketed to about 19,000 the week of April 13th, 2020. By this past weekend they had fallen to about 10,000 – nearly half of the peak.
At the time the Governor and Mayor, with federal government assistance, had put in place plans to accommodate the skyrocketing infected numbers, which as of April 13th had hit 195,000 people in New York State and about 107,000 in New York City. Today the cumulative totals for New York State are 318,000 and for New York City 177,000.
Brief History Of How Covid 19 Started In NYC & NYS
The first person identified with the CoVid virus, was a Manhattan healthcare worker who had picked it up overseas. She tested positive or it became publicly known on March 1st, 2020. A week and a half later, on March 10, 2020, Governor Cuomo set up a containment area in New Rochelle where there was a significant outbreak. The Governor's NY Pause – essentially shutting down non-essential business – began evolving shortly thereafter.
Many NYC Farmers Markets are Open
Farmers Markets are Essential Businesses, Provide Fresh Food & a Nice Outing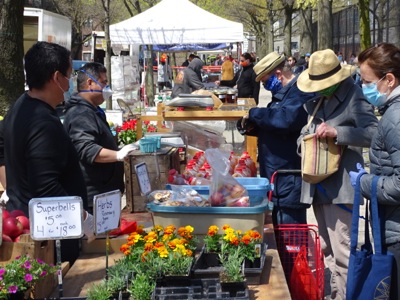 May 1, 2020 / NYC Shopping / NYC Neighborhoods / Gotham Buzz NYC.
Last weekend, on Saturday, I ventured out to enjoy the beautiful weather. I was not alone, as for the first time in a month and a half there were a number of people moving about the neighborhood.
I headed down to the farmers market to see what that looked like under the new normal. The food looked fresh, and there was plenty of it - although this was in mid morning.
The experience wasn't much different than what you'd expect. People wore face masks and there were lines created by social distancing. I was glad to see that farmers markets are essential businesses, as it augments a strained food supply chain, and provides folks with an opportunity to get out of the house in about as safe an environment as you can get. Here's a link to the dates, times, locations and selection of the 2020 Queens farmers markets, Staten Island Farmers Markets, Brooklyn Farmers Markets, Manhattan Farmers Markets and Bronx Farmers Markets.
I can't say people were smiling, not just because their faces were covered by masks, but there's been a gradual mood deterioration as we pass the second rent due date of the CoVid pandemic. Many people aren't standing in the farmers market social distancing line, but rather standing in food pantry lines. And for many, their economic fates are up for grabs, as we collectively try to navigate our way back to work. Many believe that economic activity is likely to be dampened by the CoVid pandemic for some time to come.
On the bright side, the Governor and the Mayor announced plans to begin daily sanitization of the MTA subway system beginning Wednesday, May 6th. The plan is to close the terminal stations of the subway lines from 1 am to 5 am, daily - providing shuttle buses to and from the last stop for passengers. And then, in those four wee hours of the morning, the NYPD and NYC social services will swoop into clear out the homeless population that has started making the subway their new home. It seems a good and humane plan.
Sanitizing the subway lines should go a long way toward preparing us to get back to the new normal by helping to dampen - if not eradicate - the transmission of the CoVid virus. This collaborative effort by both the Mayor and the Governor will help all of us to get back to work and play. So things are moving in the right direction, albeit not at a viral pace.
Have a nice weekend. The weather is going to be in the 70's during the day and 50's at night. And no rain, but some clouds.
Through Wind, Snow, Rain, Sleet & CoVid - Education Goes On
Or … the Wild and Whacky World of Online Learning in the Age of CoVid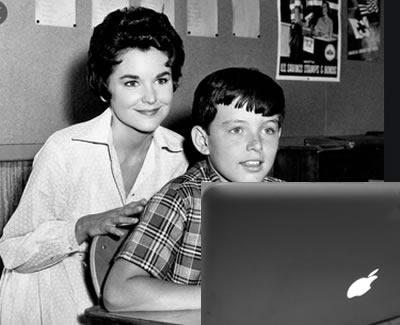 April 27, 2020 / Corona Virus in NYC & NYS CoVid 19 / NYC Neighborhoods / News Analysis & Opinion / Gotham Buzz NYC.
As we anxiously await the return to the new normal, being bombarded by repetitious daily TV newscasts, the Donald's Daily Disinformation Show, and what seems Rupert Murdoch's unending propaganda in the Wall Street Journal and on Fox News, there are a few bright spots, but you have to look for them.
I thought the migration from school classrooms might be one of them, so I set out to find out what that experience felt like to both educators and students at the elementary, high school and college levels. As I interviewed only two students and two teachers, this is an anecdotal report about the migration from classroom to computer.
The mass migration began the week beginning March 9th, 2020. College students around the nation, including the CUNY and SUNY systems, were told their classes were being discontinued and they were instructed to pack their things and return home. By the start of the next week, beginning March 16th, NYC public elementary and high schools were also closed. Private schools more or less closed their doors in tandem with the public schools.
During that week of disbandment, the world of education began a mad scramble to figure out how to continue the education process – without classrooms, schools and interpersonal contact. This was not a mean feat.
Nonetheless, educators scrambled, ramped up to speed using interactive platforms like Zoom and Google Hang Out, which includes Google Meet & Chat, and Google Docs. The educators also started figuring out how replace lectures and moderated classroom discussions by using videos and presentations / documents.
Based on the four interviews I conducted, it seems there wasn't any one formula used, but rather a whole slew of different approaches. Teachers used more different approaches to online learning – depending not just on the subject matter - but also on the audience aka the class.
College Professor's Experience Migrating Online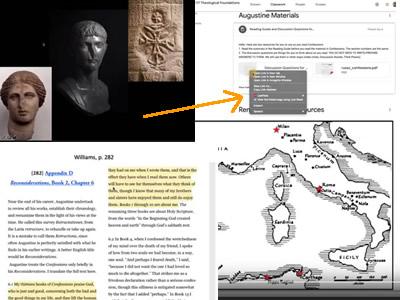 Thomas Bolin is a religious studies professor at a small liberal arts college. He teaches three classes – one is about American Evangelicalism, which examines the changing face of religion in America. He teaches two classes of Ancient Wisdom, which examines Biblical, Roman and Egyptian philosophies. This course ends with each student creating their own personal philosophy.
Professor Bolin said he started by taking a technology inventory of his students including computer and internet access. The real technological issue wasn't access to devices as nearly everyone has a smart phone and computer but rather access to internet with enough bandwidth at the times needed.
After he'd completed the technology inventory, he set out devising a teaching game plan. To that end he began developing videos, which he posted so that the students could access asynchronously – meaning on their timeframe. His reasoning was that as some of his students lived in different time zones, and some had issues accessing high speed internet at home because of shared bandwidth and devices, this would enable all to keep pace with their classroom peers.
He said he receives a slew of student emails after each video post, which he answers personally. He said he also checks in with each of his students at least once per week.
Professor Bolin also said that he began creating reading guides for many of the assigned readings to initiate interaction, circular discussions and he paired student to interact.
I asked him if he was working more or less these days. He said more … that the five day week had become a continuous stream of seven day weeks … that work filling his days has become like gas filling a room.
He noted that it's far more difficult to tell how plugged in each student is to the subject matter. He said that it was likely for that reason that Princeton went to Pass / Fail when they initiated the migration from in class to online. He opined that in spite of the additional work he's had to do, the students were likely getting a reduced educational experience. And hence, he reasoned, the pass / fail is a means of acknowledging the reduced expectations.
I'm paraphrasing but he said something like, "Education is learning about and through community, interpersonal interactions, which ultimately lead to growth. That's not something that can be well replicated online."
CoVid Crisis – Back to Work Part II
Jury Rigging / Do It Yourself Methods to Get Back to Work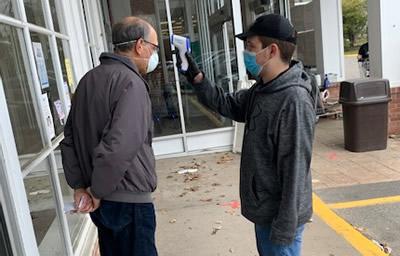 April 24, 2020 / Corona Virus in NYC & NYS CoVid 19 / NYC Neighborhoods / News Analysis & Opinion / Gotham Buzz NYC.
NY Pause Continues Through May 15th Pending an Update
First a couple of announcements were made the past couple of weeks which hint at when we will begin returning to the new normal. With hospitalizations declining / stabilizing and intubations and new positives declining, Governor Cuomo extended NY Pause to May 15th, which keeps open essential businesses, but closes the non-essential businesses until such time as there's enough slack in the healthcare system / hospitals to accommodate any sort of resurgence in Corona Virus patients that may occur as a result of the re-opening.
Governor Cuomo told the Donald NYC and NYS wouldn't need the USNS Comfort any longer, as the emergency crisis has subsided. As noted in an earlier report, the build out at the Brooklyn Cruise Terminal was put on hold, pending a more definitive direction in the CoVid hospitalization numbers. The photo above shows a retailer temperature screening customers before they enter the store [photo credit Dantanyan].
Large Public NYC Events Cancelled thru May
Biggest Events in June Aren't Likely to Occur & NYC Public Pools will Likely Remain Closed Through the Summer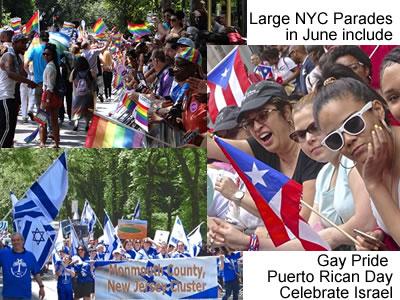 As mentioned previously, Mayor de Blasio seemed to think that the NYC public school system will remain closed through the end of this school year. The Mayor also said that large public gatherings won't resume until at least June 1st, and even after, that the three largest public events in NYC in June [the Israel Parade, the Puerto Rican Parade and the Gay Pride Parade in both Manhattan and Queens] aren't likely to take place this year - but no final decision has yet been made. Other large public events including street fairs and other parades will not take place through May and there will be an update before then about what happens beginning in June.
The Mayor also said that NYC public pools will likely not open this summer because of the challenges of keeping people socially distanced / safe from the spread of the Corona Virus. Also, the Plastic Bag ban enforcement was pushed back to May 15th some time ago. As of this report, that enforcement date still stands, but like so much related to the CoVid 19 crisis, the date could be extended further. And the special election for Queens Borough President was cancelled and will be held in tandem with the NYS primary and general election. Lastly, the Macy's 4th of July Fireworks are still planned, but like everything this Spring, is still subject to change.
Back to Work Part I: Understanding the CoVid 19 Enemy
Review SARS-CoV-2 Characteristics – Function & Contagion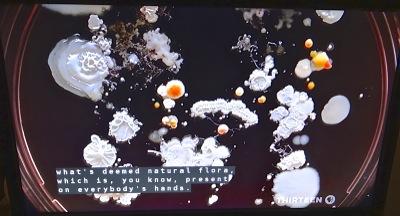 April 17, 2020 / / Corona Virus in NYC & NYS CoVid 19 / NYC Neighborhoods / News Analysis & Opinion / Gotham Buzz NYC.
As noted in my last report, we've moved from emergency management to crisis management. That is simultaneously the good news and the bad news. I expect the crisis in one form or another will be with us for some time to come. But forecasting what the future looks like is at best a precarious endeavor.
Everyone is now trying to figure out a way back to the new normal, which means living with a incurable virus in our midst, until such time as therapies, cures or vaccines are found and proven to be successful.
So what does the path forward look like?
The image at right was created by Brooklyn artist Craig Ward of bacteria he collected on the subway and made into artistic renditions.
Governor Cuomo Begins Sketching a Back to Work Plan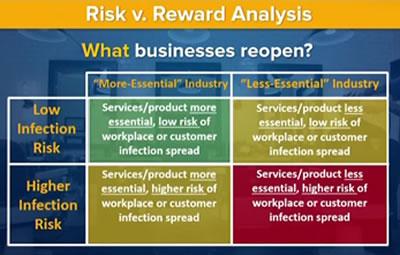 For starters Governor Cuomo extended NY Pause through May 15th. NY Pause is the directive to close social gathering places and venues, schools and non-essential businesses. Within the past week Mayor de Blasio said the NYC Public School system would not reopen this school year.
Governor Cuomo laid out a sketch of a conceptual plan, which likely came from one of the consultant groups, as it looked a lot like the growth share matrix devised by Boston Consulting Group. The growth share matrix was designed for companies to use to evaluate the businesses they are in, to determine whether to continue investing in them or to begin cashing out of them. The divisions in high growth businesses that are profitable are the ones to keep backing, while the companies in the low growth low profitability businesses are the ones to sell, close or grind out every last dollar.
Governor Cuomo's matrix axes [plural for axis] has high and low infection rates along the y axis and more essential / less essential along the x axis. The more essential and less potential infection the quicker you're back to work. The less essential and the higher the potential infection, the longer before you're back to work.
Cuomo, de Blasio & YOU have been doing Great
New Yorkers Appear to Turn Corner on the Corona Virus Crisis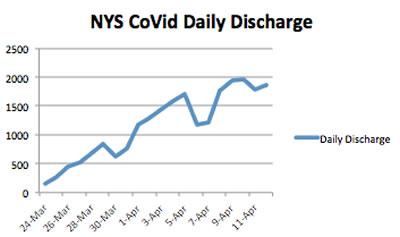 April 12, 2020 / Corona Virus in NYC & NYS CoVid 19 / NYC Neighborhoods / News Analysis & Opinion / Gotham Buzz NYC.
I hope you had a good Easter / Passover weekend.
Based on what I observed, albeit with very limited movement and anecdotally, New Yorkers appeared to stay at home, self isolating over the holiday weekend.
This sort of compliance with government guidance is what has enabled us to stem the spread of the - at times lethal - Corona Virus. And the levelling happened none too soon, as parts of the NYC hospital system were operating at full capacity - and in some cases over capacity.
Most of the metrics for the virus have been levelling off or even going down, while the only positive metric - daily discharges - continues to rise.
We appear to be transitioning from emergency management, to crisis management, and government officials are now even beginnning to look ahead at transitioning us back to what will be the new normal.
NYS & NYC New CoVid 19 Cases Level - Even Show Signs of Falling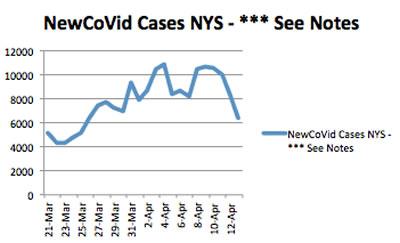 New CoVid 19 cases in NYS were down fairly sharply yesterday, based on the numbers presented by Governor Cuomo. But the drop may be due to weekend reporting discrepancies. In any case the number of new cases appears to have levelled off in both New York state and in New York City.
The key statistics that the Governor and the Mayor have been closely monitoring include new and net hospitalizations, new and net admissions to the Intensive Care Unit, and new and net intubations aka use of respirators. As you can see from the graphs, all have been falling. This data was collected from the Governor's daily press briefing, as well as from other media outlets such as the New York Times, on the days when the Governor didn't present all of the key metrics in his press briefing.
Riding the Rails During the CoVid Pandemic in NYC
Observations of a Blogger While Covering the CoVid Story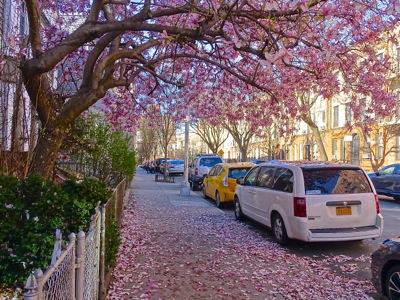 April 9, 2020 / Corona Virus in NYC & NYS CoVid 19 / NYC Neighborhoods / News Analysis & Opinion / Gotham Buzz NYC.
I've been covering the CoVid Pandemic since it began in NYC, starting in the first half of March. At first my attention was focused on the closures by the Governor and Mayor as they began shuttering social events, social interactions and ultimately the economy.
It wasn't long before I shifted my attention to the growing numbers of people testing positive for the Corona Virus in NYC and NYS. This was followed by photographing the efforts by the NYC Mayor and the NYS Governor to build out additional healthcare capacity, to accommodate the projected growth of sick people, resulting from the spreading pandemic. They had a very limited time frame to complete this build out, before the influx of new Corona Virus patients overwhelmed the existing NYC and NYS healthcare capacity.
Most recently I've turned my attention to the economic hardships currently being borne by New Yorkers, particularly in small businesses and the folks working in essential services.
I've witnessed many people thanking the folks working in essential services - including healthcare, public transit, grocery and pharmacy outlets, and first responders - and I want to add my own thanks for all of the work they do, to keep the rest of us moving.
The photo above was taken about a week ago. A little bit of natural beauty helps keep things in perspective.
Reporter Travelogue - Startling Beginning With Closures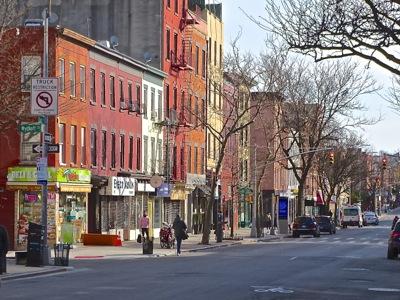 This is a travelogue about riding the MTA rails, along with essential workers, to do my part by providing independent first hand reports and context regarding what's happening here in NYC vis a vis the Corona Virus pandemic. Most of what I report is either not reported by the sensationalist, ratings-driven TV network news, or it's diminished in their reported accounts because it's contextual - not shocking.
The pandemic first hit my radar while I was covering a theater event at the LaGuardia Performing Arts Center. At that time I first heard that the Governor had started instituting surprising - and what at the time seemed draconian - measures designed to stymie the growing tide of CoVid 19 infections. In short order these actions were followed by the Mayor and it included shutting down restaurants and non-essential services.
The photo at right shows shuttered businesses along Court Avenue in Brooklyn during the NYC CoVid lockdown.
At the moment these governmental measures appear to be working, but I suspect maintaining discipline during the Passover and Easter holidays will be challenging. Afterall we have now spent over a month in communal isolation. But if people don't comply with the guidance provided by government officials, the pandemic will quickly resurge, and lengthen the time before we can all get back to the new normal. The Governor cited several examples from around the world including Italy, Hong Kong, Singapore and the Influenza pandemic of 1918 in the U.S..
NYC Hospitals Operating at Capacity, CoVid 19 Curve Flattening, BUT ...
The Next Battle is to Stay Disciplined to Avoid a Resurgence
Will New Yorkers Comply during Passover & Easter Week?
April 6, 2020 / Corona Virus in NYC & NYS CoVid 19 / NYC Neighborhoods / News Analysis & Opinion / Gotham Buzz NYC.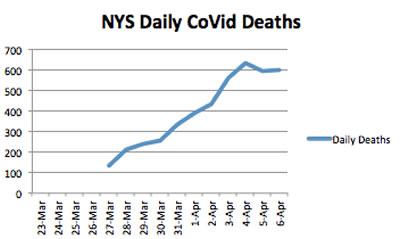 Many NYC Hospitals are reportedly operating at full capacity, and in some cases operating at capacity plus.
The good news is that the supply chain of personal protective equipment [PPE], respirators and gowns has been holding - albeit on a tight supply. And there are still anecdotal reports, generally by the alarmist TV networks, that indicate there are a few spot shortages. If true, these shortages are the result of distribution issues, rather than any out-of-stocks by the city and state.
Nonetheless, the needs for protective gear and life saving equipment remain high priorities for both the Governor and the Mayor, as the supply chain is on a tight turnaround and the CoVid pandemic continues, albeit at a slackening pace, in the city and parts of the state.
The good news, as previously reported, is that we may be approaching the apex. The social distancing appears to have thwarted the worst case scenario, and may even have contained the spread from reaching the middle case scenario.
But the danger persists.
The chart at right shows the daily CoVid deaths stabilizing. But a number of the morgues are over capacity, and some of the bodies reportedly had to be stored in refrigerated trucks, which are affectionately referred to as mobile morgues.
The Real Challenge this Week is Getting Through Passover & Easter without Breaking the NYC & NYS Healthcare System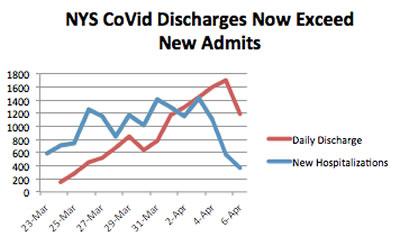 And the real test of it comes this week as both Passover and Easter come to play, when people generally come together to celebrate these traditional religious holidays.
To discourage people coming together in large numbers the Governor doubled the fine for violations of social distancing from $500 to $1000. Cuomo also extended the non-essential store closure policy for another two weeks - through the end of April.
In the Governor's daily press conference, he called upon local law enforcement to give tickets to people regardless of their religious affiliation, if they violate the call for social distancing. In doing so, Cuomo noted that not only are those who gather in such a manner putting themselves and their communities at risk, but they are also adding to the pandemic crisis, by putting first responders including FDNY, the NYPD, the MTA workers and the NYC / NYS Healthcare system workers at risk. A risk, which in many cases, ends up in death.
And given the hospital / healthcare system is operating at full capacity, if people start to break formation and begin disregarding the government social distancing guidance, they could potentially tip the balance of what seems a well managed pandemic crisis, into an all out disaster.
The chart above shows some good news, whereby the NYS daily CoVid hospitalizations are exceeded by the number of CoVid patients leaving the hospital. Remember - these numbers are driven up or down by our behavior as a whole community.
CoVid Testing Now Widespread, Growth Continues but doesn't Accelerate, Severe Cases Appear to be Levelling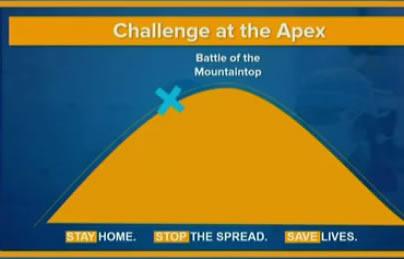 April 4, 2020 / Corona Virus in NYC & NYS CoVid 19 / NYC Neighborhoods / News Analysis & Opinion / Gotham Buzz NYC.
It's been a while since we've had much good news. At right is a graph shown by Governor Cuomo at a press conference today. Over the past week or so, Andrew Cuomo appears to be moving toward one of the more optimistic scenarios. He expects that we may POSSIBLY hit the Apex sometime next week.
Mayor de Blasio also seemed focused on the immediate needs of next week, but the Mayor has not yet adjusted his long term view of what's needed. Perhaps the Mayor hasn't yet received 'the memo'.
New Daily Discharges Exceed New Daily Hospitalizations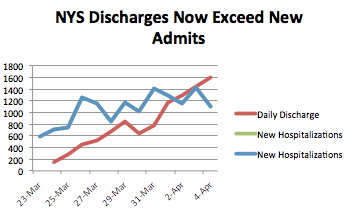 As you can see from the graph presented at right, the daily discharges at hospitals now exceeds the number of new daily admissions to the hospitals. Obviously that's a good sign, as more capacity is being freed up, as is being committed, providing breathing room for the entire system, which has been under some significant stress the past week or so.
Now be advised, the Network TV personalities are paid on the basis of their ratings performance - not keeping you properly and contextually informed - which is why you've been hearing that the sky is falling these past couple ofweeks.
To be sure, some hospitals that are under great duress. Elmhurst Hospital in Queens has been one of them, and I've heard, but haven't visited, Mount Sinai in Queens and Jacobi in the Bronx. But other hospitals aren't making the news because they're operating just fine. So bear in mind when you watch TV news you aren't necessarily getting the full picture - you're getting the ratings driven network TV news picture.
The bubbleheads on TV news seem to be paid on how well they read teleprompters, not on their intellectual or journalistic acumen.
NYC Curve Appears to be Flattening, NYS Numbers are Still Rising
Hospitalizations, ICU Patients, Intubations & Discharges
April 2, 2020 / Corona Virus in NYC & NYS CoVid 19 / NYC Neighborhoods / News Analysis & Opinion / Gotham Buzz NYC.
Well, there seems to be some good news, and Governor Cuomo has started hinting at it in his daily CoVid press conferences. A week ago, the Governor was talking about NYS hitting the apex of the curve in 21 days, which is in late April. This week the Governor started hinting that we may hit the top of the curve within the week. The Mayor, meanwhile has been saying that next week could be the start of the apex / wave.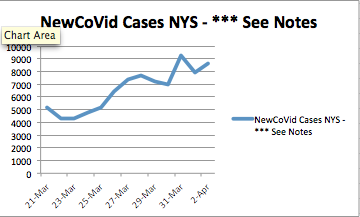 My assessment differs from both the Governor's and the Mayor's. And while it's based on information provided by the Governor, I'm drawing a different, more optimistic conclusion. Part of that may be that I haven't been able to talk to anyone from the Governor's office who knows precisely what's in / not in the numbers the Governor has been providing. And it's also worth noting that both the Governor and the Mayor don't have the luxury of planning for the optimistic scenario.
Assumptions for the Analysis in this Report - Beware the Hype & Distortions of Anecdotal Reporting
Assuming the numbers hold and New Yorkers' behavior holds, NYC may have already hit its apex of the CoVid pandemic. Note that those are big assumptions, but they're assumptions based on current numbers and behaviors.
As I am sure you can appreciate, that's good news, as some NYC hospitals had reached their capacity in terms of beds and / or Intensive Care Unit beds with / without respirators. But while maxing out the capacity at some of the eleven hospitals that are run by the NYC Health & Hospital System - like Elmhurst Hospital in Queens and possibly Jacobi Hospital in the Bronx - it is not true for the privately run hospitals that represent a significant portion of the medical infrastructure of NYC. One exception may be Mount Sinai in Astoria, Queens which today was reporting that they're handling a lot of CoVid patients.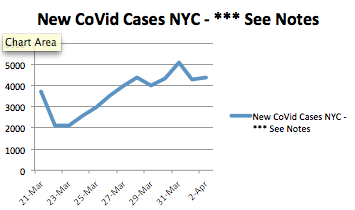 On Monday afternoon, March 30th, I spoke very unofficially to professionals from both Mount Sinai and also at Memorial Sloan Kettering - both in Manhattan - who told me at that time, that the operations at both of these hospitals were pretty much functioning somewhat normally.
So I think it's important for people to bear in mind, a shortage or over-capacity in one hospital, doesn't mean there's a shortage system-wide. The flip side of that coin is that we may have more capacity and supplies than is needed - but it might not be available in the places where it's most needed.
The CoVid Curve Appears to be Flattening
Growth in Daily Hospitalizations & ICU Patients Appears to Slow
March 31, 2020 / Corona Virus in NYC & NYS / NYC Neighborhoods / Corona Virus in NYC & NYS CoVid 19 / News Analysis & Opinion / Gotham Buzz NYC.
Please note I tried to contact the Governor's Office for comment on this and have not yet heard back from them. I know they're busy, and we're not from the MainStream Media.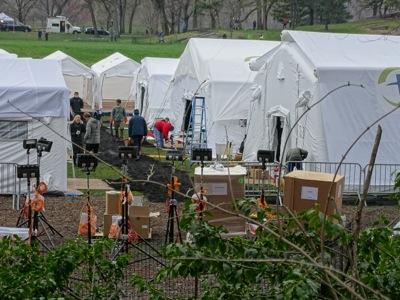 Nearly three weeks ago, Governor Cuomo issued an order for social distancing, by initially limiting social gatherings to fifty people or less. Mayor de Blasio supported the move that same day. As such most of the cultural venues in New York City suspended normal operations and events pending further notification or some future date. That was nearly three weeks ago.
That action was subsequently followed by further actions, limiting social gatherings to ten people and eventually just immediate households. On March 15, 2020 Mayor de Blasio issued an order asking bars and restaurants to close their doors except for deliveries / take out. That was more than two weeks ago.
A week ago while I was out photographing the empty, eerie NYC landscape, I noticed somewhat casually that somewhere between 10% - 25% of retail outlets were still open in Manhattan / Queens. Just a few days ago, while making another sweep through a couple of neighborhoods, the percent of those open had dropped to ghost town levels of 10% and less.
The bad news is that there's been a near stop to 'non-essential' life here and that there's an economic reckoning most folks are facing tomorrow on April 1st as bills come due.
The good news is that I've been tracking the numbers provided by Governor Cuomo and the curve does appear to already be flattening. The Governor has hinted at this by noting that the hospitalization rate had gone from doubling every 2 - 3 days at the outset a few weeks ago, to doubling every six days as of about a day ago.
But the good news goes beyond that. A couple of days ago, the Governor changed what numbers he was releasing to the public.
It's a Corona Virus Weekend NYC III
CoVid 19 Pandemic Continues to Keep Life in NYC & NYS on Hold
The Following Includes a Compendium of Closures & Expected Activity Resumption Dates [Subject to Change]
Updated March 29, 2020 from 3/27/20 / NYC Social Issues / NYC Neighborhoods / Corona Virus in NYC & NYS CoVid 19 / News Analysis & Opinion / Gotham Buzz NYC.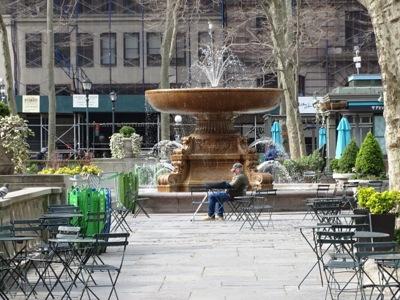 Weather. The Temperature highs will be in the high 60's Friday, dropping to 50 on Saturday and rising a bit to the mid 50's on Sunday. The temperature lows will be in the mid to high 40's all weekend. There is an 80% - 100% chance of a half inch of Rain on Saturday mid to late afternoon [3 - 5 pm] and a bit more than a half inch early Sunday morning [before 7 am]. Winds will be 5 - 10 mph all weekend. The Humidity will be rise from the mid 20% range Friday, to 60% Saturday and 80% Sunday. Click for NYC Weather.
MTA / Public Transit / Click here for the MTA Weekender.
The photo at right shows a man in Bryant Park last weekend enjoying a rare moment of solitude in the middle of a very densely populated city during the CoVid 19 shutdown.
On Thursday, March 26th, I headed toward CitiField to photograph it on what was supposed to be opening day. Major Leaugue Baseball was to begin that day with the Mets playing Washington at home, while the Yankees were to play Baltimore away.
Elmhurst Hospital is the Epicenter of Queens, which is Epicenter of NYC, which is Epicenter of NYS, which is Epicenter of the America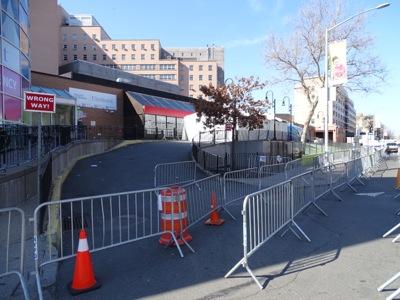 On my way I stopped to visit Elmhurst Hospital which had been labeled the CoVid epicenter of Queens that same day. Queens had become the epicenter of NYC by reporting the most cases in the city, and New York City is the epicenter of NYS, which is the epicenter of the U.S.
I visited Elmhurst Hospital just as they had closed the testing tents, which ran from 6 am - 4 pm. I spoke to one of the healthcare professionals there, inquiring as to whether they thought that there had been an overreaction to the spreading virus.
I was told that the virus was new, mutating, very contagious, and more lethal than the flu - so it should be taken seriously and managed in accordance with the general health risks it poses. Within the prior 24 hours thirteen people had died at Elmhurst Hospital.
On the subway the number of people wearing masks over their faces had grown significantly. I also noticed, for the first time, that a number of people were also wearing plastic gloves. Not long from now, everyone will be wearing Hazmat suits.
Well, at least it was easy to get a seat, and even easy to maintain the social distancing.
The photo above shows the testing tent outside of the Elmhurst Hospital in Queens on Thursday. In the prior 24 hour period 13 people reportedly died.
Small Businesses Have Closed or are Closing - Nothing's Moving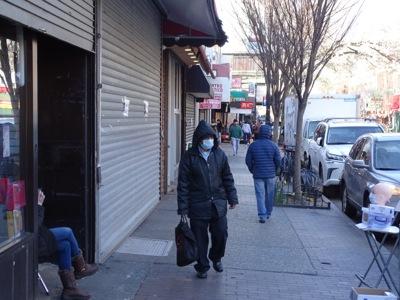 On my way home I stopped at a few small businesses I generally frequent. One had completely closed its doors for the past couple of days because business had been softening. I imagine staying open just wasn't worth the effort and expense. Another small business had shortened their hours, as business there had also softened, but there was still business moving. And at the third place I stopped, the owner told me they were going to close for a while, until things started moving again, as there just wasn't much / any business moving.
When I arrived at my own personal self quarantine station - which I used to think of as my apartment - I flipped on the tube. There in front of me were so many people, talking endlessly and saying so, so little. So I turned it off to restore a sense of calm.
What follows is a compendium of some of the major closings and announcements made over the past couple of weeks, as well as the anticipated time they plan to resume activity, but all subject to change.
The photo at right shows the business district on 82nd Street in Jackson Heights Queens during the middle of the day. As you can see, most businesses had closed.
CoVid - The Virus Everyone is Talking About
Ghost Town: One of Every 200 New Yorkers has been Tested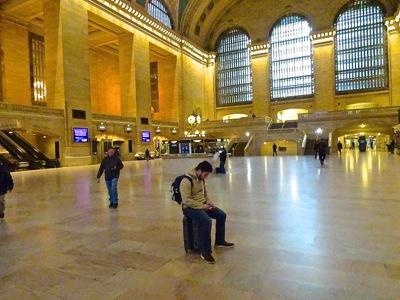 March 23, 2020 / NYC Social Issues / NYC Neighborhoods / Corona Virus in NYC & NYS CoVid 19 / News Analysis & Opinion / Gotham Buzz NYC.
Last weekend I headed into Manhattan to take a few photos of what I expected to be a ghost town. While some folks were moving about - relative to normal activity - Manhattan seemed empty. With this report are a few of the photos. I'll include more of them in the upcoming weekend update.
I've also been fairly closely following Governor Cuomo's daily press briefing. The numbers, as mentioned in my last report, that I've been keeping a close eye on are the number of infections vis a vis the number of tests completed. The reason for this is that I have not yet heard anyone explain how they can truly ascertain the transmission rate, without being able to separate out the growth in the number of people who have tested positively, from the growth in the number of people they have tested.
NYC & NYS CoVid 19 Testing Metrics vs Infected Numbers

So I put together a chart, in which I had to make a few estimates using the data the Governor provided, as I had not captured all of it. Friday, March 20, 2020 is the starting point, where Cuomo reported 32,427 tests completed in NYS, of which 44% or 14,386 were completed in NYC. At that time there were 7102 and 4408 infected in NYS and NYC respectively, which means that 22% of those tested in NYS were infected, while 31% of those tested in NYC were infected.
In the briefing today, Tuesday, March 24, 2020 there were an estimated [my copy of Cuomo's NYS total number was unreadable] 94,289 tests completed in NYS, of which 41% or 38,390 were completed in NYC. At this time there were 25,665 infected in NYS, of which 14,904 of the infected were found in NYC. This translates to 27% of those tested in NYS being infected, while 39% of those tested in NYC were infected.
What does this mean? Actually since this virus is new, we don't really know for sure. What we do know is that about 26,000 people in NYS are infected, of which 15,000 of them live in NYC. And, according to Cuomo on Monday, the testing per capita in NYS is higher than anywhere else in the world including South Korea [see fact check correction below].
It's a Corona Virus Weekend NYC II
Even more than Last Week, the Corona Virus Pandemic Shuts Down NYC
* March 20, 2020 / NYC Social Issues / NYC Neighborhoods / Corona Virus in NYC & NYS CoVid 19 / News Analysis & Opinion / Gotham Buzz NYC.
* Weather. The Temperature highs will be in the mid 70's on Friday, dropping to 50 on Saturday and the mid 40's by Sunday. The temperature lows will be in the mid 40's on Friday, dropping to the mid 30's Saturday, rising a bit to the high 30's on Sunday. There is a 40% chance of a minuscule amount of Rain on Friday afternoon, for which the peaking probability is at 5 pm. Then no rain for the rest of the weekend, but cloudy Saturday morning. Winds will be 10 - 15 mph all weekend. The Humidity will be around 70 on Friday dropping to the mid 40% range for the rest of the weekend. Click for NYC Weather.
* MTA / Public Transit / Click here for the MTA Weekender.
A Racist President Applies a Demagogue Label to CoVid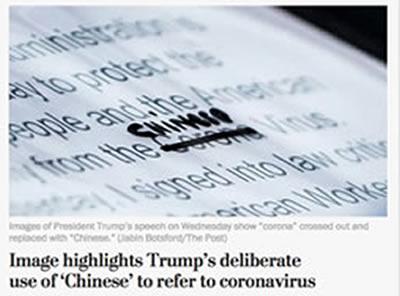 Unfortunately we have a president, who oftentimes makes situations worse, because of his ignorant and childish behavior. The Donald seems to be trying to label the Corona Virus the China virus and quite frankly, is doing more to confirm some of the labels given to him - like he's a racist - than convincing anyone other than his Fox 'News' toadies - to go along with his not-helpful-in-addressing-the-CoVid-crisis ploy.
It seems that our babyman president, won't even act like an adult, even in the midst of what appears to be the world's worst pandemic in this millenia.
A demagogue is
"a political leader who seeks support by appealing to the desires and prejudices of ordinary people rather than by using rational argument."
MTA Sanitizes Subway Cars and Buses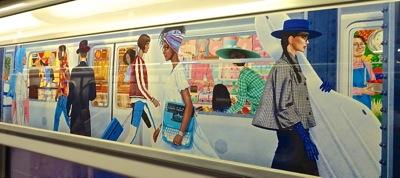 The NYC MTA moves between four and six million people daily. That's a mind boggling figure when you think about it. But last week ridership began falling significantly. And by this week, about a million or more people, had found some other way to get around, or were staying home. Thus the MTA is seeking federal funding to the tune of about $4 billion to help it shore up the lost revenue. And the ridership reductions are expected to continue for a while.
The MTA stepped up its cleaning regimen effective March 3, 2020. It now santizes its subway cars and buses on a rotating schedule every three days. Have the subways ever been so clean? In spite of the effort folks are still encouraged to practice social distancing meaning keeping six feet apart from others when possible. Anyone who is ill is asked to stay home.
The photo above right shows a placard on the subway, artistically depicting the diversity of our city. We live at the crossroads of the world, which means we are both the beneficiaries of that intellectual and cultural diversity, but also carry risks which are associated with that openess, because of our societal exposure. Like everything in life, we must strive to find the right balance of cultivating our openess, while managing and minimizing the associative risks. Data, science, education and discipline can help us strike the right balance.
************
NYS Primary Elections Today in Manhattan
The Presidential and Congressional Primaries are Today
June 23, 2020 / NYC Neighborhoods / News Analysis & Opinion / Gotham Buzz NYC.
The long delayed NYS primary election is today. On the ballot is the presidential primary featuring Joe Biden and I believe others - but the others have suspended their campaigns and Joe Biden has already won enough electoral votes to secure the nomination. So in the presidential primary you can strengthen Biden's hand by casting your vote for him, or strenghten someone else's hand in influencing the Democratic platform that Joe will run on.
Political Calculus Manhattan Congressional District Races
There are also a number of congressional races including in the 7th, 10th, 12th and 13th Congressional Districts in Manhattan. This year could potentially be a change year in some races, although as near as I could tell by doing the research, Manhattan doesn't yet seem that ripe for change. But that said it's worth noting that the percent of eligible voters jumped from 37% in 2014 [previous midterm election] to 50% in 2018. And in the primaries small numbers can provide big results as Alexandria Ocasio Cortez' victory over Joe Crowley proved. So here's a brief snapshot.
The 7th Congressional district stretches as far east as Woodhaven in Queens, as far west as the East Village and the Bowery in Manhattan, and including the area in between from Brooklyn Heights to Bushwick and then south along the East River as far as Sunset Park which is also in Brooklyn. The incumbent is Nydia Velazquez who has held the Congressional seat since 1993 and raised nearly $600,000 in contributions. Nydia is being challenged by Paperboy Prince, a rapper who doesn't appear to have raised much in contributions. Another challenger, Iroghama Omere, didn't make the ballot.
The 10th Congressional district includes . The incumbent is Jerry Nadler who has been a Congressman since 1993 and he raised $1.3 million in contributions. He's being challenged by two newcomers, one of who raised over $900,000 [Lindsey Boylan] and the other [Jonathan Herzog] raised just $59,000. Herzog is 25 years old. Herzog is likely to draw votes away from Boylan.
The 12th Congressional district includes the East Side of Manhattan extending from the south Harlem border down to SoHo, and from the Greenpoint neighborhood of Brooklyn north to Astoria in Queens. The incumbent is Carolyn Maloney who has been in Congress since 1993. Maloney seems favored to win as she is challenged by Suraj Patel, who lost against her in 2018 by 59% vs 41%. This race there are also two other challengers, Lauren Ashcroft of LIC and Peter Harrison of Stuyvesant Town. The latter two candidates appear to be newbies, and seem more likely to draw votes away from Patel than Maloney - but that's not clear.
The 13th Congressional district stretches from Bedford Park, University Heights, Kingsbridge Heights and Marble Hill in the Bronx, down through Inwood, Washington Heights, Harlem, Morningside Heights to the north end of the Upper West Side. The incumbent is Andriano Espaillat, a Dominican, who has held the office for two terms beginning in 2017. He's challenged by a couple of candidates - but none of whom have raised $100,000 compared to Espaillat's nearly $800,000 in contributions.
Click the link for the poll finder website, so you can easily find where to vote in your neighborhood. Remember this is the land of the free and the home of the brave and many of our ancestors died for our right to vote. So try to be brave, but also be careful.
The New York City election is Tuesday June 23rd and polls are open from 6 am - 9 pm.
Things To Do Memorial Day Weekend Manhattan NYC
Things To Do Memorial Day Weekend Manhattan NYC
Things To Do In NYC & Manhattan Over The Memorial Day Weekend
May 14, 2020 / Things To Do Memorial Day Weekend Manhattan NYC / Manhattan Buzz NYC.
This page contains a few of the classical things to do in Manhattan over the Memorial Day Weekend in normal times, as well as what's available during the CoVid pandemic. Go to the Things To Do section of this site for an enhanced list of options.
I know Memorial Day Weekend is fully a week away, but given it's such a changed landscape due to the CoVid pandemic, I thought you might want more time to think about how you're going to spend the weekend.
Weather. As of this posting the weather forecast is as follows. The Temperature highs will be in the low to mid 70's and the temperature lows will be around 60 all three days of the long weekend. There's a 20% chance of rain all weekend. Winds will range between 5 - 10 mph all weekend. The Humidity will be around 50% throughout the weekend. Click for an up-to-date forecast of Manhattan Weekend Weather.
Be sure to check our Memorial Day Weekend things to do post mid afternoon Friday of Memorial Day Weekend.
Brief History of the Memorial Day Holiday in Manhattan
Memorial Day first started out as Decoration Day in Waterloo, New York on May 30, 1866 - a year after the Civil War - to honor those who fought in it. In the 1880's the day came to be known as Memorial Day.
According to a May 25, 2012 report in Time Magazine, ten states - Texas, Louisiana, Mississippi, Alabama, Georgia, Florida, North and South Carolina, Virginia and Tennessee also officially observe some version of a Confederate Memorial Day, sometime between late April and early June [in Texas it's in January]. It's been reported that unofficially most of the former Confederate states still commemorate it, but not without some controversy as to the former Confederate diaspora it's to honor their ancestors, while to the former diaspora of the slaves it seems a remnant of these states racist past.
About ten percent of the nation travels more than 50 miles over the weekend. Memorial Day differs from Veterans Day which is held on November 11th of each year. Veterans Day began by honoring those who fought in World War I which ended on the 11th hour, of the 11th day of the 11th month of 1918. Both honor those who served in the U.S. Military. Veterans Day coincides with a similar holiday in Europe for the same reason, which is called Remembrance Day and Armistice Day.
Memorial Day Events in Manhattan 2020
According to a March 27, 2020 report in Military News the U.S. Navy cancelled Fleet Week due to the CoVid pandemic. The annual celebratory week in NYC was originally scheduled to run from Wednesday, May 20 to Tuesday, May 26, 2020.
Unfortunately this year attending the Memorial Day Parade in Inwood that begins between 11 am - 12 noon at Dykman Street and Broadway, as well as the Manhattan street fairs in Manhattan NYC, don't appear to options due to the CoVid pandemic. That's not the only activity that will not be available to us, as attending Manhattan parades NYC, watching theater, visiting the Manhattan art museums NYC, and eating out at one of the Manhattan restaurants NYC also won't be available come Memorial Day Weekend.
But things are slowly moving in the right direction. For example you can obtain restaurant food via delivery or carry out - we posted some of the restaurants performing this service as of Mother's Day in our Mother's Day Restaurants in Manhattan report.
Unfortunately shopping in Manhattan, will also be limited to groceries, pharmacies and home improvement stores [aka essential services], but local Manhattan farmers markets in Manhattan NYC are classified as an essential service, so that provides another outing option.
You can also go bicycling around Manhattan so be mindful to observe the rules of the road [click link]. The 5 Boro Bike Ride 2020 was cancelled and unfortunately could not be re-scheduled, so we'll all have to wait until 2021 [hopefully].
So there are some things happening right here in our favorite borough - Manhattan. Click here to obtain information about things to do Memorial Day Weekend 2020 in Manhattan NYC. This events calendar is updated monthly with about 100 different Manhattan fun / cultural events.
Manhattan Public & Privately Run Parks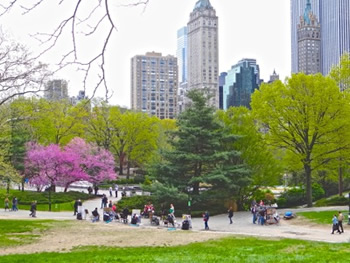 Manhattan has a number of New York City Parks, most of which will be open, including the restrooms which will be cleaned daily with disinfectants. But the normal park service options aren't available during the CoVid pandemic. These include no barbeques, no team sports and both the public swimming pools and the playgrounds will remain closed. But the beaches in other boroughs will be open, although no swimming will be allowed and the beaches will only be open for limited periods - generally from 10 am - 6 pm. NYS public marinas are open for non-commercial activities.
Click here for a listing of the Manhattan Parks NYC including maps showing their locations along with a bit of park history.
NYC Public Golf Courses in Queens, the Bronx, Brooklyn & Staten Island - Currently Closed due to CoVid 19
Queens has four public golf courses, Brooklyn has two, and both Staten Island and the Bronx each have three. Click here for details about Queens Golf Courses including maps and links to the operators' websites. And use the links below to see what's doing for Memorial Day Weekend in the other boroughs. Most of these golf courses are easily accessible via the MTA / subway.
Click here to view the rest of our report of things to do Memorial Day Weekend in Manhattan. And we'll have more to add by Friday.
---
Mothers Day Restaurants Manhattan NYC
Mother's Day Restaurants In Manhattan
Restaurants For Mothers Day Brunch & Dinner on the Upper East Side, Upper West Side, Midtown, East Village, West Village, SoHo, Tribeca & Downtown NYC
May 8, 2020 / Manhattan Neighborhoods / Manhattan Restaurants / Manhattan Buzz NYC.
Mother's Day is this weekend. It's a good day to let your wife or mother or daughter know you appreciate her efforts in the most important role of her life. Flowers, gifts and brunch or dinner are always welcome, as is any thoughtful gesture that provides some measure showing your recognition of her efforts in her role as mother of some children. After all, without mothers, we would all cease to be.
Normally it's best to book a restaurant reservation for Mother's Day brunch, as on Mother's Day in Manhattan, many restaurants are full. So if you're thinking about eating out at a restaurant this Mother's Day on the Upper East Side, Upper West Side, Midtown Manhattan, the East or West Village, SoHo, Tribeca or Downtown NYC; it's best to do your research early, and call ahead to book Mother's Day restaurant reservations - BUT this year reservations, per se, are not an option. But delivery and take out are.
Mother's Day History - Restaurants In Manhattan
The origins of Mother's Day in the United States began with the efforts by Anna Jarvis to honor her own mother. According to Wikipedia, Anna began the campaign in 1905 - the year her mother died - and in 1910 West Virginia was the first state to adopt Mothers Day as a holiday. In 1914 Woodrow Wilson made the second Sunday in May as a national holiday to honor mothers.
Click this link to view a brief guide of Mother's Day restaurants in Manhattan where you will find links to Manhattan restaurants we've visited in the past or have reviewed. The restaurants we've reviewed include a mix of high, medium and budget priced restaurants that are spread throughout the borough and offer a large variety of ethnic cuisines.
We've identified less than a half dozen Manhattan restaurants that are doing take out / delivery on Mother's Day in Manhattan. Enjoy.
---
Manhattan Farmers Markets / Green Markets - Manhattan NYC
Manhattan Farmers Markets 2020
Upper East Side, Midtown Manhattan, West Side NYC, West & East Village & Chelsea Farmers Markets Manhattan
May 5, 2020 / Manhattan Neighborhoods / Manhattan Farmers Markets / Manhattan Buzz NYC.
View the HOURS, MAPS, ITEMS / SELECTION of the 22 BEST & most centrally located Farmers Markets / Green Markets in Manhattan, w/ savvy shoppers' tips. This report includes the Midtown, Upper East Side NYC, Upper West Side NYC, West & East Village, SoHo, Tribeca, Harlem, Morningside and Chelsea farmers markets.
Click here for dates, times, locations of the Manhattan Farmers Markets - Manhattan NYC.
---
Manhattan Things To Do This Weekend
This Weekend Many Events Cancelled & Many Institutions Closing Doors for a Couple of Weeks due to the Corona Virus Pandemic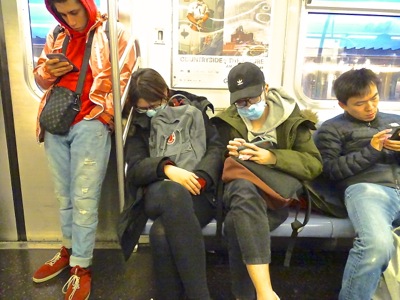 March 13, 2020 / Things To Do Manhattan / Manhattan Neighborhoods NYC / Manhattan Buzz NYC.
Weather. The Temperature highs will be in the high 60's on Friday, dropping to the high 50's on Saturday and low 50's by Sunday. The temperature lows will be around 40 on Friday & Saturday, dropping to the low 30's by Sunday. Rain is in the forecast for Friday ONLY, likely gone by 11 am. It will be cloudy later in the day on Saturday only. Winds will be 15 mph on Friday, dropping to between 5 - 10 mph for the rest of the weekend. The Humidity will be around 70 on Friday dropping to about 40% for the rest of the weekend. Click for Manhattan Weather.
MTA / Public Transit / Click here for the MTA Weekender.
The photo at right shows some folks riding the subway this week who've taken the precaution of wearing surgical masks to prevent getting infected by the Corona Virus - see details below.
Corona Virus - A Brief History of Growing Awareness
The Corona Virus outbreak was first reported by the World Health Organization on December 31, 2019 in Wuhan in China.
By January 30, 2020 the World Health Organization declared the Corona Virus a Public Health Emergency of International Concern.
On Saturday, March 7, 2020 Governor Cuomo called a NYS State of Emergency in an effort to get out ahead of what at the time was the Corona Virus epidemic, as there was a rapid spike in the number of reported cases in NYS. At the time NYC had reported about a dozen known cases.
On March 10, 2020 Governor Cuomo ordered a quarantine of a neighborhood in New Rochelle.
On March 11, 2020, Mayor de Blasio followed suit, and declared NYC in a State of Emergency in an effort to get out ahead of what was called a pandemic by the World Health Organization on the same day.
And today, March 13, 2020, last but not least, Donald Trump declared a State of Emergency in the United States in order to accelerate the nation's slow response to the evolving public health crisis.
Corona Virus Precautions - Cleanliness is Next to Godliness
By now you'd have to be blind, deaf and mute not to have heard that you should thoroughly wash your hands and not touch your face without having cleaned your hands.
In a March 11, 2020 report, the Sacramento Bee, which is a well respected news outlet run by McClatchy Newspapers, informed us that the National Institute of Health conducted a study that shows that the Corona Virus can remain alive for up to three days on some surfaces under the right conditions.
As such you should also step up your cleaning practices, specifically with respect to things and places that you touch regularly - like the TV clicker or your mouse and keypad and cell phone and keys.
Corona Virus Transmission by Air
And that same National Institute of Health Study also showed that the virus could remain alive in the air for a few hours. This discharge would have to come from an infected person, most likely with a cough, but I reckon just talking and breathing could do it too.
This is why scientists recommend we keep some distance - some six feet - from one another. Especially people coughing and that is why ill people are advised to remain home until they feel better - so that they don't infect the rest of us. But that said, infected people may take between two and fourteen days to show signs of the illness and thus realize it. The median incubation period for the Corona Virus is five days, 98% of the people who contract it show signs by 12 days, so by 14 days it is believed that those who have contracted the Corona Virus will show it. This is why most places have been shuttered for two weeks at a minimum.*
Some say masks won't necessarily prevent infection, because the masks aren't built to filter out the micro organisms one might inhale and the masks are not tightly fastened to the face. They may be correct, but the masks can't hurt and may reduce what you breathe in. There's a secondary problem with the masks in that some folks have been hoarding them, making it more difficult for health professionals who are working on the front line of this crisis, to obtain them.*
The disease is believed to be highly transmittable, with conflicting reports on whether it is more or less transmittable than the flu. Live Science, states that it's more than two times more transmittable than the flu, while another source says it's not as transmittable as the flu. This discrepancy may be due to the fact that there are two strains.*
The Corona Virus is Potentially Lethal - but Skews Older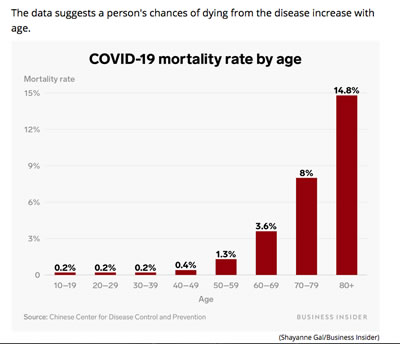 At present, it is estimated to have a 2.3% death rate versus something like a 0.1% death rate for the flu. So that means it's over 20 times more lethal than the flu, and at present without any existing cure nor vaccine. Which is why there's so much concern.
But that said, to put this in context, a March 7, 2020 Live Science report informs us that,
" ... So far, the new coronavirus has led to more than 100,000 illnesses and more than 3,000 deaths worldwide. But that's nothing compared with the flu, also called influenza. In the U.S. alone, the flu has caused an estimated 34 million illnesses, 350,000 hospitalizations and 20,000 deaths this season, according to the Centers for Disease Control and Prevention (CDC) ... "
According to the Chinese Center for Disease Control and Prevention statistics show that the risk for people varies according to age, as it is believed people who are ill, have pre-existing conditions or compromised immune systems are most likely to die from the disease - see chart at right.
Living Your Life in the Age of the Corona Virus
So, as part of the NYS State of Emergency both the Governor and the Mayor are in agreement that all events of 500 or more people are presently banned. Governor Cuomo also issued an order to close CUNY and SUNY effective March 18, 2020 for the rest of the semester.
The Mayor and Governor have decided to keep the primary and secondary public school system open, but advise anyone who is not feeling well to stay home. While tests reportedly show that children can contract the disease as easily as adults, you can see by the chart above, that children don't die from it at anywhere near the same rate as older people. I know - not dying from a disease - isn't exactly comforting.
But, unlike better resourced private institutions, the students attending public school aren't as able to 'go remote' and conduct classes and homework electronically. Another part of this equation is that these students parents aren't in a position to stay home with them, and many of their parents are critical to the healthcare, educational, law enforcement, fire and emergency response and transportation infrastructure.
I've provided the above information to help folks better understand the complexiities the Governor and Mayor are dealing with in making these decisions. And this doesn't include how badly the small business entities are getting hit, which closing things only makes worse. This affects them paying the rent, paying their employees - all of whom have to make ends meet ... somehow.
Things to Do This Weekend in Manhattan?
Not much really. Here's a link to the things to do in Manhattan last weekend, which contains a number of web addresses, should you want to look for yourself, but most institutions are taking the position of exercising an abundance of caution and thus have closed.
Member Events Manhattan Farmers Mkts / Holiday Markets
March 2020 - Click here for Manhattan holiday markets & shopping and Manhattan holiday events tree lightings & menorah lightings. Click here for a listing of Manhattan Farmers Markets where you can find unique items and fresh foods, click here for the Manhattan Events Member Calendar or here for Manhattan Street Fairs both of which will provide you with a look at other things going on in Manhattan.
Click here for paid & free things to do Manhattan - free SummerStage concerts in Manhattan, free things to do Manhattan - free summer movies in Manhattan and free things to do Manhattan - free summer theater in Manhattan. Click here for NYC New Years parties in Manhattan. Click here for late Valentines Day romantic restaurants in Manhattan.
MOSTLY DONE. ASTERISKED events above have NOT been updated.
* A performance of Hearts on the Wall [45 mins] will begin at 7.30 pm at Dixon Place at 161 A Chrystie Street on the LES [comedy / $5 / www.dixonplace.org].
* At MoMA at 11 West 53rd Street in Midtown there are several exhibits including TBD [thru 3/19 & 3/5/17] - [art / film - $25 / $18 / Free].
* The Whitney Museum at 99 Gansevoort in the West Village has six exhibits running. On Friday at 5 pm and Saturday at 2 pm and 4 pm there's Jazz on the High Floor in the afternoon [$18 / $25 at www.whitney.org].
* Anthology Film Archives -.
Manhattan French Restaurants on the Upper West Side - Nice Matin NYC
Bagatelle French Bistro: Brunch Parties in Manhattan NYC
Bagatelle Menage Mixes Menu, Music, Modern Dance & Mirth
March 2, 2020 / West Village Neighborhood / Manhattan Neighborhoods NYC / West Village Restaurants Manhattan NYC / Manhattan Buzz NYC.
It was just a week ago, that I chanced upon a brunch at Bagatelle, a French restaurant in the West Village. It was a serendipitous occasion, as my dining companions agreed, as we had found our original destination lacking a certain sense of excitement. Bagatelle, on the other hand, seemed to have a certain sense of oh la la, je ne sais quoi.
Upon entering Bagatelle, one immediately absorbs a certain sense of seeing and being seen. The initial vibe of this fashionable French bistro, begins at the entrance, when one is greeted by a welcoming wave of wonderful, performed by a number of young attractive women who manage the helm of this daytime land locked cruise ship.
Entering the Bagatelle scene actually gives one a nice feeling. Upon passing through 'customs' and into the restaurant, one is transported into a fashionable funland, and conferred with a certain sense of snobbishness, that feels oh so good, having not been rejected at the door.
We didn't get a table immediately, so we headed to the bar to whet our whistles.
Bagatelle French Bistro Weekend Brunch Scene in the West Village
As I surveyed the room, I noticed that the waiters were all buffed up. Most of them had muscular arms, tight waists, and powerful pecs and nipples that protruded through the taut fabric of their tight shirts. These characteristics set the waiters apart from the rest of us mere mortal men. Yes, it was hard for me to imagine, that in spite of the long hours I spend each week at the gym, that the whole staff of waiters was even more buffed up than me. But I took it all in stride.
After a short wait, we were escorted to our table where we would soon become a part of the interactive theater production that was to follow. After starting in on our drinks, we ordered our light brunches and began munching, brunching and conversationally crunching. Our conversation was soon interrupted by a bit of commotion across the room. A waiter had stood up and started dancing on one of the tables.
It wasn't long before the lights changed colors, the curtains were drawn, the dance music started vibrating through the restaurant as the waiters began a floor show that included a whole series of rhythmic gymnastics. Within minutes, we had been whisked from a daytime, mid afternoon Manhattan Sunday brunch scene, into a late night sultry sensual dance scene. Young woman arose from their tables and joined the waiters in a wavy wash of wistful wantoness.
---
St Pat's Day Bars Irish Pubs & Restaurants Manhattan - UES, UWS, Midtown, East Village St Patrick's Day Bars & Irish Pubs & Restaurants Manhattan NYC
St Pat's Day Bars, Restaurants and Historic & Irish Pubs in Manhattan
Historic Manhattan St Pat's Day Pubs, Irish Bars & Restaurants On St. Patrick's Day In NYC, UES, UWS, Midtown & Village
February 25, 2020 / Manhattan Neighborhoods NYC / Manhattan Restaurants NYC / Manhattan Buzz NYC.
St. Patrick's Day is upon us once again and it's time for one and all, regardless of genetic history, to don their green clothing and head out to the Irish bars for a pint of ale or to the Irish restaurants for some down home Irish fare … or something like that.
This report is about some of the Manhattan Irish bars and restaurants that have survived the test of time, and likely a might bit … more. The Irish pubs include Irish bars and restaurants from the Upper East Side [UES], the Upper West Side [UWS], Midtown Manhattan as well as the East Village, as McSorley's remains not just a pub, but a good piece of history.
Click here to read our report about the St Pat's Day Bars, Irish Pubs & Restaurants in Manhattan NYC.
---
Manhattan Things to do Presidents Day Weekend - Events Manhattan NYC
Things To Do Presidents Day Weekend Manhattan NYC
Things To Do In Manhattan NYC Over The Presidents Day Weekend
February 10, 2020 / Things To Do Manhattan / Manhattan Buzz NYC.
Presidents Day Weekend Weather. The Temperature highs will be in the mid 30's on Friday, dropping to the high 20's on Saturday and rising into the 40's on Sunday and Monday. The temperature lows will be in the low teens Friday, the mid 20's on Saturday, rising into the 30's Sunday and Monday. Precipitation - There's a small chance [30%] of a small amount of precipitation [way under an inch] later Sunday and early morning Monday. Winds will be around 15 mph Friday, dropping into the single digits for the rest of the long weekend. The Humidity will be in the high 30% range on Friday & Saturday, rising to about 60% on Sunday and Monday. Click for Manhattan Weather.
The photo at right is a statue of Abraham Lincoln in Union Square Park in Manhattan. Lincoln struggled to keep the United States together, while striving to rid it of the immoral and inhumane enslavement of African Americans.
Presidents Day is a time to reflect on the performance of our current presidents and legislators, and how they stack up against their historical peers. And in that reflection it's worth asking ourselves what we've done to contribute or detract from the national conversation.
You can watch theater, visit the NYC art museums, and eat out at one of the Manhattan restaurants NYC or go shopping in Manhattan locales including Midtown, the Upper West & East Sides & the Village.
Brief History of Presidents Day Holiday in NYC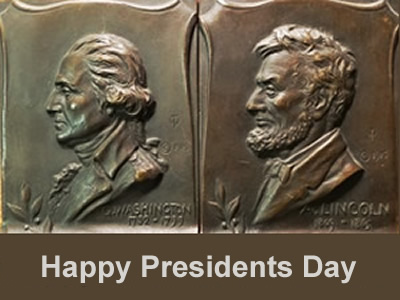 A day commemorating Lincoln's birthday was first passed in Buffalo, New York in the early 1870's. Presidents Day originated as Washington's Birthday which was a holiday narrowly prescribed for federal government offices in Washington, D.C. in 1879. The holiday was dedicated to honoring the memory of the first American president, George Washington who was born on February 22, 1732.
In 1885 the holiday was expanded to include all federal government offices around the nation. In 1951 there was a push to create a Presidents Day holiday [vs a George Washington's birthday holiday] to include President Lincoln whose birthday is February 12, 1809 and was also celebrated by localities, but it didn't pass.
In 1971 the holiday was moved off of George Washington's birth date to being the third Monday in February. Thus while it never falls upon Washington's birthday 2/22, the official name of the holiday remains Washington's Birthday. But today, most folks refer to it as Presidents Day and to recognize the presidents who honored the U.S. Constitution and served the interests of the people.
Click here for things to do Presidents Day Weekend in Manhattan.
---
Manhattan Valentines Day Restaurants - Manhattan Romantic Restaurants Manhattan NYC
Valentine's Day Restaurants In Manhattan
Manhattan Romantic Restaurants For Valentines Day in Manhattan on the Upper East Side, Upper West Side, Midtown, East Village, West Village, SoHo, Tribeca & the Lower East Side
February 4, 2020 / Manhattan Neighborhoods NYC / Manhattan Restaurants NYC / Manhattan Buzz NYC.
Valentine's Day is less than two weeks away. It's a good time to let your loved one know you care. Flowers, gifts and dinner are always welcome treats, and / or some thoughtful gesture that shows that the lady [or man] you're with still means a lot to you.
It's generally hard to make restaurant reservations on short notice at a romantic Manhattan restaurant on Valentine's Day, and sometimes it's difficult to make them for the weekend preceding Valentine's Day. So if you're thinking about doing something this Valentine's Day for dinner on the Upper East Side, Upper West Side, Midtown or East Village; it's best to do your research early, and call a week or at least a few days ahead to make the reservations.
Valentine's Day History - Romantic Restaurants In Manhattan
The origins of Valentine's Day are not well documented. It's believed to have been named after Saint Valentine who was apparently a Catholic martyr who died over 1500 years ago. Today the holiday is not associated with religion so much as flowers, candies, cards and romantic dinners. And the holiday spokesperson is now Cupid, a Roman god of desire, and quite a mischief maker.
Click this link to view a brief guide of Manhattan Valentine's Day restaurants - Manhattan NYC where you will find links to Manhattan restaurants we've visited in the past or have reviewed. The restaurants we've reviewed include a mix of high, medium and budget priced restaurants that are spread throughout the borough and offer a large variety of ethnic cuisines. Enjoy.
---
Closure of Rikers Island Moves Another Step Forward
In Oct 2019 NYC Council Designated Neighborhood Jail Locations in Four Boroughs
Community Board One in Astoria Only Approved the Closure of Rikers Island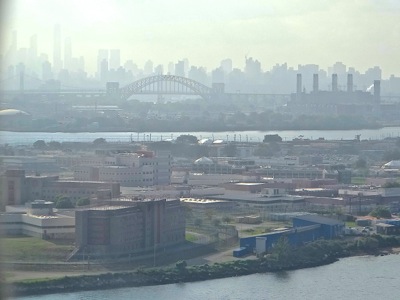 January 26, 2020 / Bronx Neighborhoods / Queens Neighborhoods / Queens Politics / Bronx Politics & Government / Queens Buzz NYC & Bronx Buzz NYC.
A week ago, on Tuesday, January 21st I attended the Community Board One meeting at the Astoria World Manor where the board was asked to approve the closing of the Rikers Island Detention Facility effective sometime before the end of the year 2026.
The photo at right was taken from an airplane while landing at LaGuardia in a prior year. Rikers Island Correctional Facility is a stone's throw away from LGA.
Queens Community Board One in Astoria Votes on Rikers Closure
The presentation consisted of two slides. One highlighted the social / moral blight that Rikers Island had become. The second slide simply proposed the request in very limited terms - the closing of Rikers Island and the conversion of it to a 'public place'. The presentation to the Committee was done by a team lead by Dana Kaplan, Deputy Director of the NYC Mayor's Office of Criminal Justice.
So please note that the Community Board had no role in the placement of neighborhood jails, nor did they sign off on anything that may become of Rikers Island going forward. They only approved the closing of the Correctional Facility and the allowance of use for it as a "public place".
I spoke with CB1 District Manager Florence Kolouris after the meeting about what exactly that meant. She told me that there isn't any definition, per se, given for public place – but a couple of examples of prior public places include Lincoln Center, Fort Totten and Queens Borough Hall.
The Community Board approved the measure with a recommendation that CB1 be kept in the loop throughout the closing process, including any demolition. Plenty of questions followed regarding what would become of the 400 acre island. Nothing concrete was proposed at this time, but the audience was assured that any changes would have to come through the Community Board via the ULURP process [Uniform Land Use Review Procedure].
The Bronx & Queens - Rikers Island Community Jurisdiction & Prison Population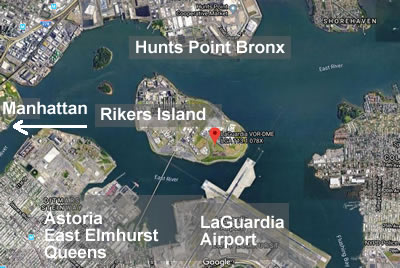 It's worth noting that technically Rikers Island is a part of the Bronx – not Queens – even though the only road traveling onto the island originates in the Astoria / East Elmhurst neighborhoods of Queens. In addition to Queens Community Board One, Bronx Community Board Two, representing the Hunts Point neighborhood, also has influence over the island. Since the Dinkins Administration in the 1990's, there's been a floating barge facility that's docked in Hunts Point, that is considered a part of the Rikers Island Correctional Facility.
Currently there are an estimated 7,000 plus inmates on Rikers Island. At its height, in 1991, Rikers Island held an estimated overcapacity inmate population of nearly 22,000. By the time the facility is to be closed in 2026, the inmate population is expected to have declined to between 3,000 and 4,000.
The photo at right shows the Rikers Island Correctional Facility which will be closed by the end of 2026.
Manhattan French Restaurants on the Upper West Side - Nice Matin NYC
Manhattan French Restaurants on the UWS - Nice Matin
January 20, 2020 / Upper West Side Neighborhood NYC / UWS Restaurants Manhattan NYC / Manhattan Restaurants NYC / Manhattan Buzz NYC.
Nice Matin is the largest French regional newspaper covering the region of Nice and Provence in southern France. Nice Matin also means nice morning or good morning in French.
Nice Matin in Manhattan means nice meal or good meal at the French restaurant that goes by that name located on the street level floor of the old Lucerne Hotel at 201 West 79th Street at Amsterdam on the Upper West Side. The French restaurant is an Upper West Sider staple.
The photo at right shows the inside of Nice Matin French restaurant in the Lucerne Hotel on the Upper West Side, at street level in Manhattan.
I visited the restaurant with a few Upper West Siders in early January of 2020. We had a reservation, which is advised, as they keep pretty busy, especially on the weekends. We were seated shortly after our complete party had arrived and began perusing the menu.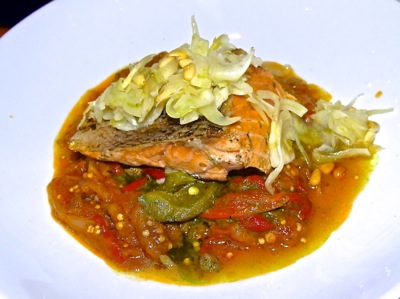 The first taste delight was the Cauliflower and Truffle Tortellini with cacio and pepper butter sauce. The latter is a modern Italian pasta sauce that includes black pepper and Pecorino Romano cheese. The texture was amazingly soft and slippery as it fell apart upon landing in my mouth, releasing a subtle symphony of succulent flavors.
The photo at right shows one of the main entrees, the Olive Crusted Salmon, which is talked about in the full review that follows.
Not to be outdone, the Escargot rose to the occasion. Nice Matin cooks the escargot in an enclosed pot [en cocotte] with tomato fondue, which is near dripping melted cheese, and served with garlic and bread crumbs. The cooking in the pot, combined with the cutting the escargot into small pieces, made this taste sensation just possibly one of the best experiences I've had with escargot in a long, long while.
A couple of members of our party were regulars and it became obvious that they knew their way around the menu, shortly after we started sampling the appetizers they ordered. Usually one of two appetizers turns out to be a hit and the others are … ok. But tonight we were treated to a royal flush of winners.
---
Manhattan Things to do Martin Luther King Day Weekend - Events Manhattan NYC
Things To Do MLK Day Weekend Events Manhattan NYC
Things To Do In Manhattan NYC Over The Martin Luther King Day Weekend
January 14, 2020 / Things To Do Manhattan / Manhattan Buzz NYC.
Weather. The Temperature highs will range between 30 and 40 throughout the three day weekend. The temperature lows will be in the low 20's throughout the weekend - except on Saturday when the low will be in the high 30's. Rain or Snow is forecast on Saturday, but NOT on Friday, Sunday & Monday. Winds will range from 10 - 15 mph all weekend. The Humidity will be around 50% throughout the weekend, except on Friday when it will be in the low 30% range. Click for Manhattan Weather.
You can watch theater, visit the Manhattan art museums NYC, and eat out at one of the Manhattan restaurants NYC or go shopping in Manhattan NYC locales including Midtown, the Upper West & East Sides & the Village.
Brief History of Martin Luther King Holiday in NYC
Martin Luther King, Jr. was a Baptist Minister who became the leading voice for African Americans' non-violent civil rights movement beginning in the mid 1950's through to his assassination in 1968. In 1983, the third Monday of every year was set aside to honor Martin Luther King for his service to the nation. The third Monday was chosen, as it was the nearest Monday to the anniversary of King's birthday, which was January 15, 1929.
Martin Luther King Day has grown to take on an even larger meaning, as it is oftentimes referred to as a day on, versus a day off. Organizations around the city and nation have used the day to call people into action to address the needs of the community through volunteering and service.
Martin Luther King Holiday Special Events in Manhattan NYC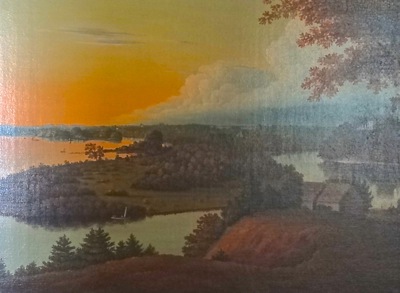 On Monday the Abyssinian Baptist Church, on Striver's Row [late 19th century housing which successful African American musicians and composers moved into in the early 20th century] is hosting a free film screening of Selma for its 17th Annual Dr. Martin King, Jr. Celebration. The doors open at 9.30 am where there will be a free continental breakfast served compliments of Starbucks and the Abyssinian Development Corp and Kenneth I. Chenault. In addition to the film, there will be workshops on non-violent social protest. Middle Schoolers to Adults are invited to attend. The Abyssinian Baptist Church is located at 132 Odell Clark Place [formerly 138th Street], between 138th & 139th Streets and Frederick Douglass & Adam Clayton Powell Jr. Blvds. The neighborhood includes places where African Americans like author W.E.B. DuBois and civil rights activist Malcolm X spent some time [history / social / film / free].
On Monday the Manhattan Country School hosts its 32nd annual Commemorative MLK Day March beginning at 10 am until 2 pm. Last year they informed us that the march, "...[begins] at Fredrick Douglass Circle and ends on 85th Street in our gym. Eighth graders in groups of three or four deliver speeches at six symbolic stops, including the historically significant steps of Low Library at Columbia University and inside the Cathedral of St. John the Divine." This year they begin at the Harriet Tubman Memorial at West 122nd Street and Fredrick Douglass Blvd. Fredrick Douglass Circle at 110th Street is the second stop, followed by Joan of Arc Statue at 94th & Riverside Park, the fourth stop is 263 West 86th Street and the march ends at the Manhattan Country School at 150 West 85th between Columbus & Amsterdam. For details visit www.manhattancountryschool.org.
On Monday from 12.30 - 2 pm there's a Harlem Gospel Choir performance at Sony Hall at 235 West 46th Street in Midtown Manhattan. Tickets run $15 - $25 on Eventbrite.
On Monday from 2 pm - 6 pm Riverside Church at 490 Riverside Drive in Manhattan will be hosting it's 5th Annual MLK Now. The doors open at 12 noon to this live music, spoken word and conversational event. Folks will be seated on a first come first serve basis. The church has a real connection to Dr. King as it is where, in 1967 Dr. King gave one of his most famous speeches, Beyond Vietnam. A Time to Break Silence. Free.
On Monday generally starting around 9 am and running until 12 noon, the NYC Parks Department in tandem with local groups is organizing a day of service to clean up a few of the NYC neighborhood parks. In Manhattan the parks mentioned as of this post was the Inwood Hill Park in the Inwood neighborhood in northwest Manhattan. Cut and paste this link for details - https://www.nycgovparks.org/events/mlk-day-of-service.
On Monday the Museum of the City of New York at 5th Avenue at 104th Street on the UES is hosting a three hour program from 11 am - 2 pm dedicated to the memory of Martin Luther King. The program is free w/ admission.
There's an exhibit that opened in January 2020 at the Schomburg Center for African American Culture in the Lapidus Center at 515 Malcolm X Blvd and 135th Street in Harlem. The exhibit is entitled Subversion & the Art of Slavery Abolition, which chronicles efforts made by the Abolitionists to stop enslavement via art, politics and culture. Please note that the Schomberg Center is normally closed on Sunday and will be closed MLK Day.
The Africa Center at 1280 5th Avenue at 109th Street in East Harlem doesn't appear to have any specific programs scheduled for the MLK Weekend. The museum seems more focused on African culture per se, than on African American culture.
The Studio Museum of Harlem hosts a variety of cultural and art exhibits and programming related to African American culture. Their site at 144 West 125th Street is closed while a new building is being constructed. They are currently operating out of Studio Museum 127 which is located at 429 West 127th Street in Harlem. They expect to move back to their 125th Street site on March 15, 2020.
---
---
Michael Bloomberg's Real Record as NYC Mayor
This Contains the Part of Bloomberg's Record You Won't See in His Ad Campaign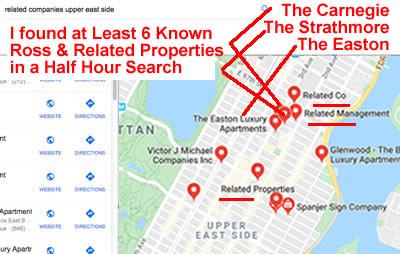 December 16, 2019 / NYC Neighborhoods / NYC Politics & Government / News Analysis & Opinion / Gotham Buzz NYC.
I started reporting for Queens Buzz in the second half of 2007, in anticipation of the website opening in 2008. At the time, politics wasn't in the docket. But over time, as I watched government and political events unfold, I couldn't ignore the huge gap between what was happening - versus what was reported to be happening.
Thus over time I began reporting on NYC, NYS and eventually national politics, doing in-depth research along the way, so that I could provide our readers with a fresh point of view, based on facts and knowledge, with scant pandering to the politicial spin.
While I only began tuning into NYC politics as a reporter during Michael Bloomberg's third term, I had picked up information about him prior to that as an aware NYC resident / voter. My first glimpse into Republican Mayor Michael Bloomberg's anti-democratic tendencies came about in 2004, during the Republican Presidential Convention, when Bloomberg appeared to illegally lock up people protesting the wars and policies of then president George W. Bush. But before I delve into that aspect of Bloomberg's performance, I want to highlight a few others.
Disdains Democracy: Overturns Mayoral Term Limits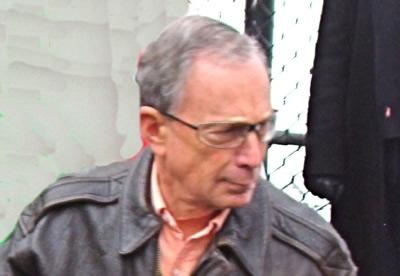 In 2008, just a year before former Mayor Michael Bloomberg was about to be term limited out of the Mayor's Office, he convinced the NYC City Council to override the plebiscite that term limited his time in office as the Mayor.
Thus Michael Bloomberg sought and won a third term - which he essentially bought - by funding his campaign with nearly $100 million of his own money, to defeat an relatively unknown candidate, retiring City Comptroller Bill Thompson.
Thompson was not given much support by the Democratic Party in that election, likely because they didn't believe he would do anywhere near as well as he did, and they were competing with a billionaire who could / would and did greatly outspend the competition. The final vote was 50.7% for Bloomberg and 46.3% for Thompson.
Did Former Mayor Bloomberg Override Term Limits in Order to Cash In NYC's Municipal Real Estate Holdings?
The deals on the Bronx Terminal Market, Hudson Yard, Hunters Point South & Flushing Meadow Corona Park were all begun in 2007. So were the two multi-billion dollar [each] subway line extension projects - the Q and the #7.
All of the real estate developments and the two major subway infrastructure projects seemed to greatly benefit one person - Stephen Ross and his privately held Related Companies. Stephen Ross went from not being counted as a billionaire at the beginning of Bloomberg's Mayoralty, to becoming the richest real estate developer in New York City within a couple of years after he took office.
It's worth noting that Bloomberg's net worth during this period shot up too. And that Bloomberg LLP, the company he founded, also operates in NYC and is also privately held.
Former Mayor Michael Bloomberg's Real Record as Mayor
The Real Record of Mike Bloomberg's Accomplishments as Mayor - Doubling of Homelessnes, Taxpayer Funded but Privately Owned Luxury Apartments, Massive Public Land Giveaways to Friendly Developer, Massive Public Transit Spending Benefitting Same Developer, Privatization / Profitization of Many Public Schools, Failure to Negotiate with Unions, City Time Scandal & Racist Stop N' Frisk Policing Program
The report includes: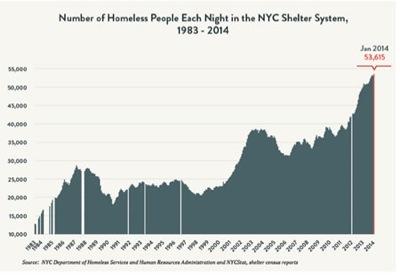 1) HOMELESSNESS: Bloomberg had a horrendous record on homelessness which broke all records & doubled during his Mayoralty.
2) AFFORDABLE HOUSING: Bloomberg sold the public on funding 'affordable' apartments that rented for $48,000 per year. These were publicly funded but privately owned apartment units that Bloomberg sold to the public as 'affordable' in order to gain passage of the bills authorizing them.
3) PUBLIC LAND GRAB. Four huge real estate developments appeared to be given to Stephen Ross & Related Companies which are now worth billions. The public lands reportedly sold for $1 apiece include Hudson Yard, Hunters Point South and the still pending Flushing Meadows Corona Park development. I'm not sure but Bronx Terminal was also transferred in a sweet deal to the real estate developer Stephen Ross & Related Companies.
4) PUBLIC SPENDING BENEFITTING FRIENDLY DEVELOPER. Bloomberg pushed two subway line extensions that seemed to disproportionately benefit Stephen Ross & Related Companies. The subway line extensions were 1) the #7 subway line extension that supported Stephen Ross & Related Companies Hudson Yard development and 2) the Q subway line extension which greatly enhanced the value of Stephen Ross and Related Companies Upper East Side properties.
5) PRIVATIZATION OF PUBLIC SCHOOLS. Bloomberg's privatization of a significant portion of the NYC public school system which appeared to tear apart the NYC public school system by enabling for profit private charter schools, disproportionately favoring Eva Moskowitz and Success Academy, to recruit the best students of the NYC public school system, while leaving the rest behind in the hands of the public and unions;
6) UNION BUSTER? Bloomberg's failure to sign a single major union contract during his 12 year administration and the
7) GIULIANI / BLOOMBERG CORRUPTION. City Time corruption scandal.
8) RACIST POLICING POLICY. Presided over racist Stop N' Frisk policing policy.
CLICK here to read the rest of our report on the part of the Mike Bloomberg's record of Mayor. The part of the Bloomberg record you won't see in his $33 million ad campaign to convince Democrats to vote for him. Billionaire Bloomberg, like the billionaire President, seems to have an inclination to distort the truth.
Manhattan Holiday Markets - Kwanzaa, Hanukkah & Christmas Holiday Markets in Manhattan NYC
Manhattan Holiday Markets - Manhattan NYC
Christmas Markets, Hanukkah Markets, Kwanzaa Markets & Outdoor Holiday Markets - Holiday Shopping in Manhattan NYC
December 8, 2019 / Upper East Side UES / Upper West Side UWS / Midtown NYC / East Village & West Village / Tribeca SoHo Bowery / Holiday Events & Holiday Markets - Kwanzaa, Hanukkah & Christmas Holidays in Manhattan / Holiday Shopping Manhattan / Manhattan Buzz NYC.
Holiday outdoor markets have been on the rise in Manhattan since the dawn of the 21st century. While some date back many years, some are relatively new.
Shopping at holiday markets alone, with friends, or with the kids gives folks a chance to enjoy the fruits of their labor and satisfy some of their yearnings and some of the yearnings of those we love.
Each of the Manhattan holiday markets is a bit different, as some are organized by community groups and others by business organizations. Oftentimes one can find artisanal products that are made in NYC or NYS.
Manhattan Holiday Markets Getting Underway
The Manhattan holiday markets get underway shortly after Halloween, with some coming opening up about the time of Thanksgiving. The Manhattan holiday markets are located in or near the following Manhattan neighborhoods - the Upper East Side UES, the Upper West Side UWS, Midtown NYC, the East Village, the West Village, the Bowery, SoHo, Tribeca, Lower East Side, Harlem, Inwood and Washington Heights. Many either include the serving of some beverage like hot chocolate and generally snacks like cookies - or are near food vendors and restaurants.
Click here for our report about the Xmas / Christmas / Hanukkah / Kwanzaa Holiday markets in Manhattan & Holiday shopping Manhattan NYC.
---
NYC Marathon Coming Through Manhattan
New York Road Runners 49th NYC Marathon on Sunday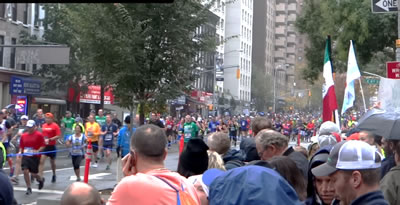 October 29, 2019 / Things To Do Manhattan / Manhattan Neighborhoods NYC / Manhattan Buzz NYC.
The New York Road Runners / NYRR is hosting its 49th NYC Marathon on Sunday. The NYRR was founded in 1958 and has been organizing the NYC Marathon since 1970. The proceeds from the race go toward the programs of the runner non-profit. They report that the NYRR serves 670,000 people, of which 250,000 are youth, annually.
There are plenty of festivities this week surrounding the affair. Some are held at the NYRR Run Center [NYRR headquarters] at 320 West 57th Street between 8th and 9th Avenues, while others are held at the NYC Marathon Pavilion in Central Park at 67th Street and Central Park West, near the Tavern on the Green.
The other pre-race activities [see location addresses above] include a discussion on Tuesday about the NYC Marathon Book Club from 6 - 8 pm at the NYC Marathon Pavilion. On Wednesday there's a forum of Celebrity Charity Runners who talk about why they are running at the NYC Marathon Pavilion from 7 - 8 pm. On Thursday evening between 6 and 7 pm the NYRR presents the awards for the NYRR Hall of Fame inductees at the NYC Marathon Pavilion. On Friday at the NYRR Run Center there's an NYRR Running History Tour which runs from 10 - 11.30 am.
The pre-race festivities culminate the Saturday evening before the race, when there's an early dinner [3.30 - 8.30 pm] for the runners at the NYC Marathon Pavilion that is prepared by the chefs from Tavern on the Green. They call it the Marathon Eve Dinner. It has a sort of holiday ring to it.
NYC Marathon Times, Route & Statistics to Beat
Statistics 2018. According to the NYRR.org website, in 2018 there were 52,813 runners, from 129 countries, their average run time was 4.40 [hours.minutes] and they raised $40 million for charity. This year there are a number of primarily TV game show celebrities running to raise money for charity.
According to Wikipedia, in 2018 records for participation were broken, yet again, with 30,669 men and 22,143 women participating. The fastest runs times were approximately 2.05 [hours.minutes] for men and 2.20 [hours.minutes] for women.
NYC Marathon Organized at Fort Wadsworth on Staten Island
As you can imagine, organizing the 52,000 plus runners in the NYC Marathon, is an annual logistics feat. The NYRR has organized the race into four Waves. Each Wave begins at a different time. Within each Wave there are three Start Times which are color coded green, orange and blue. In addition to three different start times for each wave, there are six different Corrals, A through F, where runners gather to be released into the race during their wave and start time.
NYC Marathon Start Times 2019
The NYC Marathon begins at 8.30 am at Fort Wadsworth on Staten Island. From there over 52,000 runners departed last year, and the race continues to grow in popularity. The first group to begin the race are in the wheelchair division, followed by the handcyclists. These two groups depart between 8.30 am and 8.52 am.
The next group departs at 9.10 am and it comprises the professional women competing for the title. They are followed a half hour later, at 9.40 am, by the professional men. It is at this time [9.40 am] that the first wave kicks in, with its three start times. The second wave begins at 10.10 am, the third wave begins at 10.35 am and the fourth and final wave begins at 11 am.
NYC Marathon Best Guess Viewing Times
The 16 mile mark of the 29 mile NYC Marathon is at the Queensboro Bridge. That's a bit more than halfway. If you divide the average run time of 4 hours and 40 minutes, to get 2 hours and 20 minutes, you can figure out - depending on which wave / start time your loved ones are in, roughly when they'll be at the halfway mark. And then you can add to that time if you're viewing in Manhattan, or subtract from that time if your viewing in Brooklyn, or be there at the start time if you're on Staten Island. For the Bronx adding three hours to their start time should give a good proximation of when they'll be coming through Mott Haven.
NYC Marathon Route 2019
The NYC Marathon had originally circumvented Central Park, but it quickly outgrew that locale.
Staten Island NYC Marathon Route. The route used today has been in place for a long time, possibly decades. It starts at Fort Wadsworth on Staten Island, crossing the Verrazzano Bridge.
Brooklyn NYC Marathon Route. The NYC Marathon travels along 4th Avenue through most of southern Brooklyn, then taking a short turn eastward on Lafayette in Downtown Brooklyn, before resuming the northern trek along Bedford Avenue through Williamsburg into Greenpoint, where the course jumps onto Manhattan Avenue at McCarren Park.
Queens NYC Marathon Route. The next step is across the Pulaski Bridge into Long Island City Queens, where the NYC Marathon zigs west to Vernon Blvd, marches north along Vernon Blvd, and then 44th Drive and 21st Street before crossing the Queensboro Bridge.
Manhattan NYC Marathon Route. In Manhattan the NYC Marathon travels north along First Avenue.
Bronx NYC Marathon Route. The NYC Marathon route traverses the Willis Avenue Bridge into the Port Morris and then Mott Haven neighborhoods of southern Bronx. The NYC Marathon then heads west along 135th Street to 138th Street in Mott Haven and turns south heading back through Port Morris, over the Madison Avenue Bridge to Manhattan.
Manhattan NYC Marathon Route. In Manhattan the NYC Marathon travels south along 5th Avenue and into Central Park at 125th Street coming down inside the park to end at the NYC Marathon Pavilion.
Whew. I'm plum tired out just cataloguing the route, let alone running it : )
** LINK. Here's a link to the NYC Marathon route map. Enjoy.
Korea Day Parade in Manhattan
Korea Day Parade Celebrates Korean Culture with Festival
October 21, 2019 / Things To Do Manhattan / Manhattan Neighborhoods NYC / Manhattan Buzz NYC. On Saturday, Octoberr 5th, the Korea Day Parade and Festival was held in Midtown Manhattan. The whole affair which lasts the better part of the day, celebrates Korean culture by Korean immigrants and their children, grandchildren and great grand children. In addition to the theatrical music and dance performed in the parade, there's a live stage at the festival where folks also perform.
In additon to the music and dance there's a whole host of food, opportunities to shop authentic Korean food, clothing and other goods, and a chance to mingle with our fellow countrymen and women of Korean descent. The following video should give you a taste of the Korean Day Parade and Festival in Midtown. The event occurs in a section of Manhattan that was once a center of Korean culture - and while still there to an extent - like many immigrant clusters, many of the Koreans and their descendants have moved to the outer boroughs and beyond.
San Gennaro Festival in Little Italy
September 18, 2019 / Things To Do Manhattan / Manhattan Neighborhoods NYC / Manhattan Buzz NYC.
The San Gennaro Festival began last Thursday along Mulberry Street in the Little Italy neighborhood of Manhattan. The festivities run for eleven days and included a parade which was held last Saturday, a number of eating contests - one of which is this afternoon - as well as live entertainment, food galore and shopping.
The San Gennaro Festival began 93 years ago, in 1926, when the community was comprised primarily of Italians from the Naples area. San Gennaro is the anglicized name of the patron saint of Naples, St. Januarius.
The locus of the San Gennaro Festival is along Mulberry Street between Canal and Houston, with the main stage at Grand and Mott Streets. The Roman Catholic parish church of Our Most Precious Blood Church represents the 'soul' of the festival, as it was completed in 1904 and still stands today. There was a lot behind the church, the Rectory at 109 Mulberry Street, where they had hosted parts of the San Gennaro Festival in prior years, but it was put on the market in 2018 for $14 million. The photo below right shows the Most Precious Blood Rectory on Mulberry Street in 2014.
Feast of San Gennaro in Little Italy NYC
Every year the Feast of San Gennaro begins with the blessing of the stands on the first day of the festival. The event includes some live entertainment. On the first Friday of the event there is a cannoli eating contest. On Saturday there's a parade beginning at 2 pm that marches north on Mulberry Street from just north of Canal Street. Sunday there's more live entertainment in the evening. All of this took place last weekend.
This Monday there was an Enrico Caruso Opera night, which is followed on Wednesday afternoon [today beginning at 1 pm] of a Zeppole eating contest. On Thursday there's a church service at the shrine of the patron saint of Napoli at 113 Baxter Street beginning at 6 pm. On Saturday there's a meatball eating contest beginning at 1 pm. And on Sunday the festival winds down with live entertainment at 2 pm and again beginning at 6 pm. This represents a few of the highlights, and you can find a full schedule of events at the Feast of San Gennaro website at www.sangennaronyc.org.
Italian Neighborhoods & Feasts in the Outer Boroughs
During the Feast of San Gennaro, Italians from around the city and in the tri-state area, return to the neighborhood from which their families came. Most of the Italians have left the neighborhood for greener pastures in the outer boroughs of Staten Island, Brooklyn, Queens and the Bronx.
The Bronx has its own Little Italy, which some believe is more authentic than the one in Manhattan, as over a hundred Italians still attend the church in the Bronx neighborhood, where some of the services are still given in Italian. There's an upcoming Pizza Festival to be held there on October 5th & 6th near Arthur Avenue and Crescent Street in the Belmont neighborhood of the Bronx - see the Bronx Buzz.
Staten Island has also become the home of many New York Italians, where they organize and host a number of Italian cultural events there including the Italian Festival of the Mount which is held at Mount Lorenzo at 6451 Hylan Blvd from Friday through Sunday, October 11th to 13th - see the Staten Buzz.
Return of the Italian American Museum Expected Spring 2021
I visited the Italian American Museum at 155 Mulberry Street in Little Italy in 2014. The Italian American Museum was first opened at the site on Columbus Day 1999. The Italian American Museum was founded by a history professor from Queens College, Dr. Joseph V. Scelsa. Dr. Scelsa is shown in the old Italian American Museum in the photo at right.
The Italian American Museum broke ground in November 2018 for a new building, where a new building will be erected on the site of the 1800 square foot museum. The expected completion date is Spring 2021, which will provide additional space for the museum, which will be rent free, as the land upon which the new building is being erected, was owned by the museum. Previously the Italian American Museum had used the rent revenue from the other space in the building, to fund the museum operations.
We'll have more on the museum and the history of Little Italy in Manhattan at a later date.
The Landmark Tavern in Manhattan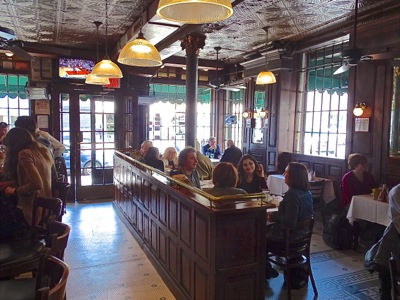 June 19, 2019 / Midtown West Neighborhood NYC / Manhattan History NYC / Manhattan Buzz NYC.
One of the great finds this year in terms of Irish history in Manhattan came when I stumbled upon the Landmark Tavern on the far West Side of Manhattan. The Landmark Tavern first opened in 1868, not long after the American Civil War. The tavern originally opened as a waterfront saloon along the Hudson River as there wasn't any 12th Avenue over a century and a half ago.
The Landmark Tavern maintains a classic Irish Pub establishment with pints of Guinness, Irish whiskeys and Irish Pub fare - including shepherd's pie. But they have also augmented their classic Irish fare offerings with modern eclectic American fare.
The Landmark Tavern is located at 46th Street at 11th Avenue, which is nearby both the Intrepid Air, Space & Sea Museum on the Hudson River, as well as near the emerging art exhibition spaces along the Hudson such as Piers 92, 94, 96 and 97. The Piers have been used for art, photography and architectural exhibitions that periodically open shop in Manhattan.
The NYC Puerto Rican Parade
A Plethora Panoply of Puerto Rican Talent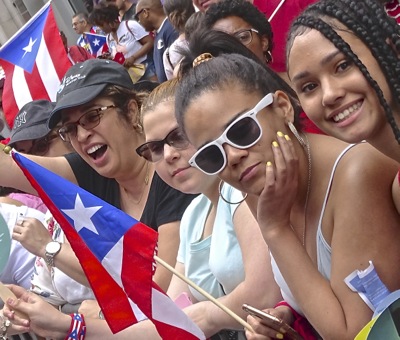 June 11, 2019 / Things To Do Manhattan / Manhattan Neighborhoods NYC / Manhattan Buzz NYC.
Last year I attended the 62nd Puerto Rican Day Parade, which returned for its 63rd year last Sunday. The Puerto Rican Day Parade is one of the largest parades and cultural celebrations in NYC, and outside of Puerto Rico, the largest celebration of Puerto Rican culture.
This year the Puerto Rican Day Parade Grand Marshall was Ricky Martin of La Bomba [1998 hit single] fame. Also appearing / performing were Jose Feliciano, who came out with the hit single Felice Navidad [1970] as well as Afro-Cuban jazz musician Bobby Sanabria and actress La India who starred in the film La Madrina [The Godmother] in 2008.
But the celebrities featured in the parade - which is comprised of over ten thousand marchers, musicians and performers - are only a few of the stars. The platoon of performers provides an endless array of entertainment by a very liberated people. I hope to have a bit more on this later today / this week - but if not there will be more to come eventually.
India Parade & Sri Jagannath Ratha Yatra Festival
Indian Parade & Festival Returns to Midtown & Village NYC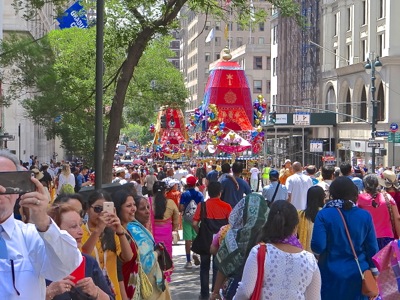 June 4, 2019 / Manhattan Neighborhoods NYC / Cultural Events Manhattan NYC / Manhattan Buzz NYC.
This Saturday, June 8th from 11 am to 7 pm the Festival of India Parade begins and is followed by the Sri Jagannath Ratha Yatra Festival. The parade starts at 45th St & 5th Avenue at 11 am and it ends in Washington Square Park where the Sri Jagannath Festival is held.
This is part of a weekend long celebration of Krishna that spans Brooklyn and Manhattan, involving hundreds, if not thousands of celebrants participating in the parade and festival after.
I'll have more on this Hari Krishna event later today / this week. In the meantime is a short one minute video of the parade last year [2018].
The Dancing Keeps on at the Dance Parade
13th Annual Dance Parade - An Aesthetic & Cultural Visual Delight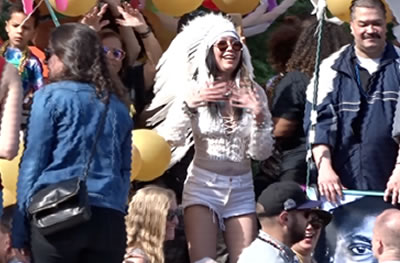 May 24, 2019 / Things To Do Manhattan / Manhattan Neighborhoods NYC / Manhattan Buzz NYC.
A week ago, on Saturday, May 18th, I attended the 13th annual Dance Parade. The parade reportedly features ten thousand dancers, musicians and DJ's during the two hour [turned out to be easily twice as long] parade.
I had attended the parade perhaps a half dozen years ago, essentially it's half life to date and it has grown enormously both in the number of performers and performances as well as the size of the crowd.
But quantity isn't everything, and the quality had grown or expanded as well. It was, in a few words, an aesthetic and cultural visual delight.
I and one of the Manhattan Buzz freelance photographers / videographers captured some of the festivities on video, which I hope to share with you by the end of today.
The Old Croton Aqueduct Trail
Wandering Along an Architectural & Construction Marvel
May 14, 2019 / Highbridge Neighborhood Bronx / Bronx History NYC / Bronx Buzz NYC.
I came upon a pedestrian walk way while exploring the Highbridge neigbhorhood in the Bronx. I soon found it was called the Old Croton Aqueduct Trail and that a stone aqueduct, completed in 1842, lie beneath the smooth level walk way I was making my way along.
When I returned home, I found a whole history of the Old Croton Aqueduct and the positive impact it had on New York nearly two centuries ago, and it was designed and built so well, that it continues to play a role in many New Yorkers' daily lives.
The photo at right shows the pedestrian trail that runs atop the Old Croton Aqueduct in the Bronx.
I'll have more later today about the history and the impact of the Old Croton Aqueduct. Along with the history, you'll learn quite a bit about the history of popular locations today in both the Bronx and Manhattan.
AIPAD Photography Show Manhattan NYC - Association of International Art Dealers Manhattan NYC
The Photography Show in NYC
The Association of International Photography Art Dealers Annual Photography Show at Pier 94 in West Midtown Manhattan
April 30, 2019 / Midtown West Neighborhood / Art Events in Manhattan NYC / Manhattan Buzz NYC.
Earlier this month I attended the Photography Show organized by the Association of International Photography Art Dealers [AIPAD] at Pier 94 on the West Side of Manhattan. It was their 39th Photography Show, including nearly 100 dealers from around the globe, and they describe the show as,
"... The Photography Show is the longest-running and foremost exhibition dedicated to the photographic medium, offering a wide range of museum-quality work, including contemporary, modern, and 19th-century photographs as well as photo-based art, video, and new media."
I arrived late on the Sunday afternoon of the last day of the show, during which I had expected things to have quieted down. Nonetheless, there was still a large crowd at the entrance, and while the galleries were generally filled, it was comfortably so. With time and my battery running low, I made my way through the galleries, enjoying the visual feast.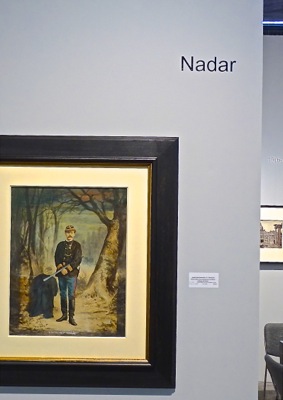 The show offers an opportunity to see so much of the world - past and present, north south east and west, real and imagined - in photos. It is also a great place for people watching, engaging in interesting conversation and buying great visual art.
One of the great finds I stumbled upon, were photos shown by exhibitor Alex Novak, who had copies of photos done by the great 19th century French photographer Nadar. In the mid 1990's I saw an exhibit that featured Nadar at the Metropolitan Museum of Art, that included several very graphic photos of the genitalia of a hermaphrodite. I found that to be a stunning exhibit - not just because of how those photos had the power to change the way people view sexuality - but because Nadar shot the photos in 1860, now well over a century and a half ago.
I found many other fascinating photos, some of which I'll share in a slide show. I usually document the origins of the works I capture, but unfortunately on this day I was tired, having covered two other shows, and low on battery power and time, so I debated whether to show you the works or not - but decided in favor of showing you because many of these exhibitors will be back next year - so if you like something, you may be able to find it then or through the Association of International Photograph Art Dealers [AIPAD] which you can find at www.aipadshow.com.
---
Art, Photography & West Midtown Piers
Three Excellent Shows, Separate Art Categories, Shown Along the Hudson in the 40's & 50's in West Midtown
April 9, 2019 / Midtown Manhattan Neighborhoods NYC / Manhattan Art Scene / Manhattan Buzz NYC.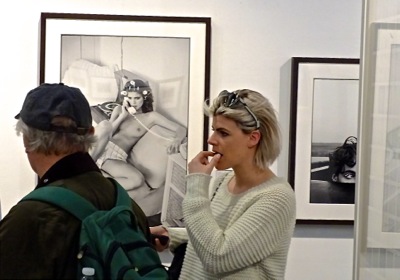 Last weekend was something of an arts galore weekend. The Society of Illustrators held their annual Mocca Festival which celebrates the independent comic and cartoon artists at Metropolitan West which is located across from the Intrepid Museum on the Hudson River at West 46th Street. The Association of International Photographic Art Dealers held their annual show, which included about 150 exhibitors from around the nation and around the world, at Pier 94 at West 54th Street and the Hudson River. And then there was the Art Expo which hosted 250 artists from around the world at Pier 90, also along the Hudson River at West 50th Street, in between the MOCCA exhibits and the AIPAD show.
I spent the entire afternoon, walking the corridors of artistic expression, absorbing - mostly subconsciously - the art and images of the artists of our time. It was a beautiful April day, and in between the shows, I found folks strolling and biking the paths along the Hudson. I imagine many of those strollers, like me, were on their way to or from one of these shows.
I'll delve a bit deeper into these art venues at a later date. But depending on your interests, I expect you would find something that would tease the mind or tease the senses, at one of these events. Unfortunately, we have to wait another year before their return. The photo above was taken at the AIPAD Show last weekend.
Indian Film Festival Manhattan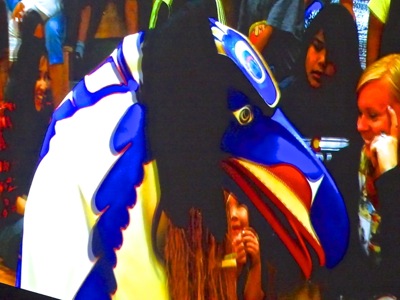 April 2, 2019 / Downtown Manhattan Tribeca SoHo LES Neighborhoods NYC / Manhattan Fashion Film NYC / Manhattan Buzz NYC.
On Saturday I attended the first Native Cinema Showcase at the National Museum of the American Indian in Downtown Manhattan. On many different levels it was a very satisfying experience. First the National Museum of the American Indian is located in the Alexander Hamilton U.S. Customs House which is a magnificently built building. It has solid stone floors and rails, an incredible skylight in one of the main rooms, and architectural detail that few beyond the most well endowed nations can afford.
The Native American Indian Museum occupied three floors of the building. The first floor contains a beautiful and well stocked gift shop, as well as a performance space. The performance space is circular in shape, with a high ceiling, and smooth (dance) floor. There was a video playing on the large main screen of what seemed like a temple, showing Indians in native dress dancing and singing. And along the walls there are pictures of Indians in tribal dress, possibly representing a number of the different American Indian nations.
On the second floor there is this beautiful oval shaped room with a wonderful skylight. The room is made of beautiful stone, much of which I believe was marble, and it was a joy just to feel the solid level stone beneath my feet and to run my hands along the smooth stone rail.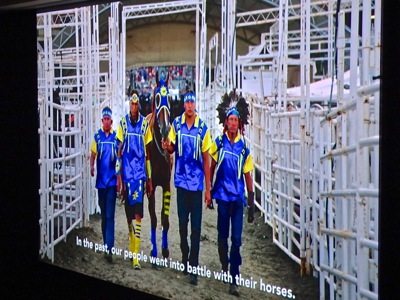 Beyond that room, which contained information stands, is the museum itself. Off to either side are smaller galleries where the exhibits change, while the main gallery runs the length of the building and those exhibits mostly stay as they are. In one of the smaller galleries there was an exhibit on the Taino tribe. And in the other gallery, a new exhibit, of paintings, is due to open next weekend, April 6th. I spent a couple of hours meandering through the galleries, taking photos [no flash] as I went.
And the last floor in the building occupied by the National Museum of the American Indian is in the basement where they have a movie theater / auditorium / stage [they rent it out too]. In the movie theater this weekend they were showing several film series on Saturday and Sunday as part of the first annual Native Cinema Showcase. It was for this event that I had come, although I welcomed the opportunity to become better acquainted with both the U.S. Customs House and the National Museum of the American Indian.
I watched several films. More to come later today. Horses. Land. Spirits. Masks. Piecing together the culture.
NYS Rent Regulations up for Renewal
NYS Assembly and NYS Senate to Strengthen, Renew or let Expire NYS Rent Regulation Laws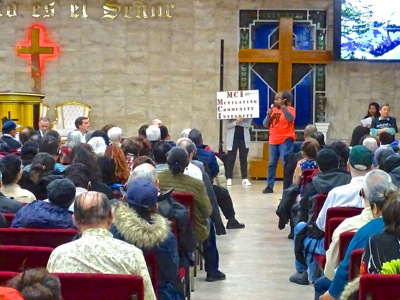 March 19, 2019 / Queens Neighborhoods / Queens Government & Politics / Queens Buzz NYC.
On Saturday I attended an event discussing the upcoming legislation pending in the NYS government in Albany concerning NYS rent regulations. Currently about 2 million of the 8.5 million people who live in NYC will be affected.
The primary topic of the event was MCI or Major Capital Improvements, which is a loophole in rent regulations that allows landlords to initiate projects within their buildings and then pass along the project costs to their tenants, in such manner as to provide the landlord with an incremental revenue increase that lasts into eternity, and which encourages landlords to get creative in originating projects in an effort to raise the rents of their regulated apartments at an accelerating speed in order to grow the monthly rent beyond the legal limit of regulation.
What happens then, is that a significant number of longstanding tenants in regulated housing, are priced out of their homes and neighborhoods. Some of the displaced tenants even become homeless. This is why homelessness nearly doubled under former Mayor Michael Bloomberg - who looked the other way as NYS rent regulations were being renewed.
The event was held in the Corona neighborhood of Queens, where hundreds - if not a thousand - people came to particpate in the discussion.
I'll have more on this at a later date.
St Pat's Day Bars Irish Pubs & Restaurants Manhattan - UES, UWS, Midtown, East Village St Patrick's Day Bars & Irish Pubs & Restaurants Manhattan NYC
St Pat's Day Bars, Restaurants and Historic & Irish Pubs in Manhattan
Historic Manhattan St Pat's Day Pubs, Irish Bars & Restaurants On St. Patrick's Day In NYC, UES, UWS, Midtown & Village
February 25, 2020 / Manhattan Neighborhoods NYC / Manhattan Restaurants NYC / Manhattan Buzz NYC.
St. Patrick's Day is upon us once again and it's time for one and all, regardless of genetic history, to don their green clothing and head out to the Irish bars for a pint of ale or to the Irish restaurants for some down home Irish fare … or something like that.
This report is about some of the Manhattan Irish bars and restaurants that have survived the test of time, and likely a might bit … more. The Irish pubs include Irish bars and restaurants from the Upper East Side [UES], the Upper West Side [UWS], Midtown Manhattan as well as the East Village, as McSorley's remains not just a pub, but a good piece of history.
Click here to read our report about the St Pat's Day Bars, Irish Pubs & Restaurants in Manhattan NYC.
---
Manhattan Borough President Gale Brewer - State of the Borough Address NYC
Gale Brewer – State of the Borough Manhattan
Manhattan Borough President Gale Brewer Organizes Discussion Entitled What is Urban Policy Now
February 24, 2019 / Village Neighborhood / Manhattan Politics & Government NYC / Manhattan Neighborhoods NYC / Manhattan Buzz NYC.
I arrived at the NYU Skirball Center, located along the southern perimeter of Washington Square Park, over a half hour after Manhattan Borough President Gale Brewer's State of the Borough began. As I entered, a few folks exiting, told me that the urban policy discussion had just begun.
Manhattan Borough President Gale Brewer's SOTB Address 2019
Unfortunately I had missed the first part of the schedule, which included the normal formalities, which included: 1) a short speech by the hosting organization - Lynne Brown, the Senior VP of NYU; 2) a performance by Annette A. Aguilar Bean Bloco, 3) an introduction by David Chu of Community Board 1 and 4) Gale's introductory remarks.
After the panel discussion I spoke to several people inquiring what key topics were featured in Manhattan Borough President Gale Brewer's remarks. Essentially I cam away with three.
1. The most important was probably what the Manhattan Borough President's Office was doing with Data. They were collecting and organizing data about the borough and putting it online in order to make it accessible and transparent. There were slides running in the background at the reception showing some of the data – one of which I've shown in this report.
2. She also talked about Public Transit – specifically the L train which will not be totally closed down this year – but rather only on the weekends in order to repair the tunnels damaged by Hurricane Sandy.
3. Gale also talked about efforts to get Technology into Public Schools. This included things like smart boards and computers and wifi? I understand that this is a ten year plan.
Manhattan Boro President SOTB Panelist #1 – Maya Wiley
As I sat down, Panelist Maya Wiley, Professor of Urban Policy and Management of the New School, was in the middle of delivering her remarks about key challenges and issues facing New York City. She focused on the disruptive and opportunistic challenges brought about by technology. Perhaps the focal point of Maya's remarks was that the contracts of the cable companies serving New York City are due for renewal / renegotiation in 2020. She wanted to flag this, as groups interested in internet, video and telephone access and associated fees need to mobilize and become a part of the process NOW – or it will be too late.
More on this came out later in the discussion, which you can find below.
---
The Real National Emergency?
President Pinocchio's Pants are on Fire
February 19, 2019 / NYC Neighborhoods / NYC Politics & Government / Gotham Buzz NYC. News Analysis, Opinion & Satire.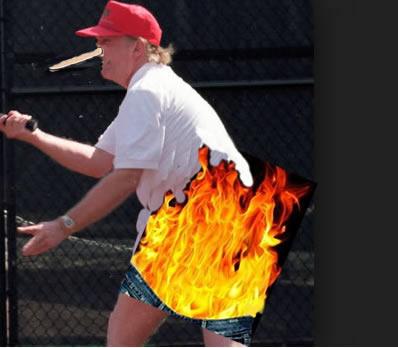 I stumbled upon an episode of Jimmy Kimmel Live, from January 10, 2018, about how Donald Trump has differentiated himself from all other presidents of the United States of America - as the greatest known liar of them all.
Cut and paste this link for a short video of Jimmy Kimmel's documentary of Trump Telling His 2,000th Lie over a year ago - https://www.youtube.com/watch?v=qQruDaf7bKs
Real Presidential Greatness vs 'Greatest'
It's important to distinguish between greatest - which compares one to another - and greatness, for which there is no comparison. Greatest is an amount or extent considerably above normal, while greatness is about having won the respect for achievements in one's field. True greatness is rarely achieved by braggadocious people, because they are too busy talking to make time to do anything truly great.
Presidential Greatness. George Washington was achieved greatness by risking his life as the Commander in Chief of the colonial army during the Revolutionary War. A greatness which was made even more so, by the fact that the first president didn't try to keep / possess the title of the president beyond two terms /eight years. Abraham Lincoln, similarly risked his life, to hold the Union together, while exorcising it of the heinous institution of slavery. And Franklin Delano Roosevelt, saved democracy, capitalism and freedom, by leading the nation through the Great Depression and the Second World War.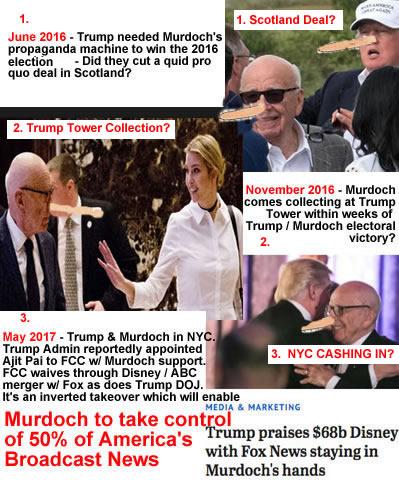 But while the Donald may not have done anything remotely deserving the moniker of greatness, over a year ago Jimmy Kimmel identifed that Trump had already become the greatest liar who ever occupied the White House. That was over a year ago, in January of 2018, and since then the Trump has continued onward with his train of lies.
President Pinocchio Supported by Murdoch's Fox News Pinocchio Pundits
But to be fair, Trump likely could not have come up with so many different lies to tell, without the help of multi-billionaire, global propagandist, Keith Rupert Murdoch, and his mass media mendacity machine.
The Murdoch propaganda machine includes outlets like Fox News and their portfolio of Pinocchio pundits, the Wall Street Journal and the NY Post.
Murdoch appears to have benefitted greatly from the Trump presidency, via 1) huge tax cuts for the wealthy, 2) Trump military action in Syria where Murdoch owns part of Genie Energy with former VP Dick Cheney and several other robber barons, 3) huge Fox News ratings wins due in part to the Donald's Crazy Town [name of a book by Bob Woodward about the Trump Administration] and last but not least 4) Department of Justice and FCC approval of Murdoch's inverted takeover of Disney / ABC which will soon gives Murdoch control of about half of America's broadcast news.
5 of President Pinocchio's Biggest Lies Since 7/2018
Since Kimmel's video posted in January of 2018, Trump has continued telling many lies - including some very, very big ones. Here are five of Trump's biggest lies between July 2018 and today, including a brief analysis of the impact.
Manhattan Valentines Day Restaurants - Manhattan Romantic Restaurants Manhattan NYC
Valentine's Day Restaurants In Manhattan
Manhattan Romantic Restaurants For Valentines Day in Manhattan on the Upper East Side, Upper West Side, Midtown, East Village, West Village, SoHo, Tribeca & the Lower East Side
February 4, 2020 / Manhattan Neighborhoods NYC / Manhattan Restaurants NYC / Manhattan Buzz NYC.
Valentine's Day is less than two weeks away. It's a good time to let your loved one know you care. Flowers, gifts and dinner are always welcome treats, and / or some thoughtful gesture that shows that the lady [or man] you're with still means a lot to you.
It's generally hard to make restaurant reservations on short notice at a romantic Manhattan restaurant on Valentine's Day, and sometimes it's difficult to make them for the weekend preceding Valentine's Day. So if you're thinking about doing something this Valentine's Day for dinner on the Upper East Side, Upper West Side, Midtown or East Village; it's best to do your research early, and call a week or at least a few days ahead to make the reservations.
Valentine's Day History - Romantic Restaurants In Manhattan
The origins of Valentine's Day are not well documented. It's believed to have been named after Saint Valentine who was apparently a Catholic martyr who died over 1500 years ago. Today the holiday is not associated with religion so much as flowers, candies, cards and romantic dinners. And the holiday spokesperson is now Cupid, a Roman god of desire, and quite a mischief maker.
Click this link to view a brief guide of Manhattan Valentine's Day restaurants - Manhattan NYC where you will find links to Manhattan restaurants we've visited in the past or have reviewed. The restaurants we've reviewed include a mix of high, medium and budget priced restaurants that are spread throughout the borough and offer a large variety of ethnic cuisines. Enjoy.
---
Who is that Fearless Girl?
The Statue of the Fearless Girl was Moved out of Harms Way - from Staring Down the Charging Wall St Bull - to the NYSE
January 29, 2019 / Manhattan Social Issues / Manhattan Neighborhoods / Manhattan Buzz NYC.
Over the holidays I ventured down to the New York Stock Exchange at 11 Wall Street [and Broad St] to see the big Christmas tree in front of the Exchange. It was the Sunday before Christmas and there was a fair number of tourists out and about, doing the same.
In addition to viewing the world renowned New York Stock Exchange and the large Christmas tree adorning it, I came across the bronze statue of the Fearless Girl. I'd seen the Fearless Girl earlier in the year, standing in front to the Charging Bull [sometimes referred to as the Wall Street Bull] in the Bowling Green Triangle, where Whitehall Street splits from Broadway.
Who is the Fearless Girl on Wall Street?
While observing the Fearless Girl in her old spot, she seemed somewhat ignored by the people having their photos taken around the Charging Bull which seemed to overshadow her. But this was only partially true, as the Fearless Girl went viral and generated quite a bit of conversation.
In her new spot, which the Fearless Girl moved to this past November [2018], she's out from under the shadow of the old Charging Wall Street Bull and has come into her own ... although many of us visiting that day [everyone I asked] didn't really understand the significance of her statuesque presence. So one day after I returned home, I did a little research to see what the little girl statue was all about.
The Story Began on Wall Street in 1989 when an Italian Artist Unloaded a Three Ton Bull & Rode Away
According to Wikipedia Arturo di Modica is an Italian artist / sculptor who moved here in 1973 and eventually became an American citizen. In 1989 he installed the Charging Bull in front of the New York Stock Exchange without permission. It reportedly cost him $350,000 to create, and weighs three tons. But it seems the artist's promotional effort worked, as it has become the work by which Arturo di Modica is most well known. He reportedly says the bull is a symbol of strength and determination, but to many it is seen as a symbol of the power hungry greed of Wall Street
.
The Fearless Girl Arrived in March 2017, Riding the Wave of the Women's Movement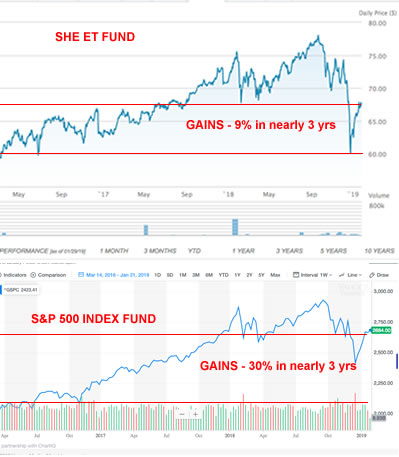 The Fearless Girl was the promotional brainchild of McCann New York, an advertising agency. Their client State Street Global Advisors had launched a gender diversity fund in March 2016, comprised of companies that had a high percentage of women in senior management positions and / or women on their boards. The fund goes by the symbol SHE.
According to Wikipedia, on March 7, 2017 the Fearless Girl was installed in front of the Charging Bull. Originally the appearance of the Fearless Girl was reportedly going to run for a week, but due to popular demand [she went viral - ad agency?] her stay was extended to a month, then to the end of the year [2017].
Apparently Charging Bull artists, Arturo di Modica, protested that the placement of the Fearless Girl next to his bull, detracted from his sculpture. After di Modica had dropped the Charging Bull, it was eventually licensed / leased by the City of New York.
Eventually the Fearless Girl was moved away from the Charging Bull to her current location in November of 2018, and we see that both sculptures appear happy with the separation agreement / settlement.
The Fearless Girl gets Results?
An online publication from New Zealand [www.stuff.co.nz] reported that as of the first year anniversary of the Fearless Girl placement [March 7, 2018], State Street Global Advisors said that of the 787 all-male boards it lobbied, to add one or more females to their boards, 152 did so, and another 34 were contemplating it.
Artist Kristen Visbal created the Fearless Girl. The Fearless Girl is made of bronze and weighs 250 lbs and stands four feet, two inches tall. In her first year of existence, the Fearless Girl generated over $7 million of advertising / news awareness, according to a March 2018 Bloomberg report.
I looked up the price chart for the State Street Global Advisors SHE fund to see how it was faring. At present it looks like the SHE fund represented by the Fearless Girl is lagging behind the S&P 500 over a comparable time frame - see charts above. About six months ago SHE was tracking much closer to the S&P 500 in performance.
While markets and funds may rise and fall - one of the few things in life that unrelentingly continues is change. So as we all move forward into the unknown abyss of time, it's worth keeping in mind the words of FDR, who said that, "The only thing we have to fear, is fear itself."
De Blasio Delivers State of the City Address 2019
The Mayor Recounts a Year of Accomplishment & Seems to Push the Envelope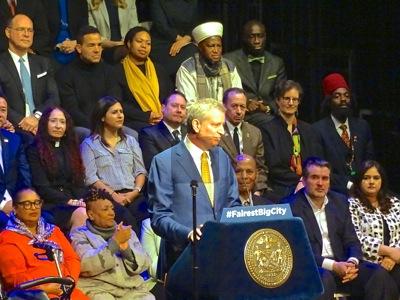 January 22, 2019 / Upper West Side Neighborhood / NYC Government & Politics / Manhattan Neighborhoods NYC / Gotham Buzz NYC.
On Thursday, January 10th, Mayor Bill de Blasio delivered his fifth State of the City Address at Symphony Space on the Upper West Side. To date the Mayor has delivered the address in three of the five boroughs, and this was the third delivered in Manhattan [at Apollo Theater in Harlem in 2017 and Baruch in 2015]. He delivered the third address in 2016 at Lehman College in the Bedford Park neighborhood of the Bronx and his fourth at Kings Theatre in the Flatbush Ditmas neighborhood of Brooklyn in 2018. Queens and Staten Island have yet to host the Mayor's State of the City Address, but he has a couple more years in which to make that happen, should he choose to do deliver his address in all five boroughs.
I arrived on a cold January morning. There was a crowd lined up outside, waiting to pass through security, even though it was well over a half hour before the address was to begin. Inside there was a large crowd mingling, and eventually it looked like it was a full house.
There were the usual warm up speeches and performances, including the Invocation by the NYPD Chaplain, Rabbi Alvin Kass, the singing of 'God Bless America' by NYFD vocalist Regina Wilson and an introductory speech by the First Lady Chirlane McCray.
Luke's Lobster House in Downtown NYC
Luke's Lobster House is a Hole-in-the-Wall Find near Wall Street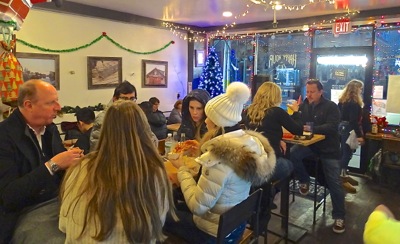 January 14, 2019 / Downtown Manhattan Neighborhood NYC / Manhattan Restaurants / Manhattan Buzz NYC.
Over the holidays I spent a fair bit of time in downtown Manhattan with out-of-town guests, who are expanding their interest in one of America's oldest seafaring towns ... Manhattan.
We visited the large Christmas tree on Wall Street in front of the NY Stock Exchange and then headed for a mid afternoon bite to eat at Luke's Lobster House at 26 South William Street between Broad and Beaver street. Luke's isn't exactly an ancient restaurant of Downtown NYC - since 2011 - but it has the look and feel of something that's been around much longer.
Luke's Lobster House in the Financial District or FiDi NYC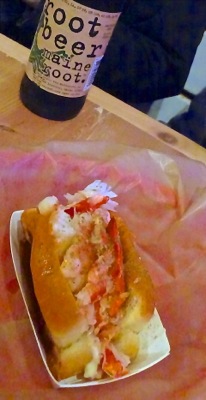 We walked in on a cold winter afternoon and there were a few parties sitting at several of the tables in the small shop. Along the side wall near the back of the small lobster house is a very simple menu, with three different combination plates in three different flavors [lobster, crab & shrimp], salad, soups [clam or lobster], sides [cod fries, slaw] and drinks [none alcoholic]. The one roll, plus side, plus drink runs from $12 to$19.
According to the Luke's Lobster website, the owner, Luke Holden, hails from Maine, from where he sources his catch. He opened a Luke's Lobster in the Village in 2009 and has been expanding ever since. The site tells us that Luke's Lobster has multiple restaurants in Manhattan, one in Brooklyn, as well as restaurants in Maine, Washington D.C., Miami, Boston, Chicago, Philadelphia, Las Vegas, Taiwan and Japan.
Luke sources many of its lobsters through a Maine cooperative, of which Luke's is a member, so he knows what he's serving his customers. And that diligence was borne out in the half lobster roll I split with one of my out-of-town guests. The lobster was a flavorful, tender, juicy, flaky meat inside a bun that did its job by not interfering with the subtle flavor of fresh lobster.
We drank our root beers, while enjoying the light meal, and then headed on our way. Generally Luke's Lobster House in the FiDi [Financial District] of New York is open from 11 am - 7 pm daily.
The South Street Seaport adds Winterland Skating to its Recreational Offerings in FiDi Manhattan NYC
The South Street Seaport adds Winterland to its Offerings
A New Skating Rink - Winterland - Opened at the South St Seaport in December
January 6, 2019 / South St Seaport / FiDi / Downtown NYC Neighborhoods / Kids Things To Do Manhattan NYC / Manhattan Buzz NYC.
In December I spent a fair amount of time in the Downtown NYC neighborhood, including at the South Street Seaport. The South Street Seaport has been an evolving recreational and tourist destination for the past couple of decades. Some of which we have covered in recent years - see Taste of the Seaport and South St Seaport neighborhood real estate in Downtown NYC.
In the photo at right you can see skaters resting alongside the wall overlooking the East River and Brooklyn Bridge in the South Street Seaport neighborhood near the FiDi in Manhattan NYC.
Brief History of the South Street Seaport in Downtown NYC / FiDi
The South Street Seaport was first used by the Dutch West India Company in 1625 to dock, unload and reload ships with cargo between the new [America] and old [European] worlds. Over time it evolved as a center of port activity for NYC. In the early 1700's [Wikipedia states 1728] the South Street Seaport started becoming a central distribution point throughout the colonies for goods coming from Europe into the New World, as well as becoming a collection point for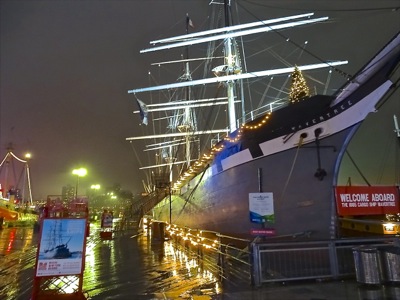 goods coming from the colonies that were then shipped to Europe.
In 1822 the Fulton Fish market opened as a central retail space for fresh fish among other things, and in 1825 the Erie Canal opened which enabled relatively quick and inexpensive transit between most points on the Great Lakes and New York City. This transit development cemented the reputation of New York City as the nation's leading transit capital.
By the middle of the 1800's the South Street Seaport climaxed, and over the next half century the volume of passenger and goods transit declined, giving way to the piers on the west side of Manhattan along the Hudson River. The reasons for the move to the west side was the lack of space for retail and warehousing, as well as the shallow nature of the South Street Seaport harbor.
In the photo at right you can see an 1885 schooner, one of the sailing ships of the 19th century, similar to those that had once docked at the South Street Seaport in lower Manhattan in NYC.
CLICK here to view the rest of our report along with photos of the South Street Seaport neighborhood and its new rooftop Winterland skating rink.
---
Halloween in Manhattan
A Floating Pumpkin Flotilla on Harlem Meer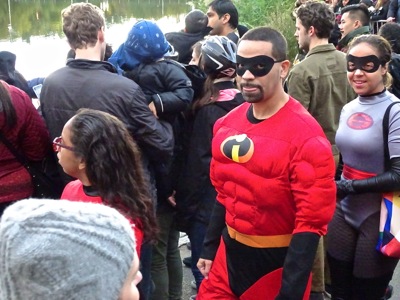 October 29, 2018 / Upper East Side Neighborhoods / Holidays in Manhattan / Manhattan Neighborhoods / Manhattan Buzz NYC.
After a cold, wet, rainy Halloween Weekend Saturday, many Manhattanites were looking to escape into the eerie fantasy world we call Halloween. Halloween is said to have originated in Ireland as a Celtic festival to ring in the New Year and celebrate the harvest, but today it's mostly an opportunity for people to dress up as someone or something else ... and free themselves of their workaday world and act out some of their pent up desires ... or something ...
Manhattan offers a banquet of Halloween event and party options. They range from river boat cruises, to rooftop parties, to haunted houses and floating pumpkin flotillas. Yes, floating pumpkin flotillas on the Harlem Meer at the Dana Discovery Center in the northeast corner of Central Park on the Upper East Side. So, having never been to it, I decided to go this year to witness the Halloween magic myself.
The Dana Discovery Center & Harlem Meer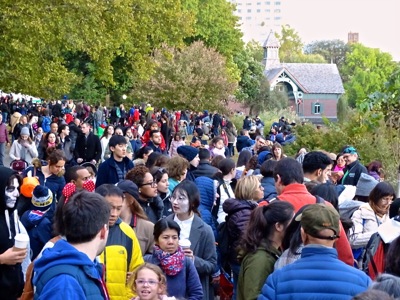 I arrived a bit early at East 105th Street and 5th Avenue, just north of the Museum of the City of New York. I walked in through the entrance to the Conservatory and walked out of the Conservatory northern gate. From the gate I could see the Dana Discovery Center across the Harlem Meer [Harlem is a Dutch town and meer means pond in the Dutch language] and there was a dirt path running all around the pond.
It was a bit before 4 pm as I walked the path to the northern side of the pond. I landed in the area still west of the Dana Discovery Center, where there were booths set up by the NYC Parks Department. There were kids interacting with folks working the event, learning about planting pumpkins. They were given samples which they could take home with them. In another area, there were a few folks working for the Parks Department who were receiving carved out pumpkins brought by members of the audience to be included in the floating flotilla. In prior years people could carve pumpkins on site, but they discontinued that in favor of folks bringing their own pre-carved pumpkins. I've seen this elimination of on site carving at other events, so my guess is that it may have something to do with lawyers mitigating the organizers' potential liability risks.
Manhattan Kids Halloween in Central Park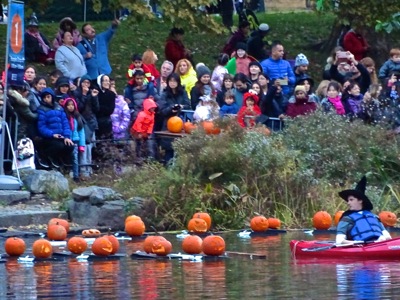 There were other stands as well, which I believe were of an arts and crafts nature. And in the distance, along the eastern side of the Dana Discovery Center there was music playing. I parked myself near the pumpkin flotilla launch pad, as that was a hive of activity, and the place to be when the flotilla launched ... or so I thought.
While waiting I met and conversed with several people, including a super nanny with her charge, a writer from another state in search of her own truth, a mother with her rambunctious son, a couple of very loving mulit-cultural parents with their children, and a couple of French women. Like myself they were attending the event for the first time, and we all braved the cool weather [50's], waiting for hours before the pumpkin flotilla began launching at 5.30 pm.
The Floating Pumpkin Flotilla Takes Flight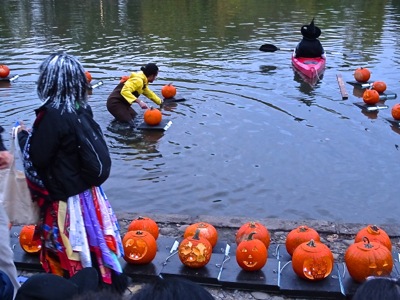 As the flames inside the pumpkins were lit, the crowd gathered more intently, cameras flashing, all eyes upon the prize. The prize was an aesthetic of pumpkin faces shining upon the still waters of Harlem Meer, and being surrounded by a mix of the local community and the world community to witness this event. The whole flotilla would eventually be pulled behind the two kyaks around the meer beginning around 6.30 [aka dark] for about a half hour before ending.
I started walking back around the meer, as the pumpkin lighting continued, shooting photos along the way. The crowd was largely quiet, speaking in low conversational tones, between themselves. I eventually made my way back through the gate to 5th Avenue where I met a woman while waiting for a southbound bus. She told me she was a hairdresser back in the day and that she used to take her kids camping along the waterside of Harlem Meer. She told me that, "Things have changed a lot since then." and that "The biggest changes came after 911."
Ah, yes, it was a simpler time. But then again so is the whole notion of the lighting up a few dozen pumpkin faces, and dragging them behind a kyak on a pond - attracting literally a thousand or more people to watch the event - seems kind of simple too.
I hope you had or will have a Happy Halloween.
The Pulaski Parade, Kociuszko Bridge & Polish Parade in NYC
Two Great Polish Generals in American Revolutionary War & One Great Polish Parade in NYC
October 22, 2018 / Midtown Manhattan NYC / Manhattan Parades NYC / Manhattan Buzz NYC.
On Sunday, October 7, 2018 the Pulaski Parade marched again up 5th Avenue from 36th to 56th Street. The parade began in 1936, some 82 years ago, to honor the contributions of General Casimir [also Kazimierz] Pulaski to the American Revolutionary War effort. The date for the Pulaski Memorial Day Parade is on the anniversary of his death, two days following the failed siege of Savannah, Georgia in 1779.
Polish Independence Centennial 1918 - 2018
The theme this year celebrated the 100th anniversary of Polish independence, which came about following the end of World War I on November 11th, 1918. That day was once called Armistice Day, when the fighting of WWI ceased, but today it is better known as Veterans Day. In the 123 years prior to the end of WWI, Poland – the home of the Polish people, had been partitioned by Russia, Prussia [which is modern day Germany] and Austria.
Polish Serfs, Jews & Burghers Struggled under Czars
The exploitative Czars of Russia - who lived in luxury while the Polish and Russian serfs lived lives in poverty – were deposed in the Russian Revolutions of 1917, which erupted during WWI. The end of the tsars and WWI resulted in Polish freedom, just as 123 years earlier the Czar Catherine the Great's diplomatic and war victories from 1792 – 1796, led to the partitioning and subjugating of Poland by its three neighbors.
These days, in both Poland and Russia, things seem to be going backwards. Democratic liberties, rights and rule of law seem imperiled, which is why parades, statues and other reminders of the past can help us stay vigilant to the tricks of those who would undermine the rule of law and democracy in order to take everything for themselves.
The Pulaski Parade - Polish Culture on the 5th Avenue Stage
The Pulaski Parade in NYC features Polish dancers, musicians, schools and organizations, the armed services and government officials, so one might say it's as much a parade about Polish culture in America, as it is about General Pulaski. General Pulaski served with the American Continental Army beginning in 1777 until he died at the Battle of Savannah on October 11, 1779.
As a student of history, I was heartened to see a strong showing for another great Polish general who served our nation during the American Revolutionary War – General Tadeusz Kociuszko. There's a bridge connecting Brooklyn and Queens that continues to bear his name and he is one of the less sung heroes of the American Revolution, perhaps because he was also something of an Abolitionist.
Tadeusz Kociuszko - Polish American Revolutionary War General
There's a 2015 program entitled Tadeusz Kociuszko Polish Hero, created by Peasant Prince Productions, LLC which covered the life of Kociuszko. In it they tell us that American Founding Father, President Thomas Jefferson was named the executor of Kociuszko's Will. They go on to note that in 1817 Kociuszko's dying wishes were that his wealth would be used to free, educate and empower as many slaves as the wealth Kociuszko left behind would enable. But they found no evidence of Jefferson ever executing the Will and disputes regarding it went on into the 1860's.
This historical footnote may help explain why Kociuszko was sidelined in the historical accounts of the times. It's well documented that Kociuszko was one of the few well trained military leaders in the Continental Army of the colonists in 1776, when American demanded their independence from the most powerful nation on the planet. And it was Kociuszko's use of science and engineering skills that enabled the American Revolutionaries to continually thwart their better equipped, better trained, far more powerful enemies - the British monarchy – and ultimately prevail.
Kociuszko Scientific Military Tactics were a Key to Victory
When Kociuszko started with the colonists he was instrumental in helping them prevent the British from controlling the Hudson River. Kociuszko's military training motivated him to identify and secure the West Point, which is still in use today as a military training academy [established by Jefferson in 1802]. The Hudson was believed to be the most important American waterway at the time, and having control of it would have enabled the British to split the New England states from the rest of the colonies – essentially dividing the nation [at the time] in half.
Kociuszko's advice was previously ignored by his superiors at Fort Ticonderoga, when he warned the general to secure a difficult to secure high point overlooking the fort. Because that point was not secured, the British handily beat the Americans. Kociuszko helped the Americans escape, building rafts and erecting obstacles along the way to slow the British.
In 1777, Kociuszko advised the Americans to secure the surrounding hills, which they did this time upon General George Washington's insistence. The British lost that battle and it was believed to be instrumental in enabling America to secure French support, as the French now believed an American victory was possible.
Kociuszko outlined similar fortifications for West Point, to which Benedict Donald was given command in July 1780. In September of 1780 Benedict Donald, subsequently tried to sell Kociuszko's defense plans to the British, but the British agent was captured and the plan exposed. The British agent was hanged and Benedict Donald escaped and became a British officer. It is said that he slaughtered a surrendered group of colonists before the war ended. King George is said to have liked him [Benedict Donald]. Today, there still stands a statue at West Point of Tadeusz Kociuszko.
Kociuszko also Fought for Serfs, Jews, Burghers & African Americans
Jefferson reportedly wrote that Kociuszko was one of the purest idealists he'd ever met. In fact Kociuszko not only fought for the American colonists, but also for the serfs, Jews and burghers of Poland. And he was color blind in America, having befriended and worked with a number of African Americans [as well as what he did in his last Will & Testment].
So it was nice to see that there were groups in the Pulaski Memorial Day Parade also carrying the torch for General Kociuszko, another Polish general who also fought for equality, liberty & justice for all – in the Pulaski Day Parade in NYC.
Both of these generals are still missed and they remind us of how new the existence of real democracy is, how hard democracy is to win, and as history has shown us – how easy independence is to lose – if one is not vigilant to the aggressive, deceptive efforts of those who already have so much, to take even more from the rest of us.

Dziękuję bardzo za przeczytanie tego. Thank you for taking the time to read this.

Ze Zum Schneider Festival in Manhattan
A German Immigrant Brings his Homeland Culture to Manhattan
September 24, 2018 / Near the Gramercy Neighborhood & Stuyvestant Town & Peter Cooper Village Neighborhoods in Midtown / East Village Restaurants Manhattan / Manhattan Buzz NYC.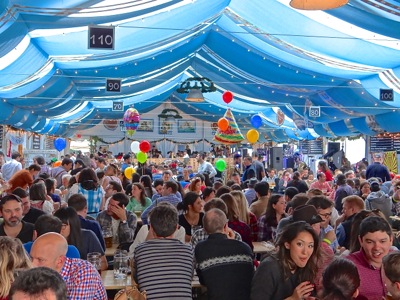 A couple of years ago I attended the Zum Schneider Festival along the East River at 23rd Street. What I witnessed was a mirthful display of old fashioned fun. The whole event is led by a restaurateur with a giant sized personality, who sings, eats and talks his way through the ten day Oktoberfest celebration.
I arrived on a Saturday afternoon and began by inquiring for the press liaison, with whom I had made prior arrangements. It wasn't long before she appeared and began introducing me to the cast of characters who would play roles in the activities planned for the afternoon.
The most memorable of the character introductions was the man for whom the festival was named, Sylvester Schneider, restaurateur of Zum Schneider. Zum, in the German language, means Go To, so the Zum Schneider restaurant includes some subliminal advertising – telling all those who come across it, to 'go to the Schneider restaurant'. Funny. Cute. Befitting the character I would get to know a little better as the afternoon unfolded.
The first tent on the East River opened in 2014, while the Zum Schneider restaurant, I was told had opened in 2002. Sylvester told me he had come to America from Bavaria where ...
African American Day Parade in Harlem
African American Day Parade in Harlem
A Brief History of the African American Day Parade as it Celebrates 49th Anniversary
September 18, 2018 / Harlem Neighborhood NYC / Manhattan Parades / Manhattan Buzz NYC.
I made my way up to Harlem to watch the African American Parade. The African American Day Parade returned on Sunday beginning at 1 pm along Adam Clayton Powell Blvd and 111th, and then marching north to 138th Street. It's the largest African American parade in the nation and has its origins in the 1968 civil rights riots.
On April 4, 1968 Dr. Martin Luther King was assassinated while standing on the balcony of a Memphis, Tennessee motel. James Earl Ray was charged with the crime and then admitted it, before recanting it multiple times later. James Earl Ray was sentenced to 99 years in prison and died at age 70 in 1998.
During the 1960's African Americans Clashed with the White Establishment Demanding the State Recognize their Constitutional Rights
There were 110 riots that broke out across the nation in anger at the shooting. U.S. Senator Robert Kennedy was in Indianapolis that evening and spoke before a large, predominantly African American crowd, informing them of the shooting, empathizing with their loss, recognizing their anger and asking them to respond with love. There weren't any riots in Indianapolis.
New York City Mayor John Lindsay also responded by traveling to Harlem, the largest African American neighborhood in Manhattan, which had begun to experience some unrest and rioting. He too, expressed condolences for the loss of the slain civil rights leader, which had a calming effect on the city.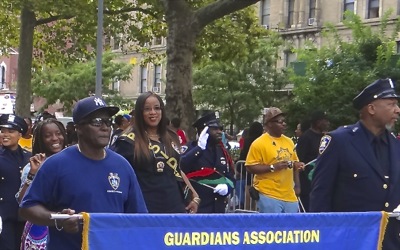 But other American cities didn't fare as well, including Chicago, which was highly segregated, and Washington, D.C. where then president Johnson was unpopular because of the draft and the ongoing Vietnam War. The draft appeared to unfairly conscript people of lesser means and Dr. King had begun to include this in his speeches.
Out of the Civil Unrest of the 1960's, Emerged a New Narrative for African Americans including the African American Day Parade
Nonetheless, some times good things arise out of bad circumstances, and the African American Day Parade was one such result. African Americans realized that they had to start taking control of their own cultural and historical narratives, as the American media was not providing the American people with a fair or balanced account of African American culture, history, nor the issues facing the African American community.
---
Member Events Manhattan Farmers Mkts / Street Fairs
* Click here for a listing of Manhattan Farmers Markets & Manhattan Street Fairs where you can find unique items and fresh foods. Street fairs wind up in March / April and so do most farmers markets, but a few of the farmers markets continue year round.
* Click here for paid & free things to do Manhattan - free SummerStage concerts in Manhattan, free things to do Manhattan - free summer movies in Manhattan and free things to do Manhattan - free summer theater in Manhattan.
BOOK REVIEW NEXT WEEK: Detective Itchyass by Smel E. Fyngars.
SummerStage
The Puerto Rican Parade NYC
Tens of Thousands of Puerto Ricans Celebrate Their Culture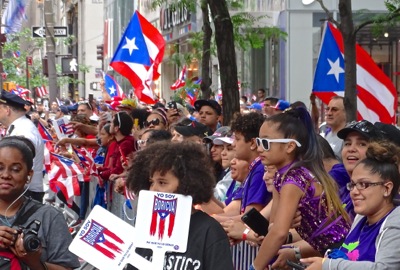 June 11, 2018 / Upper East Side Neighborhood / Harlem Neighborhood / Manhattan Parades NYC / Manhattan Buzz NYC.
Puerto Rican Street Fair Spanish Harlem
One thing you could never accuse New York Puerto Ricans of, is a lack of pride in their cultural roots. On Saturday there was a huge street fair in Spanish Harlem, lasting most of the day, along a nearly 20 block stretch of Third Avenue between 103rd and 122nd streets in east Harlem.
East Harlem used to be the destination for Puerto Ricans coming to New York. And while there's still a large Puerto Rican community there, I think there may be an even larger community in the central Bronx whose Borough President is Ruben Diaz, whose father, NYC City Councilmember Ruben Diaz, Sr. came from Bayamon, Puerto Rico. So while some of the population may have moved, Puerto Ricans came from around the city and far beyond, to congregate on Saturday and Sunday, and the bask in the atmosphere of their cultural roots.
Puerto Rican Parade on the Upper East Side Manhattan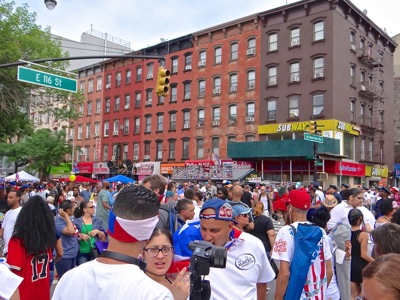 There was food, shopping, music, entertainment and dancing at the street fair on Saturday, and minus the food and shopping, the music, dancing and entertainment were also on display at the huge Puerto Rican parade in Manhattan on Sunday. Numerous floats as well as marching groups of dancers and musicians and social groups joined together to make the parade one long display of Puerto Rica's eclectic mix of African, Latin and American cultures.
American Puerto Ricans call themselves Boricuas and everything else is just Bochinche [gossip]. We'll delve more deeply into the Puerto Rican community in Manhattan and the Bronx as time passes.
NYC Landlord Harassments Continue
NYCCM Helen Rosenthal Hosts Housing Clinic to Inform Renters of Their Rights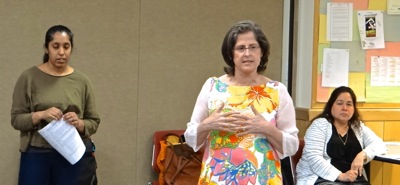 May 29, 2018 / Upper West Side Neighborhood / Manhattan Real Estate / Manhattan Neighborhoods / Manhattan Buzz NYC.
On Wednesday, May 25th I went to the Goddard Riverside Community Center on Columbus Avenue at 88th Street to attend a housing clinic designed to inform renters of their rights.
***The following introduction is based on prior research done by me, and was not information provided at the housing clinic. I'll let you know when I segue out of my preamble and into the housing clinic.***
Over the past decade landlords appear to have become increasingly aggressive in trying to wriggle out of NYC and NYS rent stabilization regulations, that govern the rental payments under which about two million New Yorkers live.
It is my understanding that the government contributed land and / or financing to build or repair the buildings governed by NYC / NYS rent stabilization laws in exchange for the pricing rights on rent stabilized units. Many of the new landlords who have acquired rent stablized buildings, may possibly be in violation of approaching their business contract(s) in good faith, as the definition of good faith according to Wikipedia is:
"In contract law, the implied covenant of good faith and fair dealing is a general presumption that the parties to a contract will deal with each other honestly, fairly, and in good faith, so as to not destroy the right of the other party or parties to receive the benefits of the contract. It is implied in every contract in order to reinforce the express covenants or promises of the contract. A lawsuit (or a cause of action) based upon the breach of the covenant may arise when one party to the contract attempts to claim the benefit of a technical excuse for breaching the contract, or when he or she uses specific contractual terms in isolation in order to refuse to perform his or her contractual obligations, despite the general circumstances and understandings between the parties. When a court or triar or fact interprets a contract, there is always an "implied covenant of good faith and fair dealing" in every written agreement."
What is at stake, throughout the city, is literally hundreds of millions and more likely billions of dollars in - rental benefits or rental income streams - depending on which side of the struggle you're on. The landlords appear to be trying - using the torturtous side effects of construction including noise, health risk dust [inhalation], privacy loss and apartment functional loss - to wrest away the billions of dollars of rental pricing rights benefits from tenants to be pocketed by the landlords themselves. Given the high dollar value of what's at stake - including people's homes - this seems like attempted grand larceny, especially in cases where landlords are breaking the law to achieve their goals.
This will be continued at a later date. Including the segue into the information provided by the Housing Clinic to inform tenants of their rights.
Tenants' Rights March & Rally - June 14th Midtown at 4.30 pm
P.S. There's a March & Rally scheduled for June 14th, beginning at 4.30 pm, at the NY Public Library at 5th Avenue and 40th Street. They plan to march to Governor Cuomo's office at 3rd Avenue and East 41st Street. For details contact info@realrentreform.org or call 212.979.6958. All but one of the No IDC NY senatorial candidates have been invited to participate, and there's a possibility that NYS gubernatorial candidate Cynthia Nixon will be there too - as this seems to coincide with her reasons for challenging Governor Cuomo.
Rain Doesn't Deter Cathedral Fair
Cathedral School at St John the Divine on the UWS Slogs On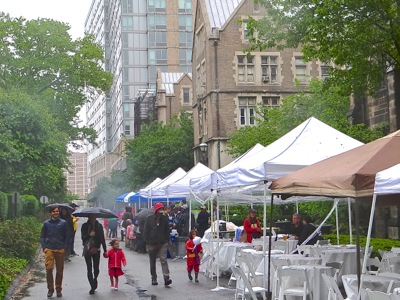 May 21, 2018 / Upper West Side Neighborhood / Manhattan Schools / Manhattan Neighborhoods / Manhattan Buzz NYC.
I had the pleasure of attending the Cathedral School Spring Fair in the court yard of St. John the Divine Cathedral last Saturday. The court yard is an old, beautiful green space area nestled in amongst the buildings of the St. John the Divine Cathedral complex.
The photo at right shows the Cathedral School Spring fair just after a downpouring rain.
The fair began around mid morning and I arrived a bit after noon. It was raining fairly steadily, but that didn't deter me - nor many of the Cathedral School supporters - from enjoying the afternoon. There was a grill stationed along a walkway inside the campus gates. And inside the nearby Synod House there were games, live music and a pretty good one time a year flea market selling donated goods of the Cathedral School supporters and community.
The Synod House was completed in 1913, around the time of the beginning of WWI, and was the meeting place for the 1913 General Convention of the Episcopal Church. The building has retained the name Synod House ever since, as a synod is the name for a council of church officials. The Synod House can seat 1,000 people, has timber beams, stained glass windows and is reportedly home to a Skinner organ. Ernest Martin Skinner was a leading pipe organ builder who used electro-pneumatic switching systems to advance organ capabilities. Skinner used an electrical switching system to manage the air pressure in the pipes and control the amount of air passing through the pipes. Skinner was considered one of the most successful pipe organ builders of his day.
The photo at right shows the Synod House, which I went into at the end of the fair.
I met up with one of the school supporters, a steadfast volunteer who had completed his shift, and we sat down to a hearty burger and one of the microbrew beers being poured by other community members / volunteers. Conditions weren't ideal, but sometimes that's what makes a get together memorable.
The Cathedral School was founded as an Episcopal school in 1901, over a decade before the Synod House was erected. The school is also situated on the 13 acre campus of the St. John the Divine Cathedral and there are nearly 300 boys and girls, grades K through 8, who matriculate there. And the school has a 6:1 teacher / student ratio. The Cathedral School is currently in the process of building an addition to the school, which may expand their enrollment capacity. It is a private school that is generally highly regarded and has a tuition price tag to match [about $48,000 for the upcoming 2018 - 2018 school year / tuition assistance programs are available].
Cathedral School is a small school with a big campus and is generally attended by the kids of Upper West and Upper East Siders. In addition to a fairly rigorous academic program, the school also has after school sports programs [not American football], band, art, film, theater, choir, sculpture, computer arts, and numerous language classes including Mandarin and Cantonese Chinese and Latin.
And based on what I witnessed Saturday, they also have a very supportive community of congenial parents.
Tribeca Film Festival Premieres Documentary Entitled The Fourth Estate
The Tribeca Film Festival on its Closing Night
Tribeca Film Festival ended with a Documentary - 4th Estate
May 15, 2018 / Tribeca Neighborhood / Film in Manhattan / Manhattan Things To Do / Manhattan Buzz NYC.
About two weeks ago [April 28th] I attended the closing night at the Tribeca Film Festival at the BMCC Performing Arts Center at 199 Chambers Street. The final film being shown was entitled Fourth Estate. It was billed as a documentary about the New York Times coverage of the first year of the Trump Administration beginning in January of 2017. It's a four part series, of which we watched the first installment. The show will air on Showtime beginning at 8 pm on Sunday evening, May 27th.
Clouds had formed overhead as I made my way from the subway to the western part of downtown Manhattan. By the time I entered the Borough of Manhattan Community College Performing Arts Center [aka BMCC PAC] a light rainfall had already begun. I picked up my ticket and was escorted to a seat shortly before two of the three Tribeca Film Festival founders, Jane Rosenthal and Robert De Niro, and filmmaker Liz Garbus came out onto the stage to introduce the film.
The gist of the introduction was that real journalism and truth-telling free speech are under attack. Not just by the Trump Administration, but by changing technologies and economics as well. The first segment of the film followed the reporters inside the New York Times in NYC and in Washington, D.C. during roughly the first three months of the Trummp presidency.
CLICK here to read the rest of our report on the Tribeca Film Festival premiere of The Fourth Estate film documentary about the NY Times coverage of Donald Trump.
---
Upper East Side French Restaurants – Café D'Alsace
Casual Dining at French Restaurant on the Upper East Side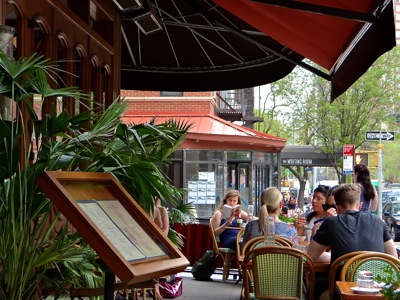 May 7, 2018 / Upper East Side Neighborhood / Upper East Side Restaurants / Manhattan Buzz NYC.
It was a warm pleasant May afternoon as I strolled into the Café D'Alsace on the Upper East Side. We'd planned to dine elsewhere, but the outdoor seating looked so inviting that we decided for a change of plans.
Formerly Elaine's Restaurant on the Upper East Side
The Café D'Alsace is located in what was once a kind of well known Upper East Side restaurant of the 1980's and 1990's – Elaines. Café D'Alsace is located at the corner of 88th and Second Avenue, just two blocks from the 86th Street stop off the Q line and the Second Avenue stop off the 86th Street crosstown bus – so it's a fairly convenient location to meet friends.
Today I was meeting a retired graphic artist, who spends his time managing some of his and his wife's business interests and their teenage kids' busy schedules. We took a spot outside to enjoy one of the first really nice days of 2018. The waiter appeared promptly and we began perusing the menu.
Cafe D'Alsace French Restaurant on the Upper East Side Manhattan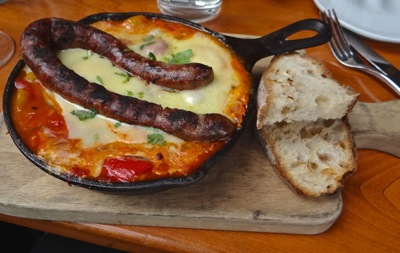 They included a prix fixe menu, offering three courses for $29. It included their Merguez Shakshuka, which I found to be of great interest. Nonetheless I began surveying the rest of the menu, adding up a combination or two of the other entrees, before I decided to give the Merguez Shakshuka a royal try. I also received the Soup of the Day, which was potato leek, and for dessert I went with the Molten Hazelnut Chocolate Gateaux. My dining companion wasn't in a very venturesome spirit today, and he settled on the Burger D'Alsace, preceded by the Winter Salad.
The conversation turned to some of the business ventures in which the artist and his wife are involved. It seems things are going reasonably well at the moment, and based on the conversation, it seemed they were expected to continue.
I have the rest of the story written, but I need to convert it to web format and add photos which I'll do Tuesday. Stay tuned.
5 Boro Bike Ride Returns Sunday
Bike New York Organizes NYC Bike Ride & Bike Expo New York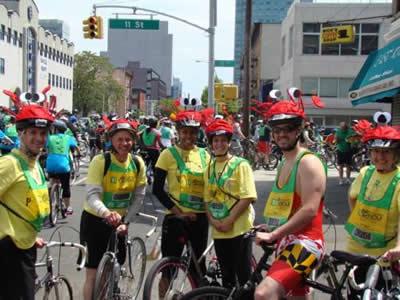 April 30, 2018 / Manhattan Neighborhoods / Bronx Neighborhoods / Queens Neighborhoods / Brooklyn Neighborhoods / Staten Island Neighborhoods / Gotham Buzz NYC.
This story includes information about the upcoming 5 Boro Bike Ride on Sunday, as well as the Bike Expo New York which precedes it on Friday & Saturday in Red Hook. As of this report, the temperatures are expected to be in the 60's and the chances of rain appear slim. But bear in mind that the forecast probability of 20% chance of rain last Friday, turned into rain on Saturday evening, so check the weather as we get closer in.
Bike New York 5 Boro Bike Ride Route
Since 1977, every first Sunday of May, Bike New York has organized and promoted the 5 Boro Bike Ride. The ride begins in lower Manhattan, sweeps northward across the Harlem River Bridge to the Bronx, circles back across the Third Avenue Bridge to Manhattan, where it begins its southward trek crossing the Queensboro Bridge into Queens, heading south to Brooklyn after a quick stop north to Astoria Park, and then comes down past the Brooklyn Navy Yards, continuing southward along the west side of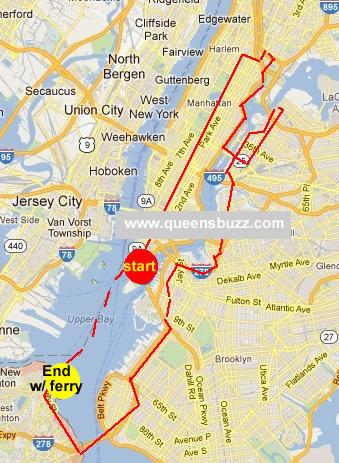 Brooklyn, to the Verrazano Narrows Bridge where it crosses over to the Fort Wadsworth neighborhood in Staten Island before terminating in the St. George neighborhood at the Staten Island Ferry.
Proceeds from Non-Profit New York Bike Ride go Toward Sustainable Transportation Efforts
The now famous bike ride was capped at 32,000 riders I believe sometime in the 1990's, where it still stands today. One report noted that the 5 Boro Bike ride is one of – if not the largest - non-profit bike rides in the nation. The proceeds go to Bike New York programs which are designed to teach people about sustainable transportation, most notably bicycle riding and bike maintenance and safety. Another report noted that the NYPD had considered [don't know the outcome] charging the organization $1 million for erecting, maintaining and terminating road closures during the New York 40 mile family-friendly bike ride.
Bike New York Bicyclist Outreach in all Five NYC Boroughs
Bike New York has offices in all five NYC boroughs. In 2015 their cyclist safety and bike maintenance programs reached 15,000 New Yorkers. And they are the organizers of the Bike Expo New York being held at Pier 12 in Brooklyn on Friday and Saturday [see details in rest of this story].
NY Real Estate Expo
NYC Professionals Discuss Manhattan & NYC Metro Real Estate
April 23, 2018 / Midtown Neighborhood Manhattan / Manhattan Real Estate NYC / Manhattan Buzz NYC.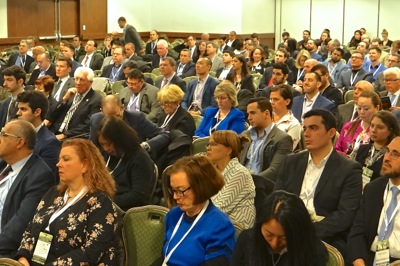 I attended the 10th annual NY Real Estate Expo at the New York Hilton last week. The event was well attended by hundreds of real estate, development and financial professionals from the NYC and metro area. Anthony Kazazis, Director of the event, had organized a series of panels to discuss key aspects affecting the real estate market ranging from software platforms, to financing, to NYC real estate market assessments.
Generally the mood was upbeat, but not without some concern about the future, given changes in the tax laws, foreign interest in NYC investment, interest rates forecasts and technological challenges facing the industry. But, I thought, that is why everyone is here. To find out what's going on so they can navigate the market changes - rather than be surprised by them.
While I had intended to stay only a short while, I found the topics and panelists too interesting to leave, so I stayed most of the day. I started with a discussion of a new information technology platform called Blockchain, which is intended to serve as an information clearing house, and it includes some artificial intelligence capability. I then found my way into a discussion about New York City versus Silicon Valley with respect to attracting large technology companies like Amazon, Facebook and Google. And I ended my visit after listening in on a discussion by NYC and metro area realtors discuss the residential real estate market in Manhattan and outer boroughs.
Sound like an interesting NYC real estate conference? It was. In the photo above you can see the audience at the well attended panel discussions at the NY Real Estate Expo this year.
I'll have more on this later in the week.

TBD
Click here for things to do on the Upper East Side and fpr Contacts lens & eyeglasses in Jamaica. Midtown Dentists and Midtown Chiropractors, and Islam Fashion NYC.
---

test
test

test

test

test

test - add 1387 to rst
Queens Library lawsuit and Queens Brooklyn tile stores near Williamsburg.

Farmers Markets & Street Fairs in Manhattan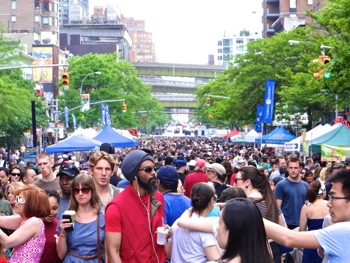 March 25, 2019 / Manhattan Farmers Markets / Manhattan Street Fairs / Manhattan Buzz NYC.
Many Manhattan farmers markets are open year round, but there are also a number of them that are seasonal. Some of the seasonal Manhattan farmers markets begin opening in the Spring, with nearly all of the rest of them opening no later than the first two of weeks in July. Click here to view the schedules of many of the farmers markets in Manhattan.
Manhattan street fairs are entirely seasonal, with some of them hitting the streets as early as late March. Manhattan street fairs rise markedly during the spring and lighten up a bit during the dog days of summer [July / August], and rising again in the fall. By the end of November most of the Manhattan street fairs go on hiatus. Click here to view a full schedule of Manhattan street fairs. Click here for Bronx street fairs.

test
Click here for Jackson Heights realtors.

The Penninsula Hotel in Manhattan
Luxury Historic Hotels in Manhattan Midtown NYC
January 8, 2018 / Manhattan Neighborhoods / Midtown Manhattan / Luxury Hotels Manhattan Historic Hotels / Manhattan Buzz NYC.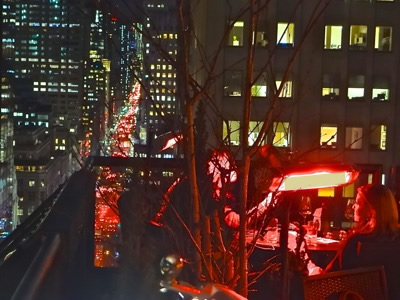 Over the holidays I had an opportunity to visit one of the finest luxury historic hotels in Manhattan - the Penninsula Hotel. The Penninsula Hotel is part of a world renowned hotel franchise dating back to the mid 1800's in Asia. The first Penninsual Hotel was built in 1928 in Hong Kong, which is where I had my first encounter with their old world hospitality and elegance many years ago.
Historic Gotham Hotel is now the Penninsula Hotel
The Penninsula Hotel Manhattan was first built at the corner of 55th Street and 5th Avenue in 1905 as the Gotham Hotel. It's a beaux artes structure that suffered over eighty years of ill-fated turnovers, before being acquired by the Penninsula Hotel Group in 1988. Today the hotel is noted as one of the finest in Manhattan.
I entered the lobby off of 55th Street. There's a staircase leading up to the lobby off to the right and the Clements restaurant off to the left. Just off the hotel lobby is Gotham Bar, in a hail back to the hotel origins, which overlooks 55th Street off 5th Avenue.
The Clements restaurant is an elegantly appointed restaurant that was, for a short time in the latter half of the 20th century, the American location of Maxime's of Paris. The restaurant is adjacent to another bar designed to accommodate restaurant patrons while waiting for their guests.
Rooftop Bars in Manhattan Midtown NYC
We chose to spend our time on the rooftop of the Penninsula Hotel, as it has a nice view of the Midtown rooftops, as well as some looking south on 5th Avenue. It was a balmy winter day - about 60 degrees - and with the heaters out it was very comfortable. The rooftop bar is primarily for drinks - and for those who smoke - provides one of the few locales left in Manhattan where one can actually enjoy a cigar or cigarette while have a drink with friends.
Prices aren't cheap, as one might expect. Bottles of wine run from about $90 on up and cigars run in the neighborhood of $40 on up [I'm doing this by memory which may not be 100% accurate, but directionally close]. Anyhow it was a beautiful locale, the service was very good and the company was great.
But alas, all good things must come to and end, and after finishing our cigars and wine, we bid adieu or rather Tiajian 再见.

Test
Manhattan Buzz Voluntary Subscriptions
We work very hard to help keep you informed by providing you with independent news coverage, as well as

information about events in the arts, culture and business in the borough.
You can help us continue to provide you with independent, first-person, fact-based, contextural reporting by purchasing an annual subscription. As it's voluntary, there are a variety of price options, one of which should fit within your budget.
Thanks for your encouragement & support.
Back To Top