Things To Do Manhattan - This Weekend
Earth Day Events, Tribeca Film Festival, Greek Independence Parade & NY Art Expo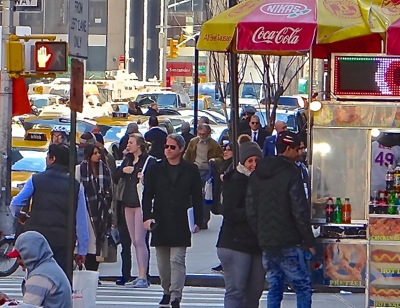 April 20, 2018 / Things To Do Manhattan / Manhattan Neighborhoods / Manhattan Buzz NYC.
Good Weather . The Temperature highs will be in the low 50's Friday, rising to the low 60's Saturday and Sunday. The temperature lows will be around 40 throughout the weekend. There's No Rain in the weekend forecast. Winds will be a blustery 20 mph Friday and then falling to a low breeze of 10 mph for the rest of the weekend. The Humidity will be about 40% throughout the weekend. Click for Manhattan Weather.
The photo at right shows a Midtown mid morning street scene along 6th Avenue earlier this week.
Friday & Weekend - Tribeca Film Festival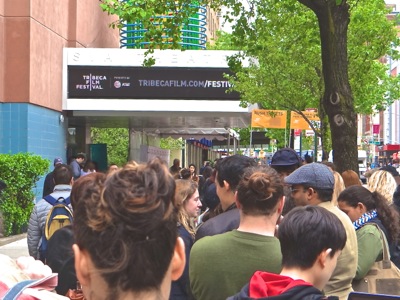 The photo at right shows folks waiting in line for one of the free events of the Tribeca Film Festival last year. The festival began on Wednesday and continues for nearly two weeks - see details below.
Intrepid Sea, Air & Space Museum located at Pier 86 - at 46th Street and 12th Avenue [history / kids]. They offer an overnight for kids with parents.
The Tribeca Film Festival began Wednesday, April 18th and runs through Sunday, April 29th. The event includes film screenings, video games, lectures, panels and exhibits. The films are shown at five venues in Manhattan, including Regal Battery Park, Cinepolis Chelsea, SVA, BMCC and the Festival Hub [film / $12 - $40 for events and packages range from $55 - $6000 / there are discounts for some downtown Manhattan residents / http://tribecafilm.com].
Saturday - Earth Day Event & Tribeca Film Festival
The photo at right shows folks enjoying a cool Spring day in Central Park earlier this week. While temperatures reached 80 last Friday, this Earth Day Weekend they will be in the low 60's - see weather details above.
There are a number of Earth Day events going on in Manhattan including: 1) SATURDAY 4/21 a car-free Broadway from 9 am to 3 pm between 26th and 47th streets and 2) SUNDAY 4/22 a huge block party at Union Square Park including music, entertainment, eco-products, recycling and the perennial farmers market [free / parks].
The Tribeca Film Festival began Wednesday, April 18th and runs through Sunday, April 29th. The event includes film screenings, video games, lectures, panels and exhibits. The films are shown at five venues in Manhattan, including Regal Battery Park, Cinepolis Chelsea, SVA, BMCC and the Festival Hub [film / $12 - $40 for events and packages range from $55 - $6000 / there are discounts for some downtown Manhattan residents / http://tribecafilm.com].
Also see Film, Art & Theater events running through the weekend noted in the Friday & Weekend section above and street fairs & farmers markets via the links below.
Sunday - Greek Independence Day Parade, Earth Day Block Party, Art at the Frick, Tribeca Film Festival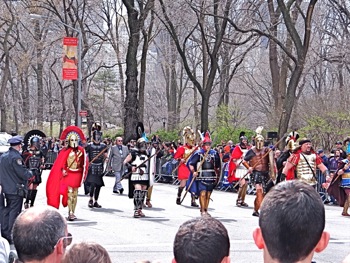 The photo at right shows the Greek Independence Day Parade marching along 5th Avenue on the Upper Eas Side of Manhattan in an earlier year. The parade returns on Sunday - see details below.
There are a number of Earth Day events going on in Manhattan including: 1) SATURDAY 4/21 a car-free Broadway from 9 am to 3 pm between 26th and 47th streets and 2) SUNDAY 4/22 a huge block party at Union Square Park including music, entertainment, eco-products, recycling and the perennial farmers market [free / parks].
The Frick Museum is showing an exhibit entitled Fired by Passion through 2018 [art]. The exhibit runs through August 2018 and showcases Masterpieces of Du Paquier Porcelain from the Sullivan Collection. They also offer periodic Sunday evening concerts which begin at 5 pm [$45 / $40] and appear to be widening their program offerings [art].
The Greek Independence Day Parade begins at 1.45 pm at Fifth Avenue and 64th Street and marches north ending at 79th Street on the Upper East Side [free / kids / parades].
The Tribeca Film Festival began Wednesday, April 18th and runs through Sunday, April 29th. The event includes film screenings, video games, lectures, panels and exhibits. The films are shown at five venues in Manhattan, including Regal Battery Park, Cinepolis Chelsea, SVA, BMCC and the Festival Hub [film / $12 - $40 for events and packages range from $55 - $6000 / there are discounts for some downtown Manhattan residents / http://tribecafilm.com].
Also see Film, Art & Theater events running through the weekend noted in the Friday & Weekend section above and street fairs & farmers markets via the links below.
WORK IN PROGRESS. ASTERISKED EVENTS HAVE NOT YET BEEN UPDATED.
* At MoMA at 11 West 53rd Street in Midtown there are several exhibits including TBD [thru 3/19 & 3/5/17] - [art / film - $25 / $18 / Free].
* Anthology Film Archives at 32 2nd Avenue in the East Village is showing a EssentialCinema series this weekend by a couple of different curators [film - $11 / $9 / $7 - www.anthologyfilmarchives.org]. They began their Fall Film Screening Series last month.
* The Museum of the City of New York has several exhibits worth a visit if you like history [history]. One is entitled New York at Its Core which is about the city's rise onto the world stage, another called To Quench the Thirst of New Yorkers is about the 175 year old Croton Aqueduct, and the third is called Rhythm and Power which is about the evolution of salsa in New York.
* There's an TBD celebrating Afro-Caribbean music and culture at the United Palace Cultural Center at 4140 Broadway in Washington Heights [music / culture / free but rsvp at https://www.unitedpalace.org].
Next Week 4.23.18 - Tribeca Film Festival Continues
The Tribeca Film Festival began Wednesday, April 18th and runs through Sunday, April 29th. The event includes film screenings, video games, lectures, panels and exhibits. The films are shown at five venues in Manhattan, including Regal Battery Park, Cinepolis Chelsea, SVA, BMCC and the Festival Hub [film / $12 - $40 for events and packages range from $55 - $6000 / there are discounts for some downtown Manhattan residents / http://tribecafilm.com].
Member Events Manhattan Farmers Mkts / Street Fairs
Click here for a listing of Manhattan Farmers Markets & Manhattan Street Fairs where you can find unique items and fresh foods. Street fairs wind up in March / April and so do most farmers markets, but a few of the farmers markets continue year round.
BOOK REVIEW NEXT WEEK: Detective Itchyass by Smel E. Fyngars.
---
Spring Has Arrived
The Trees are Blooming and Warmer Weather is on its Way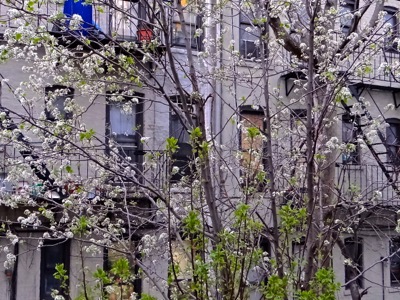 April 17, 2018 / NYC Neighborhoods / Manhattan Buzz NYC.
This weeks our deciduous trees have begun budding and flowering. We can see the bright pea green buds and the white tree blossoms popping out everywhere. This unique period of springtime lasts only a week or two, so enjoy the majestic beauty while it lasts.
The photo to your right shows what is a very ordinary view of a back wall of apartment windows in NYC, as it comes alive with nature's beauty. The budding trees add oxygen during the day and carbon during the night to our atmosphere. And provide shelter from the hot sun during the summer and some privacy between neighbors as well.
So enjoy these magical week(s) as nature blossoms and our deciduous trees awake from their wintry slumber.
---
How We Hear @ Rough Draft Theater Festival
New Play Explores the Changing Nature of our Political Dialogue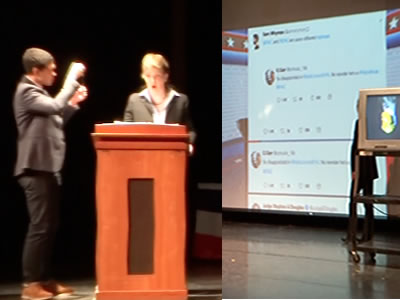 April 9, 2018 / Long Island City Neighborhood LIC / LaGuardia Performing Arts Center / Experimental Theater in Queens / Queens Buzz NYC.
Last weekend I had an opportunity to watch one of the new plays performed at the 5th Rough Draft Festival at the LaGuardia Performing Arts Center in LIC. The play was entitled How We Hear by Emily Lyon.
It was an exploratory exposition of what how the American national dialogue has changed over the past century and a half [158 years] and it was as much an experience, as it was a performance.
What Lyon did with the next hour and half of our time was an interesting journey through selected excerpts of our national debate. But even more importantly, Lyon took us on an exploratory journey - including some real time processing - of how new forms of mass media, with the incredible proliferation of information venues and access, impacts our ability to have a honest dialogue about important issues facing our society in a way that everyday Americans are able to process.
Lincoln Douglas Debates @ LaGuardia Performing Arts Center
I arrived shortly before the performance began and found a seat not far from the stage. The performance was given a short introduction by Handan Ozbilgin, the Rough Draft Festival Director and shortly thereafter, one of the seven Lincoln-Douglas debates of 1858 [August 21 – October 15] began. The debates were the first ever between two Senate candidates vying to for a U.S. Senate seat [Illinois]. They became an instant sensation, and became the forerunner of the platform upon which Lincoln would run for president in 1860. It's worth noting that at the time the Senators were elected by state legislatures – not by a direct tally of state citizens' votes.
How We Hear by Emily Lyon @ Rough Draft Festival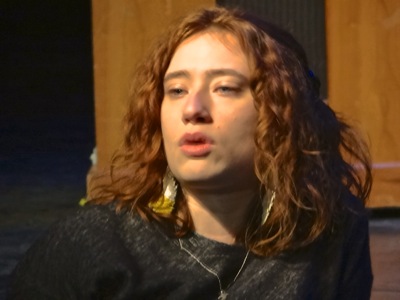 While Triney Sandoval, the Hispanic man who played Douglas, didn't resemble Stephen Douglas facially, he was an actor and orator of the first degree, and comported himself as one might imagine Douglas. His elocution and diction were very precise, cadenced and reminiscent of an earlier age. And his Hispanic heritage, in what was – over a century and a half ago – an Anglicized age, seemed purposeful in adding an ethnic layer and some complexity, to what was possibly a simpler time.
Sandoval, as Douglas, talked about the Lecompton Constitution, which was one of the hot issues of the time. The Lecompton Constitution which was a competing, pro-slavery, constitution for the state of Kansas induction into the United States, which also explicitly stated that only white males would have the right to vote.
Ironically, Stephen Douglas, a Democrat, helped the Republicans defeat the pro-slavery constitution by aligning with the other northern Democrats who were against it. The southern Democrats were supportive of it.
States Rights Vs Human Rights: Early American Hypocrisy or Dialectic?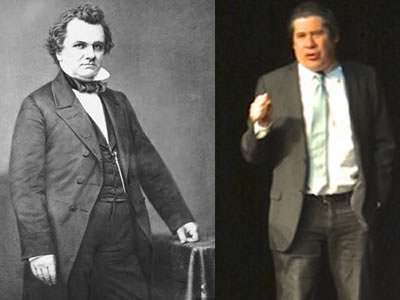 Sandoval, as Douglas, then went on to accuse Lincoln and the Republican Party of that time of being a northern political party – not a national political party like the Democrats were. Douglas then cited excerpts from speeches made by Lincoln which seemed at odds with each other, where it appeared Lincoln appealed to the anti-slavery sentiment while giving speeches in northern cities like Chicago while appealing to the racial prejudice of the south, while in southern Illinois cities like Charleston [which is about the same latitude as St. Louis, Missouri and Kansas City] by stating that he did not support allowing Black men to become whites equals, citing they weren't fit for the role of jurors and what not.
Stephen Douglas was a Democrat, but he wasn't pro-slavery per se. He was for the rights of states to decide for themselves what institutions to create and how they should conduct their business. He noted that all of the Founding Fathers had kept their slaves through the Revolutionary War. And Douglas reminded voters of Lincoln's speech in 1858 in Springfield, Illinois where he said that "A house divided against itself cannot stand." And that one day the United States would either be all slave or all free.
CLICK here to read the rest of our report of the LaGuardia Performing Arts Rough Draft Festival performance of How We Hear.
---

---
Gracie Mansion - A Mansion with Grace
Historic Gracie Mansion is an Historic Museum & Mayoral Home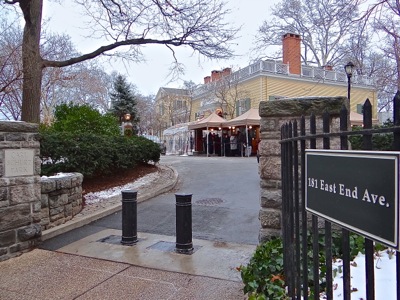 April 2, 2018 / Upper East Side Neighborhood / Manhattan History / Manhattan Buzz NYC.
Last year around the holidays, I attended a holiday event at Gracie Mansion hosted by the Mayor's office. The event included a walk through / tour of the mansion, followed by holiday beverages and treats in a large heated tent outside.
Carl Schurz Park on Upper East Side
Gracie Mansion is located in Carl Schurz Park between East End Avenue and the East River and between 83rd and 90th Streets. The mansion was built in 1799 by Archibald Gracie and enlarged about a dozen years later. At that time upper Manhattan was bucolic countryside.
According to Wikipedia, the surrounding park was once the site of one of John Jacob Astor's homes. The surrounding Carl Schurz Park was originally designed by Calvert Vaux [who co-deigned Central Park with Frederick Law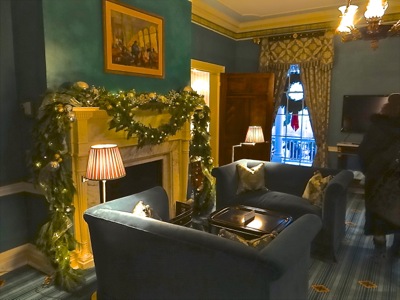 Olmstead] with Samuel Parsons, but it was later redone by Master Builder Robert Moses in the mid 1930's, after Moses ran the roadway for the FDR Drive underneath the park.
Gracie Mansion Becomes Mayor's Residence
A guide told us that Mayor Fiorello LaGuardia was the first to use Gracie Mansion as the Mayor's residence in the 1940's, and it has been the New York City Mayor's residence ever since - but not uninterrupted as former Mayor Michael Bloomberg never used Gracie Mansion as his residence.
At a later date I'll post some more about historic Gracie Mansion - the NYC Mayor's residence.
---
Click here for things to do on the Upper East Side and fpr Contacts lens & eyeglasses in Jamaica. Midtown Dentists and Midtown Chiropractors, and Islam Fashion NYC.
---

---
March For Our Lives Manhattan 2018 - Anti Gun Protest Manhattan NYC
NYC March For Our Lives in Manhattan
Tens of Thousands Protest the NRA & Gun Violence
March 27, 2018 / Midtown Manhattan Neighborhood / Manhattan Social Issues / Manhattan Neighborhoods / News Analysis & Opinion / Manhattan Buzz NYC.
The March For Our Lives protest started at 11 am on the Upper West Side of Manhattan at 72nd Street and Central Park West. Not coincidentally, this was just steps away from the Strawberry Fields Memorial in Central Park honoring musician / poet John Lennon of the Beatles, who was murdered by a lunatic with a gun.
The March For Our Lives protests were organized and led by students around the nation, with support from a wide range of people in all other age segments of the population. Frequently the Columbine shooting in Littleton, Colorado on April 20, 1999 is cited as the first of these sorts of mass shootings in schools, although a check into mass shootings in Wikipedia, shows that America has a 200 year history of mass shootings, including some of which took place in schools before Columbine.
Fox Fake News Appears to try Discrediting Protesters with False Narrative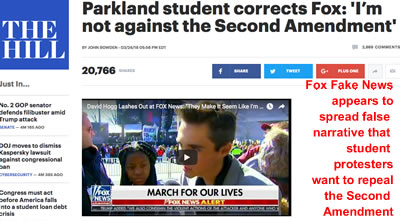 If you watch Rupert Murdoch's Fox News you might come away with the impression that the students are trying to revoke the Second Amendment. But based on conversations with some of the marchers and in reviewing other media accounts, this seems to be another Murdoch Mouthpiece Fox Fake News narrative.
But while the students and the March For Our Lives protest wasn't about repealing the Second Amendment, some members of the left, such as Bret Stephens of the NY Times did make a call for Second Amendment repeal in two editorials - one dated October 5, 2017 and the other dated February 16, 2018. Murdoch's Fox Fake News mouthpieces torch the possibility of a national conversation by misinforming their ill-informed audience that the NY Times and Op Ed writer Bret Stephens speak for everyone. What they don't realize is that the America that gets their information outside of the Murdoch Fake News FoxHole is intelligent enough, and adult enough, to have a real conversation about gun ownership and the Second Amendment.
Is the NRA Lobby Out of Control & In Control?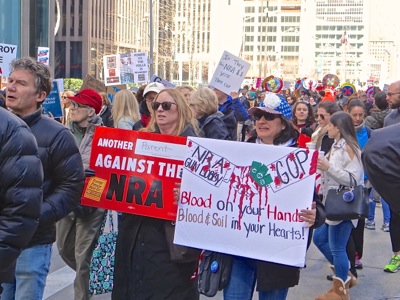 From what I could gather the students seem to have identified and coalesced around tangible changes to reigning in what appears to be an out-of-control gun lobby - the NRA. The firearms industry used bump stock technology to circumvent the unlawful possession of machine guns by providing stocks. And the gun lobby as recently as a few months ago, was pushing to 'deregulate' silencers on guns. Both of these laws - regulating machine guns and silencers - began with the National Firearms Act of 1934. At that time criminal violence by mobster gangs was the order of the day. And it appears that it's just as true today as it was back then - that if you allow guns to be put guns in the hands of lunatics, then murders and criminal violence is what you get.
A mid 2017 poll by Gallup showed that 60% of Americans were in favor of making gun control laws more strict, 33% were in favor of keeping them about the same and 5% wanted to make them less strict. The trend toward favoring more gun control has been going on since 2011 [see chart]. Apparently the politicians we send to Washington do not represent the majority so much as the NRA, and sending a swamp monster to clean up the swamp, is at best delusional. President Trump after opining that more gun control would be good, backtracked, appearing to have caved to the very powerful NRA lobby in Washington.
---
The Penninsula Hotel in Manhattan
Luxury Historic Hotels in Manhattan Midtown NYC
January 8, 2018 / Manhattan Neighborhoods / Midtown Manhattan / Luxury Hotels Manhattan Historic Hotels / Manhattan Buzz NYC.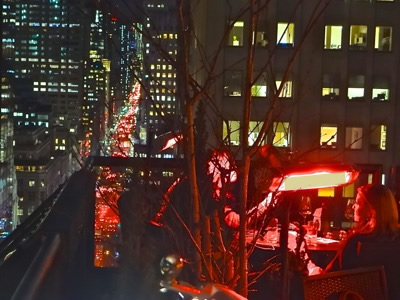 Over the holidays I had an opportunity to visit one of the finest luxury historic hotels in Manhattan - the Penninsula Hotel. The Penninsula Hotel is part of a world renowned hotel franchise dating back to the mid 1800's in Asia. The first Penninsual Hotel was built in 1928 in Hong Kong, which is where I had my first encounter with their old world hospitality and elegance many years ago.
Historic Gotham Hotel is now the Penninsula Hotel
The Penninsula Hotel Manhattan was first built at the corner of 55th Street and 5th Avenue in 1905 as the Gotham Hotel. It's a beaux artes structure that suffered over eighty years of ill-fated turnovers, before being acquired by the Penninsula Hotel Group in 1988. Today the hotel is noted as one of the finest in Manhattan.
I entered the lobby off of 55th Street. There's a staircase leading up to the lobby off to the right and the Clements restaurant off to the left. Just off the hotel lobby is Gotham Bar, in a hail back to the hotel origins, which overlooks 55th Street off 5th Avenue.
The Clements restaurant is an elegantly appointed restaurant that was, for a short time in the latter half of the 20th century, the American location of Maxime's of Paris. The restaurant is adjacent to another bar designed to accommodate restaurant patrons while waiting for their guests.
Rooftop Bars in Manhattan Midtown NYC
We chose to spend our time on the rooftop of the Penninsula Hotel, as it has a nice view of the Midtown rooftops, as well as some looking south on 5th Avenue. It was a balmy winter day - about 60 degrees - and with the heaters out it was very comfortable. The rooftop bar is primarily for drinks - and for those who smoke - provides one of the few locales left in Manhattan where one can actually enjoy a cigar or cigarette while have a drink with friends.
Prices aren't cheap, as one might expect. Bottles of wine run from about $90 on up and cigars run in the neighborhood of $40 on up [I'm doing this by memory which may not be 100% accurate, but directionally close]. Anyhow it was a beautiful locale, the service was very good and the company was great.
But alas, all good things must come to and end, and after finishing our cigars and wine, we bid adieu or rather Tiajian 再见.
---
---
Affordable Art Fair Manhattan in Chelsea NYC
The Affordable Art Fair NYC
There's Something for Everybody at the Affordable Art Fair
March 19, 2018 / Chelsea Neighborhood Manhattan near the West Village / Manhattan Art NYC / Manhattan Things To Do / Manhattan Buzz NYC.
The Affordable Art Fair returns to New York City this week. It opens on Wednesday, March 21st at the Metropolitan Pavilion at 125 West 18th Street in Chelsea with a private viewing from 6 to 9 pm [$80 at https://affordableartfair.com]. The Affordable Art Fair runs through this weekend, ending Sunday, March 25th at 5 pm.
The Affordable Art Fair is open from 11 am to 8 pm Friday and Saturday, and Sunday it closes at 5 pm. In addition to the Wednesday Private Preview, on Thursday there's Art After Dark from 6 to 9 pm, which also includes a complimentary drink, and a free viewing from 6 to 8 pm Friday evening. Tickets are also free for children under 12, and cost $10 for students and seniors, $20 for adults, $30 for Art After Dark (Thursday from 6 – 9 pm) and $80 for the Private Preview (Wednesday from 6 to 8 pm).
I attended the Affordable Art Fair last year at the Metropolitan Pavilion and will include a slide show of some of the items I found at the fair, as well as photos of some of the interesting-looking people who attended. I have begun to see many of the art shows I've attended in recent years, to be as much performance … as art.
CLICK here to view the rest of our story with photos of the Affordable Art Fair NYC in the Chelsea neighborhood near the West Village.
---

---
Legos Alive Festival at Pier 36 on Lower East Side Manhattan NYC
Legos Alive Festival in Manhattan NYC
The Legos Really did Come Alive This Weekend
February 19, 2018 / Lower East Side Neighborhood NYC / Kids Things To Do Manhattan NYC / Manhattan Buzz NYC.
This past weekend I made my way down to Legos Alive at Pier 36 on the Lower East Side of Manhattan, little realizing what was in store for me. I thought I would be covering a kiddie toy event for ages 6 through 12, which it was … but also so much more.
Pier 36 on the Lower East Side
Pier 36 is located along the East River on the Manhattan side. It's just north of the South Street Seaport along the east side [passing under] the FDR at 299 South Street. I walked the half / mile from the #4/5/6 subway stop at Canal Street.
Upon entering the voluminous Pier 36 facility, I found before me, a hodgepodge of competitions, workshops, video stations and vendor booths – all focused on bringing alive, what I remember as a kids toy building blocks kit … but that was a remembrance of many, many years ago.
Legos, at their core, is still a portfolio of building blocks kit, but it is now so much more, as you'll soon see.
Legos Alive - it Really Brings Alive the Legos Creative Experience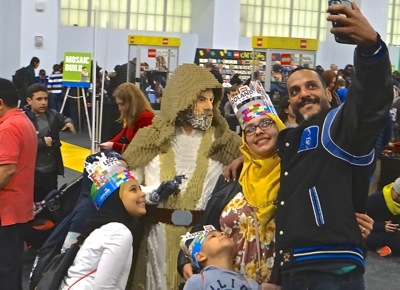 One of the first things I noticed were life sized figures of action heroes – from Flash Gordon and Captain America to Wonder Woman and Superman. These life sized figures were all built using hundreds of Legos. And in the case of the small replica of a dinosaur, possibly even a thousand or more blocks. From a distance they looked almost real, but when I closed in on them, I could see the famous blocks of which they were comprised.
There was a competition in session, where teams of kids had five minutes to build the biggest bridge. They weighed the bridge to see which was the largest, as counting them would have taken quite some time. The winning one(s) weighed in at about ten pounds. Bravo.
Legos Alive Provided a Real & Virtual Experience
Workshops, Virtual Reality, Robotics & Design Software
I started to make my way through the exhibition space watching with interest as fathers and sons, mothers and daughters and all combinations thereof, huddled together in a creative effort examining, designing, building and then operating their Lego inspired creations. Using the photos I took of the crowd at the session I attended, and multiplying that crowd estimate by the five sessions they offered, I guestimated they may have had in the neighborhood of 10,000 visitors over the weekend, but a spokesperson estimated the attendance may have run as high as 16,000 or 17,000 visitors. The entrance fees started at $45 for a general session admission, which ran about four hours.
---

---
Pulitzer Prize Committee - Open Letter
Has The Pulitzer Prize Committee - Like the Corporate Media - Lost its Way?
Updated February 21, 2018 / NYC Neighborhoods / NYC Government & Politics / News Analysis & Opinion / Gotham Buzz NYC.
The following is an open letter that I sent to the Pultizer Prize Committee on January 25th, 2018 along with a journalistic series I had written in 2017 and sent to them in 2018 entitled Rupert Murdoch and the Rise of the 21st Century Propaganda Press. The series, which you can view by clicking the link, tells the story about how multi-billionaire Rupert Murdoch appears to use his media outlets as propaganda machines in order to promote pols who will grant him favorable tax legislation, favorable executive rulings and favorable industry regulatory legislation.
Murdoch also appears to be able to manipulate the course of governments and public policy. He appears to have done exactly this in the case of the Iraq War, whereby Murdoch appears to have sent three English-speaking democracies to war - not only for oil - but for his cable network TV ratings too. In Britain in 2016, regarding the Brexit referendum, Murdoch appears to have hijacked public policy in his favor - not the nation's - by pushing through a seismic policy change that enables Murdoch to have greater autonomy over how he conducts his multi-national media business - free from any meaningful government interference - and the Brexit referendum vote also gave Murdoch a huge purchase price discount, because of a devalued British currency.
While the Corporate Media obsesses over the Russian Collusion Investigation - they are distracted from putting in the spotlight what appears to be the REAL 2016 PRESIDENTIAL ELECTION STORY - which is Rupert Murdoch's election meddling to further empower and enrich himself at the expense of the republic and its institutions.
In Trump's first year, Murdoch was the recipient of numerous tax breaks, and breath-taking deregulatory actions in Murdoch's industry via FCC Rulings and telecommunications legislative changes. All of this has received scant news coverage, as the Pulitzer Prize Award winning corporate media, were too busy covering Donald Trump's Tweet distractions. By giving preferential treatment to Trump's tweets, which the American public is able to directly access on their own, the corporate media has failed the American public by regurgitating and hence amplifying the President's shock jock statements - instead of doing their job of providing the American public with context-based news reports about the important issues of the day.
---
The Women Keep On Marching
An Estimated 200,000 Participate in NYC Women's March
January 22, 2018 / Upper West Side Neighborhood & Midtown Manhattan Neighborhood / Social Issues / Manhattan Buzz NYC.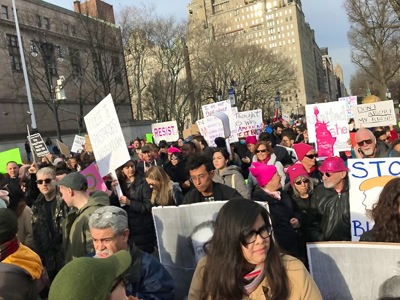 It was a beautiful Saturday morning as I made my way toward the NYC Women's March stepping off point at 72nd Street and Central Park West. As I drew closer to my destination, I saw a large crowd spread along the sidewalks and streets, managed skillfully by the New York City Police Department.
The crowd was a friendly one - consisting of all ages from toddlers to grandparents, including a rainbow of gender of singles, husbands, wives and friends - representing America's and New York City's great diversity. During this march they all convened together to make a statement by their very presence. The marchers' statements varied in specificity, but generally seemed to be one of protest against one President, Donald Trump, whose disrespectful personal behavior toward women and people of color, have not gone unnoticed. And to the people marching, the President's bad example as the nation's role model, should not go unanswered.
Women's March NYC 2018 from CPW to Bryant Park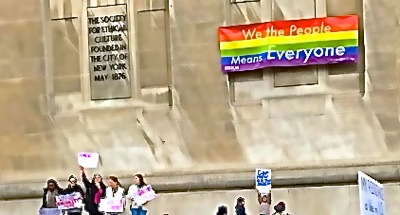 The march began moving on schedule, reaching us a bit past 12.30 pm. We had lined up around West 86th Street, and the official parade starting point was West 72nd Street. We made our way south along Central Park West, past the Museum of Natural History and the New York Historical Society. Generally the mood of the crowd was a joyous one, but it turned a bit nasty and dark as we passed by the Trump International Hotel & Tower at One Central Park West at 60th Street, where some of the marchers expressed their opinions of the President in a politically incorrect manner - in a disrespectful style reminiscent of the President himself.
The official estimate of the crowd was around an estimated 200,000, which was a bit below the estimated crowd size of last year [2017], which was estimated to be around 250,000. Women marched in cities around the nation on this day, and some of the marches - like the one in Chicago - drew an estimated crowd of 300,000 significantly beating the crowd size of the prior year.
The march ended in Midtown near Bryant Park, where we dispersed and headed out for a bite to eat. All that walking can make a reporter hungry. Photos by Dantanyan UWS and story done collaboratively.
---
HARLEM / INWOOD / WASHINGTON HEIGHTS
---
Medieval Festival at Fort Tryon Park
Medieval Festival is a Fascinating Event in Washington Heights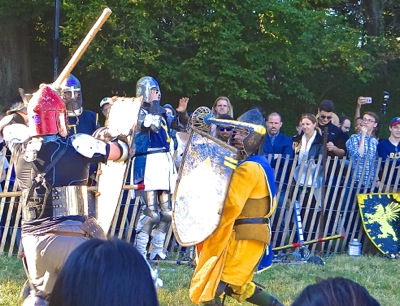 October 4, 2017 / Washington Heights Neighborhood / Sports & Parks Manhattan / Manhattan Buzz NYC.
On Sunday, October 1st, I headed up to Washington Heights to attend the 35th annual Medieval Festival at Fort Tryon Park. It was a beautiful fall day as I rode the A train north from Times Square. I met a beautiful young princess from the Bronx on the train wearing a Medieval headband of flowers in her hair. We started talking about the Medieval Festival and lucky for me she had attended it previously and gave me a few important tips.
The first tip was to get off the train at the 190th Street stop because Fort Tryon Park is situated on a bluff [the forts always were so they could spot trouble ahead] and the 190th Street subway station is equipped with elevators which take you up to the park level which overlooks the rest of Washington Heights. She also drew my attention to the jousting contest which was to begin at 5 pm.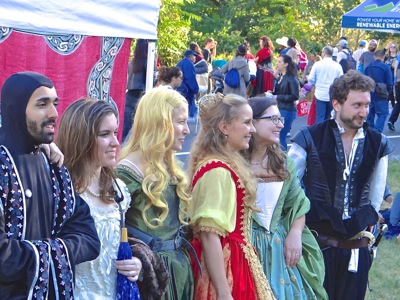 When I arrived at the top of the hill, I began my journey through the Medieval Festival which included numerous ye olde vendors selling food and clothing and gifts, as well as all sorts of other things including beauty items. But what was most peculiar were the various acts and events going on all along my walk north to the Cloisters.
Click here for additional photos and a video of the jousting contest, as well as a brief history of the Medieval Festival, the Cloisters and Fort Tryon Park.
---
The Dykman Farmhouse
Where the Cows Come Home in Historic Manhattan ...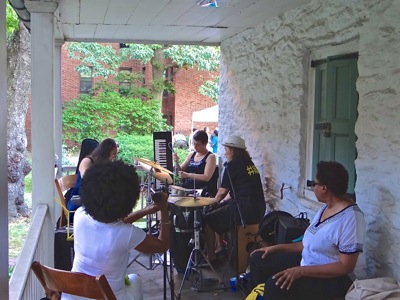 September 25, 2017 / Washington Heights Neighborhood / Manhattan History / Manhattan Buzz NYC.
I had an opportunity to visit the Dykman Farmhouse in the Washington Heights neighborhood of Manhattan this past weekend. The event was their third annual Fall Festival where they offered cider tasting in commemoration of the historic Dykman apple orchards and cider mill, as well as a cheese and waffle tasting. The cheese was Dutch and came from Holland providing a holistic, historic and delightfully happy event.
The Dykmans were a Dutch family that came here in the 1600's and built the Dykman Farmhouse in the early 1780's. Their land holdings on the north section of Manhattan fluctuated, ranging from about 340 to 200 acres of land in northern Manhattan. In the mid 1800's [circa 1870] the Dykman heirs held several auctions, which liquidated most of their holdings, including the Dykman Farmhouse.
Historic Dutch Settlers Farmhouse in Manhattan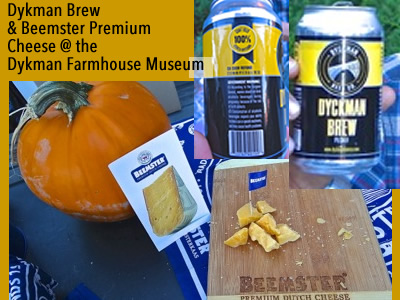 In 1915 two of the Dykman heirs repurchased the farmhouse and turned it into a museum in order to preserve a small shred of the colonial past of Manhattan. The sisters and one of their husbands helped find furniture and other home furnishings to recreate the colonial past, and they opened the Dykman Farmhouse Museum a year later in 1916. The Dykman Farmhouse is the oldest farmhouse in Manhattan.
I came upon the farmhouse walking down Broadway just south of 205th street in Washington Heights. It's on an elevated piece of land, which sets atop the land enclosed by a brick wall. I walked up the stone steps into another time dimension, because even though it's in the heart of Washington Heights, surrounded by tall buildings, the sisters purchased and preserved a large enough tract of land to provide the visitor with a sense of being in the country.
I continued walking on a stone path which ran along the front of the long porch at the front of the house. On the far side of the house there was the large yard, which not just protruded to the side of the house, but expanded deeply beyond the back of the house, where a few tall trees provided an inviting, picnic-like setting. The back porch was similar to the front porch in that it provided sufficient space for one to congregate in an expansive relaxed manner, which the guest musicians who were performing were relaxing.
Artisanal Beer Created in Washington Heights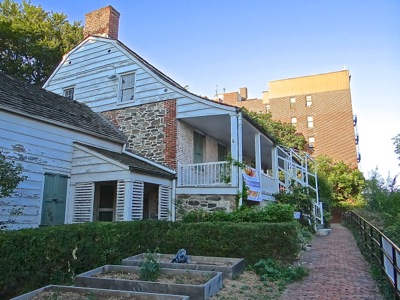 Meredith Horsford, the Dykman Farmhouse Museum Executive Director, provided me with a brief tour of the house before we joined her other guest in the Dykman Farmhouse celebration. I'll provide a tour of the Dykman Farmhouse in a second story at a later date, so that I can tell you about the celebration now.
There was an artisanal beer maker at the event whose name is Juan J. Camilo. Juan is from the Washington Heights neighborhood and just four years ago, he created and launched Dykman Brew. He told me he had started home brewing about eight years ago and that the Chelsea Brewery in the Bronx currently brews the beer. I'm a pretty interested beer drinker [preferences range from Becks to Guinness to Peroni], and I don't find myself enjoying most new beers. But the Dykman Brew was an exception, as it is a smooth, rich, flavorful beer. Juan told me it's sold in many Washington Heights neighborhood stores, as well as in stores in other parts of the city, that you can find on his website - www.dykmanbeerco.com.
Artisanal Dutch Cheeses made in the Old Country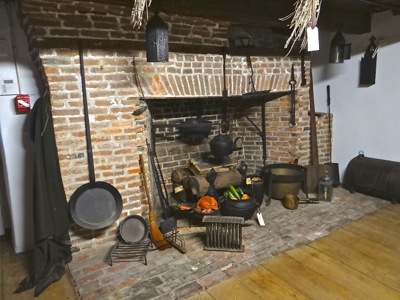 I also met a woman who helps Beemster Premium Dutch Cheese market their cheese in the U.S. She had samples which I tasted before we delved into the artisanal Dutch cheeseworks. The cheese was a semi-soft, creamy Gouda cheese that in addition to a nice taste on its own, would likely go well with just about any accompaniment.
She told me that the cheese is aged for 18 months on wooden planks in old historic stone warehouses before it is made available for sale. That the cows are herded on Dutch polder land [land reclaimed from the sea] which provides rich grazing. She noted that Beemster is one of the most - if not the most - sustainable dairies in the Netherlands, but that there are bilateral trade issues with organic certification which is why they can't yet make that claim on their cheese. The cheese tasted great before we started talking, and possibly even a bit more so after I had heard her tell me about it.
Live Music & Entertainment in Historic Washington Heights
I sauntered back around to the rear of the farmhouse where unfortunately [for me] the musicians had stopped playing. They were discussing their gigs around the city and how to get to and from them.
Anyhow, the third annual Fall Celebration at the Dykman Farmhouse was an enjoyable way to spend the afternoon. They have other upcoming programs, such as Oktoberfest. Check out their website for details and we'll periodically post some of the bigger events as they arise in our Weekend Things To Do post which is done sometime every Friday.
---

---
Bill's Townhouse - Great Steak Restaurants Midtown Manhattan NYC
Bill's Townhouse for a Night on the Town
Bill's Townhouse Restaurant in Midtown Manhattan
March 12, 2018 / Midtown Manhattan Neighborhood / Midtown Restaurants / Manhattan Restaurants / Manhattan Buzz NYC.
In late December, just before the holidays, I had the opportunity to spend an evening dining out at Bill's Townhouse in Midtown Manhattan. Bill's is something of a legendary institution, as it has been around for about a century.
Bill's Townhouse is a beautiful four story building [literally what used to be a townhouse] which is located between Madison Avenue and Park Avenue along 54th Street. One of the things Bill's Townhouse is noted for are their steaks.
In the photo at right, guests at Bill's Townhouse, engaged in conversation prior to being served their dinner.
I had made reservations earlier in the week for a Tuesday night out - the week before the Christmas holiday. New York City, and particularly Manhattan, is a busy place this time of year because people from around the world come to shop, dine and visit, and many folks also come to the city to spend time with family and friends.
Restaurants with Ambiance Midtown Manhattan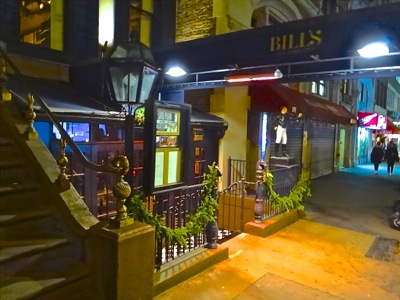 We had an eight o'clock reservation and arrived right on time. The reception desk is located in the lower level, where there's a bar that, tonight, was full. The walls are filled with memorabilia representing Bill's Townhouse past, which includes time spent as a brothel, speakeasy and gathering space for theatrical folks. I'll add a bit more about Bill's Townhouse history later.
After a short wait we made our way to the second floor, which is the main dining area. The room extends all the way back and opens up to the left, filling the width of the building that in the front part of the townhouse is used to accommodate the stairwell. There's a half door at the top of the stairs that opens up into the back section of the main floor, allowing you to get a glimpse of some of your distant dining companions.
Inside the main room there's a grand century old fireplace that was in use. We were seated at one of the front windows which gave us a nice view of the room and a peak at the street below. Surrounding us were tables of men and women in couples and foursomes, with the larger groups seated more toward the back in the area that opened up to the full width of Bill's Townhouse.
---
Queens Library lawsuit and Queens Brooklyn tile stores near Williamsburg.

---
Farmers Markets & Street Fairs in Manhattan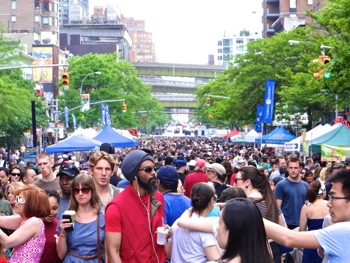 April 4, 2018 / Manhattan Farmers Markets / Manhattan Street Fairs / Manhattan Buzz NYC.
Many Manhattan farmers markets are open year round, but there are also a number of them that are seasonal. Some of the seasonal Manhattan farmers markets begin opening in the Spring, with nearly all of the rest of them opening no later than the first two of weeks in July. Click here to view the schedules of many of the farmers markets in Manhattan.
Manhattan street fairs are entirely seasonal, with some of them hitting the streets as early as late March. Manhattan street fairs rise markedly during the spring and lighten up a bit during the dog days of summer [July / August], and rising again in the fall. By the end of November most of the Manhattan street fairs go on hiatus. Click here to view a full schedule of Manhattan street fairs. Click here for Bronx street fairs.
---
Shopping the Lord & Taylor Department Store Midtown Manhattan 5th Avenue
Shopping the Lord & Taylor Department Store NYC
Lord & Taylor is Consolidating its Ten Floors into Four in 2018
December 11, 2017 / Midtown Manhattan Neighborhood / Manhattan Shops & Shopping / Manhattan Buzz NYC.
I recently heard that Lord & Taylor is consolidating its ten floors of department store space, into three or four, following the Christmas shopping season [mid January]. As a longtime customer, who has once enjoyed shopping recreationally, I decided to return for one last journey through the land of Oz … because certainly after Lord & Taylor consolidates its floors, the look and feel of a once great department store … will not be the same.
For better or worse, over the past couple decades, we have all witnessed the relentless onslaught of the big box and online retailers pummeling what was once called traditional retail. Traditional retail as we once knew it, began more or less in tandem with the 20th century, and New York City was, and still is, one of the great retail hubs.
Short History of Large Manhattan Department Stores 1902 - 1924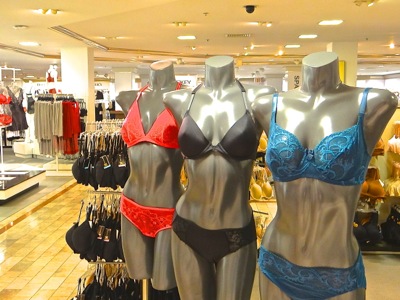 Macy's at Herald Square. In 1902 the R.H. Macy Company had led retailers' march uptown, to what is now Midtown, when they erected their first store at Herald Square at 34th Street and Broadway. Eventually this flagship Macy's store expanded to encompass the entire block along the north side of 34th Street between Broadway and 7th Avenue. The Macy's building was landmarked in 1978.

Lord & Taylor on 5th Avenue. A bit more than a decade later the Lord & Taylor building was erected in 1914 [began one year earlier] at 38th and 5th Avenue. The building was designed by architects Starret & van Vleck – and from the start – was a venerable landmark. The Lord & Taylor building was officially landmarked in 2007. Architects of the building, Starret van Vleck, were also the architects of a number of other notable flagship department stores of the time, which according to Wikipedia includes Saks Fifth Avenue, Bloomingdales and Alexanders [was across 59th Street from Bloomingdales].
Saks Fifth Avenue. Saks Fifth Avenue, which was owned by Gimbels, erected its flagship store a decade later in 1924. The Saks store encompassed an entire block along 5th Avenue between 49th and 50th Streets, just south of St Patrick's Cathedral, and across from the site that would eventually become Rockefeller Center. Rockefeller Center was erected in 1934.
Bergdorf Goodman. And in 1928 Bergdorf Goodman erected and opened a five-story department store much further north along Fifth Avenue at 58th Street, on the site previously occupied by the Cornelius Vanderbilt Mansion. During the Great Depression Vanderbilt purchased adjacent lots on the rest of the block, which he used to expand the store.
---

---
Congestion Traffic Pricing NYC
NYC / NYS Congestion Pricing 3.0
NYS Senators Liz Krueger & Brad Hoylman Host Community Transit Discussion
March 5, 2018 / Midtown Manhattan / Manhattan Neighborhoods / Manhattan Business / News Analysis & Opinion / Manhattan Buzz NYC.
It was a cool Thursday evening as I made my way to the CUNY Graduate Center in Midtown. The CUNY Graduate Center is located on Fifth Avenue just north of 34th Street kiddy-corner from the Empire State Building.
I was headed to a community discussion about the public transit crisis facing NYC. I suppose, not surprising, was that one of the Congestion Pricing representatives, Alex Matthiessen, was there to present. Alex started out the conversation with a presentation of the new Congestion Pricing Plan, which is now called Fix NYC, telling us how this Congestion Pricing plan was different from the two prior ones floated by the Bloomberg Administration and by Mattheissen's Move NY group a few years back.
Click here to read our report about NYC Congestion Traffic Pricing posted in March 2016 when we took a pretty in-depth view at who has been pushing this plan [consultancies & businesses that will profit from the infrastructure build out], how much of the London implementation revenue went back into improvements in that city [about 50%], how congestion pricing didn't reduce traffic, but time shifted traffic in a New Jersey bridge / tunnel implementation [they had claimed emissions reductions and used a 'green' label to promote the last version of this plan], and other important things to consider regarding implementing a 'new and improved' congestion pricing system along the East River Bridges.
---
Click here for Jackson Heights realtors.
---

---
Algonquin Hotel NYC
Midtown Manhattan Hotels near Times Square
Summer 2017 /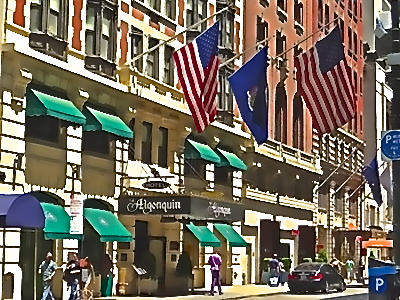 Manhattan Hotels NYC / Manhattan Buzz NYC.
The Algonquin Hotel has a storied past. It was built in 1902 and was once the watering hole for the writers, actors and artists of the Algonquin Round Table of the 1920's.
Many of the writers for the New Yorker magazine, including editor Harold Ross, were members of the Algonquin Round Table. The Algonquin Round Table regulars also included the editor of Harpers magazine, Art Samuels, as well as Alexander Woollcott who was a playwright, the NY Times drama critic and an early radio personality at CBS. And of course, author and screenwriter, Dorothy Parker.
The Algonquin continues to maintain an old world charm, while providing all the modern amenties. The room where the Algonquin Round Table met is intact and the Algonquin has a restaurant that serves an elegant breakfast, lunch and dinner at 59th West 44th Street in Midtown, near the Times Square theater district.
Click here for a map with links for the Algonquin Hotel one of the leading hotels in Midtown Manhattan which is shown in the photo at right.
And click here for the Algonquin Hotel business listing on this site which includes a link to their website and telephone number for them, as one of the leading historic hotels near the Theater District NYC in Midtown Manhattan.
---
* Important Issues *
---
Trump Tax Plan: A Morally Bankrupt President's Gift?
Are Billionaires Trump & Murdoch Bilking America's Unborn Babies?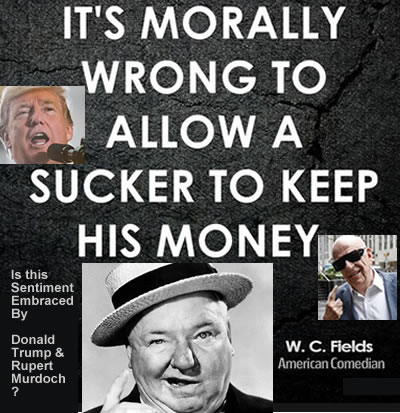 Updated 12/26/17 _ December 19, 2017 / New York City Neighborhoods / New York City Business / News Analysis & Opinion / Gotham Buzz NYC.
Like many of you, I have been watching the Trump Tax plan make its way through Congress. While Trump and his cohorts were whipping together the tax package, I was doing research on the possible implications of some of their tax policy proposals.
According to an October 20, 2017 PolitiFact report [based on the plan at that time, which has since been modified],
"... in the first year of changes, the top 1 percent are projected to draw a little over half the tax savings. The threshold of 80 percent going to the top 1 percent is projected for the tenth year."
While directionally this statement is likely to hold [meaning the plan is biased toward the rich], the exact numbers as to how biased the Trump Tax Plan will be for the wealthy - based on the final bill - remains to be calculated.
In this report we look at a number of tax cuts included in the final bill including repatriation of overseas profits, reduction of the estate tax, reduction of the corporate tax and the blue vs red state tax increase. We include a review questioning why the Trump Administration is pushing this deficit expanding / debt increasing fiscal stimulus package - when we're in a full employment economy with rising wages. We also include how the Trump Tax Cut Plan has been treated propagandistically by Rupert Murdoch's media outlets, as he appears to personally and corporately benefit immensely from the tax cuts.
But before we begin, we take you on a quick review at some key characteristics and prior dealings of the man behind the plan – Donald J. Trump.
---
Manhattan Buzz Voluntary Subscriptions
We work very hard to help keep you informed by providing you with independent news coverage, as well as

information about events in the arts, culture and business in the borough.
You can help us continue to provide you with independent, first-person, fact-based, contextural reporting by purchasing an annual subscription. As it's voluntary, there are a variety of price options, one of which should fit within your budget.
Thanks for your encouragement & support.
---
Back To Top