Manhattan Things To Do This Weekend
European Fine Art at Park Ave Armory, Rockettes & Skating Rockefeller Center
October 21, 2016 / Things To Do Manhattan / Manhattan Neighborhoods / Manhattan Buzz.
*Weekend Weather - 10/21 - 10/23/16
The temperature highs will be in the 60's Saturday and Sunday, with the temperature lows around 50. There's an 80% chance of rain Saturday diminishing as the day wears on. No rain is forecast for Sunday. Humidity will be in the 70's Saturday, falling to the 40%'s Sunday and winds will be gusty at over 20 mph.
*Madison Square Park. The photo at right shows a view of Madison Square Park near the Flatiron Building in Midtown.
Click MTA Link for weekend subway work updates. Click here for details on the MTA Weekender.
MUCH OF WHAT'S HERE HAS BEEN UPDATED [w/ asterisks]. But I'd like to add more, possibly Saturday afternoon.
Friday & Weekend - The European Fine Art Foundation aka TEFAF Show Begins, Indie Film Fest Begins
*Lady Liberty. The photo at right shows Lady Liberty still standing, even after the third presidential debate this past week.
*The Rockettes begin their holiday precision dance performances beginning this weekend at Radio City Music Hall at 6th Avenue and 48th Street [music / dance].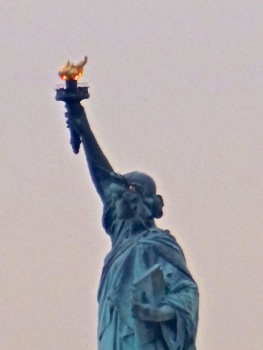 *The Independent Film Festival is running a Chiller Thrillers movies program NEXT FRIDAY at The Producers Club at 358 West 44th Street west Midtown shows and times vary [film - $15 includes a drink].
Anthology Film Archives at 32 2nd Avenue in the East Village is showing a cinematic series of films entitled Russian Documentary Film Festival throughout the weekend. Films vary along with showtimes starting in the afternoon and final show before 10 pm each day [film - $11 / $9 / $7 - www.anthologyfilmarchives.org].
*Intrepid Sea, Air & Space Museum is located at Pier 86 - at 46th Street and 12th Avenue [history / kids].
*The Frick Museum is showing an exhibit entitled Watteau's Soldiers Scenes of Military Life in Eighteenth-Century France through October 2nd, and one entitled Porcelain: No Simple Matter through April 2, 2017 [art].
At MoMA in Midtown there are several exhibits including Edgar Degas: A Strange New Beauty shows 100 rarely seen monotypes [thru 7/24] - [art / film - admission].
Lincoln Center / Javits Center / City Dance.
Also see events running thru the weekened above - and links to farmers markets & street fairs below.
Saturday - European Fine Art at Armory, Film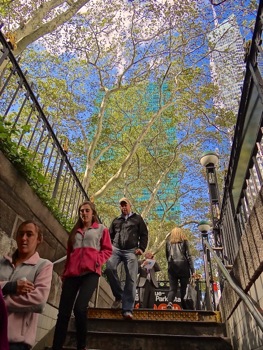 *Coming up in Bryant Park. The photo at right shows Bryant Park from the stairs of the subway.
*TEFAF aka The European Fine Art Foundation begins at the Park Avenue Armory at 69th Street and Park Avenue 11 am to 7.30 pm daily thru Wednesday [Art - $25 / $50 / $75].
*The Independent Film Festival is running a Chiller Thrillers movies program NEXT FRIDAY at The Producers Club at 358 West 44th Street west Midtown shows and times vary [film - $15 includes a drink].
*The skating at Rockefeller Center opened October 8th [sports].
Anthology Film Archives at 32 2nd Avenue in the East Village is showing a cinematic series of films entitled Russian Documentary Film Festival throughout the weekend. Films vary along with showtimes starting in the afternoon and final show before 10 pm each day [film - $11 / $9 / $7 - www.anthologyfilmarchives.org].
*See art, music & film events that run through the weekend.
Also see events running thru the weekened above - and links to farmers markets & street fairs below.
Manhattan Art Galleries - Art Exhibits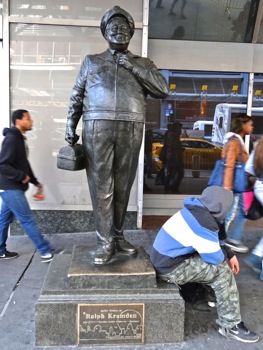 *The Bus Terminal. The photo at right shows Ralph Crandon a bus driver and character of the 1950's Honeymooners Show.
*The Gallery SHOWS BELOW NEED UPDATING.
Sperone Westwater at 257 Bowery is hosting the exhibit Mario Merz: Works from the 1980's which runs through June 18th.[art].
The Sean Kelly Gallery at 475 10th Avenue at 36th Street in NYC is hosting a solo exhibition of CONSTRUCT by sculptor / installation artist Antony Gormley through June 18th [art].
The Luhring Augustine gallery at 531 West 24th Street in Chelsea is hosting Janet Cardiff & George Bures Miller exhibit of The Marionette Maker, which is a mixed media installation [art - ends 6/11].
There's a closing reception for Decollation & The Spirit of Gutai art exhibits from 3 - 6 pm at the Buddy Warren Gallery at 171 Chrystie Street on the LES [art - free].
Over The Bridge II is at the Atlantic Gallery at 548 West 28 Street, Suite 540 in the Landmark Arts Building in Chelsea until Feb 20th [art - free].

There are a number of art galleries with interesting exhibits including Carolina NitschGallery at 534 West 22nd Street in Chelsea, which features influential modern American artists like Mike Kelley, who died a few years back [art]. And the Pavel Zoubok Gallery at 531 West 26th Street in Chelsea [art].
Also see events running thru the weekened above - and links to farmers markets & street fairs below.
Sunday - Film, Art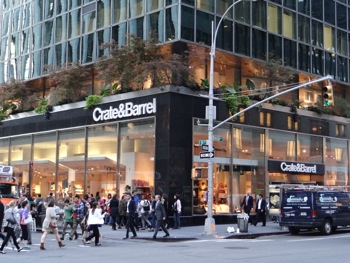 *Upper East Side Shopping. The photo at right shows one of the big box retailers near the southend corner of Central Park.
Anthology Film Archives at 32 2nd Avenue in the East Village is showing a cinematic series of films entitled Russian Documentary Film Festival throughout the weekend. Films vary along with showtimes starting in the afternoon and final show before 10 pm each day [film - $11 / $9 / $7 - www.anthologyfilmarchives.org].
*Also see events running thru the weekened above - and links to farmers markets & street fairs below.
Manhattan Member Events Calendar
The calendar includes art exhibits at many of the major museums including MoMA, the Frick Collection, the Guggenheim,and theMetropolitan Museum of Art.We also list a number of foreign / indie film theaters. See art galleries & musical performances above in Friday & Saturday listings. We also provide a listing of Manhattan Street Fairs & Manhattan Farmers Markets where you canfind unique items and fresh foods. Street fairs wind down in November and so do most farmers markets, but a few continue year round.
Lastly, but not least, we hope you'll patronize the advertisers who provide us with the funding to publish this web magazine. Thanks for your interest and have a nice weekend.
---
Manhattan Things To Do - Next Week
remaining updates coming shortly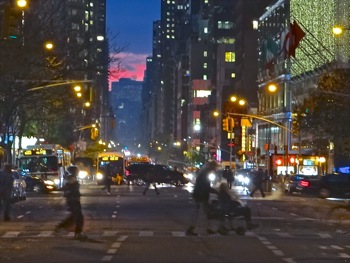 *Weather Forecast as of October 21, 2016 for week of 10/ 24 - 10/ 28 / 16
This week the temperature highs will be in the 50's and the temperature lows will be in the 40's, rising to about 50 by Thursday. There's a 60% chance of rain on Friday.
*Manhattan at Night. The photo at right shows a more pedestrian Midtown Manhattan at night.
Thursday - Merchant House Museum
Tredwell Merchant House Museum is located 29 East Fourth Street in the Village and hosts evenings in the garden starting with a tour at 6.30 pm and free light refreshments until 8 pm [history - $13 / $8].
We also have a Member Calendar into which non-profits, arts and community organizations and other groups are welcome to post events. Contact us using the About information and we'll send along alink with instructions on how to create an ID and post events free.
---
Diwali in Times Square
3rd Annual Indian Festival of Lights Delights Audience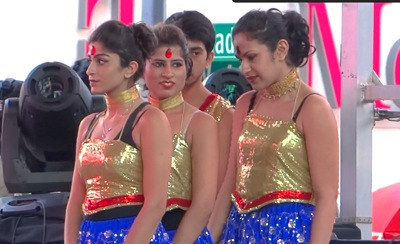 October 16, 2016 / NYC Neighborhoods & Boroughs / Holidays in NYC / Manhattan Buzz NYC. I attended the third annual Diwali Festival in Times Square on Sunday. The day long event, celebrating the millenia old Indian festival, had started in the afternoon at 2 pm and ran well into the evening, ending at 9 pm.
As I came up from the subway I asked an Indian-looking NYC policman to point me in the direction of the festival. He asked me how I had heard of the event and I mentioned that I had found out about it on Manhattan Buzz, but that I had also traveled to India some time ago where I first became aware of the Indian holiday. He inquired as to where I had traveled in India, which was mostly in the north, and he suggested the next time I visit, to check out Kerala, which is where his family is from originally. I had learned from my travels that Kerala is a southwestern Indian province along the Indian Ocean, and is said to be a bit of paradise.
A large crowd had gathered to watch the festival, many of whom were of Indian descent which I found from conversing with several of them. They brought their families to view the free entertainment which included a number of wide ranging song and dance performances by dance troupes and musicians.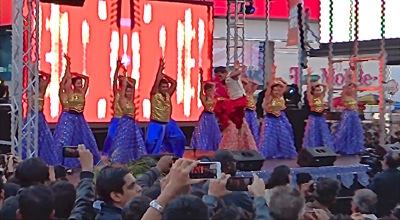 Diwali is the festival of lights, which commemorates light overcoming darkness, good overcoming evil and knowledge overcoming ignorance and hope defeating despair. It is one of the three major Hindu festivals and a time for renewal and celebration which is denoted by the cleaning of homes and the lighting of lights. The Diwali Holiday officially runs from October 30th to November 3rd, but unoffically it lasts longer starting in September / October and ending in October / November. The other two major Hindu holidays are Holi which celebrates Spring with the coloring of people's bodies, faces and hair and Maha Shivaratri which is one of the rare nighttime celebrations, held just before the arrival of Spring with a mix of solemn practices including meditation, yoga and fasting.
Happy Holidays or as they say in Indian - छुट्टियों की शुभकामनाएं.
---
Is Rupert Murdoch Hacking Our Democracy?
Is Rupert Murdoch Hacking our Democracy?
Has Rupert Murdoch's Organization been Trading Propaganda Services To Political Candidates in Exchange for Government Favors?
October 3, 2016 / Manhattan Neighborhoods / Manhattan Politics & Government / News Analysis & Opinion / Manhattan Buzz.
Rupert Murdoch's Fox News, Murdoch's NY Post and even Murdoch's Wall Street Journal - appear to be used as propaganda publicity outlets in support of Murdoch-favored politicians and / or Murdoch-favored public policies. Is Keith Rupert Murdoch's manipulative media machine corrupting the public dialogue by creating chaos and disinformation, so that Murdoch can muddy the issues and candidates' personalities and positions enough to push his favored politicians into place?
A string of recent and historical coincidences provides additional circumstantial evidence to allegations that Murdoch's Organization has been conducting behind-the-scenes deals with government officials to change media and other regulations in its favor. The white type in the photo at right is my commentary.
In an October 16, 2006 story in the New Yorker, journalist and former Murdoch employee John Cassidy tells us,
"When I suggested to Murdoch that many people believe that his business interests dictate his politics, he reacted angrily. "Go ask Ed Koch if I ever asked him for anything," he said. "Go ask Margaret Thatcher. Go ask Tony Blair. Ask anyone if I ever asked for anything."
"Koch told me that Murdoch did once ask for something: during a newspaper strike in 1978, he requested, through an intermediary, that the Post's delivery trucks be allowed to use the city's parkways. Koch said yes. (He offered the city's other newspapers similar access.) The Thatcher government provided Murdoch with crucial police support when he fired hundreds of print-union workers, in 1986, and Blair relaxed the Labour Party's policy on media ownership."
Has Rupert Murdoch Been Pulling Strings to Rewrite America's Media Laws?
The legal and regulatory changes included modifying rules pertaining to media ownership, television coverage limits, ownership of multiple media outlets in the same market [aka duopolies], and media mergers and acquisitions. While I was unable to establish a legally verifiable quid pro quo, I did find a number of interesting coincidences, including a recent series of events that appears to illustrate this thesis.
Let's travel back through time and see, but first here's a look at a recent string of coincidences that Detective Colombo might suspect may not be coincidences at all.
Was Michigan Congressman Fred Upton's Request to Remove the 'Fairness Doctrine' done in Exchange for Favorable Media Coverage & Cash Donations by Murdoch & Org?
In an April 27, 2012 story by ABC News I found this report about Murdoch and his organization's political donations,
"Lately, a particular fundraising focus for Murdoch's American arm has been the Republican chairman of the House Energy and Commerce Committee, Rep. Fred Upton of Michigan. The company has directed $35,500 to Upton's leadership committee, including a $2,500 check from Murdoch himself."
Less than a year earlier, on May 31, 2011 the EnergyCommerce.House.gov website reported that,
"House Energy and Commerce Chairman Fred Upton (R-MI) and Communications and Technology Subcommittee Chairman Greg Walden (R-OR) today sent a letter urging the Federal Communications Commission to remove the Fairness Doctrine rules from the Code of Federal Regulations."
""Further research has revealed that the political-editorial and personal-attack rules also remain intact despite the FCC's decision to repeal them. The media marketplace is more diverse and competitive today than it was ten years ago … " [Editor's Note: This statement is not true – see facts a bit furhter below].
Fox News was tracking these events and reported in June 8, 2011 story headlined FCC Agrees to take "Fairness Doctrine off the Books",
""I [FCC's Genachowski] fully support deleting the Fairness Doctrine and related provisions from the Code of Federal Regulations," … Genachowski wrote to Rep. Fred. Upton, chairman of the House Committee on Energy and Commerce."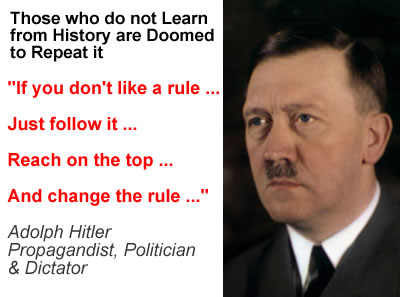 "At the time [when the rules were instated in 1949], only 2,881 radio stations existed, compared with roughly 14,000 today."
FCC Chairman Genachowski failed to mention that while the number of stations has proliferated, the ownership of them has not. According to a Business Insider report [info source was FrugalDad.com – a higher education funding website] and confimed in Wikipedia.org - the media outlets mentioned above are now owned by only six corporations, down from 50 in 1983.
Do Murdoch Media Outlets Favor Congressman Fred Upton & Disparage Challenger Paul Clements?
Murdoch's media machine owns Detroit TV station WJBK and Fox has affiliates in most major Michigan markets including Flint (WSMH), Kalamazoo (WXMI), Lansing (WSYM) and Travers City / Cadillac (WFQX / WFUP).
So Michiganders need to pay attention to see whether they think Murdoch's Fox is providing Senator Upton (R) with unduly favorable campaign coverage, while unfairly disparaging Paul Clements (D).
You Decide – Billionaire Murdoch Quid Pro Quo Corruption or a Series of Coincidences?
Read on to decide for yourself whether you think that Multi-Billionaire, Media Mogul, Keith Rupert Murdoch and his organization may be guilty of many of the same sorts of quid pro quo malfeasance, that Murdoch's NY Post and Murdoch's Fox News accuse politicians.
https://www.youtube.com/watch?v=P74oHhU5MDk
Click here to read the rest of our report - Is Rupert Murdoch Hacking Democracy?
---
Pulaski Parade Charms Manhattan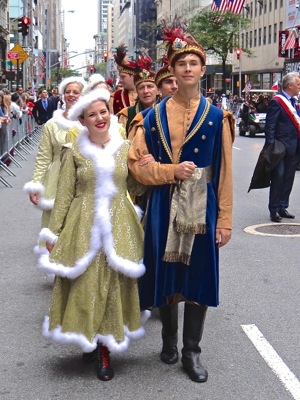 October 4, 2016 / Midtown Manhattan / Manhattan Parades / Manhattan Buzz.
I attended the Pulaksi Day Parade on Sunday. The Pulaski Day Parade celebrates Polish heritage in America, highlighting one of the early Polish contributors to America's democracy, General Pulaski who fought in the American Revolutionary War.
It was a beautiful clear day with temperatures around 70 degrees and the sun was shining. All along Fifth Avenue people had lined the streets, awaiting the parade floats, bands and marchers. In front of St. Patrick's Cathedral stood two members of the clergy with whom I had a chance to speak.
We'll have more about the Pulaski Parade later this week.
---
Rosh Hashanah Begins Sunday
The Jewish New Year Begins with the Feast of Trumpets
September 28, 2016 / Manhattan Neighborhoods / Manhattan Holidays & Ethnic Culture / Manhattan Buzz.
On Sunday, October 4th at sundown, the Jewish New Year begins. The festival commemorates the creation of Adam and Eve and is rung in with a sounding of the shofar, which is a ram's horn that is shaped like a trumpet.
The New Year celebration lasts two days and is also a period of judgment. People are divided into three classes - the righteous, the evil and those who fall in between. Each class is dealt with accordingly, and those who fall in between have ten days to reflect on their lives ending in Yom Kippur wherein they are expected to atone for wrong deeds.
Rosh Hashanah also includes the serving of a few symbolic foods including vegetables such as dates, leeks, spinach and squash. Apples are cut and served with honey [along with a honey bread] to symbolize a sweet year and the challah bread is served to symbolize the cyclical nature of the year. Gefilte [stuffed] fish is also a Rosh Hashanah staple.
I attended Rosh Hashanah at Chabad LIC in 2011 where I met Rabbi Yitzchok who is an artist and had several works on display. In the artwork above right he depicts scenes from Orthodox Jewish life in the Brooklyn neighborhoods of Williamsburg and Crown Heights in pop art silk screens.
---
Murdoch NewsCorp Propaganda Political Broadcast Laws Violations Hannity O'Reilly
NYC Rolls on After Small Bomb Explodes
Who are the Real Terrorists?
September 20, 2016 / Chelsea Neighborhood / Manhattan Neighborhoods / News Analysis & Opinion / Manhattan Buzz.
Saturday evening, September 17th, at around 8.30 pm a bomb went off in a dumpster near 131 West 23rd Street [just off 6th Avenue] in Chelsea. While a number of people were injured by the debris [29 in total], thankfully nobody was killed. All 29 people affected have been released.
Andrew Cuomo was quick to inform the public that the bombing was a terrorist act, but that it did not appear to be linked to international terrorism. Now just over three days later, it appears the bomber may have been influenced by a trip taken abroad.
At the time, Cuomo's announcement appeared to be an ongoing effort by the Governor to upstage the Mayor, by being the first to speak to the press and by sensationalizing the incident using words like terrorist.
The Mayor was far more circumspect when he spoke, telling us only that based on the evidence gathered at the time, the act appeared to be intentional - and the Mayor left it at that - pending receipt of additional information. NYPD Commissioner James O'Neill exercised the same caution in describing the event as the Mayor.
Is Murdoch's Org Hyping the Bombing for Ratings & Newspaper Sales Like They Appeared to do with the Iraq War?
Not surprisingly, Keith Rupert Murdoch's Wall Street Journal, NY Post and Fox News noted / lauded or applauded the Governor for helping them in what appeared to be their ongoing efforts to sensationalize the terrible act.
Was their goal in hyping the bomb to sell more newspapers and increase their TV ratings? At first blush that's hard to believe - until you do the math.
In 2002 - 2003, Murdoch in tandem with his news organization strongly advocated on three continents [U.S., Britain and Australia] to start the War in Iraq, which I believe increased Fox cable TV and Fox News ratings, which are worth billions of dollars annually.
Billionaire Media Mogul Calculus: Terror + War = High Ratings [Worth $$$ Billions] - With Low Costs to Produce the Show = High Profits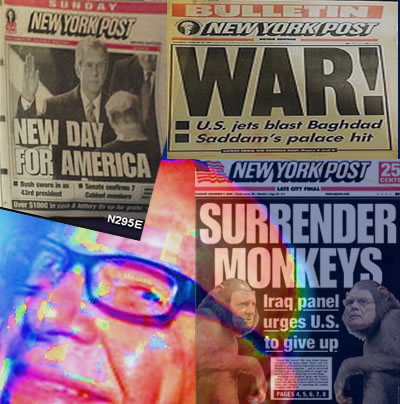 The Iraq War was like new free money, because Murdoch's organization could sell pricey ads for increased news ratings, while the bulk of the costs of staging the 'news programming' aka the Iraq War, was provided free to Murdoch's organization, compliments of the American, British and Australian taxpayers. See more on Iraq War story below.
Based on the recent financial performance of Murdoch's organizations, his flailing 'news' outlets appear to be in need of this sort of low cost [to Murdoch's org], high interest programming.
Do Bombers Seek Fame & Does Murdoch's Media Machine Provide Them with it?
Is Instant Fame a Bomber's Motivation? It seems plausible that part of the motivation of a bomber might be to make the headlines / be shown on TV / become famous, even if only for what artist Andy Warhol described as one's 15 minutes of fame. See NY Post graphic to your right, wherethe now famous bomber made the front page while lying in bed. Thank you Mr. Murdoch and your NY Post?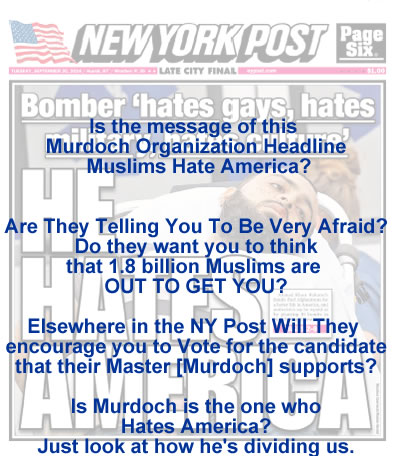 Achieving Goals By Fear Mongering? Rupert Murdoch's propaganda-oriented 'news' organization may in fact be part of the problem - not part of the solution. Murdoch's organization appears hell bent on hyping the bombing event into an international terrorist attack, which one may surmise that they and their preferred presidential candidate will then try to compare to 911 and then campaign on that storyline narrative by stoking fears based on 15 year old memories to win the presidency. See Iraq War story below.
At a time when the whole world was in turmoil FDR told America,
"We have nothing to fear, but fear itself."
My how times have changed.
It seems Keith Rupert Murdoch's organization is saying something just the opposite, like,
"Be afraid. Be very afraid."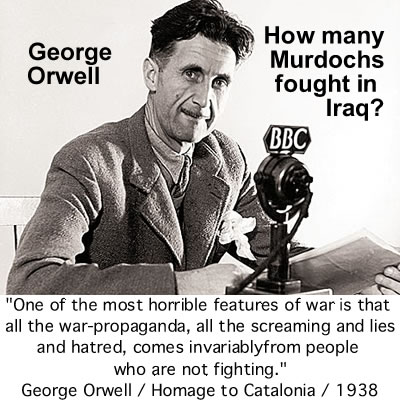 Never mind that nobody died in this incident or even (reportedly) sustained serious injuries. And based on what is known, there seemed to be very little substantial property damage. But professional propagandists never let the facts get in the way of the story they want to tell, so watch and learn.
You have to decide who you're going to listen to, to provide you with information and context about the world in which we live. This will inevitably influence your view of the world, who you choose to represent you, what public policies you want pursued and how you go about conducting your life.
The graphic at right is a quote from author of the book entitled 1984 - George Orwell - in his book Homage to Catalonia published in 1938, that goes as follows,
"One of the most horrible features of war is that all the war-propaganda, all the screaming and lies and hatred, comes invariably from people who are not fighting."
Watch the Changing Narrative
Can the Real Terrorists be Found in Murdoch's Fear Mongering Media Empire?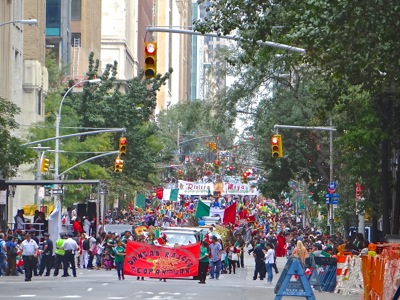 Given that folks were out and about Sunday, I wondered whether it's media outlets like those owned by Keith Rupert Murdoch's organization that are responsible for terrorizing the denizens of New York and the nation, by continually repeating fear-inspired storylines / narratives?
It seemed the bomber had already failed to terrorize us, given the fact that so many of us were out and about.
But Murdoch's manipulative media machine looks like it will keep broadcasting, webcasting and printing fear-inspired stories. Thus with the help of Murdoch's machine of fear mongering, the bomber may yet succeed in terrorizing us. Refer to the graphics in this story for an earlier example of Murdoch's fear mongering machine in action.
Trillion(s) Spent on Iraq War Because of Phony, Media-Hyped, 'Weapons of Mass Destruction' Threat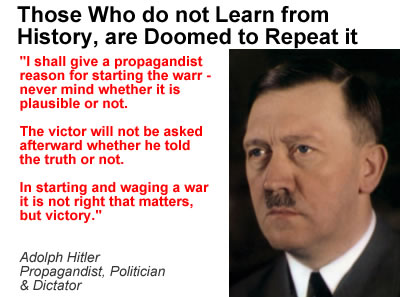 In 2002 - 2003 Murdoch's organization appeared to use this sort of hyping and sensationalizing of Sadam's 'weapons of mass destruction' to monger fear so that America, Britain and Australia went into war against Iraq.
Only later did we find out that there weren't, in fact, any weapons of mass destruction and that it was all media and political hype used to get us into the war. Once embroiled in the war, it cost well over a TRILLION DOLLARS, and by some accounts - we're still not completely out.
As you can see in the graphic at right, a poll which was included in a documentary entitled OutFoxed: Rupert Murdoch's War on Journalism, shows that Fox viewers tended to be more ill-informed than their PBS media peers.
You can click into the graphic which will take you to the video, but we reference and link to it again later in this story where we highlight a piece in the video that proves the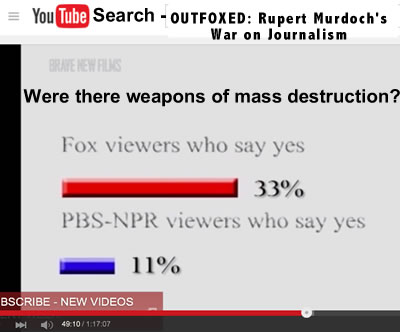 point and is funny in a twisted Murdochian way. And click here to view a prior piece we did on what appears to be Rupert Murdoch's assault on democracy which takes you deeper into what appears to be a long history of the billionaire media mogul's influence on election outcomes.
In June of 2016 Murdoch's organization seemed to provide its readers / voters the same sort of bad advice with their advocacy in favor of Brexit or exiting the European Union. We'll have a bit more on this later.
Click here to read the rest of our report about what appears to be Rupert Murdoch's manipulative use of his media assets including:
1) a look into possible FCC Political Advertising Rules violations,
2) a brief analysis of how the hype of terrorism is being used in connection with presidential race propaganda,
3) a brief review of some of the recent crimes committed by people working for the Murdoch organization,
4) a brief examination of the Murdoch organization's influence in the Brexit vote outcome.
---
---
Primaries Today - Please Vote
September 13, 2016 / Manhattan Neighborhoods / Manhattan Politics & Government / Manhattan Buzz.
The New York State election primaries are today, Tuesday September 13.
The polling booths will be open from 6 am to 9 pm Tuesday.
To find your poll location click on the graphic at right, noting that after you input your address you have to click the small icon to get the results of the search.
---
Update on the Steinway Mansion in Astoria Queens
Visionary Investor Makes Good on Development but Still no Announcement of his Plans for the Steinway Mansion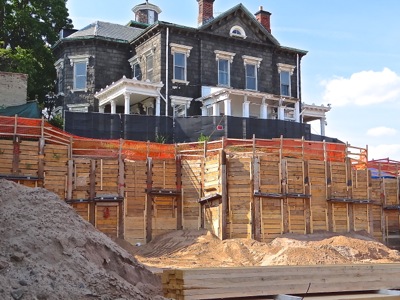 September 12, 2016 / Astoria Neighborhood / Astoria History / News Analysis & Opinion / Manhattan Buzz.
On May 3rd, 2014 the Halberian Family sold the Steinway Mansion to Steinway Mansion LLC for $2.65 million. In the two and a half years since, the new Steinway Mansion owner parceled the property into a eleven additional smaller lots and built eleven two story commercial buildings on each. We watched as the owner quietly developed the property, likely in line with his plans while making the investment.
Just over a year ago I visited the site and took some photos, which momentarily revealed the resplendent glory of the old mansion, overlooking the East River and distant Rikers Island and Bronx shores. The new owner had cut away most of what remained of the Steinway Mansion yard to make way for the new buildings at a height on a level with 42nd and 41st Streets. The construction site seemed well maintained and the historic mansion structure appeared to be treated respectfully both last year, and as I learned in my most recent trip, also since.
The photo above was taken in August of 2015.
Northern Ditmars Neighborhood Real Estate Development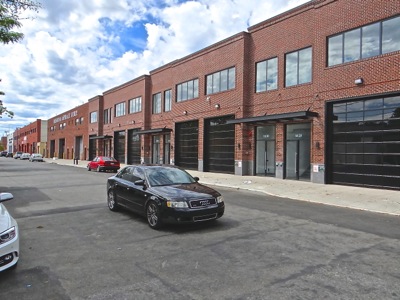 Last weekend I returned to the site to shoot photos and see what was happening. I came in along 42nd Street, and for a moment I wondered if I had gotten my coordinates wrong, as the street had been transformed. The emptiness on the street of the construction site of a year ago had been filled in with a number of spanking new buildings lined along the street with what appeared an exacting precision. The photo to your right shows roughly the same space in September 2016 as was shown in the August 2015 photo above.
A year ago, 42nd Street was an empty, slightly soiled, commercial industrial hub. But on my visit this year the street took on a wholly different appearance with the new buildings / storefronts. There were eight new buildings along 42nd Street, with red brick exteriors complemented by black trim and large floor-to-ceiling paned storefront windows, which I believe could also serve as garage doors. It almost seemed like these new edifices could as easily become art galleries, as manufacturing locales and / or storage facilities.
Click here to read the rest of our report about the Steinway Mansion real estate development in Northern Ditmars, Astoria.
---
Queens Library 'Scandal' - Where was the Beef?
Galante Seeks to Clear his Name as well as the Reputations of the Queens Library & Former Sacked Trustees
How Did Katz's, Stringer's & NY Daily News' Full Year of Accusations & Innuendo Fall So Far Short in Court?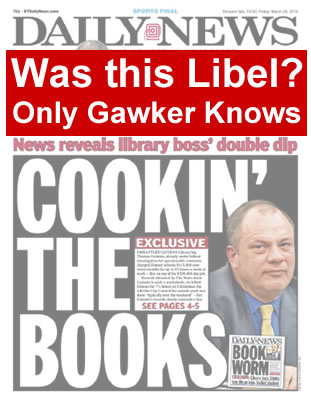 September 6, 2016 / Queens Neighborhoods / Queens Politics & Media / News Analysis & Opinion / Manhattan Buzz.
Throughout 2014, we witnessed Billionaire Mortimer Zuckerman's NY Daily News, NYC Comptroller Scott Stringer and Queens Borough President Melinda Katz publicly attack President Thomas Galante and the Board of Trustees of the Queens Library. They appeared to individually and collectively insinuate that there was unforgivable malfeasance going on at the Queens Library.
In late January of 2014, only a day after Juan Gonzales published an EXCLUSIVE muckraking story about the Queens Library President's renovations to his office, in Mortimer Zuckerman's NY Daily News, NYC Comptroller Scott Stringer announced an audit of the Queens Library.
Juan Gonzales included in the story what I believe was leaked CONFIDENTIAL INFORMATION of the Queens Library, such as the Queens Library President's salary and other confidential employment agreements. Former trustee(s) told me they believed that this information was leaked by Queens Borough President Melinda Katz's ex-Officio Board of Trustees representative on the board, in violation of their fiduciary obligation to the Queens Library [to date this is an unproven allegation].
Katz, Stringer & Zuckerman's NY Daily News Accusations - Appear to Damage Queens Library Reputation - with a Year Long Barrage of, as yet Unproven, Allegations
Queens Borough President Melinda Katz, NYC Comptroller Scott Stringer and Mortimer Zuckerman's NY Daily News then regaled us for the rest of the year [2014] with all kinds of incredible detail about alleged wrongdoing at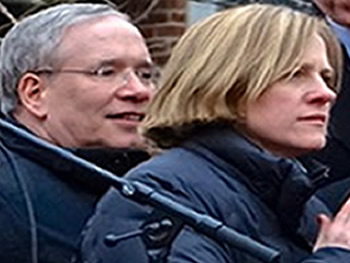 the Queens Library. Mortimer Zuckerman's NY Daily News published several editorials during the course of the year rousing Queens residents into a frenzy against Galante and the Queens Library trustees, while encouraging these two politicians / government officials to unleash their fury against the Queens Library President and Board of Trustees.
Queens Borough President Melinda Katz obliged by initiating legislation to change a state covenant with the library drafted by Andrew Carnegie over a century ago. Andrew Carnegie founded the library as part of his great philanthropic works. And NYC Comptroller Scott Stringer filed a lawsuit seeking complete access to the records of the private non-profit segment of the library, because he must not have found what he was looking for in the public portion representing 85% of the organizational budget. They appear to have done such a good job of damaging the reputation of the Queens Library, that in the following year [2015/ 2016] donations to the non-profit library fell by almost 40% or nearly $2 million.
Did NYC Comptroller Scott Stringer Break the Law & Slander Thomas Galante & the Former Queens Library Trustees?
NYC Comptroller Scott Stringer made a number of harsh statements during the course of the audit of the Queens Library alleging lies and theft. In a May 22, 2014 story published by the Queens Tribune, Stringer said,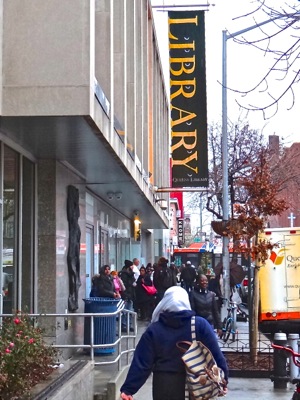 "For them [Queens Library Board of Trustees] to mislead the public and tell the public that they are, in fact, cooperating, is nothing more than a bold-faced lie."
In a July 8, 2015 story published in Newsday, Stringer charged Queens Library executives with using public funds as their
"personal piggy bank" ...
And later in the same story NYC Comptroller Scott Stringer says,
"As they were scaling back access to books, the Internet and vital programs and services, they were lining their own pockets."
These statements, if untrue, might constitute slander, particularly given the fact that many of the people NYC Comptroller Scott Stringer attacked are private citizens - not public officials like himself.
The title of his final audit report seems to negate his previously made assertions, as the title of the final NYC Comptroller's report is,
"REPORT OF THE COMPTROLLER'S INVESTIGATION INTO POSSIBLE MISCONDUCT REVEALED BY THE AUDIT OF THE QUEENS BOROUGH PUBLIC LIBRARY"
The operative word is possible and this is after likely one of the most intense, year and a half long audits, of any library in the city, ever.
NYC Comptroller Scott Stringer referred his findings to the IRS and other legal entities for follow up. This is following an investigation by the FBI, the NYC Department of Investigations, Scott Stringer's own office of the NYC Comptroller, and following the initiation of legislation by Queens Borough President Melinda Katz to change a 118 year old covenant between the Queens Library and the State of New York.
Lots of Smoke, but Still No Fire
As of this writing, nearly three years later, the allegations of wrongdoing by Thomas Galante have been all smoke and no fire.
So far, we've still heard nothing more than allegations and innuendo and possibly libelous and slanderous accusations by public officials and a billionaire NYC real estate developer's paper.
Under Galante the Queens Library was a Top Rated Library in the Nation with an Unblemished Financial Record
Each of the accusers rarely, if ever, mentioned that the Queens Library was considered by its peers to be one of the finest libraries in the nation. That the Queens Library had won national awards which confirmed the library's national standing. And the accusers never mentioned that in all the years that Thomas Galante had been President of the jeweled Queens Library, that it had been run fiscally responsibly with a balanced budget and never a hint of scandal ... until they came along, in their newly elected positions, ALLEGING one.
The accusers accounts did not jibe with what I personally knew about the Queens Library, so I set about drafting an alternative narrative to what appeared to be biased accounts provided by Juan Gonzales and other writers of Mortimer Zuckerman's NY Daily News.
Court Rules Against Accusers Katz & Stringer - but You'd Never Know it by Reading Mortimer Zuckerman's NY Daily News
On August 31, 2016, in the ruling of United States District Judge Allyne R. Ross, Thomas Galante got a first taste of what seemed to be a fair hearing. Judge Ross' ruling requires the Queens Library to pay Thomas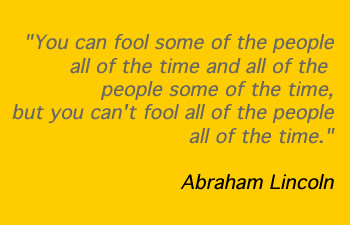 Galante's legal fees to defend himself against accusations by the Queens Library regarding his stewardship of the non-profit.
The newly reconstituted Queens Library Board of Trustees had filed a suit against Galante after he had filed a wrongful termination lawsuit against the library. One might interpret this as an intimidation tactic by the newly reconstituted Queens Library, as legal fees are very expensive and it will cost Galante hundreds of thousands (if not more) to enforce his rights. Galante will have to reimburse the Queens Library if the Queens Library's assertions against him hold up in court.
I wonder if the current members of the Queens Library Board of Trustees have to meet the same standard, in order to have the library pay for their legal fees.
It's worth mentioning that Mortimer Zuckerman's NY Daily News took the lead in most or all of the stories to date about the Queens Library - crafting the storyline narrative about Queens Library 'corruption'. And yet, when I did a search for award-winning journalist Juan Gonzales' & Mortimer Zuckerman's NY Daily News follow on story announcing Thomas Galante's recent court victory against Katz's & Stringer's Queens Library - there was none to be found. This sort of information omission / biased reporting by one of NYC's three daily newspapers is more akin to self-serving propaganda than American journalism.
If Galante Succeeds He Will Clear Not Only His Own Name, but also the Queens Library's & its Former Trustees'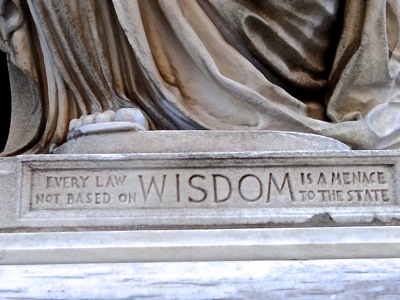 If Galante succeeds in clearing his own name, he will also succeed in restoring the stellar reputation of the Queens Library and the reputations of the former trustees sacked by current Queens Borough President Melinda Katz.
Did the Queens Library Reform Act Enable Pols to Morph the Queens Library into a Political Patronage Parking Lot?
It's also worth mentioning that a couple of years ago interested observers expressed concern that the Queens Library would be morphed into a Political Patronage Parking Palace for under-employed or unemployed party apparatchiks. It's been just over two years since Governor Andrew Cuomo signed the Katz-inspired legislation, entitled the Queens Library Reform Act, and it appears that this may already be happening.
Earlier this year, Queens Borough President Melinda Katz's newly reconstituted Board of Trustees appointed former NYC Schools Chancellor, Dennis Walcott, as the Queens Library President. Based on my research into Dennis Walcott's background, it appears that he has no formal higher education in library science, nor does he have any professional experience in it.
Quelle suprise.
Click here to view our complete coverage of the Queens Library 'corruption & scandals' accusing Thomas Galante of wrongdoing.
---
Panorama Music Fest on Randalls Island
Three Day Musical Festival Strikes a Grammy Chord
July 25, 2016 / Randall's Island Manhattan / Music in Manhattan / Manhattan Buzz.
I attended the Panorama Music Festival on Randall's Island this past weekend. The music festival featured dozens of top and second tier bands and musicians with the event starting Friday and ending Sunday night. Some of the music festival headliners included award winning groups like Kendrick, Alabama Shakes and the return of LCD after a ten year hiatus. Panorama also featured a number of other highly regarded, well known groups - many of which are likely to continue gaining recognition.
In the photo at right, vocalist Sza, is performing in the Pavilion at the Panorama Music Festival on Randalls Island on Sunday.
The weather over weekend was a very seasonal hot, with temperatures hitting nearly 100 on Saturday [high 98], before descending into the low 90's on Sunday. But the island breeze coming across the East River on Randall's Island and not-too-high humidity, made strolling around the event campus not only doable, but enjoyable. There was also a public water station where you could refill your water bottle [free] and there was ample shade within the tree filled park.
The crowd dressed for Panorama to beat the heat, more than anything else. This translated into a near beach-like scene for people-watching, with many youthful men and women enjoying the glow of their Adonis-like years. In 1992 there was a gender equality lawsuit, which contested women's right to go topless without being arrested - a right men enjoyed in this country since its founding. More than a decade later, in 2015, panhandlers in Times Square began asserting that right by painting their bare breasts with American flags and other designs, while soliciting tips from resident and tourist passers-by, for the pleasure of viewing them. These 'performance artists' were nicknamed the 'Desnudas'.
NYS and NYC Government officials found a way to reign in this practice - as it was creating quite a stir - by confining the solicitations to specified areas within the Times Square Plaza. Fast forward to 2016 and things continue to evolve, with women now wearing swimsuit / lingerie-like tops as fashion statements, some of which were on display at the Panorama Music Festival.
In the photo at right, a woman sports a fashionable swimsuit / lingerie-like top, at the Panorama Music Festival on Randall's Island.
We'll have a bit more later this summer, including video and a discussion of some of the art on exhibit at the Panorama Music Festival on Randall's Island in NYC.
---
Flatiron District: Le Coq French Restaurant
Midtown French Restaurant has become a Crowd-pleaser
July 19, 2016 / Midtown Manhattan Neighborhood / Midtown Manhattan Restaurants / Manhattan Buzz.
I took a trip into the Flatiron District just after the July 4th holiday to try out a new French restaurant that came recommended by friends. I arrived a bit late and my table had been seated in the main room in the back of the restaurant.
As I walked past the long modern bar to my left, I found myself tempted by its airy openness and ambiance as the front of the restaurant opens onto the street and the ceilings are in the neighborhood of 12 feet high. Just past the bar, along to my right there were bottles upon bottles of refrigerated champagnes. Hmm.
In the main room there were between a dozen or two tables. Some of the tables for couples were set in front of the walled booth-like benches, which were arranged next to one another. There were round tables for larger groups and families in the middle of the room, and an alcove containing a couple of tables set away from it all. The lighting was well done, with the inset lights on the ceiling radiating a quiet ambient light, supplemented by accent lighting on the ceiling that provided ample light on the table.
My party had already begun ordering, so in an attempt to be a good, but late guest, I went along, to get along.
More about Le Coq at a later date.
---
---
Nice Matin Restaurant in the Lucerne Hotel
Nice Matin is a Great Way to Start or Continue a 'Nice Morning'
May 16, 2016 / Upper West Side Neighborhood / Upper West Side Restaurants / Manhattan Restaurants / Manhattan Buzz.
The Lucerne Hotel was designed by Harry Mulliken and Edgar Moeller, and opened in 1904. The Lucerne Hotel exhibits the architects' trademark facade which is a rich, brownish-red and pink, brick and terra cotta facade. The architects designed a number of other well known New York City buildings, which still stand today.
The Nice Matin French restaurant is located on the ground floor of the beautiful, 12-story building housing the Lucerne Hotel, which is located at the corner of Amsterdam and West 79th Street on the Upper West Side.
The Lucerne Hotel closed for a while in the last half of the 20th century, and the building was temporarily converted into Columbia University housing. In 1995 the Lucerne Hotel reopened. And it's worth noting that the building was landmarked sometime in the last half of the 20th century.
But I digress, as it's Nice Matin, the French restaurant that we're about to explore. I have eaten at Nice Matin on numerous occasions, and within the past month enjoyed yet another fun outing. I arrived embedded with a large party of just under a dozen at around half past noon on a Sunday. We weren't allowed to make reservations for the party because of its size, but we had called ahead and within about 15 minutes we were seated.
The ambiance has always been festive, as the 20 foot high ceilings, and the floor-to-ceiling windows along both the southern and western walls allow in ample light and a great feeling of space. While the ambient conversations fill the background with sound, it's not noise, but rather part of a melodious rhythm.
The photo at right shows the Lamb Sausage and Scrambled Eggs at the Nice Matin French restaurant on the Upper West Side. You'll be able to click here late this week for the rest of our report.
---
Columbia School of Journalism - Man in Profile: Joseph Mitchell of The New Yorker
Man in Profile: Joseph Mitchell of The New Yorker
Columbia School of Journalism Dean Coll Moderates Conversation with Authors Gay Talese & Thomas Kunkel
January 18, 2016 / Upper West Side Neighborhood / Manhattan History / News Analysis & Opinion / Manhattan Buzz.
I received an invitation to attend a conversation at the Columbia School of Journalism about a new book covering the professional life of one of the most prominent writers of The New Yorker magazine. The Columbia University School of Journalism is easily one of the most prestigious journalism schools in the nation; and Columbia also hosts the judging for the Pulitzer Prize, which is considered one of the highest awards a journalist or author can receive.
It was a fairly warm October evening as I made my way north on the subway along the Upper West Side. I got off at 116th Street and walked east through the main campus to the Faculty House. The Faculty House sits atop the Morningside Heights ridge overlooking Harlem, the Upper West Side and the rest of Manhattan.
The entrance into the Faculty House was from an interior courtyard where Columbia University students were hanging around in casual conversations. Once inside, I was directed to an upper floor where the event was being held.
Seated at the head of the room was Gay Talese, a Pulitzer Prize winner and author of numerous books including The Kingdom & The Power. He was in the company of the Dean of the Columbia School of Journalism, Steve Coll, who is also a Pulitzer Prize-winning author having penned several tomes about issues in Asia, most notably the Middle East. And of course, there was the guest author of the evening, Thomas Kunkel, who is the President of St. Norbert College in Wisconsin and who had penned the book being discussed this evening entitled Man in Profile: Joseph Mitchell of The New Yorker.
Click here to read the rest of our report regarding a conversation about the recently published book Man in Profile: Joseph Mitchell of The New Yorker at the Columbia School of Journalism.
---
---
Holi Hai in Dag Hammarskjold Park
Indian Festival of Colors Celebrates the End of Winter & Love
May 10, 2016 / Midtown NYC / Holidays in Manhattan / Manhattan Buzz.
This year I decided to celebrate the coming of Spring by joining the thousands of Holi Hai celebrants at Dag Hammarskjold Plaza two weeks ago.
Holi [without the Hai] is an ancient Hindu festival that celebrates the end of winter, the triumph of good over evil and love. The Holi festival dates back thousands of years, coming down first through an oral Hindu tradition and first documented about the 4th century A.D. according to Wikipedia. I'll get into the mythology and history that accompanies this annual celebration a bit later in this report.
I'm pretty sure that the Holi Hai festival at Dag Hammarskjold Plaza began in 2013, thus making this its fourth year. The event started at 2nd Avenue and 47th Street in Midtown East at 11 am and ended at 6 pm, although many folks didn't depart the plaza until sometime later. During the seven hour event there were easily hundreds of celebrants at any one given time, and musical performances on a stage set back in along the plaza, complemented by several Asian food stalls interspersed in and around the plaza.
But the main fun is in the interactions that take place within the large body of celebrants, who don old T-shirts, and come prepared to give messy and get messy. More to come late this week.
---
Midtown International Theater Festival & Short Play Lab 2016
Two Off Off Broadway Theater Festivals Open in Manhattan
March 7, 2016 / Manhattan NYC / Off Broadway Theater NYC / Manhattan Buzz.
The Midtown International Theater Festival begins this week and the Short Play Lab begin this weekend. These two incubator theater festivals are the brainchild of John Chatterton, former Publisher of Off Off Broadway World magazine.
Off Off Broadway World magazine was started by Chatterton in 1993, and was published for a number of years in the 1990's, but ultimately didn't survive. Founder, John Chatterton did survive, and he went on to pursue his passion for theater by founding the Midtown International Theater Festival and the Short Play Lab series.
The two theatrical incubators provide a venue for participants to create and produce minimalist performance productions and perform them in front of live audiences, which are oftentimes comprised of many of their fellow participants and peers, as well as those interested in original theatrical works. The Midtown International Theater Festival and Short Play Lab series are both an opportunity to try one's hand at producing and performing an original work in front of a live audience, as well as a good networking venue to meet others aspiring to find their places in the theater business.
I attended a Short Play Lab previously and here's what I found ...
Click here for the full story about the Midtown International Theater Festival & Short Play Lab series both of which begins this week and weekend, respectively.
---
---
Washington Square Art Fair
Washington Square Art Fair
Artists & Artisans Spend Weekend Selling Wonders
May Memorial Day Weekend / Village Neighborhood NYC / Shops & Shopping Manhattan / Manhattan Buzz.
Over the three day Memorial Day Weekend, dozens of artists and artisans congregated along University Place between Washington Square Park and 13th Street in the Village. There, underneath the lily-white tents, they hung their works for the public to view and purchase. The artists come from near and far and provided a mélange of choices for the aesthetically aware.
I began my tour of the Washington Square Art Fair just north of the eastern corner of Washington Square Park. The white tents lined the sidewalks on both sides of the street, as the auto traffic had not been blocked. People were definitely out and about, as NYU had held commencement exercises earlier in the week, and the students were to be found en masse in Washington Square Park. But along University Place it wasn't just the students who were browsing the Washington Square Art Fair, but also many native New Yorkers looking for objets d'art.
Generally the artists I photographed and interviewed were a bit older, but I plan to include several other exhibitors when I post the slide show to provide some view into the depth and breadth of the Washington Square Art Fair as a whole. The artists I conversed with had generally aged well, and the complexity and textured flavor of their interests and lives emerged in the aesthetics embedded in their works. These artists had stayed constant in their pursuit of aesthetic expression over the years, and their works evoked memories and scenes depicted in skillful portrayals of bygone eras, as well as of enthusiastic passions of the present.
Click here to view our report about the Washington Square Art Fair with photos.
---
Designing for Quality Retail & Community Use
Design Trust Unveils 'Laying the Groundwork' at the Center for Architecture
March 1, 2016 / Village NYC / Manhattan Building Design Issues / Manhattan Buzz.
I had an opportunity to attend the introductory presentation of 'Laying the Groundwork', which was heralded as a seminal document put together under the auspices of the Design Trust in Manhattan. The event was held at the Center for Architecture at 536 LaGuardia Place, just south of Washington Square Park.
The Design Trust was founded in 1995 by Andrea Woodner, the daughter of Ian Woodner who founded the Jonathan Woodner Company, which Ian named after his son Jonathan – Andrea's brother. The company was renamed Woodner and is a diversified real estate management [2,500 units] and development company in the Washington, D.C. and New York metro markets.
Andrea was first and foremost a sculptor. She later obtained a Masters Degree in Architecture from Columbia University and then went on to found the Design Trust with the intent to fuse the expertise of designers with the use of public space. She defined public space as "anywhere you don't need a key to get into". Andrea stepped down earlier this year as the Board President of Design Trust and was replaced by Eric Rothman, President of HR & A Advisors, a consulting firm.
The thrust of Design Trust has been to marry private design work with the development of public space to create win / win situations. The following is a summary of some of their most significant achievements since the organization was founded.
We'll post more at a later date.
---
---
Click here for things to do on the Upper East Side NYC.
---
Bethesda Fountain in Central Park
Emma Stebbins' Statue Commemorates NYC's Water System
May 23, 2016 / Upper East Side Neighborhood UES / Manhattan Parks / Manhattan Buzz.
The Angel of the Waters statue stands atop the fountain in the midst of Bethesda Terrace in Central Park. According to the Parks Department, the terrace was built 1859 - 1864 and according to Wikepedia the statue was designed in 1868 and unveiled in 1873. The Parks Department notes that this was the only statue commissioned in tandem with the opening of Central Park.
In the early 1800's New York City was an unsanitary place and the water was a conduit for the spread of cholera. By the mid 1800's the city had developed the Croton Aqueduct [1842] to transport fresh clean water down into the city, which more or less permanently ended the cholera epidemic.
Around the middle of the 19th century the plans for Central Park were being made, and hence Bethesda Fountain and the Angel of the Waters were included to celebrate and commemorate the accomplishment of something good [fresh clean water] for everyone living in New York City and beyond. The Angel of the Waters references a biblical passage from the gospel of St. John where an angel bestows healing powers upon a pool called Bethesda.
Bethesda Terrace and Fountain are found in the center of the park between 72nd and 76th Streets. The fountain overlooks the lake and boats may be rented at the Loeb Boathouse which is off to one's right when looking at the lake from the fountain.
---
Which Manhattan 'Democratic' Pols Support $8 Tolls To Cross 60th Street & East River Bridges?
Borough President Brewer, NYS Assemblyman Rodriguez, Cuomo's Deputy of Legislative Affairs Weprin & Many Manhattan CCM's Support $8 Tolls to Raise Capital for the MTA
NYS Governor Cuomo Supported Congestion Traffic Pricing in the Past & Cuomo's Deputy of Legislative Affairs Mark Weprin Is Supporting It
March 29, 2016 / Manhattan Neighborhoods / Manhattan Politics / News Analysis & Opinion / Manhattan Buzz.
The new Congestion Traffic Pricing Plan has been making its way into the legislative process over the past year. Just last week NYS Assemblyman Robert Rodriguez, a Democrat from Manhattan introduced the bill on March 23, 2016. The Move NY Congestion Traffic Pricing Plan is being sold into the legislature as a means to raise revenue to fund MTA Capital projects.
Manhattan Borough President Gale Brewer, NYS Assemblyman Robert Rodriguez, Cuomo's Deputy of Legislative Affairs Mark Weprin, CCM's Ydanis Rodriguez, Margaret Chin, Mark Levine & Corey Johnson support installing $8 tolls on 60th Street & East River bridges to raise capital for the MTA.
Governor Cuomo's Words Are ...
Governor Andrew Cuomo supported the Congestion Pricing Plan put forth years ago, which wasn't popular with many of the voters in Brooklyn & Queens. The two boroughs have a combined population which rounds to 5 million or 25% of the 20 million people who live in New York State.
Cuomo was quoted as making the following statement by the Observer in an article published a year ago on March 15, 2015,
"It's not, 'Can I support it?' Will the people support it? Can you get it done? Can you get a congestion plan passed and we've gone through this a couple of times and it was an overwhelming 'no' and I haven't seen anything happen that would change my opinion,"

The Governor has essentially been repeating this position publicly ever since.
Inconsistent with Governor Cuomo's Staff Actions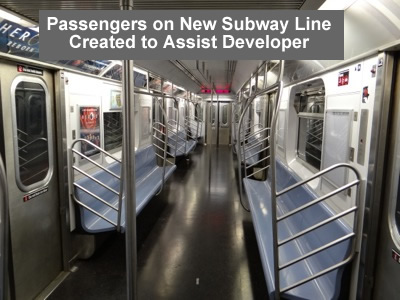 But while the Governor is publicly distancing himself from the measure which is unpopular in Queens and Brooklyn, former NY City Councilmember Mark Weprin, who is now Cuomo's Deputy of Legislative Affairs, has supported the Move NY Congestion Traffic Pricing Plan.
Weprin vehemently oppposed Congestion Traffic Pricing in 2008 when he was a NY City Councilmember, but in 2015 Weprin began publicly supporting the revised Congestion Traffic Pricing Plan as he transitioned from NY City Councilmember to becoming Cuomo's Deputy of Legislative Affairs. NYS Assemblyman David Weprin, Mark's brother, continues to publicly oppose the plan.
It's worth mentioning that the Weprins and the Cuomos have had close family political ties spanning two generations.
Move NY's 'New & Improved' Congestion Traffic Pricing Plan
We studied the Move NY Traffic Congestion Pricing proposal by first taking a closer look at what groups are pushing the plan [follow the money]. Gridlock Sam Schwartz Consulting LLC is one of the primary promoters of the plan, and the consulting company is owned in part by a large, multi-national, transit infrastructure contractor. We also evaluated the assumptions they used to create the estimates provided in the plan, which we found to be inconsistent with fairly recent independent studies by respectable institutions, and we also looked at what happened in one of the other cities around the world that implemented the plan.
In essence the plan retrofits [re-prices] the fossil fuel infrastructure, by making a significant investment to install and operate tolling around the center of Manhattan. The remaining proceeds would then go to fund other MTA capital projects [in London this was about half the proceeds]. The pricing would require those who can't afford the $8 tolls [each way] to either use mass transit [recent NYC metro studies have shown this switching doesn't happen] or to cross the bridge at other times at which time the tolls would cost less. The proponents say this would enable those who can afford the tolls to cross the East River bridges and 60th Street more quickly and move around mid Manhattan more easily [less traffic congestion with the rest of the community priced out of their way]. How 'democratic' is this?
Previously MTA Invests Billion$ in New Subways Appearing to Accommodate Billionaire Manhattan Developer(s) & Now Pols Want Metro Residents & Employees to Fund a System to Toll Tax Them to Fund MTA Capital Budget
The MTA during the Bloomberg (Republican) Administration made approximately $8 billion in MTA capital investments for about 30 to 40 blocks of Manhattan subway lines. One line travels from Times Square to the Javits Center [$2.4 billion mostly paid by city] and the other, which was strongly supported by NYC Comptroller Scott Stringer, is expected to travel along Second Avenue from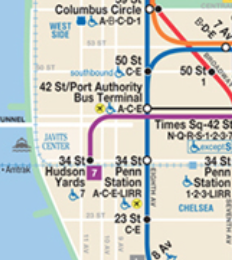 about East 60th Street to about East 86th Street when it is completed [ran way past budget and time estimates - currently about $5.2 billion].
The latter subway line has been called the 'subway to nowhere', while the other isn't much different - as it terminates at the Javits Center and billionaire real estate developer Steven Ross' & Related Companies' new Hudson Yards development - without any other subway connections. Pundits have opined that one [new #7 Hudson Yards station] and possibly both of these multi-billion dollar investments were made to accommodate Manhattan real estate developers [such as Ross], more than to facilitate transit for commuters and residents of New York City.
When I confronted an MTA spokesperson with this perspective, they told me that the Q line extension would alleviate a considerable amount of the congestion on the north / south east side Manhattan subway line, but made no comment regarding the Hudson Yards station.
The photos above show no passengers on the Javits subway [at an admittedly random time and not long after it was installed], while the second photo shows the #6 subway along the Upper East Side, also at a random time. The map to your right shows the new #7 subway line extension ending as an unconnected spur.
Perhaps if the MTA and the government officals who oversee MTA capital project spending were more judicious in their selection of multi-billion dollar projects and allocation of funds, they wouldn't need to make a huge investment of the public's money in the creation and operation of an expensive new tolling system which they plan to use to charge taxpayers $8 tolls to cross 60th Street and the East River Bridges.
This plan essentially aids the wealthy by making their lives easier, while economically discriminating against those with less wherewithal, by making their lives harder. This doesn't strike me as a solution that's 'democratic' at all. There must be less costly, more fair ways to raise additional revenue for transit that NYC commuters - not Manhattan real estate developers - really need.
CLICK HERE TO SCAN / READ THE FULL REPORT on the Move NY Congestion Traffic Pricing Plan.
---
MidtownBuzz Facebook and Midtown Buzz Twitter. Contacts lens & eyeglasses in Jamaica. Midtown Dentists and Midtown Chiropractors, Astoria wine stores, immigration lawyers Jackson Heights and Islam Fashion NYC.
---
---
4th Of July Fireworks In Manhattan
Tale & Photos Of My Trip On Independence Day
July 4th / SoHo Neighborhood NYC / Holidays in Manhattan NYC / Manhattan Buzz.
I went to see the Macy's 4th of July fireworks in the East River on the Manhattan side on Monday night. Official reports told everyone that the fireworks would begin around 9 pm, but I knew from experience that they generally began closer to 9.30 pm.
I took the subway down the east side of Manhattan sometime after 8.30 pm but still a bit before 9 pm and it was as packed as it usually is during rush hour on a weekday morning.
I decided to go 'all in' and get off at the Court House / Brooklyn Bridge stop. Tonight it was the last stop on the train and many others had opted to get off a couple of stops earlier.
At a later date we'll post the rest of the story including photos of the 4th of July fireworks in Manhattan NYC. A photo from 2014 is shown to your right.
---
Rupert Murdoch News Corp NY Post Hazing NYC Mayor?
Who's Behind NY Post's Media Hazing of Mayor?
Will Billionaire Rupert Murdoch Profit from NY POST's Attack Stories?
Updated May 13, 2016 / Manhattan Neighborhoods / Manhattan Politics / News Analysis & Opinion / Manhattan Buzz.
The NY Post's incredible barrage of attack stories on NYC Mayor de Blasio this past month led us to believe that something was amiss.
Is the NY Post Disinforming the Public?
After a month of a barrage of negative attack (ads?) stories regarding the Mayor's campaign funding, someone reading the NY Post might come away believing that Mayor de Blasio had already been convicted of numerous counts of breaking the law. As you will see later in this story, this would not be the first time the Murdoch organization's audience was not uninformed - but rather disinformed.
That said, if they read a newspaper that generally conforms to the professional standards of American journalism, like the New York Times, they would know that,
"It is not clear how direct a role, if any, the mayor played in some of these matters." - NYT April 29, 2016
Infomercials Presented as News?
Given that some of what Murdoch's organization [includes NY Post, Fox News, the Wall Street Journal and hundred(s) more properties] publishes and broadcasts appears to make significant departures from the American professional standards of journalism - one has to wonder if Murdoch's organization hasn't found a way to skirt campaign finance laws - as some of their 'news reporting' looks more like long-winded political infomercials.
Just Because They Say it's So, Doesn't Mean it's So
The NYS Board of Elections says,
"Independent Expenditures Do Not Include Expenditures in Connection with... A written news story, commentary, or editorial or a news story, commentary, or editorial distributed through the facilities of any broadcasting station, cable or satellite, unless such publication or facilities are owned or controlled by any political party, political committee or candidate ..."
Has Murdoch's organization found a way to skirt campaign finance laws by making huge, undisclosed, payment-in-kind, independent media expenditures to support or attack political candidates and push an issue agenda by running infomercials as news stories?
Does this practice enable the Murdoch organization to become the STRING PULLER, who makes their candidates POLITICAL PUPPETS?
Rupert's NY Post Goes After Mayor like Rabid Dog
There were 80 stories published about the Mayor by Billionaire Media Mogul Keith Rupert Murdoch's NY Post in the first 24 days of April.
That's more than three stories per day - and not a single one was positive [a few were neutral]. The stories were authored by 20 reporters, some of whom shared the bylines. This is the equivalent of having the entire editorial staff of a medium-sized daily newspaper, working full time on publishing stories about just one government official.
I'm pretty sure that the Washington Post didn't dedicate this kind of resource to covering the Nixon Watergate scandal in the early 1970's. It seems like overkill, which is generally indicative that something is not right.
I say not right because it has been my experience that this kind of overzealous attack oftentimes reflects more upon the prosecutor than the prosecuted.
Abusive, Power-Hungry Media Moguls in Film - 1941 & 1997
What I found while working on this story had some parallels to the 1997 James Bond movie, Tomorrow Never Dies. In the movie, Eliot Carver is the Media Mogul, and he uses his presses and TV stations to hype a war between China and Britain. In 2002 the NYT did a piece which they entitled 'Mr. Murdoch's War' which was about Murdoch's urging the U.S. and Britain to go to war in Iraq, which we'll have more about later in this story.
During my research a character profile of Billionaire Murdoch began to emerge that was something right out of the film Citizen Kane, who was portrayed by Orson Welles in 1941. It's interesting to note that 1941 was the same year that the FCC capped TV media ownership by a single person / entity at 35%. And this FCC ownership limit was overturned, some say because of Media Mogul Rupert Murdoch, and this will also be covered in more detail a bit later in this story.
The image to your right shows a page out of The Guardian, one of Britain's most respected newspapers, about the culture of Billionaire Media Mogul Keith Rupert Murdoch's organization.
Consider The Source
I. Criminal Acts: Murdoch Declared 'Unfit'
In 2012, only four short years ago, Billionaire Media Mogul Keith Rupert Murdoch was declared "Not a Fit Person" to lead his company by a British public official who led a commission that investigated the criminal operations conducted by people working for Billionaire Mogul Murdoch's media empire.
Click Link & Scroll down for rest of story & Video
Murdoch's NY Post appears to be used as propaganda machine working to oust the NYC Mayor
---
---
Dining on the Banks at the Boathouse
Central Park Boathouse Provides Bucolic Ambiance in Big Apple
June 15, 2016 / Upper East Side Neighborhood UES / Manhattan Parks / Manhattan Buzz.
About a month ago, I met an out-of-town guest for breakfast at the Central Park Boathouse. The Central Park Boathouse is one of the few venues that has remains a consistent treat not just to visiting guests, but resident hosts as well.
The Boathouse is located in the center of Central Park, north of the Great Lawn, just beyond Bethesda Fountain, along the winding roadway on the eastern side of the park. You can access it from 72nd Street, 76th or 79th Streets off Fifth Avenue on the Upper East Side.
While I was there for brunch on this particular Sunday, my favorite time to visit the Central Park Boathouse is in the middle or late afternoon on a weekend for a glass or more of wine to wind down the day and the week with friends.
It's frequently crowded and takes a bit of patient waiting and strategic positioning, to get a seat to rest one's weary bones ... but once settled in ... it's an unbeatable venue for late afternoon relaxation. More later.
---
NYC Cigar Bars on the Upper East Side Manhattan
NYC Cigar Bars - Upper East Side Manhattan
Bar & Books on the Upper East Side NYC
January 26, 2016 / Upper East Side Neighborhood UES / Restaurants & Bars on the Upper East Side UES / Manhattan Buzz.
I've walked by the Bar & Books on Lexington Avenue numerous times, and occasionally stepped in to see what it looked like close up and to see who was there. So around the holidays, I had a special guest in town who is a bit of a cigar aficionado. After dinner one evening, we took a walk along Lexington Avenue looking at store windows on our way down to the Bar & Books between 72nd and 73rd Streets.
The Bar & Books takes reservations, which I had made just to be certain we'd be able to get in to enjoy a fine cigar to close out the evening. It was a weekday night, so as it turned out, it wasn't necessary, and we found a table just off the bar in the center of the establishment.
An attractive woman, with the look of a James Bond 'girl', waited on us. My friend had a Macallan 12 year scotch, while I ordered a glass of Malbec wine. We settled in, checking our coats and keeping our bags on the chairs of the table next to us. The walls of the Lexington Avenue Bar & Books are lined with shelves of books, which I suppose you could read if you were inclined to read Rabkin A. Johnson's Current Legal Forms with Tax Analysis - which I can only imagine would be the case in the worst of circumstances - and tonight was no such night.
Click here for the rest of our report on NYC cigar bars on the Upper East Side of Manhattan.
---
---
Queens Library lawsuit and Queens Brooklyn tile stores near Williamsburg.
---
Farmers Markets & Street Fairs in Manhattan
July 17, 2016 / Manhattan Farmers Markets / Manhattan Street Fairs / Manhattan Buzz.
Many Manhattan farmers markets are open year round, but there are also a number of them that are seasonal. Some of the seasonal Manhattan farmers markets begin opening in the Spring, with the rest of them opening no later than the first couple of weeks in July. Click here to view the schedules of many of the farmers markets in Manhattan.
Manhattan street fairs are entirely seasonal, with some of them hitting the streets as early as March. Manhattan street fairs rise markedly during the spring and lighten up during the dog days of summer [July / August], returning in the fall. By the end of November the Manhattan street fairs go on hiatus, with a few returning as early as March, increasing in April and coming enmasses begining in May. Click here to view a full schedule of Manhattan street fairs.
---
---
South Street Seaport Neighborhood Real Estate Development
South Street Seaport Neighborhood & Real Estate Development
An Historical Site and Shopping, Dining & Tourist Destination in NYC
January 28, 2016 / Tribeca Neighborhood & Downtown NYC / Manhattan History / Manhattan Buzz.
I have visited the South Street Seaport several times over the past year and I have found it to have enough of the blend of old and new to merit several or more visits. In this report I will take you on a brief tour of the South Street Seaport to show you what you can find along the East River, looking up at the Brooklyn Bridge from the southern downtown neighborhood in Manhattan.
South Street Seaport Neighborhood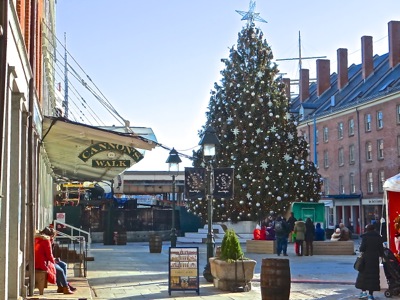 Many subway lines traverse the downtown area, so it's not hard to get to from most other parts of Manhattan. And many subway lines from the Bronx, Queens and Brooklyn traverse or terminate in lower Manhattan, where the South Street Seaport is located.
The South Street Seaport neighborhood has a number of dimensions to it. To be sure it's a tourist destination as one can sit along the East River wining or dining while looking out at the Brooklyn Bridge. There are plenty of shops and restaurants in the neighborhood, so it's not hard to find ways to feed or amuse oneself.
A new real estate development of the South Street Seaport is currently in process. The planning for it was decided upon in 2013 and it is expected to be completed in 2017. The renovation is expected to free up the East River waterfront to more pedestrian activity.
Click here to read about the history of the South Street Seaport neighborhood & real estate development.
---
Click here for Jackson Heights realtors.
Manhattan Economy - 2016 Outlook NYC
Currently Full Employment, Low Interest Rates, Low Inflation But Possible International Shocks
January 4, 2016 / Queens Neighborhoods / Queens Business / Manhattan Buzz.
We took a look into the crystal ball over the holiday break to see what may lie ahead for the NYC economy in the coming year. We studied the stats and facts put out by many of the national data producers at the Bureau of Labor Statistics, the Federal Reserve, the Treasury Department and the AIE. What follows is a brief summary of some of the statistics we gathered on the global, national and New York City economy including unemployment statistics by borough for 2015.
U.S. & NYC Economy Near / At Full Employment
Currently Queens and Manhattan are doing the best with respect to employment, with unemployment rates below 5%, which economists consider to be full employment as the 5% unemployed are viewed as normal 'friction' in the economy, accounting for people coming into, leaving and changing jobs within the labor force.
In 2009 - 2010, during the first two years of the Great Recession, the nation's unemployment rate hit 9.4%, while the unemployment rate for New York City hit 10.4%. The employment picture for the nation and the five boroughs of New York City has slowly but steadily improved since then, with unemployment trending lower, reaching full employment this year at 5% for the nation and 4.8% for New York City this fall.
Employment Impact / Relationship to Inflation
Employment affects inflation, as when everyone is fully employed, recruiting firms bid up the price of labor and workers feel secure enough to spend aggressively, bidding up the price of goods. The Federal Reserve attempts to reign in inflation - because it creates economic instability - by raising interest rates which increases the cost of capital needed to expand operations or make large purchases more expensive. On December 16, 2015, the Federal Reserve raised its key short-term interest rate by 25 basis points (0.25%) to begin to get ahead of potentially inflationary issues that may lie ahead. We'll look into a few of these later in this report.
Economists in one of the banking reports I received believe that there is still slack in the labor market that is not reflected in the numbers as many people have part-time jobs, while they would like full time jobs. Also the labor force participation rate fell during the Great Recession and it became more difficult to find work. Now with a full employment economy it is believed that some of those folks who gave up looking will try to re-enter the workforce. An example of the decline in participation rate might be a spouse who helped supplement household income but couldn't find the right work, and now starts looking again.
Click here to continue reading our report about the New York City NYC Economy Outlook 2016 which delves into full employment impact on inflation, interest rates, consumer debt levels, oil & commodity prices, domestic and international currencies & economic growth, the financial markets and how all of this may impact the different sectors of the Queens & New York City economy.
---
---
India Day Parade & Photos
India Day Parade Photos
Beautiful Parade Celebrating Indian History & Culture
August / Manhattan Parades / Midtown Manhattan NYC / Manhattan Buzz. I attended the 44th annual India Day Parade in Manhattan on Sunday. As you can see by the photo at right, it was a colorful event full of peace, love and cultural enchantment, which are a few of the hallmarks of Indian culture.
It was a large parade including about 40 floats, 20 marching groups and six bands. We photographed Mayor de Blasio appearing at the stand to make a few remarks. And a number of food vendors as well as a number of cultural attractions were stationed where the parade terminated, in Madison Square Park, to provide food and entertainment from 3 pm to 6 pm.
The Indian Day Parade was started in 1981 making this years parade its 34th year. The parade was started by the Federation of Indian Associations [FIA] which, according to Jay (Jaswant) B. Mody [one of the parade officials I met at the event], the FIA started in 1974 / 1975 under a different name. The parade celebrates Indian independence from Great Britain on August 15th of 1947. Pakistan, which was a part of India prior to independence, was granted its independence from Great Britain on August 14th, 1947.
Federation of Indian Associations also celebrates the 26th day of January which is the Republican Day of India [the day the Constitution of India passed into law]. The Federation of Indian Associations also raises funds to help families and to donate to catastrophic situations at home and abroad. As of 2006 more than 300,000 Indian Americans lived in the tristate area and the Indian immigrant population continues to grow. The Federation of India Americans main office is in Jackson Heights in Queens. And significant Indian communities may be found in Edison & Jersey City in NJ, in Stamford and New Haven in Connecticut, and Jackson Heights and Manhattan in NYC.
Click here to read a report about events leading up to India's Independence and view the photos of the India Day Parade NYC in Manhattan.
---
Manhattan Buzz Voluntary Subscriptions
We work very hard to help keep you informed by providing you with independent news coverage, as well as
information about events in the arts, culture and business in the borough.
You can help us continue to provide you with independent, first-person, fact-based, contextural reporting by purchasing an annual subscription. As it's voluntary, there are a variety of price options, one of which should fit within your budget.
Thanks for your encouragement & support.
---
Back To Top