Cigar Stores in Manhattan: Davidoff
Midtown Cigar Lounge with Fine Selection & Ambiance
August 15, 2017 / Midtown Manhattan Neighborhoods / Shopping Manhattan Midtown / Manhattan Buzz NYC.
Earlier this year I had an opportunity to take a break at the Davidoff Cigar store located in Midtown Manhattan. I have visited the store on several prior occasions, stopping in for a quick take out order of a fresh cigar or two. But on this day I had a bit of time available, so I decided to reward myself with an 'eat-in' cigar.
Davidoff Cigar Store - Men's Gift Stores in Manhattan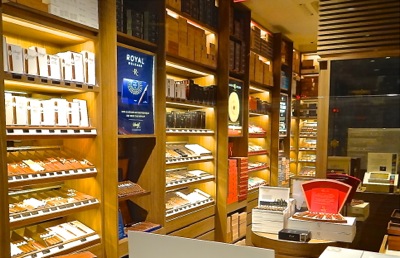 I like entering the Davidoff store. It's a tightly appointed men's store, complete with more than a full range of sizes and strengths of cigars. They also offer all of the accessories one might need to properly care for and to assist in the consumption of cigars, meaning humidors and ash trays and lighters and the like. They also offer other men's accessories like wallets and brief cases that match the quality branding of their cigars.
Inside the humidified cigar room I began browsing the selection. While looking through the cases, I started conversing with another customer who recommended a Dominican made cigar he favors. I was in a receptive mood to try something different, so I bought a regular sized, medium bodied, lighter tobacco cigar, which cost in the neighborhood of $8 - $12 [can't remember the price or name right now] and headed into the smoking lounge to enjoy my purchase.
Cigar Lounges in Manhattan: Davidoff Cigars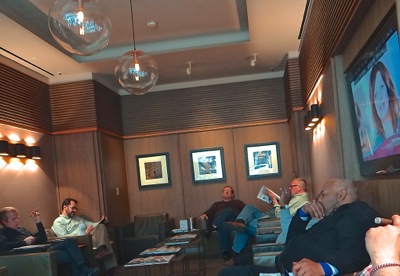 The smoking lounge is at street level on 6th Avenue between 56th and 57th streets. As it was a quiet Saturday on a cool spring day, the pedestrian traffic was fairly light. During the weekdays and holidays it's bustling. The mood of the room reflected the calmness outside, as there were about a half dozen men, ranging in age from about the mid thirties to mid sixties, sat reading the paper, conversing or quietly staring into space contemplating a business deal, a family issue or the universe.
I spent the better part of an hour talking to the guy who'd recommended my cigar. We covered the family and kids, the job and what's doing in the world, both here and abroad. It was a pleasant conversation and I left the Davidoff store on 6th Avenue just south of 57th Street feeling pretty good about things and planning to make a return visit in the not-too-distant future.
---
Things To Do Manhattan - This Weekend
Dominican Parade, Summer Streets, Singing Beach SoHo, Lincoln Center Out of Doors ending, SummerStage on LES, Shakespeare in the Parks UES & UWS last weekend, Midtown Theater Fest ends
August 11, 2017 / Things To Do Manhattan / Manhattan Neighborhoods / Manhattan Buzz NYC. Click for Manhattan Weather. Note the summer cultural programs begin winding down, as this is the last weekend of some of them.
Friday & Weekend - Salsa at LES Amphitheatre, Singing Beach, Midtown Theater Fest, Lincoln Center Out of Doors & Shakespeare at Delacorte end this weekend
The photo at right shows the stage at Lincoln Center Out of Doors at Lincoln Center on the UWS, which is in full swing but ending this weekend.
This weekend at Lincoln Center on the UWS, they're hosting Mostly Mozart & Lincoln Center Out of Doors. See Lincoln Center Out of Doors website.
August 11, 2017 from 6 - 9 pm / Free - Andy Montañez - featuring "Known as El Godfather de la Salsa, Puerto Rican bolero singer/songwriter legend and starts with a dance workshop." At the East River Park Amphitheatreon the Lower East Side which you can access by taking Jackson Street south off Grand Avenue and then head east on Cherry Street where you enter the park and head to the East River.
The Midtown International Theater Festival begins and runs Wednesdays through Saturdays through August 12th. The shows begin at various times at The WorkShop Theater's Main Stage and Jewel Box Theater at 312 West 36th Street in Midtown. Note - PAID event - Tickets are $20 and details at www.midtownfestival.org.
July 27 - August 20,2017 from 6.30 - 8.30 pm / Free - Henry V by Shakespeare - A play about Henry V of England, includes historical references and simultaneously glorifies and criticizes heads of states who take their nations to war. At Soldiers & Sailors Monument at Riverside Drive and West 89th Street in Riverside Park UWS.
Singing Beach, a new play written by Tina Howe, is being shown at the Here Theater at 145 6th Avenue in Tribeca. The play begins at 8.30 pm Wednesday - Saturday, with a 4 pm matinee on Sunday, from July 22nd through August 12th [$20 - $40 / theater]. See a short review of Tine Howe's new play Singing Beach below.
The photo at right shows a scene from TinaHowe's new play Singing Beach which ends SATURDAY. See details above.
Free Shakespeare in the Park at the Delacorte Theater in Central Park. Weekend nights beginning at 8 pm, A Midsummer Nights Dream, a comedy and romance that has lasted centuries about a wedding celebration including a play about a wedding celebration within the play. It has many themes including gender ambiguity and feminism. Rsvp free tickets online at www.publictheater.org. Runs weekly Tuesday through Sunday through August 13.
Beginning at 7 pm Mondays - Sundays / not Thursdays, August 1 - 20, 2017 / Free - Macbeth - Shakespearean tragedy about the King of Scotland and the damaging effects of seeking power for its own sake. The play brings into question Macbeth's ambition, commonly seen as so dominant a trait that it defines his character - as he is esteemed in war, but reviled at home. Performed by NY Classical Theatre Company - meeting near the Castle Clinton National Monument in Battery Park.
Saturday - Summer Streets, Singing Beach, MIT Fest, Theater in the Park & SummerStage LES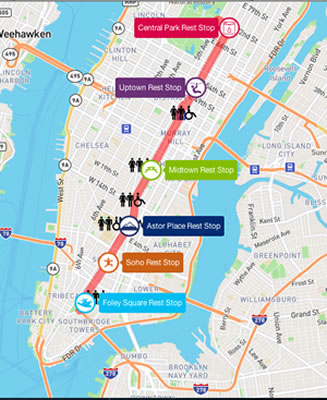 Also see events running through the weekend as noted above.
Free SummerStage concert - August 12, 2017 from 2 - 5 pm / Free - Family Day: They Might Be Giants: Kids, Science, and Beyond / Bill Childs of Spare Rock, Spoil the Child Radio - featuring "Notable alt-rock favorites bring the family together with their contagious melodies". At the Rumsey Playfield in Central Park [music / free]. Tickets through the City Parks Foundation website - www.cityparksfoundation.org.
See Lincoln Center Out of Doors and the Summer Theater programs that run through the weekend in the Friday & Weekend section above.
The map at right shows the north / south streets that are closed Saturday from 7 am to 1 pm.
This Saturday begins the second of three weekends of NYC Summer Streets - whereby Park Avenue, 4th Street on down to the Brooklyn Bridge is closed from vehicular traffic from 7 am to 1 pm. Key traversing side streets will be open via police-directed traffic. See map at right or visit
http://www.nyc.gov/html/dot/summerstreets/html/home/home.shtml
August 12, 2017 from 5 - 7 pm / Free - Khalid - featuring "Alt-R&B star and a millennial sensation in smooth rhythms." At the East River Park Amphitheatreon the Lower East Side which you can access by taking Jackson Street south off Grand Avenue and then head east on Cherry Street where you enter the park and head to the East River.
Sunday - Dominican Parade, Lincoln Center Out of Doors, SummerStage LES, Theater
Also see events running through the weekend as noted above.
The Dominican Parade begins at 12 noon on 6th Avenue at 38th Street and marches north to 54th Street [parades / kids / free].
See Lincoln Center Out of Doors and the Summer Theater programs that run through the weekend in the Friday & Weekend section above.
The photo at right shows Park Avenue South during NYC Summer Streets which runs SATURDAY from 7 am - 1 pm whereby the Avenue is closed to vehicular traffic and open to cyclists and pedestrians.
August 13, 2017 from 4 - 7 pm / Free - Funkbox in the Park: Tony Touch / Danny Krivit / Jellybean Benitez / D-Train / honoring Evelyn Santos - featuring "A medley of the best DJs and special guests from across NYC, spinning SummerStage into a classic house and funk dance party and beginning with a dance workshop." At the East River Park Amphitheatreon the Lower East Side which you can access by taking Jackson Street south off Grand Avenue and then head east on Cherry Street where you enter the park and head to the East River.
Manhattan Farmers Mkts / Street Fairs / Member Events Calendar
The calendar includes art exhibits at many of the major museums including MoMA, the Frick Collection, the Guggenheim,and theMetropolitan Museum of Art.We also list a number of foreign / indie film theaters. See art galleries & musical performances above in Friday & Saturday listings. Click here for free summer theater in Manhattan and SummerStage concerts in Manhattan.
*We also provide a listing of Manhattan Street Fairs & Manhattan Farmers Markets where you can find unique items and fresh foods. Street fairs wind down in November and so do most farmers markets, but a few continue year round.
Lastly, but not least, we hope you'll patronize the advertisers who provide us with the funding to publish this web magazine. Thanks for your interest and have a nice weekend.
---
NYC History: Morris-Jumel Mansion
The Mansion, Once Washington's HQ, is Home to 'Spirited' History
August 8, 2017 / Harlem, Inwood & Washington Heights Neighborhoods / Manhattan History NYC / Manhattan Buzz NYC.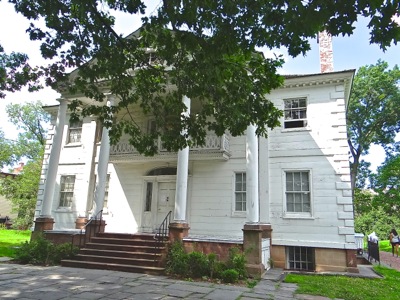 I had an opportunity to visit the historic Morris-Jumel Mansion in Washington Heights this summer. The mansion was built in 1765 by a British Military Officer, Roger Morris, who had married a wealthy heiress, Mary Philipse. Mary was the daughter and granddaughter of early Dutch immigrants [circa 1650's] who had become large landowners along the Hudson River - including lands ranging from what is now the western Bronx, all the way up to Putnam County.
The Morris Jumel Mansion was built atop one of the highest - if not the highest points of Manhattan - and to this day provides a great view of the surrounding urbanscape. During the Revolutionary War General George Washington set up headquarters at the house in September / October of 1776 where he won his first battle against the British in the Battle of Harlem Heights. This was an important victory because it demonstrated the colonialists could win battles and it came after Washington's forces had to evacuate what is now Brooklyn - in a Dunkirk style exit across the East River earlier that summer. The curators at the mansion, maintain the room that was once Washington's headquarters in a manner similar to the time.
Morris Jumel Mansion in Washington Heights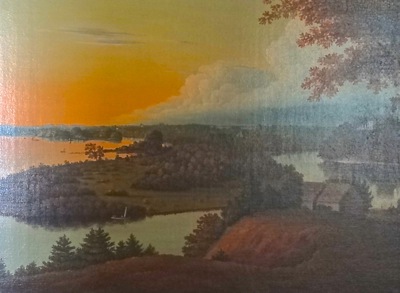 Nonetheless, the British were beginning to surround Washington in that locale, so he soon evacuated it. Today we call the area Washington Heights, and it is likely Washington's presence in this home during the war, that influenced the name of this neighborhood.
These Morrises were sympathizers to the British Crown, and thus evacuated it when the American Revolutionary War broke out in 1775. Eventually Morris had to forfeit their lands, when the colonialists suprised the world, and in 1783 emerged the victorious agains the British Empire. It's worth noting that there is a Robert [not Roger] Morris who was one of the American Founding Fathers.
From the time of the forfeiture of the house until it was a acquired in 1810 by Stephen Jumel and his wife Eliza, the mansion was reported to have been used as a tavern. There's not much information available about Stephen Jumel - not even a picture, but plenty about his wily wife, Eliza. They remodeled the house, notably the front of it in a Federalist style. Stephen died in a reportedly unusual death / accident in 1832 and there were rumors that Eliza may have had something to do with it.
Jumel Marries Burr & Mansion Inspires 'Hamilton' Playwright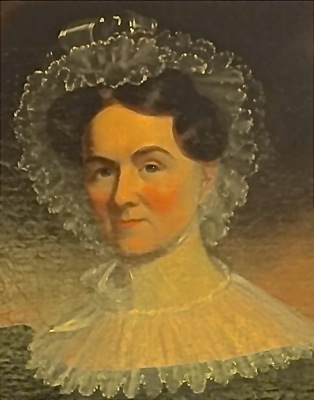 Eliza married Aaron Burr, a former Vice President and the man who killed Alexander Hamilton. They reportedly lived together a short while [she was 19 years his junior], as it appeared to be a marriage of convenience [status for her and money for him] and she obtained the official divorce documents from him on the day of his death in 1836.
Eliza apparently was a shrewd businesswoman and managed the lands they owned in such a manner that she lived comfortably until her death in 1865. The estate took 16 years to settle and the house was finally acquired by the State of New York in 1904 and thereafter bestowed with increasingly protective historic designations.
Playwright Lin-Miranda, author of the popular play, 'Hamilton', apparently sought some good measure of inspiration from this site. Reportedly some key verses were written in Aaron Burr's bedroom.
Paranormal Investigations - Eliza Jumel & the Morris Jumel Mansion
There's been some emerging lore, dating back over half a century, that the ghost of Eliza Jumel, and possibly others, haunts the mansion. In fact the museum capitalizes on this lore by offering folks paranormal investigational tours.
All in all it was a fun visit to the Morris Jumel Mansion in Washington Heights. It was my first visit there and it won't be my last.
---
Fashion Show on the Hudson
Riverbank Park Fashion Show Highlights New & Known Clothing, Models & Designers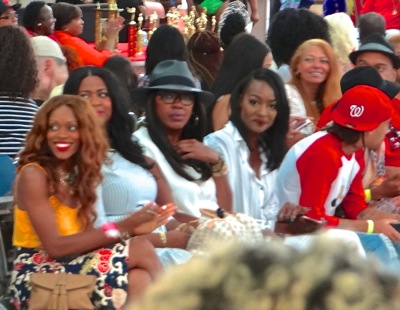 August 1, 2017, Inwood Neighborhood / Manhattan Fashion & Designers / Manhattan Buzz NYC.
A couple of weeks ago I made my way to the 8th Annual Fashion on the Hudson fashion show at Riverbank Park at 679 Riverside Drive along the Hudson River in the Inwood neighborhood of upper Manhattan. It was a beautiful Saturday afternoon as I headed into the Cultural Building in the 28 acre park.
The audience filled the Cultural Building, so I had to move around to get some photos of the models who were in the process of displaying men's swimwear. The muscular male models, with washboard ribbed stomachs marched down the runway showing a range of swimming suits that ranged from modest white trunks, to skimpy speedo cuts with psychedelic designs. I surveyed the crowd and found a number of women who seemed appreciative of the new designs and cuts.
As I was tight on time, I decided to make my way backstage to talk to a few of the models and designers to learn a bit more about them. Backstage a number of models had queued up for the ongoing swimwear segment of the program, while deeper backstage a number of the formal wear models were prepping for their debut.
In the photo above right you can see members of the audience enjoying themselves at the Fashion on the Hudson fashion show at Riverbank Park in the Inwood neighborhood of Manhattan.
Fashion on the Hudson Showcases Local Designers & Models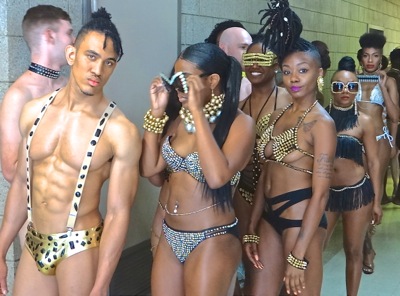 Fashion aficionado Daryl H. Miles, Founder of Beyond Styles by Miles, took a few minutes to talk to me about the show. He told me that Sofia Davis, editor of Fashion Avenue News, founded the show and that it has been produced at this location since its inception. At first Sofia held the show outside, but given the vagaries of the weather she decided to bring it in, where it has been ever since.
This year the show hosted 30 designers displaying swimwear, formal wear, casual wear and other stylish creations. The show is free to the public, but you must rsvp because seating is limited. The Fashion on the Hudson fashion show represents a great opportunity to see what's new and what's hot in the local NYC metro fashion world, and provides an opportunity for people interested in the business to meet models, designers and fashion buyers.
Daryl of Beyond Styles by Miles [www.beyondstylesbymiles.com - not to be confused with www.stylesbymiles.com] has been in the business for a number of years helping designers, models and fashion show organizers promote their fashion lines and brands.
I stayed a bit longer shooting photos of the models and lines before departing. And I'm looking forward to being able to spend more time covering the show next year.
In the photo above right you can see models who participated at the Fashion on the Hudson fashion show at Riverbank Park in the Inwood neighborhood of Manhattan.
---
Is Singing Beach a Twilight Parallax?
Tina Howe's New Play at Here MainStage Theater in SoHo
July 25, 2017 / SoHo Neighborhood near Tribeca / Manhattan Theater & Summer Plays / Manhattan Buzz NYC.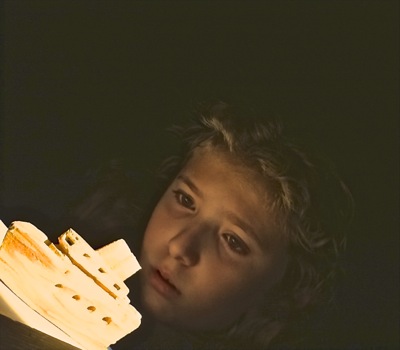 Last Thursday I had the opportunity to watch the dress rehearsal of Singing Beach written by American playwright Tina Howe.
Tina Howe has won numerous awards and honors as an American Playwright including placing as a finalist for the Pulitzer Prize in Drama in 1983 [Painting Churches], the Drama Critic's Circle Award for Best Play in 1998 [Prides Crossing] and the Lilly Award Lifetime Achievement Award in 2012.
Tina told me that the play, Singing Beach, was something she had started nearly a decade ago, but had put on hiatus after a couple of years of toil because she just couldn't get it right ... until now.
In the photo at right we watch as granddaughter Piper, played by Elodie Lucinda Morss, segues into another dimension taking us aboard the S.S. United States in Singing Beach, a new play by Tina Howe.
Singing Beach - Modern Themes
The play, Singing Beach, explores a number of themes. One of them is how family members respond to the caring needs of an aging, non-functional family member. In the Singing Beach play, the near-comatose elder is the father of the mother character [Mary], and the grandfather of granddaughter character [Piper] – whom together represent the female axis around which the play revolves. In a more cosmic parallax sense, the play actually encompasses three generations of women, as the grandmother's presence is felt by the void left when she passed away a year earlier.
Singing Beach - Director, Producer & Playwright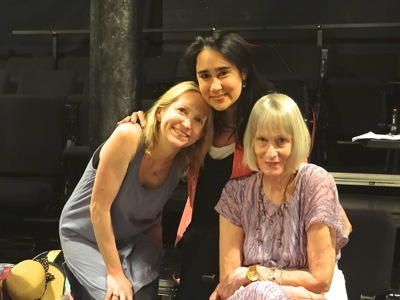 Tina Howe's new play is directed by Ari Laura Kreith of Theatre 167 and produced by Jenny Lyn Bader. The play opens on a beautiful beach, Singing Beach, which is a reference to a small, exclusive half-mile stretch of beach near Manchester by the Sea, which is just north of Salem in Massachusetts. The beach is known for its unique sand, which periodically emits sounds, when the wind hits the beach sand in just the right way.
The ghostly sounds of Singing Beach appear to be a metaphor in the play. Shortly after the play opens, we're told there's a storm, with potentially lethal gale force winds approaching. Will the storm wreak havoc, misery and by virtue of its destructive force, shake up and change everyone's reality?
Shortly after the first scene, we're taken into the dreamy parallax stream of subconscious in granddaughter Piper's mind - in a transition that is far more subtle than the windy transition taken by Dorothy in the Wizard of Oz. After Piper takes us aboard a transatlantic steamer, she appears to have far more fun than Dorothy, but is traveling in an environment that might be more mortally dangerous.
In the photo at right are Director Ari Laura Kreith, Producer Jenny Lynn Bader and Playwright Tina Howe at the Here Theater in SoHo.
At Here MainStage Theater in SoHo thru 8/12
I'll have more on this as the week progresses, but in the meantime Singing Beach is being performed at the Here MainStage Theater at 145 6th Avenue at Dominick Street in SoHo. The play runs through August 12, 2017, but seating is very limited.
You can purchase tickets online [$30 / $20] at the Here.org website by cutting and pasting this url into your browser box - http://here.org/shows/detail/1920/
---
Lower East Side Arts Festival
Theater for the New City Celebrates America's Immigrants
May 30, 2017 / East Village Neighborhood / Theater in Manhattan / Manhattan Buzz NYC.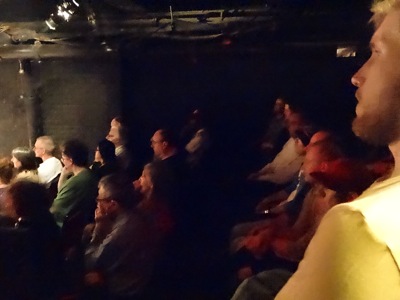 I attended the 22nd annual Lower East Arts Festival in the East Village this weekend. It was held at the Theater for the New City on First Avenue off 10th Street beginning Friday and ending Sunday. As I approached the theater, I could see it was bustling.
Inside there was a long winding hallway, with high ceilings, and art exhbits adorning the walls and crannies along its length. I stopped at the ticket booth [tickets are free] to get a bit of orientation and here's what I learned.
The festival was started by an actress, who was prepping, performing and managing the whole time I was there, so I didn't get a chance to speak to her on this visit. At right you can see the audience attentively watching a musical performance in the lower theater of the Theater for the New City.
The Theater for the New City predates the festival, when it went by another name. The festival itself was first held in the West Village, then moved farther east, and a few years ago opened up at this location.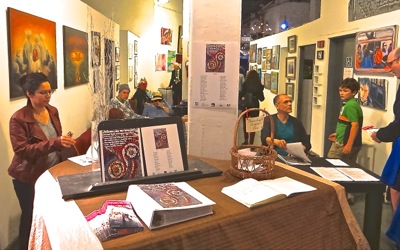 The festival celebrates the artistic community of the Village, Manhattan, and the greater NYC metropolitan area. There were literally dozens of performances and exhibited artworks, done by and featuring in the neighborhood of well in excess of 100 participants. In the photo at right you can see some of the art exhibited at the 22nd Annual Lower East Side Festival of the Arts in the East Village in Manhattan.
Each night the performances run from about 6 pm to about midnight featuring actors, actresses, poets, artists and dancers in a couple of venues at Theater for the New City at 155 First Avenue at 10th Street. It's first come / first serve and the seating handles about 150 and 60 guests per performance in total.
The festival theme this year was 'We are all Immigrants'. All events are free, the festival lasted three days, and the Theater for the New City is, as I was told, in a constant state of movement, so there will be more to come.
Break a leg.
---
Old World Big Screen Theater Coming Back
The United Palace is a Big Screen Theater Built in the 1930's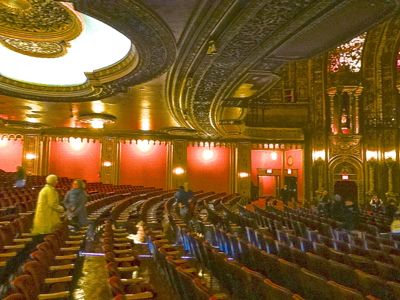 May 16, 2017 / Upper West Side Neighborhood & Washington Heights / Film in Manhattan / Manhattan Buzz NYC.
Last month I had the opportunity to watch George Orwell's 1984 on the big screen at the United Palace theater in Washington Heights. I hopped aboard the subway at Times Square and made my way north into Washington Heights, bumping into a friend of a friend along the way.
I got off the A train at 175th Street and made the one block walk east to the the theater. The outside of the building is rectangular and made of stone, hiding an exquisite interior in an evolving neighborhood. When I stepped inside, I was nearly dazzled by the beauty and old world glamorous feel that the United Palace has managed to keep alive all these years.
More coming later this week.
---
The Tribeca Film Festival & Cinematography
Cinematographer Ellen Kuras Talks about the Cinematic Arts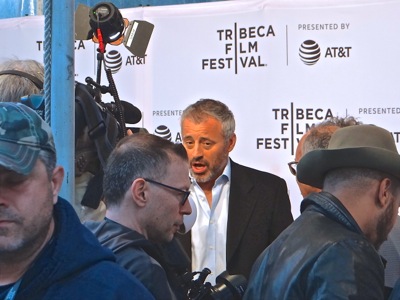 May 8, 2017 / Tribeca Neighborhood & Chelsea Neighborhood / Film in Manhattan / Manhattan Buzz NYC.
I attended the 16th Annual Tribeca Film Festival, which ran from April 19th through April 30th this year. Last year I visited and reported on some of the interactive storytelling exhibits, so this year I decided to attend one of the lectures. The one I chose, was given by Cinematographer and Director Ellen Kuras, who talked about the cinematic arts.
After picking up my press pass at the Tribeca Film Festival hub at Spring Studios, I took the subway uptown to the School of Visual Arts in Chelsea on West 23rd Street. There was a line beginning to form, as the event was free to the public. My press pass didn't provide me with any advantage vis a vis the general public, so I waited along with many of the early attendees who wanted to be sure not to miss the lecture.
Tribeca Film Festival Lecture: Ellen Kuras - Cinematographer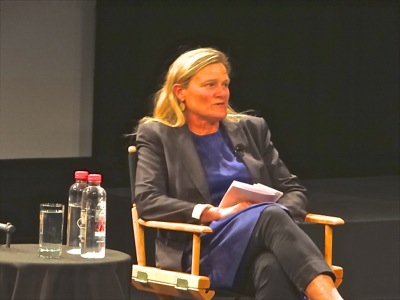 Once inside the theater filled quickly. Ellen Kuras came out and took a seat on the stage. Kuras has a disarming demeanor and it wouldn't have been difficult for me to believe that I was sitting there with her alone, with nobody else in the room.
Ellen Kuras is an accomplished Cinematographer and has a bit of her own story to tell … which she did, but which I also researched online after the lecture, because her personal story caught my interest.
Kuras Education & Directorial Debut
Kuras studied Anthropology & Semiotics in college at Brown University. Anthropology is the study of man from a cultural, institutional and normative perspective, while semiotics is the study of communication, specifically focusing on communicating meaning through allegories, symbolism, metaphor, analogies and other methods. After college Ellen went on to study photography at the Rhode Island School of Design and filmmaking in New York.
Kuras started her career working on a film about a Laotian who had immigrated to New York, after fleeing war torn Laos in the 1970's. It's a narrative with flashbacks that mix historic footage in with the narrative, providing the film with dramatic realism and moving force. Kuras began the film around 1985, but would not finish it until 2008.
Kuras' Worked with Spike Lee, Martin Scorsese, Christine Vachon, Julian Schnabel & Many Other Top Names in the Film Making Industry
Ellen's career includes numerous collaborations with Spike Lee, Martin Scorsese, Christine Vachon Julian Schnabel and many others. She's a member of the contemporary film making avant-garde, pushing the envelope to bring real or important artistically told stories about contemporary issues - alive.
Click here to read more about Ellen Kuras at the Tribeca Film Festival talking about the art of cinematography. Coming tonight 5/9/17.
---
Update: LaGuardia Airport Development Project
First Phase Moving Along with Second & Third Phases About to Begin
April 24, 2017 / Astoria Neighborhood / Queens Real Estate / Gotham Buzz NYC.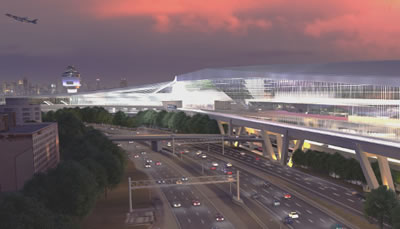 I attended a Community Board One meeting at the Astoria World Manor on Wednesday, April 19th. People representing the LaGuardia Airport development project were scheduled to provide the community with an update regarding several of the multi-billion dollar renovation projects associated with LaGuardia Airport, that are either currently in the works or nearing the end of the planning process.
The presentation was split into three parts: 1) LaGuardia Airport development project construction updates, 2) traffic mitigation efforts and 3) community outreach including job opportunities related to the projects.
Click here to read our report on the LaGuardia Airport development project & expansion, related job opportunities, its possible impact on travel times to the airport and the public hearing details on May 3rd, 2017 in Flushing. We have also included a small bit of history about the airport and the fight over the property and development in Flushing Meadows Corona Park. The graphic at right was created as part of the LaGuardia Airport development project.
---
Orwell's 1984 in 2017: Newspeak or NewsCorp?
Rupert Murdoch's Orwellian NewsCorp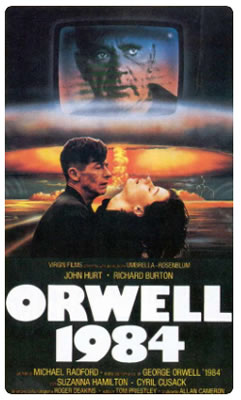 April 4, 2017 / NYC Neighborhoods / NYC Film / News Analysis & Opinion / Gotham Buzz.
On April 4th several New York City arts organizations provided their audiences with the opportunity to watch the film, Ninteen Eighty-Four, based on George Orwell's book by the same name. Orwell published the book in 1949 - just a few short years after the fall of Adolph Hitler and his Nazi regime. The significance of the April 4th date is that that is the date first inscribed in the diary of Winston Smith, the central character and protagonist in the book / film.
Orwell [born Eric Arthur Blair in 1903] was a journalist and novelist who covered the Spanish Civil War in 1936 - 1937, during which the Communists fought the Nationalists for control of Spain. In 1938 Orwell wrote the book Homage to Catalonia about the war, and one of the notable quotes penned in that book was,
"One of the most horrible features of war is that all the war-propaganda, the screaming and lies and hatred, comes invariably from people who are not fighting."
When World War II broke out, Orwell [who had tuberculosis] was declared "unfit for any kind of military service" by the British Medical Board. Nonetheless, Orwell spent two years [1941 - 1943] as a broadcaster for the BBC's Eastern Service. Around the time he left the BBC, Orwell began work on a book entitled Animal Farm which he finished and published around the end of the war in 1945. The book talked about how a democracy of pigs was eventually corrupted by those at the top, who fashioned the governance to serve themselves, while exploiting the other members of the farm. One of Orwell's notable quotes penned in that novel was,
"All animals are equal but some animals are more equal than others."
Between the end of the war through to the end of his life [died 1950], Orwell kept on writing - finishing and publishing his last novel, Nineteen Eighty-Four- in 1949. In the film 1984, Newspeak is the party language and is characterized by a diminishing vocabulary which is designed to limit thoughts of opposition to the party and leadership, in order to maximize party influence and control.
NewsCorp Newspeak: Rupert Murdoch's NY Post & Fox 'News'
I've been watching Rupert Murdoch's Newscorp and 21st Century Fox media outlets for about a year now.
The Mayor is Innocent but Murdoch's NY Post 'Fake News' Headlines & Stories Fuel a Perception of Corruption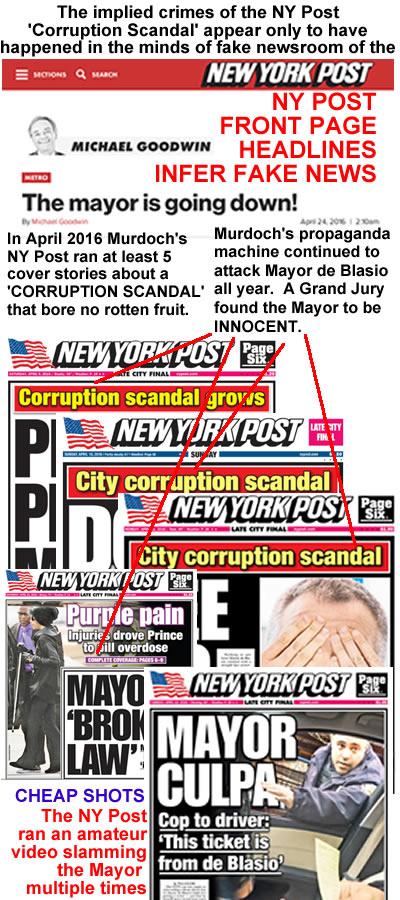 I started tracking them because I found the NY Post coverage of the allegations [the investigation was closed in March 2017] surrounding Mayor de Blasio's fundraising - to be propagandistic. For nearly a year the NY Post appeared to publish out-of-context, one-sided, significant distortions of the events surrounding the Mayor. The unrelenting NY Post propagandistic accounts appeared to fall well outside of the guiding principles of American journalism.
Given Murdoch's prior history of election meddling around the globe [see Murdoch corruption or Fox propaganda], one might easily surmise that Murdoch's propagandist attacks on Mayor de Blasio are an attempt to discredit the Mayor in advance of the 2017 election. Thus, since April 2016, I started watching Fox News and their team of commentators - several of whom appear to be unabashed propagandists.
Sean Hannity, Bill O'Reilly and Janine Pirro top the list - but in Murdoch's media empire, these top performing masters of media distortion, are far from alone.
Fox & Hannity's Newspeak: Appears to Tell their Audience to Believe What they Say Now, & to Forget Everything they Said Previously
Fox 'News' Hannity is a good example of a Newspeaker, because he appears to conveniently forget or omit things that don't fit into many of his narratives, including things he himself has previously said.
Hannity appears to believe in the old adage that one should,
"never let the facts get in the way of a good story".
In Orwell's 1984 novel / film the rulers teach the people to forget the past, so that the people will believe anything that is told to them. To help this forgetting process along, the rulers change the narratives or prior reports of people and nations in the past.
The simplest example of removing subjects' memories in the film - removing statements of truth so-to-speak - was getting the subjects to believe that 2 + 2 = 5. If the ruling class says it's 5, then it's five - not four.
On Fox 'News' Hannity we see some striking parallels of such flip flops on 'truths'. In 2010 Hannity was calling for hacker Julian Assange to be imprisoned. But in January 2017, Hannity appeared to mostly forget that Assange hacked and stole government information. In 2017 Hannity even provided a public platform for Assange, interviewing the allegedly treasonous hacker; and by some accounts, treating Assange who is wanted for sex crimes in Sweden, with kid gloves.
What changed? Perhaps Rupert Murdoch's Fox News talking points on the Assange narrative, which in 2017 appears to be promoting the notion that Donald Trump did not collude with the Russians to win the 2016 presidential election. The Fox propaganda network doesn't seem to want to wait for the law enforcement officials to complete their work, before pronouncing Trump innocent.
Is this a modern day Orwellian 1984, where we are asked to forget Fox 'News' and Hannity's prior narrative, and believe what they are telling us now?
Mega Multi-Millionaire Hannity Appears to be a War Promoter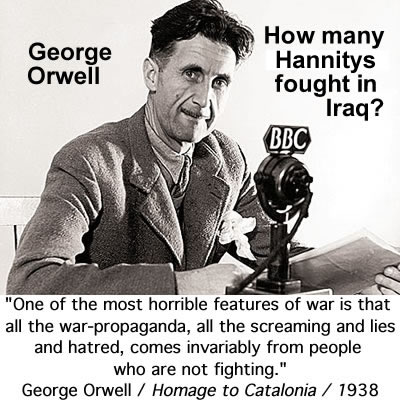 I've been watching Hannity shows for about a half year now, and I find his hypocrisy nearly legendary. Hannity portrays himself as a working class guy, while he rakes in about $30 million per year and owns multiple multi-million dollar mansions / homes and flies around the country on private jets.
Oliver North and Sean Hannity founded a charity, Freedom Alliance [Concerts], for the families of veterans of the Iraq War - a war which Hannity and his Boss Murdoch promoted using the 'fake news' that Iraq had weapons of mass destruction [WMD].
Murdoch's Fox 'News' and Hannity's ongoing rhetoric calling for a war in Iraq appeared to enhance Fox ratings and revenue, seeming to benefit Hannity, O'Reilly and other members of the Murdoch propaganda network, while destroying the lives of hundreds of thousands of others [I'm including the Iraqi civilians too].
Hannity's Freedom Concerts: A Self Promotion Venue?
Hannity has a Charity for Iraq Veterans' Children - some Believe it's Self Serving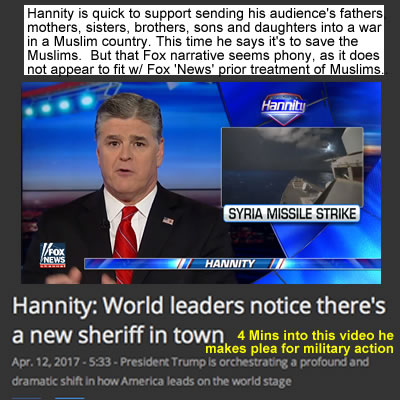 According to Conservative blogger Debbie Schlussel and other reports, I began to get the impression that Hannity's charity is as much a funding source to promote and pay for Sean Hannity public relations efforts, as it is a vehicle to help the children of Iraq War veterans.
In a March 19, 2010 post, Schlussel reports that she received the following information from a contact at Fox.
"Hannity's Freedom Concerts [fund his] use of a Gulfstream 5 plane to fly [him around], a fleet of either Cadillac or Lincoln SUVs ... and several suites at really expensive hotels ..."
Schlussel goes on to question how much of the funds raised, actually go to the children of Iraq veterans.
More than Half the Proceeds go to the Programs
An April 2, 2010 Mother Jones report notes that the non-profit Charity Navigator downgraded the Freedom Alliance [concerts] to two stars following a complaint by Citizens for Responsibility and Ethics in Washington[CREW]. The CREW complaint said that it was unclear how much money actually made it to veterans' children.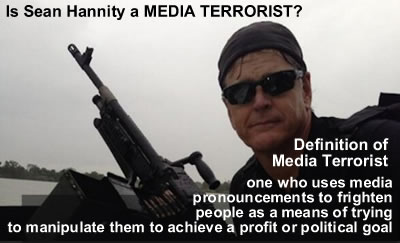 In a March 22, 2010 report by CNS News, a conservative site, reported Hannity's response to the above allegations as:
"The statement posted by the Freedom Alliance is 100% truthful and accurate. I have NOT taken a single penny from the Freedom Alliance or from concert sales EVER! I pay all the travel costs for my staff, family and me, and I have personally donated hundreds of thousands of dollars to the FA and military charities."
In Charity Navigator's most recent rating dated March 1, 2017 for the fiscal year of 2015, the Freedom Alliance received a 78 rating and reports that about 57% of the charity proceeds go to the programs they deliver.
Orwell's message to us seems relevant to this conversation as in Homage to Catalonia, Orwell tells us that,
"One of the most horrible features of war is that all the war-propaganda, all the screaming and lies and hatred, comes invariably from people who are not fighting."
Click here to continue our exploration of Hannity & Murdoch's Fox 'News' propaganda using the warning signs lef to us in George Orwell's books, 1984 and Animal Farm.
We'll take a look into one of Murdoch's huge Australian tax breaks, one of Murdoch's fabulous Australian homes, Ted Koppel's claim that Murdoch's Fox 'News' Hannity is bad for America, how deregulation benefits the Murdochs versus the American working class, and how Murdoch's propaganda machine support for Trump - less than 100 days into the new Administration - already appears to be providing Murdoch and Fox 'News' with handsome returns.
---
April Fools Day Parade NYC
Breaks Guinness Book World Record for Trump Look-alikes
April 1, 2017 / Upper East Side Neighborhood UES / Things to do Manhattan / Fact & Fiction / Manhattan Buzz NYC.
On Saturday morning I made my way to the corner of 59th Street and Fifth Avenue to photograph and cover the April Fools Day Parade in Manhattan. For years I'd noticed this event, and last year finally posted it, wondering if in fact it was just a prank.
This year they spiced things up a bit, by posting a downloadable Trump mask on the site which people contemplating participating in the parade could wear to help them break the Guinness Book of World Records for the largest crowd of Trump Look-alikes.
You can imagine my surprise and dismay when I arrived early and there were only a couple of people milling around in what I would have assumed was the proper location. But the disappointment gave way to plenty of smiles as one by one the Trumpsters arrived and it wasn't long before there were hundreds, possibly over a thousand, Trump Look-alikes.
I spoke to the organizer of the 32nd Annual April Fools Day Parade who told me they had succeeded in meeting the verification requirements needed to get the official designation of having broken a Guinness Book of World Records. So congratulations to the organizers on a job well done.
Next year I'm planning on inviting some out-of-town guests to participate in the 33rd Annual NYC April Fools Day Parade, as it turned out to be a very humorous way to start the day.
---
U.S. Taxes & Budget: Trump is Whose Voice?
Stock Market adds Trillions & Working Middle Class Gets What?
March 6, 2017 / NYC Neighborhoods / NYC Business & Politics / News Analysis & Opinion / Gotham Buzz NYC.
Has Rupert Murdoch's Fox News mouthpiece, Sean Hannity, been pushing hard for tax reform because the Trump tax plan will be good for the working class people - one of which he appears to pretend to be? Or because the Trump Tax Plan will be good for mega multi-millionaires like Sean Hannity and mega multi-billionaires like Hannity's boss, Rupert Murdoch?
How Much a Phony is Fox News Sean Hannity?
Does he Pretend to be Working Class Guy ...
- So he can Dupe Fox News Viewers into Supporting a Tax Plan that Favors NOT them -
... but Mega-Millionaires like Him?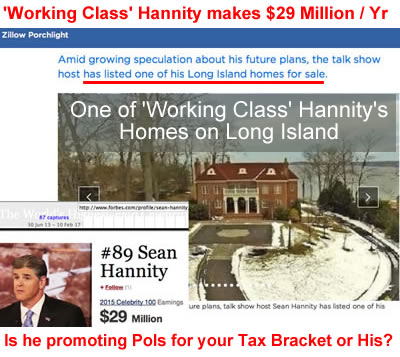 Hannity hasn't been a working class guy for in the neighborhod of two decades. In fact, according to Forbes in a 2015 survey Hannity is a very rich man. According to Zillow Hannity owns a palacial home on Long Island worth millions [see Zillow photo at right] and a second home located in a wealthy enclave in Naples, Florida.
Forbes published that Sean Hannity's earnings in 2015 were $29 million [see graphic at right]. So it's not implausible to guess that Hannity may have purchased the second home in Florida, so he could claim residency there in order to avoid NYS taxes, which Hannity has been publicly complaining about for years.
Which tax candidates and priorities do you think Sean Hannity is supporting - yours - or his own and Boss Murdochs?
Televangelist Hannity Preaches Gospel According to Murdoch
Fox News & Hannity Dictate Orders to Republicans ... Implied Threat is Suffer the Wrath of Murdoch's Propaganda Machine?
Hypocrisy & Half Truths on Hannity on Fox News Tonight?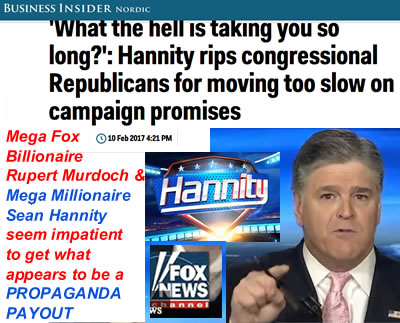 I'm using Fox News propagandist Sean Hannity as an example of what appears to be the incredible hypocrisy and misleading information regarding Trump and the Trump tax plan, being provided by Murdoch's Fox News, one of America's largest TV networks.
It appears Hannity lures unwitting viewers into believing he's a working class guy - when he isn't - so his viewers will take his advice when he labels political candidates and public issues in childly simplistic terms of 'US' vs 'THEM' and 'GOOD' vs 'BAD'. Hannity seems to use small words and incessantly repeats himself, instructing his viewers like they are a bunch of five year-old kids who don't have the contextual experience nor even the infantile analytical skills required to think for themselves.
Fox and Hannity oftentimes appear to make no attempt to find and disseminate the truth on issues or government officials, but instead appear to propagandistically promote or punish those who do not bend to their will, as exemplified in the Business Insider headline to your right. The implicit message to Republicans appears to be obey us - or suffer the consequences of losing your elected government post - because our audience believes us and will do what we tell them to do.
Fox News Hannity's pugnacious rhetoric sounds kind of Nazi-like. This seems to be an indication that the FCC has granted and entrusted these people with way too much power - and that they appear to be corrupting it to serve their own selfish interests.
Click here to continue reading this report about Fox News propaganda & Hannity, O'Reilly propagandists on Fox News which is a lead into a report about how it appears they will profit handsomely from their propaganda services.
---
De Blasio Delivers State of the City Address
*Mayor Takes Humanist, Social Science Approach to Solving NYC Problems
*NYC Crime Down, Stop N' Frisk Down 97%
*NYC Public School Graduation Rate Up, H.S. Drop Out Rate Down, College Bound Graduates Up,
*70,000 Children Enrolled in Universal Pre-K
*Financing Initiated on 62,000 Units of Affordable Housing
*NYC Budget Surplus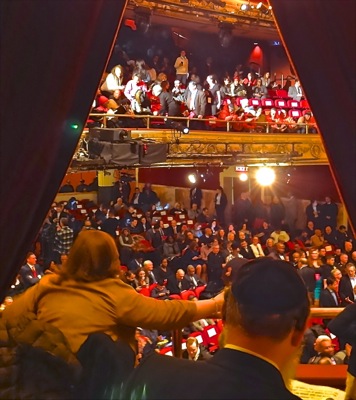 February 14, 2017 / Harlem Neighborhood / NYC Government & Politics / News Analysis & Opinion / Gotham Buzz NYC.
I attended Mayor de Blasio's third State of the City Address at the Apollo Theater in Harlem on Monday. The beautiful old theater, built in 1904, didn't admit African Americans until thirty years later. And it was in 1934 that the historic theater began earning the fame it has today, by becoming the showcase for African American musical and theatrical legends.
In the photo at right is the Apollo Theater as seen from one of the balcony booths prior to the beginning of Mayor de Blasio's 2017 State of the City Address. GB LINKS.
These are the Times that Try Men's Souls: Thomas Paine & Fighting Tyranny
There were a number of performances and speeches leading up to the Mayor's address, including a performance by the Dorothy Maynor Choir of Harlem and an operatic delivery of the Star Spangled National Anthem by FDNY's Regina Wilson. Recently deceased Detective Steven McDonald's son, Conor, gave a speech, as did NYC First Lady Chirlane McRay, the Reverend David Ramos, Rabbi Arthur Schneier and Imam Souleimane Konate.
The Pledge of Allegiance was delivered by Jian 'John' Yuan Lin, Chyna Huertas and Eva Lin. And the Reverend Michael Walrond, of the First Corinthian Baptist Church, gave a fiery, inspirational speech talking comparing the national state of affairs today to the American colonists fighting to shake off the shackles of tyranny. He cited the words of American Revolutionary Thomas Paine, who in 1776 said,
"These are the times that try men's souls."
Just before the Mayor came on stage was a video highlighting the de Blasio Administration accomplishments.
Mayor de Blasio Standing Big & Tall for All New Yorkers
The Mayor came onto the stage, beginning by thanking the various people and departments that helped make his Administration's accomplishments possible. His thanks always include his wife, Chirlane McCray, who has been evolving in her role as NYC's First Lady.
Here's a sampling of the de Blasio's efforts to make New York a better place for all New Yorkers. Some of the information came from the video presentation referenced above, which I have augmented with some additional research and information obtained in prior reporting efforts.
In the photo at right stands a weary, but determined, Mayor Bill de Blasio at his 2017 State of the City Address at the Apollo Theater in Harlem.
I. De Blasio Administration NYC Public School Achievements
A. Social Science & Humanist Approach to Education
• Universal Pre-K Enrollment 70,000
• Advanced Placement For All
• Drop Out Rates Down
• Graduation Rates Up
• College Bound Graduates Up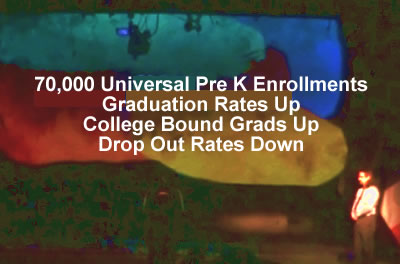 The slide at right shows some of the gains made by the de Blasio Administration with the NYC public school system over the past three plus years.
1. Stop the Bleeding – Stop the 'CORPORATE' run Charter Schools from Maximizing Profit at the Expense of Maximizing Human Potential
Editor's Note: There is a BIG DIFFERENCE between the NON-PROFIT CHARTER SCHOOLS and FOR-PROFIT CHARTER SCHOOL CORPORATIONS. Non profit charters are generally older organizations, designed as an alternative in response to failing public schools decades ago, and whose focus is on improving education - not improving profits.
By contrast the FOR-PROFIT CHARTER SCHOOL CORPORATIONS generally arose in the 21st century, and this group appears to be pillaging the public school system by recruiting and siphoning off the good [low cost / high performing] students so they can maximize profits – not enhance public education.
The despicable consequence of this for-profit charter school strategy is that they are simultaneously robbing the most vulnerable, disadvantaged children of anything resembling an opportunity in life as promised in the founding documents of this nation.
Family background continues to be the highest determinant [have the highest correlation] of a student's academic achievement.
So the de Blasio Administration has significantly slowed the corporate charter school assault on the public education system.
Corporate Charter School Business Strategy Comparable to Old Health Insurance 'Gaming the System'
Recruit the Academic Achievers, 'the Healthy Ones', Because They're Most Profitable & Shun the Rest
It appears the charter school corporations have employed a strategy designed to recruit and retain the best students to their schools, while leaving the rest behind. They appear to recruit the kids who are already performing well, because the performing children cost the least to educate, thus providing the highest return to the hedge fund profiteers because the funding is allocated on a per capital / per student basis. High performing student enrollments also enable corporate charter schools to claim they are 'performing well' because they've recruited the highest scoring students.
The recruitment and retention strategy referenced above resembles the old health insurance strategy of recruiting the healthy people to buy health insurance as they are the most profitable, while denying those who aren't blessed with good health because they cost the most to keep healthy. This was a systemic inequity Obamacare attempted to eradicate.
In the photo at right stand an Imam [Islam], a Rabbi [Jewish] and a Reverend [Christian] all sharing the same podium with a message of love, peace, respect and understanding.
2. Help the Youngsters & Maximize Human Potential – Not Profits
The De Blasio Administration pushed through universal Pre-K, which has enrolled 70,000 students since its inception in the Fall of 2014.
When this first came out I, and a number of people I know, didn't really grasp the importance of this effort. As family support is the highest determinant in a child's success, many youngsters were entering the public school system at a significant disadvantage vis a vis their better parented peers.
By accessing these kids while they are younger, and providing access to the guidance and resources of the public school system earlier, the NYC Public School system now has a greater chance of motivating these kids, which will inevitabley empowering them, raising their self esteem, and give them a chance at a far more engaged and productive life.
I now get it. And this seems like it can only be a good thing for all of society, as it will reduce societal costs of failing these people early on.
Maximizing Human Potential is Good Public Policy that Costs Less in the Long Haul & Enormously Benefits Society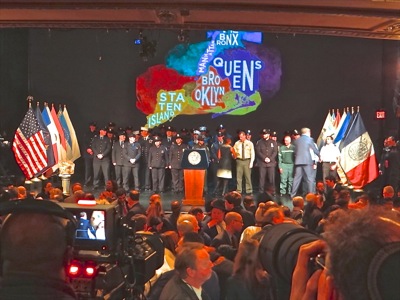 This approach to education enables us as a society to maximize our human potential, which will benefit all the community - and in some small way - all mankind. Not only is this a more humanistic approach to engaging these children, but it's more cost effective in the long haul, as those left behind will inevitably cost society more through lost opportunities, lost productivity, and increased spending on health, human services and criminal justice programs.
In the photo at right is the Mayor on stage at the Apollo Theater with all of the people working for the city that he honored that night including policemen, firefighters, sanitation workers and educators. The Mayor appears to be one who is very much in touch with the middle & working class rank and file of New York City.
Click here for our report about Mayor Bill de Blasio's State of the City Address 2017 including an update on crime, the affordable housing crisis, the city's finances, sanitation and social activism.
---
Brexit: Betrayal of Britain by a Billionaire Press Lord?
Is Murdoch about to Reap a $2.5 Billion Brexit Profit & Tighten his Grip on Britain?
January 30, 2017 / New York City / Murdoch Media Madness / News Analysis & Opinion / Gotham Buzz NYC.
I stumbled across a news item over the weekend, that led me back down the dirty trail of billionaire media mogul and global propagandist, Keith Rupert Murdoch.
Murdoch NYC Media - NY Post, Fox News, WSJ, WNYW TV & WWOR TV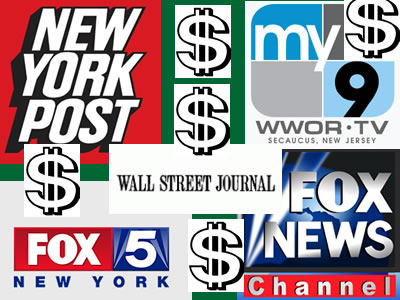 I believe this is an important issue that is, or eventually will be, of great concern to our readers. The reason New Yorkers should be concerned is because City Keith Rupert Murdoch controls the following NYC media: Fox TV Network, two local NYC TV stations – WNYW Channel 5 and WWOR Channel 9 - the Wall Street Journal and the NY Post.
Hence Murdoch has a dominant share of local NYC media and oftentimes appears to use it propagandistically to pick politicians who will help him enhance his corporate profits - oftentimes at the expense of the public.
Murdoch also controls some other American media properties including the National Geographic and book publisher, Harper Collins - but for the purposes of this report, these media outlets are less material.
Murdoch & Corruption? NY Post & Fox appear to be used as Propaganda Outlets
I began taking notice of Rupert Murdoch's manipulative media methods in April 2016 when his NY Post started relentlessly slamming Mayor de Blasio on what at the time appeared to be based purely allegations and innuendo. Murdoch's Fox News seemed to add to some of the media thrashing. In doing the first story where I recanted some of as Murdoch's propagandistic methods, I found all sorts of other information that indicated that Media Mogul Murdoch might possibly be more corrupt than many of the politicians skewered by his tabloid print and broadcast outlets.
Was Brexit Used to Replace Cameron to Renew Sky TV Bid?
Around this same time as the NY Post was hazing Mayor de Blasio, the British referendum on whether to stay or exit the European Union [aka Brexit] was coming to a head. I couldn't resist watching Murdoch's manipulative media operations swing into action to sway that vote – as I hypothesized at the time – that he was using the referendum to discredit and replace British Prime Minister David Cameron, so Murdoch could resume his aborted effort to acquire the rest of the British Sky TV satellite network that he didn't already own.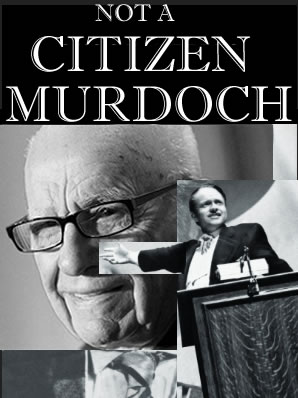 The British Sky TV merger was aborted in July 2011 because Murdoch's organization was caught illegally hacking thousands of people's phones in Britain, in order to publicize their private lives, in the interest of macabre headlines and gossipy broadcasts.
Cameron's Press Secretary, Coulson, a former Murdoch employee, was one of the people accused in the hacking scandal. And the office of the person appointed to oversee the Murdoch B Sky B merger, Jeremy Hunt, was found to have broken protocol by surreptitiously communicating with Murdoch's organization through an intermediary during the regulatory oversight hearings.
Murdoch periodically publicly asserts that his political press patronage is not related to all the goodies he appears to collect shortly after his candidates win. But quite frankly, having done quite a lot of research, I find that close to impossible to believe after sifting through a four decades long pattern of highly beneficial circumtances that ended in Murdoch's favor - click here to read our report on possible Murdoch corruption - featuring Newscorp, 20th Century Fox, Fox News, the NY Post and the Sun.
Murdoch, NOT A BRITISH CITIZEN, Controls Largest Concentration of Media in Britain
Keith Rupert Murdoch is NOT A BRITISH CITIZEN, and yet he controls two of Britain's largest daily newspapers - the [London] Times and the Sun; and two of its largest weekend papers – the Sunday Times and the Sun on Sunday. Murdoch's organization also holds a 39% share in Sky TV, which is Britain's largest pay satellite TV provider, and has substantial mobile phone and internet service shares of the British market.
Today, nearly a year after the whole Brexit drama began, British Prime Minister David Cameron lost the Brexit vote and his job. And less than six months after the new Prime Minister, Theresa May, has taken office; Murdoch's 21st Century Fox has come back to fetch the rest of its prey. Murdoch re-opened the bid for the rest of Sky Broadcasting in early December of 2016. And Murdoch's organization reportedly may reap a $2.5 billion gain versus pre-Brexit economics.
Global Deceptions - Propaganda for Profit & the Bigger Billionaire Picture
I see Murdoch's role in the Brexit vote and current bid to acquire the rest of Sky to be very much related. What follows is a timeline along with some commentary to provide insights into what appear to be possible motives and the driving force behind the Brexit referendum. I hope this will help readers become more aware of the bigger picture - a global media billionaire, invisibly directing and stage managing events on a national and international scale, to get what he wants, regardless of the price the public must pay for it. I know this sounds harsh, but that is exactly what Hitler did and everyone - even Hitler's supporters - paid dearly for it.
Murdoch appears to be using his media outlets as propaganda-for-profit money machines. And he appears to hide in plain sight, behind his branded media curtains, while manipulating a kaleidoscope of menacing politicians and pathetic public policies, in order to further enrich and empower himself.
The laws of physics state that energy and matter are never lost, only transformed, and for every action there is an opposite and equal reaction. These are laws that cannot be rewritten by Mr. Murdoch.
So with that happy thought, click here to read the rest of our report entitled - Was Brexit a Betrayal of Britain by a Billionaire Press Lord?
---
element(adman,groupad,Sectional2 Ad)$
---

---
NYC Crime Continues To Drop, Breaking Records
Mayor de Blasio & NYPD Discuss City Safety & Ongoing Improvements
February 7, 2017 / Manhattan Neighborhoods / Manhattan Government / Manhattan Buzz NYC.
This just came in on the heels of our coverage of the Public Safety discussion below. Mayor de Blasio and NY Police Commissioner O'Neill spoke in the Bronx regarding ongoing efforts and results in improving safety in the city. The following are some of the crime statistics noted in their meeting taken directly out of a press release sent by them.
 
Chief of Crime Control Strategies Dermot Shea, NYPD: Thank you, Mr. Mayor. Good afternoon, everyone. As you've heard, we have begun a strong start to 2017 in terms of overall crime reduction. Strategies that have been put in place to address repeat offenders, illegal gun possession and gangs are having the desired effect. We're building on the momentum of the last few years.
So, some of the highlights for crime statistics from this January – overall index crime is down 0.2 percent for the month of January. When you carry it over to this morning, we are now down 2.7 percent in overall index crime in New York City.
To note – with the overall index crime, January marks the tenth consecutive month of reduced index crime. That's the momentum we've been talking about. Currently, four out of five boroughs in New York City – all but Queens – are down to start the year.
Homicides – we recorded 20 homicides in January. That's down two from 22. That 20, as the Mayor alluded to, is the lowest January that we have ever recorded going back a minimum into the 1960s.
Shooting incidents – down 1.7 percent in January. Last January we hit the modern mark with 59 shooting incidents. We came in with 58 this January.
Talking about momentum again – nine of the last 13 months we've had a reduction in shooting incidents. Nine of the last 13.
Three months in a row we've had a reduction in shooting incidents in New York City. We have now, when you look at New York City as a whole, we now have 24-hour periods where we do not record a shooting incident in New York City. That kind of thinking was impossible in the not too distant past.
This is the new normal. We want to build on it and we feel that we will build on it but there's still plenty of work to do.
Stabbings and slashings for January – down 7.2 percent.
Robberies – down 7.5 percent. Lowest January robbery number we've seen.
Felony assaults in New York City – down 5.4 percent.
Burglaries tied the lowest mark set last year.
Transit crime – down 1.4 percent.
And housing crime – not to be outdone – down 1.9 percent.
Clearly, a wide breath of crime across New York City – property and violent crime, down.
 
But there is, I alluded to, there is still work to do – three categories we saw increases in January.
Grand larceny, specifically, credit card related skimming and forging of checks – those two drove grand larcenies. And grand larceny was up for the month of January 4.7 percent.
And lastly, rounding out the crime totals – stolen vehicles which we have seen drop to unprecedented lows saw an increase of ten cars for January. So, that's 480 versus 470 – a two percent increase.
Commissioner O'Neill: Okay, thanks, Dermot. We'll take your questions.
 
Question: Do you think it's possible, really to keep driving crime down further at this point? And how could you achieve that?
O'Neill's response was yes, with some added context.
---

---
Hundreds of Thousands March in NYC
Women's March Appears to Approach 21st Century NYC Protest Record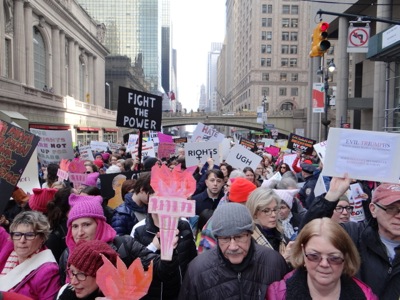 January 21, 2017 / Midtown Manhattan Neighborhoods / Manhattan Government & Politics / Manhattan Buzz NYC.
I headed into Manhattan around noon on Saturday. The #7 subway line was packed, even more than during rush hour on a weekday morning. There were protesters wearing pussy hats, bearing protest signs and placards, and generally in pretty good cheer as they headed into Manhattan for the Women's March in NYC.
I got off the subway at Grand Central Station along with the crowds of protesters, and made my way up to the 42nd Street exit. Out on the street there was a moving mass of marchers making their way down to Fifth Avenue where they would turn north to march up to Trump Tower along Fifth Avenue at 57th Street.
I have to admit I was surprised by the massive turnout. One person told me that over 50,000 people had signed up for the event on Eventbrite. But it would become obvious to me as the day wore on that the crowd had easily exceeded that number.
The event was planned to begin at 11 am in Dag Hammarskjold Plaza at Second Avenue and 47th Street. There would be a few speeches, followed by a march down Second Avenue to 42nd Street, then west to Fifth Avenue and then north up Fifth Avenue ending at Trump Tower at 57th Street. It was scheduled to end at 4 pm and waves of protesters had been choreographed to leave Dag Hammarskjold Plaza in 15 minute intervals.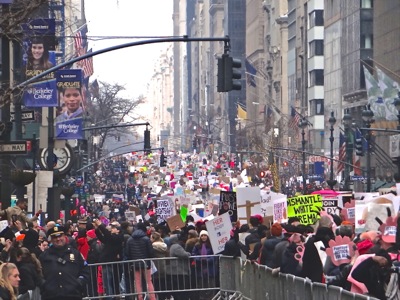 I had listened to Donald Trump's Inauguration speech the day before [Friday] and there didn't seem to be anything in there that struck me as very objectionable if one didn't read anything into it. So I kind of thought the march might be a bit premature given he'd just assumed office and hadn't really done anything yet.
I asked one woman if I had missed anything in Trump's speech, that she / others found objectionable. She told me no, he hadn't said anything objectionable, but she went on to say that she didn't believe anything he said. I asked another woman why she'd come out to protest today. She told me that she wanted to stand with other women in making a statement to Trump that they weren't going to passively stand by and allow him or the Republican Party to roll back their hard fought equal rights.
There was a festive mood throughout the day. I occasionally asked policemen keeping the peace how things were going. Many smiled and said it was going well and that they hoped it would continue that way.
I'll have more on this, including some details of how the protest morphed throughout the day, as well as a photo slide show and some video, sometime in the future.
After the march the crowd estimates ranged between 100,000 and 400,000 and I would guestimate that it was somewhere in the middle of those numbers.
---
---
NYPD Commissioner O'Neill on Safety & Cybercrime
City & State Organizes Informative Program About Public Safety in NYC & Cybercrime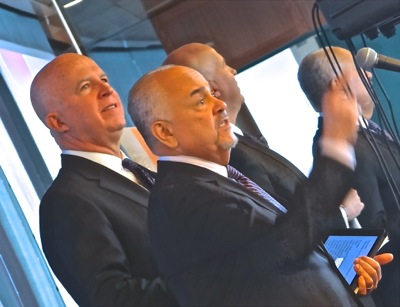 February 6, 2017 / Battery Park NYC / Crime & Safety in Manhattan Neighborhoods / Manhattan Buzz NYC.
I attended a City & State program dedicated to exploring the many facets of community safety in New York City. The program started with a half hour speech by the new Police Commissioner, James O'Neill. He discussed his background which includes a long line of successive promotions in law enforcement, starting with the transit police in Brooklyn in 1983.
Background: NYPD Commissioner James O'Neill
O'Neill has held many positions, including taking charge as the commanding officer of the Vice, Narcotics and Fugitive Enforcement Divisions - each for a period of time. His most recent position was as Police Chief, during which time he oversaw the management of the neighborhood policing program. The neighborhood policing program was implemented in 2014, during Mayor de Blasio's first term, with the intent to build relations and trust between the police and the communities they serve. The concept is that if the community works with the police to ferret out and penalize the perpetrators, crime will continue to stay at all time lows.
Neighborhood Policing: Intelligent Approach to Safety That Works?
Part of the problem with past police / community relations is that most of those interactions with the police came with a negative connotation to them, for example as when being ticketed, or picked up for bad behavior.
The idea with neighborhood policing is to develop positive interactions by facilitating interactions between individual officers and individual members of the community, so that if and when the time comes, there's enough trust between the officer and community member to work collaboratively to round up and penalize law breakers.
O'Neill's speech was followed by a forum of four experts who have had some involvement in the governance of law enforcement in NYC. The panel included NYC Councilman Jumaane D. Williams of Brooklyn who is the Chairman of the Committee on Housing & Buildings, Elizabeth Glazer who is the Director of the NYC Mayor's Office of Criminal Justice, and NYS Assemblyman Joseph R. Lentol who is the Chairman of the NYS Assembly Committee on [criminal] Codes. The panel was moderated by City & State Features & Opinions Editor, Nick Powell, who has been covering crime in New York for many years.
Stop 'N Frisk - The Facts vs the NY Tabloid Hype?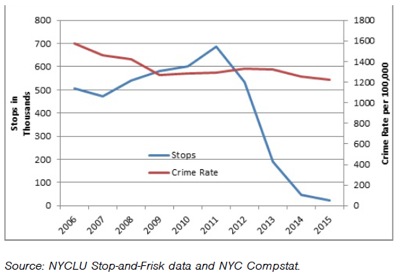 The panel explored numerous aspects of public safety in NYC, including a number of the successes NYC has been having with neighborhood policing, which is why the police / community clashes you see on the news are coming from other parts of the country - not NYC.
Needless to say, the job of the police force is never done, and challenges remain, but generally the forum had an upbeat tone due to the progress being made under Mayor de Blasio and Police Commissioners Bratton & O'Neill. One of the changes that's been helpful in community relations has been the drastic reduction in stop 'n frisk, which in spite of what the NYC tabloids purport, hasn't resulted in a spike in crime [see charts to right].
I did a bit of research, and found a couple of charts published in an April 11, 2016 report by the Brennan Center for Justice. The Brennan Center is a non-partisan, non profit research center at the NYU Law School. The two charts shown here graph the significant reduction in stop 'n frisk, while also showing no attendant spike in crime. In fact it is believed that over the long haul the reduction in unwarranted stop 'n frisk searches will have a positive impact on law enforcement community relations, as vast swaths of the populace that were searched with no result, will no longer feel that their privacy has been unnecessarily violated.
Cybercrime - Anonymous, Stealthy, Cross-Jurisdictional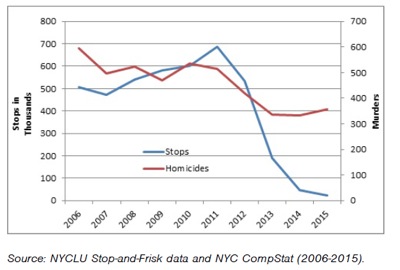 The second segment of the forum discussed some of the challenges facing the FBI with regard to reigning in cybercrime. The panel included Joel Stashenko who is the Albany Bureau Chief of the New York Law Journal, Nasir Memon who is a Professor of Computer Science & Engineering at NYU, Timothy Howard who is the Assistant U.S. Attorney and Cybercrime Coordinator for the NYS Southern District Office, and Prashanth Mekala who is the Supervisory Special Agent of the NY Field Office of the FBI.
The challenges facing law enforcement regarding cyber crime are different than most other criminal activity. For example cyber crime is generally anonymous, more insidious and hence more difficult to detect. And oftentimes the break-ins come through multiple legal jurisdictions which makes gaining access for tracking and prosecuting more challenging.
Budapest Convention of 2001 on Cybercrime Helping
But progress is being made. There was a Budapest Convention on Cybercrime which was passed in 2001 and became effective in 2004. More nations are signing on, as the accords enable law enforcement to move more quickly in multiple jurisdictions in response to cybercrime events.
As in community policing, establishing trust between the victims and law enforcement is critical in enabling governments to catch the criminals. Oftentimes companies victimized by cybercrime are concerned the access they provide to law enforcement may be used against them in other regulatory and civil proceedings. One of the panelists told us that the information they seek is soley for the purposes of catching the criminals, not to share with other regulatory agencies or people. And that the less time between the breach of a system, and obtaining access to analyze it, the greater likelihood that law enforcement can track them down, because in cybercrime the 'digital fingerprints' oftentimes disappear.
Speed of Response Helps Law Enforcement Respond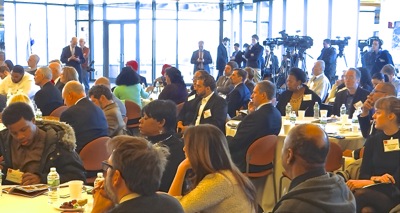 What's happened recently is that company security has increasingly been delegated to the legal department of a firm, because the company is then protected from disclosures because of attorney client privilege.
But what then happens, because the lawyers seek to mitigate legal risk / blame, is that there's a slow response by the company to enabling law enforcement to do their jobs in track down the criminals. One panelist noted that oftentimes what companies are trying to keep secret [their blame / culpability] comes out in the wash anyhow.
One of the panelists noted that oftentimes the biggest threats come from within an organization. Someone is turned to the dark side, or is careless - resulting in the breach of security. Currently the NSA [National Security Agency], the CIA [Central Intelligence Agency], the DOD [Department of Defense] and the FBI [Federal Bureau of Investigation] are all working to mitigate the risks associated with cybercrime.
They had a third panel about mitigating disaster risk, like from terrorism or cataclysmic events such as hurricanes, but I didn't stay.
Organized by City & State Magazine, Website & Events
Many thanks to City & State, which is an informative magazine publisher and events organizer. Their work seems to be predominantly in the area of government, politics and social issues. You can visit their website at www.cityandstateny.com.
---

---
NY Peace Film Festival
Trying to Bring the Planet to its Senses … One Film at a Time
March 20, 2017 / Upper East Side Neighborhood UES / Cinema & Film in Manhattan / Manhattan Buzz NYC.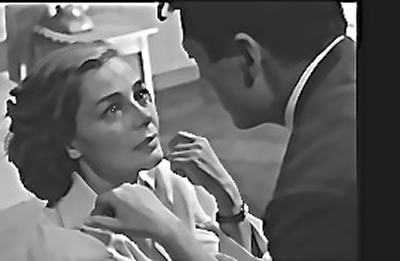 I attended the 10th annual Peace Film Festival in Manhattan this past weekend. The two day event was held at the All Souls Unitarian Church on Lexington Avenue at 80th Street on the Upper East Side. The festival included about a dozen films covering issues, events and people from around the world, including Africa, the Middle East, the Far East, Latin America and California.
The photo at right is a still from a movie about a lovers relationship between a western woman and a Japanese man in Hiroshima around the time of the dropping of the nuclear bomb.
NY Peace Film Festival History in NYC
I had an opportunity to talk to one of the NY Peace Film Festival co-founders, Yumi Tanaka who provided me with a brief history. The festival began in 2007 when Yumi and co-founder Jonathan Fluck [and a mutual friend who dropped out after the first year] decided to put together a cultural event to showcase conflicts in a multi-dimensional cultural event. Yumi is a standup comedian, their mutual friend had a theatrical background and Jonathan is a social activist, so together they assembled an ensemble that included film, dance, music and poetry in the first year [2007]. The event was held at the Tenri Shinto Church off Union Square.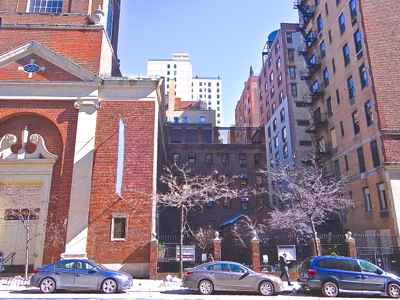 The next year Yumi and Jonathan morphed the event into a film festival to enable them to better manage it, as live performance requires considerable additional time, rehearsal space and the like, while film followed by live or Skyped talks made the festival more manageable. A few years ago the festival relocated to the All Souls Unitarian Church on the Upper East Side where they were this weekend.
When I arrived the church was closed, but there's an entrance a bit south of the main entrance to the church, leading into meeting facilities [see photo at right]. Tickets were a very reasonable $12 and were good for the day and multiple films. The audience was comprised of an eclectic set of New Yorkers, including artists and film enthusiasts and social activists.
Click here to read the rest of our report about the NY Peace Film Festival in NYC including film photos and some discussion about them.
---
Click here for things to do on the Upper East Side and fpr Contacts lens & eyeglasses in Jamaica. Midtown Dentists and Midtown Chiropractors, and Islam Fashion NYC.
---

---
Year of the Rooster in Manhattan
Chinatown Pulls out all Stops for the Year of the Fire Rooster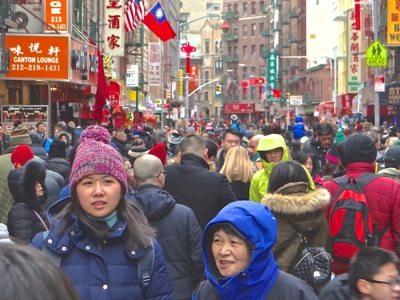 January 31, 2017 / Chinatown Neighborhood near SoHo & Tribeca Manhattan NYC / Manhattan History & Culture / Manhattan NYC Holidays / Manhattan Buzz NYC.
On Saturday morning I headed down to Sara D. Roosevelt Park on the Lower East Side – LES – in Manhattan. The Chinese were planning a New Year Day Firecracker Ceremony & Cultural Festival that would run from 11 am to 3.30 pm, with the highlight being the lighting of the firecrackers at 12 noon to ring in the New Year.
I arrived a bit after 12 noon, but just in time to catch the tail end of the firecracker ceremony. It was loud and smoky and the park was full of people who came to enjoy the whole affair. In the photo at right you can see a huge crowd wandering the streets of Chinatown in Lower Manhattan along Elizabeth Street between Canal & Mott Streets.
Grandparents, children and everyone in between were there. And the Chinese celebrants were joined in attendance by thousands of people, many of whom represented numerous other ethnic groups. One of the things I love most about New York City is times like these where I get to join in seeing the world peacefully come together, to savor one another's culture, in a shared communal learning experience.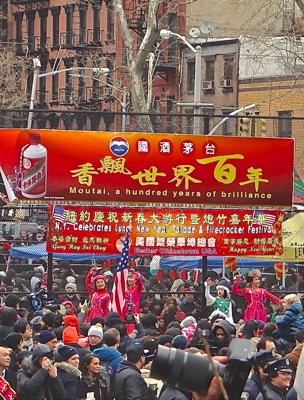 Traffic along Chrystie Street was a bit backed up, as the teeming crowds spilled into the streets, and motorist caution was in order with so many people, young and old, around. I made my way along the perimeter of the park up to Grand Street where the entrance is located.
Along the way I would jump up along one of the rails to take some photos of the spectacle in the park. Once inside the park, which was no mean feat, given that literally thousands were making their way out, I found a spot on higher ground where I could listen and watch some of the cultural performances taking place on the main stage. We are beginning the year of the Fire Rooster.
The Chinese have twelve symbols, one of which they designate for each year, in a rotation. The symbols are comparable to those used in the Zodiac, and is likely from where the Zodiac originated.
The use of the twelve symbols likely came from the lunar [monthly] cycle of the Chinese calendar. This year in the western / modern world is 2017, while in the Chinese lunar calendar we have just entered the year 4714. As you can see by the count, the Chinese culture has a significant head start on the west.
In the photo at right you can see performers at Sara D. Roosevelt Park on the Lower East Side of Manhattan, ringing in the year of the Rooster.

---

---
Irish Pubs & Restaurants Manhattan - UES, UWS, Midtown, East Village
Irish Pubs In Manhattan
Irish Restaurants On St. Patrick's Day In NYC, UES, UWS, Midtown & Village
May 2017 / UES Neighborhood / Upper East Side Restaurants / Manhattan Buzz NYC.
St. Patrick's Day is upon us once again and it's time for one and all, regardless of genetic history, to don their green clothing and head out to the Irish bars for a pint of ale or to the Irish restaurants for some down home Irish fare … or something like that.
This report is about some of the Manhattan Irish bars and restaurants that have survived the test of time, and likely a might bit … more. The Irish pubs include Irish bars and restaurants from the Upper East Side [UES], the Upper West Side [UWS], Midtown Manhattan as well as the East Village, as McSorley's remains not just a pub, but a good piece of history.
Click here to read our report about the Irish Pubs in Manhattan NYC.
---
Crowd Pleaser: Bar 65 Where Are You?
Classic, Art Deco, Roof Top Bar at Rockefeller Center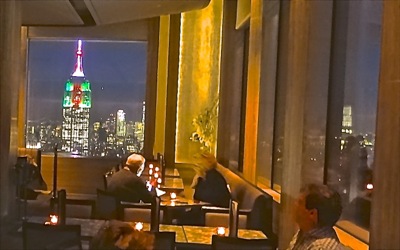 January 16, 2016 / Midtown Manhattan Neighborhood / Midtown Restaurants & Rooftop Bars / Manhattan Buzz NYC.
Over the holidays I had an opportunity to meet with friends at Bar 65 atop Rockefeller Center in Midtown. It's a classic meeting destination, particularly if you're hosting friends from out-of-town as the Manhattan rooftop view is unbeatable. You can get in without reservations, but during the holidays it's highly recommended you don't leave things to chance, and the reservations will also save you a wait in line.
The photo at right shows the breathtaking views provided by Bar 65, the rooftop bar and restaurant at Rockefeller Center.
The bar is located on the 65th floor at 30 Rockefeller Plaza, which is on 49th Street between 6th and 5th Avenues in Manhattan. The bar is also located across from the world famous Rainbow Room which first opened in 1934 shortly after the repeal of the Prohibition. The Rainbow Room is now mostly used as an event space, as it was landmarked in 2012, and carefully remodeled / restored around that same time. Between the Bar 65 and the Rainbow Room, there is a third location, which is a long bar looking south over Midtown Manhattan.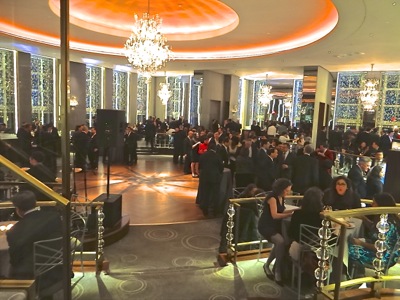 Interior Design magazine compared the rooftop complex configuration to the old fashioned elegance of luxury ship, like the Titanic, over a century ago. The restaurant and dance floor are located at the fore of the ship, the gallery looking south in the middle and the Bar 65 in the rear.
The whole complex is beautifully designed reflecting the height of 20th century, modern, art deco style. The 1936 film Swing Time, considered Fred Astaire & Ginger Rogers finest, was set in part at a club modeled after the Rainbow Room. The room is two stories high, with multiple levels, floor-to-ceiling windows and a revolving dance floor.
The photo at right shows the Rainbow Room at Rockefeller Center which is now used exclusively to host private events.
Meanwhile, back along the west side of Rockefeller Center is Bar 65 which is a private dining club during the day, and open to the public as a bar at night. Although Bar 65 doesn't match the elegance of the Rainbow Room [few places in the entire world do], it also has high ceilings, floor-to-ceiling windows, inset lighting and stunning views. There's a door at the south end of the bar / restaurant where you can walk outside to enjoy the view and take photos.
The night I was there, the service was quite good, even though it was the week before Christmas and bustling with tourists. We enjoyed a bottle of wine, along with some Crispy Chicken Sliders, Braised Beef Short Rib Sliders and Roasted Artichoke Hearts and Lemon Hollandaise. The appetizers which we split cost just under $20 apiece and the bottles of wine was about $60, plus gratuity.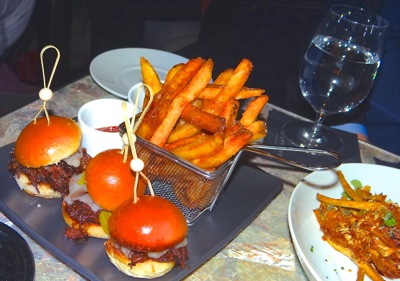 The sliders were done with some culinary panache that augmented the sense of excitement of being at the Top of the Rock. The Chicken Slider was made with succulent pieces of chicken covered with bacon and lime-chili mayonnaise. The Braised Beef Short Rib Sliders may have even been better as they included a mouth-watering serving of short rib beef flavored with a horseradish sauce and pickled green tomatoes. The artichoke hearts were good, but the least surprising.
The photo on your right shows the Beef Short Rib Sliders and the Artichoke Hearts at Bar 65 atop Rockefeller Center in Midtown Manhattan.
And then there were the views ... on all sides, save the bar behind which were the elevator banks and the Rainbow Room. But we could see south the whole length of Manhattan, glistening with jeweled lights, and north to Central Park and down 65 stories to the streets of Manhattan.
It's a great place to spend a bit of time, feeling like you're on top of the world ... because in a sense you are.
---
Queens Library lawsuit and Queens Brooklyn tile stores near Williamsburg.

---
Farmers Markets & Street Fairs in Manhattan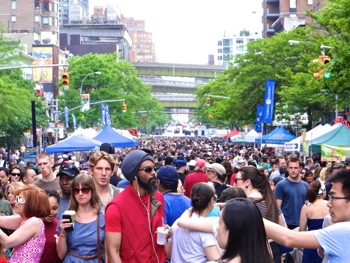 July 24, 2017 / Manhattan Farmers Markets / Manhattan Street Fairs / Manhattan Buzz NYC.
Many Manhattan farmers markets are open year round, but there are also a number of them that are seasonal. Some of the seasonal Manhattan farmers markets begin opening in the Spring, with nearly all of the rest of them opening no later than the first two of weeks in July. Click here to view the schedules of many of the farmers markets in Manhattan.
Manhattan street fairs are entirely seasonal, with some of them hitting the streets in early April. Manhattan street fairs rise markedly during the spring and lighten up a bit during the dog days of summer [July / August], and rising again in the fall. By the end of November most of the Manhattan street fairs go on hiatus. Click here to view a full schedule of Manhattan street fairs.
---

---
You Decide: President to Address Nation
Proposing $54 Billion Defense Budget Increase - Why?
February 28, 2017 / Manhattan Government / Manhattan Business & Finance / News Analysis & Opinion / Manhattan Buzz NYC.
Tonight President Trump will address the nation regarding his plans for the U.S. One of the notable previews given by sources within the Administration is that Trump plans to increase Defense spending by $54 billion. I decided to take a quick look at some of the economic statistics to see if that appears warranted, especially vis a vis other priorities.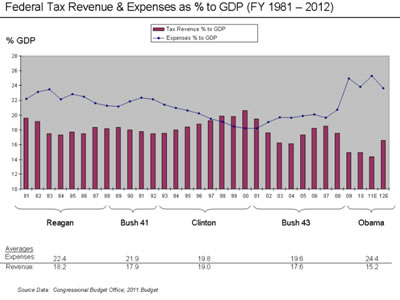 U.S. Government Deficits
The first chart [Congressional Budget Office] shows that the U.S. government has been spending more than it has been taking in. The gap widened in the wake of the September 2008 near financial meltdown, as tax receipts fell and fiscal stimulus [government spending] was needed to keep the economy going.
The higher levels of debt continued through the first term of the Obama Administration and then fell sharply back to Bush II era levels during the second term of the Obama Administration.
The net result is that near financial meltdown resulted in higher government deficits, which added to the overall U.S. government debt.
U.S. Government Debt
The second chart [Wikipedia] shows U.S. government debt relative to U.S. GDP. GDP is the acronym for Gross Domestic Product, which is a measure of the nation's economic output in goods and services.
The chart shows that the overall U.S. government debt relative to GDP rose significantly in the wake of the 2008 near financial meltdown. Currently the U.S. debt level is equal to about an entire year of U.S. economic output.
Many economists think that the U.S. has an unhealthy level of debt as it doesn't provide much slack for unforseen circumstances, like the 2008 near financial meltdown or prolonged involvement addressing international crises.
U.S. Defense Spending One Third of Global Total
About Equal to the Next 8 Nations Combined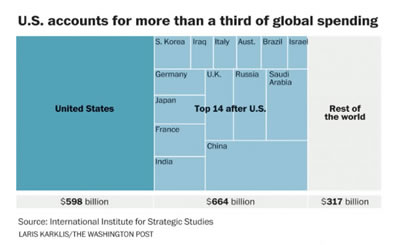 Currently the U.S. appears to overspend on military operations vis a vis the rest of the world. The U.S. military accounts for one third of defense spending in the world and its budget is roughly equal to the military budgets of the next EIGHT leading defense spenders in the world.
You can see this in the chart at right which was created by the Institute for Strategic Studies and published in the Washington Post.
U.S. Economy Less than a Quarter of Global Total
About Equal to Only the Next 3 Nations Combined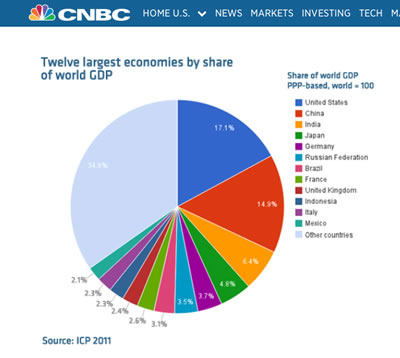 By contrast the U.S. economy represents less than a quarter of the global economy [versus a third of defense spending] and the U.S. economy is equal to the next THREE leading economies in the world [versus eight nations in military spending]. GB LINK.
In the chart at right you can see the U.S. economy depicted in size versus the next eleven economies in the world. The chart was prepared by the International Comparison Program [ICP] which involves the World Bank in making its comparisons.
Does Trump Proposal to Increase Defense Spending $54 Billion Make Sense?
So my question is why is the president proposing to INCREASE defense spending, when we're spending so much more - relative to the size of our economy - than the entire rest of the world? Is this budgetary increase sensible when other areas, such as economic infrastructure, appear to be in REAL need of added spending?
---
Click here for Jackson Heights realtors.
---

---
The Road Ahead 2017
A Few Axioms To Keep In Mind Throughout The New Year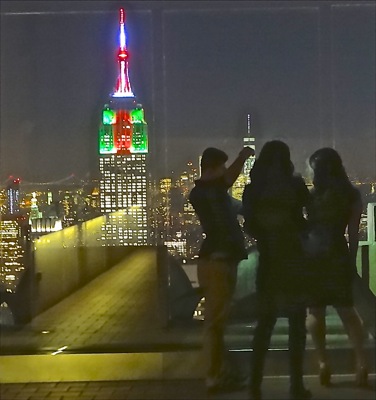 January 1, 2017 / Manhattan Buzz NYC. For many of us, today starts the beginning of the new year.
I used to make new years resolutions that generally lasted a few days or few weeks. Over time I've given that up and have focused on a few guiding principles that I work toward throughout the year, every year.
The first guidepost is to keep things as simple as possible by letting things go, so you can change and evolve who you are. Over time it's important to learn to let go of the past which includes letting many of the people, projects and things - that were once so meaningful and relevant - fade away with time. This process involves discarding many of the things one collects, in order to open up life to make room for new possibilities.
The second guidepost is to take care of the vessel that carries one's being - meaning taking care of the body because it's the only one we'll ever get and it has to last an entire lifetime. This means consuming the foods that will enable the body to function properly and ward off disease, while recognizing that satisfying the mind is important too, as it's a part of the body. There are three elements to this guideline.
Try to maximize consumption of natural foods while managing consumption of the delicious processed foods that come in packages. Read the container nutrition labels which indicate the amount of fat, sugar, sodium and cholesterol consumed per serving. The balance of natural and processed foods will shift depending on what's going on in life.
Reduce consumption of toxins by first paying attention to the quantities consumed of them, and then by substituting the toxins with healthier options. For example dilute a soft drink with seltzer water [cuts sugar], or swap in a lemonade for a beer [cuts alcohol], or swap in pretzels for potato chips [cuts salt and fat]. Over the years these little substitutions can add up to some small measure of weight loss and can aid in maintaining generally good health. But also don't deprive yourself too much of some of the simple pleasures in life that keep one going - because when that's done, there's rebellion, and the program won't work.
The third element of this guidepost is to try to walk and bike whenever possible. It's a way to kill two birds with one stone by enabling you to get somewhere while also getting some exercise. And be sure to carve out the time each night, required for a proper rest.
The third guidepost is to try to move your life in the direction of your interests. This will likely take a great many years, as well as economic and other trade offs. But if successful, one can then spend most of their time doing the things that totally engage them. It's said that "when one is doing something they love, they'll never have to work another day in their life."
And the fourth guidepost is to keep on learning, because "luck is when preparation meets opportunity".
May your new year be filled with promise and possibilities.
---
Manhattan Buzz Voluntary Subscriptions
We work very hard to help keep you informed by providing you with independent news coverage, as well as

information about events in the arts, culture and business in the borough.
You can help us continue to provide you with independent, first-person, fact-based, contextural reporting by purchasing an annual subscription. As it's voluntary, there are a variety of price options, one of which should fit within your budget.
Thanks for your encouragement & support.
---
Back To Top