---
*** Midtown Manhattan Food & Festivals 2017 ***
---
Hundreds of Thousands March in NYC
Women's March Appears to Approach 21st Century NYC Protest Record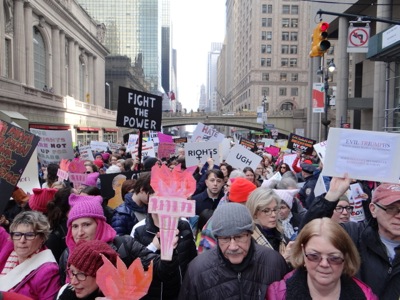 January 21, 2017 / Midtown Manhattan Neighborhoods / Manhattan Government & Politics / Manhattan Buzz NYC.
I headed into Manhattan around noon on Saturday. The #7 subway line was packed, even more than during rush hour on a weekday morning. There were protesters wearing pussy hats, bearing protest signs and placards, and generally in pretty good cheer as they headed into Manhattan for the Women's March in NYC.
I got off the subway at Grand Central Station along with the crowds of protesters, and made my way up to the 42nd Street exit. Out on the street there was a moving mass of marchers making their way down to Fifth Avenue where they would turn north to march up to Trump Tower along Fifth Avenue at 57th Street.
I have to admit I was surprised by the massive turnout. One person told me that over 50,000 people had signed up for the event on Eventbrite. But it would become obvious to me as the day wore on that the crowd had easily exceeded that number.
The event was planned to begin at 11 am in Dag Hammarskjold Plaza at Second Avenue and 47th Street. There would be a few speeches, followed by a march down Second Avenue to 42nd Street, then west to Fifth Avenue and then north up Fifth Avenue ending at Trump Tower at 57th Street. It was scheduled to end at 4 pm and waves of protesters had been choreographed to leave Dag Hammarskjold Plaza in 15 minute intervals.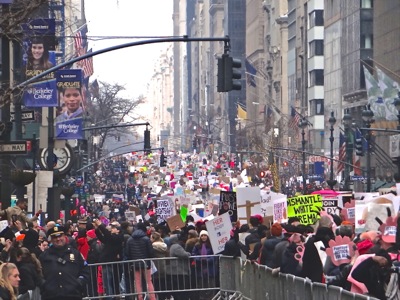 I had listened to Donald Trump's Inauguration speech the day before [Friday] and there didn't seem to be anything in there that struck me as very objectionable if one didn't read anything into it. So I kind of thought the march might be a bit premature given he'd just assumed office and hadn't really done anything yet.
I asked one woman if I had missed anything in Trump's speech, that she / others found objectionable. She told me no, he hadn't said anything objectionable, but she went on to say that she didn't believe anything he said. I asked another woman why she'd come out to protest today. She told me that she wanted to stand with other women in making a statement to Trump that they weren't going to passively stand by and allow him or the Republican Party to roll back their hard fought equal rights.
There was a festive mood throughout the day. I occasionally asked policemen keeping the peace how things were going. Many smiled and said it was going well and that they hoped it would continue that way.
I'll have more on this, including some details of how the protest morphed throughout the day, as well as a photo slide show and some video, sometime in the next week.
---
*** Midtown Manhattan News Briefs 2016 ***
---
United Nations: Cultural Influences on Gender Roles
Women's Groups Discuss Cultural Influences on Gender Equality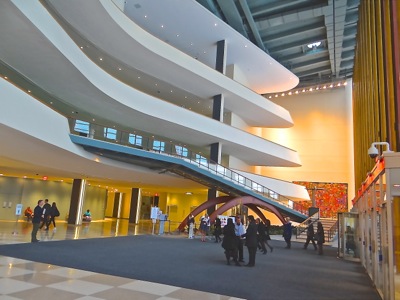 April 4, 2016 / Midtown East Neighborhood / Manhattan Social Issues / Manhattan Buzz.
On March 17th I attended a series of lectures entitled, The Role of Culture in Women's Empowerment: Possibilities and Challenges. The lectures were given to a standing room only audience in Conference Room 7 on the lower level.
The five member speaker panel was comprised of women from Liberia, Nigeria and Thailand. And each speaker came from a different walk of life including law, government, education and social work.
The program was organized by the United Nations Mission from Gambia in collaboration with a number of other groups. The intent of the program was to disseminate information to help those in attendance understand the role in culture in defining gender roles, and how to go about dealing with embedded cultural biases.
We'll have more at a later date. The photo at right was taken in the United Nations lobby.
---
*** Midtown Manhattan Food & Festivals 2015 ***
---
Taste of Gramercy Hits The Spot
Taste of Gramercy Showcases Gramercy Park Neighborhood Restaurants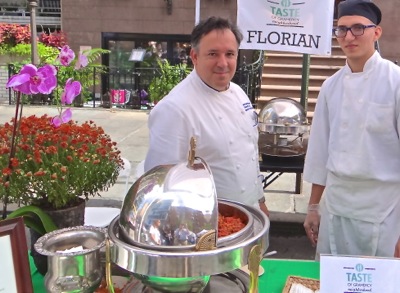 September 28, 2015 / Gramercy Park Neighborhood NYC / Gramercy Park Restaurants NYC / Gotham Buzz.
It was a beautiful Saturday afternoon as I made my way up Irving Place to the Taste of Gramercy Park. Irving Place had been cordoned off between 17th and 18th streets and there were a number of food tents, tables and bar stools situated in the midst of the blocked street to let attendees sit while tasting the delicious morsels served by restaurants from the surrounding Gramercy neighborhood.
I began visiting each of the booths, surveying their goods and sampling some of them. Chef Brando De Oliveira is shown in the photo at right standing in front of a collection of Florian's famous short rib meatballs.
We'll post more about the Taste of Gramercy later tonight.
---
Taste Asia Times Square
2nd Annual Celebration Of Asian Cuisines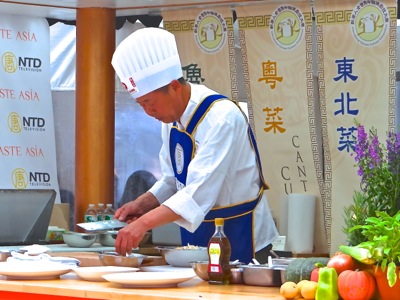 June 30, 2015 / Midtown Neighborhood NYC / Manhattan Restaurants / Gotham Buzz.
The second annual Taste Asia Food Festival was held last Friday and Saturday in Times Square. The event is part outdoor cooking show, part street fair and part Asia buffet and it is sponsored by the Epoch Times.
I attended the event early Saturday afternoon. About every hour or two there's a cooking demonstration / competition wherein a number of the chefs from participating restaurants compete for prizes in live cooking demonstrations [see photo at right].
The competition is fierce as most of the chefs are life long curators of their ethnic cuisines and marshall their talents and trade secrets to win the prize.
The event was held in Times Square along Broadway between 42nd and 43rd streets, which given the attraction and the natural crowds, was crowded.
---
New York Boat Show @ Javits Center
Full Steam Ahead For Boat & Yacht Dealers & Manufacturers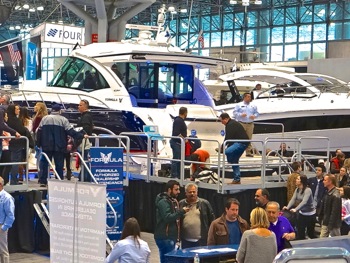 January 25, 2015 / Midtown West NYC / Manhattan Business / Manhattan Buzz NYC.
For the price of a small apartment in Manhattan you can buy yourself a floating power palace with about the same amount of space, and water views on all sides.
It was my first venture into the New York Boat Show on Sunday at the Jacob Javits Center in Midtown West. There were about 400 boats and yachts on display [364 was the unoffical count] for those looking to buy, trade or just look at the state of the art in boating technology and comfort.
Again unofficially - using one of the dealer's gate count numbers - it seems attendance was up a bit this year versus last year. They surmised that the lower gas prices, the better economy and apparently a few folks were looking to replace what had been damaged or that they'd lost to Hurricane Sandy. And so it was ... show on.
Later this week I'll post a photo slide show of the event and take you onto a few of the boats and yachts so you can see what owning or riding on one of these floating palaces would look like. Ship Ahoy.
---
*** Midtown Manhattan Food & Festivals 2014 ***
---
Holiday Trains At Grand Central Station
Lionel Train Exhibit Commemorates The East Side Hub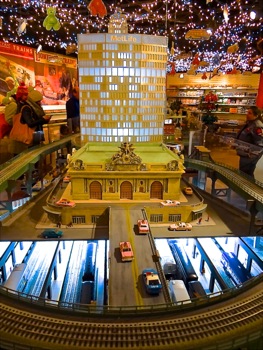 December 17, 2014 / Midtown NYC / Manhattan Buzz NYC.
There's a Lionel Train Exhibit at Grand Central Station on exhibit through the holidays. Thousands come to view it daily. It's includes a bit less than a dozen trains, most of which travel the tracks continuously to provide young and old alike with a bit of holiday entertainment.
The exhibit is on display at the New York Transit Museum location in Grand Central Station on the east side of Midtown in Manhattan. From the Information booth one heads north toward the tracks and then off to the left. There's also a gift shop where they sell trains and other NYC transit related gifts.
We'll have more about this a bit later in the month, including a photo slide show of the exhibit.
---
Holidays In Manhattan
Things To Do Over The Holidays In Manhattan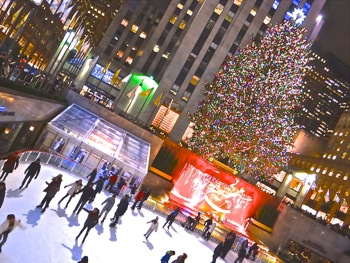 December 10, 2014 / Midtown Manhattan Neighborhood / Manhattan Buzz NYC.
Last Wednesday they lit the Christmas tree at Rockefeller Center for the first time. The tree is a 90 year old Norway spruce which came from the yard of a Danville, Pennsylvania couple. According to one report the gigantic tree stands 85 feet high and weighs 13 tons.
The tree was cut the week of November 6th and arrived in NYC the week of November 10th. On Wednesday, December 3rd it was first lit amid a bit of fanfare including two hours of televised entertainment. We were told that 300 solar panels atop Rockefeller Center power the 45,000 lights that adorn the tree.
There's public skating at the base of the tree which may be accessed via a stairway at the end of the corridor that faces Saks 5th Avenue. The stairwell leads down to a skate shop alongside the open air sub level rink where you can rent skates. There's also a restaurant, Rock Center Cafe, that looks out onto the rink and serves breakfast, lunch and dinner. Happy Holidays.
---
Fashion Week Manhattan NYC
Beauty & Style on the Runway At Couture Fashion Week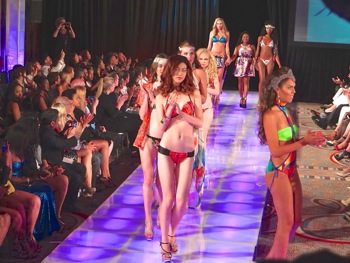 September 8, 2014 / Manhattan Fashion Shows NYC / Midtown Neighborhood NYC / Manhattan Buzz NYC.
I attended a bathing suit and bridal gown runway show at Couture Fashion Week at the Crowne Plaza Sunday evening. It was one of many fashion programs going on around NYC during NYC Fashion Week.
The runway show was held on the fourth floor in the Crowne Plaza located at Broadway between 48th and 49th Streets near Times Square. About a half dozen designers were featured in the show which included a beautiful vocal performance by Maryann Connolly and a dance performance by Battle For Your Life Tour Dancers and In Da Clutch and the Hood Lockers.
The show was fully attended with a standing room only crowd. And it was a visual feast of the voluptuous vogue. In the photo at right are the models coming out for a bow at the end of the Maty Machado Swimwear segment of the show.
---
---
Summer Streets In Manhattan
Summer Streets Arrive In The City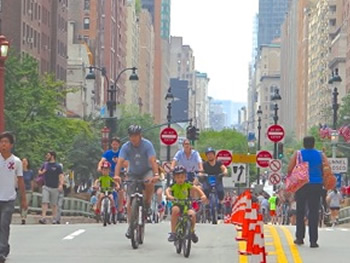 August 4, 2014 / East Side Neighborhood NYC / Manhattan Neighborhoods / Biking Manhattan / Manhattan Buzz NYC.
On Saturday from 7 am - 1 pm vast sections of Park Avenue and Lafayette were closed to traffic. It wasn't a street fair per se, as no vendors were set up, but rather an opportunity for New Yorkers to bike and stroll and photograph this seven mile stretch of Manhattan without automobiles streaming up and down the avenue.
I started at Park Avenue in the high 40's and made my way down to the mid 30's before the event ended. The Park Avenue Tunnel, which begins at 33rd Street contained a Norweigan sound installation which I unfortunately missed because they closed the several block long tunnel art / sound installation to new visitors at 12.30 pm.
But it will be back next week and the week after as Summer Streets continue. We'll post a photo slide show at a later date.
---
Solstice Yoga In Times Square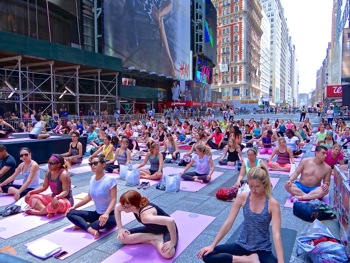 June 23, 2014 / Midtown Neighborhood NYC / Solstice Yoga Times Square / Manhattan Buzz NYC.
It was certainly a beautiful sight to behold. Hundreds of women and a few men doing yoga on Broadway between 42nd and 44th Streets. The weather was perfect, in the seventies and dry, and the tall buildings kept the direct sunlight at bay.
A woman with a microphone, somewhere at the head of the crowd, was giving directions on poses and stretches, intermingled with talk of peace and happiness and a better world. The participants displayed a wide range of involvement, from friendly banter, to serious concentration, to see and be seen, to just being there. All in all, having been, it was an enjoyable scene, if you know what I mean.
The Times Square Solstice Yoga was co-founded in 2003 by Tim Tompkins, President of the Times Square Alliance, and Douglass Stewart of Mind Over Madness Yoga. The idea was to create a counterpoint to the boisterous New Years celebration which occurs less than two weeks following the winters solstice. Hence from the millions in Times Square when the ball drops on New Years Eve, we now have Solstice Yoga in Times Square. The event began at 5.30 am and ended at 9 pm with literally thousands participating throughout the day.
We'll post a photo slide show at a later date.
---
Greek Easter Traditions In Manhattan
Easter Weekend At St. John's In Gramercy Park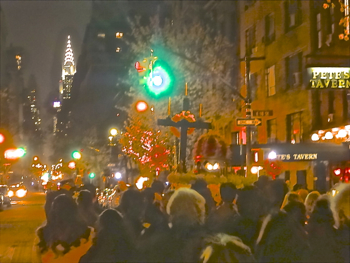 April 21, 2014 / Manhattan Neighborhoods / Gramercy Park Neighborhood / Manhattan Buzz NYC.
Friday evening I made my way to St. John's Orthodox Church in Gramercy Park. There was a Holy Friday church service at 7 pm which was to be followed by a Holy Friday procession through the streets of Manhattan by the parishoners with a large cross and the floral covered epitaphios.
I entered the church was was packed with a standing room only crowd to see what I might see. Incense was burning, leaving a scent wafting through the air, recollective of an age old tradition coming from thousands of miles and thousands of years gone by.
Eventually the crowd made its way into the street which had been cordoned off by the NYPD. Candles were lit and distributed amongst the crowd. And then the parish priest, accompanied by the cross and the epitaphios appeared. We headed west on 17th Street toward Irving Place as the procession began.
In the photo to your right you can see the Greek Orthodox Holy Friday procession of St. John's Greek Orthodox Church in Gramercy Park. A bit to the right of the cross is the red and white, floral-covered, dome-shaped epitaphios. We'll post more photos and a bit more information later in the day / week.
---
Times Square New Years Photos 2014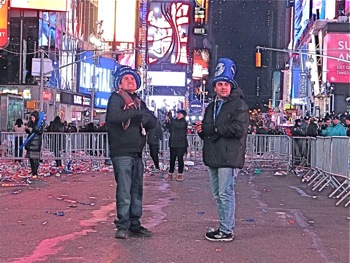 January 1, 2014 / Things To Do NYC / Manhattan NYC Neighborhoods / Manhattan Buzz NYC.
We went to Time Square last night to enjoy the New Year's festivities. It was cold and dry and we were able to get into Times Square shortly after the ball dropped. One of the policemen thought that the crowd was larger than it has been for a while, possibly due to the weather and possibly due to an improving economy. Some of the revelers were decked out in masks and costumes. And languages from around the world were being spoken.
Many of the revelers were from afar, and many joined by Manhattan and surrounding NYC residents. We shot photos preceding, during and after the big event. Click here to view our partially finished slide show containing photos of Times Square New Years Eve 2013 2014. Happy New Year.
---
*** Midtown Manhattan Food & Festivals 2013 ***
---
New Years Parties in Midtown NYC
December 28, 2013 / NYC Restaurants Manhattan / Manhattan Buzz NYC.
As happens every year, there will be a number of great New Years parties in Manhattan preceding and following the dropping of the ball at Times Square. As this is our first year in Midtown NYC since the beginning of the Millenia, we're not as well connected yet as we soon hope to be. But that said, here are a number of different New Years restaurants in Midtown NYC where you might consider booking a reservation. Click here for New Years Eve Parties & Restaurants in NYC.
---
Taste Of Times Square
Festive Food Event Along Restaurant Row In Theatre District Of NYC
June 2, 2014 / Manhattan Restaurants NYC / Theatre District Midtown NYC / Manhattan Buzz NYC.
I went to the Taste of Times Square on Monday evening. The festive food event was held on 46th Street between Broadway and 9th Avenue, and it had begun at 5 pm and was to run until 9 pm.
Needless to say, Times Square is nearly always crowded and busy, and this Monday evening was certainly no exception. The sun was out, the temperatures were in the 70's, and it was fairly dry and comfortable. I started in from Broadway, where the restaurateurs were busy serving the hungry attendees, who paid $6 per ticket which was good for one taste.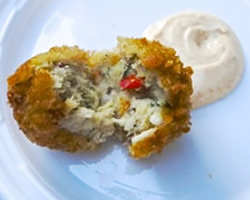 I sampled a number of delicious morsels and had a chance to talk to some of the people working the event. As near as I could tell, all of the participants were from restaurants from the immediate vicinity and the offerings ran the gamut from appetizers to full meals.
In the top photo at right you can see the Taste of Times Square between 8th and 9th Avenues along 46th Street in the Theatre District of Manhattan as the Taste of Times Square was winding down. In the photo at left, you can see a crabcake croquette from O'Lunney's Times Square Pub which was so good that I'm still thinking about it. We'll post more about this fun food event in Midtown NYC at a later date - including photo slide show of the food and restaurateurs.
---
---
RESTAURANTS & DINERS - Midtown Manhattan NYC
Midtown Manhattan is home to a number of fine restaurants, ranging in scope from the high end restaurants to the more casual and comfortable diners open 24 hours per day in NYC. Click here to view our emerging section on Midtown Manhattan restaurants.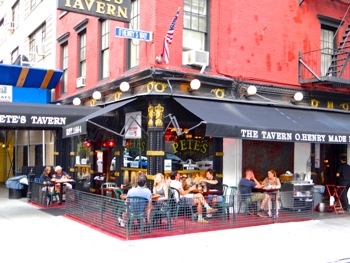 In Gramercy Park you'll find an assortment of dining venues from the historic Pete's Tavern, where O Henry wrote The Gift Of The Magi, to the Friend of a Farmer which has home cooked meals and a very popular Sunday brunch, to the Orion Diner [formerly Cosmos Diner] which is open 24 hours a day / 7 days a week. There's also the Ess A Bagel on First Avenue, which is a popular morning bagels and coffee place, serving many of the residents of Peter Cooper Village and Stuyvesant Town.
In Midtown Manhattan in Bryant Park, there's the popular Bryant Park Grill, which also has outdoor seating during the warmer weather months.
In Murray Hill, El Rio Grande is a popular Tex Mex restaurant, serving killer margaritas.
---
SHOPS & SHOPPING - Midtown Manhattan NYC
The shopping in Midtown Manhattan is among some of the finest in the world.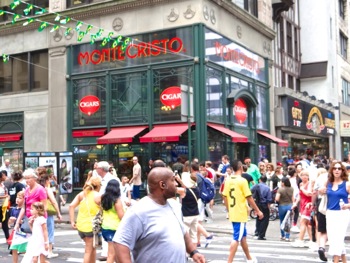 In north Midtown along 57th Street, there are a number of fine clothing stores, including Burberry just off Fifth Avenue. Bergdorf Goodman is located along Fifth Avenue just north of 57th Street near the Plaza Hotel.
Further down Fifth Avenue in the low 50's and high 40's [streets] there's Saks Fifth Avenue which is located just across from Rockefeller Center in the high 40's. Versace is located a couple of blocks north of St Patrick's Cathedral along Fifth Avenue.
A bit further down Fifth in the low 40's along, you'll also find some interesting boutique stores, such as J & R Cigars, which has one of the largest and best kept cigars in New York City [see photo to your right]. Ann Taylor, J. Crew and Johnson & Murphy Shoes are located nearby along Fifth Avenue.
Lord & Taylor is located a few blocks south of 42nd Street between the NYC Public Library and north of the Empire State Building. Many other name brand designers have stores along Fifth Avenue and Madison Avenue on down to Madison Square Park.
Along Broadway, south of 23rd Street and you'll find Restoration Hardware and just north of Union Square Park in the Village you'll find Paragon Sporting Goods, ABC Carpets.
---
---
REAL ESTATE - Buying & Renting Apts In Midtown Manhattan NYC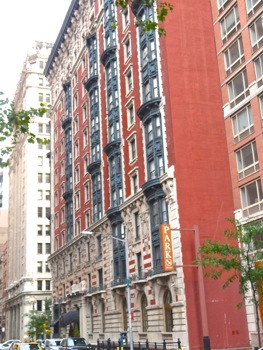 Real estate in Midtown Manhattan is very desirable.
Not just because of the restaurants, movie theaters, shopping, Bryant Park, Union Square Park, Gramercy Park but also because of the many cultural attractions located conveniently in the neighborhood [keep scrolling down]. All of which in and of themselves would make it a great place to live.
Transportation / Access. Midtown is conveniently located just south of Central Park, with easy access to the Upper East Side, the Village and the Upper West Side. The FDR highway which takes East Siders north, south and east into Queens.
It's also a quick taxi ride to LaGuardia Airport. And the 4, 5 & 6 subway lines provide easy public transit to destinations near and far within NYC.
---
Midtown Manhattan NYC Neighbohood - Movie Theaters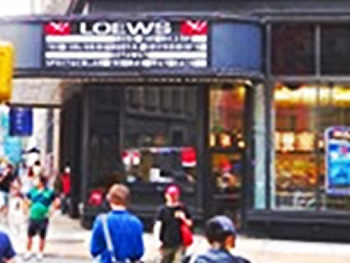 There are a number of movie theaters in the Midtown area. Most notably a Loews Cineplex located along Broadway in the low 20's.
I'm not sure if the theater on east 34th Street is still around. So I'll need to check on that, as well as the theater along 2nd or 3rd Avenues in the high 30's or low 40's. Real estate is expensive and it's difficult to make enough of a profit selling $15 $20 movie tickets to pay the rent.
---
Midtown Manhattan NYC - Related Links
---
Site Search Tips. 1) For best results, when typing in more than one word, use quotation marks - eg "Astoria Park". 2) Also try either singular or plural words when searching for a specific item such as "gym" or "gyms".
Click this link to search for something in our Manhattan Business Directory which will soon contain hundreds of listings.
---
Click the log in link below to create an ID and post an opinion. Or send this story to a friend by filling in the appropriate box below.
---
Manhattan NYC Related Links
Click for Manhattan Restaurants NYC
Click for Manhattan NeighborhoodS NYC
Click for Manhattan Things To DO NYC
Click for Gramercy Park Restaurants NYC
Click for Manhattan Hotels NYC
Click for New Years Parties & Restaurants NYC
Click for Manhattan Furniture Stores NYC
Click for Manhattan Street Fairs NYC
Click for Manhattan Professional Services NYC
Click for Manhattan Farmers Markets NYC
Click for Manhattan Real Estate
---