Unemployment Rises to 40 Million, Trump Fires FIVE Inspectors General Overseeing his Handling of the Largest Stimulus Bill in History & Life on the Ground in NYC
May 28, 2020 / NYC Neighborhoods / CoVid in NYC Special Section / News Analysis & Opinion / Gotham Buzz NYC.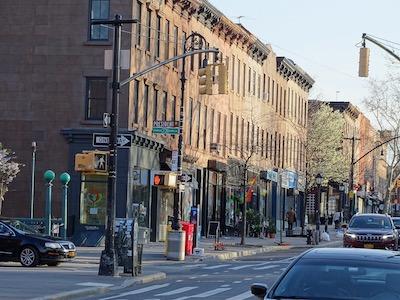 If things appear to be chaotic these days, that's because they are.
America First - #1 in CoVid & Record Breaking Unemployment
Since the CoVid Pandemic began, new unemployment claims have risen by 40 million in the nation.  That's out of an estimated American workforce of 158 million – meaning that 25% of Americans have lost their jobs since the pandemic began.
The April unemployment was reported at nearly 15%, while the May unemployment report is expected to rise to in the neighborhood of 20% - 23%. And according to the Federal Reserve, the June numbers could come in a bit worse than May.  As a point of reference, during the worst days of the Depression, unemployment came in just under 25% before the American people fired Herbert Hoover.
Trump's Litany of Distractions, Enabled by Network TV Boobcasts
But the Donald isn't talking about the pain Americans are suffering from the pandemic, where over 1.7 million have been infected and over 100,000 have died.  Nor is he talking about the pain and anxiety that is being felt by the 40 million Americans who have lost their jobs.
Nor is he willing to talk about the firings of five Inspector Generals who had been charged with overseeing the integrity of the largest stimulus package in American history – funded by America's babies and unborn children. It's like taking candy from a baby, only this time it's money – and lots of it.
The five Inspector Generals include one from Health & Human Services, Department of Defense, State Department, Intelligence Community and the Department of Transportation. Australian billionaire Rupert Murdoch's Goebbels-like propaganda machine - including his Fox News, Wall St Journal and NY Post appeared to support the firings. I wonder what Rupert's share of the predatory propaganda plunder is?
So what is the Donald talking about, repeated nightly on the TV News broadcasts, who I've come to view as the great enablers, and now think of as the nightly news boobcasts ?  Anything else. 
This week the list of TV News amplified Trump outrages included: 1) Twitter exercising its freedom of speech by putting suggestions that Trump Twitter followers get off their lazy bums to click into fair and balanced information checks of the Donald's disinformational tweets. 2) Prior to that Trump attacked the Governor of North Carolinafor following the CDC guidelines vis a vis reopening the economy. The reason? The Donald appears to want a jam packed media extravaganza at the Republican National Convention that was scheduled to be held in Charlotte, North Carolina in August. 3) Another of the shock jock president's distractions was his insinuation that mail ballots are fraudulent – WHICH MIGHT COME TRUE IN November as Trump is replacing the outgoing Postmaster General with a Trump donor / businessman from North Carolina. 4) And the most incredulous of the distractions was Trump's allegations having to do with MSNBC commentator Joe Scarborough and a decade(s) old death of someone who worked for him.
Break Your Dependency on TV News – It's Time to Start Surfing
While the TV news broadcasts continue to endlessly repeat Trump's nonsense [it must be good for ratings], they distract themselves and the American public from the real stories of the day. What are the real stories of the day? Good question. They are 1) the ongoing CoVid pandemic, 2) the incredible unemployment numbers and what is sure to be forthcoming economic fallout [it's official - we're now in a Trump economy] and 3) Trump's firing of FIVE INSPECTOR GENERALS who were charged with overseeing his Administration's management of the largest stimulus package in American history [$2.5 trillion], none of which was paid for by the current generation with either budget cuts or tax increases.
If you want to know what's going on, you have to get on the internet and inform yourself, because the nightly TV boobcast news is ratings driven - not driven by journalistic excellence.   Social media seems as reliable as the boobcast news - if only because you will get a range of opinions - unless of course, your surround yourself with ideologues on only one side of the information spectrum. 
Newspaper and magazine websites also generally seem to do a better job of reporting the facts than do most of the TV networks, as these outlets are staffed by journalists - not with ratings driven teleprompter readers who appear to hype gossip and endlessly repeat politicizations and sensationalist accounts as news, instead of providing their audiences with fact finding, contextualized reports that inform - not distort or distract.
Life on the Ground in NYC
I. Masks, Grocery Stores Hours & Lines & Heightened Interest in Biking
So I recently received a graphic about masks.  As you may know, the guidance surrounding masks changed from advising only those who may feel ill to wear them, to advising the general population to wear them. And now it seems the Donald has politicized, what is in essence, prudent health advice.  I will provide a graphic in the next post which visually shows why the early guidance was only for those feeling ill to wear them, but why it makes sense to wear them given that many people who are infected don't show symptoms for days . 
Another report I came upon discussed how a large group of singers caught the virus from a few hours of choir practice with an infected person. It is believed that that transmission was largely airborne – coming out of the singer's lungs, sent into the air and infecting a large number of the people presen . 
Wapo.
And then there's the guidance on surface transmissions. Originally it was thought to that surface to person transmission was one of the primary means of transmission. But that's changing as they learn more. Amidst all the uncertainty about changing guidance a few things are sure – 1) CoVid 19 spreads easily and quickly, 2) it's a nasty disease and a killer to many and 3) caution is the better part of valor – meaning don't take unnecessary risks for your own safety and for the safety of those with whom you interact. End of today's science discussion.
And then there's the periodic trips to the grocery store, wine store, laundromat, bank, post office, home improvement and other stores / chores. Everything still seems a bit of a hassle, although a lot less so than at the beginning of the month.
At the beginning of May, in my neighborhood there were probably somewhere between one in ten to less than a quarter of storefronts open.  And then even those stores that were open, had reduced their operating hours by significant amounts. 
By the end of this month, the number of storefronts open had grown to about half – although many of those open were only providing curbside deli / grocery pickup. Many businesses had closed - not because of the government order – but rather because there just wasn't enough / any foot traffic to make it worth the effort. 
As anyone who's stepped outside lately knows, the foot traffic has picked up significantly, although it's still not anywhere near what it was prior to the pandemic. And since Memorial Day, a number of businesses have again lengthened their hours – although most have not yet extended hours to their full operating capacity [meaning they're not yet back to their pre-CoVid store hours]. But it is far better.  It has the feeling of a return to normal, even though it still falls far short of it.
In the early days of the pandemic [March] there was a run on toilet paper and canned goods and other essentials.  By mid April I noticed a run on things like beer and chips.  And today it seems most of the grocery store shelves are once again pretty fairly stocked.  I had to do some brand switching to fill my needs in March and April, and while I'm still using other brands or non-branded products, in most categories I use, I'm able to select the brands I favor.
I understand there's been a significant increase in demand for bicycles as folks are likely planning to skirt the use of mass transit while the weather cooperates – not to mention get a bit of exercise.
II. Real Estate Sales Plummet, but Prices Hold & Stock Exchange Reopens Floor Trading
The real estate market took a gut punch in April, with the National Association of Realtors reporting that the sales in the Northeast region fell 52% year over year. In May, things didn't look a whole lot better – at least not in NYC – as Property Shark reports that May to date sales are also trending down 53%.  But that compares to a drop of 62% year over year in NYC for April. So things appear to be improving in the real estate market – albeit from a lightning quick crash. I suppose the good news for owners is that the prices remained fairly firm, as sellers held their ground and interest rates bounced along record lows at 3.15% for a 30 year mortgage.
On Tuesday, May 26th the New York Stock Exchange reopened on the floor trading by social distancing and temperature checking.
 III. Subway Zappings, Food Lines & the Census
The MTA has found what seems a more comprehensive way to sanitize the subways using devices which emit ultra violet light to kill the virus and other living organisms inhabiting the crevices of the subway infrastructure.  I haven't ridden the rails myself since April, but one friend reports that while they're not fully packed yet, they have gone from pretty empty, to fairly full [but not packed].
A May 19, 2020 report in Streets Blog said that on May 15th over 600,000 people rode the subway, which is the highest the ridership has been since the 676,000 on March 27th as the reality of the pandemic set in. As a point of reference, the MTA reports that on weekdays in 2019 about 5.4 million people rode the rails , while on the weekend, over 2.7 million people [on average] rode the subways . So that's still only 12% of normal ridership, but up significantly versus the prior two months.
Given that fully 25% of people are out of work nationally, many around the nation and in NYC have taken to waiting in food lines to feed themselves and their families.  A number of charitable groups including the Catholic Charities of New York [www.catholiccharitiesny.org] have stepped up to help meet the challenge.  If you have a bit of extra cash, they accept donations, which they deploy to help fellow New Yorkers.
Lastly, the Census is underway in spite of most unusual circumstances.  On Wednesday, May 20th the Mayor informed us that the U.S. as a whole had achieved an estimated 59% participation rate, while NYC had only achieved an estimated 49% participation rate. 
This affects how much of our tax dollars we get back to help offset some of the education, healthcare, infrastructure, first responder and other expenditures associated with operating a large community such as ours.  There's reportedly about $1 trillion at stake for the entire nation and it also affects how much representation we get in Congress.
So if you haven't filled out the Census, take – literally – a few minutes to fill it out by clicking the ad below. They say that this information is not shared on an individual level with any other agency in the nation. So even if you're not here legally and you don't trust the government – at least try to make sure that everyone you know who was born in this country, or who has their papers in order, registers for the census. 
And don't wait.  Do it now. Because these ads will be gone by June 1st.  And thanks.
---
---
CoVid Vaccine Update, Gauging Timeline for Return to the New Normal, Economic Snapshot & ...
May 25, 2020 / NYC Neighborhoods / CoVid in NYC Special Section / News Analysis & Opinion / Gotham Buzz NYC.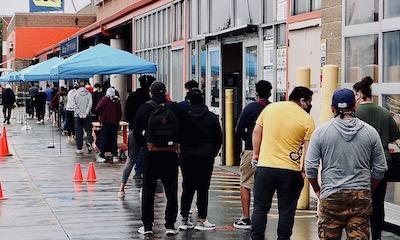 Memorial Day was a beautiful sunny day, with temperatures into the 70's, and dry. Given the month of May is nearly over, I thought I'd do a recap of what has transpired during the month to gauge how far we've come and how far we have to go to return to the new normal.
Let's start with a quick update on the CoVid virus itself. As we entered the month of May, new CoVid hospitalizations were running about 800 per day. As of Governor Cuomo's last few reports, the number of new hospitalizations is running at between 200 – 300 per day. The net daily intubations have been running negative [meaning more people coming off than going on] for most of the last couple of months ranging from close to zero [meaning folks coming off intubations were about equal to those going on] to nearly 150 more coming off than going on.
As we exited April, NYC and NYS were closing the popup hospitals located primarily around the city, as the existing facilities were moving into a position where they were able to handle the sick patients entering the healthcare system. Overall both NYC and NYS have freed up a considerable amount of hospital and respirator capacity, so that most parts of the state will be economically open in the Phase I stage by this coming week – with the exception being NYC. NYC has met six of the seven metrics required to enter Phase I of the reopening of the economy. The seventh metric is to free up enough hospital capacity [30% available capacity is the target] in order to reopen safely, according to the guidelines outlined by NYS Governor Cuomo.
It's important to remind folks that NYC, with a population of about 8.5 million, represents nearly half of the approximately 19.5 million population of NYS – and that we're far more densely packed into a far smaller space than likely anywhere else in the nation. I mention this to help folks understand that we, in NYC, have the highest hurdle to transcend to move toward the new normal. But that said both the Mayor and the Governor believe that if the trends continue, NYC should be in a position to move into Phase I sometime within the first two weeks of June.
Phase I allows for construction, manufacturing and curbside retail to resume.
In prior reports we've identified the people most at risk of dying from the disease should they contract it. These folks still need to tread cautiously, as well as the folks who surround them, as no cure is in sight – regardless of what you may hear on the ratings-driven TV news or from a flailing president who oftentimes seems more concerned about the impact of the virus on his re-election chances, than on Americans' health.
Scientists and pharmaceutical organizations around the world on working on numerous different therapies which may help speed recoveries. There are eight new vaccines that are in some stage of clinical trials, and a reported 110 vaccines in the works. The eight in clinical trials are only in the early stages of clinical trials, which are used to determine the efficacy and safety profile of a drug.
Is the 'Real' Donald 'Faking' News About a CoVid Vaccine?
If you listen to the blather of the bellowing Donald who constantly berates the 'fake news', you'd think a CoVid 19 cure is just around the corner. But hark back to a couple of months ago, to listen to what the Donald was telling Americans as the Corona Virus was getting underway.
https://www.youtube.com/watch?v=wfGUpS5s7yA
As of this writing, over 1.6 million Americans have contracted CoVid 19 and nearly 100,000 Americans have died from it. Americans account for about 5% of the population of the world and account for about 30% of the reported CoVid cases and deaths. America is certainly first .
What do People with Vaccine Education & Experience Say?
The people who have been educated in the field of infectious diseases, and have experience in the field, say that a vaccine is AT LEAST A YEAR OR MORE AWAY. As I've published before, THE SHORTEST TIME IT EVER TOOK TO PRODUCE A VACCINE was in the 1950's for polio, and that took four years. So that's one pretty solid benchmark to keep in mind going forward.
If a vaccine killed just one in 500 people, that would amount to 660,000 deaths in a fully vaccinated populace in this nation alone. In a March 8, 2020 report in the New Yorker, John Shiver, the SVP of Global Vaccine Research & Development of Sanofi, a multi-national pharmaceutical company, said, "You certainly don't want a vaccine that can make it worse".
The public policy thinking is that we don't want to give a vaccine to the nation's population without properly testing it for both efficacy and safety. This is why the FDA has a rigorous set of rules surrounding the testing of drugs before they are released to the general public.
Expectations / Timelines for Obtaining a Trustworthy Vaccine
The New York Times posted a graphical Op Ed piece on April 20, 2020 that graphically depicted the data for new drugs that looked at various scenarios for shortening the timeline for drug testing, regulatory review and approvals and manufacturing. After reviewing the piece I came away with the conclusion that – based on historical records – we're years away.
A March 8, 2020 piece in the New Yorker looked at some of the earliest vaccines out of the starting block for CoVid 19. One of the first steps in the process is reading the genetic map of the virus which the Chinese had done by January of 2020, and which they subsequently distributed. Relative to history, this was very fast. The New Yorker piece stated that,
"a covid-19 vaccine developed, licensed, and manufactured at a global scale in twelve months would be an unprecedented, remarkable, even revolutionary achievement."
I suppose anything is possible, but for those of us on the ground, living amidst CoVid 19 on a daily basis, we need to stay focused on what is pragmatic and what is probable. So a vaccine isn't likely or probable within the next year or so – and by most accounts - likely quite a bit longer. If a vaccine is found that is both efficacious and safe in less time – it will be akin to winning the lottery … great. But most of us don't have the luxury of being able to live our lives banking on winning the lottery. An April 20, 2020 report in National Geographic starts with the second headline stating,
"Considering the history and science behind making these drugs, "a year to 18 months would be absolutely unprecedented ...".
Reality Check: Why Getting a Vaccine Takes so Long
The bottom line is that you have to test vaccines / drugs to see how well they work in the general population. That requires recruiting numerous people willing to take the risk of being treated with an unproven vaccine or the risk of being treated with a placebo – meaning no protection. Then you have to put them in an environment where they are exposed to the virus so you can see how well they fare [immunity]. That may prove efficacy. Then you have to test the drug / vaccine in large enough numbers of the population to be able to measure the impact [its safety] on people with various health conditions and whether there are adverse interactions with other drugs.
A good example of what this testing can find is a recent study conducted on hydroxychloroquine – the drug 'Doctor' Donald has been promoting to treat CoVid 19, which is commonly used to treat malaria and lupus. According to an April 17, 2020 report by Reuters, a clinical trial in Brazil involving 81 patients was halted after eleven of the participants died. Of those who died, four were receiving low doses and seven were on high doses.
Assuming the same results for the U.S. population, if all Americans followed 'Doctor' Donald's advice to take hydroxychloroquine to treat themselves for CoVid 19 - up to 44 million of them could die. You should know that this is a simplistic analysis - but the point remains valid - drugs need to be tested before releasing them to the general public or the 'cure' could be far more devastating than the cause or 'condition'.
That's the end of the science part of this report. The goal here is not to reduce any optimism of a revolutionary break through – but to temper that optimism with realism - so that you can properly prepare or steel yourself for the coming year(s).
When Do We Return to Normal? Gauging the Timeline Based on Institutional Announcements
A few institutions have provided what I consider benchmarks for our expectations of a return to the new normal.
Broadway Shows announced that they won't be opening again until at least September. Various large universities have given mixed guidance for the Fall semester with NYU and Columbia University declaring their intent to re-open for in person classes as early as the Fall according to a May 19th report in the Gothamist. Governor Cuomo has not yet taken a position on schools reopening for SUNY and CUNY, but both Binghamton and Syracuse announced last Wednesday that they intend to open for in-person classes this Fall – although Governor Cuomo went public saying that it's too early to know for sure.
Professional sports are expected to resume / begin practice and training at their facilities this week or next as the Governor just gave the green light within the past couple of days. Some professional sports teams may resume professional league play without in-person audiences as early as July.
And both the Mayor and the Governor agree that, assuming trends and progress continue, NYC should enter phase one of opening the economy in the first or second week of June.
A Slower Economy & The New Normal
Then there's the economy. As our attention shifted from containing the virus and its impact on the healthcare system, we began to shift focus to earning a living again. This is our next great challenge, and it is complicated by the lingering threat of CoVid 19 and the limitations of what science can do for us as described above.
In early May, the Governor and the Mayor began collaborating to disinfect the subway on a daily basis, while transitioning the homeless to other quarters as the homeless had made the subway their home during the pandemic outbreak. This effort will help minimize the spread of the virus via mass transit, by which millions travel daily in normal times.
By mid-May the Governor had given the green light to several regions of NYS to re-open, yet said NY Pause was still in effect, even though by the end of the month, likely only NYC will remain closed [for reasons mentioned above as we're half the state and we're the most densely populated and trafficked NYS / USA region].
NYC Unemployment Losses Spike as does NYS & USA
By the end of April, the number of new unemployment claims nationally since the CoVid outbreak began in mid-March, had risen to 30 million. As of this post, that number now stands at 38 million. A May 24th report on CNN stated that Senior White House Economic Advisor Kevin Hassett told CNN that,
"… he thinks the unemployment rate, which hit 14.7% in April, may rise to 22% to 23% by May and edge up a bit in June before heading lower ..."
Given how badly New York City and New York State were hit - surprisingly - the economies of both were performing in line with the rest of the nation [unemployment-wise]. The unemployment rates for both NYC and NYS were in the neighborhood of 14.2% and 14.5% respectively. But these may statistics are believed to have undercounted the real picture, which as noted in the quote above, is expected to significantly worsen in May.

NYC Leisure & Hospitality Hardest Hit in NYS
According to the NY Department of Labor April 2020 report, the Leisure and Hospitality category was the hardest hit, losing 335,000 jobs - down nearly 72% from the prior year. This should come as no surprise, as NYC attracts some 60 to 65 million tourists per year. Tourism represents an average influx of 5.5 million people each month, who NYC can normally count on to spend some of their cash. But since mid-March tourists have not been a factor in our economy. In total NYC lost 885,000 jobs in April, down nearly 22% to about 3.2 million jobs in the private sector.
Airlines report that their traffic is down in the neighborhood of 90% +/- since the pandemic began in mid-March. I found it interesting that those figures are in line with the subway usage declines. These passenger losses affect NYC's busy airports, many of the people they employed by both the airlines and the terminals, and related services. Our airports are also economic engines.
NYC Tenants, Landlords & Real Estate Mortgage Payments
In April and again in May, many people in NYC have missed their rent payments. Governor Cuomo put in place an eviction moratorium, which was extended through August 20th, and allowed tenants to use security deposits as payments until they can ante up the money at a later unspecified date. And many people have had to rely on food pantries to help them make ends meet. Long lines are reported at many of the pantries spread throughout NYC.
And to add to our economic woes, on a national level 3.8 million people missed their mortgage payments in April and another 1.6 million people missed their payments in May.
So, like the Corona Virus itself, the economic fallout will, in some measure, linger on indefinitely. The $2.5 trillion stimulus was meant to offset some of the losses, but as reported previously, the largest stimulus bill ever seemed crafted by a corrupt administration, as very wealthy people were given tax breaks which seemed not to have any real connection to the pandemic fallout. Trump also has since FIRED THREE INSPECTOR GENERALS, who would normally provide some transparency for what seems a lot of wasteful spending by the Republican president and his party, led by Senate Mouse Majority Leader Mitch McConnell.
But then the Democrats, led by New Yorker Chuck Schumer and Californian Nancy Pelosi, went on to ask for trillions more, because they did such a poor job of negotiating the first couple of stimulus bills, where it appeared the special interest gorged themselves at the public trough [to be paid for by America's babies and unborn children], while the state and municipal governments – those most impacted by the virus - seemed to be left with scraps.
As an example of what happened while we were all watching the pandemic unfold, the richest 1% reportedly increased their wealth by nearly a half trillion dollars, while most of the rest of the population lost ground.
The same is true for industry sectors. Retail, restaurants, hoteliers and gaming industries were hit pretty hard. A number of large retailers declared bankruptcy including Neiman Marcus, Pier 1 Imports, J Crew, and J.C. Penney is reportedly in talks to be sold to Amazon, which is trading near an all-time high.
The airlines received a $25 billion dollar bailout in the form of grants [66%] and loans [33%]. So the American taxpayer anted up for the airlines and we, the public, seemed to get nothing back. The Donald had relentlessly claimed he was a great negotiator while running in 2016, and yet it was German Chancellor Angela Merkel who seemed to be the toughest negotiator. She is working on a $9.7 billion bailout for German airline Lufthansa, but in exchange the public gets 20% of the airline stock and a poison pill to avert a takeover by a foreign / private entity trying to cash in on the public largesse. Hertz car rental also filed for bankruptcy.
Newspaper companies, which were already on the rocks, are also suffering. In 2019 about 3,400 journalists lost their jobs. Since the CoVid pandemic, 36,000 people working for newspapers [not just journalists so this is not an apples to apples comparison] lost their jobs or were laid off. Meanwhile the valuations on companies like Google and Facebook [who are eating newspapers lunch] are trading at [Facebook] or just below [-13%] their all time highs.
In several industry categories, the bricks and mortar players lost ground at an accelerating pace to the technology companies. The same is true for many small businesses, which were already challenged by rising rents, limited pricing power. And now CoVid may have delivered a death blow to many of them . According to the Small Business Administration small businesses make up 64% of new jobs, 49% of employment and 43% of payroll. And they are also an important factor in the lifeblood of most communities.
It's going to be a changed and evolving landscape, so stay tuned.
Blog / Lifestyle & Miscellaneous More coming later this week.
---
---
Things To Do Memorial Day Weekend Manhattan NYC
Things To Do Memorial Day Weekend Manhattan NYC
Things To Do In NYC & Manhattan Over The Memorial Day Weekend
May 14, 2020 / Things To Do Memorial Day Weekend Manhattan NYC / Manhattan Buzz NYC.
This page contains a few of the classical things to do in Manhattan over the Memorial Day Weekend in normal times, as well as what's available during the CoVid pandemic. Go to the Things To Do section of this site for an enhanced list of options.
I know Memorial Day Weekend is fully a week away, but given it's such a changed landscape due to the CoVid pandemic, I thought you might want more time to think about how you're going to spend the weekend.
Weather. As of this posting the weather forecast is as follows. The Temperature highs will be in the low to mid 70's and the temperature lows will be around 60 all three days of the long weekend. There's a 20% chance of rain all weekend. Winds will range between 5 - 10 mph all weekend. The Humidity will be around 50% throughout the weekend. Click for an up-to-date forecast of Manhattan Weekend Weather.
Be sure to check our Memorial Day Weekend things to do post mid afternoon Friday of Memorial Day Weekend.
Brief History of the Memorial Day Holiday in Manhattan
Memorial Day first started out as Decoration Day in Waterloo, New York on May 30, 1866 - a year after the Civil War - to honor those who fought in it. In the 1880's the day came to be known as Memorial Day.
According to a May 25, 2012 report in Time Magazine, ten states - Texas, Louisiana, Mississippi, Alabama, Georgia, Florida, North and South Carolina, Virginia and Tennessee also officially observe some version of a Confederate Memorial Day, sometime between late April and early June [in Texas it's in January]. It's been reported that unofficially most of the former Confederate states still commemorate it, but not without some controversy as to the former Confederate diaspora it's to honor their ancestors, while to the former diaspora of the slaves it seems a remnant of these states racist past.
About ten percent of the nation travels more than 50 miles over the weekend. Memorial Day differs from Veterans Day which is held on November 11th of each year. Veterans Day began by honoring those who fought in World War I which ended on the 11th hour, of the 11th day of the 11th month of 1918. Both honor those who served in the U.S. Military. Veterans Day coincides with a similar holiday in Europe for the same reason, which is called Remembrance Day and Armistice Day.
Memorial Day Events in Manhattan 2020
According to a March 27, 2020 report in Military News the U.S. Navy cancelled Fleet Week due to the CoVid pandemic. The annual celebratory week in NYC was originally scheduled to run from Wednesday, May 20 to Tuesday, May 26, 2020.
Unfortunately this year attending the Memorial Day Parade in Inwood that begins between 11 am - 12 noon at Dykman Street and Broadway, as well as the Manhattan street fairs in Manhattan NYC, don't appear to options due to the CoVid pandemic. That's not the only activity that will not be available to us, as attending Manhattan parades NYC, watching theater, visiting the Manhattan art museums NYC, and eating out at one of the Manhattan restaurants NYC also won't be available come Memorial Day Weekend.
But things are slowly moving in the right direction. For example you can obtain restaurant food via delivery or carry out - we posted some of the restaurants performing this service as of Mother's Day in our Mother's Day Restaurants in Manhattan report.
Unfortunately shopping in Manhattan, will also be limited to groceries, pharmacies and home improvement stores [aka essential services], but local Manhattan farmers markets in Manhattan NYC are classified as an essential service, so that provides another outing option.
You can also go bicycling around Manhattan so be mindful to observe the rules of the road [click link]. The 5 Boro Bike Ride 2020 was cancelled and unfortunately could not be re-scheduled, so we'll all have to wait until 2021 [hopefully].
So there are some things happening right here in our favorite borough - Manhattan. Click here to obtain information about things to do Memorial Day Weekend 2020 in Manhattan NYC. This events calendar is updated monthly with about 100 different Manhattan fun / cultural events.
Manhattan Public & Privately Run Parks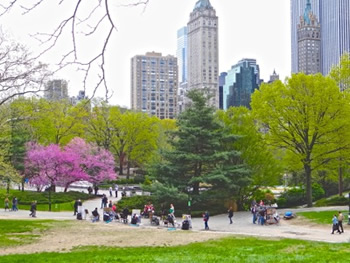 Manhattan has a number of New York City Parks, most of which will be open, including the restrooms which will be cleaned daily with disinfectants. But the normal park service options aren't available during the CoVid pandemic. These include no barbeques, no team sports and both the public swimming pools and the playgrounds will remain closed. But the beaches in other boroughs will be open, although no swimming will be allowed and the beaches will only be open for limited periods - generally from 10 am - 6 pm. NYS public marinas are open for non-commercial activities.
Click here for a listing of the Manhattan Parks NYC including maps showing their locations along with a bit of park history.
NYC Public Golf Courses in Queens, the Bronx, Brooklyn & Staten Island - Currently Closed due to CoVid 19
Queens has four public golf courses, Brooklyn has two, and both Staten Island and the Bronx each have three. Click here for details about Queens Golf Courses including maps and links to the operators' websites. And use the links below to see what's doing for Memorial Day Weekend in the other boroughs. Most of these golf courses are easily accessible via the MTA / subway.
Click here to view the rest of our report of things to do Memorial Day Weekend in Manhattan. And we'll have more to add by Friday.
---
---
Governor Cuomo to End NY Pause on 5/15 but ...
NYS Regions Must Meet Guidelines to Re-Open & While Some NYS Regions Qualify - We in NYC are Not Yet There
May 11, 2020 / NYC Neighborhoods / NYC CoVid 19 Special Section / Gotham Buzz NYC.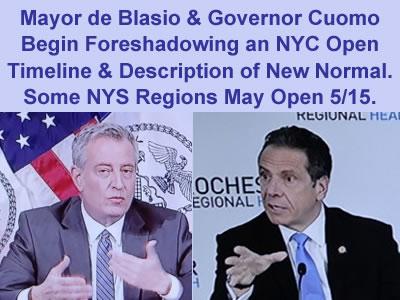 As of May 15th the NY Pause program put in place by Governor Cuomo in mid March will come to an end. NY Pause was essentially a state-wide lockdown of residents and businesses deemed 'non-essential'. We'll have been in lockdown for two months.
NYS Regions Must Meet the Following Guidelines Prior to Re-Opening
But once the statewide lockdown ends on Friday, regional / municipal lockdowns will continue until such time as each region meets seven guidelines outlined by the Governor.
The seven metrics that a region must meet are a two week decline in: 1) total hospitalizations, 2) new hospitalizations, 3) hospitalized deaths, and must have a 30% available share of 4) hospitalized beds and 5) Intensive Care Unit beds, and must have testing capacity / implementation of 6) 30 people per thousand monthly, and 7) 30 contact tracers per thousand in alignment with being able to follow up on potentially infected people.
Three of the less populated parts of New York State have met all of these guidelines and are free to open May 15th, 2020.
Mayor Seems to Think Early June is Possible for NYC & Other Fun Facts about NYS Primary, Alternate Side Parking, Plastic Grocery Bags & Open Streets
Mayor de Blasio said he doesn't think NYC will meet the NYS required metrics until June. In the meantime know that …
The NYS presidential primary [& state elections] is back on for June 23rd per a ruling by a Federal Court Judge Analisa Torres. The presidential primary election had been pushed back from it's original April 23rd date by Governor Cuomo. Following the postponement the NYS Board of Elections cancelled the presidential primary portion of the election when Bernie Sanders suspended his campaign. Former Presidential candidate Andrew Yang contested the NYS Board of Election decision, saying it deprived delegates / voters of their Constitutional right. The judge noted that the rest of the election was slated to continue, and Cuomo signed an Executive Order enabling anyone who wants to vote by mail may do so.
The plastic grocery bag ban enforcement by the Department of Environmental Conservation has been moved back to June 15th. It was originally scheduled to take effect March 1st but enforcement has been pushed back a couple of times in recognition of the challenges posed by the Corona Virus.
Governor Cuomo announced that any and all eviction proceedings have been delayed until August 20th, 2020.
The Governor announced on April 26th that the L train repairs had been completed six months ahead of schedule.
Alternate Side Parking is suspended through Sunday, May 17th BUT THEN RETURNS for the week of May 18 – 24, 2020 to enable a CLEAN SWEEP of the city. The Alternate Side Parking suspension then resumes from May 25th to June 7th at which time things may possibly start returning to the 'new' normal.
NYC Open Streets began this past weekend [May 9 – 10, 2020]. The plan opens up 40 miles of streets from 8 am – 8 pm for people to use for biking, walking and practicing recreational activities in a socially distanced manner. These streets are usually used by motorized vehicles. They plan to possibly do this for a full 100 miles of streets sometime in the future. Click this link to view the listing of the open streets in each borough.
https://www1.nyc.gov/html/dot/html/pedestrians/openstreets.shtml
Best wishes for a good start to your second week of May.
---
---
Mothers Day Restaurants Manhattan NYC
Mother's Day Restaurants In Manhattan
Restaurants For Mothers Day Brunch & Dinner on the Upper East Side, Upper West Side, Midtown, East Village, West Village, SoHo, Tribeca & Downtown NYC
May 8, 2020 / Manhattan Neighborhoods / Manhattan Restaurants / Manhattan Buzz NYC.
Mother's Day is this weekend. It's a good day to let your wife or mother or daughter know you appreciate her efforts in the most important role of her life. Flowers, gifts and brunch or dinner are always welcome, as is any thoughtful gesture that provides some measure showing your recognition of her efforts in her role as mother of some children. After all, without mothers, we would all cease to be.
Normally it's best to book a restaurant reservation for Mother's Day brunch, as on Mother's Day in Manhattan, many restaurants are full. So if you're thinking about eating out at a restaurant this Mother's Day on the Upper East Side, Upper West Side, Midtown Manhattan, the East or West Village, SoHo, Tribeca or Downtown NYC; it's best to do your research early, and call ahead to book Mother's Day restaurant reservations - BUT this year reservations, per se, are not an option. But delivery and take out are.
Mother's Day History - Restaurants In Manhattan
The origins of Mother's Day in the United States began with the efforts by Anna Jarvis to honor her own mother. According to Wikipedia, Anna began the campaign in 1905 - the year her mother died - and in 1910 West Virginia was the first state to adopt Mothers Day as a holiday. In 1914 Woodrow Wilson made the second Sunday in May as a national holiday to honor mothers.
Click this link to view a brief guide of Mother's Day restaurants in Manhattan where you will find links to Manhattan restaurants we've visited in the past or have reviewed. The restaurants we've reviewed include a mix of high, medium and budget priced restaurants that are spread throughout the borough and offer a large variety of ethnic cuisines.
We've identified less than a half dozen Manhattan restaurants that are doing take out / delivery on Mother's Day in Manhattan. Enjoy.
---
---
CoVid Back to Work NYC – Part III
Mayor & Governor Attempt a Balancing Act Worthy of the Flying Wallendas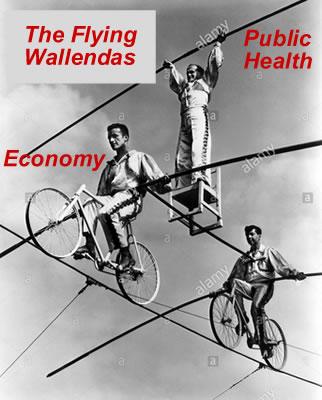 May 3, 2020 / NYC Neighborhoods / NYC CoVid 19 Special Section / News Analysis & Opinion / Gotham Buzz NYC.
Well, at least we had a pleasant weather weekend. People were out and about again in greater droves than they have been in about a month and a half. It was just nice to stretch one's legs, soak in a bit of sunshine and see people again … albeit at a social distance.
Looking ahead the Mayor and Governor are in a tight spot, as people's economic needs begin to weigh heavily upon them, given a second month of rent and other payments have come due. Thus these two intrepid leaders need to work out a path to economic recovery, while not letting up on keeping the evil CoVid virus in check. My intent here is to add my two cents in hopes of stimulating dialogue and actions in that direction.
Putting Things In Perspective
Let's start with what has happened this past week. NYS CoVid Hospitalizations had skyrocketed to about 19,000 the week of April 13th, 2020. By this past weekend they had fallen to about 10,000 – nearly half of the peak.
At the time the Governor and Mayor, with federal government assistance, had put in place plans to accommodate the skyrocketing infected numbers, which as of April 13th had hit 195,000 people in New York State and about 107,000 in New York City. Today the cumulative totals for New York State are 318,000 and for New York City 177,000.
Brief History Of How Covid 19 Started In NYC & NYS
The first person identified with the CoVid virus, was a Manhattan healthcare worker who had picked it up overseas. She tested positive or it became publicly known on March 1st, 2020. A week and a half later, on March 10, 2020, Governor Cuomo set up a containment area in New Rochelle where there was a significant outbreak. The Governor's NY Pause – essentially shutting down non-essential business – began evolving shortly thereafter.
NY PAUSE - Mid March 2020
Within about a week – by mid March - New York City and New York State were on pause. At first all major events were cancelled, then any large gathering of 500 people or more, then gatherings of 50 people or more, and then even restaurants and bars were required to close. This tightening happened at breakneck speed. And of course the NYS and NYC public school systems and all private schools shut down at that time. Only essential businesses and services were allowed to continue operating.
Shortly after we all went on Pause in mid March, Governor Cuomo began daily press briefings, to keep the public aware of what was happening. I started tuning in daily by March 21st and by that time – only three weeks after the first tested positive - there were 46,000 cases in NYS and nearly 21,000 in NYC. By that time it was dawning on us all, that we were in real trouble.
Adding Healthcare / ICU / Hospital Capacity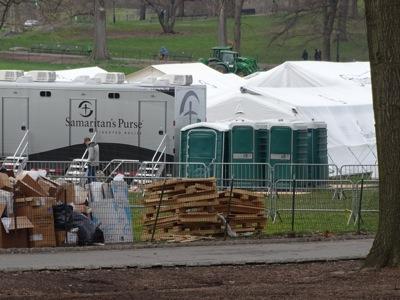 In the last half of March, the Governor and Mayor set to work to increase the city and state hospital capacity, as at the time the forecasts were daunting. Thus the Jacob Javits Center on the west side of Manhattan was outfitted to become a pop up hospital with capacity that began at 1,000, moved up to 2,000 and by the time they realized that the NY Pause was working, they had made plans to enable the Javits Center to accommodate 2,500 beds. As it was, just over 1,000 patients were treated there, as today hospital capacity is again available. This was staffed by the National Guard and federally employees. The last patient exited the Javits Center on Saturday, May 2nd, 2020.
Both the Governor and the Mayor called upon the federal branches of government to assist with managing the crisis, which is part was caused by their ignorance and slow and error-laden response. That's another story for another time. Anyhow, a floating hospital ship, the USNS Comfort, was sent to aid New York City. The ship had about a 1,000 bed capacity, or about a 750 CoVid patient capacity [social distancing]. By the time the USNS Comfort departed, on Thursday, April 30th, they had treated less than 200 patients, as the NY Pause initiative had effectively contained the outbreak.
There were other facilities put in place which we covered as they were springing up. Click here to read our report of over a month ago about NYC and NYS increase hospital capacity in preparation for the growth of CoVid 19 cases.
Late March - Flattening The Curve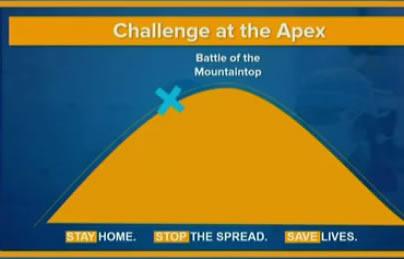 As we entered April things looked pretty bleak, except to me, as I was watching the growth in tested positives vis a vis the growth in testing. The two went up together, so I factored that into my growth expectations, while I imagine the experts were likely not discounting the growth rate for the growth in testing.
Click here to see our coverage of the flattening of the curve beginning March 31st.
By the end of that same week – the last week of March / first week of April – the Governor and Mayor were beginning to believe that the flattening had worked. This staved off some of the medium to worse case scenarios because the people of New York City and New York State took the threat of the CoVid crisis seriously and stayed home. Whew.
Managing PPE, Ventilators & Hospital Beds As Capacity Peaked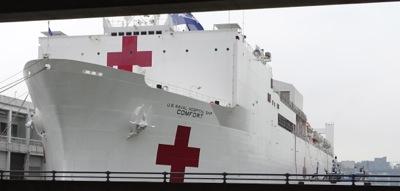 Throughout the month of April we all watched as the city and state healthcare workers and institutions grappled with a full capacity load of patients who had an infectious, potentially life-threatening illness, and generally speaking the city, state and worst of all – the federal government was unprepared and flat footed in their response.

Thus we all learned about PPE or personal protective equipment and its lack of availability. We learned about the ICU or intensive care units and key equipment like respirators / ventilators. And we learned about how stressed the healthcare system was in managing through all of this.
The Governor and Mayor asked and received some federal help in the form of the docking of the USNS Comfort, which is a navy hospital ship and the staffing of a pop up hospital at the Javits Center. But the preparations to add hospital bed capacity didn't end there, as the Governor and Mayor ramped up a facility in Central Park in Manhattan and another at the USTA Center in Queens.
Meanwhile, back in the stay at home / self quarantines, the rest of us were dealing with social distancing, being caged in our homes, a few out of stocks in things like toilet paper, or we had to switch from our usual selection of branded products to whatever was in stock. But those annoyances were mild compared to what was to come.
Unemployment, Food Lines, Financial & Psychological Stress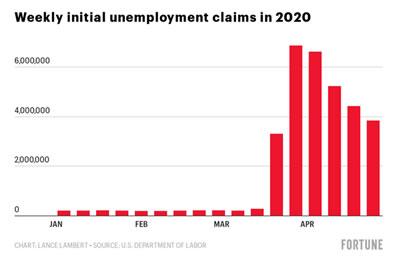 Many were and are facing food shortages and are financially strapped as they have no income and no savings. The rent and loan payments keep coming due, everyone still needs to keep the power on, and put food on the table – let alone deal with anything unexpected.
As of this past week, over 30 million Americans applied for unemployment insurance – and this is AFTER the government spent trillions keeping people on the payroll. Herbert Hoover, who presided over the beginning of the Great Depression, entered office with a 3.2% unemployment rate and left office four years later with unemployment at nearly 25%. The Donald entered office with an historically low unemployment rate of about 4%, and in the last report, the unemployment rate was about 19%.
I've noticed when I'm out reporting that a number of people are really on edge. So I advise folks proceed a bit more cautiously and patiently when out in public. The masks mandate really doesn't help in this regard, as some folks have turned into uninformed mask enforcer vigilantes.
Stimulus Package - Robbing America's Children's Future
So the federal government passed several whopping fiscal stimulus bills, where they borrowed trillions from the piggy bank of America's children, to finance what seemed, in part, to be Donald Trump's re-election plan. The Trump Administration doled out trillions in cash and sadly a good portion of it went to selfish interests, including some of Trump's own.
In another Trump first for bad behavior by an American President - the dispassionate Donald made desperate Americans wait a couple of extra days for the federal stimulus checks - so he could have his Treasury Secretary Mnuchin put the Trump name on the stimulus checks.
Meanwhile both the Mayor and the Governor are confronted with tough fiscal choices, as the city and state revenue has declined precipitously, as state and municipal expenses climbed due to efforts made to deal with the CoVid crisis.
Late April Things Improve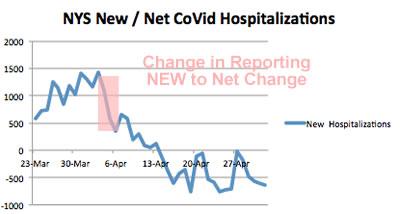 So in the latter half of April we started watching the CoVid crisis slow down, as more people came off respirators than went on them [although enough of them also died on the respirators and continue to contribute to that declining number], and while people continued dying from CoVid, it was at lower and lower numbers. Both of these metrics are the lagging indicators.
But the leading indicators also began falling in the second half of April. The number of people who tested positive fell from a high on April 15th at less than 12,000, to a weekly rolling average of about 5,000 per day this past week [ending May 2nd]. And the hospitalization rate fell from about 19,000 on April 13th to about 10,000 today.
So all indicators are generally pointing in the right direction, and have been doing so for about two weeks. So why not get back to work right away? Because we have to open the city and state smartly or we'll not just be back where we were – but possibly even worse - because the healthcare system and professionals have been working under duress non-stop for a month or more.
Getting Back To Work – Starting With Infrastructure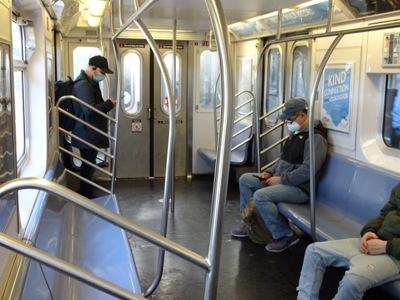 Both the Mayor and Governor are working assiduously to get us back to work, but safely. How are they doing that? One of the first big steps is that effective May 6th, 2020 the MTA subway system is going to be closed down from 1 am – 5 am so that the subway cars can be sanitized.
If you think about the city [and state for that matter] as if it were a human, there's no quicker way to spread a disease than by using the transportation infrastructure - most notably the subway. Conversely, it seems one of the quickest ways to contain a disease is to stop its spread via the transportation system / subway. Thus the collaborative and concerted actions of the Governor and the Mayor appear headed in that direction. Bravo.
Click here to see our report identifying the MTA subway system as a CoVid hazard.
Anyhow, by the beginning of May, the Governor confirmed that the public school system academic year would end online – not in the schools. Long lines continued forming at stores where masks are now required to enter. Banking and financial institutions have been overwhelmed with calls related to the fiscal stimulus checks as well as all sorts of people needing financial help. And this had to be done, while the banks shortened hours – some due in part to the many snafus by the Trump Administration in the handling of the stimulus bill execution because at least one computer system crashed and there were reportedly a myriad of a number of smaller snafus.
Many TV News Reports Seem about as Vetted as Social Media
People are staying up later as they don't have to get up to shower and commute to work the next day, unless they're an essential worker. So while free TV hasn't been interesting in a long time - now, when it's most needed - it seems to suck on an extraordinary level. And while many people have been able to collect their regular paycheck by telecommuting / teleworking, others must be feeling about as anxious as one possibly can – having no money, no work, behind in rent by one or two months, not sure if they have a job or will have a job, and to top it off no haircut in a couple months time.
So, not unexpectedly, with empty streets and people really hurting, some crimes have risen, but that's not really unexpected ... is it?
The Future - Possible Therapies & Gauging the Economy
Start by Recognizing Covid is Likely Here To Stay for a While
So what does the future look like? Predicting things is at best a precarious science, but I've made a few observations, which I'd like to share.
I. The Tenuous Promise of a Warm Weather Cure
Let's start with the first one - which quite honestly I'm not sure we can very accurately judge at this time – and that's whether the Corona Virus will be with us for a long time to come.
Some folks thought that it would behave like the flu and disappear during the warmer weather. If that were the case, then why are Brazil and India, both WARM WEATHER NATIONS, ramping UP THE CURVE, rather than flattening or coming off the curve?
This should cause one to proceed slowly.
II. No Fairytales & No Magic Pill or Spray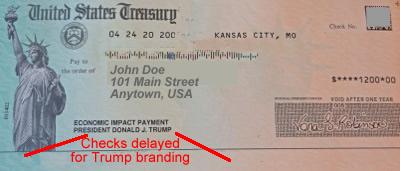 The other aspect of this are the proposed cures, therapies and vaccines. Sometimes watching the TV news it seems like the Wild West, where we hear from a plethora of TV news teleprompter readers, who don't seem to understand what it is they're saying, seeming to repeat things without providing context and without verifying source facts.
I've reported on some of the proposed vaccines and therapies in a prior report – click here for CoVid therapies and vaccines. The gist of it is that while we are very technologically advanced, it takes a while not just to discover a molecular combination therapy, but quite a while longer to understand whether it works, why it works and whether it is safe for use on the general population. To ensure efficacy and safety, clinical trials are done to measure the potential impact on various vaccine recipients or patients, depending on their baseline health, as well as what other drugs they are taking.
Ironically in late April, an over the counter medicine, Pepcid, was reported as potentially helpful to treating the Corona Virus. A friend of mine reported that it had sold out online before I had even heard the news. That's how crazy things have gotten.
Science is not as easy as the Donald portrays it to be. You can't just spray Lysol into your lungs to cure yourself [you'll poison yourself], and one of the drugs he's promoted, Hydroxychloroquine, was tested in a Brazil clinical trial. In that trial the anti-malarial drug is believed to have triggered heart problems where patients died. Because of the deaths, they ended the Brazilian clinical trial.
Science isn't for Simpletons – Vaccines Take Time & So Do Therapies
So what are the real therapy options? One is a vaccine. But the fastest vaccine ever developed was for polio in the 1950's and that took four years. Now drug development has come a long way – but it was over a half century ago that a vaccine was developed in such a 'short' period of time. So when people estimate it will take 12 – 18 months to gain access to a workable CoVid 19 vaccine, know that this is an optimistic scenario. Not that it can't be done or someone won't beat it – but the facts are four years for the fastest developed vaccine and that was 50 years ago.
And then there's Remdesivir by Gilead Sciences. I've read conflicting reports. The Chinese were said to have conducted a clinical trial and it wasn't successful. But the pronouncements and announcements by the Chinese government seem to be as unreliable as the Donald and Fox News. So maybe it doesn't work, but Gilead is moving ahead with an FDA fast tracked clinical trial. Anecdotally one of the first patients in Washington state recovered using it. But a sample size of one doesn't mean much per se, because we don't know if that patient would have recovered anyhow. Clinical trials have control patients so one can determine the difference between treatment / no treatment.
Underlying Health Conditions – Vulnerable Populations In America
I did a quick analysis, to see how many Americans may have one of the UNDERLYING HEALTH CONDITIONS that makes them vulnerable to getting severely ill or dying from CoVid 19. I did this to get a sense of the complexity that has to be managed in finding an effective therapy or vaccine to combat the virus, AND also to gauge how many people are going to be at risk in the 'new normal' as we collectively resume our livelihoods. If large numbers of people are vulnerable to contracting the disease and dying from it, they're going to be a whole lot more cautious until some remedy is found.
Needless to say, the following statistics on the health of America are daunting. It's easy to see why national opinion polls show that a large majority of Americans are interested in putting in place a public health program like Obamacare. The Donald failed to repeal and replace Obamacare. But he did work hard on the repeal end of it, as he made efforts to dismantle various aspects of Obamacare over the past four years.
Please note that in what follows, there is overlap among these groups, as the same person may have more than one of these conditions.
There are 328 million Americans.
Of those, 127 million Americans [40% of the population] have some form of Cardiovascular Disease, of which 103 million have high blood pressure [2018 Heart.org] and of which another 24 million who have some other form of heart disease besides high blood pressure [2016 American Heart Association].
As for Respiratory Diseases, 25 million Americans have asthma [aafa.org which is the Asthma & Allergy Foundation of America - circa 2016]. There are 34 million American adults [14% of adults] who are cigarette smokers, of which 16 million have a smoking related disease [2018 CDC.gov]. And these may be many of the same people, but there are 17 million Americans who are cancer survivors [2019 cancer.gov].
As for underlying health issues, there are another 70 million Americans who are obese, which includes 40% of U.S. adults [2016 Wikipedia]. Another 34 million Americans have diabetes - of which 7 million have not yet been diagnosed [diabetesresearch.org].
And lastly, as for compromised immune systems not related to what's noted above, there are 1.1 million Americans who have AIDS [2016 HIV.gov] and there are 49 million Americans who are over the age of 65 [2016 ACI.gov - Administration for Community Living].
It's probable that almost EVERY AMERICAN has family members, friends or business associates who has one or more of the underlying conditions. And for Americans with these underlying conditions, catching CoVid 19 could potentially be a death sentence.
So this has implications for the development of an effective vaccine and / or therapy - as clinical trials are designed to evaluate how things work in the general population to ensure that the 'cure' isn't worse than the condition. But these underlying health conditions also have implications for how people will, and possibly should, move forward economically if they don't want to lose a loved one.
The Implications – Living With Risk & Managing It
The Flying Wallendas Tight Rope Act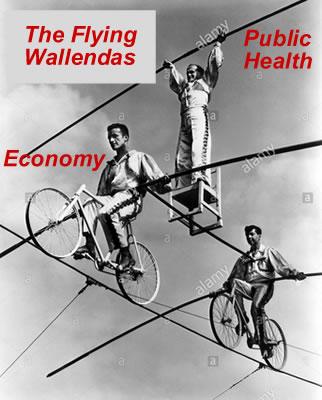 So, while what I've reported above is bad news, it's better to be aware of it and deal with it, than to ignore it and suffer the consequences. The implications are that we can't wait to defeat the Corona Virus before we return to work and play – so we have to manage it. That's where the Governor and the Mayor have to do what the flying Wallendas were so well known – walking along a tight rope – where the consequences of failure are tragic.
Karl Wallenda was an acrobat / tightrope walker. He began his notoriety in Madison Square Garden in 1928 when he walked the tightrope without a net underneath to catch him, as the net had been lost in transit. For fifty years he walked the rope until he took a misstep in 1978 and fell to his death. Let us hope we're so lucky, as he was 73 at the time and that was 50 years of walking that rope.
Anyhow, back to Cheyenne.
So CoVid 19 is probably here to stay for a while, and it's likely we're not going to have access to a therapy for a while [although it's always possible]. So we can't afford to wait for CoVid 19 to go away before we get back to work. Thus, we have to manage the health risks of returning to work - prior to the virus eradication and prior to having access to a workable therapy - as we all need to feed and shelter ourselves.

CDC Workplace Guidelines
So the CDC guidelines include things like stay at home if you're sick, cover your mouth when you cough, social distancing, wash your hands, and keep the surfaces you touch regularly clean. The CDC has issued some workplace guidelines which you can review using this link - https://www.cdc.gov/coronavirus/2019-ncov/community/organizations/businesses-employers.html
I scanned about half or more of the articles – some of which were industry specific like for food processing plants and grocery stores, while others were a bit more generic. I didn't see anything specific for restaurants, bars and other retail outlets.
Local Businesses Improvise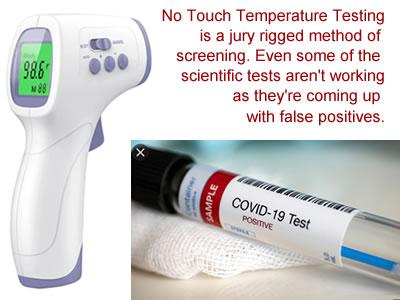 Many local employers have taken the initiative to proactively protect their workers. A few weeks ago my local grocer set up plastic see through barriers at check outs, provided their employees with masks, and within the past couple weeks started requiring all customers to start wearing masks about a week ago and limited the number of people in the store at one time. I also saw this at my local pharmacy. A friend of mine told me that his temperature is checked with a no touch device before he is let into shop.
Governor of New Jersey has started outlining guidelines for restaurants, mandating social distancing by limiting restaurant capacity to 25% of the old normal. Given we're heading into the warmer weather he is also working to enable restaurants to serve outdoors in order to expand restaurant capacity [CHECK].
Law - Define Workplace Safety Guidelines so Employers & Employees Know What is a NEED to Have vs a NICE to Have
I think they should consolidate the learning into easier to understand / implement key points. And they might want to figure out what is required by law, versus what are recommended guidelines, so the lawsuits don't start flying after this settles down.
Testing Issues & Limitations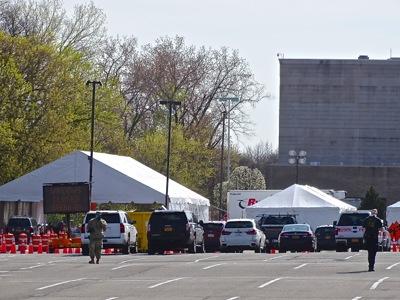 There's been much debate about testing. Quite simply it 's a mess. There are over a hundred tests on the market at present, but only eight of which have received some sort of FDA approval. Hence many tests are reportedly showing both false positives [you have it] and false negatives [you have it but the test says you don't].
Testing was one of the many early failures by the Trump Administration as they shunned using the World Health Organization test, so they could make America First. They were successful in some measure as America is #1 worldwide in CoVid infections and deaths.
After that delay, the Trump Administration CDC made their own test and sent it out, but it was flawed, so they had to recall it and try again. Now they continue to tell Americans that anyone who wants a test can have it [still not completely true but it's not the lie it was a few weeks ago]. What they don't tell you is that while you can get a test, they don't have enough reagents to actually process the test, so you can't get your results back ... least not quickly.
The reagents situation is likely to be fixed in the very near future, as they should be able to ramp test reagents production to full scale. But for many of the tests, the accuracy of them is still an unknown, as only eight of over 100 tests on the market were approved by the FDA.
I think more testing will help, but I don't see it as the pancea that others seem to think it is. I think you have to go at the CoVid 19 virus on a number of fronts, which also includes public education, and an added effort vis a vis human-to-human and human-to-surface interactions.


Managing Expectations - At Risk Populations Vis A Vis Covid 19
Given the above guidelines, which are likely to be in place for a while, we need to recalibrate our economic expectations. This affects most everything.
Let's start by reviewing the number of people in the at risk populations – meaning people who could actually lose their lives if they catch CoVid 19. As I pointed out above, it's not a short list.
Given these vulnerable people could actually lose their lives if they contracted CoVid 19, how likely do you think they are going to resume their normal activity / spending? My guess is that these folks aren't as likely to get together for dinner or drinks, or go on trips or vacations, or big weddings or funerals, or many cultural events until things settle down.
Big parties and events are likely going to be socially distanced / managed affairs, and vulnerable CoVid populations [people with underlying health conditions outlined above] are less likely to attend, and rightfully so. They're going to have to proceed cautiously, as they risk their own mortality ... and people around them, who love and care for them, should proceed with caution as well.
Simple Chores have Become a Big Pain in the Ass
Then there's the social distancing. Everything has become a big pain in the ass. Going to the grocery or liquor store requires wearing a mask and waiting in line to get in, going to the bank where hours have been shortened and personnel aren't available has become frustrating, going out of the house where every time you leave you have to don a mask and everytime you return you have to wash your hands, and possibly wash whatever you picked up, and so forth, has made life a lot less pleasant.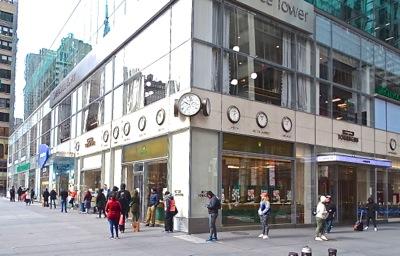 So the CoVid pandemic is going to put a damper on things for a while, possibly a long while. Thus, we must adjust our economic expectations. Right now a whopping 30 million plus Americans are out of work. Even Herbert Hoover didn't hit these high numbers before he lost his job as U.S. President when the Great Depression swooped in.
Many of the unemployed may be out of a job for a long while. Restaurants, hotels and travel will do less business because of social distancing, and cautious vulnerable populations staying close to home for a while. Autos and gas are likely to suffer as people will likely move around less. Many tenants have not been able to keep up with rent, and many home owners are having trouble keeping up with mortgage payments. Many incomes have been reduced as businesspeople adjust their cost structure to line up with with reduced business revenue.
Because for the past couple of months we've been preoccupied with the CoVid 19 virus itself, I'm not sure the full effect of the economic impact of CoVid 19 has set in. The $2.5 trillion in stimulus should buffer things, as it represents a proportionate share of economic loss during the time we've been and are likely to be locked down, but there was plenty of pork in those bills that wasn't necessary - like the tax break for real estate people like the Donald.
Financial Fallout - The $2.5 Trillion Stimulus Seemed Corrupt
The economic implications of the CoVid 19 pandemic will begin to creep into the financial industry calculus, as expectations are recalibrated. Many categories of business like hotels, restaurants and bricks and mortar retailers, strapped consumers credit card debt, small businesses, tenants and possibly even some over leveraged landlords are going to have trouble climbing out of this hole. It's possible, and maybe even likely that many simply won't make it, which has further implications. In economics it's called the multiplier effect, which is essentially a ripple effect.
Real estate may even take a hit as tenants can't afford to pay rent, while mortgage and business defaults refocus banking efforts on managing / limiting exposure. Hence, in spite of low rates, folks may not want to make a huge investment or take on risk in these uncertain times, while all levels of government will be contending with their gaping deficits, which has implications for cutting government spending and the possibility of raising some taxes. Again, there will be a ripple effect through other segments of the economy.
And while the rank and file folks suffer, the Donald gave the airlines a big bailout, and he is reportedly considering a bailout for the fossil fuel industry.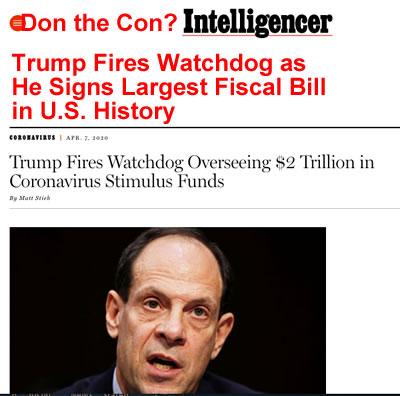 I'm so sorry that I'm notcheery here. But thinking through these things helps one prepare for the future. Forewarned is forearmed. I don't think the new normal – which is that we're living in uncertain times – has yet to sink in as we're only now beginning to look at grappling with the economic fallout.
Even if the virus subsides, which it seems to be doing, the grey clouds surrounding it will keep things dampened for a while. This is in spite of the trillions of dollars in stimulus, as well as the trillions of dollars in liquidity that the Federal Reserve has reportedly pumped into the financial system. Many health professionals are concerned that next fall could be chaotic as the flu season returns ... possibly in tandem with CoVid 19 ... and again straining the capacity of the healthcare system.
While the trillions of dollars helped, it seemed loaded with pork and corruptly managed. The Donald fired one of the watchdogs overseeing the federal stimulus package spending. Hence, because of that, I am not sure that all this money will solve our problems this time.
Absent effective leadership at the top, state and municipal government officials must balance the risks of good economic health with public health, while simultaneously balancing our civil liberties with our safety. This is no simple balancing act, as the flying Wallendas well know.
Good leadership helps, and that is what both NYC and NYS seem to have right now. Unfortunately on the national level we seem to have come up really short.
FYI – Schools Remain Closed, Evictions Suspended thru 7/1, MTA Cleaning Effective Mid Week, Slowly Opening Economies
Governor Cuomo confirmed / announced that NYC and NYS Public school systems are officially closed through the academic year. He also said that any eviction proceedings would be suspended through June.
Mayor de Blasio announced that Alternate Side Parking has been suspended / extended through May 14th. And that City Streets II would go into effect by Monday, if not before, to provide added open space for folks. Few took advantage of it last time, but perhaps things have changed.
Sanitizing the MTA subway was a good start toward preparing us for a return to work and play. The CDC guidelines for workplace safety help too, but it seems they're not done as they need to simplify the guidelines for public consumption and add categories like restaurants and bars.
Some of the small business efforts like taking no touch temperatures and socially distancing store cutomers seem intelligent and likely will become a part of the new normal. The NJ Governor's plan to start re-opening with parks seems a cautious way to gauge how well people are going to fall in line on the social distancing guidelines, while monitoring the CoVid 19 testing numbers, before opening up other categories of activities.
The NJ Governor's plan to limit restaurants to 25% of capacity, while providing expanded outdoor space seems like a good managed work / play resumption move. Airlines have started requiring passengers to wear masks. Both of these strategies are already in place at my local grocery store, where we wait in a line outside to be let in and must wear a mask.
I think the government needs to do a better job of focusing people's attention to stepped up cleaning efforts [not included in many CoVid ads by Drs. Oxiris Barbot (NYC) and Howard Zucker (NYS)]. But that said, the last time I visited the pharmacy, the cleaning products section had been pretty well emptied, so many folks have already figured this out on their own.
A Final Word for this Monday, May 4th, 2020
Life is full of risk. People get sick and die every day. Sickness and death are a part of life.
And while I worry greatly about those I love who are at greater risk, the whole of society can't wait until this threat goes away, or shut down again if another one arrives. So we all have to do what we can to protect those at risk by being mindful of the virus / germs, and doing our best to mitigate the spread of them, and manage our interactions with vulnerable people. And on the other hand, we also have to begin moving forward, albeit carefully, cautiously while monitoring the health implications our economic progress.
Best wishes for a good start to the first week in May.
---
---
Many Manhattan Farmers Markets are Open
Farmers Markets are Essential Businesses, Provide Fresh Food & a Nice Outing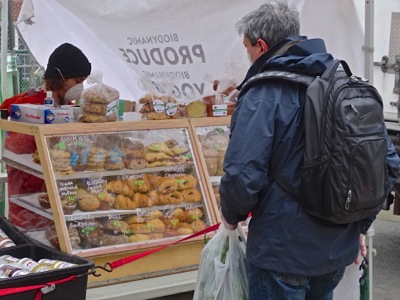 May 1, 2020 / Manhattan Shopping / Manhattan Neighborhoods / Manhattan Buzz NYC.
Last weekend, on Saturday, I ventured out to enjoy the beautiful weather. I was not alone, as for the first time in a month and a half there were a number of people moving about the neighborhood.
I headed down to the farmers market to see what that looked like under the new normal. The food looked fresh, and there was plenty of it - although this was in mid morning.
The experience wasn't much different than what you'd expect. People wore face masks and there were lines created by social distancing. I was glad to see that farmers markets are essential businesses, as it augments a strained food supply chain, and provides folks with an opportunity to get out of the house in about as safe an environment as you can get. Here's a link to the dates, times, locations and selection of the 2020 Manhattan Farmers Markets.
I can't say people were smiling, not just because their faces were covered by masks, but there's been a gradual mood deterioration as we pass the second rent due date of the CoVid pandemic. Many people aren't standing in the farmers market social distancing line, but rather standing in food pantry lines. And for many, their economic fates are up for grabs, as we collectively try to navigate our way back to work. Many believe that economic activity is likely to be dampened by the CoVid pandemic for some time to come.
On the bright side, the Governor and the Mayor announced plans to begin daily sanitization of the MTA subway system beginning Wednesday, May 6th. The plan is to close the terminal stations of the subway lines from 1 am to 5 am, daily - providing shuttle buses to and from the last stop for passengers. And then, in those four wee hours of the morning, the NYPD and NYC social services will swoop into clear out the homeless population that has started making the subway their new home. It seems a good and humane plan.
Sanitizing the subway lines should go a long way toward preparing us to get back to the new normal by helping to dampen - if not eradicate - the transmission of the CoVid virus. This collaborative effort by both the Mayor and the Governor will help all of us to get back to work and play. So things are moving in the right direction, albeit not at a viral pace.
Have a nice weekend. The weather is going to be in the 70's during the day and 50's at night. And no rain, but some clouds.
---
Through Wind, Snow, Rain, Sleet & CoVid - Education Goes On
Or … the Wild and Whacky World of Online Learning in the Age of CoVid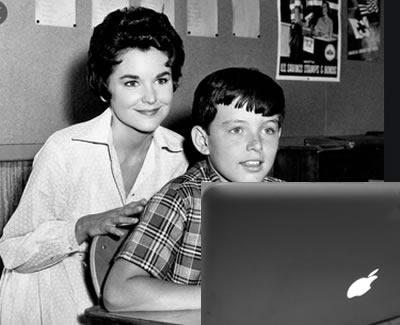 April 27, 2020 / Corona Virus in NYC & NYS CoVid 19 / NYC Neighborhoods / News Analysis & Opinion / Gotham Buzz NYC.
As we anxiously await the return to the new normal, being bombarded by repetitious daily TV newscasts, the Donald's Daily Disinformation Show, and what seems Rupert Murdoch's unending propaganda in the Wall Street Journal and on Fox News, there are a few bright spots, but you have to look for them.
I thought the migration from school classrooms might be one of them, so I set out to find out what that experience felt like to both educators and students at the elementary, high school and college levels. As I interviewed only two students and two teachers, this is an anecdotal report about the migration from classroom to computer.
The mass migration began the week beginning March 9th, 2020. College students around the nation, including the CUNY and SUNY systems, were told their classes were being discontinued and they were instructed to pack their things and return home. By the start of the next week, beginning March 16th, NYC public elementary and high schools were also closed. Private schools more or less closed their doors in tandem with the public schools.
During that week of disbandment, the world of education began a mad scramble to figure out how to continue the education process – without classrooms, schools and interpersonal contact. This was not a mean feat.
Nonetheless, educators scrambled, ramped up to speed using interactive platforms like Zoom and Google Hang Out, which includes Google Meet & Chat, and Google Docs. The educators also started figuring out how replace lectures and moderated classroom discussions by using videos and presentations / documents.
Based on the four interviews I conducted, it seems there wasn't any one formula used, but rather a whole slew of different approaches. Teachers used more different approaches to online learning – depending on not just the subject matter, but also the audience - the class.
College Professor's Experience Migrating Online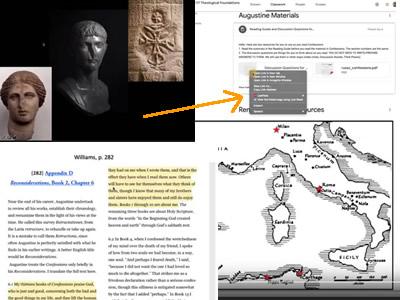 Thomas Bolin is a religious studies professor at a small liberal arts college. He teaches three classes – one is about American Evangelicalism, which examines the changing face of religion in America. He teaches two classes of Ancient Wisdom, which examines Biblical, Roman and Egyptian philosophies. This course ends with each student creating their own personal philosophy.
Professor Bolin said he started by taking a technology inventory of his students including computer and internet access. The real technological issue wasn't access to devices as nearly everyone has a smart phone and computer but rather access to internet with enough bandwidth at the times needed.
After he'd completed the technology inventory, he set out devising a teaching game plan. To that end he began developing videos, which he posted so that the students could access asynchronously – meaning on their timeframe. His reasoning was that as some of his students lived in different time zones, and some had issues accessing high speed internet at home because of shared bandwidth and devices, this would enable all to keep pace with their classroom peers.
He said he receives a slew of student emails after each video post, which he answers personally. He said he also checks in with each of his students at least once per week.
Professor Bolin also said that he began creating reading guides for many of the assigned readings to initiate interaction, circular discussions and he paired student to interact.
I asked him if he was working more or less these days. He said more … that the five day week had become a continuous stream of seven day weeks … that work filling his days has become like gas filling a room.
He noted that it's far more difficult to tell how plugged in each student is to the subject matter. He said that it was likely for that reason that Princeton went to Pass / Fail when they initiated the migration from in class to online. He opined that in spite of the additional work he's had to do, the students were likely getting a reduced educational experience. And hence, he reasoned, the pass / fail is a means of acknowledging the reduced expectations.
I'm paraphrasing but he said something like, "Education is learning about and through community, interpersonal interactions, which ultimately lead to growth. That's not something that can be well replicated online."
Manhattan College Student's Experience Migrating to Online Learning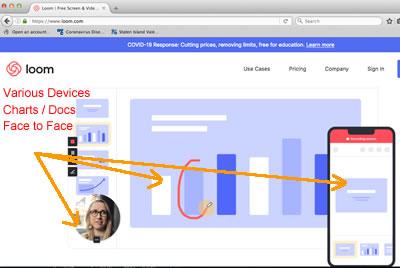 I then checked in with Lily, a college sophomore at a northeastern liberal arts college, to get a sense of the online learning experience from the student perspective. Lily was taking a wide variety of humanities and social science classes including Philosophy, Political Science, International Relations, French Narratives and one focused on the Linguistics of the Silk Road.
Lily's school made the decision to send students home the week beginning March 9th and it sounded like they knew the semester was over for the school year. The students had a week to move out and get ready to continue classes online about a week later.
Some of her classes were given via Zoom at the pre-scheduled times, continuing online the program they'd planned for the classrooms. But others were done as described by Professor Bolin, where materials and lectures were delivered asynchronously so the students could access the content on their schedules.
The Zoom classes are lectures with student / teacher interactive capability. The teacher can call on students to participate while online and students can raise their hands in Zoom to be recognized for comments and questions. For a couple of her classes, she's had to give presentations online.
Assignments given as per usual and most are reading based. The students turn in their assignments online and she also took an exam online. It was done live over the course of one and a half hours. The exam was not multiple choice, but rather an open book using short answers and two essays.
Lily said she was struggling to get her work done and oftentimes leaves things for the last minute – something she had not while in attendance in person at school.
She noted that there's no separation between relaxation and studying. So there's a loss of motivation and it's easy to get distracted. She told me that, the "Perceived amount of infinite time makes you want to do less". This seemed to echo Professor Bolin's sentiment about gas expanding to fill a room.
And she misses her peer group interactions, as she would be talking about her studies with her friends at school. But now, with social distancing, there's less to talk about events wise with friends.
Lily told me that her school had moved to pass / fail grading. She said that not being graded diminishes the incentive to perform, because even if you do perform, you'll never know how well you did. She said, "Pass / Fail is an option for tuning out".
She told me that if this continues into the Fall, many of her friends say they will consider skipping a semester or two until the teaching comes back to the classroom.
NYC High School Sophmore's Experience Migrating to Online Learning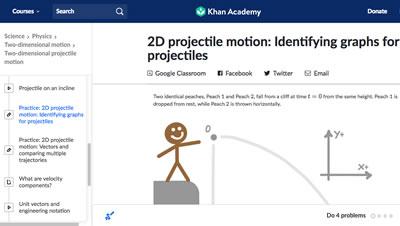 Ethan is a sophomore at an NYC high school. He's taking Algebra II, Conceptual Physics, British Literature, Spanish and World History II. It's amazing to me how sophisticated the high school curriculum is, which I hear a lot of parents saying too, as they're being asked to assist in educating their children.
His school ended during the middle of that fateful week beginning March 9th. His school had a spring break coming, so they kept the break and classes resumed on schedule, online, in the same time period they would have if CoVid 19 had not swept the city.
Ethan's class schedule was reduced to Mondays and Wednesdays. The other three days the teachers are available for one on one interactions. I asked him if he'd taken advantage of the increased one on one teacher access and he said not really.
Ethan's school uses Google Hang Out as the electronic teaching platform, but they supplement the platform with others as well. The classroom days are filled with live lectures as well as chalkboard type presentations.
One of the websites they use is called Kahoot, which is a game based learning platform where the users can create pop quizzes with social interaction via multiple user chalkboards. Another website Ethan mentioned was QuizLet which uses a flash card method for various subjects that are created by the users to aid students learning in a manner not unlike the paper flashcards of way-back-when. I was told that this website is a very useful aid in preparing for tests.
Ethan said he was not quizzed in class like prior to the CoVid classroom to online migration, but that his homework load had increased. He said he's working harder, but less efficiently which seemed to echo Professor Bolin's remark on the teaching side. They're both putting in more effort, but getting less productivity out of it.
As a high school student, one of the things Ethan misses most is the social interaction with his peers. He said before the CoVid outbreak he would get up in the morning and get moving along with the rest of the city. He would use mass transit, walk, enter the school where the student body was milling about and then enter a classroom for face to face with the teacher and his fellow students.
Now he gets up, sometimes he doesn't even get dressed and takes his first class in his pajamas. Then he sits in front of the computer pretty much all day watching his classes online. There's little variation and little stimulus and he misses the social interaction. He told me that he goes to class, watches Netflix, and does his homework all in same spot. And that he doesn't like it.
He said he doesn't interact with his friends as much since the CoVid shutdown, because there's less to talk about that's not the same, and you don't have the shared everyday experiences of being in the same place at the same time.
The homework is largely the same. Except for Math and Physics the homework is done on the Khan Academy website. The Khan Academy is full of videos and short learning tools that help educators teach and students learn.
Ethan said that he wishes he was still in school. He said the online experience was dissatisfying. He noted that the lack of social interaction was hard to live with, and that it was also hard to learn when you're attending just two classes per week. It's also frustrating because Ethan said he and his fellow students will have to catch up on what they missing now, after this pandemic is all over.
Elementary School Teacher's Experience Migrating to Online Learning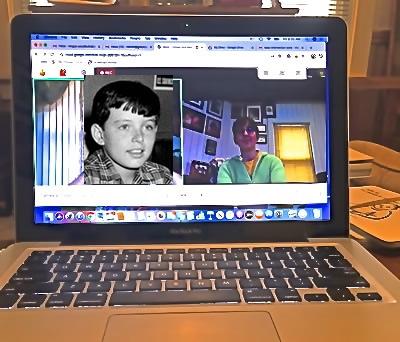 Megan Bolin is an elementary school reading specialist in a small private school in the Midwest. Her job is to work with kids who have trouble reading and writing English through what she calls interventions. Most of the work she does is one on one and it's with kids who are not at the top of the socio-economic ladder.
While the school ensured all kids had computers, many of them don't have access to internet hookups. Some have parents who are working in essential services and take their internet with them, leaving the kids without internet access during the day. So while they could possibly find a place near a local library or Starbucks to do their homework, in pragmatic terms it's not realistically feasible.
Hence, as a result of the CoVid shutdown, Megan informed me that many of these kids have sort of fallen off the grid, as they're struggling to keep up with their regular classes – let alone trying to keep up with an interventionist / extra course.
But for those who are in a position to keep their learning progress moving, Megan uses Google Meet. She works with the kids mostly one on one and using a combination of video and text documents, works with the kids in real time on developing their language skills.
She said that while she was working with a smaller student population, she found herself putting in the same hours. Her school has continued teacher meetings too, as they have found it beneficial to share their experiences and the different approaches they've been using to keep the kids engaged. The efforts are a mix of videos, games, quizzes and challenges.
She said the uncertainty of the first announcements, with an indefinite return to school date, lead to an approach of keeping things fresh, so that pending their return to school, they could pick things up again. But once it became clear that there wasn't to be a return to school this year, she began focusing on moving the kids ahead to where they need to be by year end.
Given the mostly one on one interactions by Megan with kids, of the four folks I interviewed, she seemed most optimistic about what could be achieved via online learning - with a big asterisk for those who in essence drop out because of technological and online schooling limitations / complications.
Regardless of the grading system the schools of the other interviewees changed to, grades likely play less a role in what Megan teaches – reading / language fluency [seem to be more a concern at the college level]. And since the classes are live one-on-one sessions [or two to five at most] – it's hard for the students to wrangle out of the work. But because of the technology limitations, only about half as many students will benefit.
So what does it all mean? It means that teachers are doing the best they can, but they acknowledge that it's far from optimal. The students also seem to appreciate what they once had via attending class with in person teachers.
All of them - both teachers and students - said they missed school and were looking forward to a return to normal.
Pink Floyd's 'We Don't Need No Education' & 'The Wall'
In 1979 the British rock group Pink Floyd came out with a new album entitled The Wall. The album was in part, the personal expression of two of the bandmembers' experience growing up. The Wall is described in Wikipedia as,
"... a rock opera that explores Pink, a jaded rockstar whose eventual self-imposed isolation from society is symbolized by a wall ..."
We Don't Need No Education is one of the tunes on the album. It wasn't a protest song against education, per se, but rather the rocker's issues with an individual strict teacher. He describes his negative experience with his teacher as another brick in the psychological wall he had built around himself.
I mention this because during the CoVid crisis we're all sort of building walls around our lives, as we wait for this pandemic to end, in relative walled isolation.
Building walls instead of bridges isn't good for most of us. The world was built on bridges - the exchange of ideas, the trade of goods and services, and the transference of art and culture. We do need education, but We Don't Need No Education does have a good rhythm and a message obscured by its language. I suppose one might say that's because the rocker's learning experience failed him ... but it takes two to learn ... an educated and thoughtful teacher and a receptive and intelligent student. And one of the things we're learning from the CoVid pandemic is that it seems generally to help when there's a real human connection.
https://www.youtube.com/watch?v=MAe_w9a_IN8
---
---
CoVid Crisis – Back to Work Part II
Jury Rigging / Do It Yourself Methods to Get Back to Work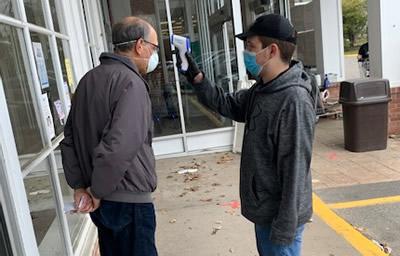 April 24, 2020 / Corona Virus in NYC & NYS CoVid 19 / NYC Neighborhoods / News Analysis & Opinion / Gotham Buzz NYC.
NY Pause Continues Through May 15th Pending an Update
First a couple of announcements were made the past couple of weeks which hint at when we will begin returning to the new normal. With hospitalizations declining / stabilizing and intubations and new positives declining, Governor Cuomo extended NY Pause to May 15th, which keeps open essential businesses, but closes the non-essential businesses until such time as there's enough slack in the healthcare system / hospitals to accommodate any sort of resurgence in Corona Virus patients that may occur as a result of the re-opening.
Governor Cuomo told the Donald NYC and NYS wouldn't need the USNS Comfort any longer, as the emergency crisis has subsided. As noted in an earlier report, the build out at the Brooklyn Cruise Terminal was put on hold, pending a more definitive direction in the CoVid hospitalization numbers. The photo above shows a retailer temperature screening customers before they enter the store [photo credit Dantanyan].
Large Public NYC Events Cancelled thru May
Biggest Events in June Aren't Likely to Occur & NYC Public Pools will Likely Remain Closed Through the Summer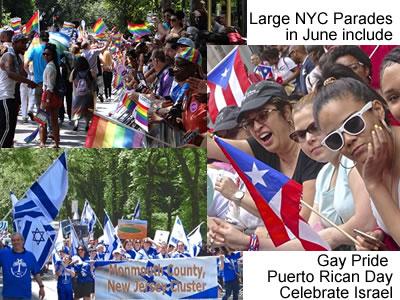 As mentioned previously, Mayor de Blasio seemed to think that the NYC public school system will remain closed through the end of this school year. The Mayor also said that large public gatherings won't resume until at least June 1st, and even after, that the three largest public events in NYC in June [the Israel Parade, the Puerto Rican Parade and the Gay Pride Parade in both Manhattan and Queens] aren't likely to take place this year - but no final decision has yet been made. Other large public events including street fairs and other parades will not take place through May and there will be an update before then about what happens beginning in June.
The Mayor also said that NYC public pools will likely not open this summer because of the challenges of keeping people socially distanced / safe from the spread of the Corona Virus. Also, the Plastic Bag ban enforcement was pushed back to May 15th some time ago. As of this report, that enforcement date still stands, but like so much related to the CoVid 19 crisis, the date could be extended further. And the special election for Queens Borough President was cancelled and will be held in tandem with the NYS primary and general election. Lastly, the Macy's 4th of July Fireworks are still planned, but like everything this Spring, is still subject to change.
Proms, Moms, Grads & Dads Days Likely to be Personal - Not Public - Events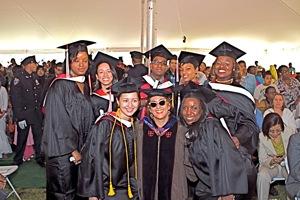 Unfortunately for this years prom class of juniors and seniors in high school, and elementary, high school and college graduates around the nation – the celebrations are likely to be online or very, very small. It doesn't have to be any less meaningful, and maybe made even more so, because of this unique moment in time. The same is true for Moms and Dads, whose special days arrive in May and June respectively. Mothers Days were oftentimes a time to venture out to eat, but this year is more likely a time to order in, while Dad's Day was a unique men's shops opportunity, which could still happen – albeit under the pall of a strained economy and finances.
And the 50th Earth Day passed us by without much fanfare owing to the distraction of the Corona Virus.
The rest of this report focuses on what we can do to begin the journey back to the new normal, recognizing that the Corona Virus is likely with us for some time to come.
Origination of the Virus Spread – Sick People & Coughing
People can become infected with the Corona Virus without knowing for days. The incubation period is estimated to be between one and fourteen days, before someone realizes they may be sick. During this time they could potentially infect other people or leave droplets, the agent carrying the virus, on surfaces or in the air where the virus can remain active for up to a day [air] or three days [smooth hard surfaces] assuming the right temperature [cooler].
So there are three elements to the origination and spread. One element is the fountain of infection, which is the dry cough. Hold your arm to your face to stop spreading droplets, and if you feel ill, stay home.
Testing is Ideal, but Temperature Taking Might be a Good Jury Rig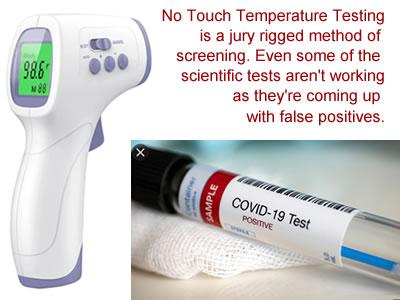 This is the second element is to identify and isolate those who are ill as quickly as possible. The government wants to be able to test everyone so they can identify and isolate infected people. But the catch is that tests won't be available in the bulk required, to reactivate the economy in some sort of timely manner.
So what to do? Jury rig. Some retail outlets are taking people's temperatures before letting customers in the stores. One of the signs of illness, besides the dry cough, which is one of the primary means of transmission, is a fever. If you identify people with fevers and separate them from the herd, you're going to reduce the infection rate by separating the ill folks from the rest of the herd as early as possible.
Various states and other government entities have developed an online quiz to use to self screen any symptoms you may have to help you determine whether it's possibly CoVid. Here's the link to the NYS online screening page which you can copy and paste into your browser bar - https://coronavirus.health.ny.gov/covid-19-testing.
To Mitigate the Spread, We Need to Raise the Bar on Hygiene & Cleaning Regimens
And the third element is the means of transmission, meaning through the air and through droplets on surfaces, which are touched by other people. The key here is the use of masks when in close quarters – but this has a downside as people fiddle with their masks and thus are touching their faces more than they would without them.
And the other piece of this is cleanliness and sanitation of surfaces – especially in highly trafficked public areas like the subway, doorknobs of office and residential buildings and so forth.
When I was younger, our family maintained a far more aggressive cleaning program than I have practiced ever since. Before every meal we had to wash our hands, and after every meal we washed the counter tops, the table and the dishes. Every week we scrubbed the floors, cleaned all of the sinks, toilets and tubs / showers. Every week we vacuumed, swept the areas around the entrance to our home, shook the rugs where people cleaned their feet prior to entering our home. And I recall one time after quickly washing my hands and wiping some of the dirt on the towel – my Father correcting me – telling me to WASH my hands and then use the towel to dry them, not use the towel to clean them. And I still recall some of the housewives at a town social gathering talking about washing the walls. I reckon [but don't know] that procedure might have originated in influenza times.
I think we all need to return to these higher cleaning standards, if not indefinitely, at least for a while.
Mitigate the Critical Mass of Virus Required to Become Infected
To become infected and sick, one needs to be exposed to a 'critical mass' of the virus. This will differ from person to person and is dependent on the means of transmission. Healthcare professionals, if they didn't wear protective equipment, could potentially be exposed to significant amounts of the virus while treating sick people. But for the rest of us, the exposure, while seemingly ubiquitous, is far less available in critical mass.
To avoid any sort of Corona Virus build up / exposure, one can mitigate the amount they are exposed to by maintaining an active cleaning regimen that clears away virus and bacteria from those surfaces most often touched.
Let's say you pick up some Corona Virus on a routine basis on the subway, or off a counter top at an active institution, at an ATM machine or a doorknob at your place of work or elsewhere. Let's assume with each encounter it's a critical mass which you then distribute to your cell phone, your keys, your doorknobs, your light switches, your TV clickers, your computer keyboards and mice, and so on.
Once distributed you wash your hands and then pick it back up the next time you touch the surface. And you keep touching these surfaces until you get sick. Or you could routinely wash / sanitize these surfaces thus reducing the likelihood you'll pick up a critical mass and fall ill.
Isolate the Known Vulnerable Populations
Since this Corona Virus is relatively new, there is likely still a lot we do not know about it. But conversely, the world has gone to work to quickly ramp up the learning curve to better understand what we're up against.
What we know is that it appears primarily to be a respiratory illness – but that's not all. Recently physicians have noticed that it also wreaks havoc with the cardio / pulmonary system [your blood vessels and heart], causing blood clots in the brain [strokes]. At least one physician who identified this problem said that he has begun to provide patients with blood thinners even before such symptoms start manifesting themselves.
Other health conditions of the patients having the greatest difficulty beating the virus include hypertension, diabetes, obesity and compromised immune systems from other health conditions like cancer and AIDS, as well as from age.
One report I saw noted that there's been a significant reduction in heart attack [-25%] and stroke [-20%] patients. The theory is that they don't want to go to the hospital for fear of catching CoVid 19. The healthcare professional interviewed opined that they thought it riskier to stay home with one of these two conditions than the risk of catching CoVid in a hospital.
Death Rates, Serology & Testing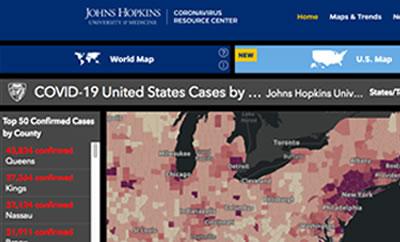 Scientists and governments are trying to figure out the death rate of CoVid 19. If you look at the reported numbers by Google / Wikipedia for the Corona Virus, it shows 904,000 people infected and 51,100 deaths, leading one to compute a 5.6% death rate, which is very, very high.
Government officials and scientists believe that the death rate may be overstated, as those with light symptoms may not have been tested and hence not included in the tested positive count, which would significantly reduce that death rate. Governor Cuomo had a study done whereby the group his folks tested showed a death rate 10 times lower than what is shown above.
A Democracy Now report noted that these studies have not undergone a rigorous peer review and that there may be issues with the serology of the tests which yield false positives – thus possibly inflating the number of people the tests indicate already had the virus. So it seems it's still too early to really know what the death rate is.
Ongoing Dialogue Regarding Vulnerable Populations
The early demographic information indicates that ethnic minorities and men are most vulnerable to catching and dying from the disease than their numbers in the general population would suggest. The reasons for this remain unclear [like most things about this new threat].
There are a number of possible explanations for this. One seems to be that minorities are far more clustered in the urban areas, and hence represent a higher percentage of urban populations and far lower percentages of whole state populations – and the cities have been hardest hit because that's where people are in closer contact / exposure.
Another explanation is that minorities and men [?] represent larger numbers of essential workers who are out on the line every day. And another explanation is that there is more limited healthcare access and education to members of the ethnic communities.
Mayor de Blasio and Governor Cuomo took steps to set up more testing facilities in minority communities.
Looking to the Summer – Will Warmer Temperatures Halt the Spread?
This is a difficult question to answer because the Corona Virus is new. But if we look around the world, there are other warm temperature nations – like India and Brazil – which are on an upward trajectory and both of these nations have significantly warmer temperatures than the U.S.
So the answer to this one is that we really don't yet know, which should be disturbing.
So that's the Corona Virus update, with a few suggestions on how we can get back to work. Continue educating people to stay home if ill and to cover their mouths while coughing. Take temperatures of folks entering more closed spaces. Continue with the hands washing, but step up the messaging on cleaning homes and offices. Definitely step up the cleaning of the subway which now – on the improved plan – is still only cleaned every three days and quite honestly, given the ridership is down 90% plus – it doesn't look like it. Isolate vulnerable populations.
And keep researching the death rates, the demographics and what impact seasonality may or may not have. Lastly there are a number of drugs being worked on, with Remsedivir looking the most promising, while the one Trump is touting – Hydroxychloroquine – looking dangerous due to heart complications.
Have a good weekend. We'll have more soon.
---
---
Back to Work Part I: Understanding the CoVid 19 Enemy
Review SARS-CoV-2 Characteristics – Function & Contagion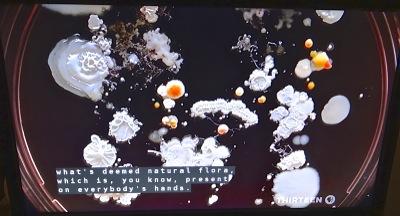 April 17, 2020 / / Corona Virus in NYC & NYS CoVid 19 / NYC Neighborhoods / News Analysis & Opinion / Gotham Buzz NYC.
As noted in my last report, we've moved from emergency management to crisis management. That is simultaneously the good news and the bad news. I expect the crisis in one form or another will be with us for some time to come. But forecasting what the future looks like is at best a precarious endeavor.
Everyone is now trying to figure out a way back to the new normal, which means living with a incurable virus in our midst, until such time as therapies, cures or vaccines are found and proven to be successful.
So what does the path forward look like?
The image at right was created by Brooklyn artist Craig Ward of bacteria he collected on the subway and made into artistic renditions.
Governor Cuomo Begins Sketching a Back to Work Plan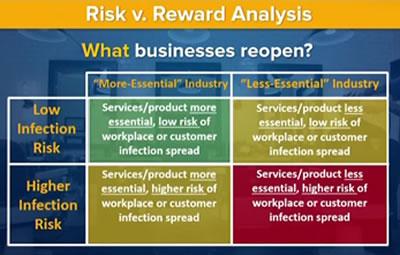 For starters Governor Cuomo extended NY Pause through May 15th. NY Pause is the directive to close social gathering places and venues, schools and non-essential businesses. Within the past week Mayor de Blasio said the NYC Public School system would not reopen this school year.
Governor Cuomo laid out a sketch of a conceptual plan, which likely came from one of the consultant groups, as it looked a lot like the growth share matrix devised by Boston Consulting Group. The growth share matrix was designed for companies to use to evaluate the businesses they are in, to determine whether to continue investing in them or to begin cashing out of them. The divisions in high growth businesses that are profitable are the ones to keep backing, while the companies in the low growth low profitability businesses are the ones to sell, close or grind out every last dollar.
Governor Cuomo's matrix axes [plural for axis] has high and low infection rates along the y axis and more essential / less essential along the x axis. The more essential and less potential infection the quicker you're back to work. The less essential and the higher the potential infection, the longer before you're back to work.
Trump's 'Plan' to get America Back to Work
Meanwhile, back at the White House, the Donald outlined what he called a plan to get America back to work. This is a summary of an ABC News report of the plan. They reported that the Donald's three step plan includes:
Doing mostly of what we're already doing: social distancing, telework and shelter in place for vulnerable populations. Additionally pave way for an opening of smaller venues with sanitation and social distancing in place, and allow elective surgeries as hospital capacity becomes available. This step assumes a downward trajectory of infections and testing for those infected and healthcare workers.
Opening non-essential services like bars, gyms and larger venues can open with moderate social distancing and sanitation in place.
Returning back to the new normal.
Getting Back to Work – Start with the Science
The first place to start in getting folks back to work is with a review of the science of viruses in general, and the Corona Virus in particular. This should provide clues to how to keep this beast in check until the bright scientific minds of the world come up with a cure and / or vaccine.
Short Course on Viruses from Wikipedia
Viruses are organisms, which have many properties similar to life like genes, but since they do not have some of the key life components – such as cell structure, their own metabolism or the ability to replicate without a host. Thus they are not considered living entities, but rather agents "… living at the edge of life …". Wikipedia also says that there are 5,000 known species of viruses, which live in any and all ecosystems, and that there are millions of viruses on the planet.
Wikipedia also describes what a virus is when not replicating itself inside a host cell. They state,
"… viruses exist in the form of independent particles, or virions, consisting of: (i) the genetic material, i.e. long molecules of DNA or RNA that encode the structure of the proteins by which the virus acts; (ii) a protein coat, the capsid, which surrounds and protects the genetic material; and in some cases (iii) an outside envelope of lipids…"
Viral Agent Transmission - On Surfaces, in the Air & Older People
Thus virions are the vehicle for viral transmissions and as current studies of the Corona Virus indicate, the virions of CoVid 19 can remain operational for up to three days on some surfaces. Keep this factoid in mind, as its implications for ridding the nation of the virus is key, as it implies we all need to step up our cleaning regimens.
Also note that the reason older people are more prone to dying from viral infections, is that older people's cell walls diminish in size and strength as people age. Thus the cells of older people are more susceptible to viral infections as the virion can more easily penetrate and replicate within an older person – and like a computer virus – bring the whole system crashing down. Keep this in mind as it has implications as to who should be quarantined / protected.
There are six phases to a viral infection. They are: 1) attachment to a host, 2) penetration of a cell, 3) uncoating which releases the virus, 4) replication, 5) assembly [which can be mutations] and 6) release [explode the cell wall or replicate with the cells].
Virus Category – SARS, MERS & CoVid 19
SARS – Severe Acute Respiratory Syndrome, MERS – Middle East Respiratory Syndrome, CoVid 19 – Corona Virus 19 and the common cold all come from the same family of viruses. This viral family, Corona Viruses, is believed to date back thousands of years and is carried by birds and bats. The Corona Viruses were named as such for their 'crown' like appearance, which has some connection to the fact that they're RNA viruses.
Two 21st Century Viral Originations From China, the First Since Xi Jinping Became Dictator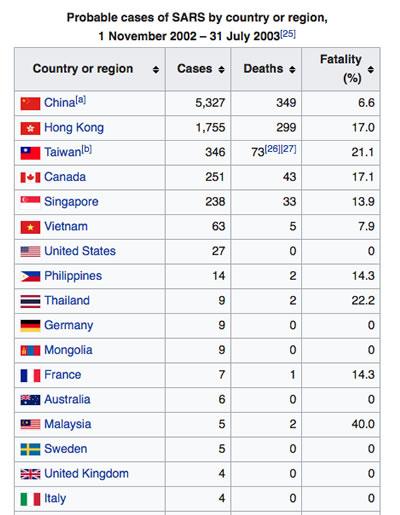 Since the turn of the millennium, two of the major viruses named above appeared to have originated in China. According to a Wikipedia chart on the 2003 SARS virus, China had the lowest mortality rate. This leads one to ask the conspiracy question of whether Xi Jinping's China is developing selectively targeted bio warfare agents that have gotten out of control. It seems a fair and important question – but it's a question not a statement.
The other options are that China managed containing and mitigating the virus better than the other nations that caught it. Or that the Chinese government did a Rupert Murdoch style Fox Fake News, and published only what they seem to want folks to know, possibly omitting key facts to aid their narrative.
CoVid 19 is Now Called SARS-CoV-2 – A Flu Variant
The Corona Virus or CoVid 19 has been renamed to SARS-CoV-2 and it's described as an influenza variant. Thus it seems logical to look to the flu for guidance regarding SARS-CoV-2 transmission, which must be mitigated in order for us to safely return to work.
The flu can be transmitted in three ways: 1) direct contact with an infected source, 2) indirect transmission by touching a surface that has the organism and 3) aerosol transmission.
The Atlantic did a good early story on this vis a vis whether to wear masks on April 1, 2020 entitled "The Corona Virus Airborne. Should We All Wear Masks?". But the New England Journal of Medicine just completed a study which they published on April 16, 2020 [yesterday] which compared / tested for the Corona Virus which is now being called SARS-CoV-2. You can look both of these up and read them for free.
Characteristics of SARS-CoV-2 Transmission
A March 23, 2020 Washington Post report says respiratory viral agents infect and replicate in three areas – the nose, throat and lungs. A virus like CoVid 19 can replicate itself 10,000's of times and within days by millions. A person may become symptomatic after a day or two, but can also become contagious at that time or before.
The spread of a respiratory virus like CoVid 19 comes from droplets from within the lungs, which can be transmitted directly onto someone, or become airborne, or left on a surface. On smooth surfaces CoVid 19 can last up to three days, while on cardboard it lasts an estimated day. If it is frozen, it can reactivate when it thaws since it's not an organism per se [see above].
The April 16, 2020 New England Journal of Medicine report pretty much confirms the what was published in the Washington Post story above.
The Aerosol Debate & Masks / See the Atlantic report. See NE Journal of Medicine report. Coming later Monday.
SARS-CoV-2 - Therapies & Cures
Vaccines aren't likely for 12 – 18 months, assuming things go well. It's important to put a caveat here as the virus mutates as it's replication process co-opts / intertwines with the host cell. That's how scientists were able to trace the origin of the Corona Virus into the U.S. through Europe.
There are other potential palliative techniques.
One is using the blood plasma of people who have had the virus, in order to make use of the antibodies their immune response system created. The theory is that this would jump start or aid someone's immune system in combatting the virus.
Another is antibody testing, which is used to determine whether someone has contracted the virus, and their immune system defeated it. When this is the case, one presumably has an immunity to the virus, at least for a while, and can safely return to work. This technique has been used for over a century but with "varying results and limitations" says Scott Koepsell of the University of Nebraska Medical Center.
And Hydroxychloroquine which has been promoted by Trump who reportedly has or is rumored to have a small interest in the company that makes it. A clinical trial of this in Brazil was stopped due to its potential negative impact on people's hearts / conditions, after eleven people died of heart complications. A man in Arizona reportedly self medicated using chloroquine phosphate in a CoVid related case and then died. His wife did too, and was reported in critical condition.
One of the most promising drugs appears to be Remdesivir created by Gilead Sciences. The drug was originally targeted to combat the Ebola virus which quickly faded away. While it has not been approved for use, the Chinese apparently used it with some success to combat CoVid 19. A Febuary 5th, 2020 Time Magazine report states,
"...While Gilead's experimental drug isn't licensed or approved anywhere in the world, it is being rushed into human trials in China on coronavirus patients after showing early signs of being highly effective."
Remdesivir was used to treat the first Washington State CoVid 19 case, and succeeded. Stay tuned while many of the world's leading biotech firms pursue a therapy / cure.
Containment & Mitigation of SARS-CoV-2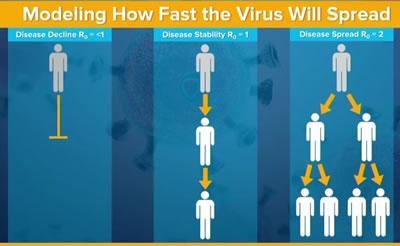 At present therapies and cures elude us, so we have to fight the virus with containment & mitigation efforts. Containment is done by quarantining people either known or suspected to have the virus - or conversely – by quarantining people with high risk profiles in order to protect them from a potentially fatal illness.
For example, a number of members of the NYPD and MTA were unable to report to work while the crisis was raging, not necessarily because they had the virus – although some did and some died of it – but most because they had come into contact with someone who did have it, and thus they were quarantined in order to prevent any further spread of it.
People are also encouraged to self-quarantine in their homes, or within certain rooms in their homes if living with others - if they have it or believe they have it, in order to stop the spread of it, as it's easily transmitted. Governor Cuomo showed a chart showing the range of rates of transmission [0.9 - 1.2] in his April 16th press briefing. Those numbers are centered around one - which means every infected person infects either more than one [1.2] which accelerates the spread, or less than one [.9] which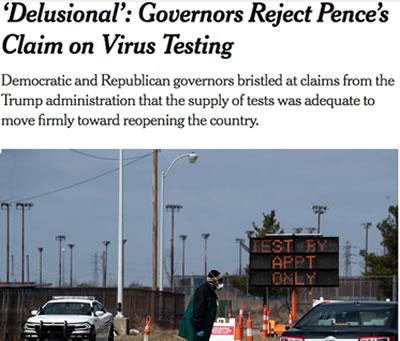 means the spread of the virus is being dampened. We were at 1.2 around or shortly after the NY Pause program began and now we're at .9 which means we're back on top of it. But it's not over because it's still being spread.
Another tool in the kit when you don't have a therapy, cure or vaccine is to employ mitigation efforts. These include things like social distancing – keeping six feet away from people, washing your hands, wearing a face mask, upping your cleaning regimen and testing and isolating people as quickly as you can after they've become infected.
The Trump Administration, for the past month or so, has laid false claim to asserting that anyone who wants a test can get it. But, even a month after the outbreak, this is still not true.
Getting Back to Work Using Science
Follow social distancing, thoroughly wash your hands with soap and rinse, STEP UP YOUR CLEANING REGIMEN [this is not emphasized enough], and don't touch your face before washing your hands. Quarantine the elderly and people with impaired immune systems and / or health issues. Wearing a face mask is now required when in close contact with others – but pay heed to where your hands have been since last washed while putting on, taking off or fiddling with the mask [it is for this reason that I think urging folks to wear face masks is bad advice].
Getting Back to Work - SARS-CoV-2 – Test & Isolate
The key to getting back to work is to quickly identify [testing] and isolate those with the virus. Governor Cuomo has highlighted testing as one of the key ingredients of a return to the new normal. But in spite of what President Trump says, there aren't enough tests available to do full population testing in New York State – let alone the nation.
New York has by far tested more of its population than anywhere else in the nation. And yet in New York State which has the highest testing rate in the nation, we've only tested between 2% – 3% of the population over the course of the past month. At this rate it would take three years to test the entire population of New York state. But work is afoot for an easier test with a faster read out, so stay tuned on this one.
There's also been talk about contact tracing – whereby after one tests positive, the government would seek out those with whom the subject was in close contact. They've done that in countries in Asia, but many believe that's not likely to go over well here, as it is considered a violation of privacy.
So what can we do now? Absent the tests, people can mitigate the spread by making sure they cover their mouths when coughing and trying not to cough in public. They can stay home when they feel ill. They can continue to social distance. They can wash their hands and step up their home cleaning regimen to sanitize or at least wash frequently used surfaces.
Getting Back to Work - SARS-CoV-2 - Clean the MTA
In the public sphere start with the public transit system [see photo at the beginning of this story done by a Brooklyn artist showing the bacteria he collected on the subway].
I've highlighted this in prior reports. Millions of New Yorkers use the subway on a daily basis. Just as there is no quicker way to move large masses of people around town, there is no quicker way to spread a viral agent than on public transit. The cleaning regimen of the subway system must be raised, and I would say – based on my frequent ridership of it – raised significantly. You clean up the subway system – really clean it and then regularly keep it clean daily – and you probably have won half the battle [along with other measures like social distancing, hands washing & cleaning in place except the store closings].
At least 59 MTA workers have died from SARS-CoV-2. That doesn't seem a coincidence.
We're fortunate in that the warmer weather is here so more people can commute via bicycle or walking.
Getting Back to Work - Clean, Clean & Clean Some More
And at all places of business up the cleaning regimen especially for door knobs, light switches, table and desk tops, computer keyboards and mice, cell phones, tv clickers and all hard and smooth surfaces where the little SARS-CoV-2 might lie in wait.
Be advised that there's new information being published by the scientific / medical community nearly daily as we learn about the CoVid 19 virus which as mentioned above, is now technically called SARS-CoV-2.
---
---
Cuomo, de Blasio & YOU have been doing Great
New Yorkers Appear to Turn Corner on the Corona Virus Crisis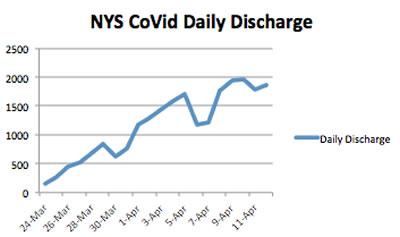 April 12, 2020 / Corona Virus in NYC & NYS CoVid 19 / NYC Neighborhoods / News Analysis & Opinion / Gotham Buzz NYC.
I hope you had a good Easter / Passover weekend.
Based on what I observed, albeit with very limited movement and anecdotally, New Yorkers appeared to stay at home, self isolating over the holiday weekend.
This sort of compliance with government guidance is what has enabled us to stem the spread of the - at times lethal - Corona Virus. And the levelling happened none too soon, as parts of the NYC hospital system were operating at full capacity - and in some cases over capacity.
Most of the metrics for the virus have been levelling off or even going down, while the only positive metric - daily discharges - continues to rise.
We appear to be transitioning from emergency management, to crisis management, and government officials are now even beginnning to look ahead at transitioning us back to what will be the new normal.
NYS & NYC New CoVid 19 Cases Level - Even Show Signs of Falling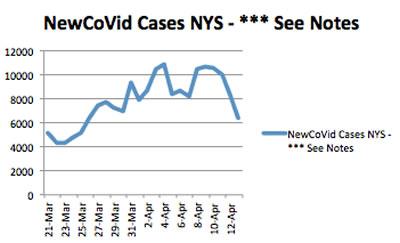 New CoVid 19 cases in NYS were down fairly sharply yesterday, based on the numbers presented by Governor Cuomo. But the drop may be due to weekend reporting discrepancies. In any case the number of new cases appears to have levelled off in both New York state and in New York City.
The key statistics that the Governor and the Mayor have been closely monitoring include new and net hospitalizations, new and net admissions to the Intensive Care Unit, and new and net intubations aka use of respirators. As you can see from the graphs, all have been falling. This data was collected from the Governor's daily press briefing, as well as from other media outlets such as the New York Times, on the days when the Governor didn't present all of the key metrics in his press briefing.
---
Riding the Rails During the CoVid Pandemic in NYC
Observations of a Blogger While Covering the CoVid Story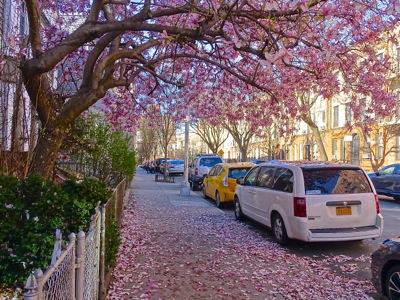 April 9, 2020 / Corona Virus in NYC & NYS CoVid 19 / NYC Neighborhoods / News Analysis & Opinion / Gotham Buzz NYC.
I've been covering the CoVid Pandemic since it began in NYC, starting in the first half of March. At first my attention was focused on the closures by the Governor and Mayor as they began shuttering social events, social interactions and ultimately the economy.
It wasn't long before I shifted my attention to the growing numbers of people testing positive for the Corona Virus in NYC and NYS. This was followed by photographing the efforts by the NYC Mayor and the NYS Governor to build out additional healthcare capacity, to accommodate the projected growth of sick people, resulting from the spreading pandemic. They had a very limited time frame to complete this build out, before the influx of new Corona Virus patients overwhelmed the existing NYC and NYS healthcare capacity.
Most recently I've turned my attention to the economic hardships currently being borne by New Yorkers, particularly in small businesses and the folks working in essential services.
I've witnessed many people thanking the folks working in essential services - including healthcare, public transit, grocery and pharmacy outlets, and first responders - and I want to add my own thanks for all of the work they do, to keep the rest of us moving.
The photo above was taken about a week ago. A little bit of natural beauty helps keep things in perspective.
Reporter Travelogue - Startling Beginning With Closures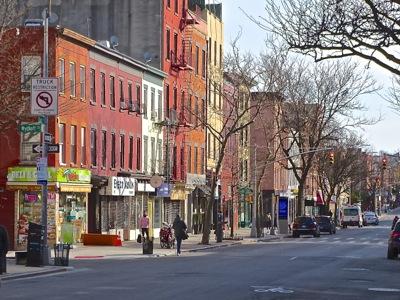 This is a travelogue about riding the MTA rails, along with essential workers, to do my part by providing independent first hand reports and context regarding what's happening here in NYC vis a vis the Corona Virus pandemic. Most of what I report is either not reported by the sensationalist, ratings-driven TV network news, or it's diminished in their reported accounts because it's contextual - not shocking.
The pandemic first hit my radar while I was covering a theater event at the LaGuardia Performing Arts Center. At that time I first heard that the Governor had started instituting surprising - and what at the time seemed draconian - measures designed to stymie the growing tide of CoVid 19 infections. In short order these actions were followed by the Mayor and it included shutting down restaurants and non-essential services.
The photo at right shows shuttered businesses along Court Avenue in Brooklyn during the NYC CoVid lockdown.
At the moment these governmental measures appear to be working, but I suspect maintaining discipline during the Passover and Easter holidays will be challenging. Afterall we have now spent over a month in communal isolation. But if people don't comply with the guidance provided by government officials, the pandemic will quickly resurge, and lengthen the time before we can all get back to the new normal. The Governor cited several examples from around the world including Italy, Hong Kong, Singapore and the Influenza pandemic of 1918 in the U.S..
---
NYC Hospitals Operating at Capacity, CoVid 19 Curve Flattening, BUT ...
The Next Battle is to Stay Disciplined to Avoid a Resurgence
Will New Yorkers Comply during Passover & Easter Week?
April 6, 2020 / Corona Virus in NYC & NYS CoVid 19 / NYC Neighborhoods / News Analysis & Opinion / Gotham Buzz NYC.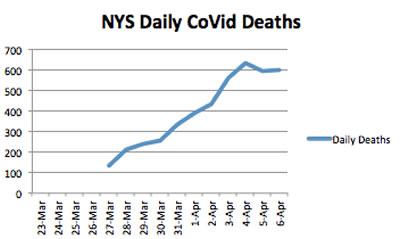 Many NYC Hospitals are reportedly operating at full capacity, and in some cases operating at capacity plus.
The good news is that the supply chain of personal protective equipment [PPE], respirators and gowns has been holding - albeit on a tight supply. And there are still anecdotal reports, generally by the alarmist TV networks, that indicate there are a few spot shortages. If true, these shortages are the result of distribution issues, rather than any out-of-stocks by the city and state.
Nonetheless, the needs for protective gear and life saving equipment remain high priorities for both the Governor and the Mayor, as the supply chain is on a tight turnaround and the CoVid pandemic continues, albeit at a slackening pace, in the city and parts of the state.
The good news, as previously reported, is that we may be approaching the apex. The social distancing appears to have thwarted the worst case scenario, and may even have contained the spread from reaching the middle case scenario.
But the danger persists.
The chart at right shows the daily CoVid deaths stabilizing. But a number of the morgues are over capacity, and some of the bodies reportedly had to be stored in refrigerated trucks, which are affectionately referred to as mobile morgues.
The Real Challenge this Week is Getting Through Passover & Easter without Breaking the NYC & NYS Healthcare System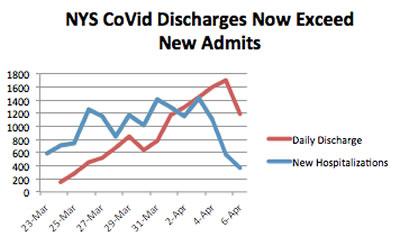 And the real test of it comes this week as both Passover and Easter come to play, when people generally come together to celebrate these traditional religious holidays.
To discourage people coming together in large numbers the Governor doubled the fine for violations of social distancing from $500 to $1000. Cuomo also extended the non-essential store closure policy for another two weeks - through the end of April.
In the Governor's daily press conference, he called upon local law enforcement to give tickets to people regardless of their religious affiliation, if they violate the call for social distancing. In doing so, Cuomo noted that not only are those who gather in such a manner putting themselves and their communities at risk, but they are also adding to the pandemic crisis, by putting first responders including FDNY, the NYPD, the MTA workers and the NYC / NYS Healthcare system workers at risk. A risk, which in many cases, ends up in death.
And given the hospital / healthcare system is operating at full capacity, if people start to break formation and begin disregarding the government social distancing guidance, they could potentially tip the balance of what seems a well managed pandemic crisis, into an all out disaster.
The chart above shows some good news, whereby the NYS daily CoVid hospitalizations are exceeded by the number of CoVid patients leaving the hospital. Remember - these numbers are driven up or down by our behavior as a whole community.
---
CoVid Testing Now Widespread, Growth Continues but doesn't Accelerate, Severe Cases Appear to be Levelling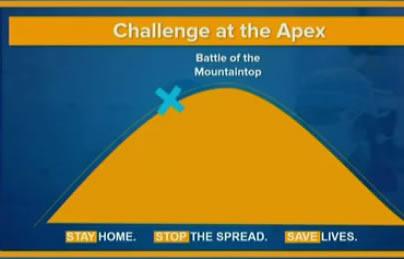 April 4, 2020 / Corona Virus in NYC & NYS CoVid 19 / NYC Neighborhoods / News Analysis & Opinion / Gotham Buzz NYC.
It's been a while since we've had much good news. At right is a graph shown by Governor Cuomo at a press conference today. Over the past week or so, Andrew Cuomo appears to be moving toward one of the more optimistic scenarios. He expects that we may POSSIBLY hit the Apex sometime next week.
Mayor de Blasio also seemed focused on the immediate needs of next week, but the Mayor has not yet adjusted his long term view of what's needed. Perhaps the Mayor hasn't yet received 'the memo'.
New Daily Discharges Exceed New Daily Hospitalizations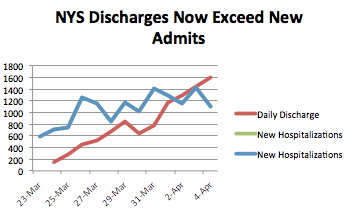 As you can see from the graph presented at right, the daily discharges at hospitals now exceeds the number of new daily admissions to the hospitals. Obviously that's a good sign, as more capacity is being freed up, as is being committed, providing breathing room for the entire system, which has been under some significant stress the past week or so.
Now be advised, the Network TV personalities are paid on the basis of their ratings performance - not keeping you properly and contextually informed - which is why you've been hearing that the sky is falling these past couple ofweeks.
To be sure, some hospitals that are under great duress. Elmhurst Hospital in Queens has been one of them, and I've heard, but haven't visited, Mount Sinai in Queens and Jacobi in the Bronx. But other hospitals aren't making the news because they're operating just fine. So bear in mind when you watch TV news you aren't necessarily getting the full picture - you're getting the ratings driven network TV news picture.
The bubbleheads on TV news seem to be paid on how well they read teleprompters, not on their intellectual or journalistic acumen.
---
NYC Curve Appears to be Flattening, NYS Numbers are Still Rising
Hospitalizations, ICU Patients, Intubations & Discharges
April 2, 2020 / Corona Virus in NYC & NYS CoVid 19 / NYC Neighborhoods / News Analysis & Opinion / Gotham Buzz NYC.
Well, there seems to be some good news, and Governor Cuomo has started hinting at it in his daily CoVid press conferences. A week ago, the Governor was talking about NYS hitting the apex of the curve in 21 days, which is in late April. This week the Governor started hinting that we may hit the top of the curve within the week. The Mayor, meanwhile has been saying that next week could be the start of the apex / wave.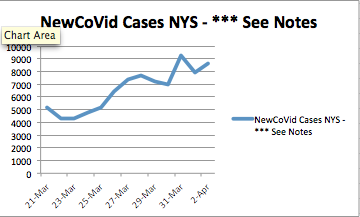 My assessment differs from both the Governor's and the Mayor's. And while it's based on information provided by the Governor, I'm drawing a different, more optimistic conclusion. Part of that may be that I haven't been able to talk to anyone from the Governor's office who knows precisely what's in / not in the numbers the Governor has been providing. And it's also worth noting that both the Governor and the Mayor don't have the luxury of planning for the optimistic scenario.
Assumptions for the Analysis in this Report - Beware the Hype & Distortions of Anecdotal Reporting
Assuming the numbers hold and New Yorkers' behavior holds, NYC may have already hit its apex of the CoVid pandemic. Note that those are big assumptions, but they're assumptions based on current numbers and behaviors.
As I am sure you can appreciate, that's good news, as some NYC hospitals had reached their capacity in terms of beds and / or Intensive Care Unit beds with / without respirators. But while maxing out the capacity at some of the eleven hospitals that are run by the NYC Health & Hospital System - like Elmhurst Hospital in Queens and possibly Jacobi Hospital in the Bronx - it is not true for the privately run hospitals that represent a significant portion of the medical infrastructure of NYC. One exception may be Mount Sinai in Astoria, Queens which today was reporting that they're handling a lot of CoVid patients.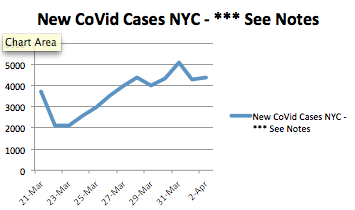 On Monday afternoon, March 30th, I spoke very unofficially to professionals from both Mount Sinai and also at Memorial Sloan Kettering - both in Manhattan - who told me at that time, that the operations at both of these hospitals were pretty much functioning somewhat normally.
So I think it's important for people to bear in mind, a shortage or over-capacity in one hospital, doesn't mean there's a shortage system-wide. The flip side of that coin is that we may have more capacity and supplies than is needed - but it might not be available in the places where it's most needed.
---
The CoVid Curve Appears to be Flattening
Growth in Daily Hospitalizations & ICU Patients Appears to Slow
March 31, 2020 / Corona Virus in NYC & NYS / NYC Neighborhoods / Corona Virus in NYC & NYS CoVid 19 / News Analysis & Opinion / Gotham Buzz NYC.
Please note I tried to contact the Governor's Office for comment on this and have not yet heard back from them. I know they're busy, and we're not from the MainStream Media.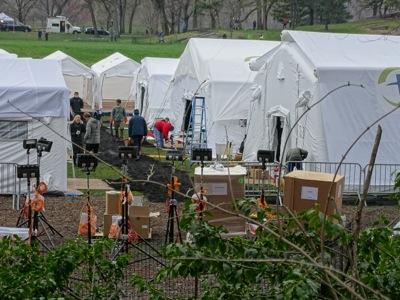 Nearly three weeks ago, Governor Cuomo issued an order for social distancing, by initially limiting social gatherings to fifty people or less. Mayor de Blasio supported the move that same day. As such most of the cultural venues in New York City suspended normal operations and events pending further notification or some future date. That was nearly three weeks ago.
That action was subsequently followed by further actions, limiting social gatherings to ten people and eventually just immediate households. On March 15, 2020 Mayor de Blasio issued an order asking bars and restaurants to close their doors except for deliveries / take out. That was more than two weeks ago.
A week ago while I was out photographing the empty, eerie NYC landscape, I noticed somewhat casually that somewhere between 10% - 25% of retail outlets were still open in Manhattan / Queens. Just a few days ago, while making another sweep through a couple of neighborhoods, the percent of those open had dropped to ghost town levels of 10% and less.
The bad news is that there's been a near stop to 'non-essential' life here and that there's an economic reckoning most folks are facing tomorrow on April 1st as bills come due.
The good news is that I've been tracking the numbers provided by Governor Cuomo and the curve does appear to already be flattening. The Governor has hinted at this by noting that the hospitalization rate had gone from doubling every 2 - 3 days at the outset a few weeks ago, to doubling every six days as of about a day ago.
But the good news goes beyond that. A couple of days ago, the Governor changed what numbers he was releasing to the public.
---
It's a Corona Virus Weekend NYC III
CoVid 19 Pandemic Continues to Keep Life in NYC & NYS on Hold
The Following Includes a Compendium of Closures & Expected Activity Resumption Dates [Subject to Change]
Updated March 29, 2020 from 3/27/20 / NYC Social Issues / NYC Neighborhoods / Corona Virus in NYC & NYS CoVid 19 / News Analysis & Opinion / Gotham Buzz NYC.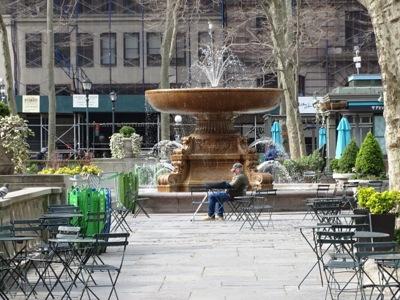 Weather. The Temperature highs will be in the high 60's Friday, dropping to 50 on Saturday and rising a bit to the mid 50's on Sunday. The temperature lows will be in the mid to high 40's all weekend. There is an 80% - 100% chance of a half inch of Rain on Saturday mid to late afternoon [3 - 5 pm] and a bit more than a half inch early Sunday morning [before 7 am]. Winds will be 5 - 10 mph all weekend. The Humidity will be rise from the mid 20% range Friday, to 60% Saturday and 80% Sunday. Click for NYC Weather.
MTA / Public Transit / Click here for the MTA Weekender.
The photo at right shows a man in Bryant Park last weekend enjoying a rare moment of solitude in the middle of a very densely populated city during the CoVid 19 shutdown.
On Thursday, March 26th, I headed toward CitiField to photograph it on what was supposed to be opening day. Major Leaugue Baseball was to begin that day with the Mets playing Washington at home, while the Yankees were to play Baltimore away.
Elmhurst Hospital is the Epicenter of Queens, which is Epicenter of NYC, which is Epicenter of NYS, which is Epicenter of the America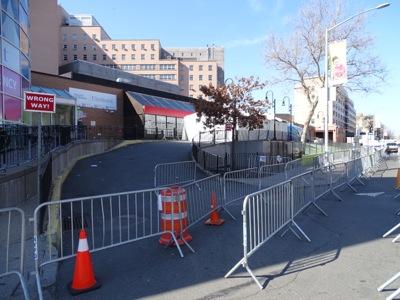 On my way I stopped to visit Elmhurst Hospital which had been labeled the CoVid epicenter of Queens that same day. Queens had become the epicenter of NYC by reporting the most cases in the city, and New York City is the epicenter of NYS, which is the epicenter of the U.S.
I visited Elmhurst Hospital just as they had closed the testing tents, which ran from 6 am - 4 pm. I spoke to one of the healthcare professionals there, inquiring as to whether they thought that there had been an overreaction to the spreading virus.
I was told that the virus was new, mutating, very contagious, and more lethal than the flu - so it should be taken seriously and managed in accordance with the general health risks it poses. Within the prior 24 hours thirteen people had died at Elmhurst Hospital.
On the subway the number of people wearing masks over their faces had grown significantly. I also noticed, for the first time, that a number of people were also wearing plastic gloves. Not long from now, everyone will be wearing Hazmat suits.
Well, at least it was easy to get a seat, and even easy to maintain the social distancing.
The photo above shows the testing tent outside of the Elmhurst Hospital in Queens on Thursday. In the prior 24 hour period 13 people reportedly died.
Small Businesses Have Closed or are Closing - Nothing's Moving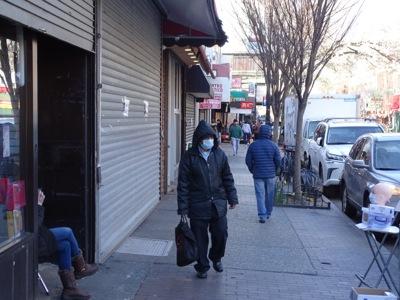 On my way home I stopped at a few small businesses I generally frequent. One had completely closed its doors for the past couple of days because business had been softening. I imagine staying open just wasn't worth the effort and expense. Another small business had shortened their hours, as business there had also softened, but there was still business moving. And at the third place I stopped, the owner told me they were going to close for a while, until things started moving again, as there just wasn't much / any business moving.
When I arrived at my own personal self quarantine station - which I used to think of as my apartment - I flipped on the tube. There in front of me were so many people, talking endlessly and saying so, so little. So I turned it off to restore a sense of calm.
What follows is a compendium of some of the major closings and announcements made over the past couple of weeks, as well as the anticipated time they plan to resume activity, but all subject to change.
The photo at right shows the business district on 82nd Street in Jackson Heights Queens during the middle of the day. As you can see, most businesses had closed.
---
CoVid - The Virus Everyone is Talking About
Ghost Town: One of Every 200 New Yorkers has been Tested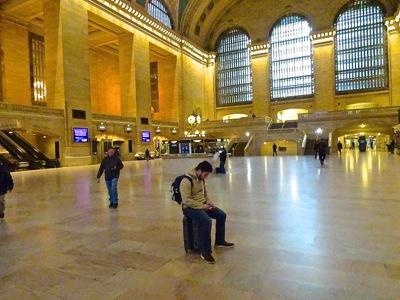 March 23, 2020 / NYC Social Issues / NYC Neighborhoods / Corona Virus in NYC & NYS CoVid 19 / News Analysis & Opinion / Gotham Buzz NYC.
Last weekend I headed into Manhattan to take a few photos of what I expected to be a ghost town. While some folks were moving about - relative to normal activity - Manhattan seemed empty. With this report are a few of the photos. I'll include more of them in the upcoming weekend update.
I've also been fairly closely following Governor Cuomo's daily press briefing. The numbers, as mentioned in my last report, that I've been keeping a close eye on are the number of infections vis a vis the number of tests completed. The reason for this is that I have not yet heard anyone explain how they can truly ascertain the transmission rate, without being able to separate out the growth in the number of people who have tested positively, from the growth in the number of people they have tested.
NYC & NYS CoVid 19 Testing Metrics vs Infected Numbers

So I put together a chart, in which I had to make a few estimates using the data the Governor provided, as I had not captured all of it. Friday, March 20, 2020 is the starting point, where Cuomo reported 32,427 tests completed in NYS, of which 44% or 14,386 were completed in NYC. At that time there were 7102 and 4408 infected in NYS and NYC respectively, which means that 22% of those tested in NYS were infected, while 31% of those tested in NYC were infected.
In the briefing today, Tuesday, March 24, 2020 there were an estimated [my copy of Cuomo's NYS total number was unreadable] 94,289 tests completed in NYS, of which 41% or 38,390 were completed in NYC. At this time there were 25,665 infected in NYS, of which 14,904 of the infected were found in NYC. This translates to 27% of those tested in NYS being infected, while 39% of those tested in NYC were infected.
What does this mean? Actually since this virus is new, we don't really know for sure. What we do know is that about 26,000 people in NYS are infected, of which 15,000 of them live in NYC. And, according to Cuomo on Monday, the testing per capita in NYS is higher than anywhere else in the world including South Korea [see fact check correction below].
---
It's a Corona Virus Weekend NYC II
Even more than Last Week, the Corona Virus Pandemic Shuts Down NYC
* March 20, 2020 / NYC Social Issues / NYC Neighborhoods / Corona Virus in NYC & NYS CoVid 19 / News Analysis & Opinion / Gotham Buzz NYC.
* Weather. The Temperature highs will be in the mid 70's on Friday, dropping to 50 on Saturday and the mid 40's by Sunday. The temperature lows will be in the mid 40's on Friday, dropping to the mid 30's Saturday, rising a bit to the high 30's on Sunday. There is a 40% chance of a minuscule amount of Rain on Friday afternoon, for which the peaking probability is at 5 pm. Then no rain for the rest of the weekend, but cloudy Saturday morning. Winds will be 10 - 15 mph all weekend. The Humidity will be around 70 on Friday dropping to the mid 40% range for the rest of the weekend. Click for NYC Weather.
* MTA / Public Transit / Click here for the MTA Weekender.
A Racist President Applies a Demagogue Label to CoVid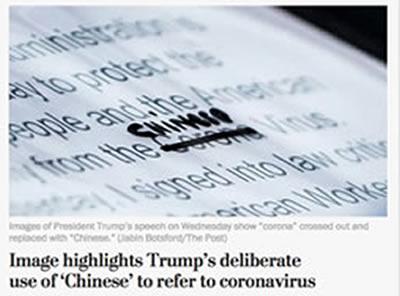 Unfortunately we have a president, who oftentimes makes situations worse, because of his ignorant and childish behavior. The Donald seems to be trying to label the Corona Virus the China virus and quite frankly, is doing more to confirm some of the labels given to him - like he's a racist - than convincing anyone other than his Fox 'News' toadies - to go along with his not-helpful-in-addressing-the-CoVid-crisis ploy.
It seems that our babyman president, won't even act like an adult, even in the midst of what appears to be the world's worst pandemic in this millenia.
A demagogue is
"a political leader who seeks support by appealing to the desires and prejudices of ordinary people rather than by using rational argument."
MTA Sanitizes Subway Cars and Buses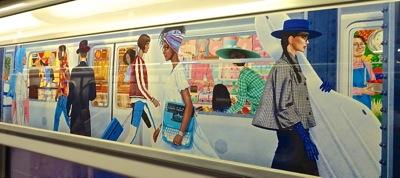 The NYC MTA moves between four and six million people daily. That's a mind boggling figure when you think about it. But last week ridership began falling significantly. And by this week, about a million or more people, had found some other way to get around, or were staying home. Thus the MTA is seeking federal funding to the tune of about $4 billion to help it shore up the lost revenue. And the ridership reductions are expected to continue for a while.
The MTA stepped up its cleaning regimen effective March 3, 2020. It now santizes its subway cars and buses on a rotating schedule every three days. Have the subways ever been so clean? In spite of the effort folks are still encouraged to practice social distancing meaning keeping six feet apart from others when possible. Anyone who is ill is asked to stay home.
The photo above right shows a placard on the subway, artistically depicting the diversity of our city. We live at the crossroads of the world, which means we are both the beneficiaries of that intellectual and cultural diversity, but also carry risks which are associated with that openess, because of our societal exposure. Like everything in life, we must strive to find the right balance of cultivating our openess, while managing and minimizing the associative risks. Data, science, education and discipline can help us strike the right balance.
---
It's a Corona Virus Weekend
This Weekend Many Events Cancelled & Many Institutions Closing Doors for a Couple of Weeks due to the Corona Virus Pandemic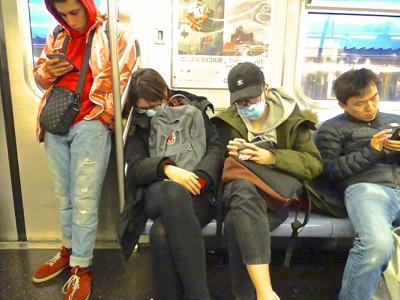 March 13, 2020 / NYC Social Issues / NYC Neighborhoods / Gotham Buzz NYC.
Weather. The Temperature highs will be in the high 60's on Friday, dropping to the high 50's on Saturday and low 50's by Sunday. The temperature lows will be around 40 on Friday & Saturday, dropping to the low 30's by Sunday. Rain is in the forecast for Friday ONLY, likely gone by 11 am. It will be cloudy later in the day on Saturday only. Winds will be 15 mph on Friday, dropping to between 5 - 10 mph for the rest of the weekend. The Humidity will be around 70 on Friday dropping to about 40% for the rest of the weekend. Click for NYC Weather.
MTA / Public Transit / Click here for the MTA Weekender.
The photo at right shows some folks riding the subway this week who've taken the precaution of wearing surgical masks to prevent getting infected by the Corona Virus - see details below.
Corona Virus - A Brief History of Growing Awareness
The Corona Virus outbreak was first reported by the World Health Organization on December 31, 2019 in Wuhan in China.
By January 30, 2020 the World Health Organization declared the Corona Virus a Public Health Emergency of International Concern.
On Saturday, March 7, 2020 Governor Cuomo called a NYS State of Emergency in an effort to get out ahead of what at the time was the Corona Virus epidemic, as there was a rapid spike in the number of reported cases in NYS. At the time NYC had reported about a dozen known cases.
On March 10, 2020 Governor Cuomo ordered a quarantine of a neighborhood in New Rochelle.
On March 11, 2020, Mayor de Blasio followed suit, and declared NYC in a State of Emergency in an effort to get out ahead of what was called a pandemic by the World Health Organization on the same day.
And today, March 13, 2020, last but not least, Donald Trump declared a State of Emergency in the United States in order to accelerate the nation's slow response to the evolving public health crisis.
Corona Virus Precautions - Cleanliness is Next to Godliness
By now you'd have to be blind, deaf and mute not to have heard that you should thoroughly wash your hands and not touch your face without having cleaned your hands.
In a March 11, 2020 report, the Sacramento Bee, which is a well respected news outlet run by McClatchy Newspapers, informed us that the National Institute of Health conducted a study that shows that the Corona Virus can remain alive for up to three days on some surfaces under the right conditions.
As such you should also step up your cleaning practices, specifically with respect to things and places that you touch regularly - like the TV clicker or your mouse and keypad and cell phone and keys.
---
---
Democrats Choice: A Stuttering Biden or An Intransigent Bernie?
Most Folks Don't Know that Biden has a Stuttering Handicap which is Why he doesn't do so Well in Debates & his 'Circumlocution' Remedy is Likely the Primary Cause of his Verbal Gaffes
Most Sanders Supporters Probably Haven't Taken a Look at Sanders' Record of Accomplishment which During his 29 Years in Congress is Comprised of his Leadership on Only Three Passed Senate Bills - Two of Which were Naming Post Offices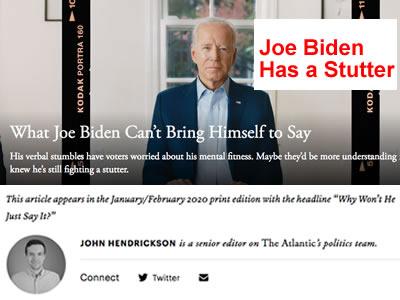 March 9, 2020 / NYC Neighborhoods / National Politics & Government / News Analysis & Opinion / Gotham Buzz NYC.
This past week, as we all watched the Democratic race for the presidency unfold, we witnessed a bit of history. Former Vice President Joe Biden's incredible comeback from what seemed like a campaign on life support, ended with him sweeping the south and decisively winning victories in most of the states up for grabs on Super Tuesday.
Biden's Coalition – The Moderates, The Working Class & The Realists
But like all victories, Biden didn't do it alone. Biden first received a boost via the endorsement of Congressman James Clyburn only days before the South Carolina primary. On Monday, Amy Klobuchar ended her campaign and endorsed Biden, followed shortly that same day by Pete Buttigieg, who had ended his campaign a day earlier. And Beto O'Rourke reappeared, to throw his support behind Biden in Texas.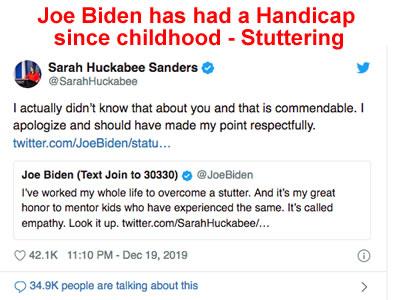 As a result, Biden became the front runner, eclipsing Vermont Senator Bernie Sanders following Biden's electoral sweep on Super Tuesday.
One might say that this demonstrates the biggest difference between Joe Biden and Bernie Sanders. Joe has been able to bring many of his former challengers into his tent, while Bernie Sanders has not.
Don't get me wrong. I like Bernie Sanders. I think he has great integrity, he is a strong advocate for the working class, and he has clearly demonstrated that he has an admirable talent for running an organization during his two presidential bids.
But the difference between Sanders and Biden is that Sanders appears to be a purest … an ideologue … someone who does not compromise. And people who don't compromise can make great thought leaders, but they rarely - if ever - make great leaders.
Great Leaders Know How To Compromise & That's How They Get Things Done
Leaders need to make compromises in order to get things done. They generally don't get everything they want because vested interests will do everything in their power to thwart them when they try. So what real leaders do, is stake out the next evolution, by moving the ball a bit forward, hoping that someone else will pick it up at a later date and move it forward again.

---
Manhattan Things To Do This Weekend
This Weekend Many Events Cancelled & Many Institutions Closing Doors for a Couple of Weeks due to the Corona Virus Pandemic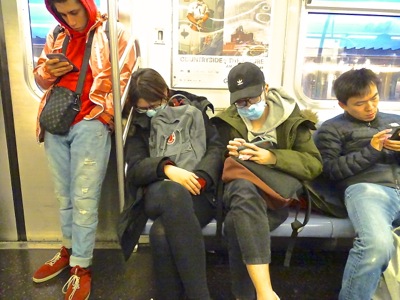 March 13, 2020 / Things To Do Manhattan / Manhattan Neighborhoods NYC / Manhattan Buzz NYC.
Weather. The Temperature highs will be in the high 60's on Friday, dropping to the high 50's on Saturday and low 50's by Sunday. The temperature lows will be around 40 on Friday & Saturday, dropping to the low 30's by Sunday. Rain is in the forecast for Friday ONLY, likely gone by 11 am. It will be cloudy later in the day on Saturday only. Winds will be 15 mph on Friday, dropping to between 5 - 10 mph for the rest of the weekend. The Humidity will be around 70 on Friday dropping to about 40% for the rest of the weekend. Click for Manhattan Weather.
MTA / Public Transit / Click here for the MTA Weekender.
The photo at right shows some folks riding the subway this week who've taken the precaution of wearing surgical masks to prevent getting infected by the Corona Virus - see details below.
Corona Virus - A Brief History of Growing Awareness
The Corona Virus outbreak was first reported by the World Health Organization on December 31, 2019 in Wuhan in China.
By January 30, 2020 the World Health Organization declared the Corona Virus a Public Health Emergency of International Concern.
On Saturday, March 7, 2020 Governor Cuomo called a NYS State of Emergency in an effort to get out ahead of what at the time was the Corona Virus epidemic, as there was a rapid spike in the number of reported cases in NYS. At the time NYC had reported about a dozen known cases.
On March 10, 2020 Governor Cuomo ordered a quarantine of a neighborhood in New Rochelle.
On March 11, 2020, Mayor de Blasio followed suit, and declared NYC in a State of Emergency in an effort to get out ahead of what was called a pandemic by the World Health Organization on the same day.
And today, March 13, 2020, last but not least, Donald Trump declared a State of Emergency in the United States in order to accelerate the nation's slow response to the evolving public health crisis.
Corona Virus Precautions - Cleanliness is Next to Godliness
By now you'd have to be blind, deaf and mute not to have heard that you should thoroughly wash your hands and not touch your face without having cleaned your hands.
In a March 11, 2020 report, the Sacramento Bee, which is a well respected news outlet run by McClatchy Newspapers, informed us that the National Institute of Health conducted a study that shows that the Corona Virus can remain alive for up to three days on some surfaces under the right conditions.
As such you should also step up your cleaning practices, specifically with respect to things and places that you touch regularly - like the TV clicker or your mouse and keypad and cell phone and keys.
Corona Virus Transmission by Air
And that same National Institute of Health Study also showed that the virus could remain alive in the air for a few hours. This discharge would have to come from an infected person, most likely with a cough, but I reckon just talking and breathing could do it too.
This is why scientists recommend we keep some distance - some six feet - from one another. Especially people coughing and that is why ill people are advised to remain home until they feel better - so that they don't infect the rest of us. But that said, infected people may take between two and fourteen days to show signs of the illness and thus realize it. The median incubation period for the Corona Virus is five days, 98% of the people who contract it show signs by 12 days, so by 14 days it is believed that those who have contracted the Corona Virus will show it. This is why most places have been shuttered for two weeks at a minimum.*
Some say masks won't necessarily prevent infection, because the masks aren't built to filter out the micro organisms one might inhale and the masks are not tightly fastened to the face. They may be correct, but the masks can't hurt and may reduce what you breathe in. There's a secondary problem with the masks in that some folks have been hoarding them, making it more difficult for health professionals who are working on the front line of this crisis, to obtain them.*
The disease is believed to be highly transmittable, with conflicting reports on whether it is more or less transmittable than the flu. Live Science, states that it's more than two times more transmittable than the flu, while another source says it's not as transmittable as the flu. This discrepancy may be due to the fact that there are two strains.*
The Corona Virus is Potentially Lethal - but Skews Older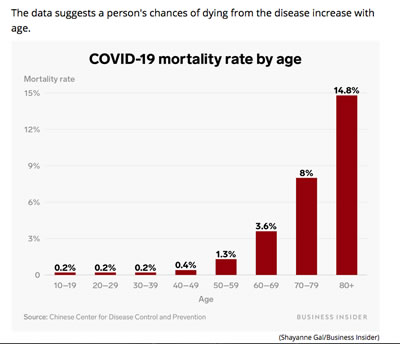 At present, it is estimated to have a 2.3% death rate versus something like a 0.1% death rate for the flu. So that means it's over 20 times more lethal than the flu, and at present without any existing cure nor vaccine. Which is why there's so much concern.
But that said, to put this in context, a March 7, 2020 Live Science report informs us that,
" ... So far, the new coronavirus has led to more than 100,000 illnesses and more than 3,000 deaths worldwide. But that's nothing compared with the flu, also called influenza. In the U.S. alone, the flu has caused an estimated 34 million illnesses, 350,000 hospitalizations and 20,000 deaths this season, according to the Centers for Disease Control and Prevention (CDC) ... "
According to the Chinese Center for Disease Control and Prevention statistics show that the risk for people varies according to age, as it is believed people who are ill, have pre-existing conditions or compromised immune systems are most likely to die from the disease - see chart at right.
Living Your Life in the Age of the Corona Virus
So, as part of the NYS State of Emergency both the Governor and the Mayor are in agreement that all events of 500 or more people are presently banned. Governor Cuomo also issued an order to close CUNY and SUNY effective March 18, 2020 for the rest of the semester.
The Mayor and Governor have decided to keep the primary and secondary public school system open, but advise anyone who is not feeling well to stay home. While tests reportedly show that children can contract the disease as easily as adults, you can see by the chart above, that children don't die from it at anywhere near the same rate as older people. I know - not dying from a disease - isn't exactly comforting.
But, unlike better resourced students attending private institutions, the students attending public school aren't as able to 'go remote' and conduct classes and homework electronically. Another part of this equation is that many of these students' parents aren't in a position to stay home with them [the collateral damage being having 1.1 million school age children, many unsupervised, roaming around NYC during a pandemic], and many of their parents are critical to the healthcare, educational, law enforcement, fire and emergency response and transportation infrastructure. Lastly many public school kids don't have a home, and the public school lunch program is the one place where they can obtain a healthy meal.*
I've provided the above information to help folks better understand the complexiities the Governor and Mayor are dealing with in making these decisions. And this doesn't include how badly the small business entities are getting hit, which closing things only makes worse. This affects them paying the rent, paying their employees - all of whom have to make ends meet ... somehow.
Things to Do This Weekend in Manhattan?
Not much really. Here's a link to the things to do in Manhattan last weekend, which contains a number of web addresses, should you want to look for yourself, but most institutions are taking the position of exercising an abundance of caution and thus have closed.
Member Events Manhattan Farmers Mkts / Holiday Markets
March 2020 - Click here for Manhattan holiday markets & shopping and Manhattan holiday events tree lightings & menorah lightings. Click here for a listing of Manhattan Farmers Markets where you can find unique items and fresh foods, click here for the Manhattan Events Member Calendar or here for Manhattan Street Fairs both of which will provide you with a look at other things going on in Manhattan.
Click here for paid & free things to do Manhattan - free SummerStage concerts in Manhattan, free things to do Manhattan - free summer movies in Manhattan and free things to do Manhattan - free summer theater in Manhattan. Click here for NYC New Years parties in Manhattan. Click here for late Valentines Day romantic restaurants in Manhattan.
MOSTLY DONE. ASTERISKED events above have NOT been updated.
* A performance of Hearts on the Wall [45 mins] will begin at 7.30 pm at Dixon Place at 161 A Chrystie Street on the LES [comedy / $5 / www.dixonplace.org].
* At MoMA at 11 West 53rd Street in Midtown there are several exhibits including TBD [thru 3/19 & 3/5/17] - [art / film - $25 / $18 / Free].
* The Whitney Museum at 99 Gansevoort in the West Village has six exhibits running. On Friday at 5 pm and Saturday at 2 pm and 4 pm there's Jazz on the High Floor in the afternoon [$18 / $25 at www.whitney.org].
* Anthology Film Archives -.
---
Manhattan French Restaurants on the Upper West Side - Nice Matin NYC
Bagatelle French Bistro: Brunch Parties in Manhattan NYC
Bagatelle Menage Mixes Menu, Music, Modern Dance & Mirth
March 2, 2020 / West Village Neighborhood / Manhattan Neighborhoods NYC / West Village Restaurants Manhattan NYC / Manhattan Buzz NYC.
It was just a week ago, that I chanced upon a brunch at Bagatelle, a French restaurant in the West Village. It was a serendipitous occasion, as my dining companions agreed, as we had found our original destination lacking a certain sense of excitement. Bagatelle, on the other hand, seemed to have a certain sense of oh la la, je ne sais quoi.
Upon entering Bagatelle, one immediately absorbs a certain sense of seeing and being seen. The initial vibe of this fashionable French bistro, begins at the entrance, when one is greeted by a welcoming wave of wonderful, performed by a number of young attractive women who manage the helm of this daytime land locked cruise ship.
Entering the Bagatelle scene actually gives one a nice feeling. Upon passing through 'customs' and into the restaurant, one is transported into a fashionable funland, and conferred with a certain sense of snobbishness, that feels oh so good, having not been rejected at the door.
We didn't get a table immediately, so we headed to the bar to whet our whistles.
Bagatelle French Bistro Weekend Brunch Scene in the West Village
As I surveyed the room, I noticed that the waiters were all buffed up. Most of them had muscular arms, tight waists, and powerful pecs and nipples that protruded through the taut fabric of their tight shirts. These characteristics set the waiters apart from the rest of us mere mortal men. Yes, it was hard for me to imagine, that in spite of the long hours I spend each week at the gym, that the whole staff of waiters was even more buffed up than me. But I took it all in stride.
After a short wait, we were escorted to our table where we would soon become a part of the interactive theater production that was to follow. After starting in on our drinks, we ordered our light brunches and began munching, brunching and conversationally crunching. Our conversation was soon interrupted by a bit of commotion across the room. A waiter had stood up and started dancing on one of the tables.
It wasn't long before the lights changed colors, the curtains were drawn, the dance music started vibrating through the restaurant as the waiters began a floor show that included a whole series of rhythmic gymnastics. Within minutes, we had been whisked from a daytime, mid afternoon Manhattan Sunday brunch scene, into a late night sultry sensual dance scene. Young woman arose from their tables and joined the waiters in a wavy wash of wistful wantoness.
---
St Pat's Day Bars Irish Pubs & Restaurants Manhattan - UES, UWS, Midtown, East Village St Patrick's Day Bars & Irish Pubs & Restaurants Manhattan NYC
St Pat's Day Bars, Restaurants and Historic & Irish Pubs in Manhattan
Historic Manhattan St Pat's Day Pubs, Irish Bars & Restaurants On St. Patrick's Day In NYC, UES, UWS, Midtown & Village
February 25, 2020 / Manhattan Neighborhoods NYC / Manhattan Restaurants NYC / Manhattan Buzz NYC.
St. Patrick's Day is upon us once again and it's time for one and all, regardless of genetic history, to don their green clothing and head out to the Irish bars for a pint of ale or to the Irish restaurants for some down home Irish fare … or something like that.
This report is about some of the Manhattan Irish bars and restaurants that have survived the test of time, and likely a might bit … more. The Irish pubs include Irish bars and restaurants from the Upper East Side [UES], the Upper West Side [UWS], Midtown Manhattan as well as the East Village, as McSorley's remains not just a pub, but a good piece of history.
Click here to read our report about the St Pat's Day Bars, Irish Pubs & Restaurants in Manhattan NYC.
---
Manhattan Things to do Presidents Day Weekend - Events Manhattan NYC
Things To Do Presidents Day Weekend Manhattan NYC
Things To Do In Manhattan NYC Over The Presidents Day Weekend
February 10, 2020 / Things To Do Manhattan / Manhattan Buzz NYC.
Presidents Day Weekend Weather. The Temperature highs will be in the mid 30's on Friday, dropping to the high 20's on Saturday and rising into the 40's on Sunday and Monday. The temperature lows will be in the low teens Friday, the mid 20's on Saturday, rising into the 30's Sunday and Monday. Precipitation - There's a small chance [30%] of a small amount of precipitation [way under an inch] later Sunday and early morning Monday. Winds will be around 15 mph Friday, dropping into the single digits for the rest of the long weekend. The Humidity will be in the high 30% range on Friday & Saturday, rising to about 60% on Sunday and Monday. Click for Manhattan Weather.
The photo at right is a statue of Abraham Lincoln in Union Square Park in Manhattan. Lincoln struggled to keep the United States together, while striving to rid it of the immoral and inhumane enslavement of African Americans.
Presidents Day is a time to reflect on the performance of our current presidents and legislators, and how they stack up against their historical peers. And in that reflection it's worth asking ourselves what we've done to contribute or detract from the national conversation.
You can watch theater, visit the NYC art museums, and eat out at one of the Manhattan restaurants NYC or go shopping in Manhattan locales including Midtown, the Upper West & East Sides & the Village.
Brief History of Presidents Day Holiday in NYC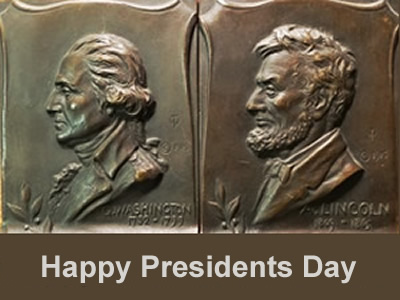 A day commemorating Lincoln's birthday was first passed in Buffalo, New York in the early 1870's. Presidents Day originated as Washington's Birthday which was a holiday narrowly prescribed for federal government offices in Washington, D.C. in 1879. The holiday was dedicated to honoring the memory of the first American president, George Washington who was born on February 22, 1732.
In 1885 the holiday was expanded to include all federal government offices around the nation. In 1951 there was a push to create a Presidents Day holiday [vs a George Washington's birthday holiday] to include President Lincoln whose birthday is February 12, 1809 and was also celebrated by localities, but it didn't pass.
In 1971 the holiday was moved off of George Washington's birth date to being the third Monday in February. Thus while it never falls upon Washington's birthday 2/22, the official name of the holiday remains Washington's Birthday. But today, most folks refer to it as Presidents Day and to recognize the presidents who honored the U.S. Constitution and served the interests of the people.
Click here for things to do Presidents Day Weekend in Manhattan.
---
Manhattan Valentines Day Restaurants - Manhattan Romantic Restaurants Manhattan NYC
Valentine's Day Restaurants In Manhattan
Manhattan Romantic Restaurants For Valentines Day in Manhattan on the Upper East Side, Upper West Side, Midtown, East Village, West Village, SoHo, Tribeca & the Lower East Side
February 4, 2020 / Manhattan Neighborhoods NYC / Manhattan Restaurants NYC / Manhattan Buzz NYC.
Valentine's Day is less than two weeks away. It's a good time to let your loved one know you care. Flowers, gifts and dinner are always welcome treats, and / or some thoughtful gesture that shows that the lady [or man] you're with still means a lot to you.
It's generally hard to make restaurant reservations on short notice at a romantic Manhattan restaurant on Valentine's Day, and sometimes it's difficult to make them for the weekend preceding Valentine's Day. So if you're thinking about doing something this Valentine's Day for dinner on the Upper East Side, Upper West Side, Midtown or East Village; it's best to do your research early, and call a week or at least a few days ahead to make the reservations.
Valentine's Day History - Romantic Restaurants In Manhattan
The origins of Valentine's Day are not well documented. It's believed to have been named after Saint Valentine who was apparently a Catholic martyr who died over 1500 years ago. Today the holiday is not associated with religion so much as flowers, candies, cards and romantic dinners. And the holiday spokesperson is now Cupid, a Roman god of desire, and quite a mischief maker.
Click this link to view a brief guide of Manhattan Valentine's Day restaurants - Manhattan NYC where you will find links to Manhattan restaurants we've visited in the past or have reviewed. The restaurants we've reviewed include a mix of high, medium and budget priced restaurants that are spread throughout the borough and offer a large variety of ethnic cuisines. Enjoy.
---
Closure of Rikers Island Moves Another Step Forward
In Oct 2019 NYC Council Designated Neighborhood Jail Locations in Four Boroughs
Community Board One in Astoria Only Approved the Closure of Rikers Island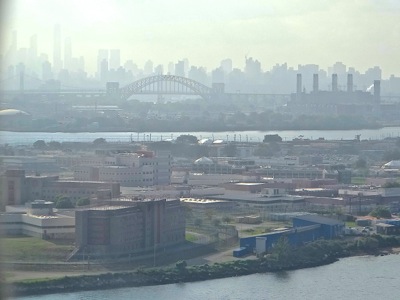 January 26, 2020 / Bronx Neighborhoods / Queens Neighborhoods / Queens Politics / Bronx Politics & Government / Queens Buzz NYC & Bronx Buzz NYC.
A week ago, on Tuesday, January 21st I attended the Community Board One meeting at the Astoria World Manor where the board was asked to approve the closing of the Rikers Island Detention Facility effective sometime before the end of the year 2026.
The photo at right was taken from an airplane while landing at LaGuardia in a prior year. Rikers Island Correctional Facility is a stone's throw away from LGA.
Queens Community Board One in Astoria Votes on Rikers Closure
The presentation consisted of two slides. One highlighted the social / moral blight that Rikers Island had become. The second slide simply proposed the request in very limited terms - the closing of Rikers Island and the conversion of it to a 'public place'. The presentation to the Committee was done by a team lead by Dana Kaplan, Deputy Director of the NYC Mayor's Office of Criminal Justice.
So please note that the Community Board had no role in the placement of neighborhood jails, nor did they sign off on anything that may become of Rikers Island going forward. They only approved the closing of the Correctional Facility and the allowance of use for it as a "public place".
I spoke with CB1 District Manager Florence Kolouris after the meeting about what exactly that meant. She told me that there isn't any definition, per se, given for public place – but a couple of examples of prior public places include Lincoln Center, Fort Totten and Queens Borough Hall.
The Community Board approved the measure with a recommendation that CB1 be kept in the loop throughout the closing process, including any demolition. Plenty of questions followed regarding what would become of the 400 acre island. Nothing concrete was proposed at this time, but the audience was assured that any changes would have to come through the Community Board via the ULURP process [Uniform Land Use Review Procedure].
The Bronx & Queens - Rikers Island Community Jurisdiction & Prison Population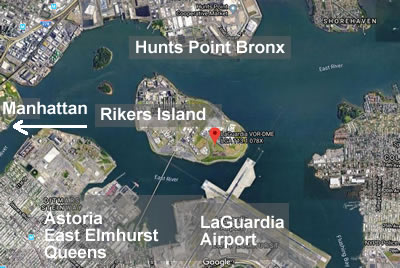 It's worth noting that technically Rikers Island is a part of the Bronx – not Queens – even though the only road traveling onto the island originates in the Astoria / East Elmhurst neighborhoods of Queens. In addition to Queens Community Board One, Bronx Community Board Two, representing the Hunts Point neighborhood, also has influence over the island. Since the Dinkins Administration in the 1990's, there's been a floating barge facility that's docked in Hunts Point, that is considered a part of the Rikers Island Correctional Facility.
Currently there are an estimated 7,000 plus inmates on Rikers Island. At its height, in 1991, Rikers Island held an estimated overcapacity inmate population of nearly 22,000. By the time the facility is to be closed in 2026, the inmate population is expected to have declined to between 3,000 and 4,000.
The photo at right shows the Rikers Island Correctional Facility which will be closed by the end of 2026.
---
Manhattan French Restaurants on the Upper West Side - Nice Matin NYC
Manhattan French Restaurants on the UWS - Nice Matin
January 20, 2020 / Upper West Side Neighborhood NYC / UWS Restaurants Manhattan NYC / Manhattan Restaurants NYC / Manhattan Buzz NYC.
Nice Matin is the largest French regional newspaper covering the region of Nice and Provence in southern France. Nice Matin also means nice morning or good morning in French.
Nice Matin in Manhattan means nice meal or good meal at the French restaurant that goes by that name located on the street level floor of the old Lucerne Hotel at 201 West 79th Street at Amsterdam on the Upper West Side. The French restaurant is an Upper West Sider staple.
The photo at right shows the inside of Nice Matin French restaurant in the Lucerne Hotel on the Upper West Side, at street level in Manhattan.
I visited the restaurant with a few Upper West Siders in early January of 2020. We had a reservation, which is advised, as they keep pretty busy, especially on the weekends. We were seated shortly after our complete party had arrived and began perusing the menu.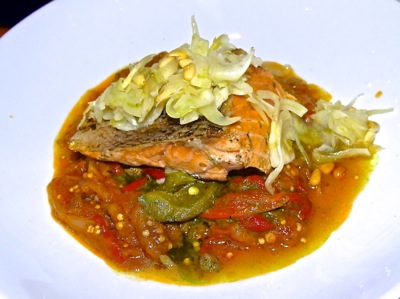 The first taste delight was the Cauliflower and Truffle Tortellini with cacio and pepper butter sauce. The latter is a modern Italian pasta sauce that includes black pepper and Pecorino Romano cheese. The texture was amazingly soft and slippery as it fell apart upon landing in my mouth, releasing a subtle symphony of succulent flavors.
The photo at right shows one of the main entrees, the Olive Crusted Salmon, which is talked about in the full review that follows.
Not to be outdone, the Escargot rose to the occasion. Nice Matin cooks the escargot in an enclosed pot [en cocotte] with tomato fondue, which is near dripping melted cheese, and served with garlic and bread crumbs. The cooking in the pot, combined with the cutting the escargot into small pieces, made this taste sensation just possibly one of the best experiences I've had with escargot in a long, long while.
A couple of members of our party were regulars and it became obvious that they knew their way around the menu, shortly after we started sampling the appetizers they ordered. Usually one of two appetizers turns out to be a hit and the others are … ok. But tonight we were treated to a royal flush of winners.
---
Manhattan Things to do Martin Luther King Day Weekend - Events Manhattan NYC
Things To Do MLK Day Weekend Events Manhattan NYC
Things To Do In Manhattan NYC Over The Martin Luther King Day Weekend
January 14, 2020 / Things To Do Manhattan / Manhattan Buzz NYC.
Weather. The Temperature highs will range between 30 and 40 throughout the three day weekend. The temperature lows will be in the low 20's throughout the weekend - except on Saturday when the low will be in the high 30's. Rain or Snow is forecast on Saturday, but NOT on Friday, Sunday & Monday. Winds will range from 10 - 15 mph all weekend. The Humidity will be around 50% throughout the weekend, except on Friday when it will be in the low 30% range. Click for Manhattan Weather.
You can watch theater, visit the Manhattan art museums NYC, and eat out at one of the Manhattan restaurants NYC or go shopping in Manhattan NYC locales including Midtown, the Upper West & East Sides & the Village.
Brief History of Martin Luther King Holiday in NYC
Martin Luther King, Jr. was a Baptist Minister who became the leading voice for African Americans' non-violent civil rights movement beginning in the mid 1950's through to his assassination in 1968. In 1983, the third Monday of every year was set aside to honor Martin Luther King for his service to the nation. The third Monday was chosen, as it was the nearest Monday to the anniversary of King's birthday, which was January 15, 1929.
Martin Luther King Day has grown to take on an even larger meaning, as it is oftentimes referred to as a day on, versus a day off. Organizations around the city and nation have used the day to call people into action to address the needs of the community through volunteering and service.
Martin Luther King Holiday Special Events in Manhattan NYC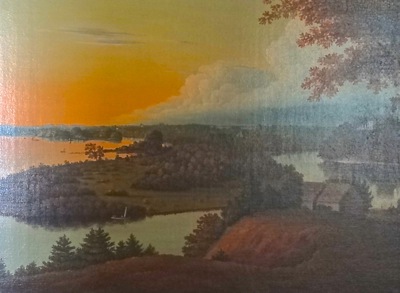 On Monday the Abyssinian Baptist Church, on Striver's Row [late 19th century housing which successful African American musicians and composers moved into in the early 20th century] is hosting a free film screening of Selma for its 17th Annual Dr. Martin King, Jr. Celebration. The doors open at 9.30 am where there will be a free continental breakfast served compliments of Starbucks and the Abyssinian Development Corp and Kenneth I. Chenault. In addition to the film, there will be workshops on non-violent social protest. Middle Schoolers to Adults are invited to attend. The Abyssinian Baptist Church is located at 132 Odell Clark Place [formerly 138th Street], between 138th & 139th Streets and Frederick Douglass & Adam Clayton Powell Jr. Blvds. The neighborhood includes places where African Americans like author W.E.B. DuBois and civil rights activist Malcolm X spent some time [history / social / film / free].
On Monday the Manhattan Country School hosts its 32nd annual Commemorative MLK Day March beginning at 10 am until 2 pm. Last year they informed us that the march, "...[begins] at Fredrick Douglass Circle and ends on 85th Street in our gym. Eighth graders in groups of three or four deliver speeches at six symbolic stops, including the historically significant steps of Low Library at Columbia University and inside the Cathedral of St. John the Divine." This year they begin at the Harriet Tubman Memorial at West 122nd Street and Fredrick Douglass Blvd. Fredrick Douglass Circle at 110th Street is the second stop, followed by Joan of Arc Statue at 94th & Riverside Park, the fourth stop is 263 West 86th Street and the march ends at the Manhattan Country School at 150 West 85th between Columbus & Amsterdam. For details visit www.manhattancountryschool.org.
On Monday from 12.30 - 2 pm there's a Harlem Gospel Choir performance at Sony Hall at 235 West 46th Street in Midtown Manhattan. Tickets run $15 - $25 on Eventbrite.
On Monday from 2 pm - 6 pm Riverside Church at 490 Riverside Drive in Manhattan will be hosting it's 5th Annual MLK Now. The doors open at 12 noon to this live music, spoken word and conversational event. Folks will be seated on a first come first serve basis. The church has a real connection to Dr. King as it is where, in 1967 Dr. King gave one of his most famous speeches, Beyond Vietnam. A Time to Break Silence. Free.
On Monday generally starting around 9 am and running until 12 noon, the NYC Parks Department in tandem with local groups is organizing a day of service to clean up a few of the NYC neighborhood parks. In Manhattan the parks mentioned as of this post was the Inwood Hill Park in the Inwood neighborhood in northwest Manhattan. Cut and paste this link for details - https://www.nycgovparks.org/events/mlk-day-of-service.
On Monday the Museum of the City of New York at 5th Avenue at 104th Street on the UES is hosting a three hour program from 11 am - 2 pm dedicated to the memory of Martin Luther King. The program is free w/ admission.
There's an exhibit that opened in January 2020 at the Schomburg Center for African American Culture in the Lapidus Center at 515 Malcolm X Blvd and 135th Street in Harlem. The exhibit is entitled Subversion & the Art of Slavery Abolition, which chronicles efforts made by the Abolitionists to stop enslavement via art, politics and culture. Please note that the Schomberg Center is normally closed on Sunday and will be closed MLK Day.
The Africa Center at 1280 5th Avenue at 109th Street in East Harlem doesn't appear to have any specific programs scheduled for the MLK Weekend. The museum seems more focused on African culture per se, than on African American culture.
The Studio Museum of Harlem hosts a variety of cultural and art exhibits and programming related to African American culture. Their site at 144 West 125th Street is closed while a new building is being constructed. They are currently operating out of Studio Museum 127 which is located at 429 West 127th Street in Harlem. They expect to move back to their 125th Street site on March 15, 2020.
---
---
Michael Bloomberg's Real Record as NYC Mayor
This Contains the Part of Bloomberg's Record You Won't See in His Ad Campaign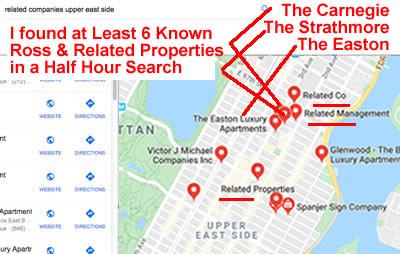 December 16, 2019 / NYC Neighborhoods / NYC Politics & Government / News Analysis & Opinion / Gotham Buzz NYC.
I started reporting for Queens Buzz in the second half of 2007, in anticipation of the website opening in 2008. At the time, politics wasn't in the docket. But over time, as I watched government and political events unfold, I couldn't ignore the huge gap between what was happening - versus what was reported to be happening.
Thus over time I began reporting on NYC, NYS and eventually national politics, doing in-depth research along the way, so that I could provide our readers with a fresh point of view, based on facts and knowledge, with scant pandering to the politicial spin.
While I only began tuning into NYC politics as a reporter during Michael Bloomberg's third term, I had picked up information about him prior to that as an aware NYC resident / voter. My first glimpse into Republican Mayor Michael Bloomberg's anti-democratic tendencies came about in 2004, during the Republican Presidential Convention, when Bloomberg appeared to illegally lock up people protesting the wars and policies of then president George W. Bush. But before I delve into that aspect of Bloomberg's performance, I want to highlight a few others.
Disdains Democracy: Overturns Mayoral Term Limits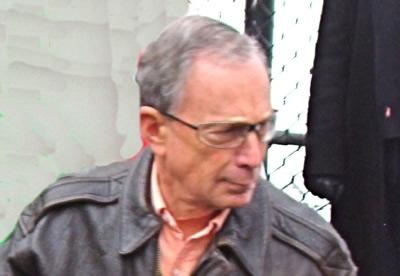 In 2008, just a year before former Mayor Michael Bloomberg was about to be term limited out of the Mayor's Office, he convinced the NYC City Council to override the plebiscite that term limited his time in office as the Mayor.
Thus Michael Bloomberg sought and won a third term - which he essentially bought - by funding his campaign with nearly $100 million of his own money, to defeat an relatively unknown candidate, retiring City Comptroller Bill Thompson.
Thompson was not given much support by the Democratic Party in that election, likely because they didn't believe he would do anywhere near as well as he did, and they were competing with a billionaire who could / would and did greatly outspend the competition. The final vote was 50.7% for Bloomberg and 46.3% for Thompson.
Did Former Mayor Bloomberg Override Term Limits in Order to Cash In NYC's Municipal Real Estate Holdings?
The deals on the Bronx Terminal Market, Hudson Yard, Hunters Point South & Flushing Meadow Corona Park were all begun in 2007. So were the two multi-billion dollar [each] subway line extension projects - the Q and the #7.
All of the real estate developments and the two major subway infrastructure projects seemed to greatly benefit one person - Stephen Ross and his privately held Related Companies. Stephen Ross went from not being counted as a billionaire at the beginning of Bloomberg's Mayoralty, to becoming the richest real estate developer in New York City within a couple of years after he took office.
It's worth noting that Bloomberg's net worth during this period shot up too. And that Bloomberg LLP, the company he founded, also operates in NYC and is also privately held.
Former Mayor Michael Bloomberg's Real Record as Mayor
The Real Record of Mike Bloomberg's Accomplishments as Mayor - Doubling of Homelessnes, Taxpayer Funded but Privately Owned Luxury Apartments, Massive Public Land Giveaways to Friendly Developer, Massive Public Transit Spending Benefitting Same Developer, Privatization / Profitization of Many Public Schools, Failure to Negotiate with Unions, City Time Scandal & Racist Stop N' Frisk Policing Program
The report includes: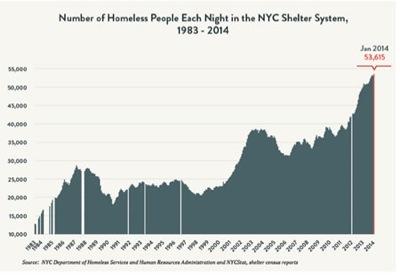 1) HOMELESSNESS: Bloomberg had a horrendous record on homelessness which broke all records & doubled during his Mayoralty.
2) AFFORDABLE HOUSING: Bloomberg sold the public on funding 'affordable' apartments that rented for $48,000 per year. These were publicly funded but privately owned apartment units that Bloomberg sold to the public as 'affordable' in order to gain passage of the bills authorizing them.
3) PUBLIC LAND GRAB. Four huge real estate developments appeared to be given to Stephen Ross & Related Companies which are now worth billions. The public lands reportedly sold for $1 apiece include Hudson Yard, Hunters Point South and the still pending Flushing Meadows Corona Park development. I'm not sure but Bronx Terminal was also transferred in a sweet deal to the real estate developer Stephen Ross & Related Companies.
4) PUBLIC SPENDING BENEFITTING FRIENDLY DEVELOPER. Bloomberg pushed two subway line extensions that seemed to disproportionately benefit Stephen Ross & Related Companies. The subway line extensions were 1) the #7 subway line extension that supported Stephen Ross & Related Companies Hudson Yard development and 2) the Q subway line extension which greatly enhanced the value of Stephen Ross and Related Companies Upper East Side properties.
5) PRIVATIZATION OF PUBLIC SCHOOLS. Bloomberg's privatization of a significant portion of the NYC public school system which appeared to tear apart the NYC public school system by enabling for profit private charter schools, disproportionately favoring Eva Moskowitz and Success Academy, to recruit the best students of the NYC public school system, while leaving the rest behind in the hands of the public and unions;
6) UNION BUSTER? Bloomberg's failure to sign a single major union contract during his 12 year administration and the
7) GIULIANI / BLOOMBERG CORRUPTION. City Time corruption scandal.
8) RACIST POLICING POLICY. Presided over racist Stop N' Frisk policing policy.
CLICK here to read the rest of our report on the part of the Mike Bloomberg's record of Mayor. The part of the Bloomberg record you won't see in his $33 million ad campaign to convince Democrats to vote for him. Billionaire Bloomberg, like the billionaire President, seems to have an inclination to distort the truth.
---
Manhattan Holiday Markets - Kwanzaa, Hanukkah & Christmas Holiday Markets in Manhattan NYC
Manhattan Holiday Markets - Manhattan NYC
Christmas Markets, Hanukkah Markets, Kwanzaa Markets & Outdoor Holiday Markets - Holiday Shopping in Manhattan NYC
December 8, 2019 / Upper East Side UES / Upper West Side UWS / Midtown NYC / East Village & West Village / Tribeca SoHo Bowery / Holiday Events & Holiday Markets - Kwanzaa, Hanukkah & Christmas Holidays in Manhattan / Holiday Shopping Manhattan / Manhattan Buzz NYC.
Holiday outdoor markets have been on the rise in Manhattan since the dawn of the 21st century. While some date back many years, some are relatively new.
Shopping at holiday markets alone, with friends, or with the kids gives folks a chance to enjoy the fruits of their labor and satisfy some of their yearnings and some of the yearnings of those we love.
Each of the Manhattan holiday markets is a bit different, as some are organized by community groups and others by business organizations. Oftentimes one can find artisanal products that are made in NYC or NYS.
Manhattan Holiday Markets Getting Underway
The Manhattan holiday markets get underway shortly after Halloween, with some coming opening up about the time of Thanksgiving. The Manhattan holiday markets are located in or near the following Manhattan neighborhoods - the Upper East Side UES, the Upper West Side UWS, Midtown NYC, the East Village, the West Village, the Bowery, SoHo, Tribeca, Lower East Side, Harlem, Inwood and Washington Heights. Many either include the serving of some beverage like hot chocolate and generally snacks like cookies - or are near food vendors and restaurants.
Click here for our report about the Xmas / Christmas / Hanukkah / Kwanzaa Holiday markets in Manhattan & Holiday shopping Manhattan NYC.
---
NYC Marathon Coming Through Manhattan
New York Road Runners 49th NYC Marathon on Sunday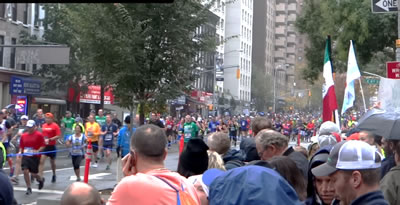 October 29, 2019 / Things To Do Manhattan / Manhattan Neighborhoods NYC / Manhattan Buzz NYC.
The New York Road Runners / NYRR is hosting its 49th NYC Marathon on Sunday. The NYRR was founded in 1958 and has been organizing the NYC Marathon since 1970. The proceeds from the race go toward the programs of the runner non-profit. They report that the NYRR serves 670,000 people, of which 250,000 are youth, annually.
There are plenty of festivities this week surrounding the affair. Some are held at the NYRR Run Center [NYRR headquarters] at 320 West 57th Street between 8th and 9th Avenues, while others are held at the NYC Marathon Pavilion in Central Park at 67th Street and Central Park West, near the Tavern on the Green.
The other pre-race activities [see location addresses above] include a discussion on Tuesday about the NYC Marathon Book Club from 6 - 8 pm at the NYC Marathon Pavilion. On Wednesday there's a forum of Celebrity Charity Runners who talk about why they are running at the NYC Marathon Pavilion from 7 - 8 pm. On Thursday evening between 6 and 7 pm the NYRR presents the awards for the NYRR Hall of Fame inductees at the NYC Marathon Pavilion. On Friday at the NYRR Run Center there's an NYRR Running History Tour which runs from 10 - 11.30 am.
The pre-race festivities culminate the Saturday evening before the race, when there's an early dinner [3.30 - 8.30 pm] for the runners at the NYC Marathon Pavilion that is prepared by the chefs from Tavern on the Green. They call it the Marathon Eve Dinner. It has a sort of holiday ring to it.
NYC Marathon Times, Route & Statistics to Beat
Statistics 2018. According to the NYRR.org website, in 2018 there were 52,813 runners, from 129 countries, their average run time was 4.40 [hours.minutes] and they raised $40 million for charity. This year there are a number of primarily TV game show celebrities running to raise money for charity.
According to Wikipedia, in 2018 records for participation were broken, yet again, with 30,669 men and 22,143 women participating. The fastest runs times were approximately 2.05 [hours.minutes] for men and 2.20 [hours.minutes] for women.
NYC Marathon Organized at Fort Wadsworth on Staten Island
As you can imagine, organizing the 52,000 plus runners in the NYC Marathon, is an annual logistics feat. The NYRR has organized the race into four Waves. Each Wave begins at a different time. Within each Wave there are three Start Times which are color coded green, orange and blue. In addition to three different start times for each wave, there are six different Corrals, A through F, where runners gather to be released into the race during their wave and start time.
NYC Marathon Start Times 2019
The NYC Marathon begins at 8.30 am at Fort Wadsworth on Staten Island. From there over 52,000 runners departed last year, and the race continues to grow in popularity. The first group to begin the race are in the wheelchair division, followed by the handcyclists. These two groups depart between 8.30 am and 8.52 am.
The next group departs at 9.10 am and it comprises the professional women competing for the title. They are followed a half hour later, at 9.40 am, by the professional men. It is at this time [9.40 am] that the first wave kicks in, with its three start times. The second wave begins at 10.10 am, the third wave begins at 10.35 am and the fourth and final wave begins at 11 am.
NYC Marathon Best Guess Viewing Times
The 16 mile mark of the 29 mile NYC Marathon is at the Queensboro Bridge. That's a bit more than halfway. If you divide the average run time of 4 hours and 40 minutes, to get 2 hours and 20 minutes, you can figure out - depending on which wave / start time your loved ones are in, roughly when they'll be at the halfway mark. And then you can add to that time if you're viewing in Manhattan, or subtract from that time if your viewing in Brooklyn, or be there at the start time if you're on Staten Island. For the Bronx adding three hours to their start time should give a good proximation of when they'll be coming through Mott Haven.
NYC Marathon Route 2019
The NYC Marathon had originally circumvented Central Park, but it quickly outgrew that locale.
Staten Island NYC Marathon Route. The route used today has been in place for a long time, possibly decades. It starts at Fort Wadsworth on Staten Island, crossing the Verrazzano Bridge.
Brooklyn NYC Marathon Route. The NYC Marathon travels along 4th Avenue through most of southern Brooklyn, then taking a short turn eastward on Lafayette in Downtown Brooklyn, before resuming the northern trek along Bedford Avenue through Williamsburg into Greenpoint, where the course jumps onto Manhattan Avenue at McCarren Park.
Queens NYC Marathon Route. The next step is across the Pulaski Bridge into Long Island City Queens, where the NYC Marathon zigs west to Vernon Blvd, marches north along Vernon Blvd, and then 44th Drive and 21st Street before crossing the Queensboro Bridge.
Manhattan NYC Marathon Route. In Manhattan the NYC Marathon travels north along First Avenue.
Bronx NYC Marathon Route. The NYC Marathon route traverses the Willis Avenue Bridge into the Port Morris and then Mott Haven neighborhoods of southern Bronx. The NYC Marathon then heads west along 135th Street to 138th Street in Mott Haven and turns south heading back through Port Morris, over the Madison Avenue Bridge to Manhattan.
Manhattan NYC Marathon Route. In Manhattan the NYC Marathon travels south along 5th Avenue and into Central Park at 125th Street coming down inside the park to end at the NYC Marathon Pavilion.
Whew. I'm plum tired out just cataloguing the route, let alone running it : )
** LINK. Here's a link to the NYC Marathon route map. Enjoy.
---
Korea Day Parade in Manhattan
Korea Day Parade Celebrates Korean Culture with Festival
October 21, 2019 / Things To Do Manhattan / Manhattan Neighborhoods NYC / Manhattan Buzz NYC. On Saturday, Octoberr 5th, the Korea Day Parade and Festival was held in Midtown Manhattan. The whole affair which lasts the better part of the day, celebrates Korean culture by Korean immigrants and their children, grandchildren and great grand children. In addition to the theatrical music and dance performed in the parade, there's a live stage at the festival where folks also perform.
In additon to the music and dance there's a whole host of food, opportunities to shop authentic Korean food, clothing and other goods, and a chance to mingle with our fellow countrymen and women of Korean descent. The following video should give you a taste of the Korean Day Parade and Festival in Midtown. The event occurs in a section of Manhattan that was once a center of Korean culture - and while still there to an extent - like many immigrant clusters, many of the Koreans and their descendants have moved to the outer boroughs and beyond.
---
San Gennaro Festival in Little Italy
September 18, 2019 / Things To Do Manhattan / Manhattan Neighborhoods NYC / Manhattan Buzz NYC.
The San Gennaro Festival began last Thursday along Mulberry Street in the Little Italy neighborhood of Manhattan. The festivities run for eleven days and included a parade which was held last Saturday, a number of eating contests - one of which is this afternoon - as well as live entertainment, food galore and shopping.
The San Gennaro Festival began 93 years ago, in 1926, when the community was comprised primarily of Italians from the Naples area. San Gennaro is the anglicized name of the patron saint of Naples, St. Januarius.
The locus of the San Gennaro Festival is along Mulberry Street between Canal and Houston, with the main stage at Grand and Mott Streets. The Roman Catholic parish church of Our Most Precious Blood Church represents the 'soul' of the festival, as it was completed in 1904 and still stands today. There was a lot behind the church, the Rectory at 109 Mulberry Street, where they had hosted parts of the San Gennaro Festival in prior years, but it was put on the market in 2018 for $14 million. The photo below right shows the Most Precious Blood Rectory on Mulberry Street in 2014.
Feast of San Gennaro in Little Italy NYC
Every year the Feast of San Gennaro begins with the blessing of the stands on the first day of the festival. The event includes some live entertainment. On the first Friday of the event there is a cannoli eating contest. On Saturday there's a parade beginning at 2 pm that marches north on Mulberry Street from just north of Canal Street. Sunday there's more live entertainment in the evening. All of this took place last weekend.
This Monday there was an Enrico Caruso Opera night, which is followed on Wednesday afternoon [today beginning at 1 pm] of a Zeppole eating contest. On Thursday there's a church service at the shrine of the patron saint of Napoli at 113 Baxter Street beginning at 6 pm. On Saturday there's a meatball eating contest beginning at 1 pm. And on Sunday the festival winds down with live entertainment at 2 pm and again beginning at 6 pm. This represents a few of the highlights, and you can find a full schedule of events at the Feast of San Gennaro website at www.sangennaronyc.org.
Italian Neighborhoods & Feasts in the Outer Boroughs
During the Feast of San Gennaro, Italians from around the city and in the tri-state area, return to the neighborhood from which their families came. Most of the Italians have left the neighborhood for greener pastures in the outer boroughs of Staten Island, Brooklyn, Queens and the Bronx.
The Bronx has its own Little Italy, which some believe is more authentic than the one in Manhattan, as over a hundred Italians still attend the church in the Bronx neighborhood, where some of the services are still given in Italian. There's an upcoming Pizza Festival to be held there on October 5th & 6th near Arthur Avenue and Crescent Street in the Belmont neighborhood of the Bronx - see the Bronx Buzz.
Staten Island has also become the home of many New York Italians, where they organize and host a number of Italian cultural events there including the Italian Festival of the Mount which is held at Mount Lorenzo at 6451 Hylan Blvd from Friday through Sunday, October 11th to 13th - see the Staten Buzz.
Return of the Italian American Museum Expected Spring 2021
I visited the Italian American Museum at 155 Mulberry Street in Little Italy in 2014. The Italian American Museum was first opened at the site on Columbus Day 1999. The Italian American Museum was founded by a history professor from Queens College, Dr. Joseph V. Scelsa. Dr. Scelsa is shown in the old Italian American Museum in the photo at right.
The Italian American Museum broke ground in November 2018 for a new building, where a new building will be erected on the site of the 1800 square foot museum. The expected completion date is Spring 2021, which will provide additional space for the museum, which will be rent free, as the land upon which the new building is being erected, was owned by the museum. Previously the Italian American Museum had used the rent revenue from the other space in the building, to fund the museum operations.
We'll have more on the museum and the history of Little Italy in Manhattan at a later date.
---
The Landmark Tavern in Manhattan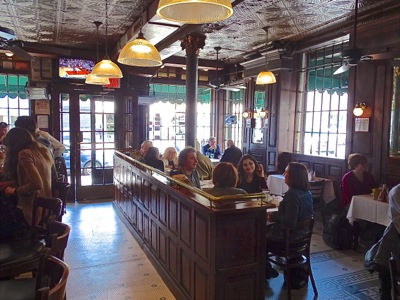 June 19, 2019 / Midtown West Neighborhood NYC / Manhattan History NYC / Manhattan Buzz NYC.
One of the great finds this year in terms of Irish history in Manhattan came when I stumbled upon the Landmark Tavern on the far West Side of Manhattan. The Landmark Tavern first opened in 1868, not long after the American Civil War. The tavern originally opened as a waterfront saloon along the Hudson River as there wasn't any 12th Avenue over a century and a half ago.
The Landmark Tavern maintains a classic Irish Pub establishment with pints of Guinness, Irish whiskeys and Irish Pub fare - including shepherd's pie. But they have also augmented their classic Irish fare offerings with modern eclectic American fare.
The Landmark Tavern is located at 46th Street at 11th Avenue, which is nearby both the Intrepid Air, Space & Sea Museum on the Hudson River, as well as near the emerging art exhibition spaces along the Hudson such as Piers 92, 94, 96 and 97. The Piers have been used for art, photography and architectural exhibitions that periodically open shop in Manhattan.
---
The NYC Puerto Rican Parade
A Plethora Panoply of Puerto Rican Talent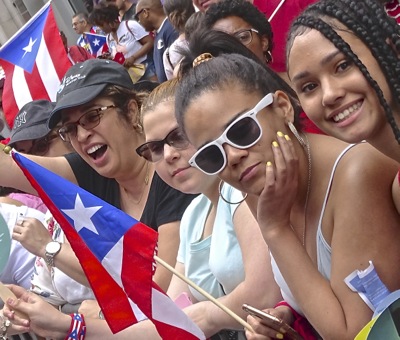 June 11, 2019 / Things To Do Manhattan / Manhattan Neighborhoods NYC / Manhattan Buzz NYC.
Last year I attended the 62nd Puerto Rican Day Parade, which returned for its 63rd year last Sunday. The Puerto Rican Day Parade is one of the largest parades and cultural celebrations in NYC, and outside of Puerto Rico, the largest celebration of Puerto Rican culture.
This year the Puerto Rican Day Parade Grand Marshall was Ricky Martin of La Bomba [1998 hit single] fame. Also appearing / performing were Jose Feliciano, who came out with the hit single Felice Navidad [1970] as well as Afro-Cuban jazz musician Bobby Sanabria and actress La India who starred in the film La Madrina [The Godmother] in 2008.
But the celebrities featured in the parade - which is comprised of over ten thousand marchers, musicians and performers - are only a few of the stars. The platoon of performers provides an endless array of entertainment by a very liberated people. I hope to have a bit more on this later today / this week - but if not there will be more to come eventually.
---
India Parade & Sri Jagannath Ratha Yatra Festival
Indian Parade & Festival Returns to Midtown & Village NYC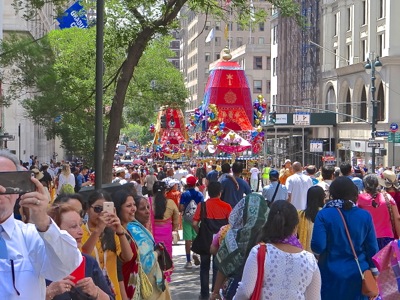 June 4, 2019 / Manhattan Neighborhoods NYC / Cultural Events Manhattan NYC / Manhattan Buzz NYC.
This Saturday, June 8th from 11 am to 7 pm the Festival of India Parade begins and is followed by the Sri Jagannath Ratha Yatra Festival. The parade starts at 45th St & 5th Avenue at 11 am and it ends in Washington Square Park where the Sri Jagannath Festival is held.
This is part of a weekend long celebration of Krishna that spans Brooklyn and Manhattan, involving hundreds, if not thousands of celebrants participating in the parade and festival after.
I'll have more on this Hari Krishna event later today / this week. In the meantime is a short one minute video of the parade last year [2018].
---
---
The Dancing Keeps on at the Dance Parade
13th Annual Dance Parade - An Aesthetic & Cultural Visual Delight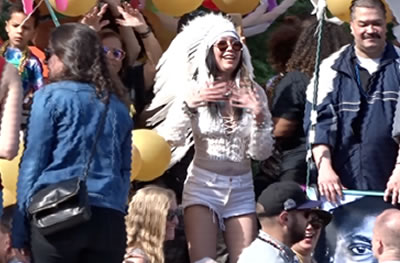 May 24, 2019 / Things To Do Manhattan / Manhattan Neighborhoods NYC / Manhattan Buzz NYC.
A week ago, on Saturday, May 18th, I attended the 13th annual Dance Parade. The parade reportedly features ten thousand dancers, musicians and DJ's during the two hour [turned out to be easily twice as long] parade.
I had attended the parade perhaps a half dozen years ago, essentially it's half life to date and it has grown enormously both in the number of performers and performances as well as the size of the crowd.
But quantity isn't everything, and the quality had grown or expanded as well. It was, in a few words, an aesthetic and cultural visual delight.
I and one of the Manhattan Buzz freelance photographers / videographers captured some of the festivities on video, which I hope to share with you by the end of today.
---
The Old Croton Aqueduct Trail
Wandering Along an Architectural & Construction Marvel
May 14, 2019 / Highbridge Neighborhood Bronx / Bronx History NYC / Bronx Buzz NYC.
I came upon a pedestrian walk way while exploring the Highbridge neigbhorhood in the Bronx. I soon found it was called the Old Croton Aqueduct Trail and that a stone aqueduct, completed in 1842, lie beneath the smooth level walk way I was making my way along.
When I returned home, I found a whole history of the Old Croton Aqueduct and the positive impact it had on New York nearly two centuries ago, and it was designed and built so well, that it continues to play a role in many New Yorkers' daily lives.
The photo at right shows the pedestrian trail that runs atop the Old Croton Aqueduct in the Bronx.
I'll have more later today about the history and the impact of the Old Croton Aqueduct. Along with the history, you'll learn quite a bit about the history of popular locations today in both the Bronx and Manhattan.
---
AIPAD Photography Show Manhattan NYC - Association of International Art Dealers Manhattan NYC
The Photography Show in NYC
The Association of International Photography Art Dealers Annual Photography Show at Pier 94 in West Midtown Manhattan
April 30, 2019 / Midtown West Neighborhood / Art Events in Manhattan NYC / Manhattan Buzz NYC.
Earlier this month I attended the Photography Show organized by the Association of International Photography Art Dealers [AIPAD] at Pier 94 on the West Side of Manhattan. It was their 39th Photography Show, including nearly 100 dealers from around the globe, and they describe the show as,
"... The Photography Show is the longest-running and foremost exhibition dedicated to the photographic medium, offering a wide range of museum-quality work, including contemporary, modern, and 19th-century photographs as well as photo-based art, video, and new media."
I arrived late on the Sunday afternoon of the last day of the show, during which I had expected things to have quieted down. Nonetheless, there was still a large crowd at the entrance, and while the galleries were generally filled, it was comfortably so. With time and my battery running low, I made my way through the galleries, enjoying the visual feast.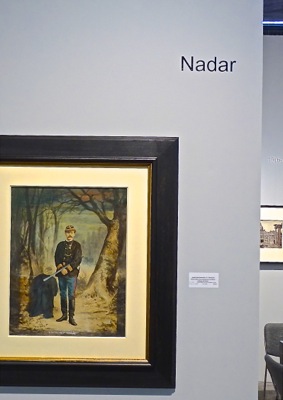 The show offers an opportunity to see so much of the world - past and present, north south east and west, real and imagined - in photos. It is also a great place for people watching, engaging in interesting conversation and buying great visual art.
One of the great finds I stumbled upon, were photos shown by exhibitor Alex Novak, who had copies of photos done by the great 19th century French photographer Nadar. In the mid 1990's I saw an exhibit that featured Nadar at the Metropolitan Museum of Art, that included several very graphic photos of the genitalia of a hermaphrodite. I found that to be a stunning exhibit - not just because of how those photos had the power to change the way people view sexuality - but because Nadar shot the photos in 1860, now well over a century and a half ago.
I found many other fascinating photos, some of which I'll share in a slide show. I usually document the origins of the works I capture, but unfortunately on this day I was tired, having covered two other shows, and low on battery power and time, so I debated whether to show you the works or not - but decided in favor of showing you because many of these exhibitors will be back next year - so if you like something, you may be able to find it then or through the Association of International Photograph Art Dealers [AIPAD] which you can find at www.aipadshow.com.
---
Art, Photography & West Midtown Piers
Three Excellent Shows, Separate Art Categories, Shown Along the Hudson in the 40's & 50's in West Midtown
April 9, 2019 / Midtown Manhattan Neighborhoods NYC / Manhattan Art Scene / Manhattan Buzz NYC.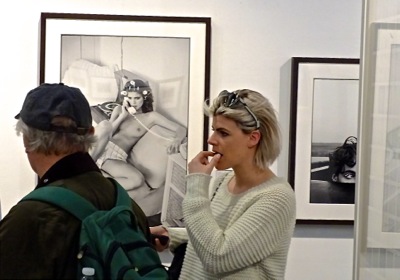 Last weekend was something of an arts galore weekend. The Society of Illustrators held their annual Mocca Festival which celebrates the independent comic and cartoon artists at Metropolitan West which is located across from the Intrepid Museum on the Hudson River at West 46th Street. The Association of International Photographic Art Dealers held their annual show, which included about 150 exhibitors from around the nation and around the world, at Pier 94 at West 54th Street and the Hudson River. And then there was the Art Expo which hosted 250 artists from around the world at Pier 90, also along the Hudson River at West 50th Street, in between the MOCCA exhibits and the AIPAD show.
I spent the entire afternoon, walking the corridors of artistic expression, absorbing - mostly subconsciously - the art and images of the artists of our time. It was a beautiful April day, and in between the shows, I found folks strolling and biking the paths along the Hudson. I imagine many of those strollers, like me, were on their way to or from one of these shows.
I'll delve a bit deeper into these art venues at a later date. But depending on your interests, I expect you would find something that would tease the mind or tease the senses, at one of these events. Unfortunately, we have to wait another year before their return. The photo above was taken at the AIPAD Show last weekend.
---
Indian Film Festival Manhattan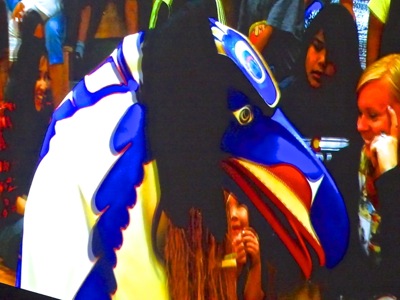 April 2, 2019 / Downtown Manhattan Tribeca SoHo LES Neighborhoods NYC / Manhattan Fashion Film NYC / Manhattan Buzz NYC.
On Saturday I attended the first Native Cinema Showcase at the National Museum of the American Indian in Downtown Manhattan. On many different levels it was a very satisfying experience. First the National Museum of the American Indian is located in the Alexander Hamilton U.S. Customs House which is a magnificently built building. It has solid stone floors and rails, an incredible skylight in one of the main rooms, and architectural detail that few beyond the most well endowed nations can afford.
The Native American Indian Museum occupied three floors of the building. The first floor contains a beautiful and well stocked gift shop, as well as a performance space. The performance space is circular in shape, with a high ceiling, and smooth (dance) floor. There was a video playing on the large main screen of what seemed like a temple, showing Indians in native dress dancing and singing. And along the walls there are pictures of Indians in tribal dress, possibly representing a number of the different American Indian nations.
On the second floor there is this beautiful oval shaped room with a wonderful skylight. The room is made of beautiful stone, much of which I believe was marble, and it was a joy just to feel the solid level stone beneath my feet and to run my hands along the smooth stone rail.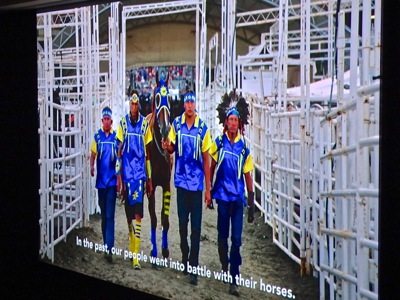 Beyond that room, which contained information stands, is the museum itself. Off to either side are smaller galleries where the exhibits change, while the main gallery runs the length of the building and those exhibits mostly stay as they are. In one of the smaller galleries there was an exhibit on the Taino tribe. And in the other gallery, a new exhibit, of paintings, is due to open next weekend, April 6th. I spent a couple of hours meandering through the galleries, taking photos [no flash] as I went.
And the last floor in the building occupied by the National Museum of the American Indian is in the basement where they have a movie theater / auditorium / stage [they rent it out too]. In the movie theater this weekend they were showing several film series on Saturday and Sunday as part of the first annual Native Cinema Showcase. It was for this event that I had come, although I welcomed the opportunity to become better acquainted with both the U.S. Customs House and the National Museum of the American Indian.
I watched several films. More to come later today. Horses. Land. Spirits. Masks. Piecing together the culture.
---
NYS Rent Regulations up for Renewal
NYS Assembly and NYS Senate to Strengthen, Renew or let Expire NYS Rent Regulation Laws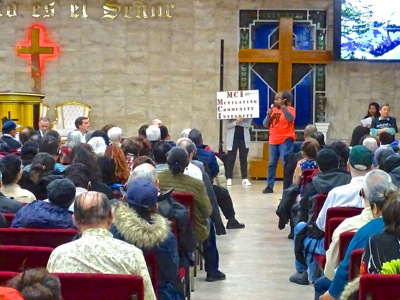 March 19, 2019 / Queens Neighborhoods / Queens Government & Politics / Queens Buzz NYC.
On Saturday I attended an event discussing the upcoming legislation pending in the NYS government in Albany concerning NYS rent regulations. Currently about 2 million of the 8.5 million people who live in NYC will be affected.
The primary topic of the event was MCI or Major Capital Improvements, which is a loophole in rent regulations that allows landlords to initiate projects within their buildings and then pass along the project costs to their tenants, in such manner as to provide the landlord with an incremental revenue increase that lasts into eternity, and which encourages landlords to get creative in originating projects in an effort to raise the rents of their regulated apartments at an accelerating speed in order to grow the monthly rent beyond the legal limit of regulation.
What happens then, is that a significant number of longstanding tenants in regulated housing, are priced out of their homes and neighborhoods. Some of the displaced tenants even become homeless. This is why homelessness nearly doubled under former Mayor Michael Bloomberg - who looked the other way as NYS rent regulations were being renewed.
The event was held in the Corona neighborhood of Queens, where hundreds - if not a thousand - people came to particpate in the discussion.
I'll have more on this at a later date.
---
St Pat's Day Bars Irish Pubs & Restaurants Manhattan - UES, UWS, Midtown, East Village St Patrick's Day Bars & Irish Pubs & Restaurants Manhattan NYC
St Pat's Day Bars, Restaurants and Historic & Irish Pubs in Manhattan
Historic Manhattan St Pat's Day Pubs, Irish Bars & Restaurants On St. Patrick's Day In NYC, UES, UWS, Midtown & Village
February 25, 2020 / Manhattan Neighborhoods NYC / Manhattan Restaurants NYC / Manhattan Buzz NYC.
St. Patrick's Day is upon us once again and it's time for one and all, regardless of genetic history, to don their green clothing and head out to the Irish bars for a pint of ale or to the Irish restaurants for some down home Irish fare … or something like that.
This report is about some of the Manhattan Irish bars and restaurants that have survived the test of time, and likely a might bit … more. The Irish pubs include Irish bars and restaurants from the Upper East Side [UES], the Upper West Side [UWS], Midtown Manhattan as well as the East Village, as McSorley's remains not just a pub, but a good piece of history.
Click here to read our report about the St Pat's Day Bars, Irish Pubs & Restaurants in Manhattan NYC.
---
Manhattan Borough President Gale Brewer - State of the Borough Address NYC
Gale Brewer – State of the Borough Manhattan
Manhattan Borough President Gale Brewer Organizes Discussion Entitled What is Urban Policy Now
February 24, 2019 / Village Neighborhood / Manhattan Politics & Government NYC / Manhattan Neighborhoods NYC / Manhattan Buzz NYC.
I arrived at the NYU Skirball Center, located along the southern perimeter of Washington Square Park, over a half hour after Manhattan Borough President Gale Brewer's State of the Borough began. As I entered, a few folks exiting, told me that the urban policy discussion had just begun.
Manhattan Borough President Gale Brewer's SOTB Address 2019
Unfortunately I had missed the first part of the schedule, which included the normal formalities, which included: 1) a short speech by the hosting organization - Lynne Brown, the Senior VP of NYU; 2) a performance by Annette A. Aguilar Bean Bloco, 3) an introduction by David Chu of Community Board 1 and 4) Gale's introductory remarks.
After the panel discussion I spoke to several people inquiring what key topics were featured in Manhattan Borough President Gale Brewer's remarks. Essentially I cam away with three.
1. The most important was probably what the Manhattan Borough President's Office was doing with Data. They were collecting and organizing data about the borough and putting it online in order to make it accessible and transparent. There were slides running in the background at the reception showing some of the data – one of which I've shown in this report.
2. She also talked about Public Transit – specifically the L train which will not be totally closed down this year – but rather only on the weekends in order to repair the tunnels damaged by Hurricane Sandy.
3. Gale also talked about efforts to get Technology into Public Schools. This included things like smart boards and computers and wifi? I understand that this is a ten year plan.
Manhattan Boro President SOTB Panelist #1 – Maya Wiley
As I sat down, Panelist Maya Wiley, Professor of Urban Policy and Management of the New School, was in the middle of delivering her remarks about key challenges and issues facing New York City. She focused on the disruptive and opportunistic challenges brought about by technology. Perhaps the focal point of Maya's remarks was that the contracts of the cable companies serving New York City are due for renewal / renegotiation in 2020. She wanted to flag this, as groups interested in internet, video and telephone access and associated fees need to mobilize and become a part of the process NOW – or it will be too late.
More on this came out later in the discussion, which you can find below.
---
The Real National Emergency?
President Pinocchio's Pants are on Fire
February 19, 2019 / NYC Neighborhoods / NYC Politics & Government / Gotham Buzz NYC. News Analysis, Opinion & Satire.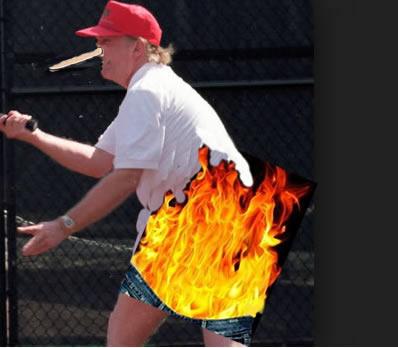 I stumbled upon an episode of Jimmy Kimmel Live, from January 10, 2018, about how Donald Trump has differentiated himself from all other presidents of the United States of America - as the greatest known liar of them all.
Cut and paste this link for a short video of Jimmy Kimmel's documentary of Trump Telling His 2,000th Lie over a year ago - https://www.youtube.com/watch?v=qQruDaf7bKs
Real Presidential Greatness vs 'Greatest'
It's important to distinguish between greatest - which compares one to another - and greatness, for which there is no comparison. Greatest is an amount or extent considerably above normal, while greatness is about having won the respect for achievements in one's field. True greatness is rarely achieved by braggadocious people, because they are too busy talking to make time to do anything truly great.
Presidential Greatness. George Washington was achieved greatness by risking his life as the Commander in Chief of the colonial army during the Revolutionary War. A greatness which was made even more so, by the fact that the first president didn't try to keep / possess the title of the president beyond two terms /eight years. Abraham Lincoln, similarly risked his life, to hold the Union together, while exorcising it of the heinous institution of slavery. And Franklin Delano Roosevelt, saved democracy, capitalism and freedom, by leading the nation through the Great Depression and the Second World War.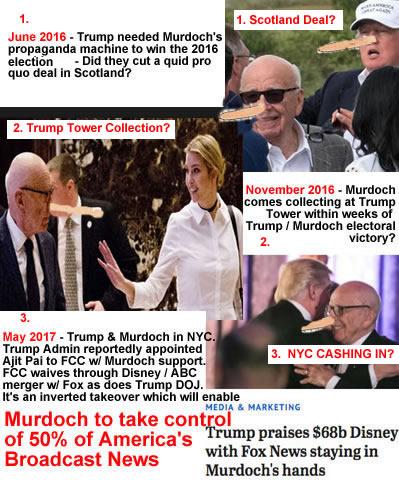 But while the Donald may not have done anything remotely deserving the moniker of greatness, over a year ago Jimmy Kimmel identifed that Trump had already become the greatest liar who ever occupied the White House. That was over a year ago, in January of 2018, and since then the Trump has continued onward with his train of lies.
President Pinocchio Supported by Murdoch's Fox News Pinocchio Pundits
But to be fair, Trump likely could not have come up with so many different lies to tell, without the help of multi-billionaire, global propagandist, Keith Rupert Murdoch, and his mass media mendacity machine.
The Murdoch propaganda machine includes outlets like Fox News and their portfolio of Pinocchio pundits, the Wall Street Journal and the NY Post.
Murdoch appears to have benefitted greatly from the Trump presidency, via 1) huge tax cuts for the wealthy, 2) Trump military action in Syria where Murdoch owns part of Genie Energy with former VP Dick Cheney and several other robber barons, 3) huge Fox News ratings wins due in part to the Donald's Crazy Town [name of a book by Bob Woodward about the Trump Administration] and last but not least 4) Department of Justice and FCC approval of Murdoch's inverted takeover of Disney / ABC which will soon gives Murdoch control of about half of America's broadcast news.
5 of President Pinocchio's Biggest Lies Since 7/2018
Since Kimmel's video posted in January of 2018, Trump has continued telling many lies - including some very, very big ones. Here are five of Trump's biggest lies between July 2018 and today, including a brief analysis of the impact.
---
Manhattan Valentines Day Restaurants - Manhattan Romantic Restaurants Manhattan NYC
Valentine's Day Restaurants In Manhattan
Manhattan Romantic Restaurants For Valentines Day in Manhattan on the Upper East Side, Upper West Side, Midtown, East Village, West Village, SoHo, Tribeca & the Lower East Side
February 4, 2020 / Manhattan Neighborhoods NYC / Manhattan Restaurants NYC / Manhattan Buzz NYC.
Valentine's Day is less than two weeks away. It's a good time to let your loved one know you care. Flowers, gifts and dinner are always welcome treats, and / or some thoughtful gesture that shows that the lady [or man] you're with still means a lot to you.
It's generally hard to make restaurant reservations on short notice at a romantic Manhattan restaurant on Valentine's Day, and sometimes it's difficult to make them for the weekend preceding Valentine's Day. So if you're thinking about doing something this Valentine's Day for dinner on the Upper East Side, Upper West Side, Midtown or East Village; it's best to do your research early, and call a week or at least a few days ahead to make the reservations.
Valentine's Day History - Romantic Restaurants In Manhattan
The origins of Valentine's Day are not well documented. It's believed to have been named after Saint Valentine who was apparently a Catholic martyr who died over 1500 years ago. Today the holiday is not associated with religion so much as flowers, candies, cards and romantic dinners. And the holiday spokesperson is now Cupid, a Roman god of desire, and quite a mischief maker.
Click this link to view a brief guide of Manhattan Valentine's Day restaurants - Manhattan NYC where you will find links to Manhattan restaurants we've visited in the past or have reviewed. The restaurants we've reviewed include a mix of high, medium and budget priced restaurants that are spread throughout the borough and offer a large variety of ethnic cuisines. Enjoy.
---
Who is that Fearless Girl?
The Statue of the Fearless Girl was Moved out of Harms Way - from Staring Down the Charging Wall St Bull - to the NYSE
January 29, 2019 / Manhattan Social Issues / Manhattan Neighborhoods / Manhattan Buzz NYC.
Over the holidays I ventured down to the New York Stock Exchange at 11 Wall Street [and Broad St] to see the big Christmas tree in front of the Exchange. It was the Sunday before Christmas and there was a fair number of tourists out and about, doing the same.
In addition to viewing the world renowned New York Stock Exchange and the large Christmas tree adorning it, I came across the bronze statue of the Fearless Girl. I'd seen the Fearless Girl earlier in the year, standing in front to the Charging Bull [sometimes referred to as the Wall Street Bull] in the Bowling Green Triangle, where Whitehall Street splits from Broadway.
Who is the Fearless Girl on Wall Street?
While observing the Fearless Girl in her old spot, she seemed somewhat ignored by the people having their photos taken around the Charging Bull which seemed to overshadow her. But this was only partially true, as the Fearless Girl went viral and generated quite a bit of conversation.
In her new spot, which the Fearless Girl moved to this past November [2018], she's out from under the shadow of the old Charging Wall Street Bull and has come into her own ... although many of us visiting that day [everyone I asked] didn't really understand the significance of her statuesque presence. So one day after I returned home, I did a little research to see what the little girl statue was all about.
The Story Began on Wall Street in 1989 when an Italian Artist Unloaded a Three Ton Bull & Rode Away
According to Wikipedia Arturo di Modica is an Italian artist / sculptor who moved here in 1973 and eventually became an American citizen. In 1989 he installed the Charging Bull in front of the New York Stock Exchange without permission. It reportedly cost him $350,000 to create, and weighs three tons. But it seems the artist's promotional effort worked, as it has become the work by which Arturo di Modica is most well known. He reportedly says the bull is a symbol of strength and determination, but to many it is seen as a symbol of the power hungry greed of Wall Street
.
The Fearless Girl Arrived in March 2017, Riding the Wave of the Women's Movement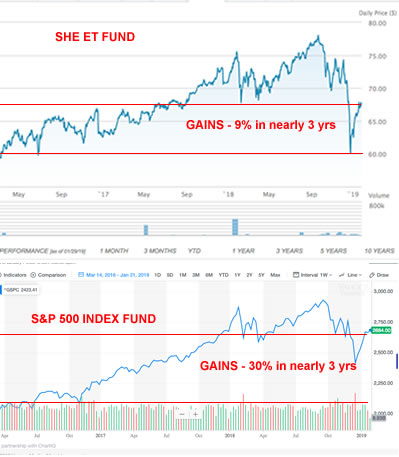 The Fearless Girl was the promotional brainchild of McCann New York, an advertising agency. Their client State Street Global Advisors had launched a gender diversity fund in March 2016, comprised of companies that had a high percentage of women in senior management positions and / or women on their boards. The fund goes by the symbol SHE.
According to Wikipedia, on March 7, 2017 the Fearless Girl was installed in front of the Charging Bull. Originally the appearance of the Fearless Girl was reportedly going to run for a week, but due to popular demand [she went viral - ad agency?] her stay was extended to a month, then to the end of the year [2017].
Apparently Charging Bull artists, Arturo di Modica, protested that the placement of the Fearless Girl next to his bull, detracted from his sculpture. After di Modica had dropped the Charging Bull, it was eventually licensed / leased by the City of New York.
Eventually the Fearless Girl was moved away from the Charging Bull to her current location in November of 2018, and we see that both sculptures appear happy with the separation agreement / settlement.
The Fearless Girl gets Results?
An online publication from New Zealand [www.stuff.co.nz] reported that as of the first year anniversary of the Fearless Girl placement [March 7, 2018], State Street Global Advisors said that of the 787 all-male boards it lobbied, to add one or more females to their boards, 152 did so, and another 34 were contemplating it.
Artist Kristen Visbal created the Fearless Girl. The Fearless Girl is made of bronze and weighs 250 lbs and stands four feet, two inches tall. In her first year of existence, the Fearless Girl generated over $7 million of advertising / news awareness, according to a March 2018 Bloomberg report.
I looked up the price chart for the State Street Global Advisors SHE fund to see how it was faring. At present it looks like the SHE fund represented by the Fearless Girl is lagging behind the S&P 500 over a comparable time frame - see charts above. About six months ago SHE was tracking much closer to the S&P 500 in performance.
While markets and funds may rise and fall - one of the few things in life that unrelentingly continues is change. So as we all move forward into the unknown abyss of time, it's worth keeping in mind the words of FDR, who said that, "The only thing we have to fear, is fear itself."
---
De Blasio Delivers State of the City Address 2019
The Mayor Recounts a Year of Accomplishment & Seems to Push the Envelope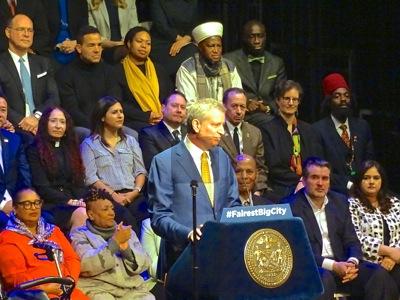 January 22, 2019 / Upper West Side Neighborhood / NYC Government & Politics / Manhattan Neighborhoods NYC / Gotham Buzz NYC.
On Thursday, January 10th, Mayor Bill de Blasio delivered his fifth State of the City Address at Symphony Space on the Upper West Side. To date the Mayor has delivered the address in three of the five boroughs, and this was the third delivered in Manhattan [at Apollo Theater in Harlem in 2017 and Baruch in 2015]. He delivered the third address in 2016 at Lehman College in the Bedford Park neighborhood of the Bronx and his fourth at Kings Theatre in the Flatbush Ditmas neighborhood of Brooklyn in 2018. Queens and Staten Island have yet to host the Mayor's State of the City Address, but he has a couple more years in which to make that happen, should he choose to do deliver his address in all five boroughs.
I arrived on a cold January morning. There was a crowd lined up outside, waiting to pass through security, even though it was well over a half hour before the address was to begin. Inside there was a large crowd mingling, and eventually it looked like it was a full house.
There were the usual warm up speeches and performances, including the Invocation by the NYPD Chaplain, Rabbi Alvin Kass, the singing of 'God Bless America' by NYFD vocalist Regina Wilson and an introductory speech by the First Lady Chirlane McCray.
---
Luke's Lobster House in Downtown NYC
Luke's Lobster House is a Hole-in-the-Wall Find near Wall Street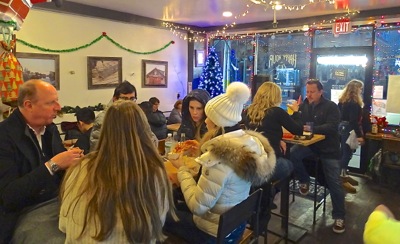 January 14, 2019 / Downtown Manhattan Neighborhood NYC / Manhattan Restaurants / Manhattan Buzz NYC.
Over the holidays I spent a fair bit of time in downtown Manhattan with out-of-town guests, who are expanding their interest in one of America's oldest seafaring towns ... Manhattan.
We visited the large Christmas tree on Wall Street in front of the NY Stock Exchange and then headed for a mid afternoon bite to eat at Luke's Lobster House at 26 South William Street between Broad and Beaver street. Luke's isn't exactly an ancient restaurant of Downtown NYC - since 2011 - but it has the look and feel of something that's been around much longer.
Luke's Lobster House in the Financial District or FiDi NYC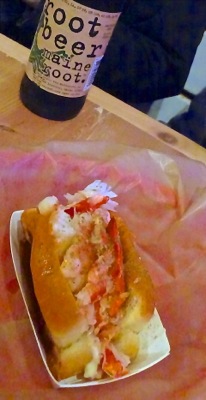 We walked in on a cold winter afternoon and there were a few parties sitting at several of the tables in the small shop. Along the side wall near the back of the small lobster house is a very simple menu, with three different combination plates in three different flavors [lobster, crab & shrimp], salad, soups [clam or lobster], sides [cod fries, slaw] and drinks [none alcoholic]. The one roll, plus side, plus drink runs from $12 to$19.
According to the Luke's Lobster website, the owner, Luke Holden, hails from Maine, from where he sources his catch. He opened a Luke's Lobster in the Village in 2009 and has been expanding ever since. The site tells us that Luke's Lobster has multiple restaurants in Manhattan, one in Brooklyn, as well as restaurants in Maine, Washington D.C., Miami, Boston, Chicago, Philadelphia, Las Vegas, Taiwan and Japan.
Luke sources many of its lobsters through a Maine cooperative, of which Luke's is a member, so he knows what he's serving his customers. And that diligence was borne out in the half lobster roll I split with one of my out-of-town guests. The lobster was a flavorful, tender, juicy, flaky meat inside a bun that did its job by not interfering with the subtle flavor of fresh lobster.
We drank our root beers, while enjoying the light meal, and then headed on our way. Generally Luke's Lobster House in the FiDi [Financial District] of New York is open from 11 am - 7 pm daily.
---
The South Street Seaport adds Winterland Skating to its Recreational Offerings in FiDi Manhattan NYC
The South Street Seaport adds Winterland to its Offerings
A New Skating Rink - Winterland - Opened at the South St Seaport in December
January 6, 2019 / South St Seaport / FiDi / Downtown NYC Neighborhoods / Kids Things To Do Manhattan NYC / Manhattan Buzz NYC.
In December I spent a fair amount of time in the Downtown NYC neighborhood, including at the South Street Seaport. The South Street Seaport has been an evolving recreational and tourist destination for the past couple of decades. Some of which we have covered in recent years - see Taste of the Seaport and South St Seaport neighborhood real estate in Downtown NYC.
In the photo at right you can see skaters resting alongside the wall overlooking the East River and Brooklyn Bridge in the South Street Seaport neighborhood near the FiDi in Manhattan NYC.
Brief History of the South Street Seaport in Downtown NYC / FiDi
The South Street Seaport was first used by the Dutch West India Company in 1625 to dock, unload and reload ships with cargo between the new [America] and old [European] worlds. Over time it evolved as a center of port activity for NYC. In the early 1700's [Wikipedia states 1728] the South Street Seaport started becoming a central distribution point throughout the colonies for goods coming from Europe into the New World, as well as becoming a collection point for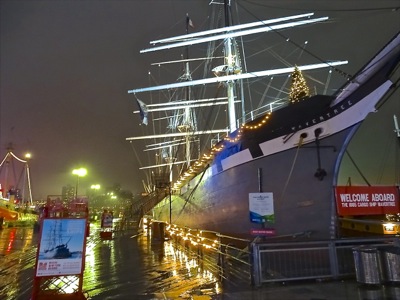 goods coming from the colonies that were then shipped to Europe.
In 1822 the Fulton Fish market opened as a central retail space for fresh fish among other things, and in 1825 the Erie Canal opened which enabled relatively quick and inexpensive transit between most points on the Great Lakes and New York City. This transit development cemented the reputation of New York City as the nation's leading transit capital.
By the middle of the 1800's the South Street Seaport climaxed, and over the next half century the volume of passenger and goods transit declined, giving way to the piers on the west side of Manhattan along the Hudson River. The reasons for the move to the west side was the lack of space for retail and warehousing, as well as the shallow nature of the South Street Seaport harbor.
In the photo at right you can see an 1885 schooner, one of the sailing ships of the 19th century, similar to those that had once docked at the South Street Seaport in lower Manhattan in NYC.
CLICK here to view the rest of our report along with photos of the South Street Seaport neighborhood and its new rooftop Winterland skating rink.
---
Halloween in Manhattan
A Floating Pumpkin Flotilla on Harlem Meer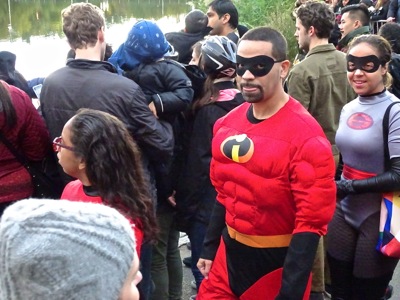 October 29, 2018 / Upper East Side Neighborhoods / Holidays in Manhattan / Manhattan Neighborhoods / Manhattan Buzz NYC.
After a cold, wet, rainy Halloween Weekend Saturday, many Manhattanites were looking to escape into the eerie fantasy world we call Halloween. Halloween is said to have originated in Ireland as a Celtic festival to ring in the New Year and celebrate the harvest, but today it's mostly an opportunity for people to dress up as someone or something else ... and free themselves of their workaday world and act out some of their pent up desires ... or something ...
Manhattan offers a banquet of Halloween event and party options. They range from river boat cruises, to rooftop parties, to haunted houses and floating pumpkin flotillas. Yes, floating pumpkin flotillas on the Harlem Meer at the Dana Discovery Center in the northeast corner of Central Park on the Upper East Side. So, having never been to it, I decided to go this year to witness the Halloween magic myself.
The Dana Discovery Center & Harlem Meer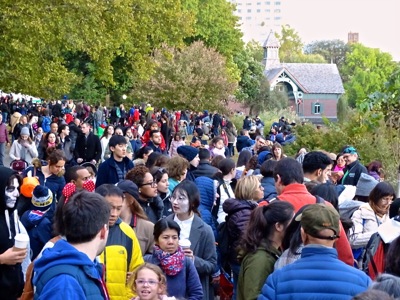 I arrived a bit early at East 105th Street and 5th Avenue, just north of the Museum of the City of New York. I walked in through the entrance to the Conservatory and walked out of the Conservatory northern gate. From the gate I could see the Dana Discovery Center across the Harlem Meer [Harlem is a Dutch town and meer means pond in the Dutch language] and there was a dirt path running all around the pond.
It was a bit before 4 pm as I walked the path to the northern side of the pond. I landed in the area still west of the Dana Discovery Center, where there were booths set up by the NYC Parks Department. There were kids interacting with folks working the event, learning about planting pumpkins. They were given samples which they could take home with them. In another area, there were a few folks working for the Parks Department who were receiving carved out pumpkins brought by members of the audience to be included in the floating flotilla. In prior years people could carve pumpkins on site, but they discontinued that in favor of folks bringing their own pre-carved pumpkins. I've seen this elimination of on site carving at other events, so my guess is that it may have something to do with lawyers mitigating the organizers' potential liability risks.
Manhattan Kids Halloween in Central Park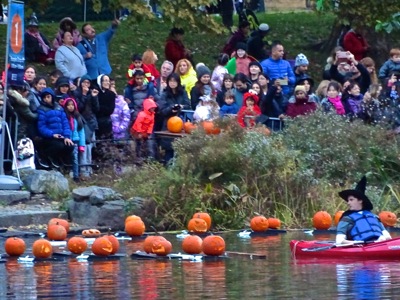 There were other stands as well, which I believe were of an arts and crafts nature. And in the distance, along the eastern side of the Dana Discovery Center there was music playing. I parked myself near the pumpkin flotilla launch pad, as that was a hive of activity, and the place to be when the flotilla launched ... or so I thought.
While waiting I met and conversed with several people, including a super nanny with her charge, a writer from another state in search of her own truth, a mother with her rambunctious son, a couple of very loving mulit-cultural parents with their children, and a couple of French women. Like myself they were attending the event for the first time, and we all braved the cool weather [50's], waiting for hours before the pumpkin flotilla began launching at 5.30 pm.
The Floating Pumpkin Flotilla Takes Flight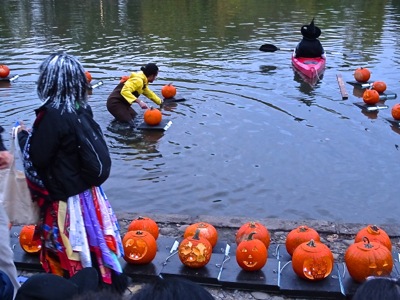 As the flames inside the pumpkins were lit, the crowd gathered more intently, cameras flashing, all eyes upon the prize. The prize was an aesthetic of pumpkin faces shining upon the still waters of Harlem Meer, and being surrounded by a mix of the local community and the world community to witness this event. The whole flotilla would eventually be pulled behind the two kyaks around the meer beginning around 6.30 [aka dark] for about a half hour before ending.
I started walking back around the meer, as the pumpkin lighting continued, shooting photos along the way. The crowd was largely quiet, speaking in low conversational tones, between themselves. I eventually made my way back through the gate to 5th Avenue where I met a woman while waiting for a southbound bus. She told me she was a hairdresser back in the day and that she used to take her kids camping along the waterside of Harlem Meer. She told me that, "Things have changed a lot since then." and that "The biggest changes came after 911."
Ah, yes, it was a simpler time. But then again so is the whole notion of the lighting up a few dozen pumpkin faces, and dragging them behind a kyak on a pond - attracting literally a thousand or more people to watch the event - seems kind of simple too.
I hope you had or will have a Happy Halloween.
---
The Pulaski Parade, Kociuszko Bridge & Polish Parade in NYC
Two Great Polish Generals in American Revolutionary War & One Great Polish Parade in NYC
October 22, 2018 / Midtown Manhattan NYC / Manhattan Parades NYC / Manhattan Buzz NYC.
On Sunday, October 7, 2018 the Pulaski Parade marched again up 5th Avenue from 36th to 56th Street. The parade began in 1936, some 82 years ago, to honor the contributions of General Casimir [also Kazimierz] Pulaski to the American Revolutionary War effort. The date for the Pulaski Memorial Day Parade is on the anniversary of his death, two days following the failed siege of Savannah, Georgia in 1779.
Polish Independence Centennial 1918 - 2018
The theme this year celebrated the 100th anniversary of Polish independence, which came about following the end of World War I on November 11th, 1918. That day was once called Armistice Day, when the fighting of WWI ceased, but today it is better known as Veterans Day. In the 123 years prior to the end of WWI, Poland – the home of the Polish people, had been partitioned by Russia, Prussia [which is modern day Germany] and Austria.
Polish Serfs, Jews & Burghers Struggled under Czars
The exploitative Czars of Russia - who lived in luxury while the Polish and Russian serfs lived lives in poverty – were deposed in the Russian Revolutions of 1917, which erupted during WWI. The end of the tsars and WWI resulted in Polish freedom, just as 123 years earlier the Czar Catherine the Great's diplomatic and war victories from 1792 – 1796, led to the partitioning and subjugating of Poland by its three neighbors.
These days, in both Poland and Russia, things seem to be going backwards. Democratic liberties, rights and rule of law seem imperiled, which is why parades, statues and other reminders of the past can help us stay vigilant to the tricks of those who would undermine the rule of law and democracy in order to take everything for themselves.
The Pulaski Parade - Polish Culture on the 5th Avenue Stage
The Pulaski Parade in NYC features Polish dancers, musicians, schools and organizations, the armed services and government officials, so one might say it's as much a parade about Polish culture in America, as it is about General Pulaski. General Pulaski served with the American Continental Army beginning in 1777 until he died at the Battle of Savannah on October 11, 1779.
As a student of history, I was heartened to see a strong showing for another great Polish general who served our nation during the American Revolutionary War – General Tadeusz Kociuszko. There's a bridge connecting Brooklyn and Queens that continues to bear his name and he is one of the less sung heroes of the American Revolution, perhaps because he was also something of an Abolitionist.
Tadeusz Kociuszko - Polish American Revolutionary War General
There's a 2015 program entitled Tadeusz Kociuszko Polish Hero, created by Peasant Prince Productions, LLC which covered the life of Kociuszko. In it they tell us that American Founding Father, President Thomas Jefferson was named the executor of Kociuszko's Will. They go on to note that in 1817 Kociuszko's dying wishes were that his wealth would be used to free, educate and empower as many slaves as the wealth Kociuszko left behind would enable. But they found no evidence of Jefferson ever executing the Will and disputes regarding it went on into the 1860's.
This historical footnote may help explain why Kociuszko was sidelined in the historical accounts of the times. It's well documented that Kociuszko was one of the few well trained military leaders in the Continental Army of the colonists in 1776, when American demanded their independence from the most powerful nation on the planet. And it was Kociuszko's use of science and engineering skills that enabled the American Revolutionaries to continually thwart their better equipped, better trained, far more powerful enemies - the British monarchy – and ultimately prevail.
Kociuszko Scientific Military Tactics were a Key to Victory
When Kociuszko started with the colonists he was instrumental in helping them prevent the British from controlling the Hudson River. Kociuszko's military training motivated him to identify and secure the West Point, which is still in use today as a military training academy [established by Jefferson in 1802]. The Hudson was believed to be the most important American waterway at the time, and having control of it would have enabled the British to split the New England states from the rest of the colonies – essentially dividing the nation [at the time] in half.
Kociuszko's advice was previously ignored by his superiors at Fort Ticonderoga, when he warned the general to secure a difficult to secure high point overlooking the fort. Because that point was not secured, the British handily beat the Americans. Kociuszko helped the Americans escape, building rafts and erecting obstacles along the way to slow the British.
In 1777, Kociuszko advised the Americans to secure the surrounding hills, which they did this time upon General George Washington's insistence. The British lost that battle and it was believed to be instrumental in enabling America to secure French support, as the French now believed an American victory was possible.
Kociuszko outlined similar fortifications for West Point, to which Benedict Donald was given command in July 1780. In September of 1780 Benedict Donald, subsequently tried to sell Kociuszko's defense plans to the British, but the British agent was captured and the plan exposed. The British agent was hanged and Benedict Donald escaped and became a British officer. It is said that he slaughtered a surrendered group of colonists before the war ended. King George is said to have liked him [Benedict Donald]. Today, there still stands a statue at West Point of Tadeusz Kociuszko.
Kociuszko also Fought for Serfs, Jews, Burghers & African Americans
Jefferson reportedly wrote that Kociuszko was one of the purest idealists he'd ever met. In fact Kociuszko not only fought for the American colonists, but also for the serfs, Jews and burghers of Poland. And he was color blind in America, having befriended and worked with a number of African Americans [as well as what he did in his last Will & Testment].
So it was nice to see that there were groups in the Pulaski Memorial Day Parade also carrying the torch for General Kociuszko, another Polish general who also fought for equality, liberty & justice for all – in the Pulaski Day Parade in NYC.
Both of these generals are still missed and they remind us of how new the existence of real democracy is, how hard democracy is to win, and as history has shown us – how easy independence is to lose – if one is not vigilant to the aggressive, deceptive efforts of those who already have so much, to take even more from the rest of us.

Dziękuję bardzo za przeczytanie tego. Thank you for taking the time to read this.

---
Ze Zum Schneider Festival in Manhattan
A German Immigrant Brings his Homeland Culture to Manhattan
September 24, 2018 / Near the Gramercy Neighborhood & Stuyvestant Town & Peter Cooper Village Neighborhoods in Midtown / East Village Restaurants Manhattan / Manhattan Buzz NYC.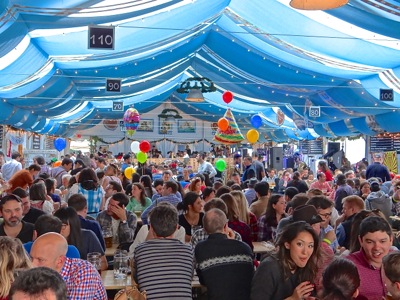 A couple of years ago I attended the Zum Schneider Festival along the East River at 23rd Street. What I witnessed was a mirthful display of old fashioned fun. The whole event is led by a restaurateur with a giant sized personality, who sings, eats and talks his way through the ten day Oktoberfest celebration.
I arrived on a Saturday afternoon and began by inquiring for the press liaison, with whom I had made prior arrangements. It wasn't long before she appeared and began introducing me to the cast of characters who would play roles in the activities planned for the afternoon.
The most memorable of the character introductions was the man for whom the festival was named, Sylvester Schneider, restaurateur of Zum Schneider. Zum, in the German language, means Go To, so the Zum Schneider restaurant includes some subliminal advertising – telling all those who come across it, to 'go to the Schneider restaurant'. Funny. Cute. Befitting the character I would get to know a little better as the afternoon unfolded.
The first tent on the East River opened in 2014, while the Zum Schneider restaurant, I was told had opened in 2002. Sylvester told me he had come to America from Bavaria where ...
---
African American Day Parade in Harlem
African American Day Parade in Harlem
A Brief History of the African American Day Parade as it Celebrates 49th Anniversary
September 18, 2018 / Harlem Neighborhood NYC / Manhattan Parades / Manhattan Buzz NYC.
I made my way up to Harlem to watch the African American Parade. The African American Day Parade returned on Sunday beginning at 1 pm along Adam Clayton Powell Blvd and 111th, and then marching north to 138th Street. It's the largest African American parade in the nation and has its origins in the 1968 civil rights riots.
On April 4, 1968 Dr. Martin Luther King was assassinated while standing on the balcony of a Memphis, Tennessee motel. James Earl Ray was charged with the crime and then admitted it, before recanting it multiple times later. James Earl Ray was sentenced to 99 years in prison and died at age 70 in 1998.
During the 1960's African Americans Clashed with the White Establishment Demanding the State Recognize their Constitutional Rights
There were 110 riots that broke out across the nation in anger at the shooting. U.S. Senator Robert Kennedy was in Indianapolis that evening and spoke before a large, predominantly African American crowd, informing them of the shooting, empathizing with their loss, recognizing their anger and asking them to respond with love. There weren't any riots in Indianapolis.
New York City Mayor John Lindsay also responded by traveling to Harlem, the largest African American neighborhood in Manhattan, which had begun to experience some unrest and rioting. He too, expressed condolences for the loss of the slain civil rights leader, which had a calming effect on the city.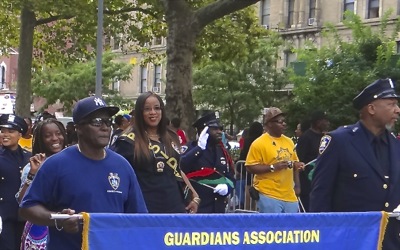 But other American cities didn't fare as well, including Chicago, which was highly segregated, and Washington, D.C. where then president Johnson was unpopular because of the draft and the ongoing Vietnam War. The draft appeared to unfairly conscript people of lesser means and Dr. King had begun to include this in his speeches.
Out of the Civil Unrest of the 1960's, Emerged a New Narrative for African Americans including the African American Day Parade
Nonetheless, some times good things arise out of bad circumstances, and the African American Day Parade was one such result. African Americans realized that they had to start taking control of their own cultural and historical narratives, as the American media was not providing the American people with a fair or balanced account of African American culture, history, nor the issues facing the African American community.
---
Member Events Manhattan Farmers Mkts / Street Fairs
* Click here for a listing of Manhattan Farmers Markets & Manhattan Street Fairs where you can find unique items and fresh foods. Street fairs wind up in March / April and so do most farmers markets, but a few of the farmers markets continue year round.
* Click here for paid & free things to do Manhattan - free SummerStage concerts in Manhattan, free things to do Manhattan - free summer movies in Manhattan and free things to do Manhattan - free summer theater in Manhattan.
BOOK REVIEW NEXT WEEK: Detective Itchyass by Smel E. Fyngars.
---
SummerStage
The Puerto Rican Parade NYC
Tens of Thousands of Puerto Ricans Celebrate Their Culture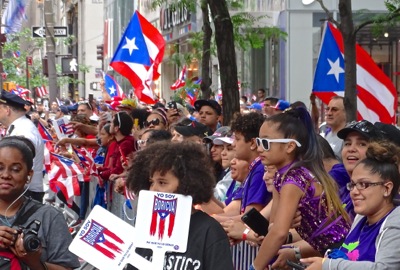 June 11, 2018 / Upper East Side Neighborhood / Harlem Neighborhood / Manhattan Parades NYC / Manhattan Buzz NYC.
Puerto Rican Street Fair Spanish Harlem
One thing you could never accuse New York Puerto Ricans of, is a lack of pride in their cultural roots. On Saturday there was a huge street fair in Spanish Harlem, lasting most of the day, along a nearly 20 block stretch of Third Avenue between 103rd and 122nd streets in east Harlem.
East Harlem used to be the destination for Puerto Ricans coming to New York. And while there's still a large Puerto Rican community there, I think there may be an even larger community in the central Bronx whose Borough President is Ruben Diaz, whose father, NYC City Councilmember Ruben Diaz, Sr. came from Bayamon, Puerto Rico. So while some of the population may have moved, Puerto Ricans came from around the city and far beyond, to congregate on Saturday and Sunday, and the bask in the atmosphere of their cultural roots.
Puerto Rican Parade on the Upper East Side Manhattan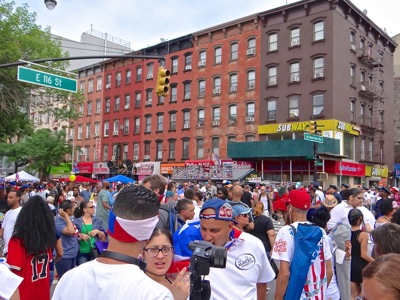 There was food, shopping, music, entertainment and dancing at the street fair on Saturday, and minus the food and shopping, the music, dancing and entertainment were also on display at the huge Puerto Rican parade in Manhattan on Sunday. Numerous floats as well as marching groups of dancers and musicians and social groups joined together to make the parade one long display of Puerto Rica's eclectic mix of African, Latin and American cultures.
American Puerto Ricans call themselves Boricuas and everything else is just Bochinche [gossip]. We'll delve more deeply into the Puerto Rican community in Manhattan and the Bronx as time passes.
---
NYC Landlord Harassments Continue
NYCCM Helen Rosenthal Hosts Housing Clinic to Inform Renters of Their Rights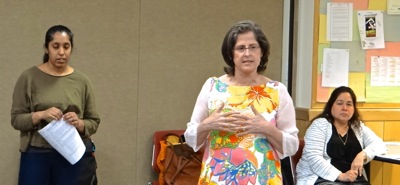 May 29, 2018 / Upper West Side Neighborhood / Manhattan Real Estate / Manhattan Neighborhoods / Manhattan Buzz NYC.
On Wednesday, May 25th I went to the Goddard Riverside Community Center on Columbus Avenue at 88th Street to attend a housing clinic designed to inform renters of their rights.
***The following introduction is based on prior research done by me, and was not information provided at the housing clinic. I'll let you know when I segue out of my preamble and into the housing clinic.***
Over the past decade landlords appear to have become increasingly aggressive in trying to wriggle out of NYC and NYS rent stabilization regulations, that govern the rental payments under which about two million New Yorkers live.
It is my understanding that the government contributed land and / or financing to build or repair the buildings governed by NYC / NYS rent stabilization laws in exchange for the pricing rights on rent stabilized units. Many of the new landlords who have acquired rent stablized buildings, may possibly be in violation of approaching their business contract(s) in good faith, as the definition of good faith according to Wikipedia is:
"In contract law, the implied covenant of good faith and fair dealing is a general presumption that the parties to a contract will deal with each other honestly, fairly, and in good faith, so as to not destroy the right of the other party or parties to receive the benefits of the contract. It is implied in every contract in order to reinforce the express covenants or promises of the contract. A lawsuit (or a cause of action) based upon the breach of the covenant may arise when one party to the contract attempts to claim the benefit of a technical excuse for breaching the contract, or when he or she uses specific contractual terms in isolation in order to refuse to perform his or her contractual obligations, despite the general circumstances and understandings between the parties. When a court or triar or fact interprets a contract, there is always an "implied covenant of good faith and fair dealing" in every written agreement."
What is at stake, throughout the city, is literally hundreds of millions and more likely billions of dollars in - rental benefits or rental income streams - depending on which side of the struggle you're on. The landlords appear to be trying - using the torturtous side effects of construction including noise, health risk dust [inhalation], privacy loss and apartment functional loss - to wrest away the billions of dollars of rental pricing rights benefits from tenants to be pocketed by the landlords themselves. Given the high dollar value of what's at stake - including people's homes - this seems like attempted grand larceny, especially in cases where landlords are breaking the law to achieve their goals.
This will be continued at a later date. Including the segue into the information provided by the Housing Clinic to inform tenants of their rights.
Tenants' Rights March & Rally - June 14th Midtown at 4.30 pm
P.S. There's a March & Rally scheduled for June 14th, beginning at 4.30 pm, at the NY Public Library at 5th Avenue and 40th Street. They plan to march to Governor Cuomo's office at 3rd Avenue and East 41st Street. For details contact info@realrentreform.org or call 212.979.6958. All but one of the No IDC NY senatorial candidates have been invited to participate, and there's a possibility that NYS gubernatorial candidate Cynthia Nixon will be there too - as this seems to coincide with her reasons for challenging Governor Cuomo.
---
Rain Doesn't Deter Cathedral Fair
Cathedral School at St John the Divine on the UWS Slogs On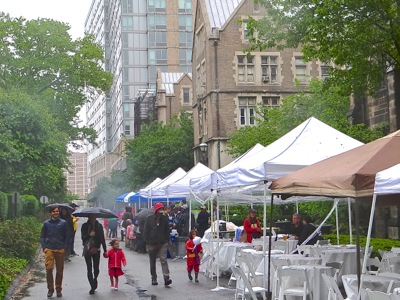 May 21, 2018 / Upper West Side Neighborhood / Manhattan Schools / Manhattan Neighborhoods / Manhattan Buzz NYC.
I had the pleasure of attending the Cathedral School Spring Fair in the court yard of St. John the Divine Cathedral last Saturday. The court yard is an old, beautiful green space area nestled in amongst the buildings of the St. John the Divine Cathedral complex.
The photo at right shows the Cathedral School Spring fair just after a downpouring rain.
The fair began around mid morning and I arrived a bit after noon. It was raining fairly steadily, but that didn't deter me - nor many of the Cathedral School supporters - from enjoying the afternoon. There was a grill stationed along a walkway inside the campus gates. And inside the nearby Synod House there were games, live music and a pretty good one time a year flea market selling donated goods of the Cathedral School supporters and community.
The Synod House was completed in 1913, around the time of the beginning of WWI, and was the meeting place for the 1913 General Convention of the Episcopal Church. The building has retained the name Synod House ever since, as a synod is the name for a council of church officials. The Synod House can seat 1,000 people, has timber beams, stained glass windows and is reportedly home to a Skinner organ. Ernest Martin Skinner was a leading pipe organ builder who used electro-pneumatic switching systems to advance organ capabilities. Skinner used an electrical switching system to manage the air pressure in the pipes and control the amount of air passing through the pipes. Skinner was considered one of the most successful pipe organ builders of his day.
The photo at right shows the Synod House, which I went into at the end of the fair.
I met up with one of the school supporters, a steadfast volunteer who had completed his shift, and we sat down to a hearty burger and one of the microbrew beers being poured by other community members / volunteers. Conditions weren't ideal, but sometimes that's what makes a get together memorable.
The Cathedral School was founded as an Episcopal school in 1901, over a decade before the Synod House was erected. The school is also situated on the 13 acre campus of the St. John the Divine Cathedral and there are nearly 300 boys and girls, grades K through 8, who matriculate there. And the school has a 6:1 teacher / student ratio. The Cathedral School is currently in the process of building an addition to the school, which may expand their enrollment capacity. It is a private school that is generally highly regarded and has a tuition price tag to match [about $48,000 for the upcoming 2018 - 2018 school year / tuition assistance programs are available].
Cathedral School is a small school with a big campus and is generally attended by the kids of Upper West and Upper East Siders. In addition to a fairly rigorous academic program, the school also has after school sports programs [not American football], band, art, film, theater, choir, sculpture, computer arts, and numerous language classes including Mandarin and Cantonese Chinese and Latin.
And based on what I witnessed Saturday, they also have a very supportive community of congenial parents.
---
Tribeca Film Festival Premieres Documentary Entitled The Fourth Estate
The Tribeca Film Festival on its Closing Night
Tribeca Film Festival ended with a Documentary - 4th Estate
May 15, 2018 / Tribeca Neighborhood / Film in Manhattan / Manhattan Things To Do / Manhattan Buzz NYC.
About two weeks ago [April 28th] I attended the closing night at the Tribeca Film Festival at the BMCC Performing Arts Center at 199 Chambers Street. The final film being shown was entitled Fourth Estate. It was billed as a documentary about the New York Times coverage of the first year of the Trump Administration beginning in January of 2017. It's a four part series, of which we watched the first installment. The show will air on Showtime beginning at 8 pm on Sunday evening, May 27th.
Clouds had formed overhead as I made my way from the subway to the western part of downtown Manhattan. By the time I entered the Borough of Manhattan Community College Performing Arts Center [aka BMCC PAC] a light rainfall had already begun. I picked up my ticket and was escorted to a seat shortly before two of the three Tribeca Film Festival founders, Jane Rosenthal and Robert De Niro, and filmmaker Liz Garbus came out onto the stage to introduce the film.
The gist of the introduction was that real journalism and truth-telling free speech are under attack. Not just by the Trump Administration, but by changing technologies and economics as well. The first segment of the film followed the reporters inside the New York Times in NYC and in Washington, D.C. during roughly the first three months of the Trummp presidency.
CLICK here to read the rest of our report on the Tribeca Film Festival premiere of The Fourth Estate film documentary about the NY Times coverage of Donald Trump.
---
Upper East Side French Restaurants – Café D'Alsace
Casual Dining at French Restaurant on the Upper East Side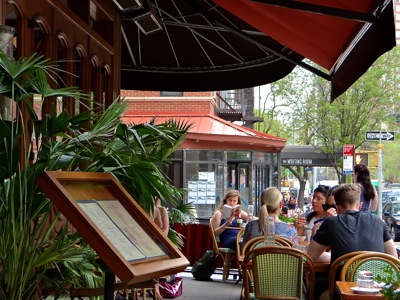 May 7, 2018 / Upper East Side Neighborhood / Upper East Side Restaurants / Manhattan Buzz NYC.
It was a warm pleasant May afternoon as I strolled into the Café D'Alsace on the Upper East Side. We'd planned to dine elsewhere, but the outdoor seating looked so inviting that we decided for a change of plans.
Formerly Elaine's Restaurant on the Upper East Side
The Café D'Alsace is located in what was once a kind of well known Upper East Side restaurant of the 1980's and 1990's – Elaines. Café D'Alsace is located at the corner of 88th and Second Avenue, just two blocks from the 86th Street stop off the Q line and the Second Avenue stop off the 86th Street crosstown bus – so it's a fairly convenient location to meet friends.
Today I was meeting a retired graphic artist, who spends his time managing some of his and his wife's business interests and their teenage kids' busy schedules. We took a spot outside to enjoy one of the first really nice days of 2018. The waiter appeared promptly and we began perusing the menu.
Cafe D'Alsace French Restaurant on the Upper East Side Manhattan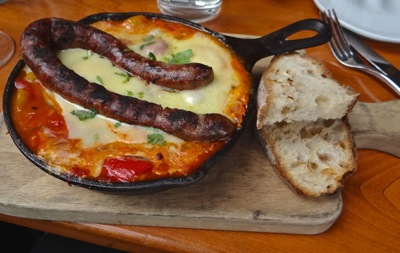 They included a prix fixe menu, offering three courses for $29. It included their Merguez Shakshuka, which I found to be of great interest. Nonetheless I began surveying the rest of the menu, adding up a combination or two of the other entrees, before I decided to give the Merguez Shakshuka a royal try. I also received the Soup of the Day, which was potato leek, and for dessert I went with the Molten Hazelnut Chocolate Gateaux. My dining companion wasn't in a very venturesome spirit today, and he settled on the Burger D'Alsace, preceded by the Winter Salad.
The conversation turned to some of the business ventures in which the artist and his wife are involved. It seems things are going reasonably well at the moment, and based on the conversation, it seemed they were expected to continue.
I have the rest of the story written, but I need to convert it to web format and add photos which I'll do Tuesday. Stay tuned.
---
5 Boro Bike Ride Returns Sunday
Bike New York Organizes NYC Bike Ride & Bike Expo New York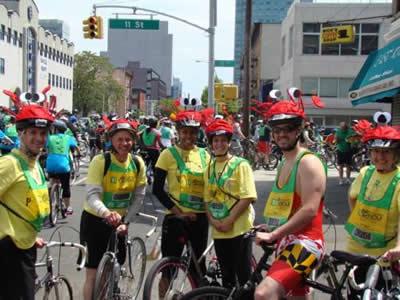 April 30, 2018 / Manhattan Neighborhoods / Bronx Neighborhoods / Queens Neighborhoods / Brooklyn Neighborhoods / Staten Island Neighborhoods / Gotham Buzz NYC.
This story includes information about the upcoming 5 Boro Bike Ride on Sunday, as well as the Bike Expo New York which precedes it on Friday & Saturday in Red Hook. As of this report, the temperatures are expected to be in the 60's and the chances of rain appear slim. But bear in mind that the forecast probability of 20% chance of rain last Friday, turned into rain on Saturday evening, so check the weather as we get closer in.
Bike New York 5 Boro Bike Ride Route
Since 1977, every first Sunday of May, Bike New York has organized and promoted the 5 Boro Bike Ride. The ride begins in lower Manhattan, sweeps northward across the Harlem River Bridge to the Bronx, circles back across the Third Avenue Bridge to Manhattan, where it begins its southward trek crossing the Queensboro Bridge into Queens, heading south to Brooklyn after a quick stop north to Astoria Park, and then comes down past the Brooklyn Navy Yards, continuing southward along the west side of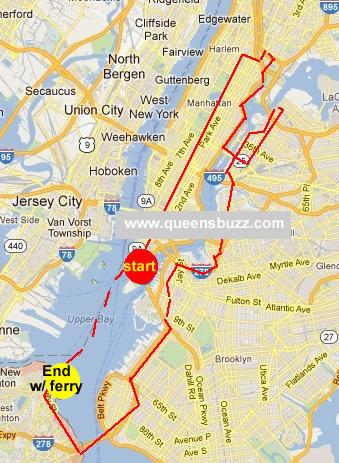 Brooklyn, to the Verrazano Narrows Bridge where it crosses over to the Fort Wadsworth neighborhood in Staten Island before terminating in the St. George neighborhood at the Staten Island Ferry.
Proceeds from Non-Profit New York Bike Ride go Toward Sustainable Transportation Efforts
The now famous bike ride was capped at 32,000 riders I believe sometime in the 1990's, where it still stands today. One report noted that the 5 Boro Bike ride is one of – if not the largest - non-profit bike rides in the nation. The proceeds go to Bike New York programs which are designed to teach people about sustainable transportation, most notably bicycle riding and bike maintenance and safety. Another report noted that the NYPD had considered [don't know the outcome] charging the organization $1 million for erecting, maintaining and terminating road closures during the New York 40 mile family-friendly bike ride.
Bike New York Bicyclist Outreach in all Five NYC Boroughs
Bike New York has offices in all five NYC boroughs. In 2015 their cyclist safety and bike maintenance programs reached 15,000 New Yorkers. And they are the organizers of the Bike Expo New York being held at Pier 12 in Brooklyn on Friday and Saturday [see details in rest of this story].
---
NY Real Estate Expo
NYC Professionals Discuss Manhattan & NYC Metro Real Estate
April 23, 2018 / Midtown Neighborhood Manhattan / Manhattan Real Estate NYC / Manhattan Buzz NYC.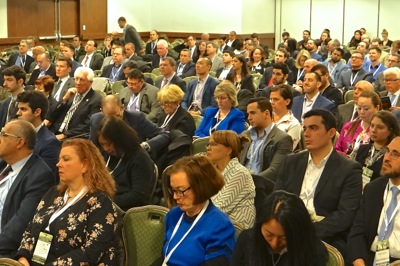 I attended the 10th annual NY Real Estate Expo at the New York Hilton last week. The event was well attended by hundreds of real estate, development and financial professionals from the NYC and metro area. Anthony Kazazis, Director of the event, had organized a series of panels to discuss key aspects affecting the real estate market ranging from software platforms, to financing, to NYC real estate market assessments.
Generally the mood was upbeat, but not without some concern about the future, given changes in the tax laws, foreign interest in NYC investment, interest rates forecasts and technological challenges facing the industry. But, I thought, that is why everyone is here. To find out what's going on so they can navigate the market changes - rather than be surprised by them.
While I had intended to stay only a short while, I found the topics and panelists too interesting to leave, so I stayed most of the day. I started with a discussion of a new information technology platform called Blockchain, which is intended to serve as an information clearing house, and it includes some artificial intelligence capability. I then found my way into a discussion about New York City versus Silicon Valley with respect to attracting large technology companies like Amazon, Facebook and Google. And I ended my visit after listening in on a discussion by NYC and metro area realtors discuss the residential real estate market in Manhattan and outer boroughs.
Sound like an interesting NYC real estate conference? It was. In the photo above you can see the audience at the well attended panel discussions at the NY Real Estate Expo this year.
I'll have more on this later in the week.
---

---
TBD
Click here for things to do on the Upper East Side and fpr Contacts lens & eyeglasses in Jamaica. Midtown Dentists and Midtown Chiropractors, and Islam Fashion NYC.
---

---
test
---
test

---
test

---
test

---
test

---
test - add 1387 to rst
Queens Library lawsuit and Queens Brooklyn tile stores near Williamsburg.

---
Farmers Markets & Street Fairs in Manhattan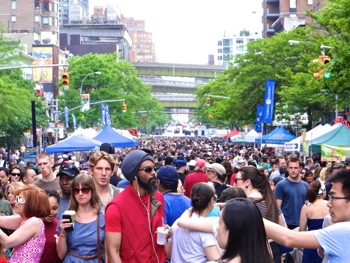 March 25, 2019 / Manhattan Farmers Markets / Manhattan Street Fairs / Manhattan Buzz NYC.
Many Manhattan farmers markets are open year round, but there are also a number of them that are seasonal. Some of the seasonal Manhattan farmers markets begin opening in the Spring, with nearly all of the rest of them opening no later than the first two of weeks in July. Click here to view the schedules of many of the farmers markets in Manhattan.
Manhattan street fairs are entirely seasonal, with some of them hitting the streets as early as late March. Manhattan street fairs rise markedly during the spring and lighten up a bit during the dog days of summer [July / August], and rising again in the fall. By the end of November most of the Manhattan street fairs go on hiatus. Click here to view a full schedule of Manhattan street fairs. Click here for Bronx street fairs.
---

---
test
Click here for Jackson Heights realtors.
---

---
The Penninsula Hotel in Manhattan
Luxury Historic Hotels in Manhattan Midtown NYC
January 8, 2018 / Manhattan Neighborhoods / Midtown Manhattan / Luxury Hotels Manhattan Historic Hotels / Manhattan Buzz NYC.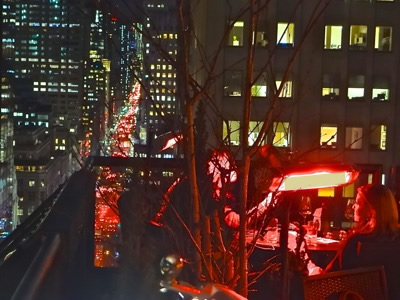 Over the holidays I had an opportunity to visit one of the finest luxury historic hotels in Manhattan - the Penninsula Hotel. The Penninsula Hotel is part of a world renowned hotel franchise dating back to the mid 1800's in Asia. The first Penninsual Hotel was built in 1928 in Hong Kong, which is where I had my first encounter with their old world hospitality and elegance many years ago.
Historic Gotham Hotel is now the Penninsula Hotel
The Penninsula Hotel Manhattan was first built at the corner of 55th Street and 5th Avenue in 1905 as the Gotham Hotel. It's a beaux artes structure that suffered over eighty years of ill-fated turnovers, before being acquired by the Penninsula Hotel Group in 1988. Today the hotel is noted as one of the finest in Manhattan.
I entered the lobby off of 55th Street. There's a staircase leading up to the lobby off to the right and the Clements restaurant off to the left. Just off the hotel lobby is Gotham Bar, in a hail back to the hotel origins, which overlooks 55th Street off 5th Avenue.
The Clements restaurant is an elegantly appointed restaurant that was, for a short time in the latter half of the 20th century, the American location of Maxime's of Paris. The restaurant is adjacent to another bar designed to accommodate restaurant patrons while waiting for their guests.
Rooftop Bars in Manhattan Midtown NYC
We chose to spend our time on the rooftop of the Penninsula Hotel, as it has a nice view of the Midtown rooftops, as well as some looking south on 5th Avenue. It was a balmy winter day - about 60 degrees - and with the heaters out it was very comfortable. The rooftop bar is primarily for drinks - and for those who smoke - provides one of the few locales left in Manhattan where one can actually enjoy a cigar or cigarette while have a drink with friends.
Prices aren't cheap, as one might expect. Bottles of wine run from about $90 on up and cigars run in the neighborhood of $40 on up [I'm doing this by memory which may not be 100% accurate, but directionally close]. Anyhow it was a beautiful locale, the service was very good and the company was great.
But alas, all good things must come to and end, and after finishing our cigars and wine, we bid adieu or rather Tiajian 再见.
---

---
test
---