---
Free Things To Do Manhattan NYC - Free Summer Concerts Manhattan Upper East Side UES Upper West Side UWS Midtown West Village East Village Soho Tribec
NYC Free Summer Concerts Manhattan 2022
NYC Free Things To Do - Free Summer Concerts On the Upper East Side UES, Upper West Side UWS, Midtown, West & East Village, SoHo & Tribeca in Manhattan
July 27, 2022 / Manhattan Neighborhoods / Live Music & Free Concerts Manhattan / Manhattan Things To Do / Manhattan Buzz NYC.
Editor's Note - We will be adding a few more concerts between now and the end of September. So check back periodically for updates which you can note by the date changing above.
Summer is in full swing. A number of community groups in collaboration with the NYC Parks Department and frequently some measure of government funding, have put together a summer full of films and free summer concerts in the parks. The free concerts listed below are designed for young and old alike and they're FREE.
SummerStage Concerts in Manhattan. Click here to view our report showing the paid & free SummerStage concerts in Manhattan.
Foreign Films / Free Movies in the Park Manhattan. Click here to view our report on free movies in the park - summer movies in Manhattan, Upper East Side UES, Upper West Side UWS, Midtown, West & East Village, SoHo & Tribeca.
Theater in the Park Manhattan. Click here to view our report on free Shakespeare in the park - summer theater in Manhattan, Upper East Side UES, Upper West Side UWS, Midtown, West & East Village, SoHo & Tribeca this summer.
Current Manhattan Things To Do. Click here to view a listing of current Manhattan things to do or click here to view our member submitted Manhattan events calendar.
---
Panorama Music Fest on Randalls Island
Three Day Musical Festival Strikes a Grammy Chord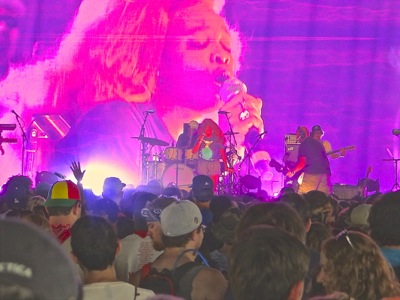 July 25, 2017 / Randall's Island Manhattan / Music in Manhattan / Manhattan Buzz.
I attended the Panorama Music Festival on Randall's Island this past weekend. The music festival featured dozens of top and second tier bands and musicians with the event starting Friday and ending Sunday night. Some of the music festival headliners included award winning groups like Kendrick, Alabama Shakes and the return of LCD after a ten year hiatus. Panorama also featured a number of other highly regarded, well known groups - many of which are likely to continue gaining recognition.
In the photo at right, vocalist Sza, is performing in the Pavilion at the Panorama Music Festival on Randalls Island on Sunday.
The weather over weekend was a very seasonal hot, with temperatures hitting nearly 100 on Saturday [high 98], before descending into the low 90's on Sunday. But the island breeze coming across the East River on Randall's Island and not-too-high humidity, made strolling around the event campus not only doable, but enjoyable. There was also a public water station where you could refill your water bottle [free] and there was ample shade within the tree filled park.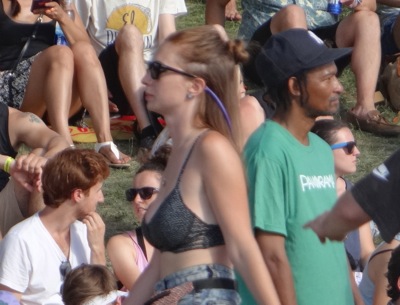 The crowd dressed for Panorama to beat the heat, more than anything else. This translated into a near beach-like scene for people-watching, with many youthful men and women enjoying the glow of their Adonis-like years. In 1992 there was a gender equality lawsuit, which contested women's right to go topless without being arrested - a right men enjoyed in this country since its founding. More than a decade later, in 2015, panhandlers in Times Square began asserting that right by painting their bare breasts with American flags and other designs, while soliciting tips from resident and tourist passers-by, for the pleasure of viewing them. These 'performance artists' were nicknamed the 'Desnudas'.
NYS and NYC Government officials found a way to reign in this practice - as it was creating quite a stir - by confining the solicitations to specified areas within the Times Square Plaza. Fast forward to 2016 and things continue to evolve, with women now wearing swimsuit / lingerie-like tops as fashion statements, some of which were on display at the Panorama Music Festival.
In the photo at right, a woman sports a fashionable swimsuit / lingerie-like top, at the Panorama Music Festival on Randall's Island.
We'll have a bit more later this summer, including video and a discussion of some of the art on exhibit at the Panorama Music Festival on Randall's Island in NYC.
---
Charlie Parker Jazz Festival
Charlie Parker Jazz Festival
SummerStage Jazz Festival In The East Village & Harlem
September 1, 2015 / East Village Neighborhood / Live Music Manhattan / Manhattan Buzz.
I attended the 23rd annual Charlie Parker Jazz Festival at Tompkins Square in the East Village. The Charlie Parker Jazz Festival is shared between Harlem and the East Village – two neighborhoods once frequented by Charlie Parker.
The jazz festival began in 1992 through the efforts of the City Parks Foundation, which, among other things, also organizes the SummerStage concerts at various parks in all five boroughs throughout New York City. SummerStage is the largest free concert organization in the nation.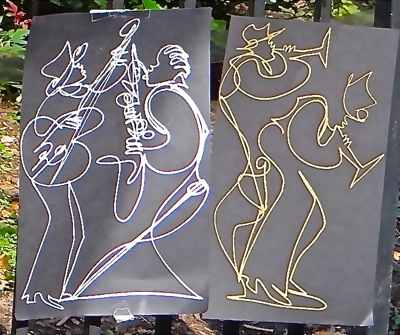 Charlie Parker, along with Louis Armstrong, is considered one of the top jazz musicians of all time. Louis was a trumpeter who traveled the world, while Charlie was a saxophonist who primarily played in Harlem.
Charlie Parker was born on August 29, 1920 in Kansas. He played sax in Kansas and nearby Missouri towns until leaving the stix to play in Chicago. Eventually he moved to New York and became a regular on the Harlem and New York City jazz and blues scene at a time when it was acoustically flourishing. Louis Armstrong, Dizzy Gillespie, Count Basie, Ella Fitzgerald, Billie Holliday and Charles Mingus were all on the scene.
Charlie spent the latter years of his life as a resident in the East Village. He would frequently go uptown to Harlem to play. Charlie had a heroin and alcohol problem which lead to his early demise at the age of 34.
The picture to your right was created by SirShadow.com whose art I found along the wrought iron frences of Tompkins Square Park during the concert.
Click here to read the rest of our report including photos and a short video of the Charlie Parker Jazz Festival in Tompkins Square in the East Village neighborhood in August of 2015.
---
Charlie Parker Jazz Festival East Village
Thousands Attend Laid Back Jazz Festival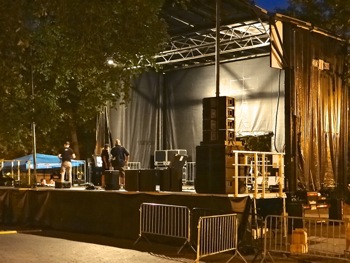 August 25, 2014 / Live Music in Manhattan / Midtown Buzz. The 22nd annual Charlie Parker Jazz Festival took place this weekend. It began on Friday with a lecture at the New School in the Village, moved up to Marcus Garvey Park in Harlem on Saturday and then down to Tompkins Square in the East Village on Sunday.
I headed into the East Village Sunday early evening around closing time for the concert. There had been four jazz performances given beginning at 3 pm and running until a bit after 7 pm. The performers included pianist Kenny Barron, drummer Cindy Blackman Santana, saxaphonist Craig Handy with 2nd Line Smith and singer Brianna Thomas.
There was seating on the lawn, in the plaza in the center of the park and on the benches lining the walks. But for many it was a standing room only event. The weather was nearly perfect, with temperatures in the 70's and cloudy but dry. Thousands attended the free concerts which were sponsored by the City Parks Foundation which also organizes Summer Stage.
The weekend jazz festival commemorates the memory and contributions to jazz made by Charlie Parker. It takes place on the weekend nearest his birthday [August 29, 1920]. Parker was a jazz saxaphonist who was an innovator who experimented with chords, melodies, tempos and transitions, like an artist playing with colors and paints. He is one of the fathers of modern jazz and he died at the very young age of 35 of various health conditions.
---
Lincoln Center Out Of Doors Ends
Free Summer Music Events Featured Depth & Breadth Of Talented Artists
August 11, 2016 / UWS Upper West Side Neighborhood / Things To Do UWS / Midtown Buzz. On August 2nd, I ventured over to Lincoln Center in the early evening. There were a number of people sitting along the fountain, resplendent in its cool wetness, enjoying a warm August day [see photo to right].
I headed into the plaza and veered off to the right into Hearst Plaza. I found an audience of several dozen, relaxing and waiting patiently as Lincoln Center Outdoors was setting up for the evening performance. There were three groups scheduled to perform: The Devil Makes Three, Old 97's and John Fullbright. In the photo below right, you can see the stage being prepared for the Lincoln Center Outdoors performances.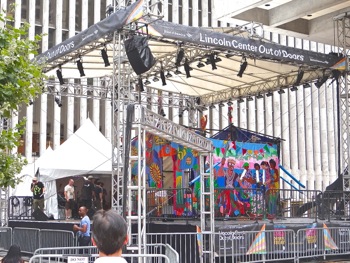 For about a month, in the depths of summer, Lincoln Center Outdoors provides free musical entertainment at various venues throughout Lincoln Center in the afternoon and evening. The exact dates this year spanned Sunday, July 20th and ended this past weekend on Sunday, August 10th.
The venues include Damrosch Park which is off to the left behind the New York City Ballet Theater, Hearst Plaza - the location of which is described above, the Elinor Bunin Munroe Film Center along 65th Street, the David Rubenstein Atrium between 62nd & 63rd Streets on Broadway, the Walter Reade Theatre [also along 65th Street just west of the Julliard School], and Josie Robertson Plaza, which is the main plaza with the fountain surrounded by the New York City Ballet Theatre, the Metropolitan Opera House and the Avery Fisher Concert Hall.
In the photo on your left is the Josie Robertson Plaza at Lincoln Center.
---
July Jazz In MoMA Garden Ends On Solid Note
July 27, 2014 / Midtown Neighborhood / Things To Do In Midtown / Midtown Buzz. It was about as perfect an evening as one could expect in late July in Midtown Manhattan as the last July Jazz in the MoMA Garden took place.
The temperature was in the 80's and while it was a bit humid, it wasn't that dripping wet humid one expects to find this time of year. The performance was well attended with hundreds, approaching a thousand, showed to listen and relax to some well played jazz tunes.
Tonight the Helen Sung Quintet performed. Helen is a composer and pianist and she was accompanied by Donald Edwards on the drums, Fund Chern Hwei playing the violin, bassist Harish Raghavan and Seamus Blake on the saxaphone.
If you've never been to a Summer Garden Jazz Performance at MoMA be advised that you enter through the 54th Street garden entrance which is rarely used [mostly for garden-only events such as this]. The doors open at 7 pm and the performance begins at 8 pm. They sell beverages and snacks in the garden.
---
Asia Society - Upper East Manhattan NYC
The Asia Society NYC - Bora Yoon Performance
Acoustic Marvel Bora Yoon Performs At Asia Society
April 23, 2014 / Upper East Side Neighborhood / Live Music NYC / Things To Do Manhattan / Midtown Buzz. I had an opportunity to attend the CD Release Party for Bora Yoon at the Asia Society on Manhattan's Upper East Side. I arrived a bit early to meet with April, her publicist, for a quick briefing. I also took a bit of time to look around the Asia Society which has an indoor courtyard, galleries and the theater. The Asia Society hosts art and cultural exhibits and cultural performances on the Upper East Side of Manhattan.
I found a spot in the theater after chatting briefly with the Asia Society sound man and settled in before the performance began. The lights dimmed. The theater grew quiet. And Bora Yoon's voice came in clearly, etherially and angelically filling the theatrical space with a heavenly aria. I could barely see her coming from the back of the theater, as she moved slowly and deliberately from the top of the stairs of the sunken. Her movements were quiet and gentle, and her voice soothing.
The artistic performance of Bora Yoon's Sunken Cathedral had begun.
Click here to read more about the artistic acoustical performance of Bora Yoon at the Asia Society on the Upper East Side of Manhattan. And click here to read a story about the Queens Library lawsuit.
---
---
Midtown / UES / UWS - Manhattan NYC
Click here to go to the Arts & Culture section of this site.
Click these links for promotions by advertisers in Manhattan.
Click this link to go to the Midtown Neighborhood.
---
Site Search Tips. 1) For best results, when typing in more than one word, use quotation marks - eg "Midtown Neighborhood". 2) Also try either singular or plural words when searching for a specific item such as "gym" or "gyms".
Click this link to search for something in our Manhattan Business Directory which will soon contain hundreds of listings.
---
---
Click the log in link below to create an ID and post an opinion.
Or send this story to a friend by filling in the appropriate box below.
---
---
Midtown NYC Related Links
Click for Manhattan Restaurants NYC
Click for Manhattan NeighborhoodS NYC
Click for Manhattan Things To DO NYC
Click for Gramercy Park Restaurants NYC
Click for Manhattan Hotels NYC
Click for New Years Parties & Restaurants NYC
Click for Manhattan Furniture Stores NYC
Click for Manhattan Street Fairs NYC
Click for Manhattan Professional Services NYC
Click for Manhattan Farmers Markets NYC
---