---
Tribeca Film Festival - Ellen Kuras at SVA Theater Chelsea
The Tribeca Film Festival & Cinematography
Cinematographer Ellen Kuras Talks about the Cinematic Arts
May 8, 2017 / Tribeca Neighborhood & Chelsea Neighborhood / Film in Manhattan / Manhattan Buzz NYC.
I attended the 16th Annual Tribeca Film Festival, which ran from April 19th through April 30th this year. Last year I visited and reported on some of the interactive storytelling exhibits, so this year I decided to attend one of the lectures. The one I chose, was given by Cinematographer and Director Ellen Kuras, who talked about the cinematic arts.
After picking up my press pass at the Tribeca Film Festival hub at Spring Studios, I took the subway uptown to the School of Visual Arts in Chelsea on West 23rd Street. There was a line beginning to form, as the event was free to the public. My press pass didn't provide me with any advantage vis a vis the general public, so I waited along with many of the early attendees who wanted to be sure not to miss the lecture.
Tribeca Film Festival Lecture: Ellen Kuras - Cinematographer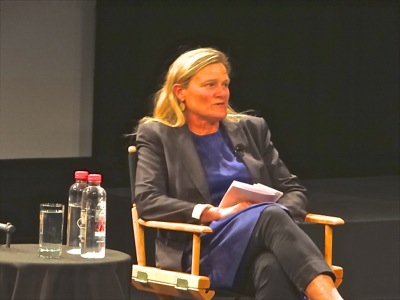 Once inside the theater filled quickly. Ellen Kuras came out and took a seat on the stage. Kuras has a disarming demeanor and it wouldn't have been difficult for me to believe that I was sitting there with her alone, with nobody else in the room.
Ellen Kuras is an accomplished Cinematographer and has a bit of her own story to tell … which she did, but which I also researched online after the lecture, because her personal story caught my interest.
Kuras Education & Directorial Debut
Kuras studied Anthropology & Semiotics in college at Brown University. Anthropology is the study of man from a cultural, institutional and normative perspective, while semiotics is the study of communication, specifically focusing on communicating meaning through allegories, symbolism, metaphor, analogies and other methods. After college Ellen went on to study photography at the Rhode Island School of Design and filmmaking in New York.
Kuras started her career working on a film about a Laotian who had immigrated to New York, after fleeing war torn Laos in the 1970's. It's a narrative with flashbacks that mix historic footage in with the narrative, providing the film with dramatic realism and moving force. Kuras began the film around 1985, but would not finish it until 2008.
Kuras' Worked with Spike Lee, Martin Scorsese, Christine Vachon, Julian Schnabel & Many Other Top Names in the Film Making Industry
Ellen's career includes numerous collaborations with Spike Lee, Martin Scorsese, Christine Vachon Julian Schnabel and many others. She's a member of the contemporary film making avant-garde, pushing the envelope to bring real or important artistically told stories about contemporary issues - alive.
Click here to read more about Ellen Kuras at the Tribeca Film Festival talking about the art of cinematography.
---
NY Peace Film Festival
Trying to Bring the Planet to its Senses … One Film at a Time
March 20, 2017 / Upper East Side Neighborhood UES / Cinema & Film in Manhattan / Manhattan Buzz NYC.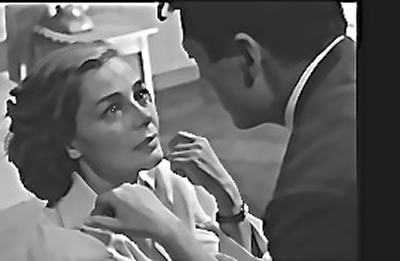 I attended the 10th annual Peace Film Festival in Manhattan this past weekend. The two day event was held at the All Souls Unitarian Church on Lexington Avenue at 80th Street on the Upper East Side. The festival included about a dozen films covering issues, events and people from around the world, including Africa, the Middle East, the Far East, Latin America and California.
The photo at right is a still from a movie about a lovers relationship between a western woman and a Japanese man in Hiroshima around the time of the dropping of the nuclear bomb.
NY Peace Film Festival History in NYC
I had an opportunity to talk to one of the NY Peace Film Festival co-founders, Yumi Tanaka who provided me with a brief history. The festival began in 2007 when Yumi and co-founder Jonathan Fluck [and a mutual friend who dropped out after the first year] decided to put together a cultural event to showcase conflicts in a multi-dimensional cultural event. Yumi is a standup comedian, their mutual friend had a theatrical background and Jonathan is a social activist, so together they assembled an ensemble that included film, dance, music and poetry in the first year [2007]. The event was held at the Tenri Shinto Church off Union Square.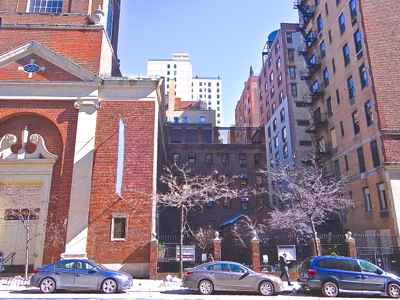 The next year Yumi and Jonathan morphed the event into a film festival to enable them to better manage it, as live performance requires considerable additional time, rehearsal space and the like, while film followed by live or Skyped talks made the festival more manageable. A few years ago the festival relocated to the All Souls Unitarian Church on the Upper East Side where they were this weekend.
When I arrived the church was closed, but there's an entrance a bit south of the main entrance to the church, leading into meeting facilities [see photo at right]. Tickets were a very reasonable $12 and were good for the day and multiple films. The audience was comprised of an eclectic set of New Yorkers, including artists and film enthusiasts and social activists.
Click here to read the rest of our report about the NY Peace Film Festival in NYC including film photos and some discussion about them.
---
Tribeca Film Festival NYC
Tribeca Film Festival & 21st Century Storytelling
Film Festival Explores the Science & Technology of Entertainment
April 17, 2016 / Tribeca Neighborhood / Manhattan Film / ManhattanBuzz.nyc.
I spent a Sunday afternoon at Spring Studios in Tribeca, attending the Tribeca Film Festival. The festival was founded by Robert de Niro, Jane Rosenthal and Craig Hatkoff in 2002, in part to bring people back to the Tribeca neighborhood in the wake of the 911 tragedy in the Fall of 2001.
Through the years the Tribeca Film Festival has grown in size and stature, and over the past few years, has begun to introduce, if not fully embrace, the new, rapidly-evolving technologies being used to advance storytelling.
Spring Studios - Hub of Tribeca Film Fest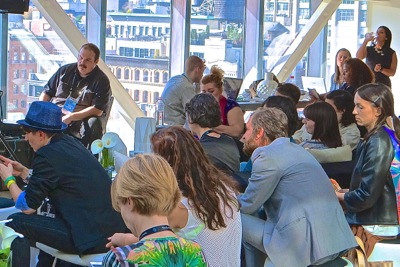 The hub of the Tribeca Film Festival continues to be at Spring Studios in Tribeca. Spring Studios is a sparkling new, spanking clean facility that was completed in the summer of 2013, and first put into use in the Fall of that year. Spring Studios is home to five studios, a rooftop patio, a gallery, a mezzanine and a cinema theater. Spring Studios overlooks the Holland Tunnel, and has entrances on Varick Street and exits on St. John's Lane.
The Tribeca Film Festival was hosted at eight venues throughout New York City, including one in Queens at PS1 MoMa in Long Island City and the hub at Spring Studios in Tribeca. The film viewing venues and addresses include: 1) Regal Cinemas Battery Park Stadium 11 at 102 North End Ave [btwn Vesey & Murray St], 2) BMCC Tribeca PAC at 199 Chambers Street [btwn Greenwich & West St], 3) SpringStudios at 50 Varick St, 4) New York Academy of Art at 111 Franklin St [btwn West Broadway & Church St], 5) Tribeca Film Center at 375 Greenwich St on 2nd Flr [btwn N. Moore & Franklin St], 6) Bow Tie Cinemas Chelsea 9 at 260 West 23rd Street [btwn 7th & 8th Aves], 7) SVA Theatre at 333 West 23rd Street [btwn 8th & 9th Aves], and 8) MoMA PS1 at 22-25 Jackson Avenue in Queens.
Click here to read the rest of our report on the Tribeca Film Festival.
---
Architectural Digest Design Show
Provides Vignettes of Living Lovely at Piers 92 & 94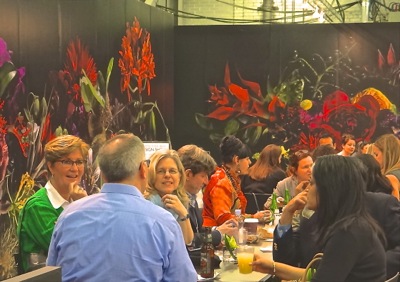 March 21, 2016 / Midtown West Neighborhood / Upper West Side Neighborhood / Fashion & Film Manhattan / Manhattan Buzz.
I attended the Architectural Digest Design Show on Piers 92 & 94 on Thursday afternoon. The show ran through last weekend, providing the public with an opportunity to see the latest and greatest in urban living design and technology.
The show spanned both Piers and included sections dedicated to kitchen, bath, living and dining areas of the home and with a little imagination, possibly the office as well.
The show was well attended by designers, manufacturers, the media, salespeople, buyers and browsers. And the mood seemed buoyant.
Click here to read the rest of our report on the Architectural Digest Design Show incuding the DIFFA on Pier 92.
---
Yorkville Nutcracker at Kaye Theater Upper East Side
The Yorkville Nutcracker at the Kaye Theater
Blend of Beauty & Grace at an Enthralling Pace
December 12, 2015 / Upper East Side Neighborhood / Manhattan Dance & Theater NYC / Gotham Buzz.
I just returned from a magical trip into an imaginary wonderland of dance. There's an afterglow one gets from performances such as this, which challenge a writer's ability to convey the feeling, that's nearly indescribable, along the lines of love …
But that said I'll give it a try. And if not successful, you'll get a second chance as I captured some of the performance on video. And given that a picture says a thousand words, then video must be good for at least as many words.
It was a near balmy evening as I made my way to the Kaye Theater on 68th Street between Park and Lex on the Upper East Side. The Yorkville Nutcracker was to begin at 7 pm and I arrived with just enough time to pick up my ticket and make my way up to the balcony. The Kaye Theater is fairly spacious theater (in as far as Manhattan theaters go) and well kept, seating well over 500 people for each performance.
It wasn't long before the lights dimmed, and the curtain rose, and the performance of The Yorkville Nutcracker at the Kaye Theater on the Upper East Side began.
---
Midoma – Where Hollywood Has Its Hair Done
Fashion, Fine Art, Fotos & Fun at European Style Hair Salon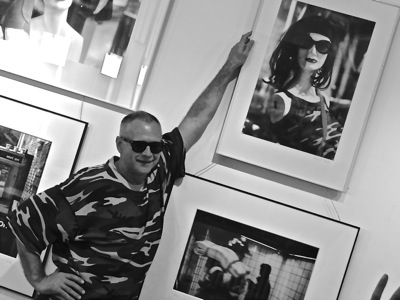 September 21, 2015 / Midtown Manhattan / Manhattan Shopping / Fashion Facts N' Fun Fiction / Gotham Buzz.
It's not often that one gets to view fine art, have their hair done by a talented European hair stylist, pick up a few fashion tips and walk out feeling like they've just returned from Europe. And that is precisely why Midoma is increasingly becoming a not-so-well-kept-secret.
And so it was, one evening in late August, that I journeyed southwest of Times Square into the northern perimter of the Fashion District to view the works of photographer Greg Stowell at the Midoma Hair Salon in Midtown West.
Photographer Stowell's disarming demeanor – "awe, shucks, you're not talking about me are you" - reminded me of Chauncey Gardener's quiet ascent into the nation's rarified political circles, through disarming humility and simplicty, in the movie 'Being There'.
More to come later this week. That's photographer Greg Stowell, standing next to his empty-headed ex.
---
Fashion Week Manhattan NYC
Beauty & Style on the Runway At Couture Fashion Week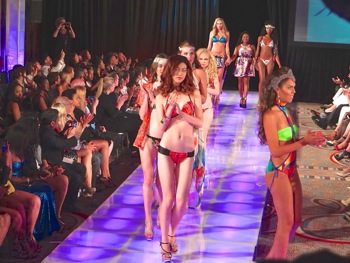 September 8, 2014 / NYC Fashion Manhattan / Midtown Neighborhood / Midtown Buzz. I attended a bathing suit and bridal gown runway show at Couture Fashion Week at the Crowne Plaza Sunday evening. It was one of many fashion programs going on around NYC during NYC Fashion Week.
The runway show was held on the fourth floor in the Crowne Plaza located at Broadway between 48th and 49th Streets near Times Square. About a half dozen designers were featured in the show which included a beautiful vocal performance by Maryann Connolly and a dance performance by Battle For Your Life Tour Dancers and In Da Clutch and the Hood Lockers.
The show was fully attended with a standing room only crowd. And it was a visual feast of the voluptuous vogue. In the photo at right are the models coming out for a bow at the end of the Maty Machado Swimwear segment of the show.
---
Fashion Week In Manhattan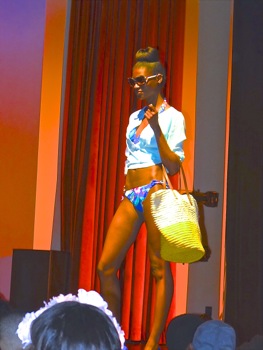 September 2, 2014 / Midtown Buzz. The summer has unofficially ended, school has started and Fall Fashion Week has arrived in NYC. There will be fashion events all over the city beginning Wednesday and running until Thursday September 11th.
New York Fashion Week is a collection of many independent events, but the showcase venue is at Lincoln Center where the Mercedes Benz Fashion Week occurs. The Mercedes Benz Fashion Week moved to Lincoln Center from Bryant Park in 2010. It had been held in tents in Bryant Park beginning in 1994.
So look around you this week at what folks are wearing. Temperatures will be in the mid to low 80's and the lows will be in the 60's, so you're not likely to see many fur coats.
Events start mid morning and run into the evening. You can buy tickets at mbfashionweek.com or by searching for the designers you wish to see. Several of them have begun to branch out onto their own, sponsoring their own events.
There will also be a number of parties and social gatherings. So wear your best for Manhattan's fashionista fest. Enjoy.
---
Midtown / UES / UWS - Manhattan NYC
Click here to go to the Arts & Culture section of this site.
Click these links for promotions by advertisers in Manhattan.
Click this link to go to the Midtown Neighborhood.
---
Site Search Tips. 1) For best results, when typing in more than one word, use quotation marks - eg "Midtown Neighborhood". 2) Also try either singular or plural words when searching for a specific item such as "gym" or "gyms".
Click this link to search for something in our Manhattan Business Directory which will soon contain hundreds of listings.
---
Click the log in link below to create an ID and post an opinion. Or send this story to a friend by filling in the appropriate box below.
---
---
---
Click the log in link below to create an ID and post an opinion.
Or send this story to a friend by filling in the appropriate box below.
---
---
Midtown NYC Related Links
Click for Manhattan Restaurants NYC
Click for Manhattan NeighborhoodS NYC
Click for Manhattan Things To DO NYC
Click for Gramercy Park Restaurants NYC
Click for Manhattan Hotels NYC
Click for New Years Parties & Restaurants NYC
Click for Manhattan Furniture Stores NYC
Click for Manhattan Street Fairs NYC
Click for Manhattan Professional Services NYC
Click for Manhattan Farmers Markets NYC
---