---
March For Our Lives Manhattan 2018 - Anti Gun Protest Manhattan NYC
NYC March For Our Lives in Manhattan
Tens of Thousands Protest the NRA & Gun Violence
March 27, 2018 / Midtown Manhattan Neighborhood / Manhattan Social Issues / Manhattan Neighborhoods / News Analysis & Opinion / Manhattan Buzz NYC. By Michael Wood.
The March For Our Lives protest started at 11 am on the Upper West Side of Manhattan at 72nd Street and Central Park West. Not coincidentally, this was just steps away from the Strawberry Fields Memorial in Central Park honoring musician / poet John Lennon of the Beatles, who was murdered by a lunatic with a gun.
The March For Our Lives protests were organized and led by students around the nation, with support from a wide range of people in all other age segments of the population. Frequently the Columbine shooting in Littleton, Colorado on April 20, 1999 is cited as the first of these sorts of mass shootings in schools, although a check into mass shootings in Wikipedia, shows that America has a 200 year history of mass shootings, including some of which took place in schools before Columbine.
Fox Fake News Appears to try Discrediting Protesters with False Narrative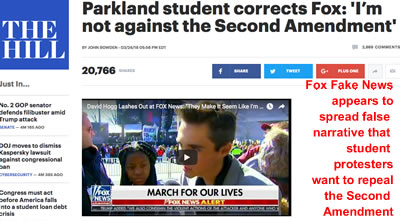 If you watch Rupert Murdoch's Fox News you might come away with the impression that the students are trying to revoke the Second Amendment. But based on conversations with some of the marchers and in reviewing other media accounts, this seems to be another Murdoch Mouthpiece Fox Fake News narrative.
But while the students and the March For Our Lives protest wasn't about repealing the Second Amendment, some members of the left, such as Bret Stephens of the NY Times did make a call for Second Amendment repeal in two editorials - one dated October 5, 2017 and the other dated February 16, 2018. Murdoch's Fox Fake News mouthpieces torch the possibility of a national conversation by misinforming their ill-informed audience that the NY Times and Op Ed writer Bret Stephens speak for everyone. What they don't realize is that the America that gets their information outside of the Murdoch Fake News FoxHole is intelligent enough, and adult enough, to have a real conversation about gun ownership and the Second Amendment.
Is the NRA Lobby Out of Control & In Control?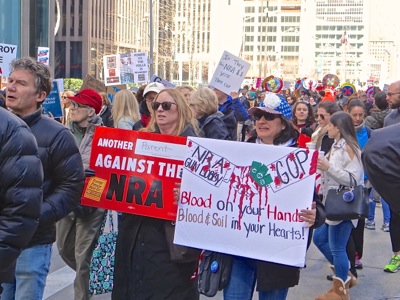 From what I could gather the students seem to have identified and coalesced around tangible changes to reigning in what appears to be an out-of-control gun lobby - the NRA. The firearms industry used bump stock technology to circumvent the unlawful possession of machine guns by providing stocks. And the gun lobby as recently as a few months ago, was pushing to 'deregulate' silencers on guns. Both of these laws - regulating machine guns and silencers - began with the National Firearms Act of 1934. At that time criminal violence by mobster gangs was the order of the day. And it appears that it's just as true today as it was back then - that if you allow guns to be put guns in the hands of lunatics, then murders and criminal violence is what you get.
A mid 2017 poll by Gallup showed that 60% of Americans were in favor of making gun control laws more strict, 33% were in favor of keeping them about the same and 5% wanted to make them less strict. The trend toward favoring more gun control has been going on since 2011 [see chart]. Apparently the politicians we send to Washington do not represent the majority so much as the NRA, and sending a swamp monster to clean up the swamp, is at best delusional. President Trump after opining that more gun control would be good, backtracked, appearing to have caved to the very powerful NRA lobby in Washington.
---
Manhattan Holiday Events - Kwanzaa, Hanukkah & Christmas Events in Manhattan NYC
Manhattan Holiday Events - Manhattan NYC
Christmas Tree Lightings, Hanukkah Menorah Lightings, & Kwanzaa Candle Lightings in Manhattan & Holiday Markets & Events NYC
December 20, 2019 updated vs 12.8.19 / Upper East Side UES / Upper West Side UWS / Midtown NYC / East Village & West Village / Tribeca SoHo Bowery / Holiday Events & Holiday Markets - Kwanzaa, Hanukkah & Christmas Holidays in Manhattan / Manhattan Buzz NYC.
Holiday lighting festivals and ceremonies have been on the rise in Manhattan in recent years. While some date back many years, some are fairly new.
Attending holiday lightings alone, with friends or with the kids gives folks a chance to enjoy their own cultural heritage and provides an opportunity to learn a bit more about and share in the cultural heritage of others.
Each lighting is a bit different, as some are orginated by the community, some by businesses, some by religious organizations, and a few have arts organizations behind them. Please feel free to send us a notice of your holiday lighting event if it's not posted herein.
ALL OF THESE ARE FREE UNLESS FEES ARE SPECIFIED.
Manhattan Holiday Events & Holiday Markets Now Underway
This is not meant to be a complete list, but rather a list of the holiday lighting events. The holiday lighting events are organized individually by each Manhattan neighborhood including the Upper East Side UES, the Upper West Side UWS, Midtown NYC, the East Village, the West Village, the Bowery, SoHo, Tribeca and more to come. Many include the serving of some beverage like hot chocolate and generally some snack like cookies.
---
De Blasio Wins 2nd Term by Landslide
Nationally Democrats Pick up New Jersey & Hold onto Virginia
November 8, 2017 / NYC Neighborhoods / NYC Politics / Gotham Buzz NYC.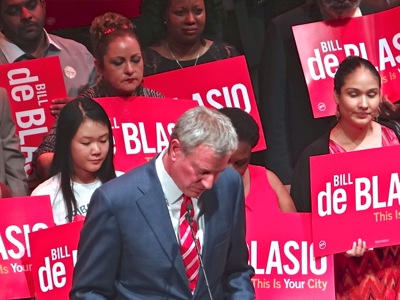 City-wide & Borough-wide Offices. Mayor de Blasio won a decisive victory against Republican challenger, Assemblywoman Nicole Malliotakis, on Tuesday by winning nearly 67% of the vote.
In fact it was a landslide for nearly all incumbent Democrats who won by comparably wide margins, including Letitia James for Public Advocate (74%), Scott Stringer for NYC Comptroller (77%), and all five Borough Presidents including Gale Brewer (Manhattan - 83%), Eric Adams (Brooklyn - 83%), Ruben Diaz (Bronx - 88%), Melinda Katz (Queens - 78%) and James Oddo (Staten Island - 75%).
Mayoral Election Results by Borough. De Blasio won four of the five boroughs by wide margins including roughly 5:1 in the Bronx, 3:1 in Manhattan and Brooklyn and approaching 2:1 in Queens. Malliotakis won her home borough of Staten Island approaching 3:1. Staten Island has a significantly smaller population than the other four boroughs as it has only between 20% and 30% the population of any of the other boroughs.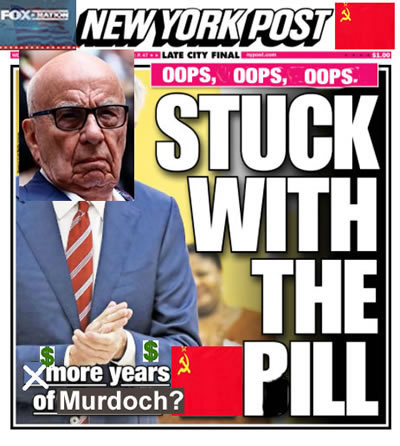 Trump Referendum & Job Performance Approval. Several pundits speculated that in a city where Democrats outnumber Republicans six to one - this was an NYC referendum on the Trump presidency. This may be so, but some mention should also be given to how well NYC is performing vis a vis other cities in terms of jobs creation, improving performance in the public schools, fiscal management and low crime rate.
New Jersey Governor Race. On the national front, newcomer Phil Murphy (D) beat Lieutenant Governor Kim Quadagno (R) in the governor race in New Jersey. Murphy received 55% of the vote while Quadagno received 43% of the vote. Murphy will replace Chris Christie (R) who has an approval rating of 19%. In exit polls, 11% said they cast their votes in support of Trump, while 32% said they cast their votes in opposition to Trump.
Results for the Three NYS Proposals on Ballot. The first Proposal - to change the NYS Constitution - lost overwhelmingly with 83% voting NO. The second Proposal - to take away pensions of some government employees found guilty of some crimes - won overwhelmingly with 73% voting YES. And the third Proposal - to allow some 'development' in public parks won in a close vote - 52% vote YES while 48% voted NO.
Virginia Governor Race. In Virginia, the latest polls were once again off significantly, predicting a tight race that wasn't. Democrat Lieutenant Governor Ralph Northam won 54% of the vote while Republican Ed Gillespie who was the former Chair of the Republican National Committee won 43% of the vote. Gillespie won the rural parts of the state, while Northam won the urban areas. Gillespie was reported to be using Trump-style campaign tactics to win the race, but from Japan, Trump distanced himself from Gillespie's loss.
We Elect Pols but Not Publishers. In the graphic at right, you can see the pill face of the unhappy Billionaire which I superimposed over the face of the Mayor. The power-hungry, media mogul's outlet had published the headline 'Stuck with the Bill' - which he published in defiance of the two-thirds of the NYC voters who came out to re-elect the Mayor. He appears to be working toward conquering the U.S. so he can make us a 'Fox Nation', like he did Australia.
We don't get to elect publishers, but every time you purchase one of his papers, or click into his TV stations or websites, you are indirectly supporting him [NY Post, Fox News, WWOR Ch9, WNYW Fox Ch5 and the WSJ]. Some of the people in his organizations do good work, but many of those he puts front and center, appear to be highly paid propagandist mouthpieces who push what appears to be his greedy, deceitful, power-grabbing agenda. The story below provides more detail.
---
NYC Marathon Streamed Thru Manhattan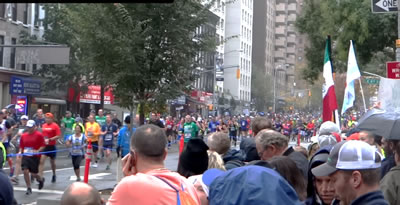 November 13, 2017 / Upper East Side Neighborhood / Manhattan Neighborhoods / Manhattan Parks & Sports / Manhattan Buzz NYC.
On Sunday, November 5th the NYC Marathon came streaming through Midtown and the Upper East Side of Manhattan.
Over 50,000 runners completed the 26 mile run from Staten Island over the Verrazano Narrows Bridge through Brooklyn and Queens. They ran north along First Avenue on the Upper East Side [see photo at right] and crossed the Willis Avenue Bridge into the Bronx and did a U-turn crossing back over the Third Avenue Bridge before coming down south along Fifth Avenue and ending in Central Park on the southwest corner of the park.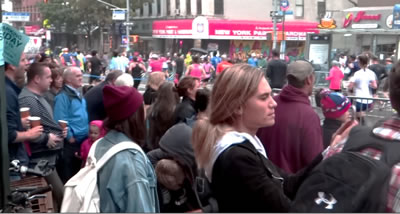 The average time it took the runners was four hours and 39 minutes. Given many had left Staten Island at times ranging from 7 to about 10 am, this put the average crossing the finish line sometime between about noon and 3 pm. Many took longer, but as we all know, they are to be applauded for their hearty endurance.
I met one man while taking the subway uptown who told me he had run many a NYC Marathon, but had injured himself while prepping for this one. Nonetheless, he had friends who were running in it and so he was going to hop in the run in the Bronx and run down to Central Park with them before hopping out again. He said that to him the NYC Marathon day was the best day in New York City.
The first NYC Marathon was run in 1970 with 55 runners in Central Park organized by Fred Lebow and Vince Chiappetta. In 1976 they expanded the course to the streets of NYC and in 2016 the NYC Marathon had grown to become the world's largest marathon with over 51,000 finishers running the five borough course.
---
NYC Mayoral Debates Fall 2017
Dietl Effervesces, Malliotakis Attacks & de Blasio Defends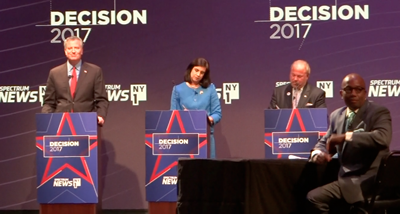 October 15, 2017 / Upper West Side Neighborhood UWS / Queens Politics NYC / News Analysis & Opinion / Gotham Buzz NYC.
I attended the Mayoral Debate at Symphony Space on Tuesday, October 10th, where former NYC Detective [1970 – 1985] and security firm businessman Bo Dietl [Independent], New York State Assemblywoman Nicole Malliotakis [Republican Staten Island] and Mayor Bill de Blasio [Democrat] squared off for one of two general election debates. The debates are sponsored by the New York Campaign Finance Board and are a requirement for those candidates who receive matching funds.
NYC Mayoral Debates - Opening Statements
Each candidate came out and made opening statements. Bo Dietl talked about his time working the streets as a policeman in the 1970's and 1980's and how since then he has run a successful security firm that also employs minorities. He described his two opponents as Column A and Column B candidates.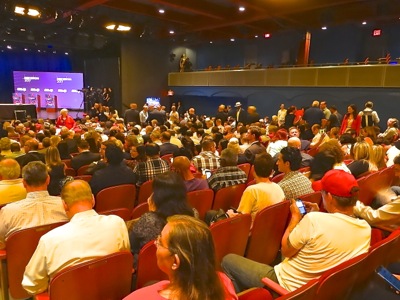 Nicole Malliotakis told us how she is the first member of her family to obtain a college degree and a Masters of Business Administration and that she is the 'American Dream'. She went on to say she would fix our schools, transit system and homelessness.
Bill de Blasio said that his two opponents were both right wing Republicans and that he was the only one that would stand up to Trump. He went on to say that crime is down, test scores at NYC public schools are up, but that there's more to do and he needs New Yorkers' help to continue making progress.
There was a small, but very boisterous minority of rude and disruptive people in the audience, who began their noisy tirades with the opening statements. It wasn't until near the end of the program – that one of [several of] the loudest shouters and screamers was finally escorted out.
Click here for a fairly full recount of the NYC Mayoral Debates with Malliotakis, Dietl & de Blasio.
---
Election 2017 Tuesday 11/7 - Please Vote
November 5, 2017 / Queens Neighborhoods / Queens Politics & Government / Queens Buzz.
The New York City general election is this week, Tuesday November 7th.
The polling booths will be open from 6 am to 9 pm Tuesday.
To find your poll location click on the graphic at right.
Once on the website, input your address, and then click the small icon to the right of it to get the results of the search. I hope the NYS Board of Elections does better cyber security on their voting systems than they do web design for this site, as the tiny arrow mentioned above is easily overlooked.
NYS Ballot Propositions - Vote Tuesday
There are three Referendums on the Ballot.
Proposal I
Calling A State Constitutional Convention
This is where it appears that all the lobbyists would re-write the NYS Constitution to favor them and their interests, and screw the general public aka you. Their argument is to streamline government, but democracy works slowly for a reason - as it takes time for the general public to become aware of issues and then to organize in time for a proper vetting. That's why our Founding Fathers included so many checks and balances in the system - to give us - We The People - time to react.
I recommend voting NO.
Proposal II
Forfeiture of Public Officer's Pension if Convicted of Felony
This is where a public official who's found guilty of a felony that violates the public trust, loses their pension. This is targeted only at a certain class of government officials - not all of them. Voting Yes, mitigates the effort to expand the scope of government officials covered. It seems an unfair application of the law and I don't know who drafted this or why they limited it.
I have no recommendation.
Proposal III
Authorizing Use of Forest Preserve Land for Specified Purposes
This is what looks like the creation of a first opening for development in the Adirondack and Catskills parks. It's not specific to any identifiable project and open ended, which looks like giving government officials / developers a blank check. Each project should be evaluated on its own merits.
I recommend voting NO.
---
Farmers Markets & Street Fairs in Manhattan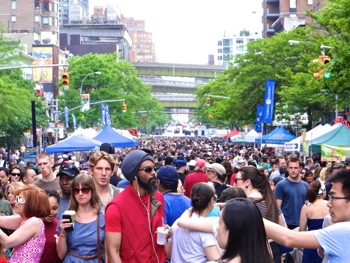 September 15, 2017 / Manhattan Farmers Markets / Manhattan Street Fairs / Manhattan Buzz NYC.
Many Manhattan farmers markets are open year round, but there are also a number of them that are seasonal. Some of the seasonal Manhattan farmers markets begin opening in the Spring, with nearly all of the rest of them opening no later than the first two of weeks in July. Click here to view the schedules of many of the farmers markets in Manhattan.
Manhattan street fairs are entirely seasonal, with some of them hitting the streets in early April. Manhattan street fairs rise markedly during the spring and lighten up a bit during the dog days of summer [July / August], and rising again in the fall. By the end of November most of the Manhattan street fairs go on hiatus. Click here to view a full schedule of Manhattan street fairs. Click here for Bronx street fairs.
---
Tribeca Film Festival - Ellen Kuras at SVA Theater Chelsea
The Tribeca Film Festival & Cinematography
Cinematographer Ellen Kuras Talks about the Cinematic Arts
May 8, 2017 / Tribeca Neighborhood & Chelsea Neighborhood / Film in Manhattan / Manhattan Buzz NYC.
I attended the 16th Annual Tribeca Film Festival, which ran from April 19th through April 30th this year. Last year I visited and reported on some of the interactive storytelling exhibits, so this year I decided to attend one of the lectures. The one I chose, was given by Cinematographer and Director Ellen Kuras, who talked about the cinematic arts.
After picking up my press pass at the Tribeca Film Festival hub at Spring Studios, I took the subway uptown to the School of Visual Arts in Chelsea on West 23rd Street. There was a line beginning to form, as the event was free to the public. My press pass didn't provide me with any advantage vis a vis the general public, so I waited along with many of the early attendees who wanted to be sure not to miss the lecture.
Tribeca Film Festival Lecture: Ellen Kuras - Cinematographer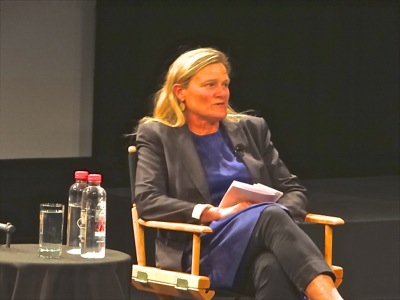 Once inside the theater filled quickly. Ellen Kuras came out and took a seat on the stage. Kuras has a disarming demeanor and it wouldn't have been difficult for me to believe that I was sitting there with her alone, with nobody else in the room.
Ellen Kuras is an accomplished Cinematographer and has a bit of her own story to tell … which she did, but which I also researched online after the lecture, because her personal story caught my interest.
Kuras Education & Directorial Debut
Kuras studied Anthropology & Semiotics in college at Brown University. Anthropology is the study of man from a cultural, institutional and normative perspective, while semiotics is the study of communication, specifically focusing on communicating meaning through allegories, symbolism, metaphor, analogies and other methods. After college Ellen went on to study photography at the Rhode Island School of Design and filmmaking in New York.
Kuras started her career working on a film about a Laotian who had immigrated to New York, after fleeing war torn Laos in the 1970's. It's a narrative with flashbacks that mix historic footage in with the narrative, providing the film with dramatic realism and moving force. Kuras began the film around 1985, but would not finish it until 2008.
Kuras' Worked with Spike Lee, Martin Scorsese, Christine Vachon, Julian Schnabel & Many Other Top Names in the Film Making Industry
Ellen's career includes numerous collaborations with Spike Lee, Martin Scorsese, Christine Vachon Julian Schnabel and many others. She's a member of the contemporary film making avant-garde, pushing the envelope to bring real or important artistically told stories about contemporary issues - alive.
Click here to read more about Ellen Kuras at the Tribeca Film Festival talking about the art of cinematography.
---
NYC Crime Continues To Drop, Breaking Records
Mayor de Blasio & NYPD Discuss City Safety & Ongoing Improvements
February 7, 2017 / Manhattan Neighborhoods / Manhattan Government / Manhattan Buzz NYC.
This just came in on the heels of our coverage of the Public Safety discussion below. Mayor de Blasio and NY Police Commissioner O'Neill spoke in the Bronx regarding ongoing efforts and results in improving safety in the city. The following are some of the crime statistics noted in their meeting taken directly out of a press release sent by them.
 
Chief of Crime Control Strategies Dermot Shea, NYPD: Thank you, Mr. Mayor. Good afternoon, everyone. As you've heard, we have begun a strong start to 2017 in terms of overall crime reduction. Strategies that have been put in place to address repeat offenders, illegal gun possession and gangs are having the desired effect. We're building on the momentum of the last few years.
So, some of the highlights for crime statistics from this January – overall index crime is down 0.2 percent for the month of January. When you carry it over to this morning, we are now down 2.7 percent in overall index crime in New York City.
To note – with the overall index crime, January marks the tenth consecutive month of reduced index crime. That's the momentum we've been talking about. Currently, four out of five boroughs in New York City – all but Queens – are down to start the year.
Homicides – we recorded 20 homicides in January. That's down two from 22. That 20, as the Mayor alluded to, is the lowest January that we have ever recorded going back a minimum into the 1960s.
Shooting incidents – down 1.7 percent in January. Last January we hit the modern mark with 59 shooting incidents. We came in with 58 this January.
Talking about momentum again – nine of the last 13 months we've had a reduction in shooting incidents. Nine of the last 13.
Three months in a row we've had a reduction in shooting incidents in New York City. We have now, when you look at New York City as a whole, we now have 24-hour periods where we do not record a shooting incident in New York City. That kind of thinking was impossible in the not too distant past.
This is the new normal. We want to build on it and we feel that we will build on it but there's still plenty of work to do.
Stabbings and slashings for January – down 7.2 percent.
Robberies – down 7.5 percent. Lowest January robbery number we've seen.
Felony assaults in New York City – down 5.4 percent.
Burglaries tied the lowest mark set last year.
Transit crime – down 1.4 percent.
And housing crime – not to be outdone – down 1.9 percent.
Clearly, a wide breath of crime across New York City – property and violent crime, down.
 
But there is, I alluded to, there is still work to do – three categories we saw increases in January.
Grand larceny, specifically, credit card related skimming and forging of checks – those two drove grand larcenies. And grand larceny was up for the month of January 4.7 percent.
And lastly, rounding out the crime totals – stolen vehicles which we have seen drop to unprecedented lows saw an increase of ten cars for January. So, that's 480 versus 470 – a two percent increase.
Commissioner O'Neill: Okay, thanks, Dermot. We'll take your questions.
 
Question: Do you think it's possible, really to keep driving crime down further at this point? And how could you achieve that?
O'Neill's response was yes, with some added context.
---
Hundreds of Thousands March in NYC
Women's March Appears to Approach 21st Century NYC Protest Record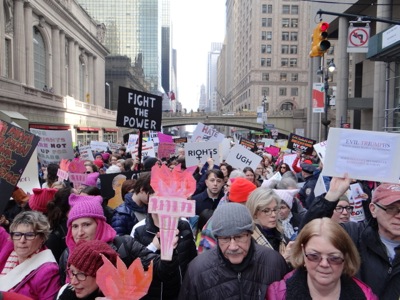 January 21, 2017 / Midtown Manhattan Neighborhoods / Manhattan Government & Politics / Manhattan Buzz NYC.
I headed into Manhattan around noon on Saturday. The #7 subway line was packed, even more than during rush hour on a weekday morning. There were protesters wearing pussy hats, bearing protest signs and placards, and generally in pretty good cheer as they headed into Manhattan for the Women's March in NYC.
I got off the subway at Grand Central Station along with the crowds of protesters, and made my way up to the 42nd Street exit. Out on the street there was a moving mass of marchers making their way down to Fifth Avenue where they would turn north to march up to Trump Tower along Fifth Avenue at 57th Street.
I have to admit I was surprised by the massive turnout. One person told me that over 50,000 people had signed up for the event on Eventbrite. But it would become obvious to me as the day wore on that the crowd had easily exceeded that number.
The event was planned to begin at 11 am in Dag Hammarskjold Plaza at Second Avenue and 47th Street. There would be a few speeches, followed by a march down Second Avenue to 42nd Street, then west to Fifth Avenue and then north up Fifth Avenue ending at Trump Tower at 57th Street. It was scheduled to end at 4 pm and waves of protesters had been choreographed to leave Dag Hammarskjold Plaza in 15 minute intervals.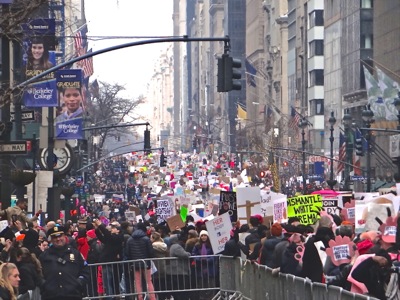 I had listened to Donald Trump's Inauguration speech the day before [Friday] and there didn't seem to be anything in there that struck me as very objectionable if one didn't read anything into it. So I kind of thought the march might be a bit premature given he'd just assumed office and hadn't really done anything yet.
I asked one woman if I had missed anything in Trump's speech, that she / others found objectionable. She told me no, he hadn't said anything objectionable, but she went on to say that she didn't believe anything he said. I asked another woman why she'd come out to protest today. She told me that she wanted to stand with other women in making a statement to Trump that they weren't going to passively stand by and allow him or the Republican Party to roll back their hard fought equal rights.
There was a festive mood throughout the day. I occasionally asked policemen keeping the peace how things were going. Many smiled and said it was going well and that they hoped it would continue that way.
I'll have more on this, including some details of how the protest morphed throughout the day, as well as a photo slide show and some video, sometime in the next week.
---
NYPD Commissioner O'Neill on Safety & Cybercrime
City & State Organizes Informative Program About Public Safety in NYC & Cybercrime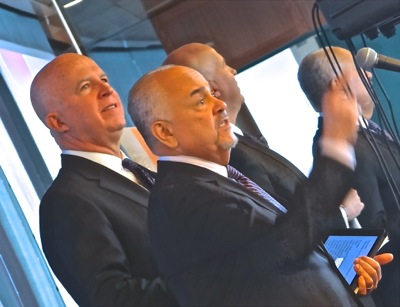 February 6, 2017 / Battery Park NYC / Crime & Safety in Manhattan Neighborhoods / Manhattan Buzz NYC.
I attended a City & State program dedicated to exploring the many facets of community safety in New York City. The program started with a half hour speech by the new Police Commissioner, James O'Neill. He discussed his background which includes a long line of successive promotions in law enforcement, starting with the transit police in Brooklyn in 1983.
Background: NYPD Commissioner James O'Neill
O'Neill has held many positions, including taking charge as the commanding officer of the Vice, Narcotics and Fugitive Enforcement Divisions - each for a period of time. His most recent position was as Police Chief, during which time he oversaw the management of the neighborhood policing program. The neighborhood policing program was implemented in 2014, during Mayor de Blasio's first term, with the intent to build relations and trust between the police and the communities they serve. The concept is that if the community works with the police to ferret out and penalize the perpetrators, crime will continue to stay at all time lows.
Neighborhood Policing: Intelligent Approach to Safety That Works?
Part of the problem with past police / community relations is that most of those interactions with the police came with a negative connotation to them, for example as when being ticketed, or picked up for bad behavior.
The idea with neighborhood policing is to develop positive interactions by facilitating interactions between individual officers and individual members of the community, so that if and when the time comes, there's enough trust between the officer and community member to work collaboratively to round up and penalize law breakers.
O'Neill's speech was followed by a forum of four experts who have had some involvement in the governance of law enforcement in NYC. The panel included NYC Councilman Jumaane D. Williams of Brooklyn who is the Chairman of the Committee on Housing & Buildings, Elizabeth Glazer who is the Director of the NYC Mayor's Office of Criminal Justice, and NYS Assemblyman Joseph R. Lentol who is the Chairman of the NYS Assembly Committee on [criminal] Codes. The panel was moderated by City & State Features & Opinions Editor, Nick Powell, who has been covering crime in New York for many years.
Stop 'N Frisk - The Facts vs the NY Tabloid Hype?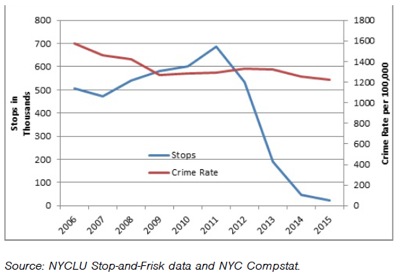 The panel explored numerous aspects of public safety in NYC, including a number of the successes NYC has been having with neighborhood policing, which is why the police / community clashes you see on the news are coming from other parts of the country - not NYC.
Needless to say, the job of the police force is never done, and challenges remain, but generally the forum had an upbeat tone due to the progress being made under Mayor de Blasio and Police Commissioners Bratton & O'Neill. One of the changes that's been helpful in community relations has been the drastic reduction in stop 'n frisk, which in spite of what the NYC tabloids purport, hasn't resulted in a spike in crime [see charts to right].
I did a bit of research, and found a couple of charts published in an April 11, 2016 report by the Brennan Center for Justice. The Brennan Center is a non-partisan, non profit research center at the NYU Law School. The two charts shown here graph the significant reduction in stop 'n frisk, while also showing no attendant spike in crime. In fact it is believed that over the long haul the reduction in unwarranted stop 'n frisk searches will have a positive impact on law enforcement community relations, as vast swaths of the populace that were searched with no result, will no longer feel that their privacy has been unnecessarily violated.
Cybercrime - Anonymous, Stealthy, Cross-Jurisdictional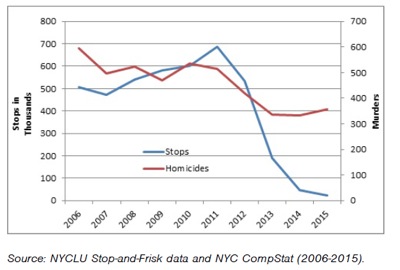 The second segment of the forum discussed some of the challenges facing the FBI with regard to reigning in cybercrime. The panel included Joel Stashenko who is the Albany Bureau Chief of the New York Law Journal, Nasir Memon who is a Professor of Computer Science & Engineering at NYU, Timothy Howard who is the Assistant U.S. Attorney and Cybercrime Coordinator for the NYS Southern District Office, and Prashanth Mekala who is the Supervisory Special Agent of the NY Field Office of the FBI.
The challenges facing law enforcement regarding cyber crime are different than most other criminal activity. For example cyber crime is generally anonymous, more insidious and hence more difficult to detect. And oftentimes the break-ins come through multiple legal jurisdictions which makes gaining access for tracking and prosecuting more challenging.
Budapest Convention of 2001 on Cybercrime Helping
But progress is being made. There was a Budapest Convention on Cybercrime which was passed in 2001 and became effective in 2004. More nations are signing on, as the accords enable law enforcement to move more quickly in multiple jurisdictions in response to cybercrime events.
As in community policing, establishing trust between the victims and law enforcement is critical in enabling governments to catch the criminals. Oftentimes companies victimized by cybercrime are concerned the access they provide to law enforcement may be used against them in other regulatory and civil proceedings. One of the panelists told us that the information they seek is soley for the purposes of catching the criminals, not to share with other regulatory agencies or people. And that the less time between the breach of a system, and obtaining access to analyze it, the greater likelihood that law enforcement can track them down, because in cybercrime the 'digital fingerprints' oftentimes disappear.
Speed of Response Helps Law Enforcement Respond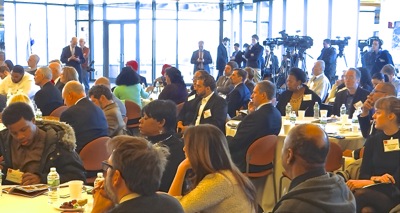 What's happened recently is that company security has increasingly been delegated to the legal department of a firm, because the company is then protected from disclosures because of attorney client privilege.
But what then happens, because the lawyers seek to mitigate legal risk / blame, is that there's a slow response by the company to enabling law enforcement to do their jobs in track down the criminals. One panelist noted that oftentimes what companies are trying to keep secret [their blame / culpability] comes out in the wash anyhow.
One of the panelists noted that oftentimes the biggest threats come from within an organization. Someone is turned to the dark side, or is careless - resulting in the breach of security. Currently the NSA [National Security Agency], the CIA [Central Intelligence Agency], the DOD [Department of Defense] and the FBI [Federal Bureau of Investigation] are all working to mitigate the risks associated with cybercrime.
They had a third panel about mitigating disaster risk, like from terrorism or cataclysmic events such as hurricanes, but I didn't stay.
Organized by City & State Magazine, Website & Events
Many thanks to City & State, which is an informative magazine publisher and events organizer. Their work seems to be predominantly in the area of government, politics and social issues. You can visit their website at www.cityandstateny.com.
---
Murdoch NewsCorp Propaganda Political Broadcast Laws Violations Hannity O'Reilly
NYC Rolls on After Small Bomb Explodes
Who are the Real Terrorists?
September 20, 2016 / Chelsea Neighborhood / Manhattan Neighborhoods / News Analysis & Opinion / Manhattan Buzz NYC / by Michael Wood.
Saturday evening, September 17th, at around 8.30 pm a bomb went off in a dumpster near 131 West 23rd Street [just off 6th Avenue] in Chelsea. While a number of people were injured by the debris [29 in total], thankfully nobody was killed, and all 29 of the people impacted have been released. The photo at right shows the scene were a small bomb exploded on Saturday evening in the Chelsea section of Manhattan.
NYS Governor Andrew Cuomo was quick to inform the public that the bombing was a terrorist act, but that it did not appear to be linked to international terrorism. Today, just three days later, it appears the bomber may have been influenced by a trip taken abroad.
At the time of Cuomo's announcement, he appeared to be continuing what seems like an ongoing effort to upstage the Mayor, by being the first to speak to the press and by sensationalizing the incident using words like terrorist [headline grabbing].
The Mayor was far more circumspect when he spoke, telling us only that based on the evidence gathered at the time, the act appeared to be intentional. The Mayor ended his remarks with that terse statement - telling us he would have more to say pending the receipt of additional information. NYPD Commissioner James O'Neill exercised the same caution in describing the event as the Mayor.
Is Murdoch's Media Org Hyping the Bombing for Ratings & Newspaper Sales Like They Appeared to do with the Iraq War?
Not surprisingly, Keith Rupert Murdoch's Wall Street Journal, NY Post and Fox News noted / lauded or applauded the Governor for helping them in what appeared to be their ongoing efforts to sensationalize the terrible act.
Was their goal in hyping the bomb to sell more newspapers and increase their TV ratings? At first blush that's hard to believe - until you do the math.
In 2002 - 2003, Murdoch in tandem with his global media organization, strongly advocated on three continents [U.S., Britain and Australia] to start the War in Iraq. Ultimately, I believe the war increased Fox cable TV and Fox News ratings, which are worth billions of dollars annually. We'll have more on this a bit later in the story.
Do Bombers Seek Fame & Does Murdoch's Media Machine Provide Them with it?
Is Instant Fame a Bomber's Motivation? It seems plausible that part of the motivation of a bomber might be to make the headlines / be shown on TV / become famous, even if only for what artist Andy Warhol described as one's 15 minutes of fame. See NY Post graphic to your right, where the now famous bomber made the NY Post front page while lying in bed. Thank you Mr. Murdoch and your NY Post?
Achieving Goals By Fear Mongering? Rupert Murdoch's propaganda-oriented 'news' outlets may in fact be part of the problem - not part of the solution. Murdoch's organization appears hell bent on hyping the bombing event into an international terrorist attack, which one may surmise that they can then use to rekindle fears based on 15 year old memories, to shape the national security narrative leading up to the general election.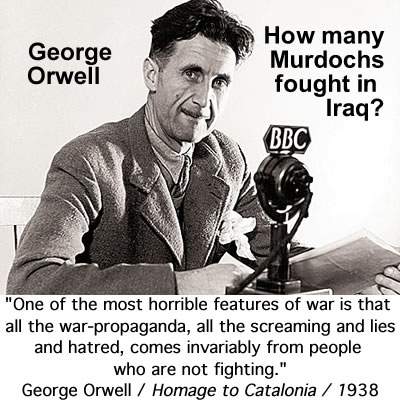 At a time when the whole world was in turmoil FDR told America,
"We have nothing to fear, but fear itself."
How times have changed.
It seems Keith Rupert Murdoch's organization is saying something just the opposite, like,
"Be afraid. Be very afraid."
Never mind that nobody died in this incident or even reportedly sustained any serious injuries. And based on what is known, and what I saw, there appears to be very little SUBSTANTIAL property damage. But professional propagandists never let the facts get in the way of the story they want to tell, the perspective they want to sell, so this was an event I used to watch and learn from a media organization controlled by a man believed by many, to be the world's reigning propagandist.
People need to pay more attention to who they're going to listen to, to provide them with information and context about the world in which we live. The information sources they choose inevitably influence their view of the world, who they choose to represent them, what public policies they want pursued and how they go about conducting their lives.
The graphic at right is a quote from author of the book entitled 1984 - George Orwell - in his book Homage to Catalonia published in 1938. In it he said,
"One of the most horrible features of war is that all the war-propaganda, all the screaming and lies and hatred, comes invariably from people who are not fighting."
Pay Attention to the Changing Murdoch Media Narrative
Can the Real Terrorists be Found in Murdoch's Fear Mongering Media Empire?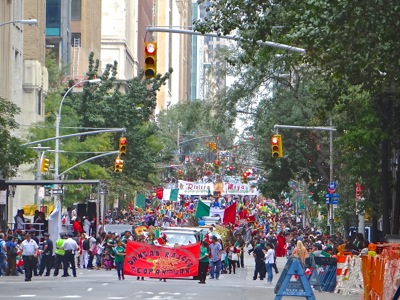 Given that folks were out and about on Sunday, less than a day after the explosion, I began pondering whether it's media outlets like those owned by Keith Rupert Murdoch that are responsible for terrorizing the citizens of New York - and the nation - by continually repeating fear-inspired storylines / narratives?
It seemed the bomber had already failed to terrorize us in New York City, where the bomb exploded, given the fact that so many of us were out and about only hours later. In the photo at right are marchers in the Mexican Day Parade.
But Murdoch's manipulative media machine looks like it went into overdrive by broadcasting, webcasting and printing fear-inspired stories. Thus,perhaps the bomber may yet succeed in terrorizing us, with the help of Murdoch's media fear mongering machine.
Media Mogul Calculus: Terror or War = High Ratings Worth $$$ Billions &
Since Taxpayer Funds Most Production Costs of War / Show = Even Higher Profits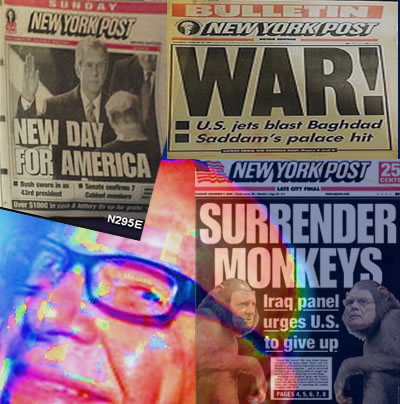 The Iraq War in 2003 was like fresh new free money, because Murdoch's organization could sell pricey TV ads for increased news ratings, while the bulk of the costs of staging the 'news programming' aka the Iraq War, was provided free to Murdoch's organization, compliments of the American, British and Australian taxpayers.
Based on the recent financial performance of Murdoch's organizations, his flailing media outlets appear to be in need of this sort of low cost [to Murdoch's media empire], high ratings programming.
Trillion(s) Spent on Iraq War Because of Phony, Media-Hyped, 'Weapons of Mass Destruction' Threat
In 2002 - 2003 Murdoch's organization appeared to use this same sort of hyping and sensationalizing of Sadam's 'weapons of mass destruction' to monger fear in America, Britain and Australia so the nations would go to war against Iraq.
Only later did we find out that there weren't, in fact, any weapons of mass destruction and that it was all media and political hype used to get us into the war. Once embroiled in the war, it cost well over a TRILLION DOLLARS, and by some accounts - we're still not completely out. In the graphic at right are just a few of the strident headlines published in Murdoch media.
Those Who do Not Learn from History are Doomed to Repeat it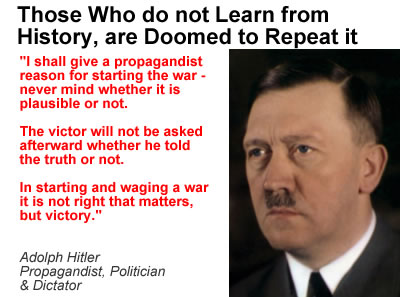 In researching propaganda, I couldn't help but encounter propagandist works and statements made by propagandists Adolph Hitler and Joseph Goebbels. I recall as a youngster wondering how Hitler came to have so, so much power. Only now do I understand, as it appears Hitler accumulated his power insidiously, by conducting mass marketing campaigns of deception, disguised and packaged in with information, facts and news.
Does Fox Disinform - So Murdoch can Decide?
Fox viewers have been found not only to be less informed, but actually disinformed, on subjects ranging from healthcare, to science, to international affairs.
Media Matters informs us that studies to this effect have been conducted by Kaiser Health, Ohio State University researchers, Program on International Policy Attitudes, Stanford University and the National Science Foundation, University of Maryland's Program on International Policy Attitudes, Farleigh Dickinson University and an NBC / Wall Street Journal poll before Murdoch acquired the Wall Street Journal.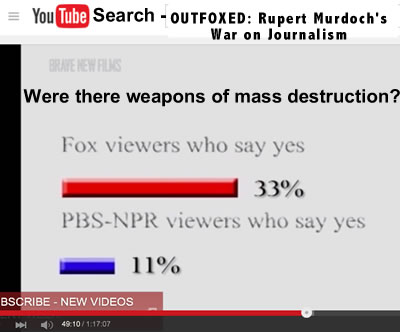 As you can see in the graphic at right, a poll which was included in a documentary entitled OutFoxed: Rupert Murdoch's War on Journalism, shows that Fox viewers tended to be more ill-informed than their PBS media peers.
You can click into the graphic which will take you to the video, but we reference and link to it again later in this story where we highlight a piece in the video that proves the point and is funny in a twisted Murdochian way.
Click here to view a prior piece we did on what appears to be Rupert Murdoch's assault on democracy which takes you deeper into what appears to be a long history of the billionaire media mogul's influence on electoral outcomes.
In June of 2016 Murdoch's media organization seemed to provide its readers / voters the same sort of bad advice with their advocacy in favor of Brexit or exiting the European Union. We'll have a bit more on this later.
Click here to read the rest of our report about what appears to be Rupert Murdoch's manipulative use of his media assets.
---
Rupert Murdoch News Corp NY Post Hazing NYC Mayor?
What's Behind NY Post's Media Hazing of Mayor?
Will Billionaire Rupert Murdoch Profit from NY Post Attack Stories?
Updated May 13th / May 1, 2016 / Manhattan Neighborhoods / Manhattan Politics / News Analysis & Opinion / Manhattan Buzz NYC.
The NY Post's incredible barrage of attack stories on NYC Mayor de Blasio this past month led me to believe that something was amiss.
Is the NY Post Misinforming the Public?
After a month long barrage of attack (ads?) stories regarding the Mayor's campaign funding, someone reading the NY Post might come away believing that Mayor de Blasio had already been convicted on numerous counts of breaking the law. As you will see later in this story, this would not be the first time the Murdoch organization's audience was not just uninformed - but rather misinformed.
In America, we still have a choice of who provides us with our information, so that said, if one read a newspaper that generally conforms to the professional standards of American journalism, like the New York Times, they would know that,
"It is not clear how direct a role, if any, the mayor played in some of these matters." - NYT April 29, 2016
Infomercials Presented as News?
Murdoch's organization publishes and broadcasts 'news' accounts that appear to make significant departures from the professional standards of American journalism. I began thinking that Rupert Murdoch has found a way to skirt campaign finance laws, because many of Murdoch's organization's 'news reporting' seems more like long-winded political infomercials than anything resembling a 'fair and balanced' news report. This is especially disconcerting given that Murdoch's $60 billion plus in revenue media companies include the NY Post, Fox News, The Wall Street Journal and dozens more media properties in America and hundreds worldwide.
Just Because They Say it's So, Doesn't Mean it's So
The NYS Board of Elections says,
"Independent Expenditures Do Not Include Expenditures in Connection with... A written news story, commentary, or editorial or a news story, commentary, or editorial distributed through the facilities of any broadcasting station, cable or satellite, unless such publication or facilities are owned or controlled by any political party, political committee or candidate ..."
Has Murdoch's organization found a way to skirt campaign finance laws by making huge, undisclosed, payment-in-kind, independent media expenditures in support of their preferred candidates while attacking their political opponents in order to push a self-interested Murdoch agenda, by running infomercials and attack ads as news stories?
Does this practice enable The Murdoch to become a string-pulling unelected politician himself, and put him in a position to make Murdoch organization supported candidates, political puppets?
Rupert's NY Post Goes After Mayor like Rabid Dog
There were 80 stories published about the Mayor by Billionaire Media Mogul Keith Rupert Murdoch's NY Post in the first 24 days of April.
That's more than three stories per day - and not a single one was positive [a few were neutral]. The stories were authored by 20 reporters, some of whom shared the bylines. This is the equivalent of having the entire editorial staff of a medium-sized American daily newspaper, working full time on publishing stories about just one government official.
I'm pretty sure that the Washington Post didn't dedicate this kind of resource to covering the Nixon Watergate scandal in the early 1970's. It seems like overkill, which is generally indicative that something is not right.
I say "not right" because it has been my experience that this kind of overzealous attack oftentimes reflects more upon the prosecutor than the prosecuted. As Shakespeare said, "I think the Lady [Murdoch] doth protest too much."
Abusive, Power-Hungry Media Moguls in Film - 1941 & 1997
While working on this story I found some parallels to the 1997 James Bond movie, Tomorrow Never Dies. In the movie, Eliot Carver is an evil media mogul who uses his printing presses and television stations to hype a war between Britain and China so he can drive up the ratings of a new satellite network and other news properties, AND claim exclusive broadcasting rights in China in exchange for helping a General conspire to become Chinese President.
Just five years later, in 2002, the NYT published a piece which they entitled 'Mr. Murdoch's War' which was about how stridently Murdoch urged the U.S. and Britain to go to war in Iraq, which we'll discuss in more detail later in this story.
During my research a character profile of multi-billionaire Murdoch began to emerge that was something right out of the film Citizen Kane. Kane was portrayed by Orson Welles in the 1941 film as a self-involved, self-interested, power-hungry media mogul.
It's worth noting that 1941 was the same year that the FCC capped TV media ownership by a single person / entity at 35%. Some pundits allege that the FCC ownership limit rule was overturned in 2002, because of behind-the-scenes influence exerted by Rupert Murdoch. I'll provide some more detail about the FCC changes a bit later in this story.
The image to your right shows a listing of the barrage of NY Post stories, based on allegations and innuendo, attacking Mayor de Blasio in just three days of April of 2016. The barrage of attack coverage in the NY Post has more the character of a propaganda machine, than a real news outlet that conforms to the American standards of journalism.
Click this link for the rest of Story & Video About how Murdoch's NY Post appears to be used as propaganda machine working to oust the NYC Mayor.
---
Clinton Defeats Sanders, Trump Defeats Rivals
Clinton 58% vs Sanders 42%; Trump 60% vs Kasich 24% & Cruz 15%
April 20, 2016 / Manhattan Neighborhoods / Manhattan Elections / Manhattan Buzz NYC.
Bernie Sanders has been campaigning in New York the past week, drawing large crowds ranging from thousands to tens of thousands, as if he were a rock star. But on Tuesday, the voters weighed in and handed Hillary Clinton a convincing victory, helping her widen her delegate lead, and likely put her on the path to the Democratic Party nomination.
Democratic Delegate Count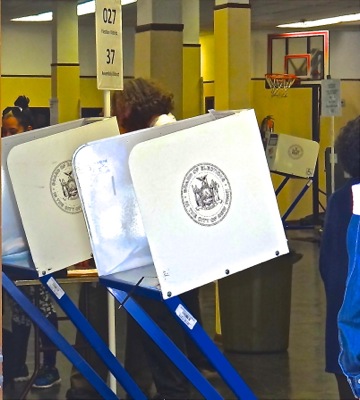 To win the Democratic Party nomination, a candidate needs 2383 delegates of 4763 total. Within that total there are 712 super delegates, who can align themselves / vote for whomever they want but there's pressure to vote in favor of the direction that the state voted. The remaining 4051 delegates are won via the voting process and are called pledged delegates.
According to the Associated Press estimate, following the NY State win Hillary Clinton now has 1428 pledged delegates and 469 super delegates, while Bernie Sanders has 1151 pledged delegates and 31 super delegates. There are 1472 pledged delegates remaining, so to win a majority of pledged delegates, Hillary has to win 598 or 41% of the remaining pledged delegates, while Bernie has to win 874 or 59% of them. Clinton has already received commitments from more than half of the 'super delegates'.
Given Sanders is generally still behind in the polls in some of the larger remaining states [behind 16% in Pennsylvania and behind 8% in California], that seems a tall order. While the polls were dead wrong in Michigan, they were spot on in New York. The Sanders campaign told a news outlet Tuesday evening that they will see how they do in the contests this coming week and then evaluate their chances going forward. The Democratic Convention has been scheduled from July 25 - 28, 2016 in Philadelphia.
Republican Delegate Count
Meanwhile on the Republican side there wasn't much news. Trump won handily defeating Kasich and Cruz. The Republicans have 2473 total delegates and 1237 are needed to win. According to the Associated Press estimate, following the NY State win, Trump has 845 delegates, while Cruz has 559 and Kasich has 147.
Trump needs 392 more delegates [about 40%] to go uncontested to the Republican Convention. There are 992 delegates remaining, but according to CBS only 674 delegates are available in the remaining voting contests prior to the Convention. So Trump may have to win 60% of the remaining unpledged delegates to go to the Convention uncontested. The Republican Convention is scheduled for July 18 - 21, 2016 in Cleveland.
The voting contests next week include Pennsylvania, Connecticut, Maryland and Delaware.
The fat lady hasn't yet sung, but it is beginning to look like a Clinton / Trump race to the White House.
---
Tribeca: Crane Falls Kills One
Mayor de Blasio Responds with Increase in Oversight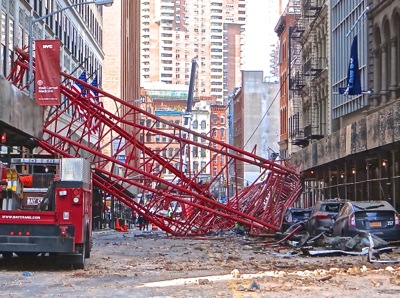 February 15 , 2016 / Tribeca Neighborhood / NYC Government & Politics / Manhattan Buzz NYC.
On Friday February 5th at around 8 am, crane operators began lowering a very long extended steel arm [565 feet according to the Mayor's Office], to reduce its exposure to high winds. Instead of a controlled descent, the crane arm fell to the ground, killing one and injuring three others. This occurred on Worth Street between Hudson Street and Church Street in Tribeca.
The crane was located between Hudson and West Broadway and the winds were estimated to be in the neighborhood of 20 - 25 mph at the time of the crash. This is a mobile crane, and various cranes have different specifications for being secured at certain wind speeds. The last time there was a crane accident in New York City was in 2008, when there were two building crane accidents.
The crane was put in place only a week earlier, on January 30th, and a few days earlier had been inspected by the NYC Department of Buildings. The crane was authorized or designed to go to the 565 feet to which it had recently been extended. The crane was owned by Bay Crane Company and it was being operated by Galasso Trucking and Rigging.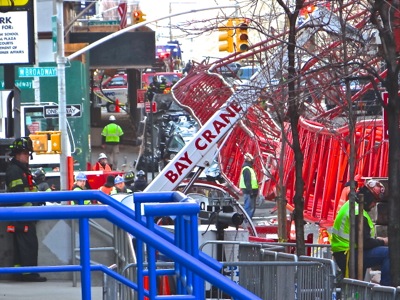 I went down to the site on the Saturday after occurrence to take photos and while there talked to a few bystanders. You could see that the stationary crane, which was based on the street level, had toppled the length of Worth Street. The crane was put in place to install generators and air conditioning units atop the building at 60 Hudson Street which was the former Western Union Building.
It appeared that the crane just fell and in its wake crashed upon a few cars and pedestrians who fled. The one who was killed was an Upper West Sider. The area was secured in the aftermath, but Con Ed reported that their infrastructure appeared to be ok. One of the subway lines (#1) skipped a couple stops in the vicinity over the weekend and pedestrian and street traffic around Worth Street between Church and Hudson was blocked off. Overall the scene appeared relatively peaceful, although there were police tapes up and rerouted traffic as the police and the Department of Buildings conducted their investigations and follow up.
On Sunday, February 7th, the Mayor made a statement announcing several new policies. The first is with respect to mandates for the securing of mobile cranes, which is to be whenever winds are forecast to be 20 mph or above and for gusts of 30 mph or above. Secondly the Mayor said that there will be stricter guidelines for enforcing and ensuring pedestrian compliance and safety while cranes are being secured, and there may be some additional assistance / oversight from the NY City police [NYPD], NY City Fire Department [FDNY], the NY City Department of Transportation [NYCDOT], NY City Department of Buildings [NYCDOB]. Now when a crane is being secured or to be secured, the operators will be required to notify the community in advance. And lastly, a task force is being assembled to see what can be learned from this accident so that best practices may be learned and put in place so that this doesn't happen again.
---
Mayor de Blasio's State of the City Address 2016 NYC
De Blasio's State of the City Address 2016
Progress Moving NYC from 'Tale of Two Cities' to 'One New York'?
February 6, 2016 / Kingsbridge Heights Neighborhood Bronx / NYC Neighborhoods / NYC Politics & Government / Manhattan Buzz NYC / by Michael Wood.
I attended Mayor de Blasio's second State of the City Address delivered at the Performing Arts Center at Lehman College in the Kingsbridge Heights neighborhood of the Bronx. In spite of its northern, non-central location, the speech was well attended. About three dozen protesters also made their way north of Manhattan into the Central west Bronx, wielding placards asking the Mayor to stop gentrification and something about fair labor practices.
I took my place among the press corps where we were seated right in the middle of the auditorium. After settling in, I started photographing the slides whizzing by on the main stage, showing the accomplishments of the de Blasio Administation during its first two years. I have included a slide show a bit later in this report, which contains some of the slides that I photographed.
Unlike last year, when the Mayor and the Police Commissioner were having difficulties adjusting to each other, this year the mood seemed buoyant. In front of me was a group of students from the Laboratory School of Finance & Technology - MS 223 - at 360 East 145th Street in the Mott Haven neighborhood in the Bronx. The school is connected with Bronx Prep and hence handles grades 6 through 12.
Click here to read our report of Mayor de Blasio's State of the City Address 2016. The report includes video excerpts of the Mayor's speech, as well as two other short video pieces including the harmony singing of the National Anthem by a talented Bronx choral group, and a few exchanges with the teachers and students of MS 223 in the Bronx.
---
NYC Snowstorm Emergency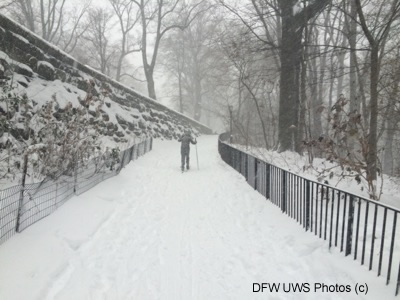 January 22, 2016 / Manhattan Neighborhoods / Manhattan Buzz NYC.
Mayor issues Travel Ban as of 2.30 pm Saturday. Asks theaters and restaurants to close as revised forecast could bring 20 - 25 inches of snow. The MTA announced that they will be shutting down above ground rail and subway and buses by 4 pm - click to NYC MTA Storm Update for details.
NYC Winter Emergency Declaration. Mayor de Blasio made a statement putting the government apparatus on notice to manage the implications of the storm.
Temperatures aren't dropping that low [20's / teens], and the estimated snowfall [about a foot] in and of itself doesn't appear to be anything we haven't handled in the past.
But the high winds [gusts of up to 50 mph] could stir up snowdrifts and some measure of trouble, particularly for pedestrians and motorists.
Oftentimes these things become much ado about nothing, but I reckon better safe than sorry.
Weekend Weather 1/22 - 1/24. The temperature highs will be around 30 on Friday & Saturday, climbing to the mid 30's on Sunday. The lows will be in the low 20's throughout the weekend. It will be clear on Friday, with a huge snowstorm expected Saturday.
The Snowstorm will start early, dropping about 6 - 9 inches by about midafternoon, and finishing the day with a few more inches. It's expected to be generally clear on Sunday. On Saturday it will be windy, with gusts of up to 50 mph.
Click MTA Link for Snowstorm Service Changes. Click here for details on the MTA Weekender.
---
2016 - here we come ... or here we go ...?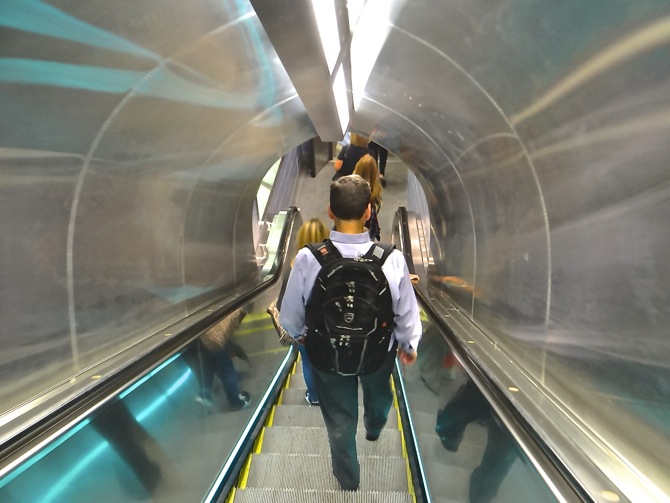 January 4, 2016 / Gotham Buzz. Dunno, but getting our bearings on the weather is always a good place to start.
So the weather this week - Highs in the low 30's Monday & Tuesday, climbing to the low to mid 40's for the rest of the week. The lows will be in the teens, climbing to the 40's by the end of the week and no precipitation.
Welcome back Scotty. We're trying to beam you up.
---
Manhattan Holiday Events - Kwanzaa, Hanukkah & Christmas Events in Manhattan NYC
Manhattan Holiday Events - Manhattan NYC
Christmas Tree Lightings, Hanukkah Menorah Lightings, & Kwanzaa Candle Lightings in Manhattan & Holiday Markets & Events NYC
December 20, 2019 updated vs 12.8.19 / Upper East Side UES / Upper West Side UWS / Midtown NYC / East Village & West Village / Tribeca SoHo Bowery / Holiday Events & Holiday Markets - Kwanzaa, Hanukkah & Christmas Holidays in Manhattan / Manhattan Buzz NYC.
Holiday lighting festivals and ceremonies have been on the rise in Manhattan in recent years. While some date back many years, some are fairly new.
Attending holiday lightings alone, with friends or with the kids gives folks a chance to enjoy their own cultural heritage and provides an opportunity to learn a bit more about and share in the cultural heritage of others.
Each lighting is a bit different, as some are orginated by the community, some by businesses, some by religious organizations, and a few have arts organizations behind them. Please feel free to send us a notice of your holiday lighting event if it's not posted herein.
ALL OF THESE ARE FREE UNLESS FEES ARE SPECIFIED.
Manhattan Holiday Events & Holiday Markets Now Underway
This is not meant to be a complete list, but rather a list of the holiday lighting events. The holiday lighting events are organized individually by each Manhattan neighborhood including the Upper East Side UES, the Upper West Side UWS, Midtown NYC, the East Village, the West Village, the Bowery, SoHo, Tribeca and more to come. Many include the serving of some beverage like hot chocolate and generally some snack like cookies.
---
NYC Marathon: A Brief History
A Closer Look At The NYC Marathon Course & Runners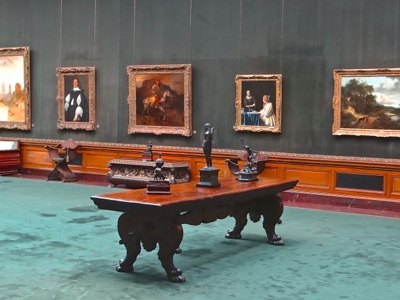 November 2, 2015 / Upper East Side Neighborhood & Manhattan Neighborhoods / Manhattan Sports / Manhattan Buzz NYC.
Every year about 50,000 runners converge on New York City on the first weekend of November to run in the New York Marathon. The race begins at 8.30 am with the wheelchair division, is followed at 8.52 am by the athletes with disabilities and handcyclers. And then from 8.55 am until 11 am a horde of 50,000 runners passes the starting line on their 26 mile journey ending in Central Park.
The course has changed since the first NYC Marathon and now runs through all five boroughs, starting in Staten Island, coming up through western Brookyn, cutting through Long Island City between the Pulaski and Queensboro Bridges and then looping up along the Upper East Side before circling back around just north of the Harlem River in the Bronx and heading back south into Manhattan and terminating in Central Park.
The race lasts about eleven hours, as the official end time is 7.30 pm, but the reality is that it's mostly over by about 5 pm. The NYC Marathon began in 1970 and the first one was held entirely in Central Park by having the runners circle around the park on various roadways multiple times. And, of course, it was a much smaller group of runners.
NYC Marathon Runner Demographics by the NYT
The NYT published a report about the NYC Marathon demographics. In it they noted that about three quarters of the runners make it over the finish line, and that about 40% of the runners are now women, which is up significantly from none in the first NYC Marathon in 1970.
This year only 48% of the runners are Americans, while another 4.5% come from Canada and Mexico, France and Italy represent 14% of the runners [split about evenly], and Britain, Germany and the Netherlands are another 15% (contributing in descending order], other parts of Europe, Latin America, Japan & China, Austrailia and South Africa.
Age-wise the largest group is between 30 and 40, the 2nd largest between 40 and 50, and a good measure from the 20 to 30 and the 50 to 60 demographics. Apparently many reaching their 40th and 50th birthdays like to 'prove that they still have it'. You can find the full report on www.nytimes.com, including some fun graphs.
NYC Marathon Winners Past & Present

The last time an American won the Marathon was in 2009 [Meb Keflezighi - a 2004 Olympic silver medalist born in Eritrea], and the last American winner born in the United States was Bill Rodgers in 1979. This year Meb was the first place finisher among all Americans and he broke the record for Masters Runners.
This year the winner for men was Stanley Biwott of Kenya who ran the NYC Marathon in 2:10:34, the winner for women was Mary Keitany, also from Kenya, who ran the course in 2:24:25, making this her second win in as many years. In the Wheelchair division, Ernst Van Dyk of South Africa beat Josh George of USA by one second coming in at 1:30:54. In the women's wheelchair division, Tatyana McFadden a Russian-born American, broke the NYC Marathon course record by seven minutes. It's been quite a year for her as she also won the marathon in Boston, Chicago and London this year.
Men's & Women's Marathon Times

As you can see by the times above, the best marathoners generally make the trip in a bit more than two hours, which means they ran at a pretty good clip of almost 13 miles per hour for over two hours. And it's worth mentioning that the gap between male and female NYC Marathon runners has been closing and at present is about 15 minutes.
Organizers & Sponsors of the NYC Marathon
New York Road Runners or NYRR is the organizer of the NYC Marathon and this year Tata Consultancy Services or TCS is the premier sponsor. TCS is an Indian software and IT services company based in Mumbai [formerly Bombay].
---
Manhattan Halloween Parties - UES Upper East Side UWS Upper West Side NYC Halloween Parties Manhattan SoHo East Village Midtown
Manhattan Halloween Parties
Manhattan Halloween Parties - Midtown, UES, Upper East Side, East Village, UWS, Upper West Side, SoHo, Harlem, LES, Lower East Side, Downtown NYC Seaport, Inwood & Washington Heights Manhattan NYC Halloween Events
October 23, 2019 / Manhattan Neighborhoods / Manhattan Restaurants / Manhattan Buzz NYC.
The following is a compendium of some of more interesting Halloween parties planned in each large neighborhood of Manhattan.
The weather around Halloween is usually about 60 during the day time and 46 degrees at night. It's too early to tell what the precipitation will be the preceding weekend as well as on Halloween, but we provide weather updates each Friday.
The 46th Annual Village Halloween Parade NYC starts at 7 pm at Spring Street and 6th Avenue and marches north to 16th Street on Thursday, October 31st. It runs through the West Village neighborhood for three to four hours with the official end time at 10.30 pm. We've heard that there are over 35 bands and an innumerable showing of creative costumes.
The following is a description of over a dozen different Manhattan Halloween parties at local bars, restaurants and arts and public venues will be added over time. In most cases we suggest that you call ahead and rsvp a spot to be sure you get in.
Click here to view our report on Halloween Parties Manhattan Midtown Upper East Side UES Upper West Side UWS & East Village SoHo Harlem LES Downtown NYC Inwood Washington Heights & Tribeca Halloween Parties nyc.
---
Century Bike Ride Manhattan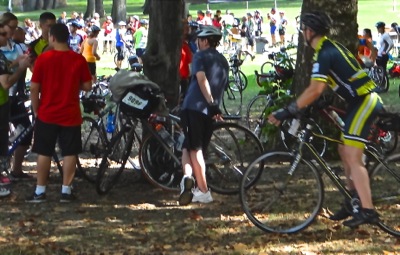 September 14, 2015 / Upper West Side Neighborhood / Biking Manhattan / Manhattan Buzz NYC.
The Sunday forecast included a high probability of scattered thunderstorms, but fortunately for the Century bike riders the weather appeared to favor them.
The Century Bike Ride is organized by Transportation Alternatives, an environmentally-friendly group that promotes non-carbon and low carbon 'transportation alternatives' to NYC residents. This is the bike ride they sponsor and the receipts go toward their efforts to ensure the various levels of government do what they can to help promote a safe and regenerative urban transportation environment.
The Century Bike Ride offers four biking alternatives that individuals and / or groups can pursue on their own during the most-of-the-day event. The first start time was at 5.30 am in Central Park [Manhattan] and at 6 am for a Prospect Park [Brooklyn] start and the last rest stops at the two parks closed at 6 pm.
The four bike routes included a 35 mile, 55 mile, 75 mile and 100 mile [hence the name century] loop.The 35 mile loop is called the East River Ride, which runs along the East River primarily in Brooklyn and Queens. The ride started at 7.30 am and was expected to last between 3.5 and 7.5 hours. The 55 mile loop is called the Waterfront Ride which includes the East River loop, but also the Verrazzanno Bridge, Coney Island and part of the Brooklyn Greenway. This ride started at 7 am / 7.30 am and was expected to take about 3.5 to 8.5 hours. The 75 mile loop is called the Rockaways Ride and it excludes the north / south run along the East River in Brooklyn / Queens in exchange for a haul out to the Fort Tilden Beach in the Rockaways then north through a number of Queens Greenways [parks] before turning westward back toward Manhattan. The Century Bike Ride, the 100 miler, starts at 6 am / 6.30 am and is expected to take between six and twelve hours.
The Century Bike Ride started in 1989 and is celebrating its 26th year.
---
Manhattan NYC 4th of July Fireworks Photos
July 4th Fireworks Manhattan Photos
Macy's Expands NYC Fireworks Celebration North on East River Manhattan
July 6, 2015 / Manhattan Neighborhoods / Manhattan Holidays NYC / Manhattan Buzz NYC.
It was a near perfect evening as I made my way toward the East River to watch the Macy's 4th of July fireworks display. The first Macy's fireworks display was in 1976 for the second bi-centennial celebration.
The photo at right shows the July 4th fireworks display from Four Freedoms Park on Roosevelt Island.
Last year Mayor de Blasio urged Macy's to return the fireworks display to the East River, as it had been moved to the Hudson in 2008 in celebration of the 400th anniversary of Henry Hudson's discovery of the river named after him. Macy's continued to host it there until 2014.
There were six barges along the Hudson in 2008, which was reduced to three barges surrounding the Brooklyn Bridge in 2014. This year they added two barges which were positioned further north along the East River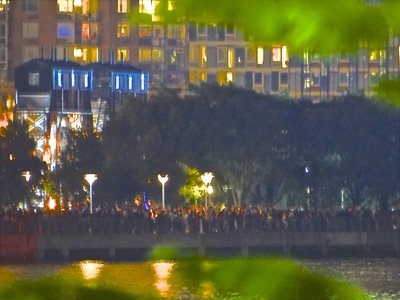 making it possible to enjoy the display from many parts of eastern Manhattan further north along the East River.
We had identified many of the best places to watch the July 4th fireworks in Manhattan in an earlier posting, but given the addition of barges stationed further north along the East River, it was difficult to determine how far north along the East River one could go and still enjoy a good fireworks show.
So with that in mind I made my way toward the 59th Street Bridge as I was pretty certain it would be closed, but it would have been the perfect place from which to photograph the fireworks. As expected there were police officers standing at the bicycle / pedestrian entrance to the bridge and they informed me that it would not be open until 10.30 pm, or about a half hour after the fireworks display.
The photo at right shows the Queens audience along the East River and northern tip of Gantry Park in Long Island City on Saturday night July 4th, just after the fireworks ended.
Click here for the rest of our story about the 4th of July fireworks Manhattan NYC as seen from Four Freedoms Park on Roosevelt Island.
---
July 4th Fireworks Manhattan NYC - Places / Where To Watch & View
Manhattan 4th of July Fireworks 2021 NYC
Best Viewing Places / Locations to Watch Fireworks in Manhattan NYC
June 28, 2021 / Manhattan Neighborhoods / 4th of July Holiday Manhattan / Manhattan Buzz NYC.
July 4th Weekend Weather. As of this post 6/26/21, the temperature highs will be in the high 70's during the day and in the mid 60's at night on both Saturday and Sunday. There's a 40% chance of about a tenth of an inch rain on Saturday, and no rain is presently expected on Sunday. The humidity will be fairly high between 65% - 75% throughout the weekend. Winds will be fairly muted at only 5 mph all weekend.
Macy's July 4th Fireworks along the East River Provide Good Viewing from Manhattan, Brooklyn & Queens and are Remotely Viewable from Northern Staten Island & the Southern tip of the Bronx
The Macy's 4th of July fireworks will be shown along the East River this year. They were shown along the East River in 2014 for the first time since 2008, and have remained on the East River ever since. Mayor de Blasio had lobbied the change, which now spans eight years. The Grucci Brothers will be doing the Macy's 4th of July fireworks in NYC, which they've been doing for decades.
Click here for a report about where to watch the 4th of July Fireworks in Manhattan NYC 2021 & surrounding areas, including times and locations for the Macy's 4th of July fireworks in NYC and at Jones Beach on Long Island.
---
Manhattan Swimming Pools - Public Swimming Pools Manhattan
Manhattan Swimming Pools - Free Public Pools in NYC
This Manhattan NYC Public Swimming Pool Directory Includes Contact Info
June 26, 2021 / Manhattan Neighborhoods NYC / Manhattan Parks & Sports / Manhattan Buzz NYC.
Manhattan offers easy access to a wide range of recreational swimming pools. The following is our first attempt to provide you with a view of the range of public swimming pools available in the parks of Manhattan. We encourage you to make use of these facilities because they provide healthy, fun, and frequently free or inexpensive entertainment for both individuals and families with children.
Only outdoor public pools will be open beginning Saturday June 26th, 2021 as less than two thirds of the public have been fully vaccinated for the CoVid virus / pandemic. This is a health risk mostly for those not opting to get vaccinated, but also for their family and friends, as well as everyone else who has not been vaccinated.
Generally pool hours are from 11 am - 7 pm daily, with a one hour break between 3 and 4 pm for cleaning. Bring a padlock for your locker and proper swimming trunks are required [for boys this means not shorts as trunks must have liners]. Don't bring food, glass bottles, newspapers, electronics, floaters and no or as few valuables as you can bring to minimize your risk because the park isn't responsible for your losses. Free sunscreen will be made available while supplies last.
Click here to view a listing of Manhattan swimming pools including UES Upper East Side, UWS Upper West Side, Midtown, East Village, West Village, SoHo and Tribeca swimming pools. Please note the photos do not reflect the onsite pools as of this post 6.21.21.
---
Greek Independence Day Parade NYC
Greeks Celebrate Independence From Ottoman Empire
March 31, 2015 / Upper East Side Neighborhood / Manhattan Parades / Manhattan Buzz NYC.
In 1821 a Greek Bishop tore down the flag of the reigning Ottomans and erected the Greek flag atop his church. This action and this moment is considered by many historians to be the official beginning of the Greek fight for independence from the Ottoman Turks. The Ottomans had ruled Greece for about four centuries.
Fast forward to the 21st century in New York City and the Greeks are on the march once again. The Evzones Presidential Guard marched near the front of the parade. They were preceded by a cadre of government officials including the Governor (who I missed) and the Mayor, as well as government officials from the Greek neighborhood of Astoria in Queens.
The parade was organized by the Federation of Hellenic Societies which is an inclusive group of a good number of different Greek cultural and civic groups in the tri-state area. The photo above right shows a group from the University of Thessaloniki in Greece marching along the east side of Central Park on Fifth Avenue in Manhattan.
It was a beautiful day as I made my way toward Central Park ... more to come later including a photo slide show.
---
MTA: Subway Fare Increases March 22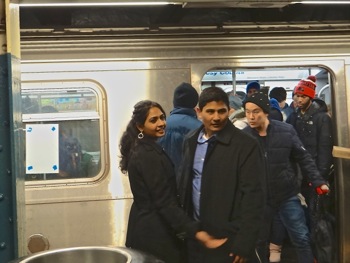 February 13, 2015 / Manhattan Neighborhoods / Manhattan Buzz NYC.
The Board approved increasing the base fare for the subway, bus, and MTA Staten Island Railway by 25 cents to $2.75, while also more than doubling the bonus amount added to MetroCard® purchases of at least one round-trip.
The combination of the increased fare and the increased bonus creates an effective fare increase of 4.1%, or 10 cents, for the Bonus MetroCard, which is used for 43% of trips. The 30-Day Unlimited Ride MetroCard, which is used for 29% of trips, will increase 4% to $116.50. The 7-Day Unlimited Ride MetroCard, which is used for 21% of trips, will increase 3.3% to $31. The remaining 7% of trips are made using non-bonus MetroCards, cash on buses or Single Ride Tickets, which are largely purchased near major tourist destinations.
---
Snow Storm Skirts Manhattan & NYC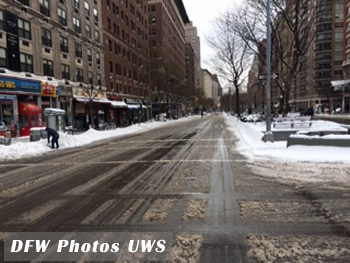 January 29, 2015 / Manhattan Neighborhoods / Manhattan Buzz NYC.
On Monday evening NYC's mass transit system was shut down. It was announced that NYC public schools would be closed. And everyone was advised to prepare for a snowstorm that might bring 24 to 36 inches of snow to the city.
On Tuesday morning, things looked quite a bit brighter. The city received far less than a foot of snow. In most places the inches of snowfall didn't even break the single digits. And so it was, a snow day without too much snow.
NYC has a long history of under reacting and over reacting to weather conditions. When government officials under react they generally lose some face. When they over react, the proverbial political storm blows over.
And so it was on Tuesday, January 27, 2015 that NYC enjoyed an unscheduled day off, with all the shopping done. The photo to your right was taken around noontime Tuesday looking south on Broadway Street around 90th Street on the Upper West Side of Manhattan.
---
Vision Zero Appears To Be Helping
Mayor de Blasio's Effort to Reduce Traffic Fatalities Appears To Have Some Success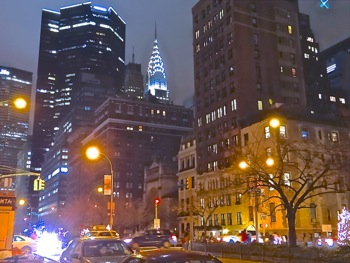 December 22, 2014 / Manhattan Social Issues / Manhattan Buzz NYC.
As of October 1, 2014 there were somewhere between 86 and 97 pedestrians killed by motorists in NYC, and 17 cyclists. In all of 2013 there were 177 pedestrians killed by motorists and 12 cyclists.
If the monthly average of deaths continues through to year end, then some progress will have been made in reducing motorist fatalities in NYC.
Communities have banded together to begin addressing the issue of traffic fatalities on New York City streets. Solutions included reducing the speed limit to 25 mph, continuing the effort to provide separate lanes for cyclists, and rearranging traffic patterns in order to protect pedestrians from death and motorists from ending up in jail.
To be sure, much more needs to be done to make our streets safe, but there was some small measure of encouragement in the 9 month fatality scorecard.
---
People's Climate March & Photos
People's Climate March Photos
Over 300,000 People March / Interesting Signage / Creative Costumes / Jazzy Music / Important Message / By The People & For The People / We Are One World / We Are One People / We Must Learn To Live In Harmony With Each Other & With Our Ecosystem
Green Companies Missed Big Marketing Opportunity To Reach Their Passionate Audience
September 22, 2014 / Midtown Neighborhood / Manhattan Parades / News Analysis & Opinion / Manhattan Buzz NYC.
I came up the subway stairs at Times Square Sunday, September 21, 2014 shortly before 1 pm. I had hoped to cover the People's Climate March story beginning at 11.30 am at Columbus Circle which was when the parade was to start; but I was detained and rushed to cover what I had thought might be the END of the parade. Boy, was I wrong. I ran head on into the BEGINNING of the parade, although I had missed the very front of it.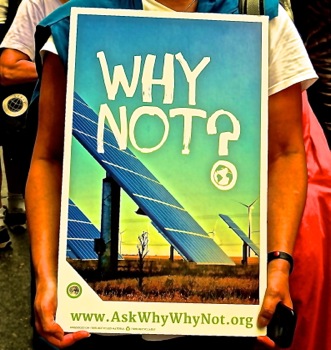 It truly was a People's Parade as there were few government officials were in attendance. According to one report I read after the parade, NYC Mayor Bill de Blasio, former U.S. Vice President Al Gore and UN Secretary General Ban Ki-moon joined the head of the parade around 12.45 pm, which was about the time I had arrived, so I missed them.
There were also a few NY City Council Members who marched, versus an NYT report that indicated a third or more planned to march. I recognized three of about five NY City Councilmembers that were there: NY City Council Speaker Viverito, UWS CCM Rosenthal and Astoria Queens CCM Costa Constantinides.
Click here later today to read our full report of the People's Climate March including hundreds of photos, and a number of parade marchers' views of what's really going on, as well as what can practically be done by regular folks about it.
Click here Monday evening to read our report and view photos of the People's Climate March in NYC.
---
Last Days Of Spring
June 16, 2014 / Manhattan Neighborhoods / Manhattan Buzz NYC.
There's less than a week before we experience another summer solstice - the longest day of the year. Then, as we head into what will likely be a long hot summer, the days will begin to shorten as we make our way around the sun to the winter solstice - the shortest day of the year.
Living and working in Manhattan we sometimes lose touch with mother nature and her earthly rhythms. The tall concrete buildings shorten the days, casting long shadows in the morning and evening. And the heat absorbtion of the concrete also exacerbates the warmth of the summer. The pavement, concrete and heat can, at times, make spending summers in the middle of the hot urban jungle challenging.
But today, and for a little while longer, we're in the sweet spot of the weather of our northern climate. Have a good week.
---
---
Upper East Side Neighborhood UES
Upper East Side Neighborhood UES
A Closer Look at the Upper East Side Neighborhoods in Manhattan NYC
May 2018 / Upper East Side Neighborhood / Manhattan Buzz NYC.
This section contains information about the neighborhoods of the Upper East Side of Manhattan NYC. The Upper East Side has some of the finest restaurants, shopping and museums in New York City.
Click here to enter the Upper East Side Neighborhood UES section of the site.
---

---


Midtown Manhattan Neighborhood NYC
Midtown Manhattan Neighborhoods NYC
April 2018 / Midtown Neighborhood / Manhattan Buzz NYC.
This section is dedicated to the neighborhoods in Midtown Manhattan. This section includes info about the neighborhood including news, issues, shops, restaurants, maps and transit for the Midtown neighborhoods in Manhattan NYC.
Click for Midtown Manhattan Neighborhood NYC including Gramercy Park, Murray Hill, Kips Bay, Turtle Bay, Madison Square Park, Bryant Park, Times Square, Hells Kitchen and Chelsea.
---
Midtown / UES / UWS - Manhattan NYC
Click here to go to the Arts & Culture section of this site.
Click these links for promotions by advertisers in Manhattan.
Click this link to go to the Midtown Neighborhood.
---
Site Search Tips. 1) For best results, when typing in more than one word, use quotation marks - eg "Midtown Neighborhood". 2) Also try either singular or plural words when searching for a specific item such as "gym" or "gyms".
Click this link to search for something in our Manhattan Business Directory which will soon contain hundreds of listings.
---
Click the log in link below to create an ID and post an opinion. Or send this story to a friend by filling in the appropriate box below.
---
---
---
Click the log in link below to create an ID and post an opinion.
Or send this story to a friend by filling in the appropriate box below.
---
---
Midtown NYC Related Links
Click for Manhattan Restaurants NYC
Click for Manhattan NeighborhoodS NYC
Click for Manhattan Things To DO NYC
Click for Gramercy Park Restaurants NYC
Click for Manhattan Hotels NYC
Click for New Years Parties & Restaurants NYC
Click for Manhattan Furniture Stores NYC
Click for Manhattan Street Fairs NYC
Click for Manhattan Professional Services NYC
Click for Manhattan Farmers Markets NYC
---
Midtown Dentists and Midtown Chiropractors