Bagatelle French Bistro: Brunch Parties in Manhattan NYC
Bagatelle Menage Mixes Menu, Music, Modern Dance & Mirth
March 2, 2020 / West Village Neighborhood / Manhattan Neighborhoods NYC / West Village Restaurants Manhattan NYC / Manhattan Buzz NYC.
It was just a week ago, that I chanced upon a brunch at Bagatelle, a French restaurant in the West Village. It was a serendipitous occasion, as my dining companions agreed, as we had found our original destination lacking a certain sense of excitement. Bagatelle, on the other hand, seemed to have a certain sense of oh la la, je ne sais quoi.
Upon entering Bagatelle, one immediately absorbs a certain sense of seeing and being seen. The initial vibe of this fashionable French bistro, begins at the entrance, when one is greeted by a welcoming wave of wonderful, performed by a number of young attractive women who manage the helm of this daytime land locked cruise ship.
Entering the Bagatelle scene actually gives one a nice feeling. Upon passing through 'customs' and into the restaurant, one is transported into a fashionable funland, and conferred with a certain sense of snobbishness, that feels oh so good, having not been rejected at the door.
We didn't get a table immediately, so we headed to the bar to whet our whistles.
Bagatelle French Bistro Weekend Brunch Scene in the West Village
As I surveyed the room, I noticed that the waiters were all buffed up. Most of them had muscular arms, tight waists, and powerful pecs and nipples that protruded through the taut fabric of their tight shirts. These characteristics set the waiters apart from the rest of us mere mortal men. Yes, it was hard for me to imagine, that in spite of the long hours I spend each week at the gym, that the whole staff of waiters was even more buffed up than me. But I took it all in stride.
After a short wait, we were escorted to our table where we would soon become a part of the interactive theater production that was to follow. After starting in on our drinks, we ordered our light brunches and began munching, brunching and conversationally crunching. Our conversation was soon interrupted by a bit of commotion across the room. A waiter had stood up and started dancing on one of the tables.
It wasn't long before the lights changed colors, the curtains were drawn, the dance music started vibrating through the restaurant as the waiters began a floor show that included a whole series of rhythmic gymnastics. Within minutes, we had been whisked from a daytime, mid afternoon Manhattan Sunday brunch scene, into a late night sultry sensual dance scene. Young woman arose from their tables and joined the waiters in a wavy wash of wistful wantoness.
---
Bagatelle French Bistro: Brunch Parties in Manhattan NYC
Bagatelle Menage Mixes Menu, Music, Modern Dance & Mirth
March 2, 2020 / West Village Neighborhood / Manhattan Neighborhoods NYC / West Village Restaurants Manhattan NYC / Manhattan Buzz NYC. Continued.
History Bagatelle French Restaurant Manhattan
Bagatelle opened at Little West 12th Street and 9th Avenue in the West Village in April of 2008. The Bagatelle French restaurant was started by Founders Aymeric Clemente and Remi Laba. Within months after they had opened, the whole financial world would nearly collapse, and within less than a year a calm Barack Obama would take responsibility and control of the nation's helm. Today there are nine Bagatelle restaurants, in several major cities around the world, and they inform us that they are still growing.
When doing a bit of research after my visit, I came across a Bagatelle French restaurant in Oslo, Norway. It opened in 1982, but there doesn't appear to be any connection. According to Wikipedia the Oslo, Norway Bagatelle was a well respected restaurant, and the only one in Norway to receive stars in the Michelin Guide until 2012.
Authentic French Cuisine in the West Village - C'est Vrai
The food was good, but largely overshadowed by the daytime dance scene. But the secondary role of the food is more a reflection of the haute scene, than the haute cuisine. We weren't very adventurous in our brunch selections, which included a cheeseburger, the Croque Madame and a chicken burger. But let it be known that even without the brunch bistro dance scene, the restaurant itself is a culinary destination, that is open throughout the week.
I shot a few short video clips of our visit to Bagatelle, so you can view some of the experience yourself. Note that there's a $75 per person minimum for brunch, and it includes the floor show, in which you can participate, as you'll soon see below.
The scene may not be for everyone, but it's a fun outing, especially for the 20's, 30's and 40's something crowds, as well as for the adverturous of any age.
Bagatelle at West 12th Near the Gansevoort Hotel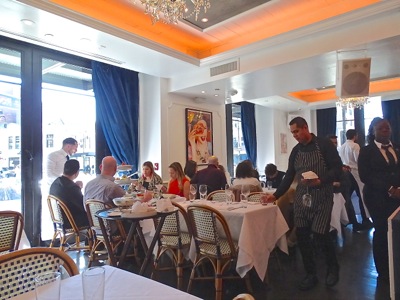 Many reviewers seem to compare dining at Bagatelle to a Saint-Tropez restaurant experience on the Cote Azur in southern France.
As I read these reviews I wondered if these writers had ever actually experienced Saint-Tropez, or whether they liked the comparison written in an earlier Bagatelle review, and re-used the description.
In any case, bon appetite mon amis et amusez-vous bien.
The video below should give you a glimpse into the Bagatelle brunch experience.
---
---
---
---
West Village NYC - Manhattan Related Info
Click this link for promotions, discounts and coupons in Manhattan.
East Village Neighborhood Related Links - NYC
Click for Village Restaurants NYC
Click for West Village / East Village Neighborhood
Click for Gramercy Park Restaurants
Click for New Years Parties & Restaurants
Click for Manhattan Farmers Markets
---
Archives - TBD
---
Site Search Tips. 1) For best results, when typing in more than one word, use quotation marks - eg "Astoria Park". 2) Also try either singular or plural words when searching for a specific item such as "gym" or "gyms".
---
Click this link to search for something in our Manhattan Business Directory.
---
Click the log in link below to create an ID and post an opinion.
Or send this story to a friend by filling in the appropriate box below.
---