K. Rupert Murdoch & the Rise of the Propaganda Press
This Section is Dedicated to Preserving One Man One Vote Democracies by Exposing What Appears to be Murdoch's Life's Work in Propaganda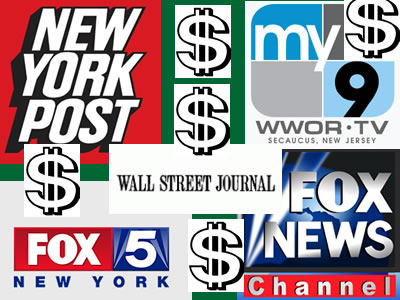 Updated / February 3, 2017 / November 4, 2016 / Manhattan Neighborhoods / Manhattan Politics / News Analysis & Opinion / Manhattan Buzz NYC.
In the Spring of 2016, while watching the Bernie Sanders campaign unfold, I noticed that the 'mainstream media' was showing what seemed to be tangible bias in favor of Hillary Clinton. This prompted my first story about the Bernie Sanders campaign & phenomenon, and made me aware of how the mainstream media appeared to treat him unfairly.
After the New York Primary, I noticed a relentless onslaught of attacks by Rupert Murdoch's NY Post on Mayor de Blasio. The attacks were based on allegations and innuendo, and sometimes included as many as five attack stories per day. Their relentless attacks based on allegations and innuendo outraged my sense of decency and fair play, so I began a study of the NY Post reporting bias which resulted in the second story of this series.
While doing the de Blasio / NY Post story, I couldn't help but notice a wide ranging pattern of what appeared to be a rampant abuse of First Amendment power by Keith Rupert Murdoch and his organization, including breaking laws, invading people's privacy, and bribing public officials. While these activities were uncovered in Britain, it's not a stretch to think that given the same man, Murdoch, is controlling the Newscorp & 21st Century Fox global media empire, that these same sorts of nefarious activities might be going on here as well. In fact, people responsible for management oversight of the tainted operations were subsequently given high ranking positions in this country.
As the Republican and Democratic Conventions of 2016 approached, I decided that the time period surrounding the political party conventions, up through the general election in November, would provide me with a good case study period to evaluate whether and how Murdoch's Fox News, NY Post and other assorted media properties, including the Wall Street Journal and the National Geographic, might be used as propaganda outlets.
In doing the context research, I found America's and Britain's media laws had been rewritten and loosened over time. In numerous cases I noticed that Keith Rupert Murdoch, all too often appeared to be in close proximity to the politicians changing those laws - almost always having supported them with his media properties - and at least in one case - even making personally direct donations to their campaigns.
I dug a bit further and found that there are few 'real' media laws of the books in Australia, where Murdoch is no longer a citizen. In spite of his status as a foreigner he reportedly owns 64% of that nation's daily newspapers and has a controlling interest in the nation's satellite TV system. I did some cursory research and it's not a stretch to think that Murdoch may have gotten his start influencing the re-writing of a nation's media laws there.
I also found what appeared to be a striking pattern of Murdoch manipulations and moves that seemed to come straight out of the political and propaganda playbook written by two of the earliest, most successful, and most evil practitioners of modern mass market propaganda - Adolph Hitler and Joseph Goebbels.
Hitler and Goebbels came to my attention because I found that I really could not even begin to understand modern propagandist techniques without studying Hitler and Goebbels in Germany in the 1930's. Hitler's skillful use of propaganda appears to have hastened his ascent to power, and enabled him to keep his grip on it. These two men are the fathers of modern propaganda, and it appears that Keith Rupert Murdoch has adopted and updated their propagandist techniques to serve his own interests.
Those who do not learn from history are doomed to repeat it. So please read on.
Click here to view our report about the state of media coverage of the 2016 election.
Or click here to continue on with this story about Keith Rupert Murdoch & the rise of the propaganda press / media madness/ corrupt Fox News / NY Post.
---
K. Rupert Murdoch & the Rise of the Propaganda Press
This Section is Dedicated to Preserving One Man One Vote Democracies by Exposing What Appears to be Murdoch's Life's Work in Propaganda
Updated / February 3, 2017 / November 4, 2016 / Manhattan Neighborhoods / Manhattan Politics / News Analysis & Opinion / Manhattan Buzz NYC. Continued.
---
Brexit: Betrayal of Britain by a Billionaire Press Lord?
Is Murdoch's Fox in the British Chicken Coop & About to Eat its Prey?
January 30, 2017 / New York City / Murdoch Media Madness / News Analysis & Opinion / Manhattan Buzz NYC.
I stumbled across a news item over the weekend, that led me back down the dirty trail of billionaire media mogul and global propagandist, Keith Rupert Murdoch.
Murdoch NYC Media - NY Post, Fox News, WSJ, WNYC TV & WWOR TV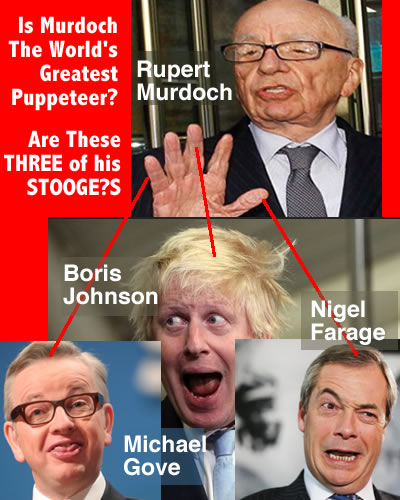 I believe this is an important issue that is, or eventually will be, of great concern to our readers. The reason New Yorkers should be concerned is because City Keith Rupert Murdoch controls the following NYC media: Fox TV Network, two local NYC TV stations – WNYC Channel 5 and WWOR Channel 9 - the Wall Street Journal and the NY Post.
Hence Murdoch has a dominant share of local NYC media and oftentimes appears to use it propagandistically to pick politicians who will help him enhance his corporate profits - oftentimes at the expense of the public.
Murdoch also controls some other American media properties including the National Geographic and book publisher, Harper Collins - but for the purposes of this report, these media outlets are less material.
Murdoch & Corruption? NY Post & Fox appear to be used as Propaganda Outlets
I began taking notice of Rupert Murdoch's manipulative media methods in April 2016 when his NY Post started relentlessly slamming Mayor de Blasio on what at the time appeared to be based purely allegations and innuendo. Murdoch's Fox News seemed to add to some of the media thrashing. In doing the first story where I recanted some of as Murdoch's propagandistic methods, I found all sorts of other information that indicated that Media Mogul Murdoch might possibly be more corrupt than many of the politicians skewered by his tabloid print and broadcast outlets.
Was Brexit Used to Replace Cameron to Renew Sky TV Bid?
Around this same time as the NY Post was hazing Mayor de Blasio, the British referendum on whether to stay or exit the European Union [aka Brexit] was coming to a head. I couldn't resist watching Murdoch's manipulative media operations swing into action to sway that vote – as I hypothesized at the time – that he was using the referendum to discredit and replace British Prime Minister David Cameron, so Murdoch could resume his aborted effort to acquire the rest of the British Sky TV satellite network that he didn't already own.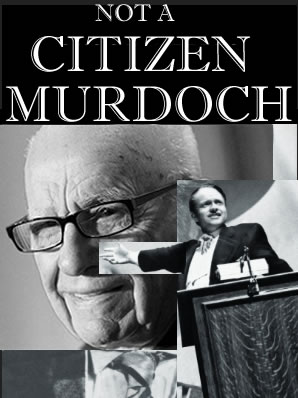 The British Sky TV merger was aborted in July 2011 because Murdoch's organization was caught illegally hacking thousands of people's phones in Britain, in order to publicize their private lives, in the interest of macabre headlines and gossipy broadcasts.
Cameron's Press Secretary, Coulson, a former Murdoch employee, was one of the people accused in the hacking scandal. And the office of the person appointed to oversee the Murdoch B Sky B merger, Jeremy Hunt, was found to have broken protocol by surreptitiously communicating with Murdoch's organization through an intermediary during the regulatory oversight hearings.
Murdoch periodically publicly asserts that his political press patronage is not related to all the goodies he appears to collect shortly after his candidates win. But quite frankly, having done quite a lot of research, I find that close to impossible to believe after sifting through a four decades long pattern of highly beneficial circumtances that ended in Murdoch's favor - click here to read our report on possible Murdoch corruption - featuring Newscorp, 20th Century Fox, Fox News, the NY Post and the Sun.
Murdoch, NOT A BRITISH CITIZEN, Controls Largest Concentration of Media in Britain
Keith Rupert Murdoch is NOT A BRITISH CITIZEN, and yet he controls two of Britain's largest daily newspapers - the [London] Times and the Sun; and two of its largest weekend papers – the Sunday Times and the Sun on Sunday. Murdoch's organization also holds a 39% share in Sky TV, which is Britain's largest pay satellite TV provider, and has substantial mobile phone and internet service shares of the British market.
Today, nearly a year after the whole Brexit drama began, British Prime Minister David Cameron lost the Brexit vote and his job. And less than six months after the new Prime Minister, Theresa May, has taken office; Murdoch's 21st Century Fox has come back to fetch the rest of its prey. Murdoch re-opened the bid for the rest of Sky Broadcasting in early December of 2016.
Global Deceptions - Propaganda for Profit & the Bigger Billionaire Picture
I see Murdoch's role in the Brexit vote and current bid to acquire the rest of Sky to be very much related. What follows is a timeline along with some commentary to provide insights into what appear to be possible motives and the driving force behind the Brexit referendum. I hope this will help readers become more aware of the bigger picture - a global media billionaire, invisibly directing and stage managing events on a national and international scale, to get what he wants, regardless of the price the public must pay for it. I know this sounds harsh, but that is exactly what Hitler did and everyone - even his supporters - paid dearly for it.
Murdoch appears to be using his media outlets as propaganda-for-profit money machines. And he appears to hide in plain sight, behind his branded media curtains, while manipulating a kaleidoscope of menacing politicians and pathetic public policies, in order to further enrich and empower himself.
So with that happy thought, click here to read the rest of our report entitled - Was Brexit a Betrayal of Britain by a Billionaire Press Lord?
---
Murdoch Propaganda Machine - Election 2016 - By the Numbers
Proof of Murdoch's Fox News Propagandist Practices?
During July Conventions Murdoch's Fox News Treated Candidates like Polar Opposites - see Original Data Inside
November 3, 2016 / Manhattan Neighborhoods / Manhattan Politics / News Analysis & Opinion / Manhattan Buzz NYC.
1. POSITIVES:
Fox News Webcast 10 Times More for Trump than Clinton
During the Republican and Democratic Conventions in July 2016 I logged the headlines posted on the Fox News website at the top of the page.The news analysis study period begins Monday July 18, 2016 and runs through Thursday July 28, 2016.
The graphic at right shows the three areas of the Fox News website that I used for the analysis including 1) the top left box, which includes a number of top headlines, 2) the video boxes along the right side bar and 3) the three columns of stories just below the top box.
The following data which I included below contains the headline tabulations and the assignment of them to categories - so that you can judge for yourself how representative the numbers I am presenting are of Murdoch's Fox News treatment of the two candidates.
Essentially Murdoch's Fox News webcast 72 positive stories about Donald Trump versus 7 positive headlines about Hillary Clinton, during the July Republican and Democratic Conventions.
2. NEGATIVES:
Fox News Webcast 7 Times More for Clinton than Trump
Conversely Murdoch's Fox News webcast Donald Trump with 13 negative stories, while webcasting Hillary Clinton 95 negative stories. There were 32 neutral headlines regarding Hillary Clinton, and 14 neutral headlines regarding Donald Trump. This totals 233 headlines and there were another 113 that were unrelated to either candidate.
Murdoch History of Meddling in Democratic Elections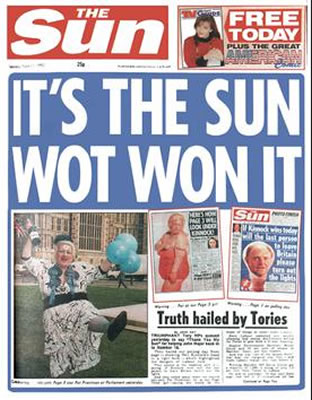 Rupert Murdoch appears to have a decades-long history of meddling in the elections of English speaking democracies around the world. Back in the 1960's he always had a tag line which he made sure to include in his interviews which is that he wanted "diversity in the media".
At best this interview tagline of his is insincere, as he owns over 60% of Australia newspapers, which is considered a monopoly share in our country, and he has controlling interest in Australian satellite television [see Wikipedia.org for details].
Promoting Politically Favored & Punishing the Opposition?
In the 1970's / 1980's Rupert Murdoch reportedly helped Margaret Thatcher win the Prime Minister position three times in Britain. And in her last campaign, he reportedly savaged the opposition which was leading in the polls until the end.
An American political science professor has studied the last of her victorious campaigns and it's worth repeating the lessons of it.
According to Professor James P. Allan who is a political scientist at Wittenberg University in Dublin, Ohio, Opposition Leader Neil Kinnock noted in his resignation speech in April 1992 the following,
"I make, and I seek, no excuses, and I express no bitterness, when I say that the Conservative-supporting press has enabled the Tory Party to win yet again when the Conservative Party could not have secured victory for itself on the basis of its record, its programme or its character."
Professor Allan goes on to tell us,
"In both 1987 and 1992, the Labour Party again had to deal with an extremely hostile national press, which relentlessly attacked Labour and its Leaders often using dubious evidence and arithmetic to question Labour's tax and spending plans. McKie cites several studies which suggest that the press had an influence on the outcome of the 1992 election, accounting for what appeared to be a late swing to the Conservatives."
Or Hyping the Favoreds & 'Bludgeoning the Opposition"?
In the Australian election of 2013, Murdoch's media outlets reportedly bludgeoned the opposition. According to an August 27, 2013 report in Bloomberg,
"[Murdoch's organization in Sydney's Daily Telegraph has depicted] Labor leader Rudd ... as a bungling Nazi commandant, Kermit the Frog and a bank robber ... [and] whose front-page salvo on the first day of the campaign was "Kick This Mob Out." Murdoch's News Corp. is "taking a club to our government," Rudd said
August 23 ... on at least 20 occasions he and his ministers have accused the company of bias in the 24 days since the September 7th poll was set."
"News Corp.'s "attacks these days are much more sledgehammer brutal and unscrupulous than before," said John Menadue, the nation's most senior civil servant from 1974 to 1976, who managed Murdoch's Sydney operations
for the preceding seven years."
Fact or Fiction: Voldemort or VoldeMurdoch?
Murdoch's morphing of older, established, trusted media brands into propaganda outlets, was well depicted by J.K. Rowling in her Harry Potter books. In the Harry Potter: Order of the Phoenix, she captured in part what I feel I've been witnessing this year - how an audience slowly begins to realize that the information they are being served is crap. In the Harry Potter book the young wizards of Hogwarts School of Magic slowly come to the realization that the Daily Prophet - a centuries old, trusted, news source - has become insidiously corrupted by Lord Voldemort.
Click here to read the rest of our report on Rupert Murdoch's Fox News bias in covering the 2016 Republican & Democratic Conventions.
---
---
Corruption? Is Rupert Murdoch Hacking Our Democracy? Quid Pro Quo Corruption?
Corruption? Is Rupert Murdoch Hacking our Democracy?
Has Rupert Murdoch's Organization been Trading Propaganda Services To Politicians in Exchange for Government Favors?
October 3, 2016 / Manhattan Neighborhoods / Manhattan Politics & Government / News Analysis & Opinion / Manhattan Buzz NYC.
Rupert Murdoch's Fox News, Murdoch's NY Post and even Murdoch's Wall Street Journal - appear to be used as a portfolio of propaganda publicity outlets to support Murdoch-favored politicians and Murdoch-favored public policies.
In this report we'll explore the possibility that Keith Rupert Murdoch's manipulative media machine is corrupting the public dialogue by disinforming and creating chaos in voters' minds, so that he can punish candidates by publicizing them out of office or publicity promote candidates into office. The photo at right shows a 1983 meeting between President Ronald Reagan and media mogul Keith Rupert Murdoch.
Decades of historical and recent coincidences, on three continents, and numerous administrations provide an entire body of circumstantial evidence that suggests Murdoch's organization has been methodically conducting behind-the-scenes deals with government officials to change media laws and regulations - affecting Murdoch's organization and the media industry - in Murdoch's favor.
In an October 16, 2006 story in the New Yorker, journalist and former Murdoch employee John Cassidy tells us,
"When I suggested to Murdoch that many people believe that his business interests dictate his politics, he reacted angrily. "Go ask Ed Koch if I ever asked him for anything," he said. "Go ask Margaret Thatcher. Go ask Tony Blair. Ask anyone if I ever asked for anything."
"Koch told me that Murdoch did once ask for something: during a newspaper strike in 1978, he requested, through an intermediary, that the Post's delivery trucks be allowed to use the city's parkways. Koch said yes. (He offered the city's other newspapers similar access.) The Thatcher government provided Murdoch with crucial police support when he fired hundreds of print-union workers, in 1986, and Blair relaxed the Labour Party's policy on media ownership."
Cassidy's listing of Murdoch favors from government officials appears to have only been the tip of the iceberg.
Is Murdoch Pulling Strings to Rewrite American Media Laws?
There have been a whole host of changes to American media laws since Rupert Murdoch arrived on our shores in the late 1970's.
The laws and regulations governing media that have been altered include: 1) media ownership by foreigners, 2) limits on local television stations ownership, 3) ownership of multiple media outlets in the same market [aka duopolies], and 4) media mergers and acquisitions. While I was generally unable to establish a legally verifiable quid pro quo, I did find an incredible number of what could only be described as 'interesting coincidences'. So interesting as to lead me to believe they might not be coincidences at all, including a recent series of events that appear to illustrate the theory that Keith Rupert Murdoch has played a highly influential role in making those changes.
Was Michigan Congressman Fred Upton's Request to Remove the 'Fairness Doctrine', done in Exchange for Favorable Murdoch Media & Cash?
In an April 27, 2012 story by ABC News, I found this report about Murdoch and his organization's political donations,
"Lately, a particular fundraising focus for Murdoch's American arm has been the Republican chairman of the House Energy and Commerce Committee, Rep. Fred Upton of Michigan. The company has directed $35,500 to Upton's leadership committee, including a $2,500 check from Murdoch himself."
Less than a year earlier, on May 31, 2011 the EnergyCommerce.House.gov website reported that,
"House Energy and Commerce Chairman Fred Upton (R-MI) and Communications and Technology Subcommittee Chairman Greg Walden (R-OR) today sent a letter urging the Federal Communications Commission to remove the Fairness Doctrine rules from the Code of Federal Regulations."
""Further research has revealed that the political-editorial and personal-attack rules also remain intact despite the FCC's decision to repeal them. The media marketplace is more diverse and competitive today than it was ten years ago … " [Editor's Note: This statement is not true – see facts a bit further below].
Murdoch's Fox News was tracking these events, and reported in a June 8, 2011 story headlined FCC Agrees to take "Fairness Doctrine off the Books",
""I [FCC's Genachowski] fully support deleting the Fairness Doctrine and related provisions from the Code of Federal Regulations," … Genachowski wrote to Rep. Fred. Upton, chairman of the House Committee on Energy and Commerce."
"At the time [when the rules were instated in 1949], only 2,881 radio stations existed, compared with roughly 14,000 today."
FCC Chairman Genachowski failed to mention that while the number of stations has proliferated, the ownership of them has not. According to a Business Insider report [info source was FrugalDad.com – a higher education funding website] and also published in Wikipedia.org - the media outlets mentioned above are now owned by six corporations, down from 50 in 1983.
In the graphic at right is a Murdoch's tabloid NY Post roasting the Clintons about Quid Pro Quo. I superimposed Murdoch's face over the Clintons as it appears the pot may be calling the kettle black.
You Decide – Is Billionaire Media Mogul Keith Rupert Murdoch Guilty of Quid Pro Quo Corruption or are these an Amazing Series of Lucky Coincidences?
Read on to decide for yourself whether you think that billionaire media mogul Keith Rupert Murdoch and his organization, are guilty of many of the same sorts of quid pro quo malfeasance of which they so easily and frequently accuse politicians.
Click here to read the rest of our report - Is Rupert Murdoch Hacking Democracy & Quid Pro Quo Corruption?
---
---
Murdoch NewsCorp Propaganda Political Broadcast Laws Violations Hannity O'Reilly
NYC Rolls on After Small Bomb Explodes
Who are the Real Terrorists?
September 20, 2016 / Chelsea Neighborhood / Manhattan Neighborhoods / News Analysis & Opinion / Manhattan Buzz NYC / by Michael Wood.
Saturday evening, September 17th, at around 8.30 pm a bomb went off in a dumpster near 131 West 23rd Street [just off 6th Avenue] in Chelsea. While a number of people were injured by the debris [29 in total], thankfully nobody was killed, and all 29 of the people impacted have been released. The photo at right shows the scene were a small bomb exploded on Saturday evening in the Chelsea section of Manhattan.
NYS Governor Andrew Cuomo was quick to inform the public that the bombing was a terrorist act, but that it did not appear to be linked to international terrorism. Today, just three days later, it appears the bomber may have been influenced by a trip taken abroad.
At the time of Cuomo's announcement, he appeared to be continuing what seems like an ongoing effort to upstage the Mayor, by being the first to speak to the press and by sensationalizing the incident using words like terrorist [headline grabbing].
The Mayor was far more circumspect when he spoke, telling us only that based on the evidence gathered at the time, the act appeared to be intentional. The Mayor ended his remarks with that terse statement - telling us he would have more to say pending the receipt of additional information. NYPD Commissioner James O'Neill exercised the same caution in describing the event as the Mayor.
Is Murdoch's Media Org Hyping the Bombing for Ratings & Newspaper Sales Like They Appeared to do with the Iraq War?
Not surprisingly, Keith Rupert Murdoch's Wall Street Journal, NY Post and Fox News noted / lauded or applauded the Governor for helping them in what appeared to be their ongoing efforts to sensationalize the terrible act.
Was their goal in hyping the bomb to sell more newspapers and increase their TV ratings? At first blush that's hard to believe - until you do the math.
In 2002 - 2003, Murdoch in tandem with his global media organization, strongly advocated on three continents [U.S., Britain and Australia] to start the War in Iraq. Ultimately, I believe the war increased Fox cable TV and Fox News ratings, which are worth billions of dollars annually. We'll have more on this a bit later in the story.
Do Bombers Seek Fame & Does Murdoch's Media Machine Provide Them with it?
Is Instant Fame a Bomber's Motivation? It seems plausible that part of the motivation of a bomber might be to make the headlines / be shown on TV / become famous, even if only for what artist Andy Warhol described as one's 15 minutes of fame. See NY Post graphic to your right, where the now famous bomber made the NY Post front page while lying in bed. Thank you Mr. Murdoch and your NY Post?
Achieving Goals By Fear Mongering? Rupert Murdoch's propaganda-oriented 'news' outlets may in fact be part of the problem - not part of the solution. Murdoch's organization appears hell bent on hyping the bombing event into an international terrorist attack, which one may surmise that they can then use to rekindle fears based on 15 year old memories, to shape the national security narrative leading up to the general election.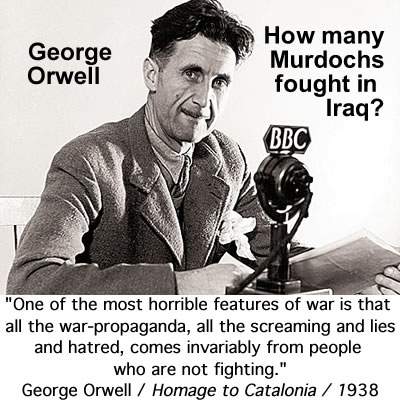 At a time when the whole world was in turmoil FDR told America,
"We have nothing to fear, but fear itself."
How times have changed.
It seems Keith Rupert Murdoch's organization is saying something just the opposite, like,
"Be afraid. Be very afraid."
Never mind that nobody died in this incident or even reportedly sustained any serious injuries. And based on what is known, and what I saw, there appears to be very little SUBSTANTIAL property damage. But professional propagandists never let the facts get in the way of the story they want to tell, the perspective they want to sell, so this was an event I used to watch and learn from a media organization controlled by a man believed by many, to be the world's reigning propagandist.
People need to pay more attention to who they're going to listen to, to provide them with information and context about the world in which we live. The information sources they choose inevitably influence their view of the world, who they choose to represent them, what public policies they want pursued and how they go about conducting their lives.
The graphic at right is a quote from author of the book entitled 1984 - George Orwell - in his book Homage to Catalonia published in 1938. In it he said,
"One of the most horrible features of war is that all the war-propaganda, all the screaming and lies and hatred, comes invariably from people who are not fighting."
Pay Attention to the Changing Murdoch Media Narrative
Can the Real Terrorists be Found in Murdoch's Fear Mongering Media Empire?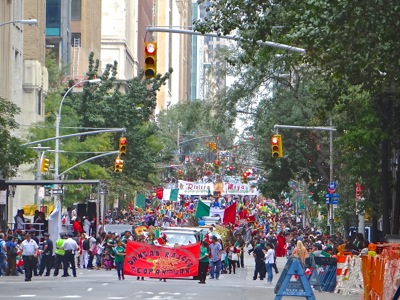 Given that folks were out and about on Sunday, less than a day after the explosion, I began pondering whether it's media outlets like those owned by Keith Rupert Murdoch that are responsible for terrorizing the citizens of New York - and the nation - by continually repeating fear-inspired storylines / narratives?
It seemed the bomber had already failed to terrorize us in New York City, where the bomb exploded, given the fact that so many of us were out and about only hours later. In the photo at right are marchers in the Mexican Day Parade.
But Murdoch's manipulative media machine looks like it went into overdrive by broadcasting, webcasting and printing fear-inspired stories. Thus,perhaps the bomber may yet succeed in terrorizing us, with the help of Murdoch's media fear mongering machine.
Media Mogul Calculus: Terror or War = High Ratings Worth $$$ Billions &
Since Taxpayer Funds Most Production Costs of War / Show = Even Higher Profits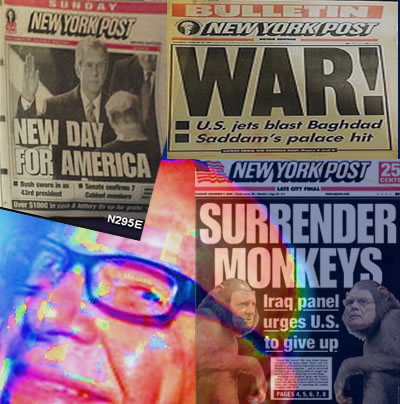 The Iraq War in 2003 was like fresh new free money, because Murdoch's organization could sell pricey TV ads for increased news ratings, while the bulk of the costs of staging the 'news programming' aka the Iraq War, was provided free to Murdoch's organization, compliments of the American, British and Australian taxpayers.
Based on the recent financial performance of Murdoch's organizations, his flailing media outlets appear to be in need of this sort of low cost [to Murdoch's media empire], high ratings programming.
Trillion(s) Spent on Iraq War Because of Phony, Media-Hyped, 'Weapons of Mass Destruction' Threat
In 2002 - 2003 Murdoch's organization appeared to use this same sort of hyping and sensationalizing of Sadam's 'weapons of mass destruction' to monger fear in America, Britain and Australia so the nations would go to war against Iraq.
Only later did we find out that there weren't, in fact, any weapons of mass destruction and that it was all media and political hype used to get us into the war. Once embroiled in the war, it cost well over a TRILLION DOLLARS, and by some accounts - we're still not completely out. In the graphic at right are just a few of the strident headlines published in Murdoch media.
Those Who do Not Learn from History are Doomed to Repeat it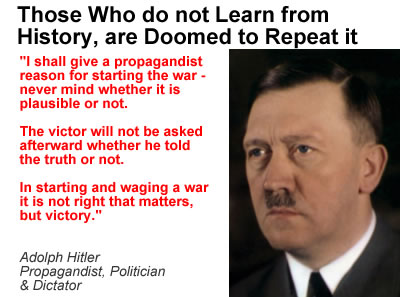 In researching propaganda, I couldn't help but encounter propagandist works and statements made by propagandists Adolph Hitler and Joseph Goebbels. I recall as a youngster wondering how Hitler came to have so, so much power. Only now do I understand, as it appears Hitler accumulated his power insidiously, by conducting mass marketing campaigns of deception, disguised and packaged in with information, facts and news.
Does Fox Disinform - So Murdoch can Decide?
Fox viewers have been found not only to be less informed, but actually disinformed, on subjects ranging from healthcare, to science, to international affairs.
Media Matters informs us that studies to this effect have been conducted by Kaiser Health, Ohio State University researchers, Program on International Policy Attitudes, Stanford University and the National Science Foundation, University of Maryland's Program on International Policy Attitudes, Farleigh Dickinson University and an NBC / Wall Street Journal poll before Murdoch acquired the Wall Street Journal.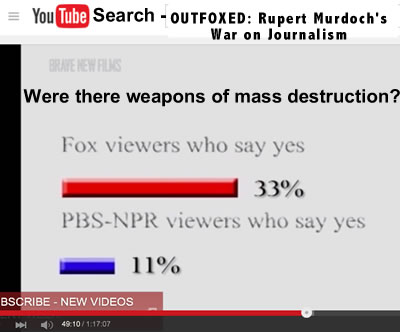 As you can see in the graphic at right, a poll which was included in a documentary entitled OutFoxed: Rupert Murdoch's War on Journalism, shows that Fox viewers tended to be more ill-informed than their PBS media peers.
You can click into the graphic which will take you to the video, but we reference and link to it again later in this story where we highlight a piece in the video that proves the point and is funny in a twisted Murdochian way.
Click here to view a prior piece we did on what appears to be Rupert Murdoch's assault on democracy which takes you deeper into what appears to be a long history of the billionaire media mogul's influence on electoral outcomes.
In June of 2016 Murdoch's media organization seemed to provide its readers / voters the same sort of bad advice with their advocacy in favor of Brexit or exiting the European Union. We'll have a bit more on this later.
Click here to read the rest of our report about what appears to be Rupert Murdoch's manipulative use of his media assets.
---
---
Rupert Murdoch News Corp NY Post Hazing NYC Mayor?
What's Behind NY Post's Media Hazing of Mayor?
Will Billionaire Rupert Murdoch Profit from NY Post Attack Stories?
Updated May 13th / May 1, 2016 / Manhattan Neighborhoods / Manhattan Politics / News Analysis & Opinion / Manhattan Buzz NYC.
The NY Post's incredible barrage of attack stories on NYC Mayor de Blasio this past month led me to believe that something was amiss.
Is the NY Post Misinforming the Public?
After a month long barrage of attack (ads?) stories regarding the Mayor's campaign funding, someone reading the NY Post might come away believing that Mayor de Blasio had already been convicted on numerous counts of breaking the law. As you will see later in this story, this would not be the first time the Murdoch organization's audience was not just uninformed - but rather misinformed.
In America, we still have a choice of who provides us with our information, so that said, if one read a newspaper that generally conforms to the professional standards of American journalism, like the New York Times, they would know that,
"It is not clear how direct a role, if any, the mayor played in some of these matters." - NYT April 29, 2016
Infomercials Presented as News?
Murdoch's organization publishes and broadcasts 'news' accounts that appear to make significant departures from the professional standards of American journalism. I began thinking that Rupert Murdoch has found a way to skirt campaign finance laws, because many of Murdoch's organization's 'news reporting' seems more like long-winded political infomercials than anything resembling a 'fair and balanced' news report. This is especially disconcerting given that Murdoch's $60 billion plus in revenue media companies include the NY Post, Fox News, The Wall Street Journal and dozens more media properties in America and hundreds worldwide.
Just Because They Say it's So, Doesn't Mean it's So
The NYS Board of Elections says,
"Independent Expenditures Do Not Include Expenditures in Connection with... A written news story, commentary, or editorial or a news story, commentary, or editorial distributed through the facilities of any broadcasting station, cable or satellite, unless such publication or facilities are owned or controlled by any political party, political committee or candidate ..."
Has Murdoch's organization found a way to skirt campaign finance laws by making huge, undisclosed, payment-in-kind, independent media expenditures in support of their preferred candidates while attacking their political opponents in order to push a self-interested Murdoch agenda, by running infomercials and attack ads as news stories?
Does this practice enable The Murdoch to become a string-pulling unelected politician himself, and put him in a position to make Murdoch organization supported candidates, political puppets?
Rupert's NY Post Goes After Mayor like Rabid Dog
There were 80 stories published about the Mayor by Billionaire Media Mogul Keith Rupert Murdoch's NY Post in the first 24 days of April.
That's more than three stories per day - and not a single one was positive [a few were neutral]. The stories were authored by 20 reporters, some of whom shared the bylines. This is the equivalent of having the entire editorial staff of a medium-sized American daily newspaper, working full time on publishing stories about just one government official.
I'm pretty sure that the Washington Post didn't dedicate this kind of resource to covering the Nixon Watergate scandal in the early 1970's. It seems like overkill, which is generally indicative that something is not right.
I say "not right" because it has been my experience that this kind of overzealous attack oftentimes reflects more upon the prosecutor than the prosecuted. As Shakespeare said, "I think the Lady [Murdoch] doth protest too much."
Abusive, Power-Hungry Media Moguls in Film - 1941 & 1997
While working on this story I found some parallels to the 1997 James Bond movie, Tomorrow Never Dies. In the movie, Eliot Carver is an evil media mogul who uses his printing presses and television stations to hype a war between Britain and China so he can drive up the ratings of a new satellite network and other news properties, AND claim exclusive broadcasting rights in China in exchange for helping a General conspire to become Chinese President.
Just five years later, in 2002, the NYT published a piece which they entitled 'Mr. Murdoch's War' which was about how stridently Murdoch urged the U.S. and Britain to go to war in Iraq, which we'll discuss in more detail later in this story.
During my research a character profile of multi-billionaire Murdoch began to emerge that was something right out of the film Citizen Kane. Kane was portrayed by Orson Welles in the 1941 film as a self-involved, self-interested, power-hungry media mogul.
It's worth noting that 1941 was the same year that the FCC capped TV media ownership by a single person / entity at 35%. Some pundits allege that the FCC ownership limit rule was overturned in 2002, because of behind-the-scenes influence exerted by Rupert Murdoch. I'll provide some more detail about the FCC changes a bit later in this story.
The image to your right shows a listing of the barrage of NY Post stories, based on allegations and innuendo, attacking Mayor de Blasio in just three days of April of 2016. The barrage of attack coverage in the NY Post has more the character of a propaganda machine, than a real news outlet that conforms to the American standards of journalism.
Click this link for the rest of Story & Video About how Murdoch's NY Post appears to be used as propaganda machine working to oust the NYC Mayor.
---
---
On the Campaign Trail & 'Feeling the Bern'
Sanders Introduces Democratic Socialism to the American People
Updated April 19, 2016 from 4/15/16 / Village Neighborhood / Manhattan Politics / News Analysis & Opinion / Manhattan Buzz NYC.
If nothing else, this has been an interesting presidential election cycle. It's not 'reality TV', its televised reality.
Making America Great ... again?
The Republicans attracted most of the attention early on, thanks mostly to Donald J. Trump's shock jock presidential candidacy. A candidacy that turned presidential debates about public policy into name calling, discussions of poll numbers & penis size, and relentless barrages of vituperative insults.
The Donald has, in his campaign, essentially told us to forgeddabout the ballooning government deficit, a dated and at times crumbling infrastructure, fixing our public education system, helping the shrinking middle class and addressing global climate change.
The Donald has distracted us from an intelligent discussion about these 'loser' subjects, and told us that he's going to rip 12 million people [the equivalent of about 5% of the nation's population] away from their families by deporting them, punishing women for getting abortions, and erecting a wall along the border with Mexico which he tells us the Mexicans are going to pay for.
Does Trump really think this is how to 'make America great ... again'?
Trump Candidacy Increases Ratings Which Translates to Profits
Trump may not make America great again, but he's been good for corporate-owned, network television ratings. The Hollywood Reporter quotes CBS Chairman, Leslie Moonves telling a Morgan Stanley conference in San Francisco on February 29th, 2016 that,
"The money's rolling in and this is fun ... this going to be a very good year for us. Sorry. It's a terrible thing to say. But, bring it on, Donald. Keep going."
While Sanders Delivers Substance & Expands Public Debate
So while Donald Trump has been filling the pockets of corporate-owned mass media, Bernie Sanders - the man with the real story - has largely been ignored. Ignored by the mass media, but embraced by the social media and a signficant and growing segment of the American populace. In fact Sanders, during the past week of campaigning in New York, attracted crowds of tens of thousands, while the other candidates on both sides of the ticket did not.
Click here to see photos of the Bernie Sanders rally in LIC Queens, as well as a story about the contest between Sanders and Clinton.
---