Off Broadway Theater: Mourning Sun
West End Theatre Hosts New Work by Theatre 167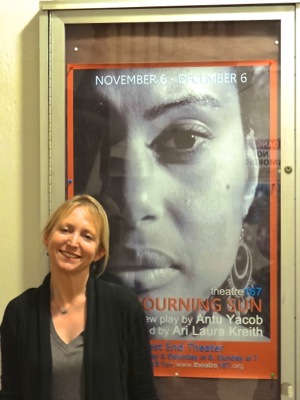 November 16, 2015 / Upper West Side Neighborhood / Manhattan Off Broadway Theater NYC / Manhattan Buzz NYC.
I disembarked from the subway at West 86th Street on the Upper West Side. It was a relatively warm November evening as I got my bearings before heading west to the West End Theatre at 263 West 86th Street.
West End Theatre is not just the name of the locale, but it's also a phrase taken from the London theatre district, that is similar in essence, to what Broadway means in New York City. A West End Theatre production in London means you're attending one of the highest level of commercially produced shows. So the West End Theatre is a 'play' on words - but appropriate here - as in addition to the name of the theater it also communicates the quality of the new play entitled 'Mourning Sun'.
West End Theatre on the Upper West Side UWS
The West End Theatre is located on the second floor of St. Paul & St. Andrew Methodist Church. The church is a large building, which was erected in 1897, at a time when the Upper West Side was being developed in great earnest.
I walked into the building, which had a spacious ambiance. I was directed to walk up the wide, worn, white marble steps that led up the antique wooden staircase to the second floor. There's a karmic feel to the place that allows one to breathe freely, not knowing whether it's attributable to an ancient, ample, allowance for space; or because its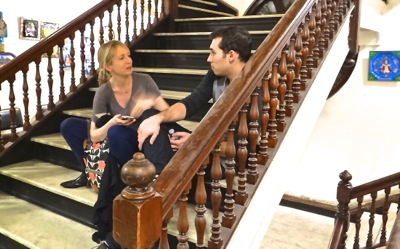 inhabitants' free flowing energy silently and insidiously infects its welcomed wandering guests with their buoyant enjoyment of life.
I met Director Ari Laura Kreith and Jenny Lyn Bader upon my arrival. After a brief exchange of pleasantries I was escorted to the balcony where I had a box seat overlooking the stage so I could take photographs without disturbing the theater-goers.
It wasn't long before Director Kreith came on stage to introduce the production, and after speaking a few short sentences, she let the show go on. Director Kreith is shown in the photos above.
Click here to read the rest of our report including a photo slide show of Mourning Sun, and off Broadway theater nyc produced by Theatre 167.
---
Off Broadway Theater: Mourning Sun
West End Theatre Hosts New Work by Theatre 167
November 16, 2015 / Upper West Side Neighborhood / Manhattan Off Broadway Theater NYC / Manhattan Buzz NYC. Continued.
Mourning Sun - Original Theater in NYC
The lights came down, the stage lit up and we were whisked off to a faraway land called Ethiopia. We soon found ourselves in a dusty, dry desert town in eastern Africa, watching teenage kids hanging out in a small village set in modern times.
The beautiful, young Biftu and the tall, lanky Abdi were chatting, along with Biftu's sister, about pop music and America. Abdi was openly in love with Biftu, and she seemed to enjoy his attention and carefully return the affection. In addition to the alchemical attraction, Biftu and Abdi shared a great joy of the pop dance tunes of Michael Jackson.
Biftu's mother enters, and we are introduced to the hard realities of Ethiopian culture and custom. Even in modern day Africa, children are still to be seen and not heard, absolute obedience is required, and sometimes - which we will soon learn - at great cost. The West End Theatre is shown in the photo at right.
Act I: Off Broadway Production Focuses Attention on Young Ethiopian Girls
Biftu's mother is played by Antu Yacob, who is also the playwright. Antu was born in Dire Dawa, Ethiopia, but raised in California and Minnesota. She wrote the play after hearing tales from her sister, a physician, who had a temporary medical gig in Ethiopia aiding women with their health issues. Antu Yacob [mother] and Arlene Chico-Lugo [pregnant daughter] are shown in the photo at right.
The first act of the play [and inspiration for its conception] is about the trials of the Ethiopian women who Antu's sister helped. The medical condition portrayed in the play centered on the trials and afflictions of young Ethiopian girls who endure flawed pregnancies, which then cause them great pain or death, unless properly treated. Biftu, the heroine in the play lives, so that we can go onto Act II.
Antu - through her character Biftu - takes us on a sliced dive into Ethiopian culture. The young Biftu appears to be treated like a barn animal and traded like one into the family of her husband when she is only fourteen years old. She is deprived of marriage with a man of her choice [the young Abdi]; while Abdi is deprived of the woman for which his heart yearns … at least for now.
About nine months after her marriage, things take a turn for the very worst for Biftu, and we are drawn into the beleaguered world that Antu Yacob seeks to bring to the world's attention. It's a world of very young, very poor, and essentially dispossessed girls with severe physical ailments and handicaps making their way across the Ethiopian countryside in search of help or a cure from western doctors and medicine.
Meanwhile Abdi, after learning of Biftu's marriage, finds himself facing better circumstances. Abdi was an African AIDs orphan, but his father's sister - aka his American aunt - seeks him out and then brings him back with her to America. In America Abdi adapts rather well, to forgetting his Ethiopian past, while adapting to American culture.
On a trip back to Ethiopia, Abdi has a chance encounter with Biftu. Biftu is still seeking remedy for her affliction and it is upon the day of Michael Jackson's death that they meet again ...
And so ends Act I.
Act II: West End Theatre Hosts Theatre 167 Off Broadway Theatrical Productions
The second act takes us to America where we land in the apartment of the young couple. As mentioned previously, Antu told me she first wrote the play to bring to life the trials and tribulations of the Ethiopian girls with these troubled pregnancies. But Antu never felt like the first Act was a finished work …
After a time, Antu began envisioning Biftu and Abdi getting together again. She saw Biftu coming to America and living with Abdi. In some measure it was Act II that I found most interesting, because of the psychological depth that accompanied it.
To me the second Act was about true love. It was about a childhood love that persisted and endured. It was about a trust that never truly foundered, and an interest in each other that went beyond the physical externalities of sex and money. In some measure it was a hopeful, thoughtful look into the psychological connection between the two leading characters, while acknowledging their individualities.
Biftu's and Abdi's love might not have succeeded without the help of those who surrounded them. Like little Cupid's angels, these people sent forth loving arrows of insight and slings of compassionate understanding to aid the young lovers in their comprehension of one another by sensitizing them to the other's point of view. It's the misunderstandings that sabotage relationships, and simultaneously repeated failures by both parties, to quietly listen to the vibes, energy and perspective of the other.
Thus, in Act II, our heroine and hero are once again challenged by life's twists and turns, as they attempt to navigate their way through their long separation, changed lives and world views, and misunderstandings of each other based on outdated assumptions made long ago ... aka in Act I.
Director Kreith Discusses Off Broadway Theater on the UWS in NYC
After the performance I spoke to Director Ari Laura Kreith about the production. She gave me a brief history of how she met Antu through John P. Keller. John P. Keller played several roles in the play including a doctor, a radio announcer and 'True'.
Keller is also the Director of Education for coLAB Arts or colab-arts.org. After he had been introduced to Antu's play, he suggested a meeting with Ari, because he knew of Ari Laura Kreith's keen interest in exploring cultural diversity, and human understanding.
Life moves quickly, oftentimes leaving most folks wondering what's the point of it all - particularly as they near the finish line. Perhaps the point is that we should listen more to one another … to our friends, our families … and to our own hearts, minds and souls.
Perhaps then we would live a life of harmony based on understanding, instead of the chaos of misunderstandings - because listening and loving are a lot alike. Arlene Chico-Lugo and Kevis Hillcocks are shown in the photo at right.
Actress Chico-Lugo & Actor Hillcocks Star in Mourning Sun
Arlene Chico-Lugo acted in the role of Biftu, the main character. She did a great job of carrying the lead role by charming the audience before taking them on her character's life journey.
But "many hands make light work" and the members of the supporting cast played their roles equally well, and nicely complemented Arlene's character and helped dimensionalize her world. Kevis Hillcocks was the male lead, Abdi, and he was a convincing stalwart lover.
Theatre 167 Produces Original Off Broadway Plays on the Upper West Side
In speaking to Ms. Kreith after the show, I inquired as to what she hoped to achieve by producing this play. She smiled her calm Director's smile, and replied,
"… to explore human differences … cultural diversity … to further understanding … because that's what we do …".
FYI - There's a male / female nude scene in Act II. The cast of Mourning Sun is shown in the photo above.
On Thursday, November 19 there will be a post performance discussion by Taina Bien-Aimé, Executive Director, The Coalition Against Trafficking in Women.
Dates / Times / Tickets. Mourning Sun will be performed at the West End Theatre at 263 West 86th Street from Nov 19th through 22nd, and from Dec 3rd through 6th at 7 pm Thursday & Sunday and at 8 pm Friday & Saturday. Tickets may be purchased for $18 / $16 at www.theatre167.org.
Cast & Credits for Mourning Sun at West End Theatre in NYC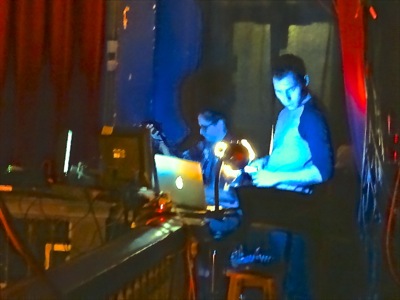 Theatre 167 presents Mourning Sun written by Antu Yacob & directed by Ari Laura Kreith.
Cast of Characters
Biftu ........................................... Arlene Chico-Lugo*
Mawardi/Kayleen ............................... Fadoua Hanine
Abdi .................................................. Kevis Hillocks
Emaye/Miriam ....................................... Antu Yacob*
Worku/Ken ...................................... Charles Everett
Getahun/Drivers 1,2,3/Dr. Melaku .... Shamsuddin Abdul-Hamid
Dr. Wells/Radio Announcer/True ............ John P. Keller*
*These Actors and Stage Managers are appearing courtesy of Actors' Equity Association.

---
Gotham Buzz Voluntary Subscriptions
We work very hard to help keep you informed by providing you with independent news coverage, as well as
information about events in the arts, culture and business in the borough.
You can help us continue to provide you with independent, first-person, fact-based, contextural reporting by purchasing an annual subscription. As it's voluntary, there are a variety of price options, one of which should fit within your budget.
Thanks for your encouragement & support.
---
---
---
Manhattan NYC Related Links
Click for Manhattan Restaurants NYC
Click for Manhattan NeighborhoodS NYC
Click for Manhattan Things To DO NYC
Click for Gramercy Park Restaurants NYC
Click for Manhattan Hotels NYC
Click for New Years Parties & Restaurants NYC
Click for Manhattan Furniture Stores NYC
Click for Manhattan Street Fairs NYC
Click for Manhattan Professional Services NYC
Click for Manhattan Farmers Markets NYC
---
---