Year of the Rooster in Manhattan
Chinatown Pulls out all Stops for the Year of the Fire Rooster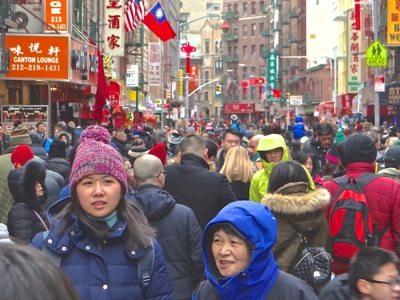 January 31, 2017 / Chinatown Neighborhood near SoHo & Tribeca Manhattan NYC / Manhattan History & Culture / Manhattan NYC Holidays / Manhattan Buzz NYC.
On Saturday morning I headed down to Sara D. Roosevelt Park on the Lower East Side – LES – in Manhattan. The Chinese were planning a New Year Day Firecracker Ceremony & Cultural Festival that would run from 11 am to 3.30 pm, with the highlight being the lighting of the firecrackers at 12 noon to ring in the New Year.
I arrived a bit after 12 noon, but just in time to catch the tail end of the firecracker ceremony. It was loud and smoky and the park was full of people who came to enjoy the whole affair. In the photo at right you can see a huge crowd wandering the streets of Chinatown in Lower Manhattan along Elizabeth Street between Canal & Mott Streets.
Grandparents, children and everyone in between were there. And the Chinese celebrants were joined in attendance by thousands of people, many of whom represented numerous other ethnic groups. One of the things I love most about New York City is times like these where I get to join in seeing the world peacefully come together, to savor one another's culture, in a shared communal learning experience.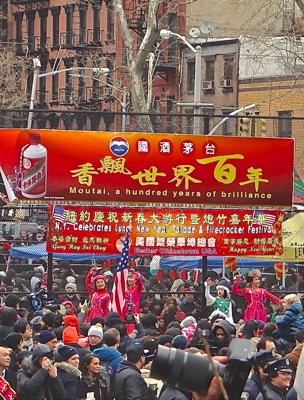 Traffic along Chrystie Street was a bit backed up, as the teeming crowds spilled into the streets, and motorist caution was in order with so many people, young and old, around. I made my way along the perimeter of the park up to Grand Street where the entrance is located.
Along the way I would jump up along one of the rails to take some photos of the spectacle in the park. Once inside the park, which was no mean feat, given that literally thousands were making their way out, I found a spot on higher ground where I could listen and watch some of the cultural performances taking place on the main stage. We are beginning the year of the Fire Rooster.
The Chinese have twelve symbols, one of which they designate for each year, in a rotation. The symbols are comparable to those used in the Zodiac, and is likely from where the Zodiac originated.
The use of the twelve symbols likely came from the lunar [monthly] cycle of the Chinese calendar. This year in the western / modern world is 2017, while in the Chinese lunar calendar we have just entered the year 4714. As you can see by the count, the Chinese culture has a significant head start on the west.
In the photo at right you can see performers at Sara D. Roosevelt Park on the Lower East Side of Manhattan, ringing in the year of the Rooster.

---
The Road Ahead 2017
A Few Axioms To Keep In Mind Throughout The New Year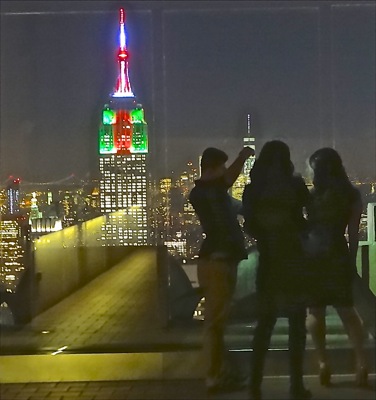 January 1, 2017 / Manhattan Buzz NYC. For many of us, today starts the beginning of the new year.
I used to make new years resolutions that generally lasted a few days or few weeks. Over time I've given that up and have focused on a few guiding principles that I work toward throughout the year, every year.
The first guidepost is to keep things as simple as possible by letting things go, so you can change and evolve who you are. Over time it's important to learn to let go of the past which includes letting many of the people, projects and things - that were once so meaningful and relevant - fade away with time. This process involves discarding many of the things one collects, in order to open up life to make room for new possibilities.
The second guidepost is to take care of the vessel that carries one's being - meaning taking care of the body because it's the only one we'll ever get and it has to last an entire lifetime. This means consuming the foods that will enable the body to function properly and ward off disease, while recognizing that satisfying the mind is important too, as it's a part of the body. There are three elements to this guideline.
Try to maximize consumption of natural foods while managing consumption of the delicious processed foods that come in packages. Read the container nutrition labels which indicate the amount of fat, sugar, sodium and cholesterol consumed per serving. The balance of natural and processed foods will shift depending on what's going on in life.
Reduce consumption of toxins by first paying attention to the quantities consumed of them, and then by substituting the toxins with healthier options. For example dilute a soft drink with seltzer water [cuts sugar], or swap in a lemonade for a beer [cuts alcohol], or swap in pretzels for potato chips [cuts salt and fat]. Over the years these little substitutions can add up to some small measure of weight loss and can aid in maintaining generally good health. But also don't deprive yourself too much of some of the simple pleasures in life that keep one going - because when that's done, there's rebellion, and the program won't work.
The third element of this guidepost is to try to walk and bike whenever possible. It's a way to kill two birds with one stone by enabling you to get somewhere while also getting some exercise. And be sure to carve out the time each night, required for a proper rest.
The third guidepost is to try to move your life in the direction of your interests. This will likely take a great many years, as well as economic and other trade offs. But if successful, one can then spend most of their time doing the things that totally engage them. It's said that "when one is doing something they love, they'll never have to work another day in their life."
And the fourth guidepost is to keep on learning, because "luck is when preparation meets opportunity".
May your new year be filled with promise and possibilities.
---
Diwali in Times Square
3rd Annual Indian Festival of Lights Delights Audience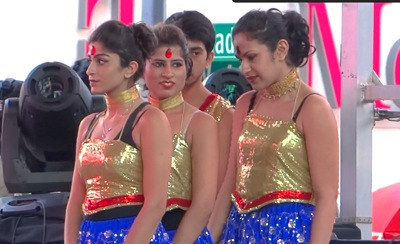 October 16, 2016 / Manhattan Neighborhoods / Holidays in NYC / Manhattan Buzz NYC.
I attended the third annual Diwali Festival in Times Square on Sunday. The day long event, celebrating the millenia old Indian festival, had started in the afternoon at 2 pm and ran well into the evening, ending at 9 pm.
As I came up from the subway I asked an Indian-looking NYC policman to point me in the direction of the festival. He asked me how I had heard of the event and I mentioned that I had found out about it on Manhattan Buzz, but that I had also traveled to India some time ago where I first became aware of the Indian holiday. He inquired as to where I had traveled in India, which was mostly in the north, and he suggested the next time I visit, to check out Kerala, which is where his family is from originally. I had learned from my travels that Kerala is a southwestern Indian province along the Indian Ocean, and is said to be a bit of paradise.
A large crowd had gathered to watch the festival, many of whom were of Indian descent which I found from conversing with several of them. They brought their families to view the free entertainment which included a number of wide ranging song and dance performances by dance troupes and musicians.
Diwali is the festival of lights, which commemorates light overcoming darkness, good overcoming evil and knowledge overcoming ignorance and hope defeating despair. It is one of the three major Hindu festivals and a time for renewal and celebration which is denoted by the cleaning of homes and the lighting of lights. The Diwali Holiday officially runs from October 30th to November 3rd, but unoffically it lasts longer starting in September / October and ending in October / November. The other two major Hindu holidays are Holi which celebrates Spring with the coloring of people's bodies, faces and hair and Maha Shivaratri which is one of the rare nighttime celebrations, held just before the arrival of Spring with a mix of solemn practices including meditation, yoga and fasting.
Happy Holidays or as they say in Hindu - छुट्टियों की शुभकामनाएं.
---
Pulaski Parade Charms Manhattan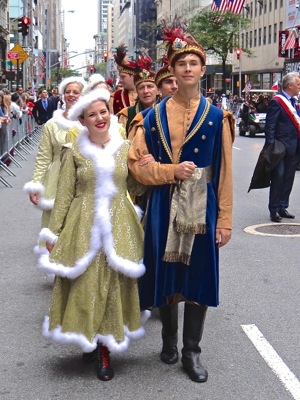 October 4, 2016 / Midtown Manhattan / Manhattan Parades / Manhattan Buzz.
I attended the Pulaksi Day Parade on Sunday. The Pulaski Day Parade celebrates Polish heritage in America, highlighting one of the early Polish contributors to America's democracy, General Pulaski who fought in the American Revolutionary War.
It was a beautiful clear day with temperatures around 70 degrees and the sun was shining. All along Fifth Avenue people had lined the streets, awaiting the parade floats, bands and marchers. In front of St. Patrick's Cathedral stood two members of the clergy with whom I had a chance to speak.
We'll have more about the Pulaski Parade later this week.
---
Rosh Hashanah Begins Sunday
The Jewish New Year Begins with the Feast of Trumpets
September 28, 2016 / Manhattan Neighborhoods / Manhattan Holidays & Ethnic Culture / Manhattan Buzz NYC.
On Sunday, October 4th at sundown, the Jewish New Year begins. The festival commemorates the creation of Adam and Eve and is rung in with a sounding of the shofar, which is a ram's horn that is shaped like a trumpet.
The New Year celebration lasts two days and is also a period of judgment. People are divided into three classes - the righteous, the evil and those who fall in between. Each class is dealt with accordingly, and those who fall in between have ten days to reflect on their lives ending in Yom Kippur wherein they are expected to atone for wrong deeds.
Rosh Hashanah also includes the serving of a few symbolic foods including vegetables such as dates, leeks, spinach and squash. Apples are cut and served with honey [along with a honey bread] to symbolize a sweet year and the challah bread is served to symbolize the cyclical nature of the year. Gefilte [stuffed] fish is also a Rosh Hashanah staple.
I attended Rosh Hashanah at Chabad LIC in 2011 where I met Rabbi Yitzchok who is an artist and had several works on display. In the artwork above right he depicts scenes from Orthodox Jewish life in the Brooklyn neighborhoods of Williamsburg and Crown Heights in pop art silk screens.
---
4th Of July Fireworks In Manhattan
Tale & Photos Of My Trip On Independence Day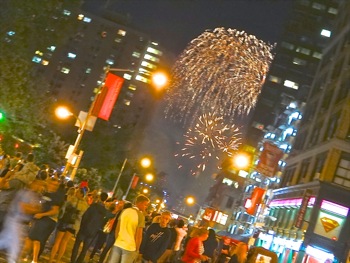 July 4th / Holidays in Manhattan NYC / Manhattan Buzz NYC.
I went to see the Macy's 4th of July fireworks in the East River on the Manhattan side on Friday night. Official reports told everyone that the fireworks would begin around 9 pm, but I knew from experience that they generally began closer to 9.30 pm.
I took the subway down the east side of Manhattan sometime after 8.30 pm but still a bit before 9 pm and it was as packed as it usually is during rush hour on a weekday morning.
I decided to go 'all in' and get off at the Court House / Brooklyn Bridge stop. Tonight it was the last stop on the train and many others had opted to get off a couple of stops earlier.
At a later date we'll post the rest of the story including photos of the 4th of July fireworks in Manhattan NYC. A photo from 2014 is shown to your right.
---
Holi Hai in Dag Hammarskjold Park
Indian Festival of Colors Celebrates the End of Winter & Love
May 10, 2016 / Midtown Manhattan Neighborhood / Holidays in Manhattan / Manhattan Buzz NYC.
This year I decided to celebrate the coming of Spring by joining the thousands of Holi Hai celebrants at Dag Hammarskjold Plaza two weeks ago.
Holi [without the Hai] is an ancient Hindu festival that celebrates the end of winter, the triumph of good over evil and love. The Holi festival dates back thousands of years, coming down first through an oral Hindu tradition and first documented about the 4th century A.D. according to Wikipedia. I'll get into the mythology and history that accompanies this annual celebration a bit later in this report.
I'm pretty sure that the Holi Hai festival at Dag Hammarskjold Plaza began in 2013, thus making this its fourth year. The event started at 2nd Avenue and 47th Street in Midtown East at 11 am and ended at 6 pm, although many folks didn't depart the plaza until sometime later. During the seven hour event there were easily hundreds of celebrants at any one given time, and musical performances on a stage set back in along the plaza, complemented by several Asian food stalls interspersed in and around the plaza.
But the main fun is in the interactions that take place within the large body of celebrants, who don old T-shirts, and come prepared to give messy and get messy. More to come late this week.
---
Valentines Day Restaurants Manhattan NYC
Valentine's Day Restaurants In Manhattan
Romantic Places For Dinner on the Upper East Side, Upper West Side, Midtown, East Village
February 2017 / Manhattan Neighborhoods / Manhattan Restaurants / Manhattan Buzz NYC.
Valentine's Day is less than two weeks away. It's a good time to let your loved one know you care. Flowers, gifts and dinner are always welcome treats, and / or some thoughtful gesture that shows that the lady [or man] you're with still means a lot to you.
It's generally hard to make restaurant reservations on short notice at a romantic Manhattan restaurant on Valentine's Day, and sometimes it's difficult to make them for the weekend preceding Valentine's Day. So if you're thinking about doing something this Valentine's Day for dinner on the Upper East Side, Upper West Side, Midtown or East Village; it's best to do your research early, and call a week or at least a few days ahead to make the reservations.
Valentine's Day History - Romantic Restaurants In Manhattan
The origins of Valentine's Day are not well documented. It's believed to have been named after Saint Valentine who was apparently a Catholic martyr who died over 1500 years ago. Today the holiday is not associated with religion so much as flowers, candies, cards and romantic dinners. And the holiday spokesperson is now Cupid, a Roman god of desire, and quite a mischief maker.
Click this link to view a brief guide of Valentine's Day restaurants in Manhattan where you will find links to Manhattan restaurants we've visited in the past or have reviewed. The restaurants we've reviewed include a mix of high, medium and budget priced restaurants that are spread throughout the borough and offer a large variety of ethnic cuisines. Enjoy.
---
Chinatown History NYC & Chinese New Year Parade Manhattan
Manhattan: Chinese New Year of the Monkey
Chinese New Year Parade & Brief NYC Chinatown History
February 15, 2016 / Chinatown Manhattan NYC / Things To Do Manhattan / Manhattan Buzz NYC.
Ancient Chinese Calendar Based on Chinese Zodiac & Study of Planets
This past week Manhattan celebrated the Chinese New Year of the Monkey. The Monkey is fun-loving, curious, clever and mischievous. Those born this year, or five Chinese calendar cycles ago in 1944, are born under the influence of the Fire element. There are five elements, and each influences a 12 year / Chinese calendar cycle. We are currently in a Chinese calendrical cycle that is influenced by the Fire sign. It is believed the 12 years corresponds to the 11.86 years it takes Jupiter to revolve around the sun.
Chinese Five Elements Influence 12 Years of the Calendar Cycle
Every calendar cycle is influenced by one of the five elements: metal, water, wood, fire and earth. And each of these natural elements signifies something. The five elements are associated with the five planets nearest to earth which are: Mercury [water], Mars [fire], Venus [metal], Saturn [earth] and Jupiter [wood]. The five elements are all natural and have transformative influences on each other. For instance water can extinguish a fire, a fire can be created with wood, and fire can melt metal. If you study these transformations you will see that they are all connected, like nature itself, a part of a whole. Thus an entire cycle encompasses the five elements times each calendrical [or zodiac] sign for a total of 60 years.
Click here for a brief history of NYC Chinatown in Manhattan and the NYC Chinese New Year Parade in Manhattan.
---
New Years Parties In Manhattan
New Years Parties In Manhattan
New Years Parties in Manhattan, UES, Upper East Side, Midtown, West & East Village & UWS
December 29, 2016 / Manhattan Restaurants / Manhattan Buzz NYC.
We've taken an look into some of the restaurants hosting New Years parties in the Manhattan NYC. The restaurants in Manhattan offer a wide variety of party venues.
Picking the restaurant you're going to party at in Manhattan is something you should give thought to - not just for budgetary reasons, but depending on the time of you arrive and your plans for the evening.
Click here to read the rest of our report about new new years parties in Manhattan.
---
Park Avenue Tree Lighting - Christmas Tree Lightings in Manhattan NYC
Park Avenue Tree Lighting Event UES NYC
Park Avenue Tree Lighting Event Commemorates Sacrifice
Updated w/ Photos & Video December 15, 2015 / Upper East Side Neighborhood UES / Manhattan History NYC / Manhattan Buzz.
I stumbled upon a holiday celebration this year, that is one of the little gems in the living history of Manhattan – the Park Avenue Tree Lighting event. It began in 1945, only months after the conclusion of the Second World War. It was dedicated to those who fought so bravely to defend our American rights and freedoms, and to those who made the ultimate sacrifice: their lives.
What follows is a history of the various people and organizations that have contributed to maintaining this living tribute to those American soldiers, as well as a real time account of the 2015 Park Avenue Tree Lighting event in the photos and video that accompany the story.
Several of the Upper East Siders with whom I conversed, told me that attending this holiday event has become one of their annual family traditions. The event is non-denominational where all are welcome, although it's worth mentioning that the event has some Christian cultural DNA embedded in the speeches and the music. But that said, the event is designed to be inclusive embracing all cultures and peaceful worship, which is one of the American freedoms for which those brave soldiers being commemorated tonight, gave their lives.
Click here to read about the history and see the video of the Park Avenue Tree Lighting event on the Upper East Side of Manhattan.
---
NYC Hanukkah Manhattan - Lighting of World's Largest Menorah NYC
Hanukkah NYC: Lighting of the Menorah in Manhattan
NY Senator Charles Shumer Lights Large Menorah in Grand Army Plaza
Updated w/ Photos & Video December 15, 2015 / Midtown Manhattan Neighborhood / Holidays in Manhattan NYC / Manhattan Buzz NYC.
I attended the lighting of one of the World's Largest Menorahs at Grand Army Plaza in Manhattan. It was an unusually warm December night, with the temperatures in the high 50's, and only a gentle breeze stirring the air. Grand Army Plaza in Manhattan is located just across from the 5th Avenue entrance of the Plaza Hotel at the southeast corner of Central Park.
It's worth mentioning that there are two Grand Army Plazas in New York City. During Hanukkah, both Grand Army Plazas become the locales wherein two very large, 32 foot high Menorahs are lit. The Brooklyn Grand Army Plaza is located on the northwest corner of Prospect Park in the Park Slope neighborhood of Brooklyn. The Large Menorah in Brooklyn, is lit throughout Hanukkah, by Rabbi Shimon Hecht of the Chabad of Park Slope.
Click here to read the rest of our report, including a video, of NYC Hanukkah - Menorah Lighting in Manhattan.
---
Manhattan Holiday Events & Holiday Markets NYC - Kwanzaa, Hanukkah & Christmas NYC
Holiday Events & Holiday Markets in Manhattan
Christmas Tree Lightings, Hanukkah Menorah Lightings, & Kwanzaa Candle Lightings in Manhattan & Holiday Markets & Events NYC
Updated December 11, 2015 / Upper East Side UES / Upper West Side UWS / Midtown NYC / East Village & West Village / Tribeca SoHo Bowery / Holiday Events & Holiday Markets - Kwanzaa, Hanukkah & Christmas Holidays in Manhattan / Manhattan Buzz NYC.
Holiday lighting festivals and ceremonies have been on the rise in Manhattan in recent years. While some date back many years, some are fairly new.
Attending holiday lightings alone, with friends, or with the kids gives folks a chance to enjoy their own cultural heritage and provides an opportunity to learn a bit more about the cultural heritage of others.
Each lighting is a bit different, as some are orginated by the community, some by businesses, some are religiously oriented, and a few have arts organizations behind them. Please feel free to send us a notice of your holiday lighting event if it's not posted herein.
Manhattan Holiday Events & Holiday Markets Now Underway
This is not meant to be a complete list, but rather a list of the holiday lighting events. The holiday lighting events are organized individually by each Manhattan neighborhood including the Upper East Side UES, the Upper West Side UWS, Midtown NYC, the East Village, the West Village, the Bowery, SoHo, Tribeca and more to come. Many include the serving of some beverage like hot chocolate and generally some snack like cookies.
Click here for a schedule of the Xmas / Christmas Tree Lightings, Hanukkah Menorah Lightings, Kwanzaa Candle Lightings - holiday events & holiday markets Manhattan - Christmas, Hanukkah & Kwanzaa NYC.
---
Manhattan NYC 4th of July Fireworks Photos
July 4th Fireworks Manhattan Photos
Macy's Expands NYC Fireworks Celebration North on East River Manhattan
July 6, 2015 / Manhattan Neighborhoods / Manhattan Holidays NYC / Manhattan Buzz NYC.
It was a near perfect evening as I made my way toward the East River to watch the Macy's 4th of July fireworks display. The first Macy's fireworks display was in 1976 for the second bi-centennial celebration.
The photo at right shows the July 4th fireworks display from Four Freedoms Park on Roosevelt Island.
Last year Mayor de Blasio urged Macy's to return the fireworks display to the East River, as it had been moved to the Hudson in 2008 in celebration of the 400th anniversary of Henry Hudson's discovery of the river named after him. Macy's continued to host it there until 2014.
There were six barges along the Hudson in 2008, which was reduced to three barges surrounding the Brooklyn Bridge in 2014. This year they added two barges which were positioned further north along the East River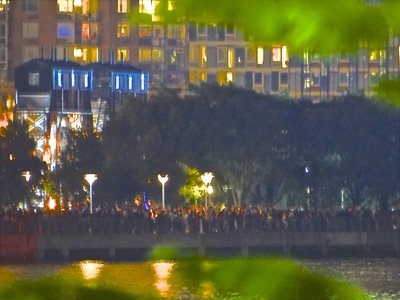 making it possible to enjoy the display from many parts of eastern Manhattan further north along the East River.
We had identified many of the best places to watch the July 4th fireworks in Manhattan in an earlier posting, but given the addition of barges stationed further north along the East River, it was difficult to determine how far north along the East River one could go and still enjoy a good fireworks show.
So with that in mind I made my way toward the 59th Street Bridge as I was pretty certain it would be closed, but it would have been the perfect place from which to photograph the fireworks. As expected there were police officers standing at the bicycle / pedestrian entrance to the bridge and they informed me that it would not be open until 10.30 pm, or about a half hour after the fireworks display.
The photo at right shows the Queens audience along the East River and northern tip of Gantry Park in Long Island City on Saturday night July 4th, just after the fireworks ended.
Click here for the rest of our story about the 4th of July fireworks Manhattan NYC as seen from Four Freedoms Park on Roosevelt Island.
---
July 4th Fireworks Manhattan NYC - Places / Where To Watch & View
4th of July Fireworks 2016 Manhattan
Best Viewing Places / Locations to Watch Fireworks in Manhattan NYC
July 1, 2016 / Manhattan Neighborhoods / Manhattan Buzz NYC.
The Macy's 4th of July fireworks will be shown along the East River this year. They were shown along the East River in 2014 for the first time since 2008. Mayor de Blasio had lobbied the change, which now spans three years.
Weather. Highs will be in the mid 80's during the dayand in the high 60's at night. As no rain is forecast it should be a near perfect night.
The Grucci Brothers will be doing the Macy's 4th of July fireworks in NYC. They have been doing fireworks for many years and the Macy's July 4th fireworks in Manhattan for decades.
But for those looking for fireworks on 4th of July 2016, you'll have ample opportunity to view the fireworks as the pyrotechnic performance expansion is being continued this year.
Click here for a report about where to watch the 4th of July Fireworks 2016 Manhattan NYC & surrounding areas, including times and locations for the Macy's 4th of July fireworks in NYC and at Jones Beach on Long Island.
---
Irish Pubs & Restaurants Manhattan - UES, UWS, Midtown, East Village
Irish Pubs In Manhattan
Irish Restaurants On St. Patrick's Day In NYC, UES, UWS, Midtown & Village
May 2017 / UES Neighborhood / Upper East Side Restaurants / Manhattan Buzz NYC.
St. Patrick's Day is upon us once again and it's time for one and all, regardless of genetic history, to don their green clothing and head out to the Irish bars for a pint of ale or to the Irish restaurants for some down home Irish fare … or something like that.
This report is about some of the Manhattan Irish bars and restaurants that have survived the test of time, and likely a might bit … more. The Irish pubs include Irish bars and restaurants from the Upper East Side [UES], the Upper West Side [UWS], Midtown Manhattan as well as the East Village, as McSorley's remains not just a pub, but a good piece of history.
Click here to read our report about the Irish Pubs in Manhattan NYC.
---
Winter Ice Festival In Central Park
Valentine's Day Ice Carving & Silent Disco At Naumburg Bandshell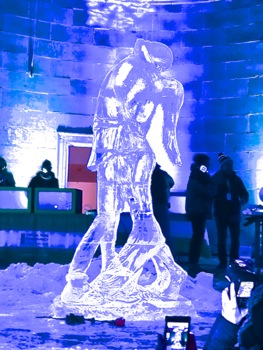 February 17, 2015 / Upper East Side Neighborhood & Upper West Side Neighborhood / Manhattan Parks / Manhattan Buzz NYC.
It was a cold Saturday afternoon as I made my way to Central Park to join the hundreds or more who came out to enjoy the annual Central Park Ice Festival at the Naumburg Bandshell.
The festival began with demonstrations of how to create ice sculptures like the one shown in the photo at right and was followed by a silent disco. The DJ also played the music at an audible level [but not loud] for the rest of us who didn't go through the trouble of using the free the headsets. A deposit for each headset was required in case they were not returned.
There were tents set up to provide information about the Central Park Conservancy which sponsored the event. And I believe, but can't confirm, that there was also at least one food truck. But that said, it was mostly a non-food, artistic, communal dance and theatrical event.
As it was also Valentine's Day, there were many couples who came to disco silently in the park as the sun set and the temperatures dropped. Just like the ice ice man and woman in the photo, as it got colder the couples leaned in closer together. I hope you had a Happy Valentine's Day Weekend.
---
Holidays In Manhattan
Things To Do Over The Holidays In Manhattan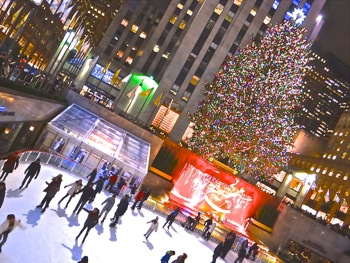 December 10, 2014 / Midtown Manhattan Neighborhood / Manhattan Buzz NYC.
Last Wednesday they lit the Christmas tree at Rockefeller Center for the first time. The tree is a 90 year old Norway spruce which came from the yard of a Danville, Pennsylvania couple. According to one report the gigantic tree stands 85 feet high and weighs 13 tons.
The tree was cut the week of November 6th and arrived in NYC the week of November 10th. On Wednesday, December 3rd it was first lit amid a bit of fanfare including two hours of televised entertainment. We were told that 300 solar panels atop Rockefeller Center power the 45,000 lights that adorn the tree.
There's public skating at the base of the tree which may be accessed via a stairway at the end of the corridor that faces Saks 5th Avenue. The stairwell leads down to a skate shop alongside the open air sub level rink where you can rent skates. There's also a restaurant, Rock Center Cafe, that looks out onto the rink and serves breakfast, lunch and dinner. Happy Holidays.
---
"I Speak Human"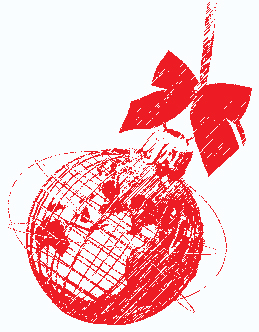 December 23, 2014 / American Holidays & Culture Manhattan / Manhattan Buzz NYC.
This holiday season, my grand nephew attended a holiday party with his parents and grandparents. There were children there speaking in foreign tongues including Chinese and Hindi.
My brother was observing his youngest grandson watch all of this while looking after the little guy. He wondered what was going on inside the little feller's head. So he engaged the little man in a conversation.
He said, "That boy is speaking Chinese." No reply.
He tried again, "That girl is speaking Hindi." Again no reply.
He asked the little guy, "What do you think about that?"
The little tyke responded, "I speak human."

May we all speak human and act humanely this holiday season and in the new year.
The graphic to your right was created by Paul Maringelli who is a graphic artist in Sunnyside, and one helluva drummer. Cheers.
---
Thanksgiving Day Parade Manhattan
88th Annual Macy's Thanksgiving Day Parade NYC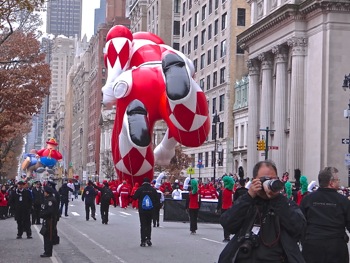 December 1, 2014 / UWS Upper West Side Neighborhood / Manhattan Parades NYC / Manhattan Buzz NYC.
On Thursday November 27, 2014 the 88th Annual Macy's Thanksgiving Day Parade began at 9 am. The hydrogen-filled balloons are inflated and held along Central Park West around the Museum of Natural History on Wednesday evening. You can view them the night before Thanksgiving, as they are fastened securely to the ground, for free.
Sometime in the wee hours of Thanksgiving morning, folks from around the nation begin to camp out along the Thanksgiving Day Parade route to secure a good viewing location in advance of the parade. These intrepid members of the Macy's Thanksgiving Day Parade audience braved the cold temperatures and precipitation. When I arrived between 7 and 8 am it was in the mid 30's.
I asked a few of them why they did this and they told me that they had traveled from distant states and may never see the parade in person again. Some of them also had friends or family marching in the parade and they didn't want to miss seeing and photographing them marching in the nationally televised parade.
We'll post a bit more about the Thanksgiving Day Parade later, including a photo slide show.
---
Village Halloween Parade Photos
Another Entertaining Edition Of Street Theater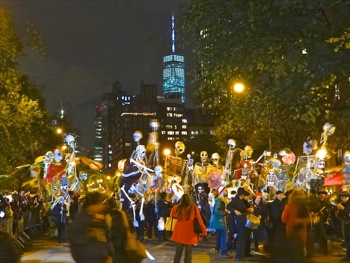 November 3, 2014 / Village Neighborhood NYC / Manhattan Parades NYC / Manhattan Buzz NYC.
I arrived just as the parade was about to begin. There were hundreds of thousands lining the streets to watch the annual Village Halloween Parade. And in the course of the evening we would see thousands march in it.
It was a cool brisk night with temperatures in the high 40's, so not exactly cold, but not warm either. The parade began with a number of policemen on horses marching up the street followed by a few sanitation department employees who would ensure the streets would remain clean of horsey doo.
And then came the spirits of Halloween past, present and future. A lot of creativity went into this holiday parade as you will see in the photo slide show we'll post at a later date.
Story and photo by Michael Wood.
---
---
Super Bowl Ends ... just in time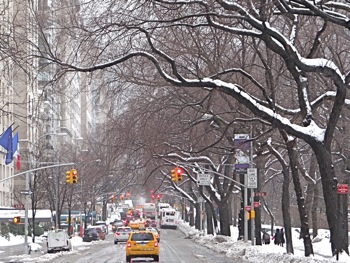 February 3, 2014 / Things To Do in Manhattan / Manhattan Buzz NYC.
The Super Bowl XLVIII ended only hours before the snow started coming down early Monday morning. By mid morning about 1,500 flights across the nation had been either cancelled or re-scheduled. By all accounts the Super Bowl visitors to NYC enjoyed themselves.
We did some random roving man-at-the-hotel [aka man-on-the-street] interviews and found that many who attended the Super Bowl this year did so in part in order to visit the Big Apple. One couple we spoke with said they'd never been to NYC and were big Seattle fans so they decided to kill two birds with one stone.
---
Holiday Season Comes To Close
Tourists Depart While Native New Yorkers Return To Work
January 8, 2014 / Manhattan NYC Hotels / Manhattan Buzz NYC.
We enjoyed two weeks of an influx of tourists coming to NYC for the holidays. They came to see relatives, friends, Rockefeller Center and, of course, to ring in the New Year in Times Square NYC. What makes Manhattan and all of NYC such a fascinating tourist destination is the breadth and depth of its modern cultural - and to a lesser extent - historical references. In the first half of the 20th century, Manhattan emerged as one of the avante garde centers of modern culture. America began to participate in world affairs toward the end of the 19th century and in the first half of the 20th became the pre-eminent world power. With money comes culture. And so it was that many of the American fortunes amassed developing the American frontier and then developing the scientific frontier of modern household consumer appliances and industrial technologies landed in New York City to be spent. Click here later on to read the rest of our story about tourist destinations in NYC.
---
Times Square New Years Photos 2014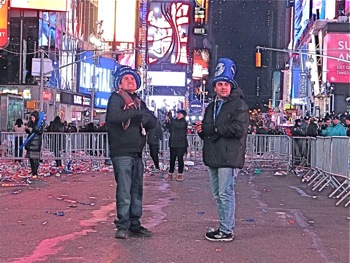 January 1, 2014 / Things To Do NYC / Manhattan NYC Neighborhoods / Manhattan Buzz NYC.
We went to Time Square last night to enjoy the New Year's festivities. It was cold and dry and we were able to get into Times Square shortly after the ball dropped. One of the policemen thought that the crowd was larger than it has been for a while, possibly due to the weather and possibly due to an improving economy. Some of the revelers were decked out in masks and costumes. And languages from around the world were being spoken.
Many of the revelers were from afar, and many joined by Manhattan and surrounding NYC residents. We shot photos preceding, during and after the big event. Click here to view our partially finished slide show containing photos of Times Square New Years Eve 2013 2014. Happy New Year.
---
New Years Parties in Midtown NYC
December 28, 2013 / NYC Restaurants Manhattan / Manhattan Buzz NYC.
As happens every year, there will be a number of great New Years parties in Manhattan preceding and following the dropping of the ball at Times Square. As this is our first year in Midtown NYC since the beginning of the Millenia, we're not as well connected yet as we soon hope to be. But that said, here are a number of different New Years restaurants in Midtown NYC where you might consider booking a reservation. Click here for New Years Eve Parties & Restaurants in NYC.
---
Holiday Shopping Season In Full Swing
December 12, 2013 / Shopping In Midtown Manhattan / Manhattan Buzz NYC.
The holidays are off and running. The cooler weather has put a bit of spring back into folks steps. And the local merchants and small businesses tell us that this week the holiday shopping began in earnest after a bit of a lag post the Thanksgiving / Black Friday Weekend.
---
---
Great Labor Day Weekend Comes To A Close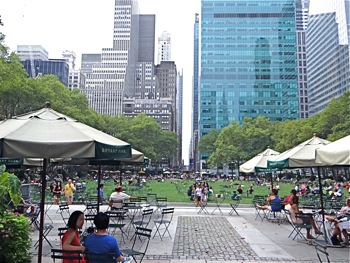 September 2, 2013 / Manhattan Things To Do NYC / Manhattan Buzz NYC.
The weather was mixed on Monday, but Sunday and Saturday were great weather days and the New Yorkers we saw took ample opportunity to get outside. In the photo to your right you can see native New Yorkers and visitors from around the globe relaxing on a Sunday afternoon in Bryant Park in Midtown.
---
Manhattan Hotels & Holidays In Manhattan Related Info
Click this link for promotions, discounts and coupons in Manhattan.
Manhattan NYC Related Links
Click for Manhattan Restaurants
Click for Manhattan Neighborhoods
Click for Manhattan Things To Do
Click for Gramercy Park Restaurants
Click for Manhattan Hotels
Click for New Years Parties & Restaurants
Click for Manhattan Furniture Stores
Click for Manhattan Street Fairs
Click for Manhattan Professional Services
Click for Manhattan Farmers Markets
Click for Manhattan Real Estate
---
Archives - TBD
---
Site Search Tips. 1) For best results, when typing in more than one word, use quotation marks - eg "Astoria Park". 2) Also try either singular or plural words when searching for a specific item such as "gym" or "gyms".
---
Click this link to search for something in our Manhattan Business Directory.
---
Click the log in link below to create an ID and post an opinion.
Or send this story to a friend by filling in the appropriate box below.
---