Halloween Parties NYC - Midtown, UES, Upper East Side, East Village, UWS & SoHo
Manhattan Halloween Parties NYC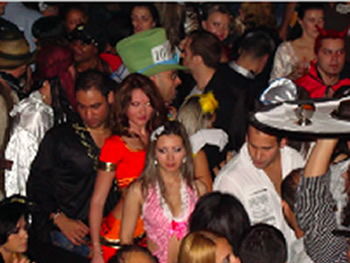 September 18, 2017 / Manhattan Neighborhoods / Manhattan Restaurants / Manhattan Buzz NYC.
With a little more than seven weeks to go before Halloween, we decided to do a round up of some of the Halloween parties planned in Manhattan.
It's too early to provide a weather forecast, but this year Halloween in Manhattan falls squarely on a Saturday.
The Village Halloween Parade generally starts at 7 pm at Spring Street and 6th Avenue and marches north to 16th Street. It lasts in the neighborhood of three to four hours. We've heard that there are over 30 musical groups and an innumerable showing of creative costumes.
The following is a short list of Manhattan Halloween parties at local bars and restaurants. In most cases we suggest that you call ahead and rsvp a spot to be sure you get in.
Click here to view our report on Halloween Parties Manhattan Midtown Upper East Side UES & East Village SoHo.
---
---
---
Halloween Parties & Restaurants - Manhattan NYC
Some Great Restaurants To Halloween Party In Midtown Upper East Side UES East Village UWS SoHo NYC
September 8, 2015 / Manhattan Neighborhoods / Manhattan Restaurants / Manhattan Buzz NYC.
The following is a short list of some of the restaurants that might provide you with good food, drinks and enough of a costume scene for you to enjoy spending Halloween in Manhattan NYC. Be advised that you must be 21 years or older for all but the Museum of Natural History Halloween Party.
We will update the unconfirmed Manhattan Halloween Parties as we get closer in and may add a few more if we hear of additional appealing parties.
Guastavino's, under the 59th Street Bridge on 409 E 59th Street, has event space which will be used to host one of the [UES] Upper East Side Halloween parties in north East Midtown. The Halloween Party has been dubbed a Masquerade Gala. The party with DJ that begins at 9 pm and runs through 3 am. The ticket prices range from $61 - $98 at barcrawls.com or joonbug.com and include an open bar.
CONFIRMING. The Bryant Park Hotel on 40 W. 40th Street in Midtown might be hosting a Manhattan Halloween Party. We are awaiting confirmation. Last year the Midtown Manhattan Halloween Party ran from 10 pm to 1 am. There was a top 40's DJ and tickets cost $20 at iclubnyc.com.
UNCONFIRMED. Penthouse 760 is hosting a Midtown Halloween Party NYC that begins at 9 pm and costs $20. Penthouse 760 is located at 760 8th Avenue at 47th Street near Times Square in West Midtown. Includes DJ and dance floor.
The Devil Wears Pranna is the theme of the Pranna Nightclub Midtown Manhattan Halloween Party. There's an open bar from 9 - 10 pm and the live DJ will spin you through the night. Located at 79 Madison Avenue between 28th and 29th streets the party runs well past 1 am. Tickets cost $10 to $1410 for a party of 14 people.
NYC Halloween Horror Cruise Costume Party boards at the Marina in Midtown East at 23rd Street and the FDR at 10.30 pm, leaves at 12 midnight and returns at 4 am. The event includes DJ and dance floors with mix of the top 40. Costumes mandatory and ticket prices range from $20 to board to $350 for cabana bottle packages. Tickets may be purchased at ticketriver.com. Shots $5 and mixed drinks $10.
Capitale on the northwest corner of Grand at 130 Bowery in Soho is hosting the Devil's Debauchery Masquerade Ball from 9 pm to 4 am with an hour of vodka shots beginning at 9 pm. There will be a live DJ and prices range from $10 to $1770 for a party of 14 people at Joonbug.com.
Webster Hall in the East Village at 125 E. 11th off 4th Avenue is hosting a themed East Village Halloween Party. No details yet, but they're call it Webster HELL. Last year included a 'parade' before midnight, a virgin sacrifice at midnight and a $5,000 costume contest. General admission was $70 at WebsterHall.com, but as of this writing early bird tickets are going for $40.
And for the kids there's an UWS Upper West Side Halloween Party / Celebration at the Museum of Natural History. Last year the event ran from 4 pm to 7 pm and included trick or treating in the great hall, music by a live band, a zombie show, a magic show and related events. Tickets were $12 and may be purchased at amnh.org. Although the Halloween event has not yet been confirmed, we fully expect they have one as this year will be the 20th anniversary.
---
Click here for NYC Halloween Parties in Queens.
---
Restaurants in Manhattan NYC
Also check out some of our favorite Manhattan Restaurants NYC in and around near Gramercy Park.
---
---
Halloween Parties NYC - Manhattan Halloween Parties UES, UWS, SoHo, East Village, West Village, Upper East Side, Upper West Side & Midtown NYC
Click this link for promotions, discounts and coupons in Manhattan.
Manhattan NYC Related Links
Click for Manhattan Restaurants
Click for Manhattan Neighborhoods
Click for Manhattan Things To Do
Click for Gramercy Park Restaurants
Click for Manhattan Hotels
Click for New Years Parties & Restaurants
---
Archives - TBD
---
Site Search Tips. 1) For best results, when typing in more than one word, use quotation marks - eg "Astoria Park". 2) Also try either singular or plural words when searching for a specific item such as "gym" or "gyms".
---
Click this link to search for something in our Manhattan Business Directory.
---
Click the log in link below to create an ID and post an opinion.
Or send this story to a friend by filling in the appropriate box below.
---