Things To Do MLK Day Weekend Events Manhattan NYC
Things To Do In Manhattan NYC Over The Martin Luther King Day Weekend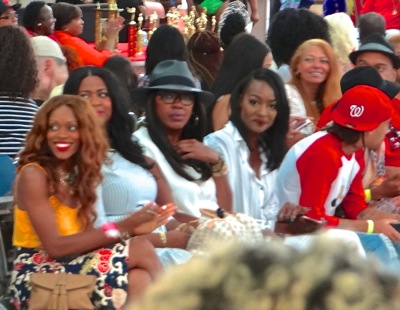 January 11, 2022 / Things To Do Manhattan / Manhattan Buzz NYC.
Weather. The MLK Weekend forecast as of January 10, 2022. The Temperature highs will range from 20 to 30 degrees through the long weekend. The temperature lows will range from 10 to 25, rising as the weekend progresses. As of this post, no precipitation is expected over the MLK Day Weekend. Winds will be about 10 mph throughout the long weekend, except Friday when they'll be a bit higher [13 mph]. The Humidity will be between 30% - 60%, dipping on Saturday from the highs on Friday and Monday. Click for Manhattan Weather.
You can watch theater, visit the Manhattan art museums NYC, and eat out at one of the Manhattan restaurants NYC or go shopping in Manhattan NYC locales including Midtown, the Upper West & East Sides & the Village.
Brief History of Martin Luther King Holiday in NYC
Martin Luther King, Jr. was a Baptist Minister who became the leading voice for African Americans' non-violent civil rights movement beginning in the mid 1950's through to his assassination in 1968. In 1983, the third Monday of every year was set aside to honor Martin Luther King for his service to the nation. The third Monday was chosen, as it was the nearest Monday to the anniversary of King's birthday, which was January 15, 1929.
Martin Luther King Day has grown to take on an even larger meaning, as it is oftentimes referred to as a day on, versus a day off. Organizations around the city and nation have used the day to call people into action to address the needs of the community through volunteering and service.
As Martin Luther King Day is a national holiday, it's worth keeping in mind that many / most federal offices will be closed, along with a number of businesses.
Martin Luther King Holiday Special Events in Manhattan NYC
On Monday, January 17, 2022 from 8.30 - 10 pm there's a saxophone performance by Lil Maceo at the Birdland Theater at 315 44th Street in Midtown Manhattan. Bar seating $20 and regular seating $30.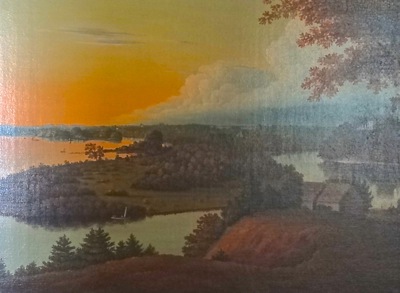 On Monday, January 17, 2022 from 12.30 - 2 pm there's a Harlem Gospel Choir performance at Sony Hall at 235 West 46th Street in Midtown Manhattan. Tickets run $25 - $40 at www.sonyhall.com.
Just prior to the pandemic there was an exhibit that opened in January 2020 at the Schomburg Center for African American Culture in the Lapidus Center at 515 Malcolm X Blvd and 135th Street in Harlem. The exhibit was entitled Subversion & the Art of Slavery Abolition, which chronicles efforts made by the Abolitionists to stop enslavement via art, politics and culture. THIS YEAR 2022 they do not appear to have any MLK specific related programming, BUT there's a black comic book festival being held on Thursday, Friday and Saturday generally from 12 noon - 6 pm VIRTUALLY. You can join them online at
https://www.nypl.org/events/programs/schomburg
Please note that the Schomberg Center is normally closed on Sunday and will be closed MLK Day.
The Imperial Theatre at 249 West 45th Street in Midtown Manhattan is hosting performances of the musical 'Ain't Too Proud' which is the story of the Temptations, a modern musical group of the 1960's and 1970's. Performances run through the MLK Weekend - except Monday - and tickets range from $74 - $1353.
The Apollo Theater in Harlem cancelled its Sunday, January 9th program for MLK Day program entitled, MLK, Activism & the Arts. But that said, the Apollo is continuing some of its regularly scheduled programming including a comedy show at 10 pm on Friday and a musical performance on Saturday at 10 pm. Each program costs $25. See www.apollotheater.org for details.
The United Palace at 4140 Broadway at 175th Street in Washington Heights doesn't have anything planned this year 2022.
The Abyssinian Baptist Church on Striver's Row [late 19th century housing which successful African American musicians and composers moved into in the early 20th century] located at 132 Odell Clark Place [formerly 138th Street] between 138th & 139th Streets and Frederick Douglass & Adam Clayton Powell Jr. Blvds normally hosts MLK Weekend related events, but this year [2022] it appears there aren't any. The neighborhood includes places where African Americans like author W.E.B. DuBois and civil rights activist Malcolm X spent some time [history / social / film / free].
For decades, the Manhattan Country School hosted an annual Commemorative MLK Day March beginning at 10 am until 2 pm. The march route seems to vary with each year, but has generally been on the Upper West and Upper East Sides, stopping at historically signfiicant sites, where students give speeches and ending at the Manhattan Country School at 150 West 85th between Columbus & Amsterdam. But this year, due to the rapid spread of the Omicron variant, the students have postponed the march in favor of some other event later this year. For details visit www.manhattancountryschool.org.
NORMALLY _ BUT NOT THIS YEAR 2022 _ On Monday the Museum of the City of New York at 5th Avenue at 104th Street on the UES is hosting a three hour program from 11 am - 2 pm dedicated to the memory of Martin Luther King. The program is free w/ admission.
The Studio Museum of Harlem hosts a variety of cultural and art exhibits and programming related to African American culture. Their site at 144 West 125th Street is closed while a new building is being constructed. They are currently operating out of Studio Museum 127 which is located at 429 West 127th Street in Harlem. The last date I have seen for when they expected to move back to their 125th Street site was on March 15, 2020. But then the pandemic hit and they are still operating out of their Studio Museum 127 - BUT IT IS TEMPORARILY CLOSED DUE TO THE OMICRON VARIANT OF COVID.
TEMPORARILY CLOSED _ THE FOLLOWING IS FROM 2020 _ On Monday from 2 pm - 6 pm Riverside Church at 490 Riverside Drive in Manhattan will be hosting it's 5th Annual MLK Now. The doors open at 12 noon to this live music, spoken word and conversational event. Folks will be seated on a first come first serve basis. The church has a real connection to Dr. King as it is where, in 1967 Dr. King gave one of his most famous speeches, Beyond Vietnam. A Time to Break Silence. Free.
The Africa Center at 1280 5th Avenue at 109th Street in East Harlem doesn't appear to have any specific programs scheduled for the MLK Weekend. The museum seems more focused on African culture per se, than on African American culture.
---
Things To Do MLK Day Weekend Events In Manhattan NYC
Things To Do In Manhattan Over The Martin Luther King Day Weekend
January 11, 2022 / Things To Do Manhattan / Manhattan Buzz NYC. Continued.
Manhattan Historical Sites & Museums - MLK Weekend Things To Do Manhattan
Manhattan is home to innumerable historic and cultural sites. Some of the most notable historic sites include the the Dykman Farmhouse, the Morris-Jumel Mansion, the American Museum of Natural History, Mount Vernon Hotel, the Museum of the City of New York, the Jewish Museum, the Museo del Barrio, the Africa Center at 1280 5th Avenue at 109th Street, the Morgan Library, the Theodore Roosevelt House, and the Tenement Museum.
Martin Luther King Day Events In Manhattan - Skating & Train Show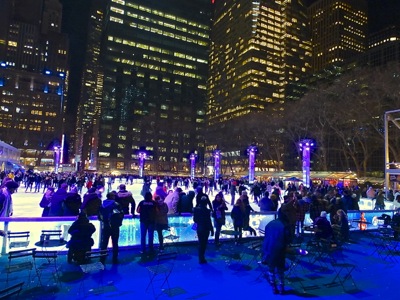 Click here to obtain information about things to do Martin Luther King Day Weekend in Manhattan NYC, as well as throughout the month of January. This events calendar is updated monthly with about 100 different Manhattan fun / cultural events.
Skating in Bryant Park at 42nd Street between 5th & 6th Avenues returned the last weekend of October and will continue into Spring 2020. The rink is open from 8 am - 10 pm and admission is free, but skates, lockers, helmets et al are charged on a per item basis.
The Rockefeller Center Skating Rink opened in October and they're open from 8.30 am to 12 midnight daily through the Winter. They charge $32 / $27 / $25 for admission and there's a $12 skating rentalfee.
THIS IS CLOSED IN 2022 _ The 18th Holiday Train Show at Grand Central Station ends in February 2020 at Grand Central Station at Park Avenue and 42nd Street. The train show is located near the northwest corner of the main floor and is open from 8 am - 8 pm weekdays and from 10 am - 6 pm weekends [FREE].
---
---
Art Exhibits In Manhattan NYC - MLK Day Weekend Things To Do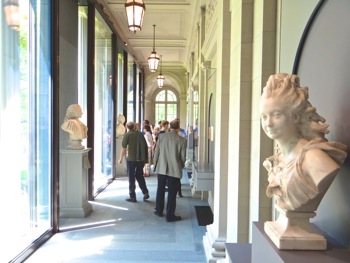 Click here to view some of the in-progress art exhibits in Manhattan this Martin Luther King Day weekend. There are too many museums to showcase in this short space, but here are a few that are clustered along the Upper East and Upper West Sides.
Along the Upper East Side NYC, The Museum of New York, The Guggenheim Museum, The Metropolitan Museum of Art and The Frick Collection are all located along Fifth Avenue between 70th Street and 96th Street.
Along the Upper West Side there's the New York Historical Society, the American Museum of Natural History and the Planetarium - all of which are located along Central Park West between 75th and 85th Streets.
In Midtown there's the Museum of Modern Art.
In the photo to your right is one of the sculpture galleries in the Frick Museum at 70th Street and Fifth Avenue along Central Park East.
Dance, Theater & Music In Manhattan NYC - Martin Luther King Day Weekend Things To Do
Click here to view the Theatre section of the Manhattan Events Calendar to see what's doing this Martin Luther King Day weekend theater in Manhattan NYC.
Just north of Columbus Circle, Lincoln Center is the home of many wonderful musical and dance performances. At the north end of the Upper West Side is Columbia University which largely operates in its own world, but has many cultural events going and frequently they're also available to the public.
Carnegie Hall is located on 57th Street and home to many classical musical performances. The Theatre District center is at 42nd Street and Broadway, where you can fan out in directions north and then east or west and find many theaters that almost always have a production going.
And further downtown in Midtown south, Chelsea and the Village there are many of themodern musical and theatrical venues. You need only browse along and off of the main streets to find something interesting.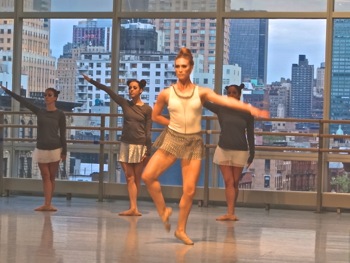 An example of an interesting venue is shown in the photo to your right, where the Neville Dance Theatre Company is performing at the Alvin Ailey Dance Studios in west Midtown NYC.
The Irish Arts Center, a performing arts institution with a focus on Irish culture, is located nearby at 553 West 51st Street.
Martin Luther King Day Weekend Shopping In Manhattan NYC
This is a great weekend to do a bit of shopping. Click here to view our shopping sections of the following neighborhoods: Upper East Side NYC Shopping, Midtown Shopping and coming soon - shopping in the Village NYC & Upper West Side NYC Shopping.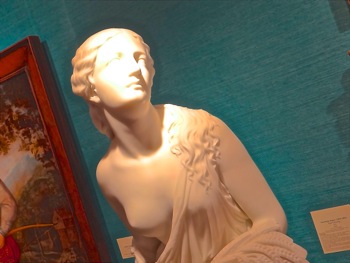 Each of these shopping sections includes, or will include, links to home pages, which have slide shows of merchandise as well as maps, store hours, phone numbers and telephone numbers.
The Winter Antiques Show at the Park Avenue Armory is generally in town around the time or shortly following the Martin Luther King Day Weekend. This year they it runs from January 22 - 27, 2022.
In the photo at right is an historical item for sale at the Winter Antiques Show at the Park Avenue Armory on the Upper East Side in years past.
Dining In Manhattan NYC - Martin Luther King Day Weekend Things To Do
Food in Manhattan has always been good. The variety of restaurant choicesis difficult to match anywhere, and if you look carefully, you can find good food at reasonable prices too.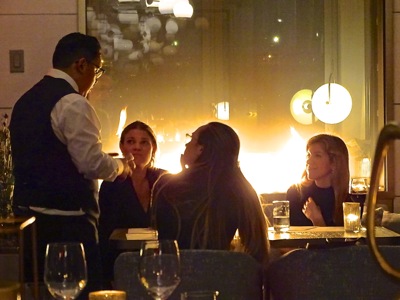 Click here to view the Manhattan Restaurants NYC section of the site, which includes reviews of the restaurants we've selected to review. As of this writing, we've identified some of our old favorites, but haven't done the deep dive yet.
We also provide an update on the Friday of Martin Luther King Day Weekend with things to do on the front page of this site.
Golfing In Manhattan over the MLK Day Weekend
Manhattan has a golf driving range at Chelsea Pier in the 20's on the west side along the Hudson River.
MLK Day Things To Do Brooklyn / Queens / Staten Island / Bronx
And if you feel the urge to visit another borough, here's a list of:
---
Martin Luther King Day Weekend - MLK Day in Manhattan NYC - Links
Use the Following Links to Learn More About Attractions in Manhattan NYC
Click for Manhattan Restaurants NYC
Click for Manhattan NeighborhoodS NYC
Click for Manhattan Things To DO NYC
Click for Gramercy Park Restaurants NYC
Click for Manhattan Hotels NYC
Click for New Years Parties & Restaurants NYC
Click for Manhattan Furniture Stores NYC
Click for Manhattan Street Fairs NYC
Click for Manhattan Professional Services NYC
Click for Manhattan Farmers Markets NYC
---
Site Search Tips. 1) For best results, when typing in more than one word, use quotation marks - eg "Astoria Park". 2) Also try either singular or plural words when searching for a specific item such as "gym" or "gyms".
Click this link to search for something in our Manhattan Business Directory.
---
Click the log in link below to create an ID and post an opinion.
Or send this story to a friend by filling in the appropriate box below.
---