Charlie Parker Jazz Festival
SummerStage Jazz Festival In The East Village & Harlem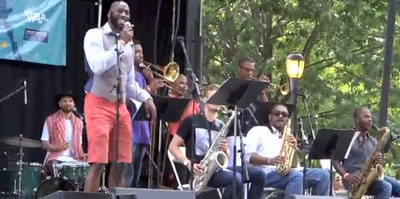 September 1, 2015 / East Village Neighborhood / Live Music Manhattan / Manhattan Buzz NYC.
I attended the 23rd annual Charlie Parker Jazz Festival at Tompkins Square in the East Village. The Charlie Parker Jazz Festival is shared between Harlem and the East Village – two neighborhoods once frequented by Charlie Parker.
The jazz festival began in 1992 through the efforts of the City Parks Foundation, which, among other things, also organizes the SummerStage concerts at various parks in all five boroughs throughout New York City. SummerStage is the largest free concert organization in the nation.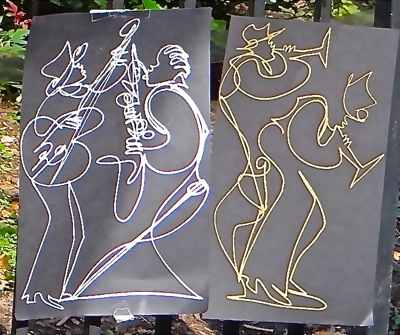 Charlie Parker, along with Louis Armstrong, is considered one of the top jazz musicians of all time. Louis was a trumpeter who traveled the world, while Charlie was a saxophonist who primarily played in Harlem.
Charlie Parker was born on August 29, 1920 in Kansas. He played sax in Kansas and nearby Missouri towns until leaving the stix to play in Chicago. Eventually he moved to New York and became a regular on the Harlem and New York City jazz and blues scene at a time when it was acoustically flourishing. Louis Armstrong, Dizzy Gillespie, Count Basie, Ella Fitzgerald, Billie Holliday and Charles Mingus were all on the scene.
Charlie spent the latter years of his life as a resident in the East Village. He would frequently go uptown to Harlem to play. Charlie had a heroin and alcohol problem which lead to his early demise at the age of 34.
The picture to your right was created by SirShadow.com whose art I found along the wrought iron frences of Tompkins Square Park during the concert.
Click here to read the rest of our report including photos and a short video of the Charlie Parker Jazz Festival in Tompkins Square in the East Village neighborhood in August of 2015.
---
Charlie Parker Jazz Festival
East Village Neighborhood & Harlem Jazz Festival
September 1, 2015 / East Village Neighborhood / Live Music Manhattan / Manhattan Buzz NYC. Continued.
The Charlie Parker Jazz Festival happens every year around the weekend closest to his birth date. It commemorates his contributions to the acoustic art form. The City Parks Foundation cites these contributions as developing … "rhythmically and melodically complex solos and his creation of the bebop sound" and Wikipedia describes his contributions saying … "Parker introduced revolutionary harmonic ideas including rapid passing chords, new variants of altered chords, and chord substitutions. His tone ranged from clean and penetrating to sweet and somber."
Charlie is considered the father of modern jazz through the invention of bebop. Bebop allows for a wide range of interplay of solos, harmonies and improvisation within the melody of an acoustical creation.
It was with this as background that I entered Tompkins Square Park Sunday afternoon August 23rd as the Jazz Festival arrived from Harlem where performances had been given at Marcus Garvey Park on the two prior evenings. Marcus Garvey Park in Harlem is located near where the Harlem jazz clubs used to be and wherein one might chance to find Charlie or Louis performing.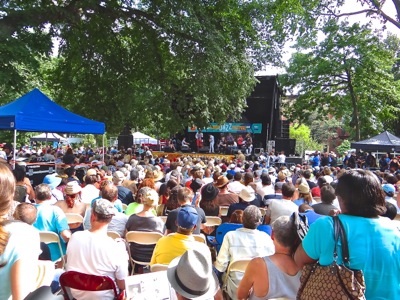 It was a warm afternoon, but not too warm. There was a large crowd of jazz lovers lounging in the square, waiting for the first performance, which was a bit behind schedule. The City Parks Foundation had developed a full schedule that would run from mid afternoon to early evening, but unfortunately I was only able to stay for a small portion of it.
About a half hour past starting time, jazz vocalist Mark Mwenso appeared on stage and without much further ado began the gig. I have included a small video snapshot of the performance so you can experience a bit of it yourself.
Mwenso started his career in a British band. As a youth he used to hang out in the East London clubs where jazz musicians from around the world would come to play and hang out. Mwenso misses those days, as things happened while folks were just hanging out, in a way that doesn't seem to happen much anymore. Spontaneous collaborations … just like jazz.
Mwenso's performance was a mix of jazz, showman and Broadway. He displayed a range of vocals, emotions and personalities that was as engaging as entertaining.
Here's a video snippet of the Mark Mwenso performance at the Charlie Parker Jazz Festival in Tompkins Square in the East Village neighborhood of Manhattan.
Click The Refresh Button If The Video Isn't Showing
---
---
West Village NYC - Manhattan Related Info
Click this link for promotions, discounts and coupons in Manhattan.
East Village Neighborhood Related Links - NYC
Click for Village Restaurants NYC
Click for West Village / East Village Neighborhood
Click for East Village Restaurants
Click for Gramercy Park Restaurants
Click for New Years Parties & Restaurants
Click for Manhattan Farmers Markets
---
Archives - TBD
---
Site Search Tips. 1) For best results, when typing in more than one word, use quotation marks - eg "Astoria Park". 2) Also try either singular or plural words when searching for a specific item such as "gym" or "gyms".
---
Click this link to search for something in our Manhattan Business Directory.
---
Click the log in link below to create an ID and post an opinion.
Or send this story to a friend by filling in the appropriate box below.
---