Taste of the Seaport
South Street Seaport Showcases Tribeca & Lower East Side Restaurants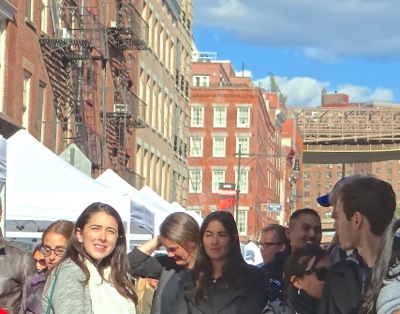 October 17, 2015 / South Street Seaport Tribeca Neighborhood / Tribeca Restaurants / Manhattan Buzz NYC.
I went to browse through the Taste of the Seaport, which was held at the South Street Seaport from 11 am to 4 pm. It was a cool sunny autumnal day in mid October as I made my way toward the East River downtown.
South Street Seaport Downtown NYC
The South Street Seaport is a popular destination that attracts both locals and tourists. It's location, just south of the Brooklyn Bridge, with its sweeping waterfront views, is also a docking destination for boat tours and ferries. And the South Street Seaport restaurants are both plentiful and varied.
Since I arrived early afternoon, I didn't have much time to do more than a quick sweep of the Taste of the Seaport and hence - unfortunately - didn't get much of a chance to converse much with the local restaurateurs. There were a lot of food booths - 37 in all - lining Front Street all the way up to Peck Slip.
Click here to read the rest of our report on the Taste of the South Street Seaport.
---
Taste of the Seaport
South Street Seaport Showcases Tribeca & Lower East Side Restaurants
October 17, 2015 / South Street Seaport Tribeca Neighborhood / Tribeca Restaurants / Manhattan Buzz NYC. Continued.
El Luchador & Cedar Local - South Street Seaport Restaurants & Bars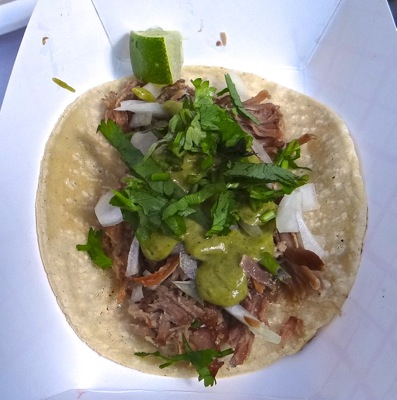 I did manage to stop and chat at a couple of food booths, one hosting the offerings of El Luchador Taqueria and the second providing a taste of Cedar Local. El Luchador is located at 87 South Street [646-398-7499 / 646-398-7652] and was serving Mexican fare including a beef taco which is shown to your right. El Luchador opened in 2014 and serves Mexican street fare.
The second stop was Cedar Local located at 25 Cedar Street [212.344.3467] which serves spirits and bites. Cedar Local is essentially an after hours happy hour place that also serves 'bites' late into the evening.
After the event I walked over to the docks to take in the panoramic view of the East River and Brooklyn Bridge. There's a small South Street Seaport Museum there, but it wasn't open at the time.
Taste of the Seaport NYC - Organizers & Sponsors
This was the 6th annual Taste of the Seaport [it started in 2010] and the event was organized by www.TasteoftheSeaport.org and sponsored by a number of downtown NYC organizations and businesses serving the Downtown NYC & Tribeca neighborhoods.
Click here to browse through a mix of Downtown NYC food festivals & Tribeca restaurants reviewed.
---
---
---
Tribeca & SoHo NYC - Manhattan Related Info
Click this link for promotions, discounts and coupons in Manhattan.
Manhattan NYC Related Links
Click for Manhattan Restaurants
Click for Manhattan Neighborhoods
Click for Manhattan Things To Do
Click for Gramercy Park Restaurants
Click for Manhattan Hotels
Click for New Years Parties & Restaurants
Click for Manhattan Furniture Stores
Click for Manhattan Street Fairs
Click for Manhattan Professional Services
Click for Manhattan Farmers Markets
Click for Manhattan Real Estate
---
Archives - TBD
---
Site Search Tips. 1) For best results, when typing in more than one word, use quotation marks - eg "Astoria Park". 2) Also try either singular or plural words when searching for a specific item such as "gym" or "gyms".
---
Click this link to search for something in our Manhattan Business Directory.
---
Click the log in link below to create an ID and post an opinion.
Or send this story to a friend by filling in the appropriate box below.
---