Things To Do Memorial Day Weekend Manhattan NYC
Things To Do In NYC & Manhattan Over The Memorial Day Weekend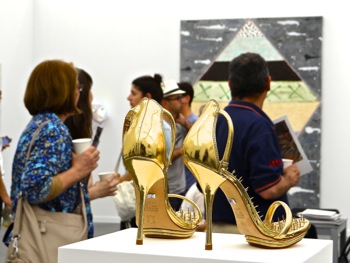 May 14, 2020 / Things To Do Memorial Day Weekend Manhattan NYC / Manhattan Buzz NYC.
This page contains a few of the classical things to do in Manhattan over the Memorial Day Weekend in normal times, as well as what's available during the CoVid pandemic. Go to the Things To Do section of this site for an enhanced list of options.
I know Memorial Day Weekend is fully a week away, but given it's such a changed landscape due to the CoVid pandemic, I thought you might want more time to think about how you're going to spend the weekend.
Weather. As of this posting the weather forecast is as follows. The Temperature highs will be in the low to mid 70's and the temperature lows will be around 60 all three days of the long weekend. There's a 20% chance of rain all weekend. Winds will range between 5 - 10 mph all weekend. The Humidity will be around 50% throughout the weekend. Click for an up-to-date forecast of Manhattan Weekend Weather.
Be sure to check our Memorial Day Weekend things to do post mid afternoon Friday of Memorial Day Weekend.
Brief History of the Memorial Day Holiday in Manhattan
Memorial Day first started out as Decoration Day in Waterloo, New York on May 30, 1866 - a year after the Civil War - to honor those who fought in it. In the 1880's the day came to be known as Memorial Day.
According to a May 25, 2012 report in Time Magazine, ten states - Texas, Louisiana, Mississippi, Alabama, Georgia, Florida, North and South Carolina, Virginia and Tennessee also officially observe some version of a Confederate Memorial Day, sometime between late April and early June [in Texas it's in January]. It's been reported that unofficially most of the former Confederate states still commemorate it, but not without some controversy as to the former Confederate diaspora it's to honor their ancestors, while to the former diaspora of the slaves it seems a remnant of these states racist past.
About ten percent of the nation travels more than 50 miles over the weekend. Memorial Day differs from Veterans Day which is held on November 11th of each year. Veterans Day began by honoring those who fought in World War I which ended on the 11th hour, of the 11th day of the 11th month of 1918. Both honor those who served in the U.S. Military. Veterans Day coincides with a similar holiday in Europe for the same reason, which is called Remembrance Day and Armistice Day.
Memorial Day Events in Manhattan 2020
According to a March 27, 2020 report in Military News the U.S. Navy cancelled Fleet Week due to the CoVid pandemic. The annual celebratory week in NYC was originally scheduled to run from Wednesday, May 20 to Tuesday, May 26, 2020.
Unfortunately this year attending the Memorial Day Parade in Inwood that begins between 11 am - 12 noon at Dykman Street and Broadway, as well as the Manhattan street fairs in Manhattan NYC, don't appear to options due to the CoVid pandemic. That's not the only activity that will not be available to us, as attending Manhattan parades NYC, watching theater, visiting the Manhattan art museums NYC, and eating out at one of the Manhattan restaurants NYC also won't be available come Memorial Day Weekend.
But things are slowly moving in the right direction. For example you can obtain restaurant food via delivery or carry out - we posted some of the restaurants performing this service as of Mother's Day in our Mother's Day Restaurants in Manhattan report.
Unfortunately shopping in Manhattan, will also be limited to groceries, pharmacies and home improvement stores [aka essential services], but local Manhattan farmers markets in Manhattan NYC are classified as an essential service, so that provides another outing option.
You can also go bicycling around Manhattan so be mindful to observe the rules of the road [click link]. The 5 Boro Bike Ride 2020 was cancelled and unfortunately could not be re-scheduled, so we'll all have to wait until 2021 [hopefully].
So there are some things happening right here in our favorite borough - Manhattan. Click here to obtain information about things to do Memorial Day Weekend 2020 in Manhattan NYC. This events calendar is updated monthly with about 100 different Manhattan fun / cultural events.
Manhattan Public & Privately Run Parks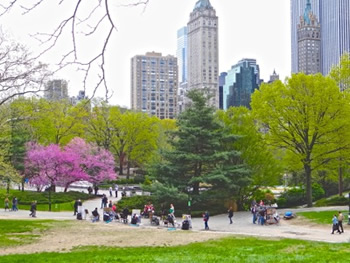 Manhattan has a number of New York City Parks, most of which will be open, including the restrooms which will be cleaned daily with disinfectants. But the normal park service options aren't available during the CoVid pandemic. These include no barbeques, no team sports and both the public swimming pools and the playgrounds will remain closed. But the beaches in other boroughs will be open, although no swimming will be allowed and the beaches will only be open for limited periods - generally from 10 am - 6 pm. NYS public marinas are open for non-commercial activities.
Click here for a listing of the Manhattan Parks NYC including maps showing their locations along with a bit of park history.
NYC Public Golf Courses in Queens, the Bronx, Brooklyn & Staten Island - Currently Closed due to CoVid 19
Queens has four public golf courses, Brooklyn has two, and both Staten Island and the Bronx each have three. Click here for details about Queens Golf Courses including maps and links to the operators' websites. And use the links below to see what's doing for Memorial Day Weekend in the other boroughs. Most of these golf courses are easily accessible via the MTA / subway.
Click here to view the rest of our report of things to do Memorial Day Weekend in Manhattan. And we'll have more to add by Friday.
---
---
Memorial Day Weekend 2020 In NYC
Things To Do In NYC & Manhattan Over The Memorial Day Weekend include Dining, Art, Theater, Parks, Biking, Kyaking & Music on the UES, UWS, Harlem, Midtown, SoHo, Tribeca, FiDi, the LES & the Village
May 14, 2020 / Things To Do Memorial Day Weekend Manhattan NYC / Manhattan Buzz NYC. Continued.
WHAT FOLLOWS IS MOSTLY ON HOLD (except biking & some of the park activities ) PENDING THE COVID PANDEMIC OF SPRING 2020, but it might give you a few ideas, and you can always call to be sure.
I'LL UPDATE AS WE APPROACH THE DAY TO SEE WHAT - IF ANYTHING - HAS CHANGED. 5.12.20.
---
---

Art Exhibits In Manhattan & NYC - Memorial Day Weekend 2020
Click here to view some of the in-progress art exhibits in Manhattan this Memorial Day weekend. There are too many museums to showcase in this short space, but here are a few that are clustered along the Upper East and Upper West Sides.
Along the Upper East Side NYC, The Museum of New York, The Guggenheim Museum, The Metropolitan Museum of Art and The Frick Collection are all located along Fifth Avenue between 70th Street and 96th Street.
Along the Upper West Side there's the New York Historical Society, the American Museum of Natural History and the Planetarium - all of which are located along Central Park West between 75th and 85th Streets.
In Midtown there's the Museum of Modern Art.
In the photo to your right is one of the sculpture galleries in the Frick Museum at 70th Street and Fifth Avenue along Central Park East.
Dance, Theater & Music In Manhattan & NYC - Memorial Day Weekend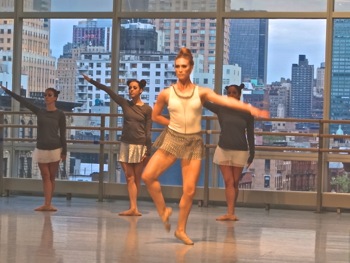 Click here to view the Theatre section of the Manhattan Events Calendar to see what's doing this Memorial Day weekend theater in Manhattan NYC.
Lincoln Center. Just north of Columbus Circle, Lincoln Center is the home of many wonderful musical and dance performances.
Columbia University. At the north end of the Upper West Side is Columbia University which largely operates in its own world, but has many cultural events going and frequently they're also available to the public.
Carnegie Hall. Carnegie Hall is located on 57th Street and home to many classical musical performances.
Theater District Times Square. The Theatre District center is at 42nd Street and Broadway, where you can fan out in directions north and then east or west and find many theaters that almost always have a production going.
And further downtown in Midtown south, Chelsea and the Village there are many of the modern musical and theatrical venues. You need only browse along and off of the main streets to find something interesting.
Alvin Ailey Dance. An example of an interesting venue is shown in the photo to your right, where the Neville Dance Theatre Company is performing at the Alvin Ailey Dance Studios in west Midtown NYC.
Street Fairs Memorial Day Weekend in Manhattan
On Memorial Day Weekend in Manhattan there are a number of street fairs planned along the Upper East Side, Upper West Side, Midtown,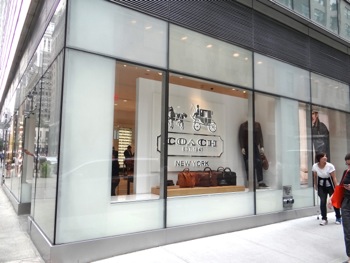 the West Village and East Village. Click here to view the Memorial Day Weekend Street Fairs in Manhattan, including dates, times and map links.
Memorial Day Weekend Shopping In Manhattan & NYC
This is a great weekend to do a bit of shopping during the pleasant weekend weather. Click here to view our shopping sections of the following neighborhoods: Upper East Side NYC Shopping, Midtown Shopping and coming soon - shopping in the Village NYC & Upper West Side NYC Shopping.
Each of these shopping sections includes, or will include, links to home pages, which have slide shows of merchandise as well as maps, store hours, phone numbers and telephone numbers.
In the photo at right is one of the brand name stores located in the heart of Midtown.
Bicycling In Manhattan & NYC over the Memorial Day Weekend
Manhattan has a long and growing list of bike paths. Click here to view a report about bike laws in NYC so you can ride safely. There's a program called Citi Bikes, which allows you to rent a bike using your credit card. Whereever you find bike racks filled with blue bicycles - take a closer look and it's probably a Citi Bike rack and you can rent a bike from there and return it to any of their racks around NYC.
We're working on a useable map of bike trails in Manhattan, since we couldn't find one we liked. In the photo to your right are the 5 Boro Bike Riders cruising through the Upper East Side NYC on their way to the Queensboro Bridge in an earlier year [14].
Memorial Day Weekend Kyaking Along The East River In Manhattan & NYC
There are a couple of kyaking clubs that operate in the NYC Metro area. Generally they will provide free use of kyaks or charge only a nominal fee. Do a search for kyaking in Manhattan, Queens, Brooklyn, the Bronx and you'll find more detailed info. At a later date we'll return here to update this with our own findings.

Dining In Manhattan & NYC over the Memorial Day Weekend
Food in Manhattan has always been good. The variety of restaurant choices is difficult to match anywhere, and if you look carefully, you can find good food at reasonable prices too. Click here to view the Manhattan Restaurants NYC section of the site, which includes reviews of the restaurants we've selected to review. As of this writing, we've identified some of our old favorites, but haven't done the deep dive yet.
Things to do in Other NYC Boroughs Memorial Day Weekend
Things to do Manhattan Memorial Day Weekend and Queens Things To Do Memorial Day Weekend and Things to do Bronx Memorial Day Weekend and Brooklyn Things To Do Memorial Day Weekend and Staten Island Things To Do Memorial Day Weekend.
More events will be added to the Front Pages of each of these sites on Friday.
Click here for things to do on the Upper West Side NYC.
---
Manhattan Memorial Day Weekend Events / Things To Do NYC - Related Links
Click for Manhattan Restaurants NYC
Click for Manhattan NeighborhoodS NYC
Click for Manhattan Things To DO NYC
Click for Gramercy Park Restaurants NYC
Click for Manhattan Hotels NYC
Click for New Years Parties & Restaurants NYC
Click for Manhattan Furniture Stores NYC
Click for Manhattan Street Fairs NYC
Click for Manhattan Professional Services NYC
Click for Manhattan Farmers Markets NYC
---
Site Search Tips. 1) For best results, when typing in more than one word, use quotation marks - eg "Astoria Park". 2) Also try either singular or plural words when searching for a specific item such as "gym" or "gyms".
Click this link to search for something in our Manhattan Business Directory.
---
Click the log in link below to create an ID and post an opinion.
Or send this story to a friend by filling in the appropriate box below.
---